2022 Subaru Forester Wilderness ・ Photo by Brady Holt
The Subaru Forester has been a staple of American roads since 1998. It's a comfortable, useful, and hardy little crossover SUV with more capability than elegance. 
But as the Forester has grown over the years, many customers have switched to the smaller, less expensive Subaru Crosstrek. The two crossovers have a lot in common, both mechanically and in terms of their purpose and target audience. If you know you need a lot of space, the Forester — part of the compact crossover class — is the obvious choice between them. And if you know you want to spend as little as possible, the subcompact Crosstrek is your winner. But to explore the more nuanced differences between the two Subarus, we tested both the Forester and the Crosstrek. Over the following pages of this review, we'll compare them in eight categories and name our overall winner. Keep reading to learn which one we chose and which one is the better choice for you. 
Pricing and Features
Simply comparing base prices, the Crosstrek has a big advantage over the Forester. It starts at $22,445, compared with the larger Subaru's $25,195. However, after you make them comparable by adding the Crosstrek's optional automatic transmission (it's standard on the Forester), the subcompact Subaru rises to $23,795. 
When you move beyond the base trim levels, Forester prices jump faster than the Crosstrek's. That's because all but the base Forester include a panoramic moonroof as standard equipment, while a conventionally sized moonroof is an extra-cost option on all trim levels. If you want a moonroof, the price difference typically stays around $1,500 to $2,500 depending on the trim level. But the Crosstrek not only costs less, but it also lets you skip some costly features to keep prices down even further. Both Subarus come standard with all-wheel drive and (except on Crosstreks with the manual transmission) the EyeSight suite of driver-assistance features.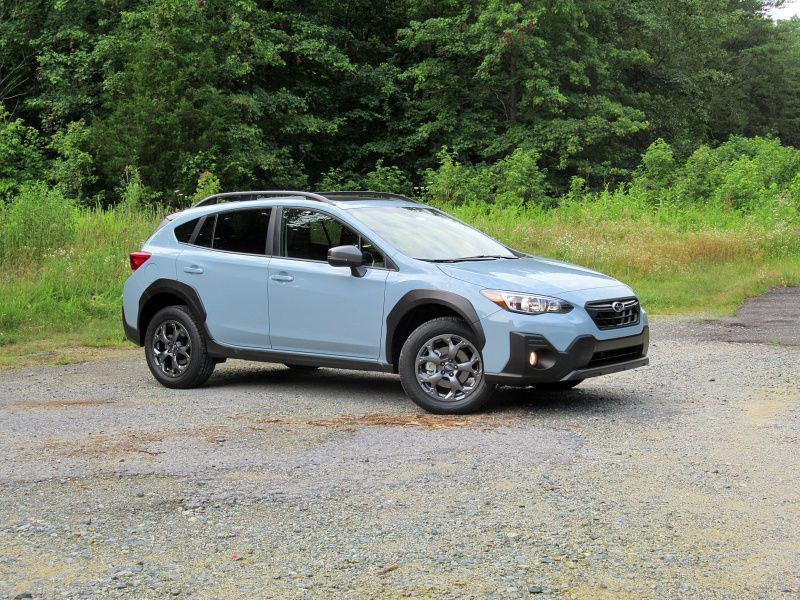 Photo by Brady Holt
Exterior Design
The Crosstrek is essentially a Subaru Impreza hatchback that is lifted higher off the ground, then fitted with rugged body cladding and a tough-looking roof rack. You see that it has the body of a car when you look at its low hood flowing gently into the roof's A-pillar. crossovers designed from scratch typically have higher front ends and sharper angles where the A-pillar meets the hood. Still, thanks to the Crosstrek's generous 8.7 inches of ground clearance and its tough-looking add-ons, it avoids looking like a delicate little thing that needs to stay on smooth pavement. 
The Forester, meanwhile, uses the Crosstrek's same mechanical underpinnings to craft a bigger, taller, boxier, and more SUV-looking vehicle. Its proportions are stubby and upright, including a near-vertical rear end, even for a small SUV. The angular headlights are more aggressive than the Crosstrek's more rounded ones, too. The new Forester Wilderness model, like our test vehicle, raises the ground clearance even higher, adds even more protective plastic cladding, and introduces a two-tone hood. Like the Crosstrek, the Forester makes little effort to be graceful; the main difference is whether you like a boxier design or a sleeker one. 
Tie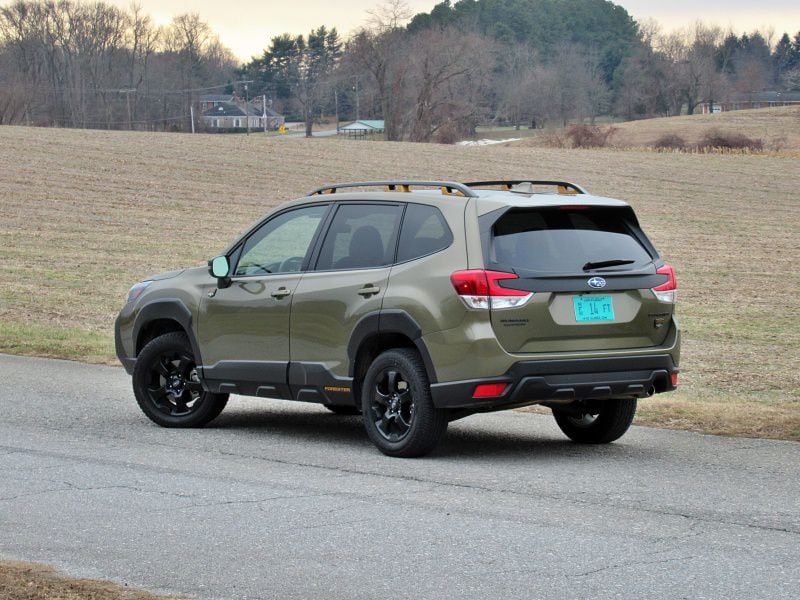 Photo by Brady Holt
Interior Design
Even though the Crosstrek is smaller and less expensive than the Forester, the two crossovers have virtually identical dashboard designs and materials. You can compare the Crosstrek's dashboard, shown on this page, with the Forester's pictured on the next page. 
Whichever of the two you buy, you get a solidly built interior with simple dashboard controls. Aside from some colorful pieces of trim on certain Forester and Crosstrek models, this isn't an interior that takes many design risks. But nor does it feel like a low-rent economy car, even on the subcompact Crosstrek. Its biggest liability is a tiny 6.5-inch infotainment system that's standard on base Crosstreks and Foresters, though even that system supports Android Auto and Apple CarPlay smartphone integration. Upper-trim models, like our Crosstrek and Forester test vehicles, include bigger 8-inch screens. 
Tie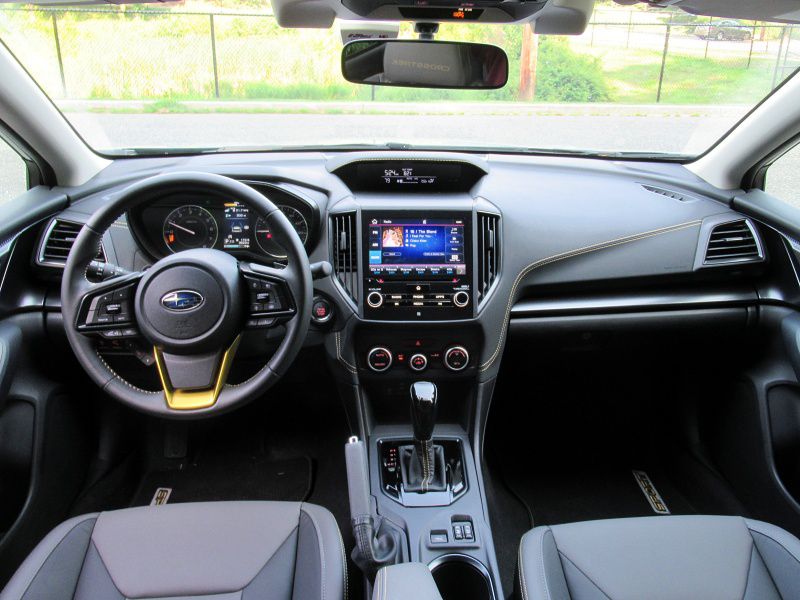 Photo by Brady Holt
Passenger Accommodations
The Forester is 6.2 inches longer and 4.5 inches taller than the Crosstrek, and it has a boxier shape to boot. So there should be no surprise that it's the roomier SUV. It has well-shaped seats and plenty of space in both the front and rear. Its giant windows and slim roof pillars also give it perhaps the best visibility of any car on the market today. 
For a subcompact, it's impressive how close the Crosstrek comes to the Forester's mark. Unlike most of its competitors, it also has an adult-friendly rear seat. Its front seats are supportive and comfortable, not the basic-economy afterthoughts you'll find in some subcompact models. And it also has better visibility than most cars you can buy today. But the Forester goes farther.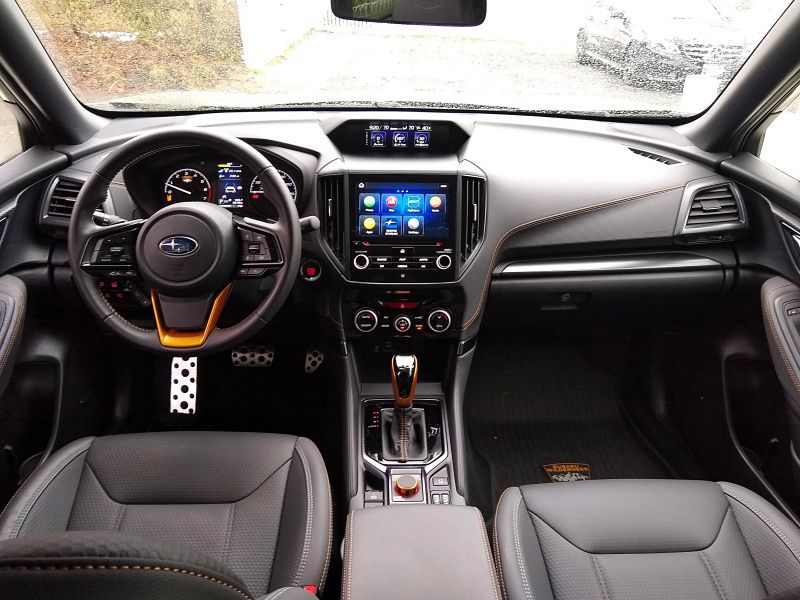 Photo by Brady Holt
Cargo and Utility
The Forester's bigger advantage over the Crosstrek is its cargo capacity. Some buyers will wish Subaru sacrificed a few inches of Crosstrek rear legroom to provide more space for their stuff behind the backseat. 
There's just 20.3 cubic feet behind the Crosstrek's rear seat. That's decent by the low standards of the subcompact class, and on paper, it's not so different from most Foresters' 26.9 cubic feet. (The base Forester fits 28.9 cubic feet because skipping the moonroof raises the interior ceiling slightly.) But the Forester's boxier shape makes it much easier to toss things in the back without needing to work around a curved windshield; that also means more room for a big dog to stand up in the Forester. With the rear seat folded, the gap increases: Total capacity grows to 69.1 cubic feet in the Forester (74.2 cubic feet with no moonroof) versus just 55.3 cubic feet in the Crosstrek. Most Foresters and Crosstreks have the same 1,500-pound towing capacity, but the Forester Wilderness model doubles to 3,000 pounds. Lastly, the Forester is the only of the two to offer a power liftgate.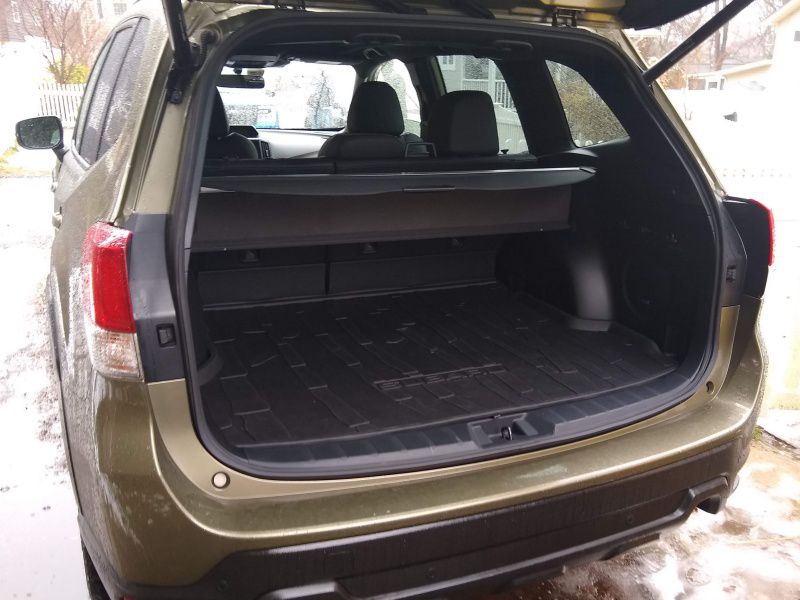 Photo by Brady Holt
Driving Impressions
All Foresters and certain Crosstrek models share a 2.5-liter four-cylinder engine that makes  182 horsepower and 176 lb-ft of torque, paired exclusively with a continuously variable automatic transmission. That's plenty of power for daily driving, but this engine complains with a droning moan when you try to make use of it. Base Crosstreks have a 2.0-liter with just 152 horsepower and 145 lb-ft of torque; it's not as quick as the 2.5-liter Crosstrek or Forester, but it's not much noisier. Unlike the Forester or the 2.5-liter Crosstrek, this engine is available with a six-speed manual transmission in addition to a CVT automatic. 
Both the Forester and the Crosstrek have smooth rides that are excellent at absorbing bumps. They lack the hefty solidity we'd associate with a luxury suv, but both are right at home on poorly maintained roads. There's not much excitement to either crossover's steering or handling; they're easy to drive but don't have lively steering responses or high handling limits. We'll narrowly award this category to the Crosstrek for its available manual and slightly lower center of gravity, but especially when comparing 2.5-liter models, there's little difference between driving the Crosstrek and the Forester.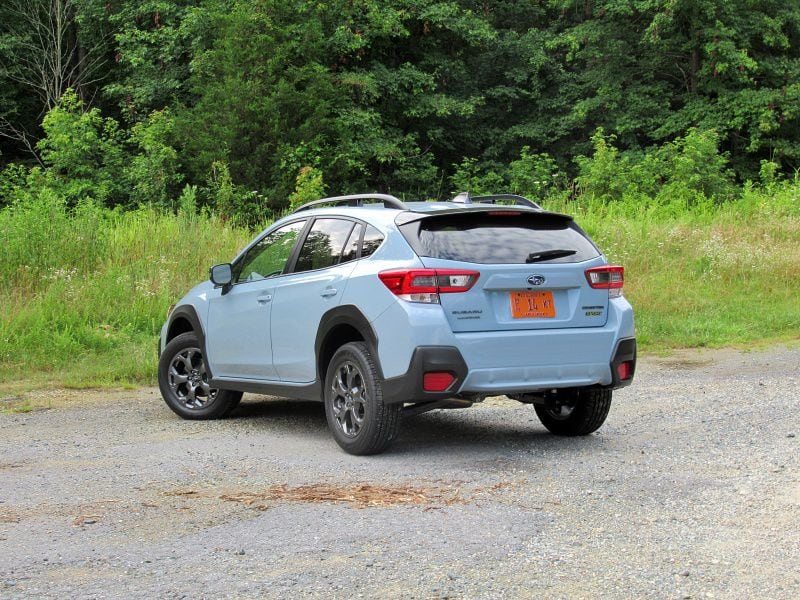 Photo by Brady Holt
Capability
These Subarus aren't built for hardcore off-roading, but they are meant to muscle through challenging conditions like muddy or snowy roads. 
Both the Crosstrek and Forester come standard with a generous 8.7 inches of ground clearance. Every Crosstrek with the automatic transmission and all but the base Forester trim level include hill-descent control and Subaru's X-Mode off-road settings. The Forester breaks this near-tie by offering a Wilderness trim level — new this year. It boosts ground clearance to an exceptional 9.2 inches, reshapes the front bumper for a better approach angle, adds a skid plate, provides all-terrain tires, and dresses up the styling.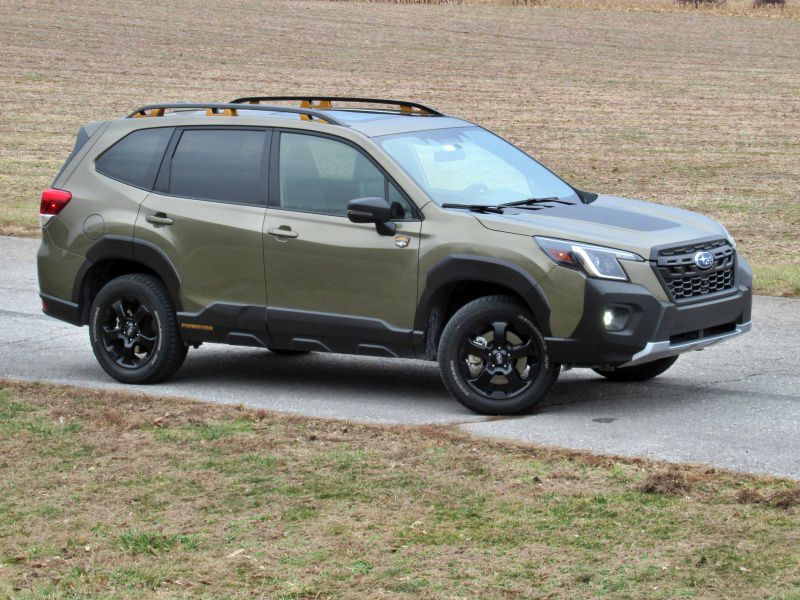 Photo by Brady Holt
Fuel Economy
Regardless of the engine you choose, most Crosstrek and Forester models get nearly identical EPA fuel economy ratings. But the Crosstrek has an important advantage.
The 2.0-liter Crosstrek with its automatic transmission leads slightly: 28 mpg in the city, 33 mpg on the highway, and 30 mpg combined. The 2.5-liter manages 27 mpg city, 34 mpg highway, and 29 mpg combined. Most Foresters score 26 mpg city, 33 mpg highway, and 29 mpg combined. The Forester Wilderness dips to 26 mpg combined, while the manual Crosstrek manages just 25 mpg combined. The real winner is the limited-production Crosstrek Hybrid, a plug-in model that travels an estimated 17 miles per electric charge before averaging 35 mpg. There's no equivalent Forester Hybrid. Otherwise, expect similar mileage between the two vehicles, with a slight advantage from the smaller, sleeker Crosstrek.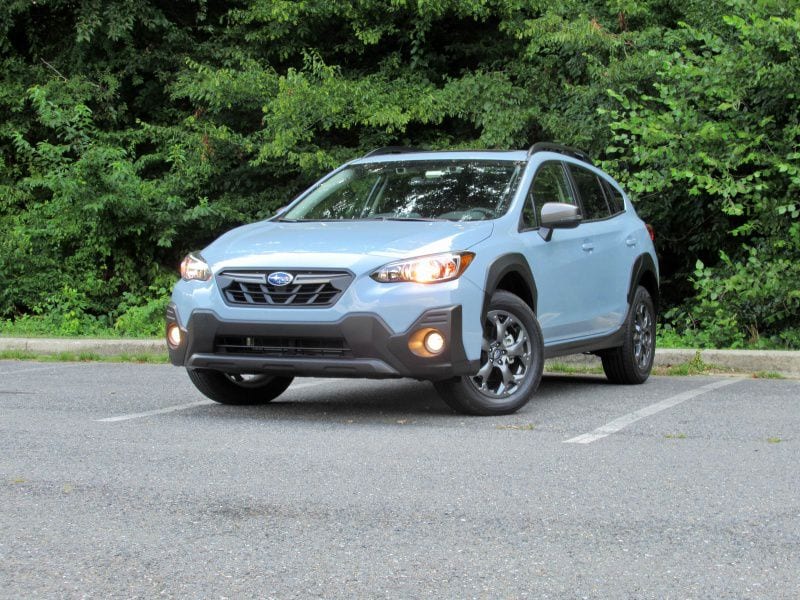 Photo by Brady Holt
Final Thoughts
While they have some other differences as well, the Crosstrek and Forester are basically two different takes on the same underlying mechanical components. And there are two ways to look at the result. 
On the one hand, the Crosstrek is a bargain-priced Forester. At a discounted price, you get the same dashboard as the Forester, the option to upgrade to the Forester's engine, and nearly as much passenger space as the Forester. If you don't need extra cargo room, the Crosstrek lets you save a couple thousand bucks. On the other hand, the Forester is basically as economical and as easy to drive as the smaller Crosstrek. With minimal downsides but a modest price premium and a slightly bulkier footprint, the Forester provides a ton more space for your stuff and has better outward visibility. We wish more Forester customers could opt out of buying the big expensive moonroof, but overall, it's the small Subaru crossover that impresses us more.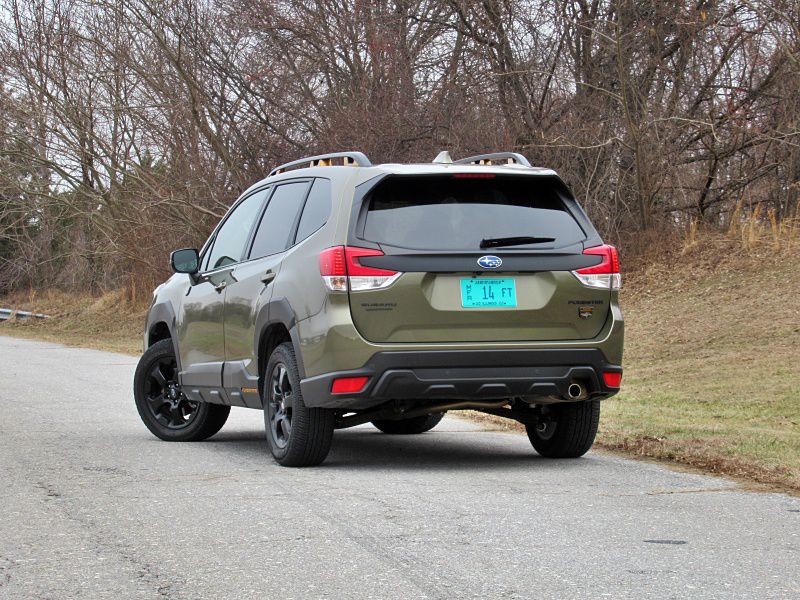 Photo by Brady Holt