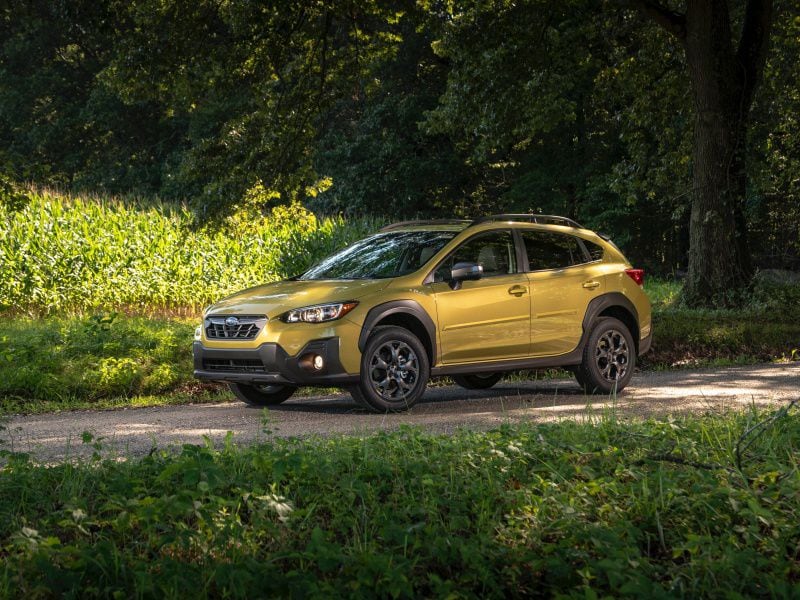 2021 Subaru Crosstrek Sport ・ Photo by Subaru
The Hyundai Kona and Subaru Crosstrek are both excellent compact crossovers with funky styling and plenty to like. They're closely matched in many categories, though, which can make it difficult to shop and choose between them. We've done the legwork for you, however, with research on all the categories that you'll want to consider before buying. Let's get started and take a closer look.
Pricing and Features
The Hyundai Kona's starting price of around $21,000 buys a well-equipped car with a large touchscreen and desirable tech. The Kona also offers great storage and unique styling that complement its long list of standard features, including wireless Apple CarPlay and Android Auto, Bluetooth, an 8-inch touchscreen, and more.
The Crosstrek starts at just shy of $22,500 and offers a compelling feature set for buyers in its segment. It's also one of few vehicles (many of which are Subarus) that offer standard all-wheel drive, which gives it a strong value proposition and excellent all-weather traction. Subaru also packs the Crosstrek with good tech and a comfy interior with plenty of space – at least for front-seat passengers.
: Hyundai Kona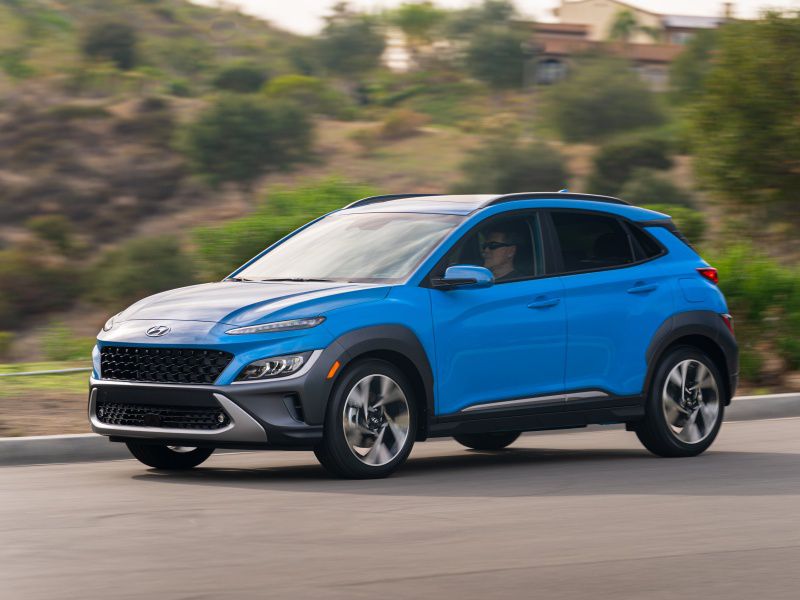 Photo by Hyundai
Exterior Design
The Kona's funky exterior styling may be a bit much for some buyers, but the look is youthful and playful, which helps the Kona stand out in its extremely crowded segment. Split headlights and a busy front-end design are the Kona's hallmark design details, but there's also a lot going on with its backside. The rear-end also features split lighting elements with large lower fixtures and smaller taillight units.
The Subaru Crosstrek oozes outdoor functionality, even if its proportions and design are a bit awkward from some angles. Subaru added plenty of black plastic cladding and protection, which gives the vehicle plenty of usable capability, but the acres of plastic gives the Crosstrek a busy look that some may find to be too loud.
: Tie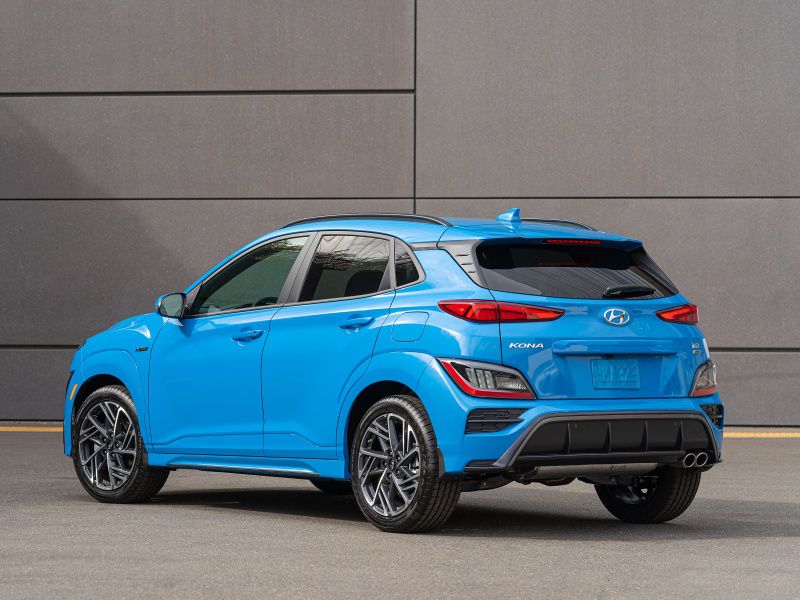 Photo by Hyundai
Interior Design
Hyundai gave the Kona a welcoming and friendly cabin with rounded shapes and round air vents throughout. The high-mounted touchscreen provides great visibility and is easily reachable. Simple design and uncluttered features highlight the Kona's compact but comfortable cabin, and outward visibility is good in all directions. The biggest knock against the Kona here is its back-seat space, which is lacking compared to its rivals.
One thing Subaru does well is listen to its customers, and the Crosstrek's interior is a great example of the automaker's connection with buyers. The front cabin area is comfortable and spacious and is laid out intuitively. Subaru knows its buyers want to haul pets and take people off the beaten path, so the Crosstrek's cloth upholstery looks and feels resilient to stains and tears. Higher trim levels can be had with leather upholstery or synthetic leather, such as the Crosstrek Sport with water-resistant StarTex upholstery.
: Tie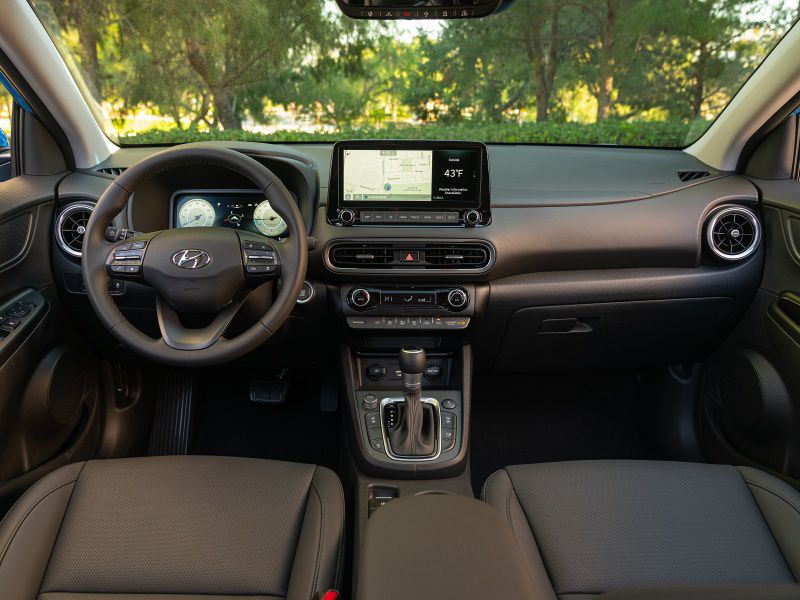 Photo by Hyundai
Interior Comfort
The Kona offers 39.6 inches of headroom up front and 37.8 inches in back, while legroom checks in at 41.5 up front and 35.2 in back. All of those dimensions fall short of the numbers offered by the Crosstrek, though the Kona's front seats are well padded and remain comfortable for extended drives.
The Crosstrek offers 39.8 inches of headroom up front and 38 in back, and legroom measures an expansive 43.1 inches up front. Passengers riding in the back seat see a considerably smaller space, at just 36.5 inches of legroom. That disparity makes toting adults a real hassle for some, and greatly reduces the Crosstrek's practicality.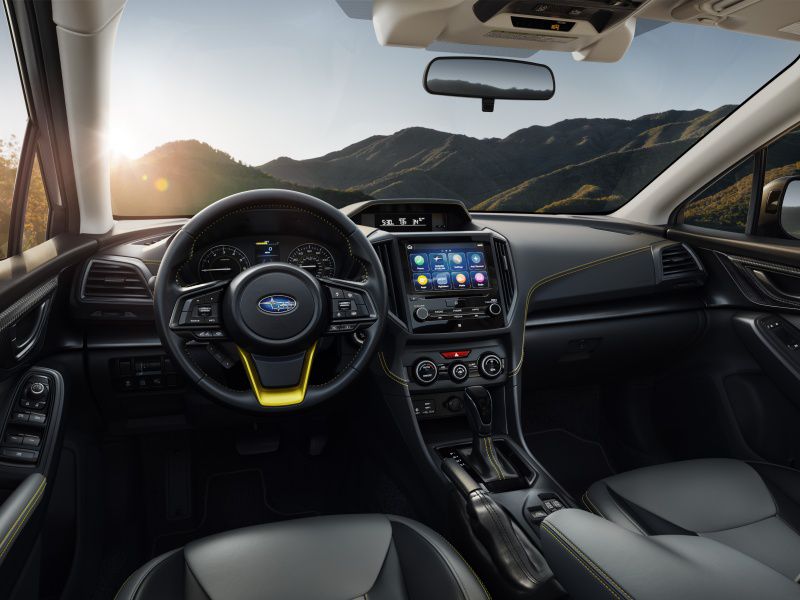 Photo by Subaru
Cargo Space and Utility
The Hyundai Kona brings 19.2 cubic feet of space behind the second-row seats, which expands to 45.8 cubes with the rear seat folded down. Though smaller than the cargo hold in the Crosstrek, the Kona's load floor is wide and flat, and the vehicle's friendly ride height makes loading and unloading a breeze. That said, the same sloping roof that cuts into headroom in the Kona's back seat also makes it difficult to load tall cargo and large items that may need a little more space up top.
The Subaru Crosstrek offers 20.8 cubic feet of cargo space, but the area opens up to a reasonable 55.3 cubic feet with the rear seats folded flat. That's a generous space, and it's enough to give the Crosstrek above-average measurements in its class. On top of that, the Subaru gave the SUV great small-item storage and plenty of other spaces to carry gear.
: Subaru Crosstrek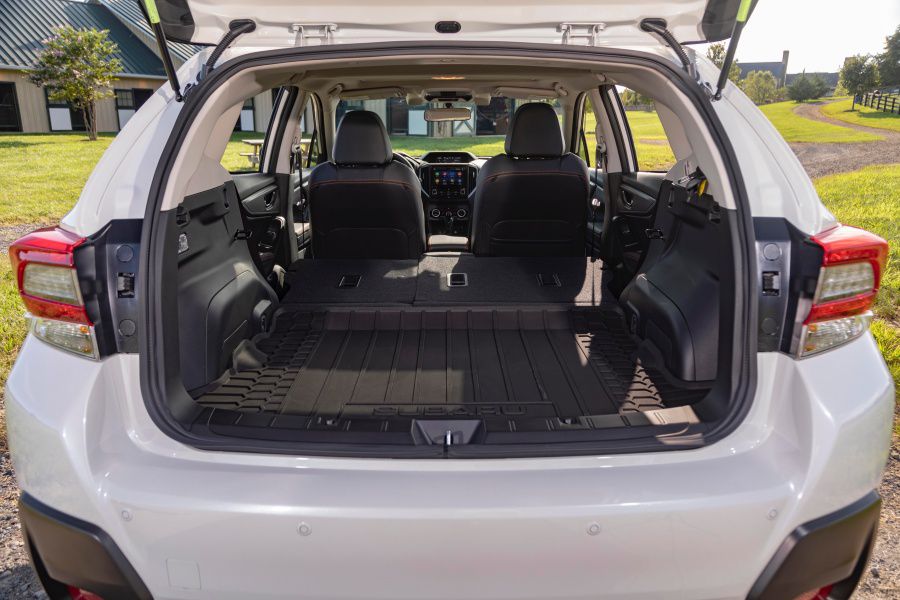 Photo by Subaru
Performance
Looking at the Kona, it's easy to write it off as another boring crossover, but Hyundai has done the work to dial in the fun – at least with a few of the trims. The base engine is a 2.0-liter four-cylinder that makes 147 horsepower and 132 pound-feet of torque. The N-Line and Limited trims come with a turbocharged 1.6-liter four-cylinder engine rated at 195 horsepower and 195 pound-feet of torque. At the top of the Kona lineup, the N trim gets a turbocharged 2.0-liter four-cylinder engine that produces 280 horsepower and 289 pound-feet of torque. The Kona's base mill lacks the grunt needed to make it feel lively, but stepping up to even the mid-range engine choice adds plenty of power and wakes the Kona up.
Subaru offers two engines in the 2022 Crosstrek. The base mill is a 2.0-liter four-cylinder that makes 152 horsepower and 145 pound-feet of torque. The upgraded engine choice is a 2.5-liter flat-four that makes 182 horsepower and 176 pound-feet of torque. Both engines come paired with either a six-speed manual (for models equipped with the 2.0-liter engine) or CVT. The larger, more powerful engine looks better on paper and helps the Crosstrek move with authority when asked. Both engines pair well with the continuously variable transmission, and the Subaru's standard all-wheel drive gives the Crosstrek excellent all-weather traction and confidence during spirited drives.
: Hyundai Kona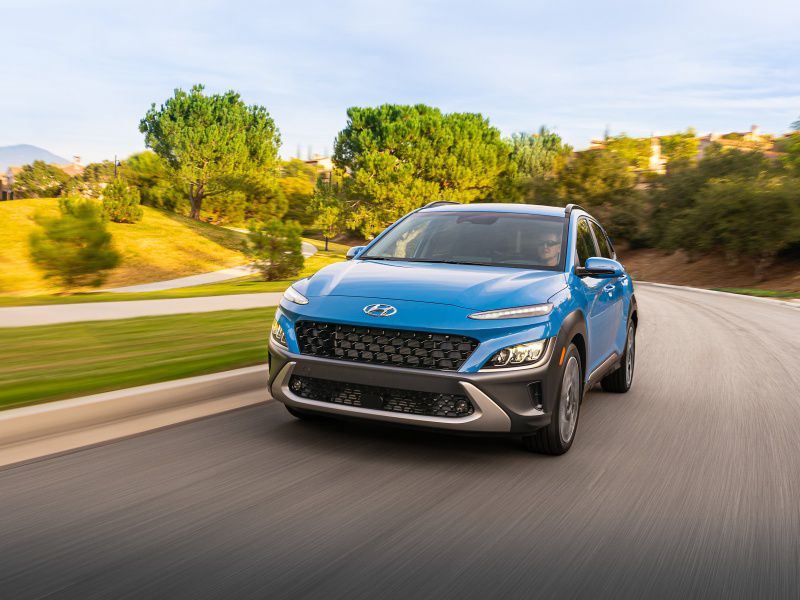 Photo by Hyundai
Fuel Economy
With the standard engine and front-wheel drive, the Kona returns 30/35/32 mpg city/highway/combined. All-wheel drive knocks two mpgs off the city rating. The 1.6-liter engine returns 29/35/32 with front-wheel drive and 27/32/29 mpg with all-wheel drive. The high-performance Kona N returns the worst fuel economy of the bunch, at 20/27/23 mpg. With the exception of the Kona N, those numbers are better than many of the Kona's rivals.
With the 2.0-liter engine and manual gearbox on board, the Subaru Crosstrek returns an EPA-estimated 22/29/25 mpg city/highway/combined, but with a CVT those numbers improve drastically to 28/33/30 mpg. The larger engine performs admirable as well, delivering up to 27/34/29 mpg.  
: Subaru Crosstrek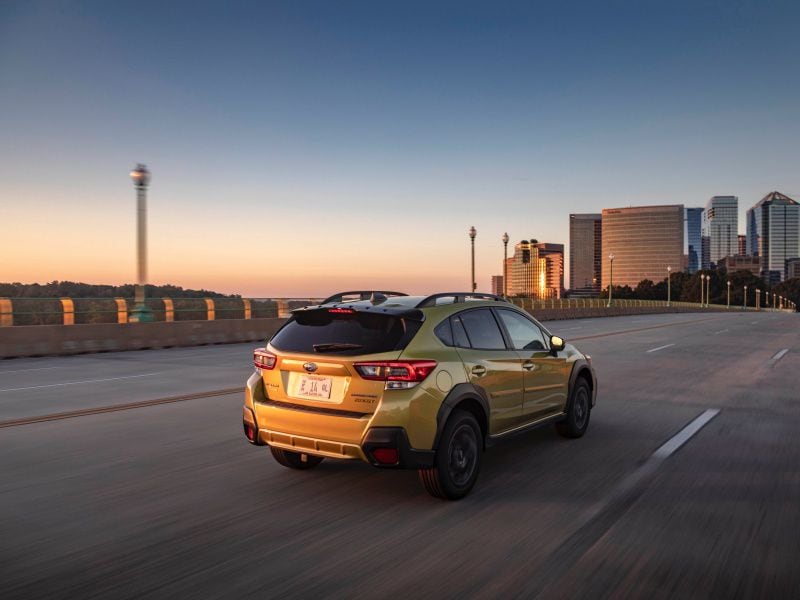 Photo by Subaru
Safety
Getting the best safety gear the Kona has to offer requires a step up from the base trim, which puts the Hyundai behind Subaru out of the gate. The Kona also missed out on earning a Top Safety Pick in testing performed by the Insurance Institute for Highway Safety. The SEL trim gets safe exit warnings, blind spot warnings, rear cross-traffic alerts, and rear occupant alerts. Hyundai offers a driver attention warning system, smart cruise control with stop and go, forward collision avoidance assist with pedestrian detection, and lane keep assist.
The 2022 Crosstrek hasn't been evaluated yet, but the 2021 model earned a Top Safety Pick with "Good" scores in all crash test categories, "Good" or "Poor" scores for headlights, depending on the configuration, "Superior" scores for front crash prevention, and "Good+" for LATCH system ease of use. Subaru's EyeSight safety tech comes standard, and includes a pre-collision braking system, pre-collision throttle management, lane departure alerts, and adaptive cruise control with lane centering. Automatic high beams, blind spot monitoring, and reverse automatic braking are available.
: Subaru Crosstrek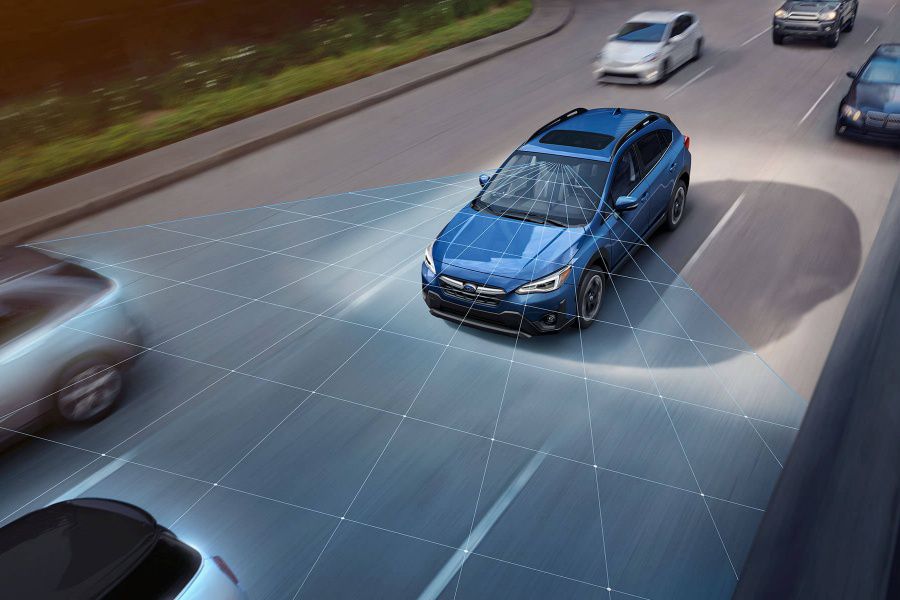 Photo by Subaru
Final Thoughts
The Hyundai Kona and Subaru Crosstrek are similar enough to be on the same vehicle shopping list, but the Subaru offers better standard features, more space, and all-wheel drive. It also offers stellar fuel economy and good safety gear. None of that is to say that the Kona isn't worth a look, because it's quite a good vehicle, but the Subaru edges ahead in all the places that matter. 
: Subaru Crosstrek
Photo by Subaru