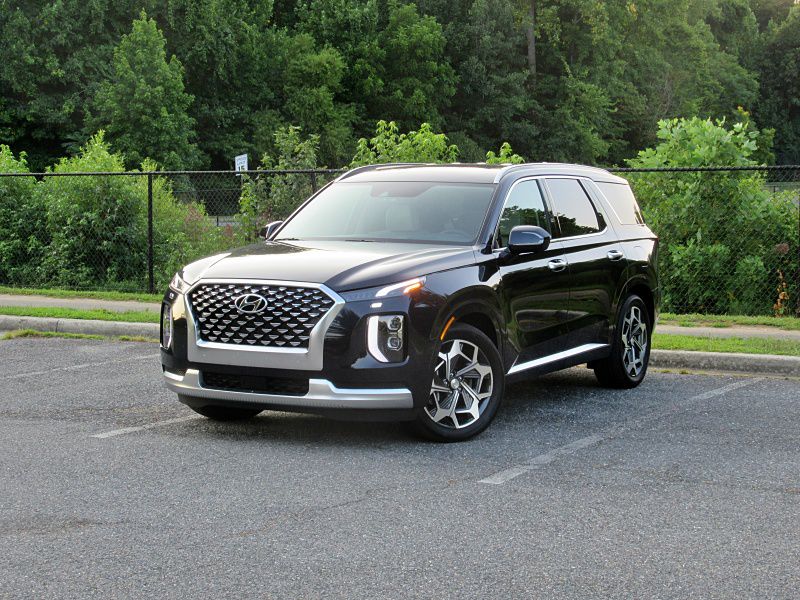 2021 Hyundai Palisade Calligraphy ・ Photo by Brady Holt
The Hyundai brand is known for value. And that's part of the appeal to the three-row 2022 Hyundai Palisade mid-size crossover. But it's not the only compelling bargain in its segment. The 2022 Subaru Ascent packs in even more standard features for even less money. Still, these two SUVs have some differences in the way they go about their family-friendly missions. Which is best? 
For this review, we tested both the Ascent and the Palisade so we could compare them in each of eight categories — and then name an overall winner. Keep reading to learn which one we picked and which one sounds like the better choice for you.
Pricing and Features
The 2022 Hyundai Palisade is priced from $33,350, which is a pretty good price for a decently equipped three-row mid-size crossover. But the 2022 Subaru Ascent costs even less — starting at $32,295. What's more, the Ascent comes standard with all-wheel drive, while AWD costs $1,700 extra on the Palisade. 
A fully loaded Palisade does have more features than a top-of-the-line Ascent. You can get the Hyundai with items that include an in-car intercom, ventilated second-row seats (both SUVs do offer heating and ventilation for the front seats and heat for the second row), hands-free liftgate operation, and safety features that include a surround-view parking camera, blind-spot camera mirror, and head-up display. Hyundai also offsets its higher price with three years of free scheduled maintenance and a longer warranty. But overall, you get more stuff for your money with the Subaru. 
Subaru Ascent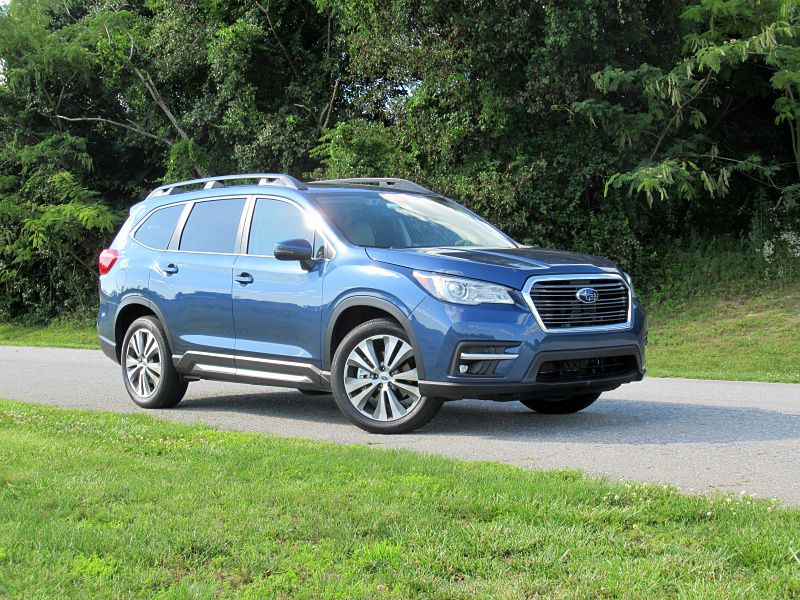 Photo by Brady Holt
Exterior Design
The Palisade injects some flashiness into the family-friendly crossover class. Much of it appears in the heavily chromed front end, where a large silvery grille looks even bigger next to the small upper headlamps. (A bigger but less eye-catching block of lights sits lower.) Tastes will vary about whether the Palisade looks high-end or just looks like it's trying to be, but everyone can agree the attempt was made. 
The Ascent didn't make such an attempt. It neither looks like it's trying to be fancy like the Palisade nor get-me-dirty rugged like a Subaru Outback. It has soft and simple lines, big curved headlights and taillights, and a modestly chromed grille. It looks tall and narrow, which it is. For a three-row crossover, it looks approachable and unintimidating. We'll leave the choice between the dressy Palisade and the unpretentious Ascent up to personal taste. 
Tie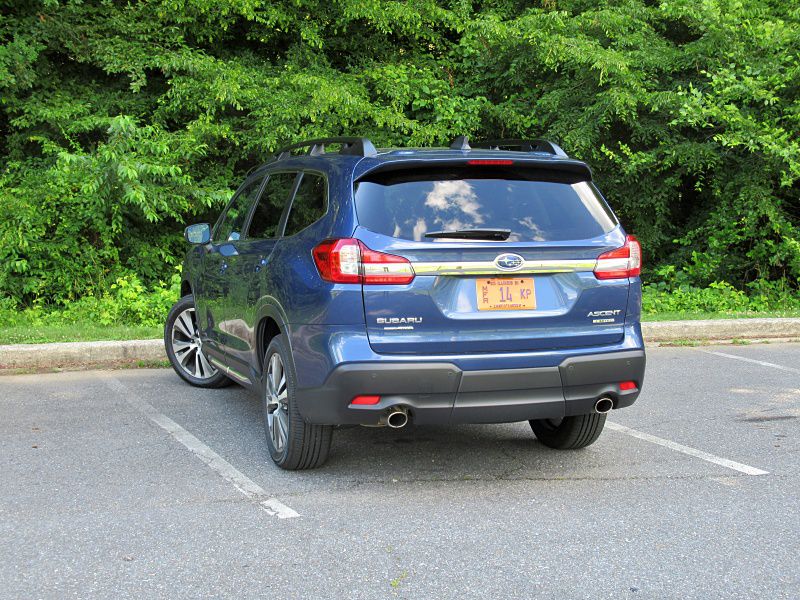 Photo by Brady Holt
Interior Design
The all-business vibe continues to the Ascent's interior. The dashboard offers simple symmetry with a vertically flowing instrument panel, simple controls, and an unassuming 8-inch touchscreen infotainment system on most trim levels (the base model gets a tiny 6.5-inch unit). There's nothing flashy or high-tech here, and we weren't blown away by the overall vibe. Most interior materials and assembly are solid, but clunky operation of the gear selector and the exterior door handles bugged us.
The Palisade's cabin has more design flourishes and richer materials. The infotainment screen is visually connected to the gauge cluster, and the instrument panel then flows down below it into the center console. There's a hidden storage area below this floating console, plus another big storage area between the seats. Nifty retractable cupholders let you choose between open storage or a space for your drinks. A big 10.25-inch touchscreen is a widely available upgrade over the base 8-inch screen. Our top Calligraphy test vehicle includes particularly beautiful wood trim and rich leather, but all Palisades are attractively finished. Hyundai tried harder than Subaru to be upscale, clever, and high-tech, and it generally succeeded on all fronts. 
Hyundai Palisade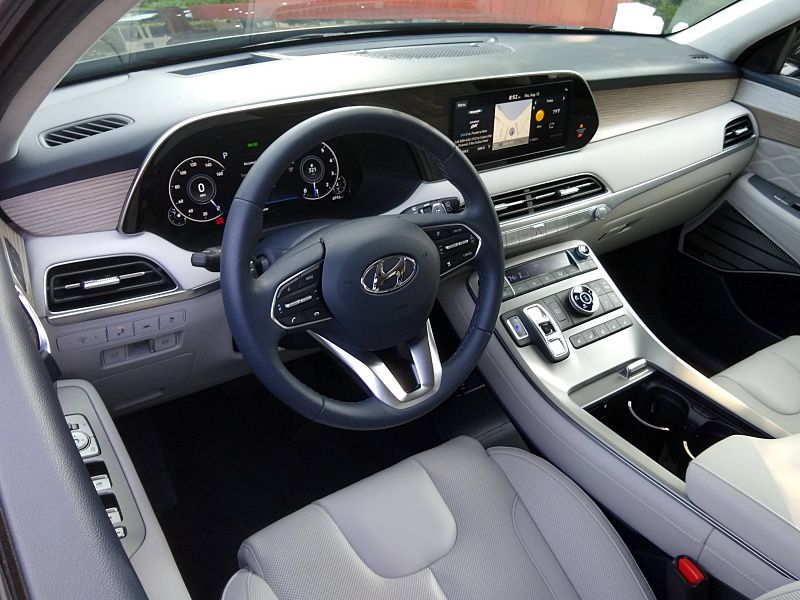 Photo by Brady Holt
Passenger Accommodations
The Ascent offers a choice of seven or eight seats, depending on whether you choose a three-seat bench seat or twin captain's chairs in the second row. It has plenty of space in the front seats and the second row, but the third row is small for adults. 
The Palisade is more generously spacious, especially in the third row. It's a slightly larger vehicle, and you feel that. We also found its front seats more comfortable than the Ascent's, and only the Hyundai provides the option for ventilated second-row seats. Like the Ascent, the Palisade has a choice of seven-passenger or eight-passenger seating. Drivers will enjoy slightly better visibility from the Subaru, but the Hyundai wins this round overall. 
Hyundai Palisade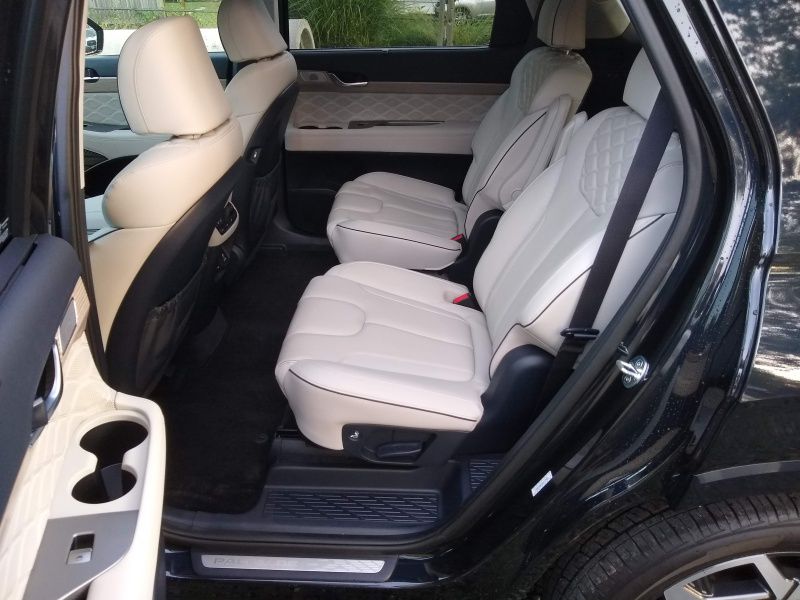 Photo by Brady Holt
Cargo and Utility
Though the Palisade is roomier for passengers, the Ascent holds its own for cargo. Behind the third-row seat, the Ascent fits 17.8 cubic feet versus 18.0 cubic feet in the Palisade. Folding down the third rows returns 47.5 cubic feet in the Subaru and 45.8 cubic feet in the Hyundai. The Ascent's total capacity is 86.5 cubic feet, while the Palisade's is 86.4 cubic feet. 
Both the Ascent and the Palisade are rated to tow up to 5,000 pounds, as are most three-row mid-size crossovers. The main difference between the two crossovers is that the Ascent is taller while the Palisade is wider, meaning each one has a slight advantage at carrying different types of cargo. But even that difference is slight. We'll call this category a tie. 
Tie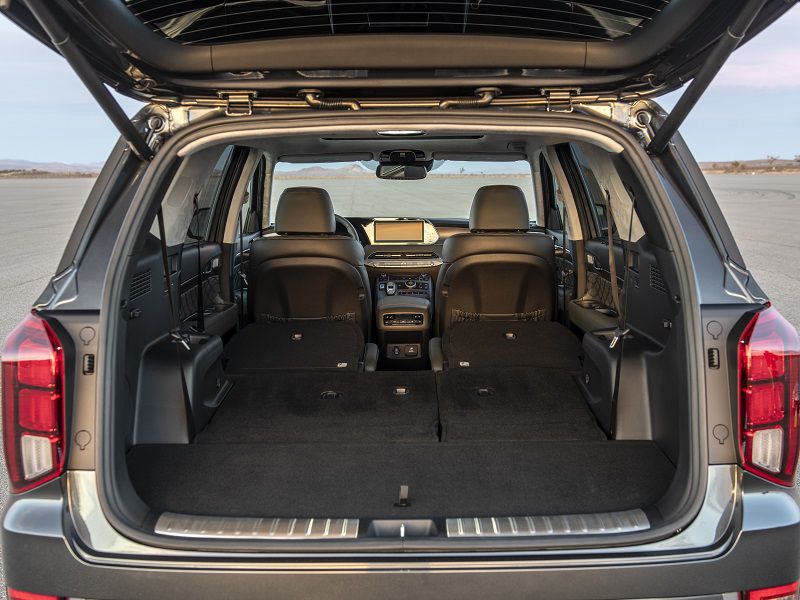 Photo by Hyundai
Driving Impressions
Like most three-row crossovers, the Palisade rides on a front-wheel-drive-based platform with optional all-wheel drive, and every trim level uses a naturally aspirated V6. This engine makes 291 horsepower and 262 pound-feet of torque. The Palisade is quiet and rides smoothly, and it's easy to drive, but there's not much excitement in either the acceleration or handling. Even so, it's our pick over the Ascent. 
The Ascent rides comfortably, and like other Subaru crossovers, it has high ground clearance (8.7 inches to the Hyundai's 7.9), standard symmetrical all-wheel drive, and X-mode torque-distribution settings. But the Hyundai is quicker, quieter, and more agile. The Ascent has loose-feeling steering and a soft-feeling brake pedal. And while its turbocharged 260-horsepower four-cylinder engine isn't slow, it's on the noisy side. Furthermore, the Ascent's extra-sensitive gas pedal made it jump off the line even when we wanted to accelerate slowly.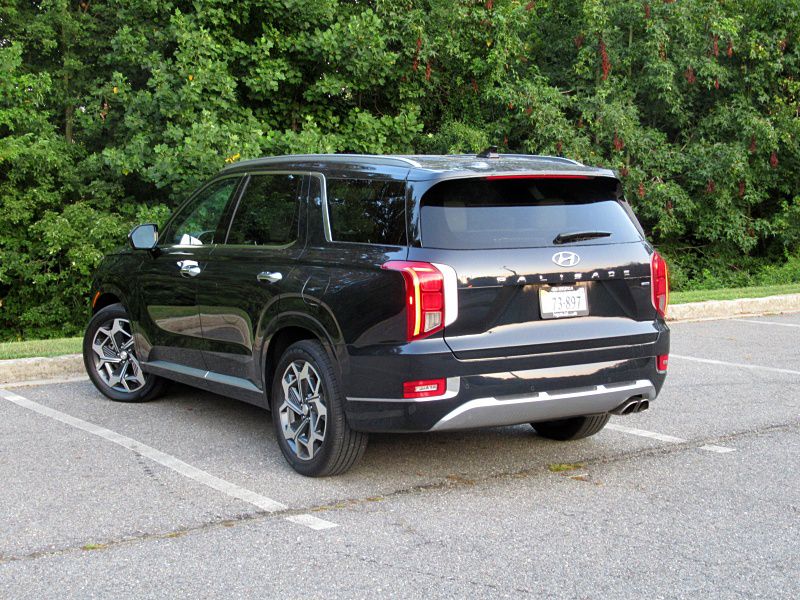 Photo by Brady Holt
Fuel Economy
The Ascent's four-cylinder engine does pay off at the gas pump. EPA pegs most of the Ascent's trim levels at 21 mpg in the city, 27 mpg on the highway, and 23 mpg combined, while the top Limited and Touring trim levels — weighed down with extra features — slip by 1 mpg. (Remember that all Ascents include AWD.) Our Ascent Limited averaged an impressive 25 mpg during our weeklong test. 
The V6 Palisade isn't a gas-guzzler, but it's less economical. The EPA pegs it at 19 mpg city, 26 mpg highway, and 22 mpg combined with front-wheel drive and 19 mpg city, 24 mpg highway, and 21 mpg combined with all-wheel drive. Our AWD test vehicle averaged 23 mpg.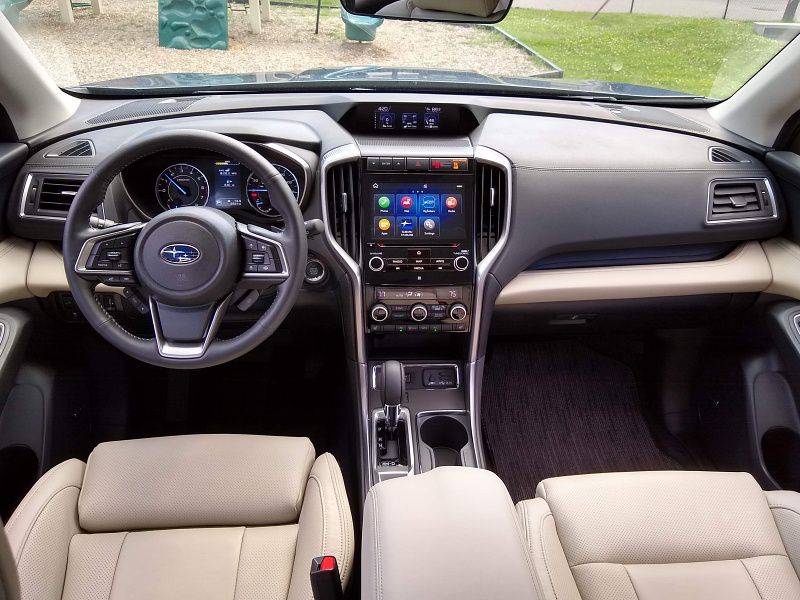 Photo by Brady Holt
Safety
The Ascent and the Palisade are two of the safest SUVs on the market. Both earned the highest possible designation of Top Safety Pick+ from the Insurance Institute for Highway Safety. Both earned five out of five stars in National Highway Traffic Safety Administration testing. And both come standard with a long list of advanced driver-assistance features, including automatic emergency braking, lane-keeping steering assistance, and adaptive cruise control. 
Still, Hyundai edges past Subaru with a few extra features. First, it provides blind-spot monitoring on every Palisade, while it's missing from the base Ascent. Second, it has some extra options that aren't available on the Subaru: a blind-spot camera that activates when you put on your turn signal, a surround-view parking camera that provides a bird's-eye view of your vehicle and nearby obstacles, and a head-up display that projects information from the gauge cluster onto the windshield so you can see it without looking down. Subaru counters with a rearview camera mirror that lets you eliminate blind spots like stacked cargo or passengers' heads while seeing behind you, but Hyundai has more.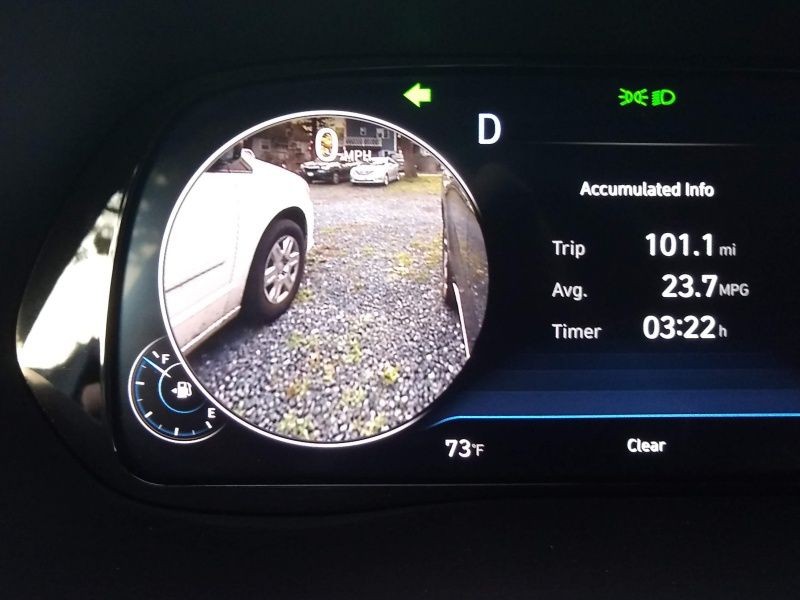 Photo by Brady Holt
Final Thoughts
The 2022 Subaru Ascent is a solid value. It keeps prices down while offering a safe, comfortable, and economical package. It avoids looking big, pretentious, or intimidating, and it seats up to eight passengers. 
Still, we'd pay extra for the 2022 Hyundai Palisade. A relatively modest price premium buys you more passenger space, a more sophisticated driving experience, a more cleverly executed interior, and more available safety features. It provides more of a luxury experience without skimping on family-friendly focuses like generous cabin storage, smart features like the in-car intercom, and those nifty reconfigurable cupholders. It makes fewer missteps than the Ascent, and it makes more effort to truly dazzle you. 
Hyundai Palisade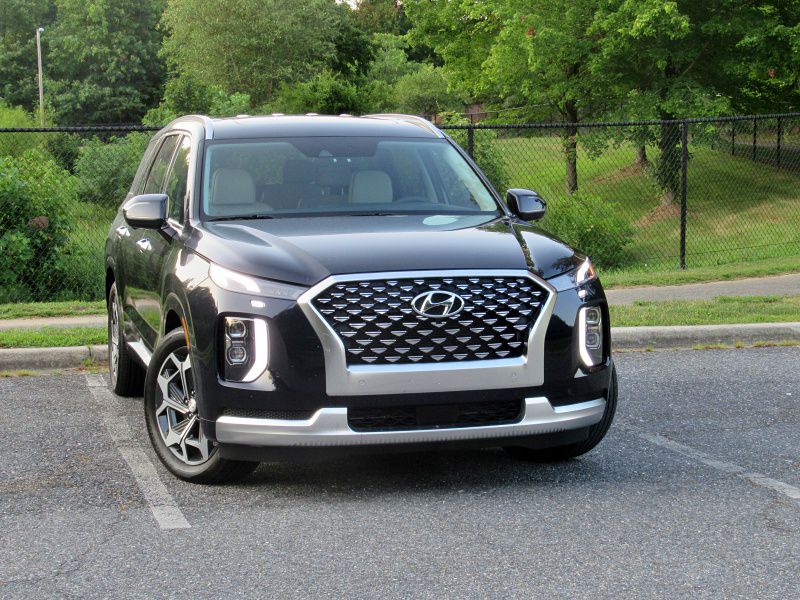 Photo by Brady Holt