2022 Rivian R1T ・ Photo by Rivian
The 2022 Rivian R1T is an all-new electric vehicle and the first vehicle from all-electric automaker Rivian. This pickup truck is smaller than a full-size pickup but still larger than a mid-size, which puts it in an interesting middle space between the two. This makes it well-suited for those who drive in more urban environments where streets are narrow and parking spaces are a challenge to find.
While the number of electric vehicles continues to grow, the options when it comes to trucks is limited. There are several full-size models, but if you want something smaller, there aren't currently other options. The good news is, the Rivian R1T has a long range, good capability, and excellent driving manners along with unique options for stowing cargo. Let's take a closer look at the 2022 Rivian R1T to see if it's the right truck for you.
Two Trims Available
Although a Launch Edition was available, that has long since sold out. Currently, you can order one of two trims, or "packages," with varying availability. That could mean waiting until as late as 2024 to get your hands on this truck depending on the configuration. The base Explore trim is priced at $67,500 with dual-motor all-wheel drive, standard battery, heated seats and steering wheel, vegan leather seating surfaces, air compressor, textile headliner, and panoramic glass roof.
The Adventure is priced from $73,000 and adds dual front bumper tow hooks, a premium Rivian Elevation audio system by Meridian, natural-grain ash wood interior trims, ventilated seats, Compass Yellow interior accents, and a recycled microfiber headliner. Options for both trims include two long-range batteries and quad-motor all-wheel drive. This isn't an inexpensive option, but it's well-equipped even in its base trim, which makes it a more premium truck.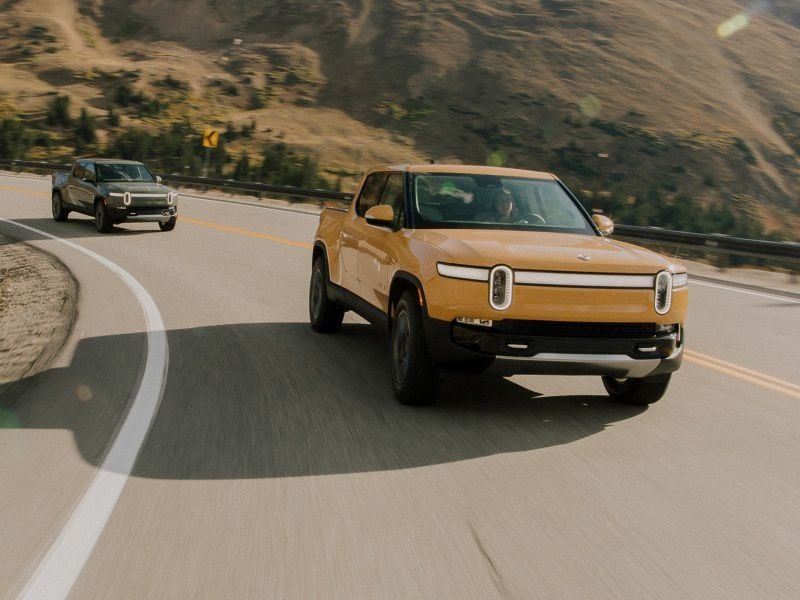 Photo by Rivian
Three Battery Options
There are three batteries starting with the Standard. It has a range of 260 miles and is included in the base price for both trims. The Large battery takes range to an EPA-estimated 314 miles for $6,000 while the Max battery increases range to 400 miles for $16,000. Even the Standard battery provides more than enough range for a typical day, but those focused on long-distance driving may find the longer-range options worth the price.
The Rivian R1T accepts Level 1, Level 2, and DC fast charging. At a Level 2 charger, it gains roughly 25 miles of range every hour. At a DC fast charger, you can be on your way more quickly with the Rivian R1T gaining up to 140 miles of charge in as quick as 20 minutes. Its relatively fast charging combined with long-range battery options make this a strong choice if range is a concern.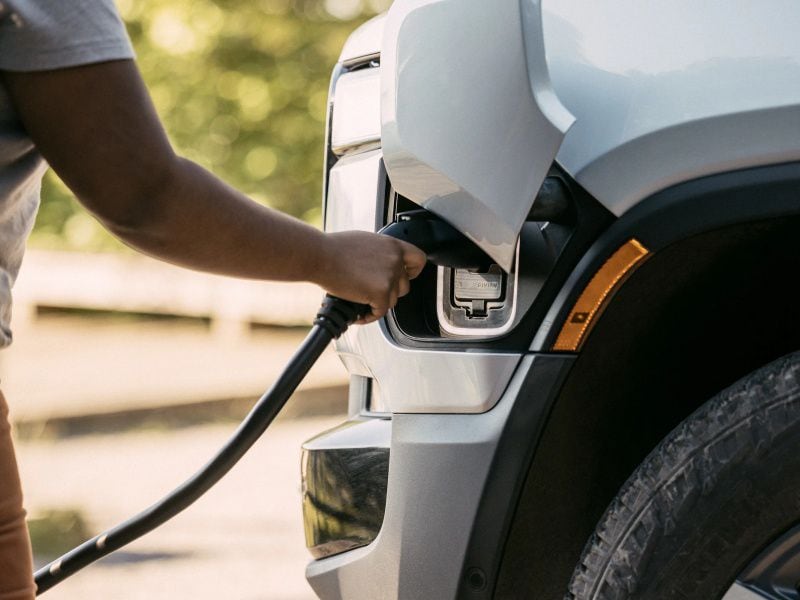 Photo by Rivian
A Responsive Ride
The R1T is offered with standard all-wheel drive and a choice of dual motors or quad motors. Dual-motor variants have an estimated 0-60 time of 4 seconds with 600 horsepower and 600 lb-ft of torque. Quad-motor versions of the R1T take that 0-60 time down to 3 seconds with 800 horsepower and 900 lb-ft of torque.
Those are impressive numbers in either configuration, and they make this a downright aggressive pickup truck. It accelerates up to highway speeds without the least bit of hesitation and has more than enough power leftover for passing slower vehicles. While you might not think of a truck as being a performance vehicle, the Rivian R1T will change your mind. Its overabundance of power makes it an engaging drive experience that won't have you missing the days of beefy V8 engines under the hood.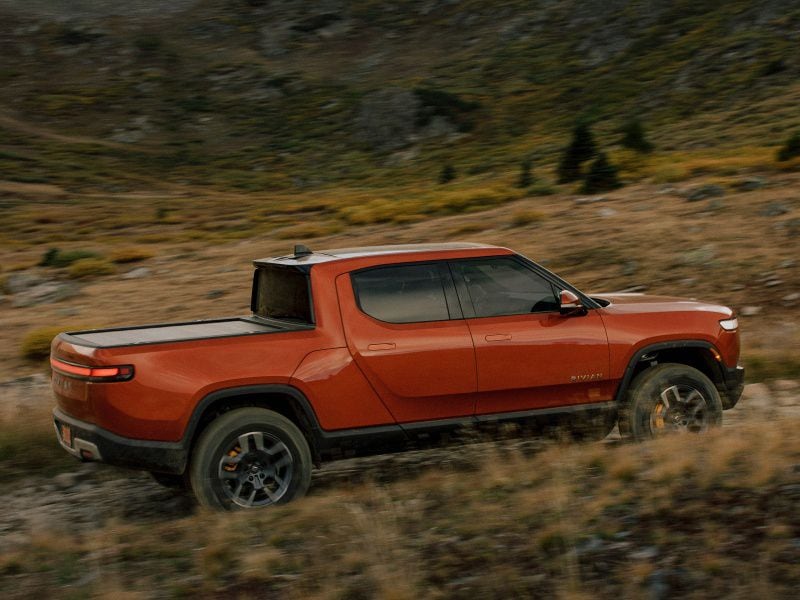 Photo by Rivian
Surprisingly Agile Handling
That performance combines with good handling to make the R1T fun to drive whether you're taking it on a highway cruise or along winding back roads. It's composed and controlled with a suspension system that makes short work of road imperfections. There's also a choice of eight drive modes to tailor handling to current conditions. All Purpose is for everyday driving while Sport tightens up handling for more spirited excursions. Conserve switches to front-wheel drive for extended highway cruises while Tow maximizes torque for heavy loads.
The R1T is also a capable off-road truck with four off-road modes from which to choose. Off-Road Auto is for modest dirt driving while Off-Road Rally is for high-speed adventures. Off-Road Drift reduces traction control for drifting while Off-Road Rock Crawl manages rugged terrain and steep grades. No matter where you plan to drive, the Rivian R1T is up to the challenge.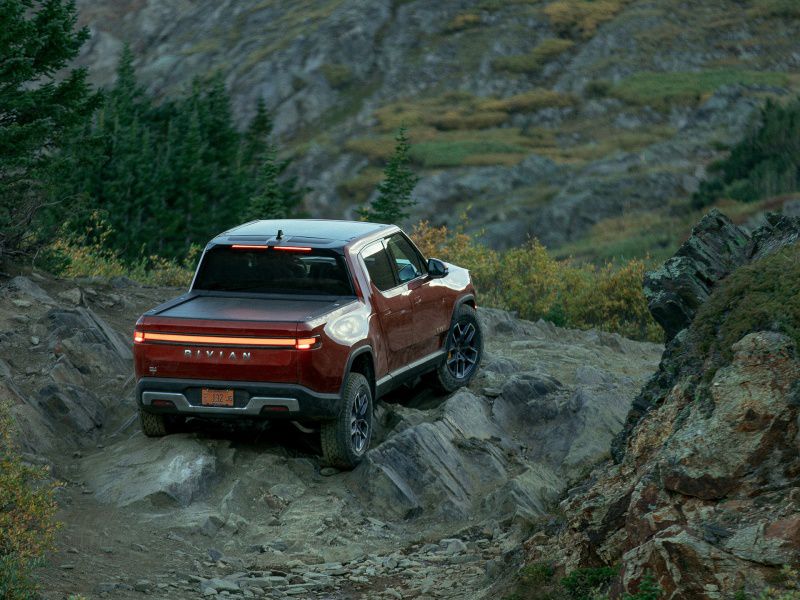 Photo by Rivian
A Luxurious Interior
The interior of the R1T is a luxury experience no matter the trim you choose. It is not, however, flashy and over the top in its luxury. Instead, trims are modest and attractive to create a subdued and welcoming space for passengers. Vegan leather seating surfaces, a panoramic glass roof, and a heated steering wheel and seats are standard. Move up to the Adventure trim and there's a premium Meridian audio system, natural-grain ash wood interior trims, and ventilated seats.
In addition to an attractive and comfortable interior with plenty of room for passengers, the R1T delivers a quiet and composed ride that's ideal for longer trips. Road noise and wind noise are well-muted, and when combined with the silence of an electric vehicle, this creates a relaxing experience for driver and passengers alike.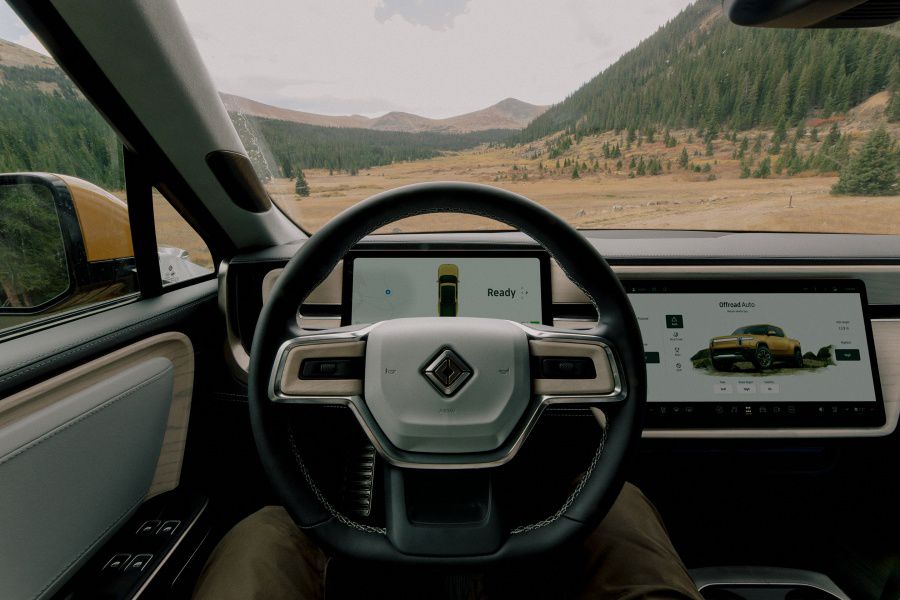 Photo by Rivian
Missing Smartphone Connectivity
Infotainment in the Rivian R1T includes a standard 15.6-inch touchscreen, which we love. It controls not just the usual infotainment functions, but also houses many other vehicle functions including climate control and the hood release. It's an intuitive system with logically organized menus that make it quick to learn. The Adventure trim adds a premium Meridian sound system to the mix that delivers fantastic audio quality. It's specially designed for the R1T with speakers placed to provide ideal audio no matter where you sit.
Wi-Fi connectivity is also included, but there is one major downside. That's smartphone connectivity. There's neither Apple CarPlay nor Android Auto, not even as an option. And there's not currently a plan to add this functionality later. While not necessarily a dealbreaker, it's a puzzling decision on behalf of Rivian and one that will frustrate those who are already accustomed to this connectivity.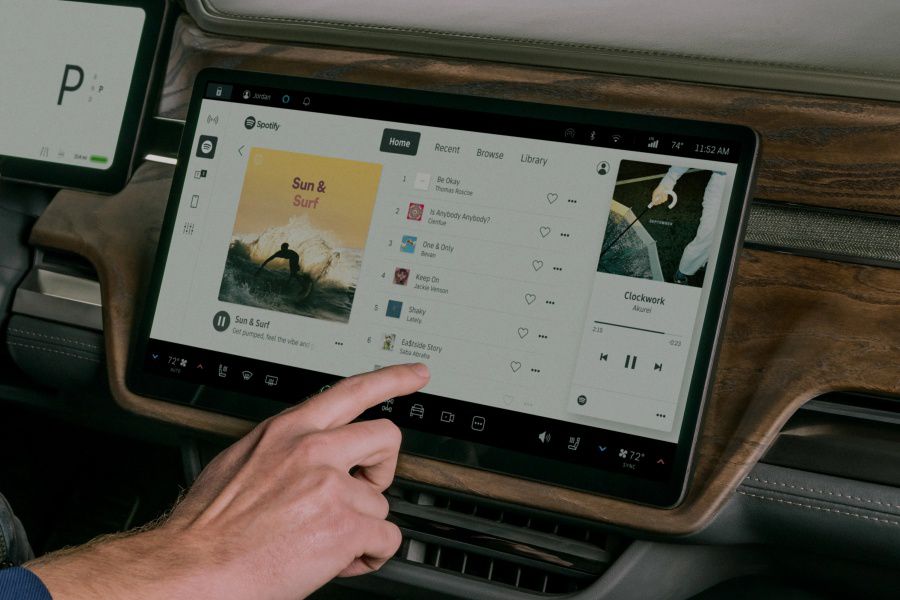 Photo by Rivian
Extensive Standard Safety
There's a wide range of standard safety features in the Rivian R1T, so there's no need to purchase an options package. These include automatic emergency braking, dynamic brake support, forward collision warning, rear cross-traffic warning, trailer assist, park assist, automatic high beams, lane departure warning, lane keep assist, blind-spot warning, adaptive cruise control, and highway assist.
In addition, there's Driver+. This is a driver assistance system that can both steer and adjust your speed for handsfree driving. It's an easy system to use with steering inputs that closely match what a driver naturally does so it's not a disconcerting experience to let the car take control. It's ideal for long road trips, but even on shorter highway drives, it's a great feature. Although this is a handsfree system, it's important to note that the driver still needs to pay attention in case they need to take control.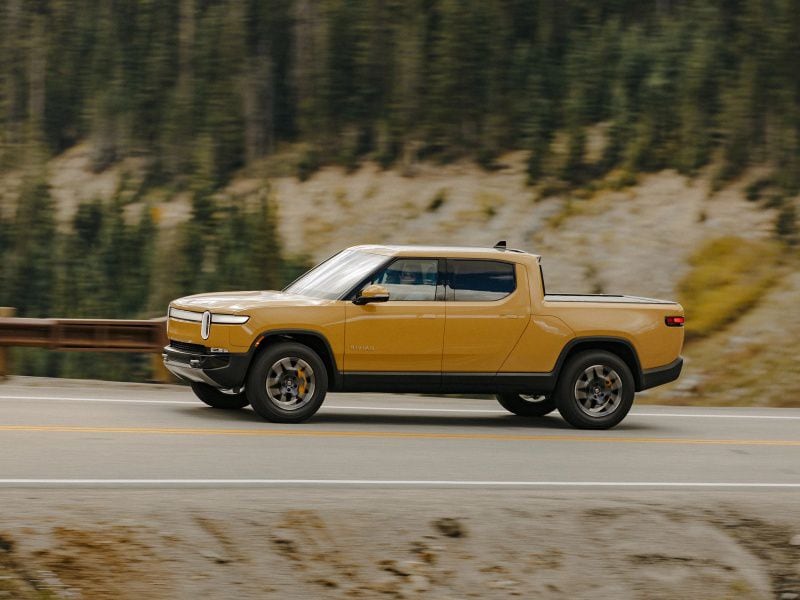 Photo by Rivian
Cargo Capability
Although smaller than full-size trucks, the Rivian R1T still has the capability to manage cargo. There's a maximum payload rating of 1,760 pounds with a maximum tow rating of 11,000 pounds. Those numbers are easily high enough to manage what most people need to tow or carry in the bed. But this an electric vehicle, so it has a few storage tricks you won't find in the average pickup truck.
Since there's no engine under the hood, Rivian uses the empty space for cargo. The frunk (front trunk) offers an additional 11.1 cubic feet of storage. This is an ideal spot for securing smaller items that might roll around unchecked in the bed. Additionally, there's a gear tunnel that runs the width of the truck behind the cab. This adds another 11.7 feet of cargo storage and serves as a handy step to reach items secured to the roof.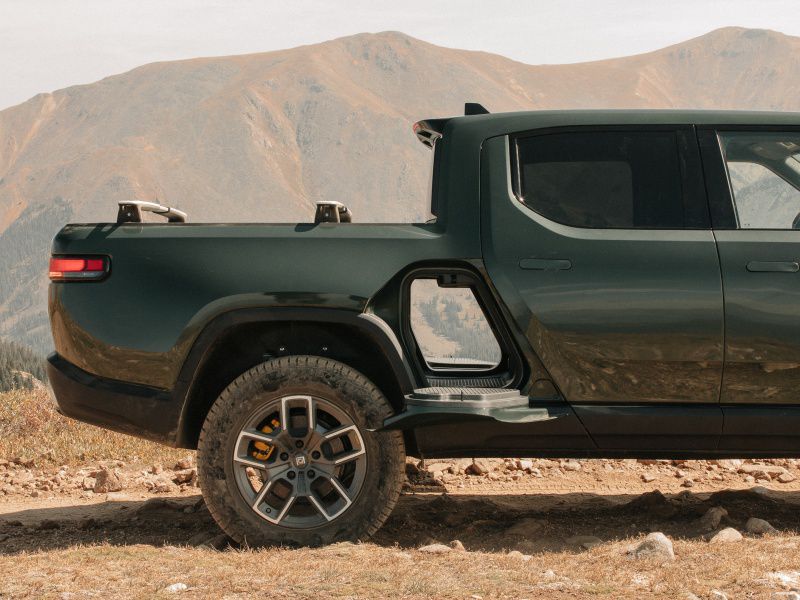 Photo by Rivian
Final Thoughts
The Rivian R1T is a strong first offering that occupies a unique space in the electric-vehicle marketplace. While there are full-size electric trucks, this is a more compact vehicle that's better for urban areas. That smaller size doesn't diminish capability. The R1T can tow and manage a payload with ease, and it has unique storage options with its frunk and gear tunnel. It also has a solid driving range on its standard battery with two long-range options for those who frequently go on longer trips. It's also ready to go off-road.
The interior is beautiful with attractive trims, comfortable seating, and plenty of room to spread out. Infotainment is good, though lacking smartphone connectivity, and there's a wide range of standard safety features. Its biggest downside is its limited availability. Rivian is taking orders but be prepared to wait until as far out as 2024 for it to arrive.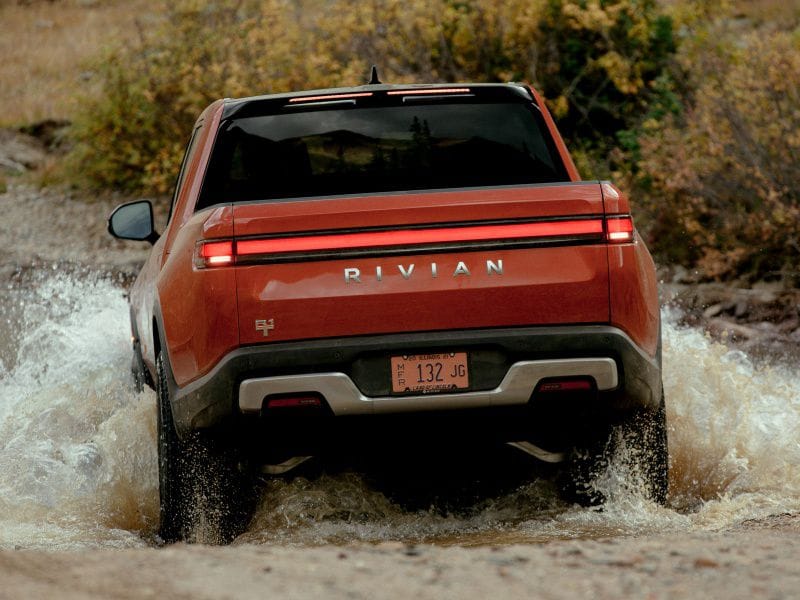 Photo by Rivian