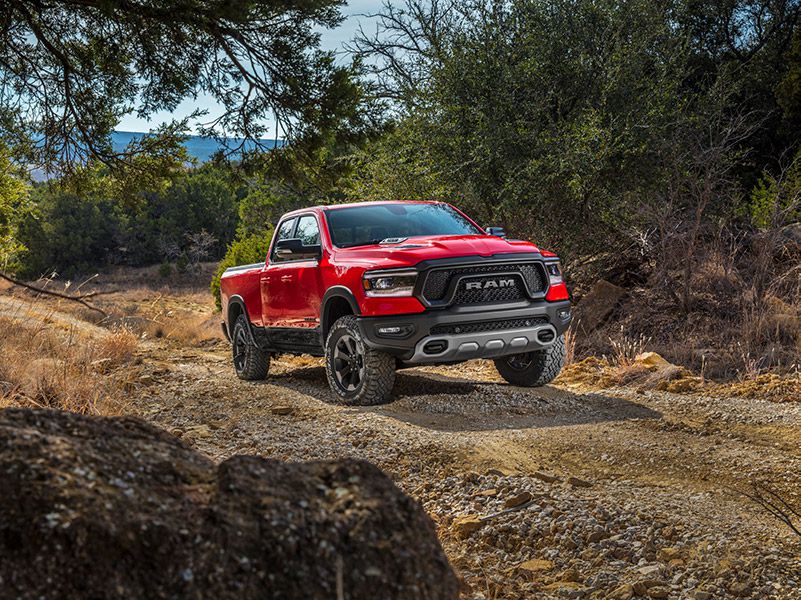 2020 Ram 1500 Rebel ・ Photo by Ram Trucks
A battle between the 2022 Ram 1500 and the 2022 Chevrolet Silverado is one of giants. Both trucks are among the top-selling vehicles in the United States, and both have millions of loyal fans. Both vehicles are offered in a variety of configurations that allow buyers to customize their trucks for their own uses. And while in many ways similar, both vehicles have very telling differences. The Chevrolet Silverado has received some substantial updates for the 2022 model year while the Ram 1500 added a list of limited-edition sub-models. For 2022, Chevrolet introduced a high-performance off-road version of the Silverado in the ZR2. In its narrow category, it goes up against the Ram 1500 TRX, which is still billed as the quickest, most powerful production pickup truck in the world. Cool as those specialty trucks are, most buyers in the segment will opt for a less-expensive, lower-horsepower versions. Those models are full of capabilities as we will detail in this comparison between the 2022 Ram 1500 and the 2022 Chevrolet Silverado.
Exterior Style
In the words of a plastic surgeon, the Chevrolet Silverado "has had some work done" for the 2022 model year. Chevy designers tweaked the pickup's nose, but you can be forgiven if you don't notice much of a change. Meanwhile, the Ram has filled the gap between big-change years with the addition of specialty models. Included among them are Ram 1500 Limited 10th Anniversary Edition, Ram 1500 Longhorn SouthFork, Laramie G/T and Rebel G/T Crew Cab models, plus the Ram 1500 BackCountry. For years the Ram 1500 has hung its hat on a good-looking exterior. That's still one of the truck's strong suits for the 2022 model year. The Ram 1500 Crew Cab versions have 5-foot 7-inch boxes or 6-foot 4-inch boxes. The Ram Quad Cab has a 6-foot 4-inch box. The Silverado offers more variety. It comes in regular cab, Double Cab, and Crew Cab versions, and three bed lengths are offered. For 2022, some versions of the Ram 1500 get a new multifunction tailgate, and the Silverado has a multifunction tailgate of its own.
: Chevrolet Silverado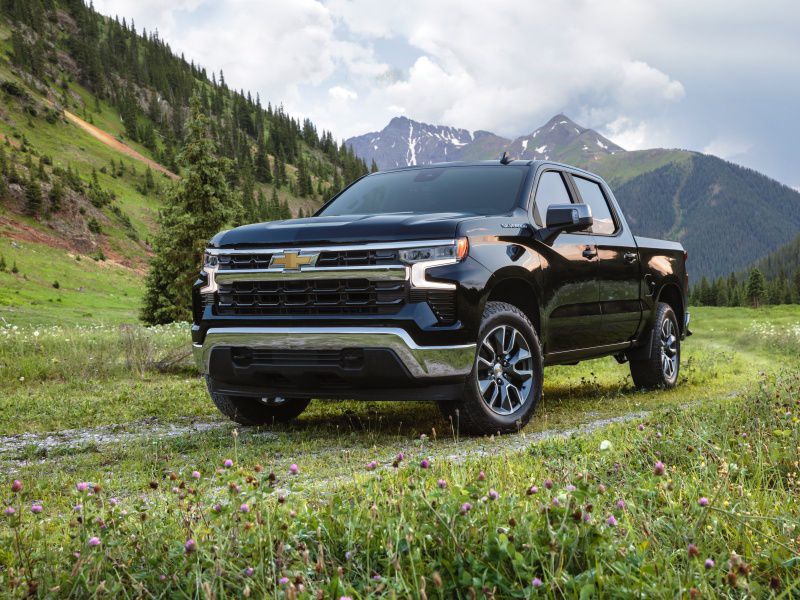 Photo by Chevrolet
Powertrains
Both pickups offer a broad range of engine choices. The Ram 1500 can be equipped with either of two V8 engines. The 5.7-liter V8 delivers 395 horsepower and 410 lb-ft of peak torque. The supercharged 6.2-liter V8 in the TRX has 702 horsepower and 650 lb.-ft. of torque. Chevy counters with a 5.3-liter V8 that delivers 355 horsepower and 383 lb-ft of torque and  a 6.2-liter V8 that offers 420 horsepower and 460 lb-ft of torque. The base engine in the Ram 1500 is the prosaic 3.6-liter V-6 producing 305 horsepower and 269 lb-ft of torque. The base engine in the Silverado is a 2.7-liter turbocharged four-cylinder that develops 310 horsepower and a solid 430 lb-ft of torque. The Ram's diesel option is a 3.0-liter turbodiesel V6 with 260 horsepower and 480 lb-ft of torque. Chevy offers a 3.0-liter inline six-cylinder turbodiesel that makes 277 horsepower and 460 lb-ft of torque. Rear-drive and four-wheel-drive are widely available across both lineups. Ram 1500s feature standard eight-speed automatic transmissions. The Silverado V8s and the turbodiesel use 10-speed automatic transmissions. The base 2.7-liter four-cylinder is backed by an eight-speed transmission.
: Tie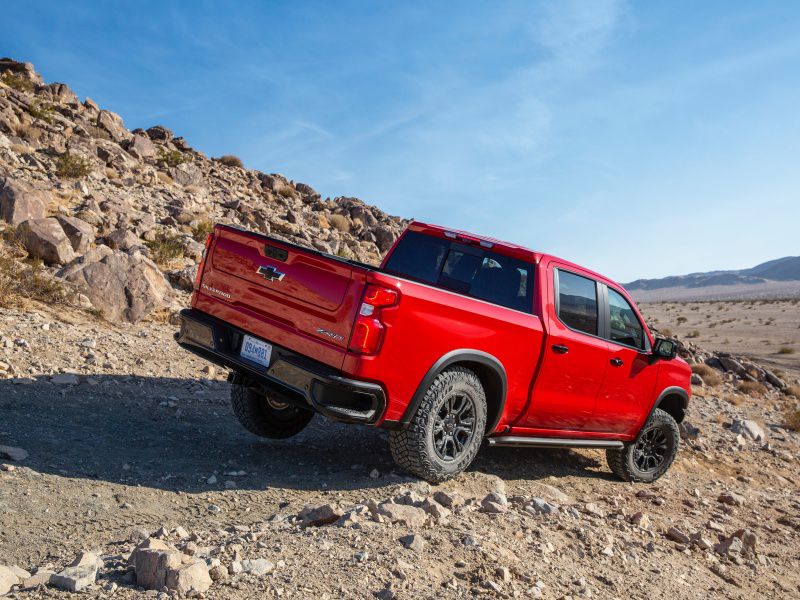 Photo by Chevrolet
Driving Impressions
Both trucks in this comparison are very civilized and easy to like. One thing that is clear after driving both is that the one that stands out for superior ride quality is the Ram 1500. This has been a Ram hallmark for years. The base "steel" suspension is very supple, and the optional front and rear air suspension makes things even cushier. Of course, the desert-running TRX has a suspension all its own and with its immense horsepower on tap, it is more than a match for the new Chevrolet ZR2 specialty truck. The pricey TRX also offers performance-oriented driver assists like launch control. The engineers who developed both trucks know that many trucks are used as family transport as much as for work, so they are careful to give them predictable handling and good ride quality as well as serious hauling and towing capabilities. In terms of handling, neither of the full-size pickups feels especially agile, but once drivers get used to their substantial length and height they are easy to drive.
: Ram 1500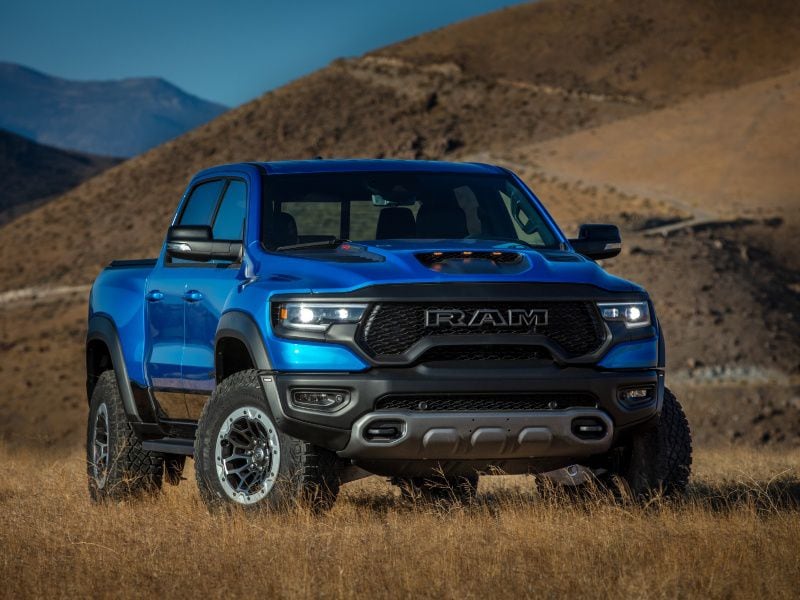 Photo by Ram Media
Interior Design
The Ram 1500 has developed a reputation for attractive "plus-level" interiors, and the 2022 model is a great example of that. It starts with a well-designed shell and then is filled with comfort and convenience items. In an effort to get back into the game, Chevy redesigned the Silverado interior for 2022. Interestingly, not all trim levels get the benefit of the new design, but LT trims and above have very nice accommodations. Among the highlights of the revised interiors are a 12.3-inch digital instrument cluster and a sizable 13.4-inch infotainment touchscreen. In Crew Cab form, the Ram 1500 has the largest cab in the segment. Both the Ram 1500 and Silverado offer a wide variety of trims. As they ascend in price, the materials and conveniences grow proportionately. When you get to the top of the line trucks like the Silverado High Country and Ram 1500 Limited, you are looking at full-on luxury vehicles with leather-lined interiors.
: Ram 1500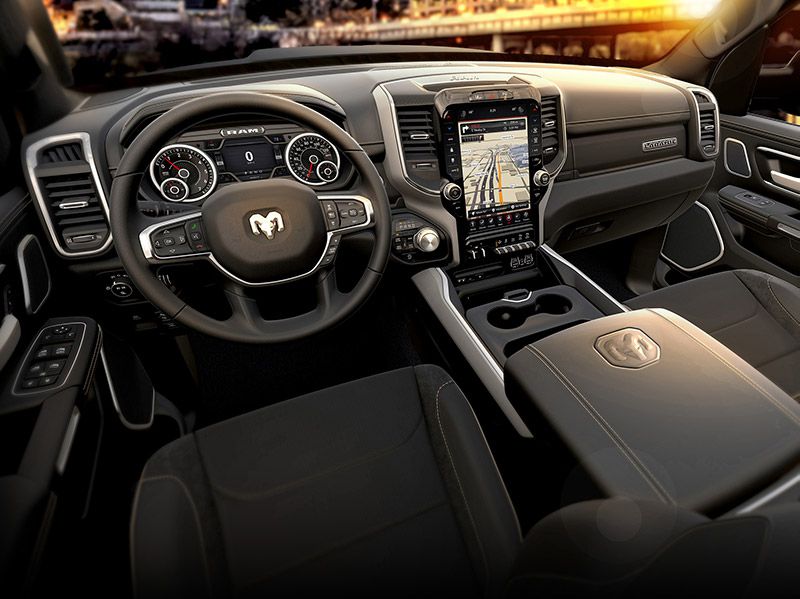 Photo by Fiat Chrysler Automobiles
Infotainment &Technology
Not only are the two trucks in this comparison big; they also offer big touchscreen infotainment displays. Really big. In the past several years, the Ram 1500 has led the parade when it comes to offering big touchscreens. For 2022, the Ram pickup offers Uconnect 5, the latest version of the well-regarded system Ram has become known for, plus other Uconnect systems. Uconnect 5 Nav features a 12.0-inch touchscreen display, Apple CarPlay, Android Auto, integrated voice command with Bluetooth, Alexa integration, 4G LTE Wi-Fi hotspot, Ram connected services, connected travel services, real-time traffic, GPS navigation, SiriusXM 360L, and HD radio. Some Ram 1500 models are equipped with Uconnect 5 with an 8.4-inch touchscreen. Not to be outdone, Chevrolet has equipped its 2022 Silverado with an even bigger touchscreen. A 13.4-inch-diagonal color touchscreen and new 12.3-inch-diagonal configurable digital instrument cluster standard on LT trims and above. The system features Google built-in with access to Google Assistant, Google Maps, and Google Play. It also features wireless Android Auto and wireless Apple CarPlay plus Amazon Alexa.
: Tie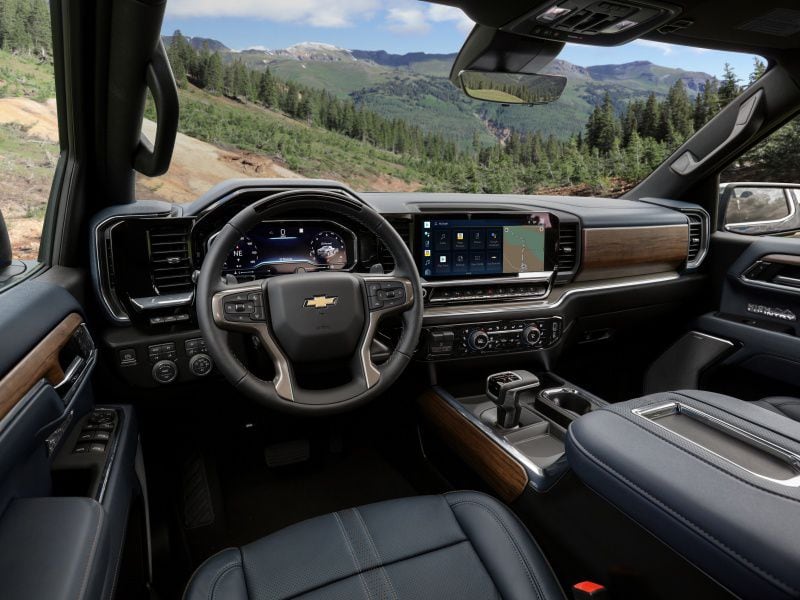 Photo by Chevrolet
Safety & Driver Aids
The biggest news in driver-assists in this comparison is the availability of the Super Cruise hands-free driving system on the top-level Chevy Silverado High Country. Super Cruise can be used on more than 200,000 miles of compatible roads in the U.S. and Canada. Impressively, the system functions when towing a trailer with specific calibrations designed to account for the additional drag and increased braking distance that comes with trailering. When not towing, lane change on demand and automatic lane change are also available with Super Cruise. Other towing-oriented driver-assist features are Trailer Side Blind Zone Alert, which accounts for the length of the trailer when changing lanes, and enhanced adaptive cruise control to enable use while trailering. Beyond that, standard Chevy Safety Assist includes forward collision alert, lane-keeping assist, lane departure warning, automatic emergency braking with pedestrian detection, following distance Indicator, and automatic high beams. The 2022 Ram 1500's Advanced Safety Group offers adaptive cruise control with stop, go, and hold; blind-spot monitoring with trailer coverage; rear cross traffic alert; lane departure warning plus; pedestrian protection; surround view camera, automatic headlights, rain-sensitive wipers, and parallel/perpendicular park assist. It is optional on Laramie, Limited, and TRX models.
: Chevrolet Silverado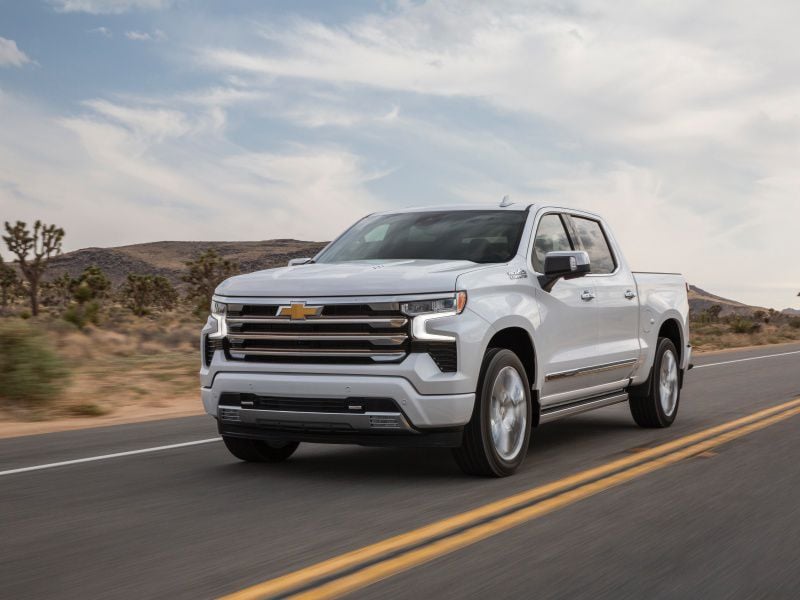 Photo by Chevrolet
Cargo & Towing
The Chevrolet Silverado is offered with three bed lengths while the Ram 1500 is available with two. As with all vehicles, towing capacity depends upon configuration and powerplant. The truck must be properly equipped to tow the maximum weight. The Ram 1500's maximum tow rating is 12,750 pounds. In some Double Cab configurations, the Chevy Silverado is rated to tow up to 13,300 pounds. With the Crew Cab, that drops to a still very impressive 13,200 pounds. For the 2022 model year, Chevy has changed the chassis of the 3.0-liter turbodiesel-equipped Silverados to accept the maximum tow package. That brings with it a max tow rating of 13,300 pounds in the two-wheel drive configuration in the Double Cab model. That's a 4,000-pound improvement over the 2022 Silverado LTD models with the diesel engine.
: Chevrolet Silverado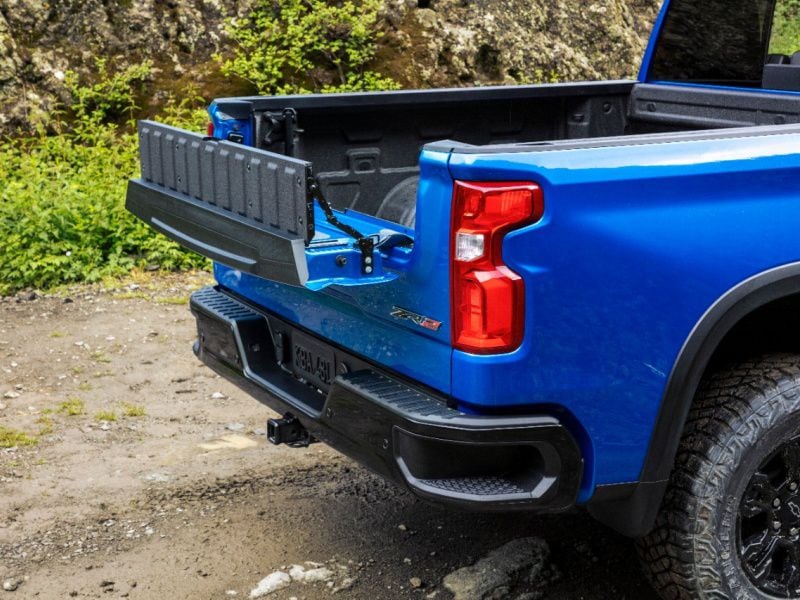 Photo by Chevrolet
Trim Levels
The Ram 1500 is available in eight different trims — Tradesman, Tradesman HFE, Big Horn/Lone Star, Rebel, Laramie, Longhorn SouthFork, Limited 10th Anniversary Edition, and TRX. Quad Cabs and Crew Cabs are available across the board. The Ram 1500 doesn't offer a traditional regular-cab version. The new BackCountry Edition provides off-road features straight from the factory. Standards include off-road shocks, all-terrain tires, skid plates, electronic locking rear differential, and hill-descent control. The Chevrolet Silverado is offered in eight trims as well. The Work Truck and Custom trims have the older interior while the LT, RST, LT Trail Boss, ZR2, LTZ, and High Country trims feature a redesigned interior with a 13.4-inch touchscreen and 12.3-inch configurable digital instrument cluster. The ZR2 is a new off-road performance trim that includes 420-horsepower 6.2-liter V-8 engine, 10-speed automatic transmission, Multimatic spool-valve dampers, increased suspension travel, front and rear electronic locking differentials, and 33-inch off-road tires.
: Tie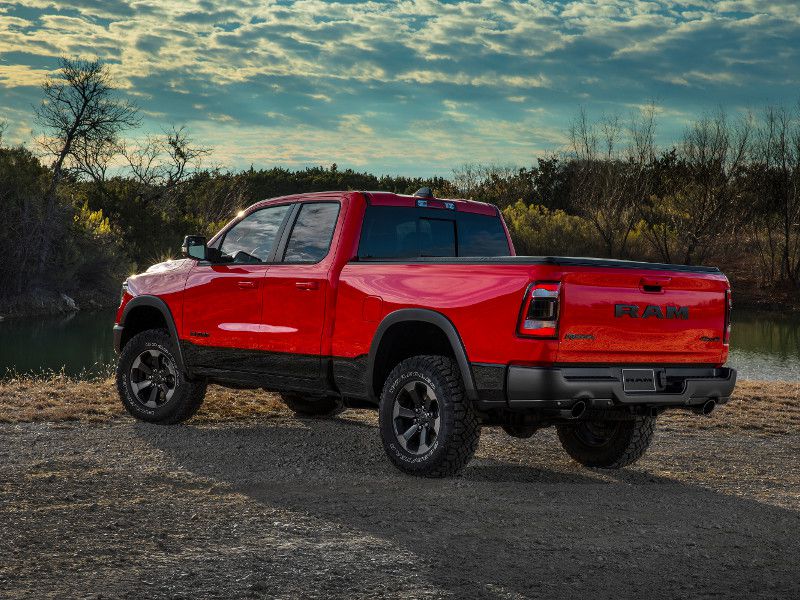 Photo by FCA Media
Pricing & Value
For the 2022 RAM 1500, prices range from about $36,000 for a Tradesman Quad Cab to around $65,000 for a Limited Crew Cab in 4x4 form. The specialty desert racer TRX has a suggested list of about $77,000. Options can take its price near $100,000. For 2022, Chevrolet Silverado prices range from about $35,000 for a regular cab Work Truck to around $66,000 for a High Country Crew Cab long-bed 4x4. The new ZR2 off-road performance truck has a base price of about $71,000. As is obvious, the competition is red-hot in this giant segment with both Ram and Chevy right on top of each other in features and price. In this competitive cauldron, it is difficult to pick a winner. One thing that is obvious is that in the face of strong competition, Chevy has really upped its game for the 2022 model year. At the same time, we have been continually impressed by the Ram 1500 and point to its consumer-authenticated high quality as the reason we prefer it. So the winner in a close battle is the 2022 Ram 1500.
: Ram 1500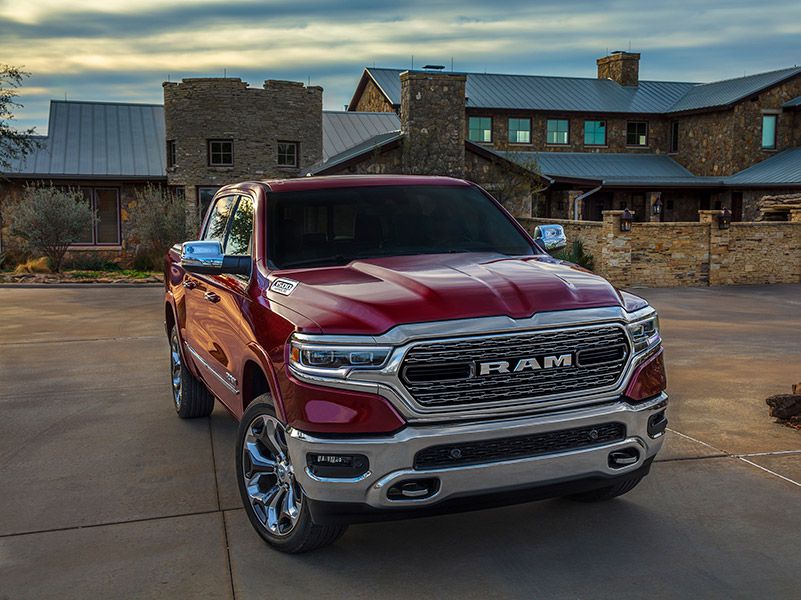 Photo by Fiat Chrysler Automobiles