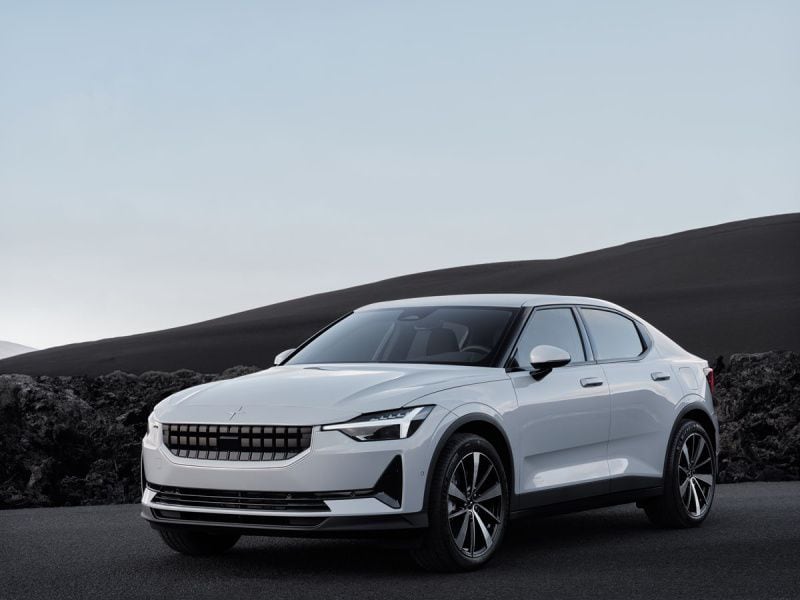 2022 Polestar 2 ・ Photo by Polestar
The Polestar brand has undergone some changes over the last few years. Originally the high-performance arm of Volvo, in 2017, it was reimagined as an all-electric carmaker. Its first vehicle, the Polestar 2, made its debut in the United States for 2021 as a dual-motor high performance model. Just one year out, and there are a few notable changes.
Instead of just one configuration, there are now two. The updated version of the Polestar 2 gets a name change to Polestar 2 Dual Motor with a shuffle to its standard features and a new available heat pump that helps improve range. There's also a new Polestar 2 Single Motor, with lower pricing, a longer range, and front-wheel drive only from its single motor. Let's take a closer look at the 2022 Polestar 2 to see if this electric vehicle is the right choice for you.
Two Well-Equipped Trims
The adjustments to the lineup this year include a pricing adjustment. The Polestar 2 Dual Motor now starts at $49,900. Standard features include an 11.15-inch infotainment touchscreen with Google Android Automotive, 8-speaker audio, dual-zone climate control, heated front seats, and embossed textile upholstery. There is also standard lane keeping with steering assist, forward collision warning, and collision avoidance and mitigation.
Options include the Plus Pack at $4,000 which adds the newly available heat pump along with a 13-speaker Harman Kardon audio system, heated rear seats and steering wheel, and a panoramic roof with a reflected Polestar symbol. There's also a Pilot Pack that adds safety features for $3,200 and a Performance Pack for $5,000 that includes Brembo brakes, gold brake calipers, and 20-inch wheels. The new Polestar 2 Single Motor is priced from $45,900 with the same standard features, but with front-wheel drive only.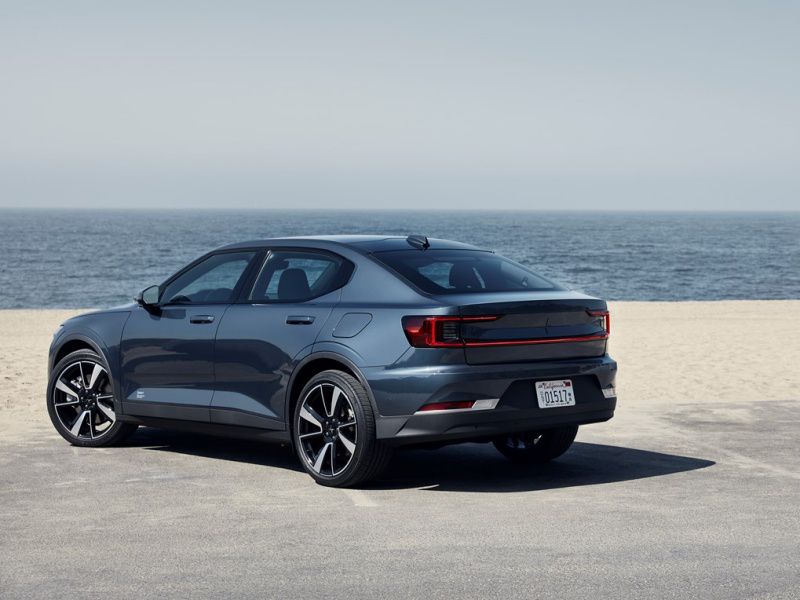 Photo by Polestar
Dual Motor or Single Motor?
Both versions of the Polestar 2 come with a 78-kWh battery pack. It gets an 80 percent charge in 33 minutes at a DC fast charger and fully charges in eight hours plugged into a Level 2 charger. The Single Motor has 231 horsepower with 243 lb-ft of torque and a top speed of 100 mph. Estimated range is 265 miles and front-wheel drive is your only option. The Dual Motor adds that second motor for standard all-wheel drive with 408 horsepower with 487 lb-ft of torque with a top speed of 127 mph. Range drops to an estimated 249 miles.
While there's a modest difference in range, there's a significant difference in performance. Not only does the Dual Motor add all-wheel drive, which is often a must-have for those in wintry climes, but it has far more horsepower, making it a more engaging car to drive.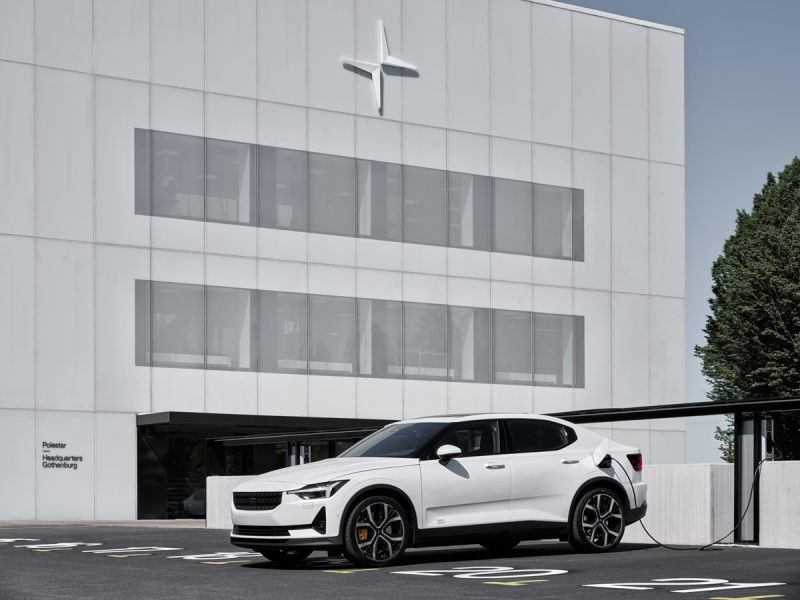 Photo by Polestar
What About That Heat Pump?
The 2022 Polestar 2 has a new heat pump that's available as a part of the Plus Pack. That pack is a $4,000 option that also ads a 13-speaker Harman Kardon audio system, heated windshield, heated rear seats and steering wheel, panoramic glass roof, and wireless charging. There's no way to get the heat pump as a standalone option.
What the mechanical heat pump does is collect ambient heat and residual thermal energy from the drivetrain to reduce the draw on the battery. That reduction can be as much as 50 percent. Depending on the outside temperature, this can increase overall range by up to 10 percent. Polestar is continuing to make improvements that will be available via over-the-air (OTA) updates that could further increase range making it an even more worthwhile upgrade to consider.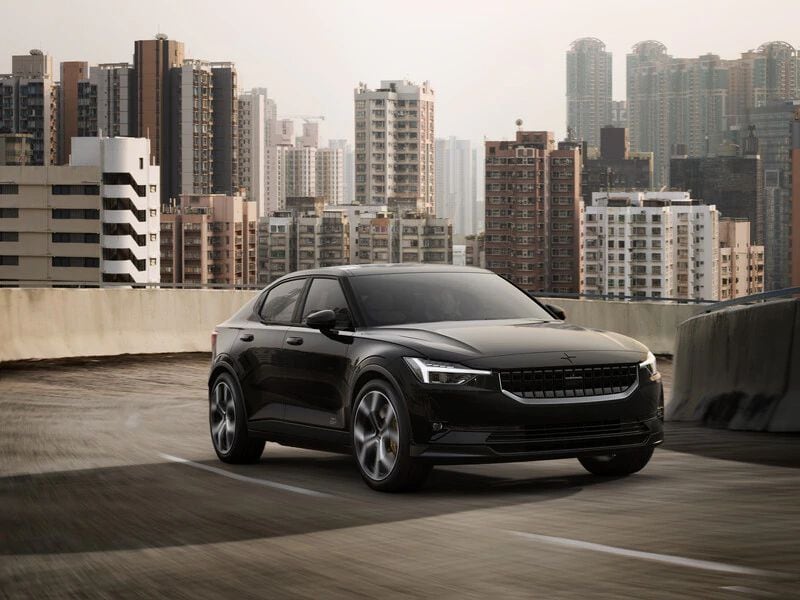 Photo by Polestar
That Smooth, Quiet EV Ride
No matter which version of the Polestar 2 you choose, the ride is smooth and compliant. This is a luxury offering, and it fits the part. Not only is there the hush that comes from the lack of a gas engine under the hood, but there's also a minimum of road and wind noise. Driving the Polestar 2 is a serene experience that lets the driver relax and passengers take in the scenery.
Handling is good with crisp steering that made easy work of the winding mountain roads on our drive route. It's an effortless drive experience that still engages the driver with strong acceleration. While the Single Motor isn't quite as spirited as the Dual Motor, the difference isn't one that would sway us to the Dual Motor unless we were after the all-wheel drive. The Polestar 2 delivers on its promise of luxury and performance with an electrified powertrain.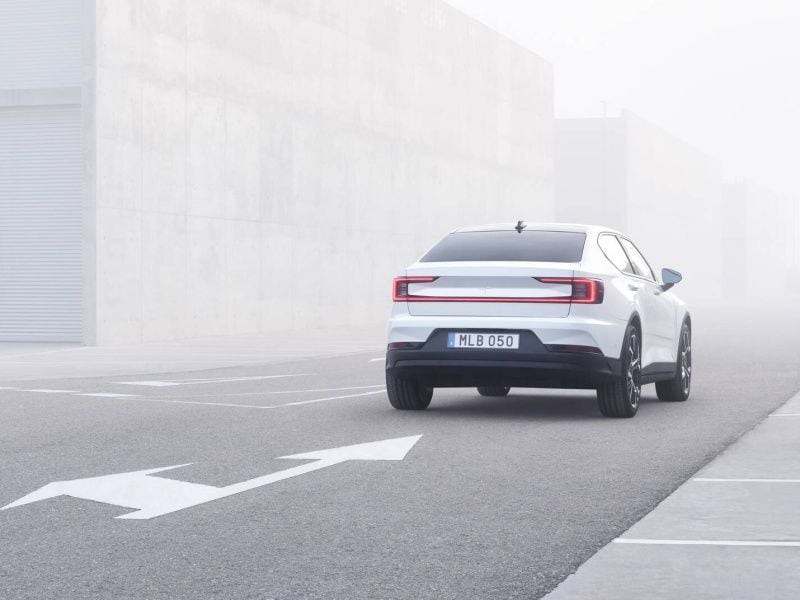 Photo by Polestar
An Environmentally Friendly Interior
Some luxury cars are about flash, but the Polestar 2 takes a more modest approach. It's downright minimalist with an attractive yet modest interior. Seating is comfortable and supportive with standard 4-way power front seats with lumbar. The ride is smooth and calm with rough pavement going unnoticed by passengers. There's room for three adults in the rear seats with ample headroom and legroom, however it's a bit tight across for three. On shorter trips it's fine, but longer journeys are better with only two.
Polestar puts a priority on environmental responsibility in the sourcing of its materials, including its interiors. To that end, the interior of the standard Polestar 2 is vegan with zero animal products. It uses a material called WeaveTech, which is made of recycled materials, rather than leather. It feels and looks great with lots of visual appeal. It's also durable and easy to clean.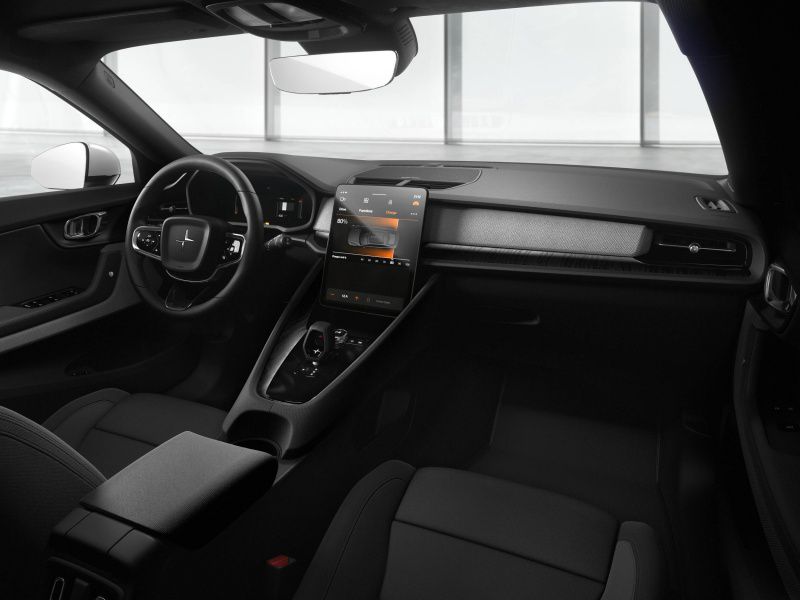 Photo by Polestar
Plenty of Options for Stowing Cargo
The Polestar 2 balances its comfortable interior with plenty of room for cargo. Starting up front where the engine would be in a gas-powered vehicle, there's a small storage compartment with 1.2 cubic feet of space. Another unexpected bit of storage can be found under the rear floor where you can store up to 1.4 cubic feet of additional cargo.
Behind the rear seats, there's 14.3 cubic feet; behind the front seats there's 38.7 cubic feet. Making that cargo area more versatile is a rear hatchback. This allows for storing bulkier items that might not fit with a traditional trunk. If you still need more cargo room, then the Polestar 2 can tow up to 2,000 pounds when properly equipped. It's not a large vehicle, but it does offer good cargo capacity with plenty of versatility.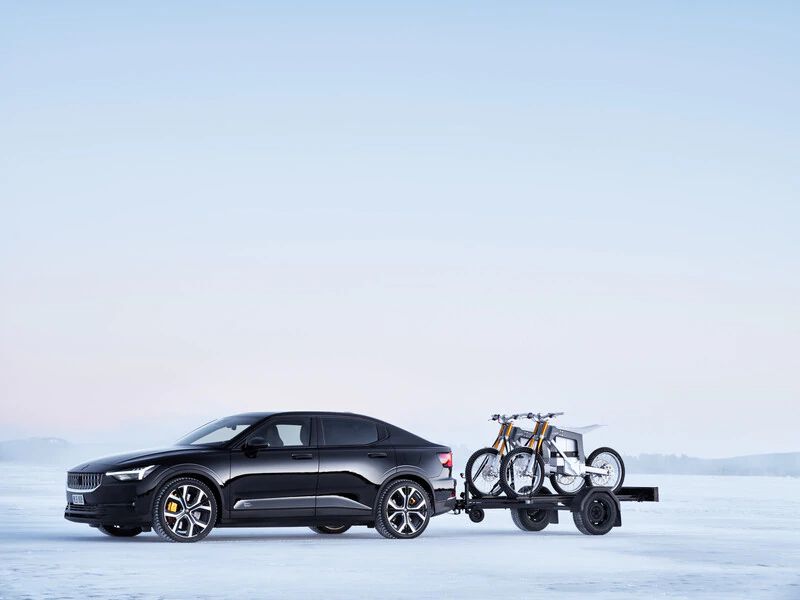 Photo by Polestar
The Debut of Google Android Automotive.
Infotainment in the Polestar 2 includes an 11.15-inch touchscreen, but it features more than what you'll find in the typical infotainment system. It replaces the buttons and knobs typically adorning the dashboard and puts those controls into the touchscreen. This makes it the interface for multiple functions including the typical entertainment and navigation with the addition of climate control and vehicle settings.
This is the first mass-produced car in the world to use Google Android Automotive and it's a fantastic system. Say, "Hey, Google," followed by natural language commands and it recognizes your requests with an impressive degree of accuracy. The one missing piece is Apple CarPlay, but it's set to arrive this fall and will be made available as an over-the-air update. It takes a bit of time to get in the habit of using voice commands, but once you do, it becomes second nature.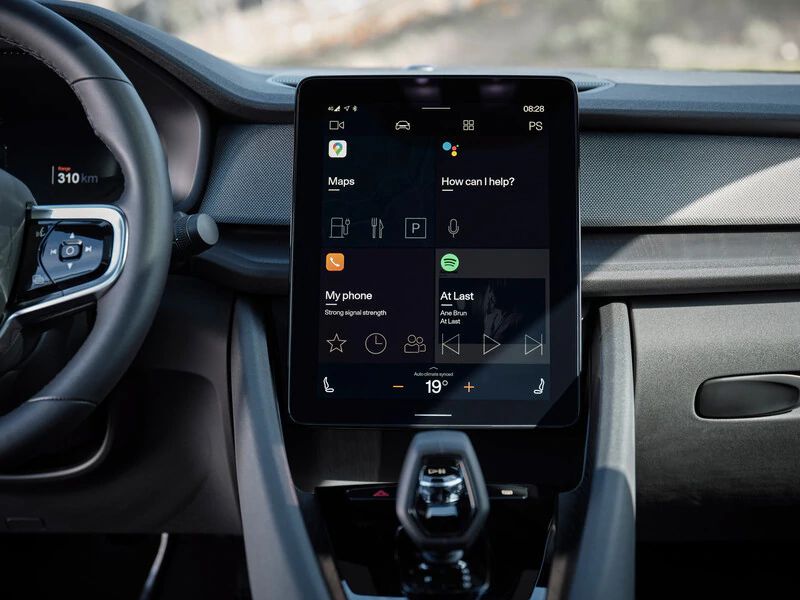 Photo by Polestar
Good Standard Safety
The 2022 Polestar 2 has not yet been crash-tested by either the Insurance Institute for Highway Safety or the National Highway Traffic Safety Administration. Despite the lack of test results, it does come with a wide range of safety features to set your mind at ease. These include collision avoidance mitigation with braking and steering support including vehicle, cyclist, and pedestrian detection, run-off road mitigation, forward collision warning, oncoming lane mitigation, lane keeping aid with steering assist, and driver alert.
The Pilot Pack adds several key features including blind spot warning with steering support, cross traffic alert with brake support, rear collision warning with mitigation, adaptive cruise control, emergency stop assist, and pilot assist with acceleration, braking, and steering support at speeds up to 80 mph. Although some features are optional, the long list of standard features is good.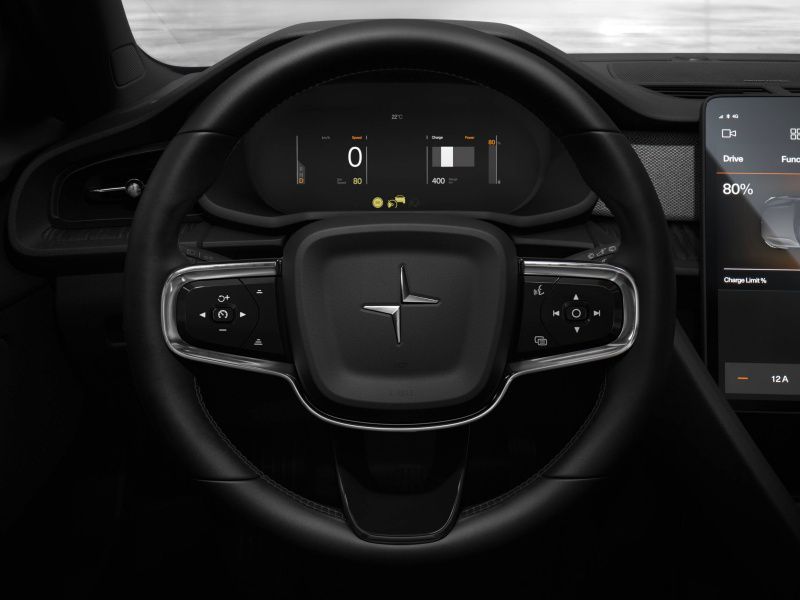 Photo by Polestar
Final Thoughts
The 2022 Polestar 2 expands the lineup to give it wider appeal. The new Single Motor with its more affordable price has plenty of power and is a great option if you're okay with front-wheel drive. The Dual Motor offers more power along with standard all-wheel drive. No matter which you choose, it's an elegant and refined option.
It has an attractive and comfortable interior with plenty of room for five adults and unique materials that add visual impact. The Polestar 2 is also tech focused with a large infotainment screen featuring the latest in infotainment features and the potential for over-the-air updates that will further improve the user experience. The 2022 Polestar 2 is a strong contender for those looking to make the move to an electric vehicle.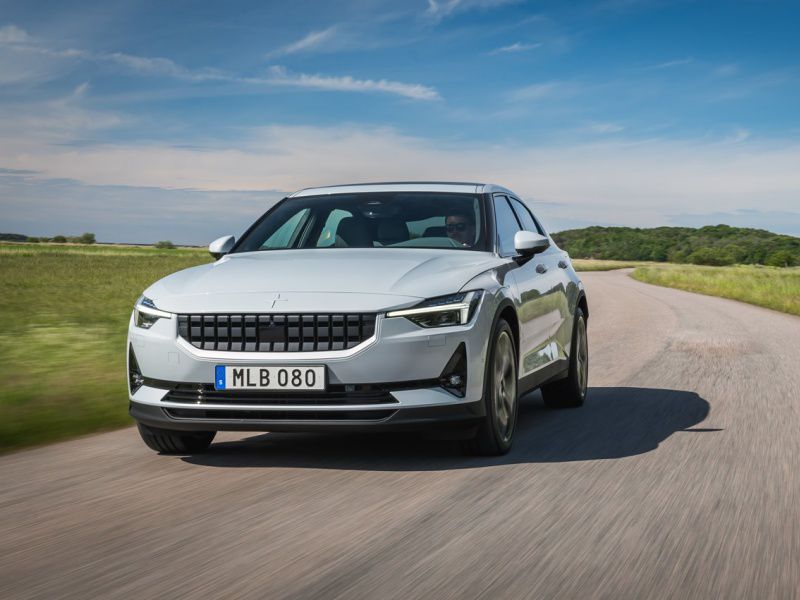 Photo by Polestar