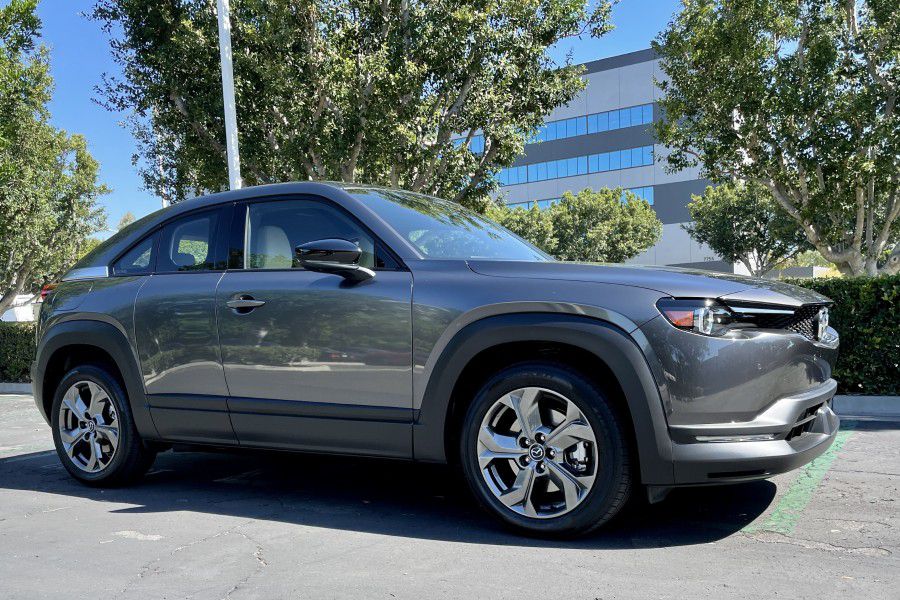 2022 Mazda MX-30 Front Quarter ・ Photo by Nicole Wakelin
The 2022 Mazda MX-30 is an all-new SUV and it's the first-ever fully electric vehicle from the brand. It marks a big step in Mazda's electrification plan and incorporates the same design standards and driving engagement for which Mazda is so well known. The MX-30 will initially launch only in California as a short-range EV ideal for commuters with a range of 100 miles per charge.
Mazda is a premium brand, so it incorporated a wide range of standard features in its new electric vehicle. From safety to infotainment to interior trims, the MX-30 delivers an upscale experience with the efficiency and environmental responsibility of an electric vehicle. Let's take a closer look at the all-new 2022 Mazda MX-30 to see if this is the right electric vehicle to fit you lifestyle.
Choose From Two Trims
The 2022 Mazda MX-30 is available in just two trims. Both are well equipped so even the base trim holds plenty of appeal. The Mazda MX-30 EV is priced from $33,470 with 18-inch wheels, rain-sensing wipers, and a rear roof spoiler. There's seating for up to five with single-zone automatic climate control, an 8-way power driver's seat, leather-wrapped steering wheel and shift knob, leatherette seating surfaces, and a sliding glass moonroof. Infotainment includes an 8.8-inch display screen with both Apple CarPlay and Android Auto. Lane departure warning, lane keep assist, blind spot monitor with rear cross-traffic alert, and rear parking sensors are also standard features.
The Premium Plus package increases pricing to $36,480 and adds 18-inch wheels, blind spot assist, front cross-traffic alert, driver monitor, and front parking sensors. It also adds a frameless auto-dimming rearview mirror, 12-speaker Bose premium audio system, heated steering wheel, and 360-degree monitor.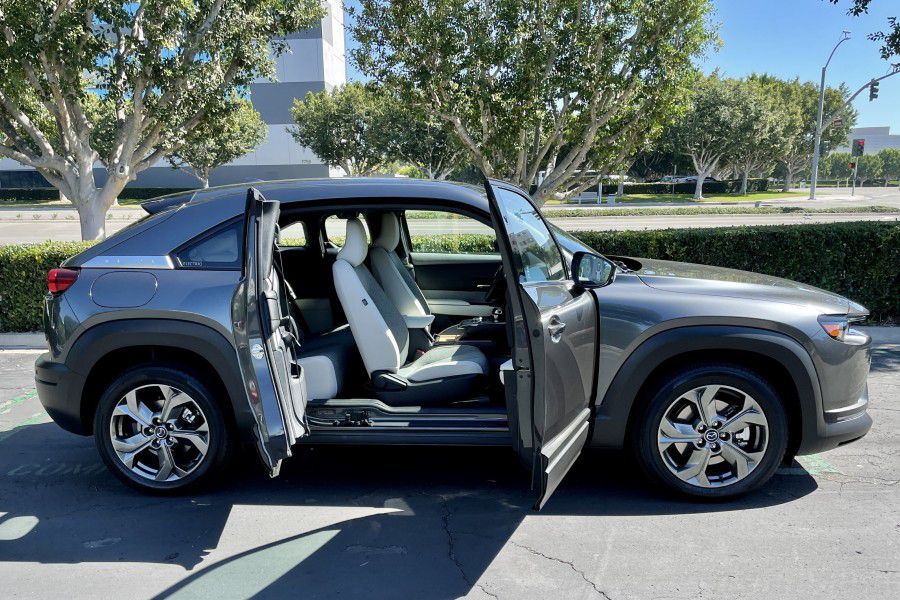 Photo by Nicole Wakelin
A Single Electric Powertrain
Power for the Mazda MX-30 comes from a 35.5 kWh battery with a single electric motor. That makes front-wheel drive your only option, which is a drawback for those who live in colder regions where snow frequently covers the road. The MX-30 has a modest 143 horsepower and 200 lb-ft of torque. That's not a significant amount of horsepower but consider the size of this vehicle. It's a small SUV suited to couples without kids or singles looking for a commuter car that does double-duty carrying cargo for weekend adventures.
It doesn't need a crazy amount of horsepower to feel responsive. There's strong acceleration that engages the driver. And since this is an electric vehicle, the torque is instantaneous, which overcomes much of the horsepower deficit. The Mazda MX-30 isn't a sports car, but it's still a good choice for driving enthusiasts looking to move to an electric vehicle.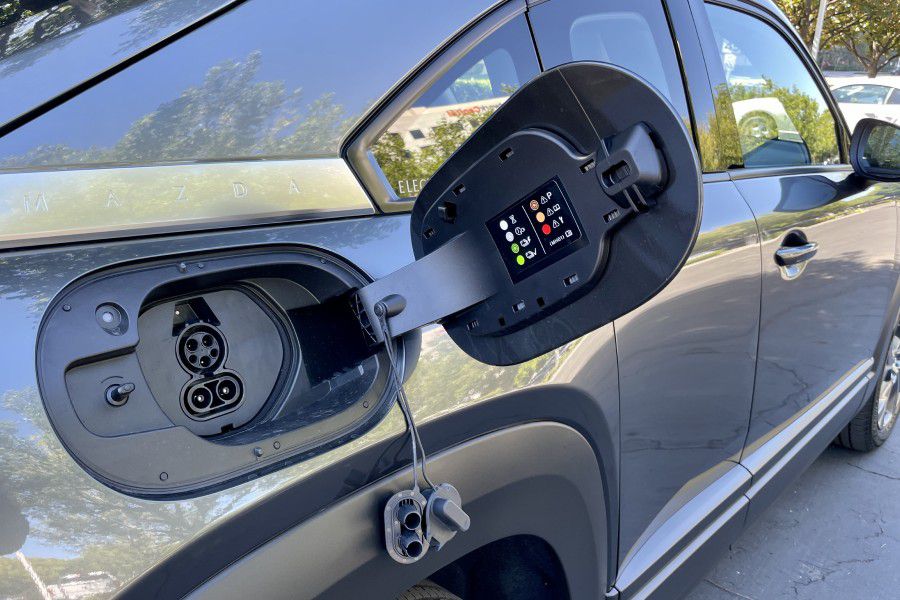 Photo by Nicole Wakelin
A Short Drive Range With Quick Charging
Many electric vehicles focus on providing a long range to handle everything from daily commutes to summer road trips. The Mazda MX-30 takes a different approach and targets the short-range driver. It has an estimated driving range of 100 miles per charge and there's no option for a long-distance model. It can charge from 20 percent to 80 percent in as little as 36 minutes at a Level 3 charger. That number rises to 2 hours and 50 minutes at a Level 2 charger and 13 hours and 40 minutes at a Level 1 charger.
Despite that small range, charging is quick enough that the MX-30 can easily be recharged while you're at the office so it's ready for the drive home. Making charging even better is Mazda's partnership with ChargePoint, which includes a credit of $500 toward either a Level 2 home charger or the company's public charging stations.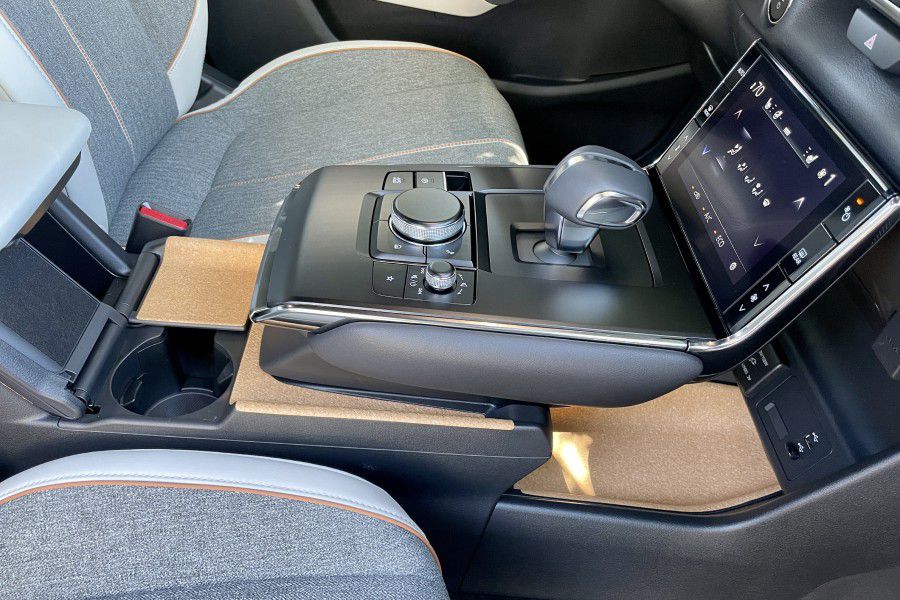 Photo by Nicole Wakelin
A Composed, Quiet Ride
Mazda is known for building cars with superior driving dynamics. They're designed for people who like to drive and truly enjoy their time behind the wheel. Mazda worked to stay true to this reputation when it built the MX-30 and largely succeeded. That success starts with strong acceleration that makes highway merges effortless and provides plenty of power for passing slower vehicles.
The battery adds extra weight to the MX-30, but its low positioning helps this SUV handle well. It takes corners with ease and never feels unwieldy or heavy. Driving the MX-30 is engaging and enjoyable whether you're out on the open road or navigating congested city streets. Add in a smooth ride with the quiet that comes from the lack of a gas engine, and the MX-30 is a solid option for those looking at electric vehicles.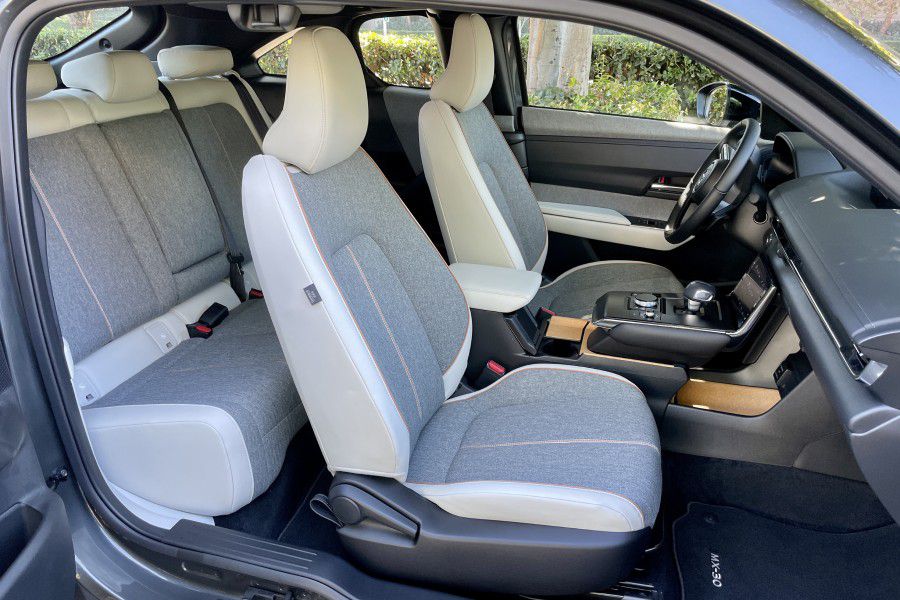 Photo by Nicole Wakelin
A Sustainably Sourced Interior
The MX-30 is comfortable and roomy with seating for up to five people. Open the front doors and there's a latch that allows for opening of the rear doors. Those rear doors open toward the back creating better rear seat access. The front seats are supportive and roomy. There's good headroom and legroom in the rear seats, but it's a snug fit across for three. Short trips aren't an issue, but longer trips are best reserved for only two rear passengers. A minimum of road and wind noise further enhances the passenger experience.
Interior trims are attractive with an elegant, refined design. Mazda also considered sustainability in its choice of interior materials resulting in unique styling. The center console is adorned in cork, which regrows in 8-10 years. There's also fabric that contains 20 percent recycled threads and door trims made from recycled bottles.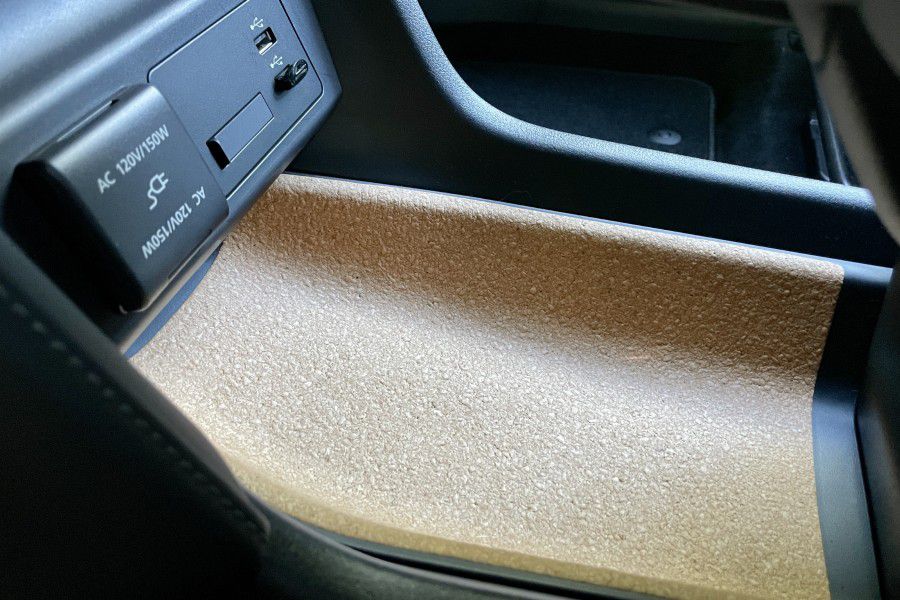 Photo by Nicole Wakelin
Just Enough Room for Cargo
The MX-30 is an SUV so it's not just a people mover. This compact SUV can also handle cargo with a total of 21.04 cubic feet for your stuff. That's a modest number, but this isn't a full-size SUV designed to handle lots of cargo. With its 100-mile range, it's not likely to be packed full of the family's luggage for a long-distance road trip.
This is an electric vehicle for managing your day-to-day life. It puts a priority on efficiency and comfort while providing the space you need to manage a typical day. Runs to the grocery store or the bags from an afternoon of shopping are easily managed by the MX-30. There's room for a few supplies for a weekend project, but it's not huge. On the plus side, its hatchback design makes it possible to manage larger items than the trunk of a typical sedan can handle.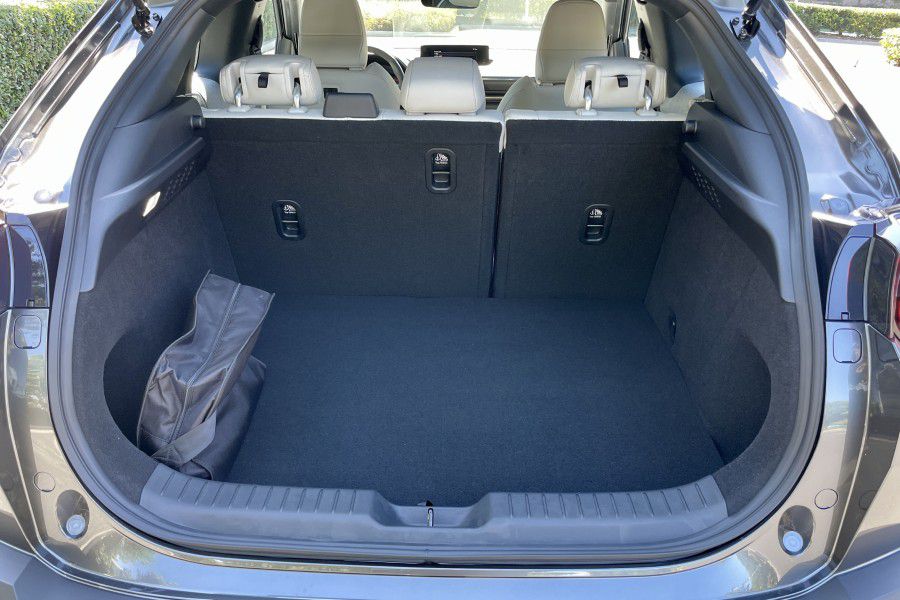 Photo by Nicole Wakelin
Infotainment That Lacks a Touchscreen
Infotainment in the Mazda MX-30 includes an 8.8-inch display screen. It's not a touchscreen, with control instead coming from a rotary dial located on the center console. We prefer a touchscreen, which is more intuitive and less fiddly than a rotary dial. Spend a little time with it and you'll get the hang of things but there is a steep learning curve.
Standard infotainment features include Apple CarPlay, Android Auto, an 8-speaker audio system, AM/FM/HD radio, and two USB ports. The Premium Plus adds SiriusXM as well as a premium 12-speaker Bose audio system. That's a solid offering of features on the base trim with nice upgrades for the Premium Plus, especially the Bose audio system, but the lack of a touchscreen is a major downside.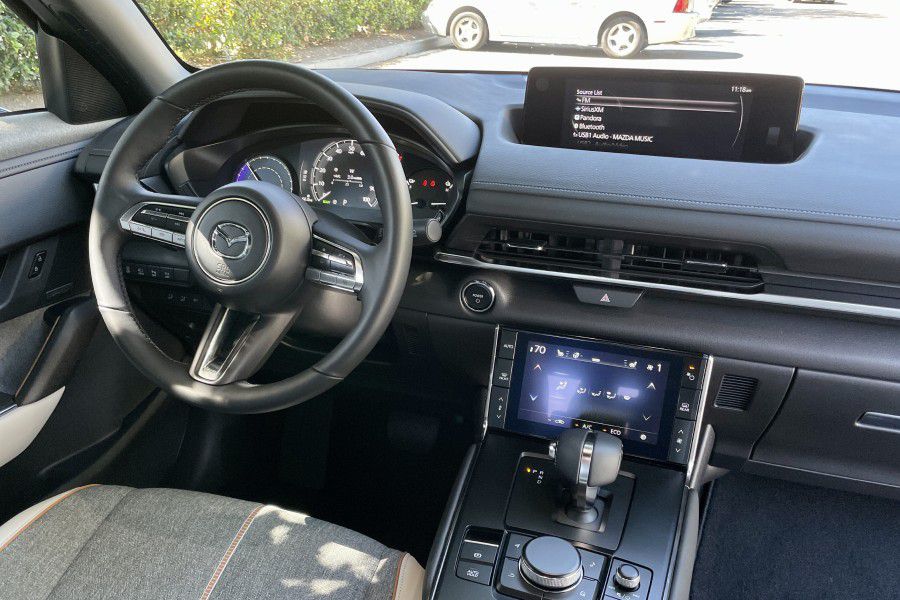 Photo by Nicole Wakelin
Good Standard Safety
The 2022 Mazda MX-30 has not yet been crash-tested by either the Insurance Institute for Highway Safety or the National Highway Traffic Safety Administration. Despite that lack of data, there's a good selection of standard and available safety features to keep you and your loved ones safe. Standard features include driver attention alert, high beam control, hill hold assist, lane departure warning, lane keep assist, radar cruise control with stop and go, and a rearview camera with static lines. There's also blind spot monitoring, rear-cross traffic alert, rear parking sensors, and smart brake support.
The Premium Plus trim improves safety with the addition of blind spot assist, front cross-traffic alert, driver monitor, rear camera with dynamic grid lines, and front parking sensors. While the higher trim has more features, the standard safety offering in the Mazda MX-30 is good.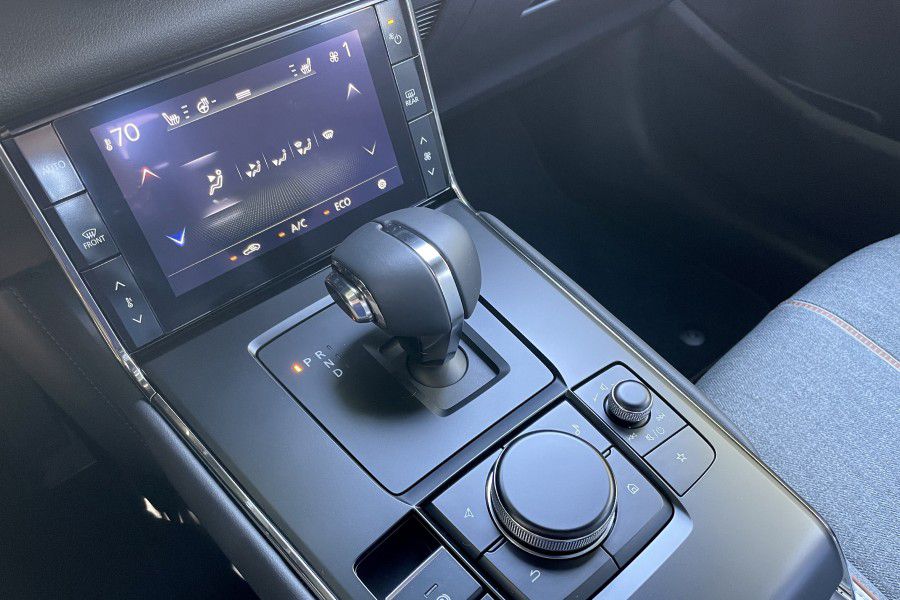 Photo by Nicole Wakelin
Final Thoughts
The 2022 Mazda MX-30 brings a fully electric vehicle to the Mazda lineup. It's a move in the right direction as the industry goes further toward electrification and further away from gasoline engines. It's not a long-range option, but rather a more affordable short-range EV ideal for city dwellers. This SUV is a first for the Mazda brand, but it doesn't stray from what makes a Mazda look and feel like a Mazda.
A unique rear door design gives the MX-30 personality with interior trims that are refined and visually appealing. High-quality materials are used throughout with a welcome focus on sustainability. There's a good range of standard safety features and a large screen with smartphone connectivity for the infotainment system. Lastly, it's fun to drive with solid acceleration and crisp, responsive handling.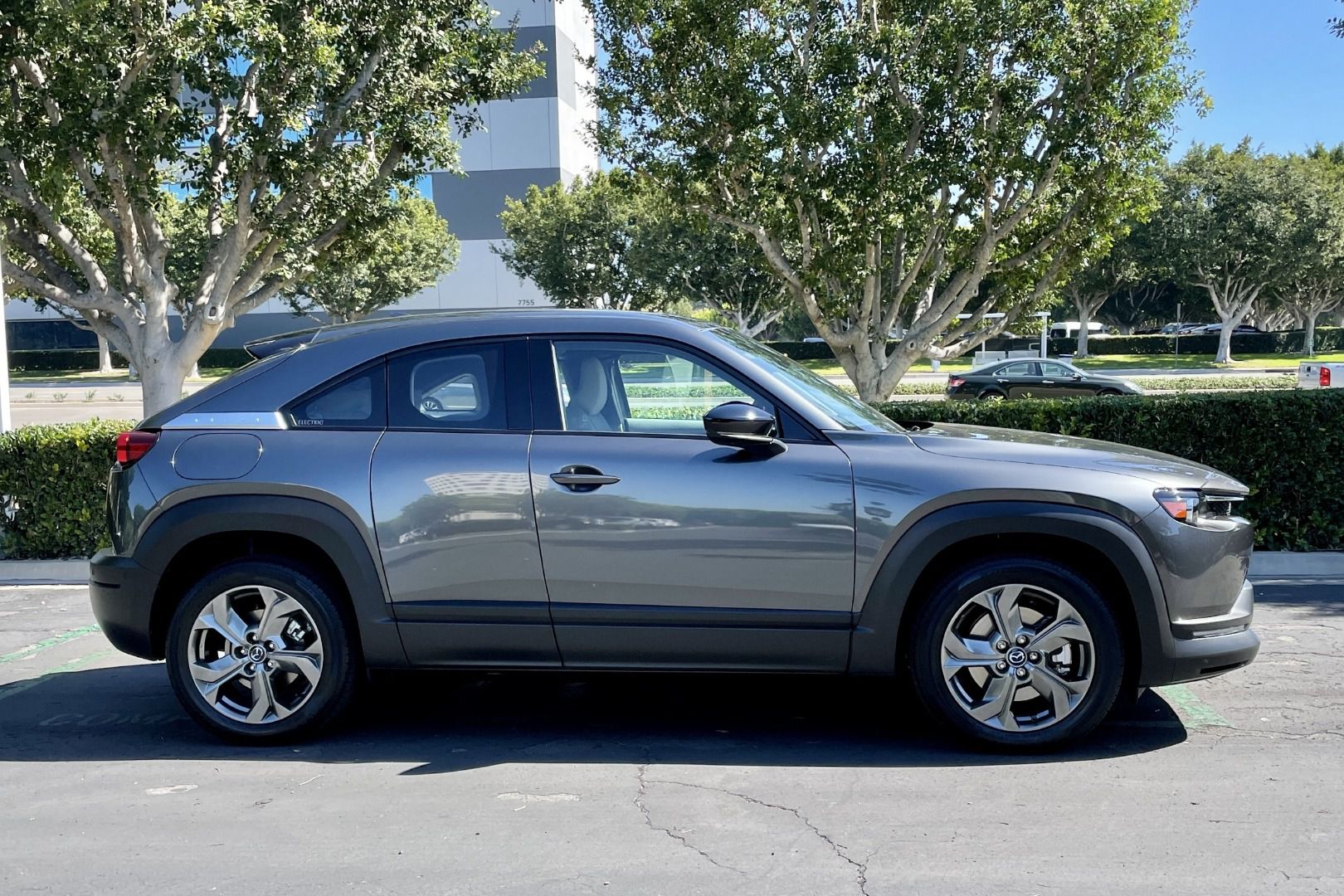 Photo by Nicole Wakelin