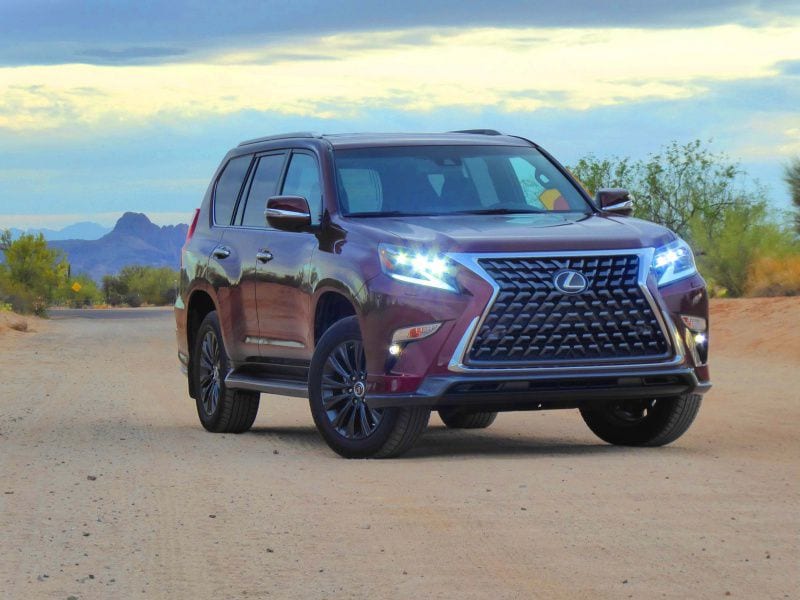 2022 Lexus GX 460 ・ Photo by Ron Sessions
This year, some automakers are bringing back large and rugged SUV models that haven't been sold in decades such as the Jeep Wagoneer, Ford Bronco, and GMC Hummer. But Lexus's third best-selling SUV, the luxuriously muscular GX 460, has been available in the U.S. continuously since 2003. Versions of it are sold elsewhere around the world as the Toyota Land Cruiser Prado.
Unlike the Lexus RX, NX, and UX, as well as most of the scores of crossover SUVs in the market that utilize upsized passenger-car components, the robust GX 460 is built on a stout truck frame and comes standard with 4-wheel drive and an electronic locking center differential. Don't be fooled by its luxurious interior; the GX 460 is ready for serious off-road adventures should its owners choose to do so.
For 2022, the GX 460 gets some long overdue updates. Foremost is a new dash that integrates a modern flat-screen infotainment display with Apple CarPlay and Android Auto smartphone mirroring. A reconfigured center console incorporates a remote touch interface for the infotainment screen and moves secondary off-road controls to the center stack.
Including the $1,075 destination charge, the GX 460 lineup includes the $56,500 base model, $57,835 Premium, $66,010 Luxury, and new-for-2022 $60,435 Black Line Special Edition.
Velvety Powertrain
Under the hood, the GX 460 continues with a time-proven 4.6-liter V8. It develops 301 horsepower and 329 lb-ft of torque with enough oomph to move the GX 460 with grace. With a 0-60 mph time of just under 8 seconds, quick acceleration isn't the GX 460's forte, but the square-jawed Lexus moves effortlessly and quietly around town and on the highway with enough reserve for merging and passing. It's paired with a smooth-shifting 6-speed automatic transmission and full-time 4-wheel drive. Properly equipped, the GX 460 can tow trailers up to 6,500 pounds.
Unlike most other Lexus models, a gas/electric hybrid version of the GX 460 is not available.
EPA estimates for the GX 460 are 15 mpg city/20 mpg highway/17 mpg city. Lexus recommends premium unleaded fuel for the 23-gallon fuel tank.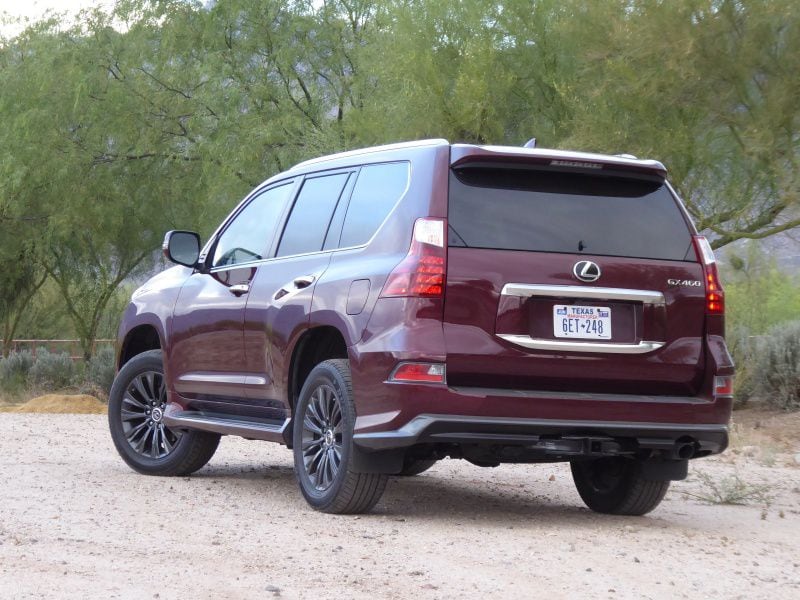 Photo by Ron Sessions
Rich Interior
As rugged as the GX looks on the outside, its interior runs on the rich side. It's awash in soft-touch, padded, and wrapped surfaces studded with metallic and wood accents. The driver and passengers ride high in the saddle due to the robust steel ladder frame the body sits on, but the climb up into the cabin is eased by standard illuminated running boards, door handles, and thresholds.
Lexus calls it a seven-passenger vehicle, but it's more like five-plus-two seating. The generously padded yet supportive power-operated front bucket seats are all-day comfortable. They feature adjustable lumbar support and memory settings, and in all but the base GX 460, they are heated and ventilated as well. Seat coverings are NuLuxe synthetic material in base, Premium and Black Line models and super-soft semi-aniline leather in GX 460 Luxury.
In front of the driver is a color information display. Luxury trim gets a heated, wood-accented, leather-wrapped steering wheel.
All but the base GX 460 get a set-and-forget, 3-zone automatic climate control system instead of the base dual-zone system. Cheering the cabin in all models is a power sliding moonroof and pushbutton start. The Black Line trim adds a black headliner.
The large center console offers a pair of cup holders, a covered front bin for small items, and a deep well under the bomb-bay style center armrests.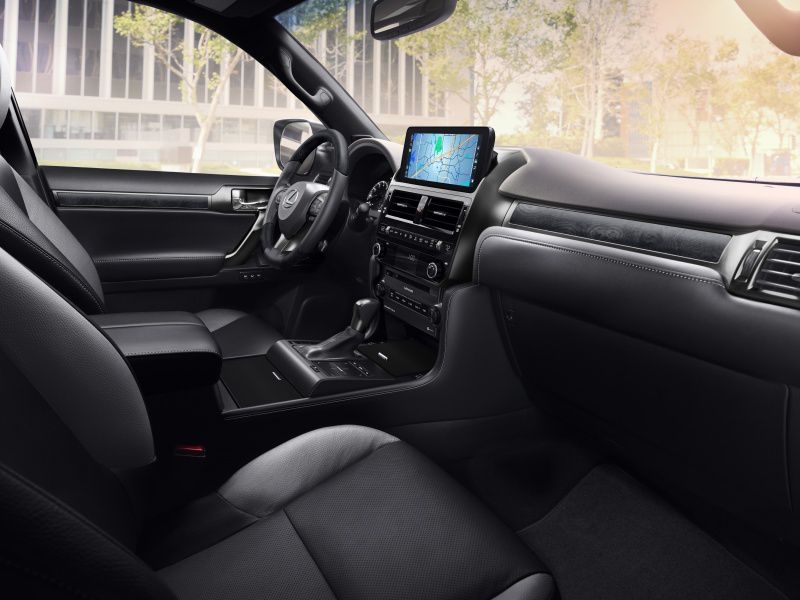 Photo by Lexus
Updated Infotainment
Long overdue for an update, the GX 460 finally gets a modern-looking flat-panel infotainment screen set atop the dash and reworked, modernized secondary controls for climate control, and 4WD functions in the center stack. The new landscape-format touchscreen measures 10.3 inches and replaces the previous 8-inch in-dash display. Lexus also added a remote infotainment touchpad on the center console, but the system can also be accessed via the touchscreen itself, hard shortcut buttons flanking the screen, analog volume and tuning knobs below the screen, as well as steering-wheel and voice controls via Dynamic Voice Command.
The new system is Apple CarPlay and Android Auto compatible and also works with Alexa. Old schoolers will like the fact that the GX 460 system includes imbedded navigation and retains a CD player for all of those discs you forgot to take to the thrift store. The navigation includes altitude, latitude, and longitude for off-road exploration, but also destination assist for finding important things like the nearest organic eatery.
SiriusXM and Lexus Enform in-vehicle Wi-Fi are both onboard for a 3-month trial period. A 9-speaker AM/FM stereo is standard with an immersive 17-speaker, 330-watt Mark Levinson premium system optional in all but the base GX 460 trim.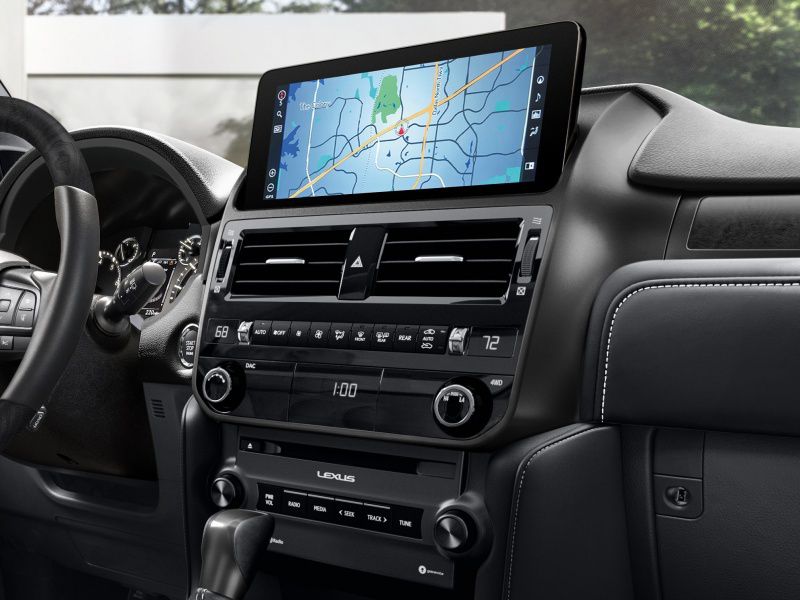 Photo by Lexus
Comfortable Second-Row Seating
The second-row seats are adult-friendly with decent headroom and legroom. Standard fare is a 3-passenger, slide and recline 40/20/40 split second-row bench on all models with the outboard cushions heated in all but the base model. Individual second-row captain's chairs which also tilt and slide fore and aft and have individual folding inboard armrests are optional in GX460 Premium and Luxury trims. Lifting a single, robust handle outboard of the bottom cushion folds down the seatback and slides the bottom cushion forward. Rear-seat occupants get a pair of USB ports for connecting mobile devices. Darker-tint rear privacy glass for the rear seats and cargo area is standard in all models. Both rear-seat arrangements can accommodate 6-footers in reasonable comfort.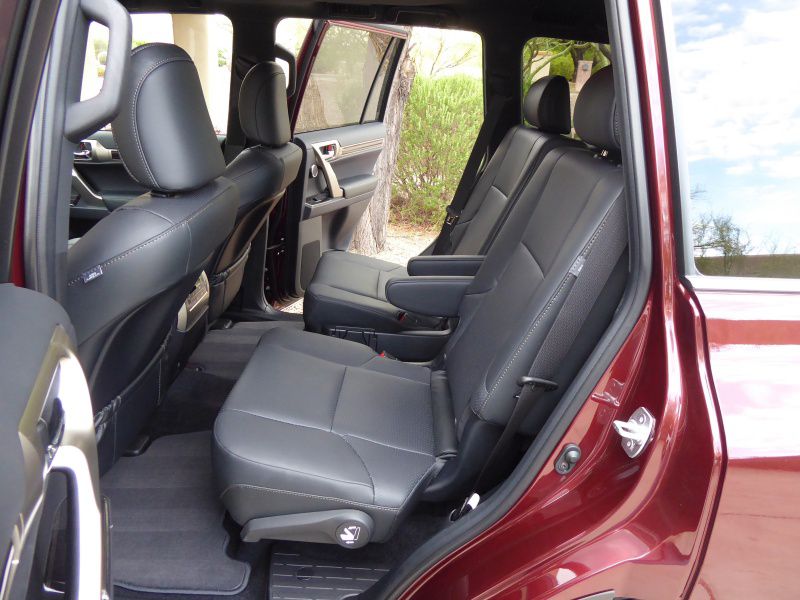 Photo by Ron Sessions
Jammed Third-Row Seating
Adults won't want to venture back into the third-row seats. Lexus jammed a two-person 50/50 split wayback seat into the cargo area. The bottom cushions barely rise off the floor, are flat, have little padding, and there is hardly any legroom available except for children. And the opening between the back of the second-row seats and the door one must slither through is a very tight fit. That said, kids may find it fun to steal away back there.
The other oddity is that when the third-row seatbacks are up, there is precious little cargo space left for any passengers that are aboard. So, most owners will likely keep at least one of the two 50/50 third-row seatbacks folded into the floor most of the time to preserve some cargo space. The good news is a third-row power recline-and-fold feature is standard in Luxury models and optional with Premium and Black Line trims.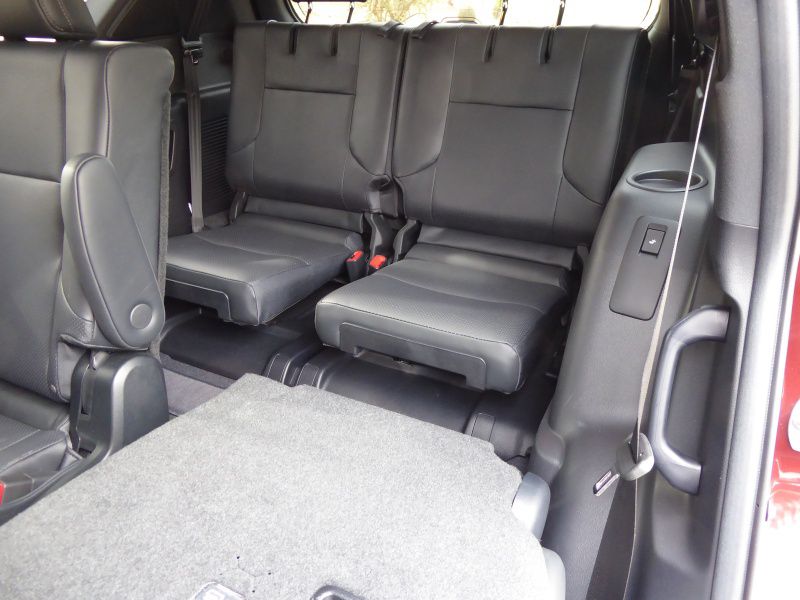 Photo by Ron Sessions
Cargo Considerations
The GX is one of the few SUVs with a rear windshield that opens independently of the cargo door, which is handy for dropping items into the cargo bay without the need to open the big cargo door. The door is unique in that it swivels out to the passenger side instead of operating like the more common vertical-opening liftgate or drop-down tailgate. That may be an issue in tight spaces.
At 46.7 cubic feet of space with the third-row seats folded and 64.7 cubic feet with both the second- and third-row perches laid flat, the GX 460 offers cargo room competitive with other premium mid-size SUVs. But with the third-row seats up, Lexus claims a scant 11.6 cubic feet of luggage room that feels much smaller than that in the flesh because of its narrow shape that tapers down at the top. In practice, I was only able to place small items like computer bags or a small backpack behind the raised third row. Airport roller bags do not fit back there because the third-row seatback leans toward the rear glass at the top. So an airport run in the GX would be limited to five passengers if those passengers also are taking roller-bag luggage.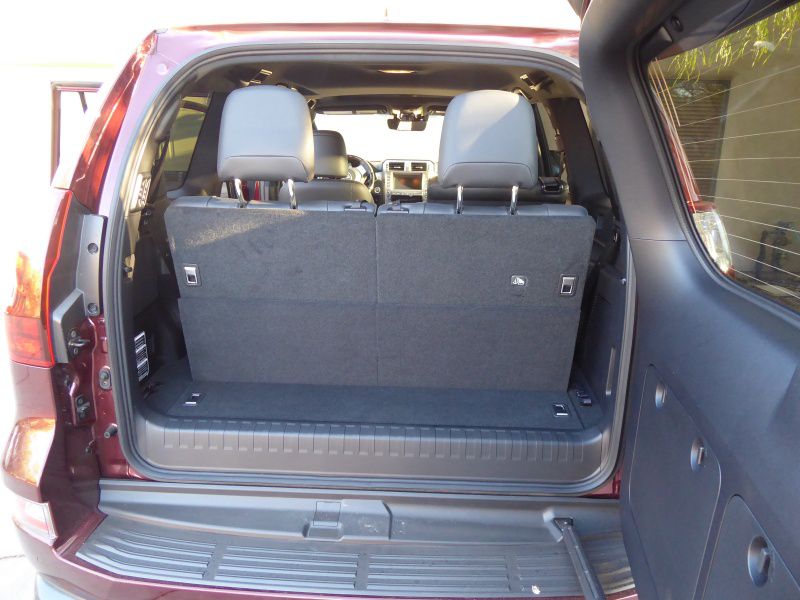 Photo by Ron Sessions
Safety and Driver-Assistive Systems
In addition to 10 airbags and a backup camera, the GX 460 comes standard with the Lexus Safety System+ which includes adaptive cruise control, a pre-collision system with pedestrian detection and automatic emergency braking, lane-departure alert that beeps the driver if the SUV wanders outside lane markings, and automatic high-beam control. Other driver-assistive aids include blind-spot and rear cross-traffic warning systems, intuitive parking assist, and a rear-seat reminder system that prompts the driver to check the back for children or pets that may be left behind after the vehicle is parked and the engine shut off.
Absent from the list is a lane-keeping system that automatically steers the GX 460 to help keep it within marked lanes.
A panoramic surround-view camera that gives an overhead view of the GX 460 and its immediate surroundings is included with an off-road multi-terrain monitor that is optional with GX 460 Luxury trim.
Lexus includes a 3-year trial of Enform Safety Connect that can automatically contact emergency responders following a collision.
Neither the National Highway Traffic Safety Administration nor the Insurance Institute for Highway Safety has tested the 2022 Lexus GX 460 for crashworthiness.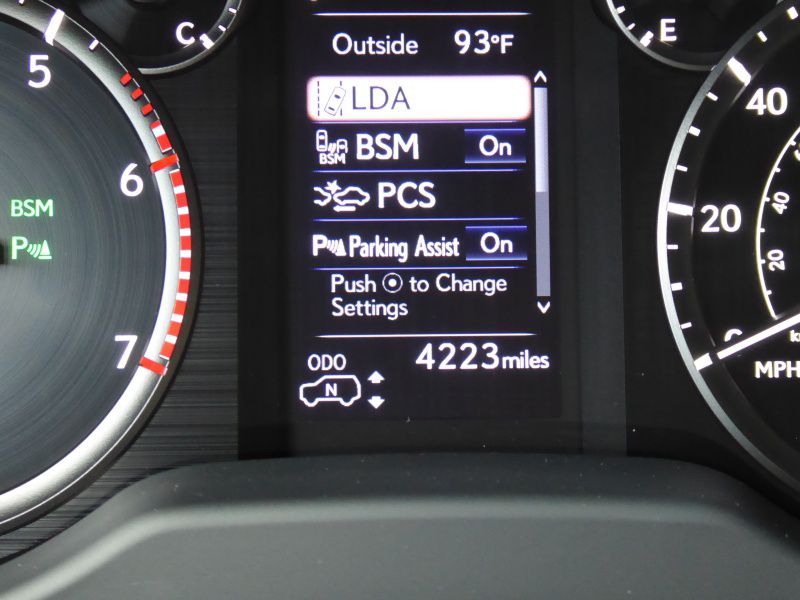 Photo by Ron Sessions
On- and Off-Road Driving Dynamics
At 192.1 inches front-to-back, the Lexus GX is no lengthier than the brand's top-selling crossover mid-size SUV, the RX 350. The GX just feels big because it drives and handles like a truck, albeit one that's been quaffed and polished. With its stout ladder frame, live rear axle and high center of gravity, the GX drives much differently than most of the car-based crossover suvs out there. On road, it takes some time to get used to the slow, non-communicative steering, initially mushy brakes, and constant vertical body movement.
On poor roads or no roads at all, the GX 460 starts to shine. Remember, it's sold as a Land Cruiser in other markets. Ground clearance is generous and chassis underpinnings are stout. In addition to standard full-time 4WD, a 2-speed transfer case with a 2.57:1 gear reduction for negotiating tricky terrain, and a lockable Torsen center differential, the Luxury model comes with adaptive shock absorbers and auto-leveling rear air suspension.
Optional with GX 460 Luxury is an Off-Road Package that includes Multi-Terrain Select with settings to handle five different surfaces such as rocks, mud, sand, and snow and Crawl Control, which is a low-speed cruise control system that, when set, allows the driver to focus on steering and negotiating the trail.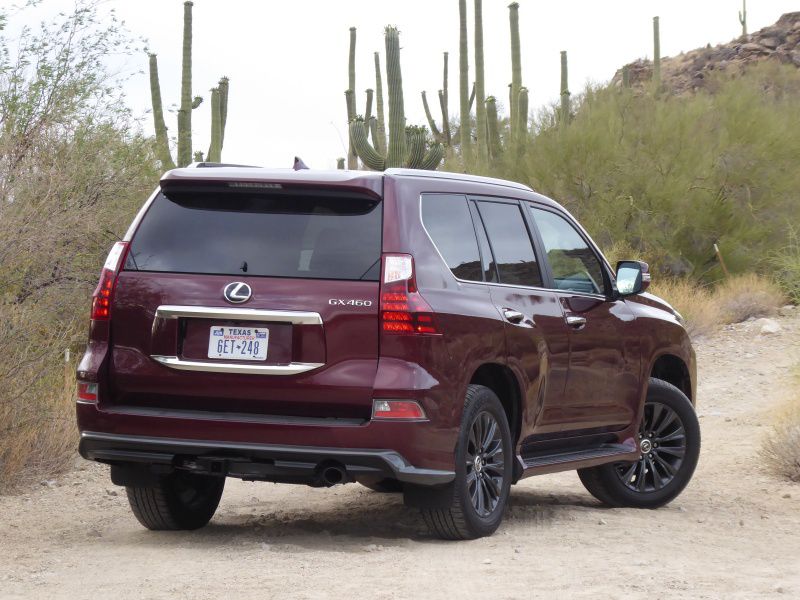 Photo by Ron Sessions
Uniquely Anachronistic
Nicely updated for 2022, the Lexus GX gets a modern-looking dashboard with a new flat-screen infotainment system featuring Apple CarPlay and Android Auto cellphone mirroring, plus Alexa voice-prompt skills. The GX 460 is one of just a handful of SUVs that blends ruggedness and luxury in a traditional package with serious off-road and all-weather capabilities.
If you're accustomed to driving sedans and crossover suvs, the GX comes off as a bit clunky, clumsy, and a few decades past its prime. But for the GX 460's cadre of dedicated buyers, its strong, truck-based bones are its strength, what separates it from the horde of SUV wannabes built from passenger-car components. To them, the GX 460 is a fortress on wheels, a linebacker in a tux, built to go the distance. Drive one and you'll see.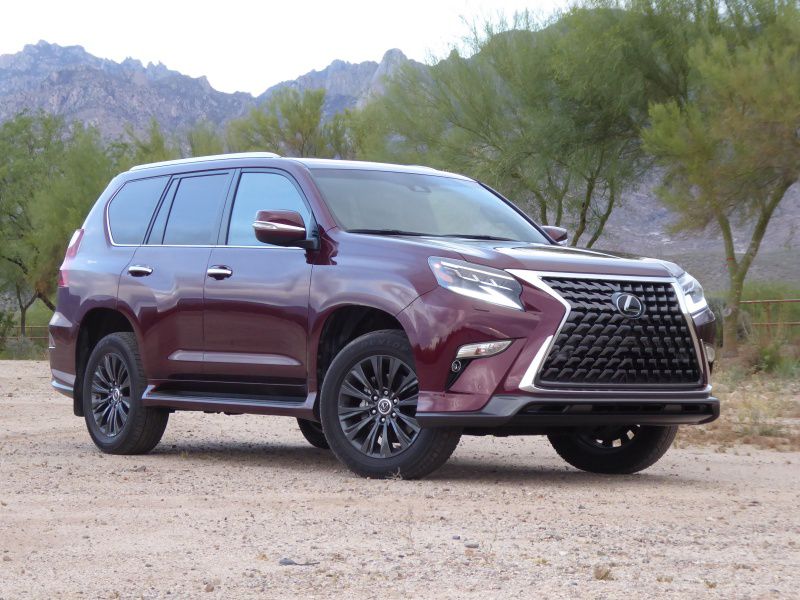 Photo by Ron Sessions