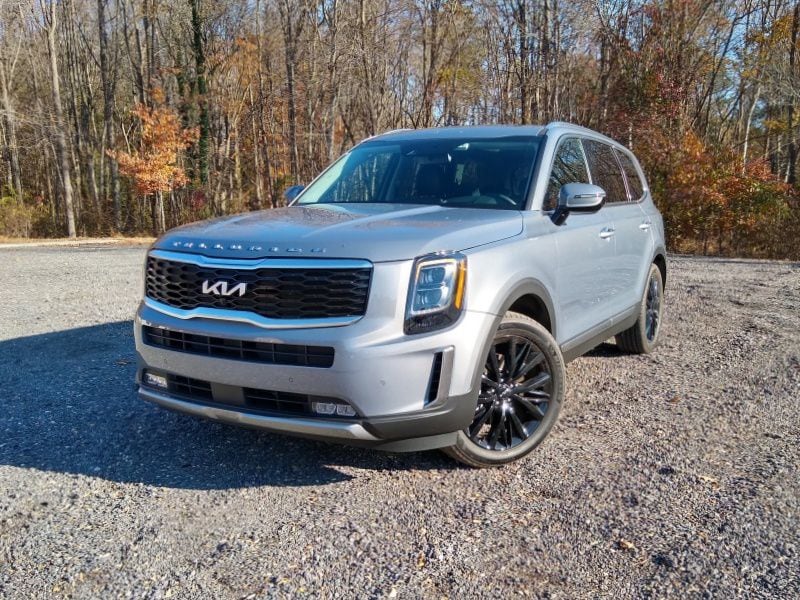 2022 Kia Telluride SX ・ Photo by Brady Holt
Do you want your new three-row crossover to be roomy, luxurious, or affordable? The 2022 Kia Telluride lets you give a simple answer: "Yes, please." 
The Korean brand's first big crossover became a smash hit when it appeared as a 2020 model, changing what car buyers learned to expect both from mid-size crossovers and from Kia's value-focused model lineup. Even before pandemic-induced vehicle shortages, Telluride demand regularly exceeded supply. To check on how the Telluride stacks up against a continuous onslaught of competitors, we just spent a week in a 2022 model. Keep reading as we delve into the Telluride's pros and cons to learn whether it sounds like the right three-row crossover for you. 
Luxury Features, Bargain Price
The 2022 Kia Telluride has a base price of $32,790. That's already pretty good for a big three-row crossover. But when you consider all the standard features, it becomes downright extraordinary. 
Even the base Telluride LX has leatherette upholstery, a big 10.25-inch touchscreen with GPS navigation, an in-cabin intercom, and a full suite of advanced driver-assistance systems that include adaptive cruise control and blind-spot monitoring. You'd spent $40,000 to get all this on some competitors. True, Kia makes you step up to the S model for a power driver's seat and heated front seats, but at $35,290, it also brings a sunroof and a wireless smartphone charger. Other models are the EX ($37,790), with genuine leather seats, ventilated front seats, and a power liftgate; and the SX ($42,690), which has a bigger sunroof, a Harman Kardon surround-sound stereo, and a surround-view parking camera. Even with every option — including all-wheel drive, Nappa leather upholstery, heated and ventilated second-row seats, and a head-up display — our tested Telluride SX stayed south of $50,000. Not only does the Telluride have more features than most of its competitors, but it costs less, too.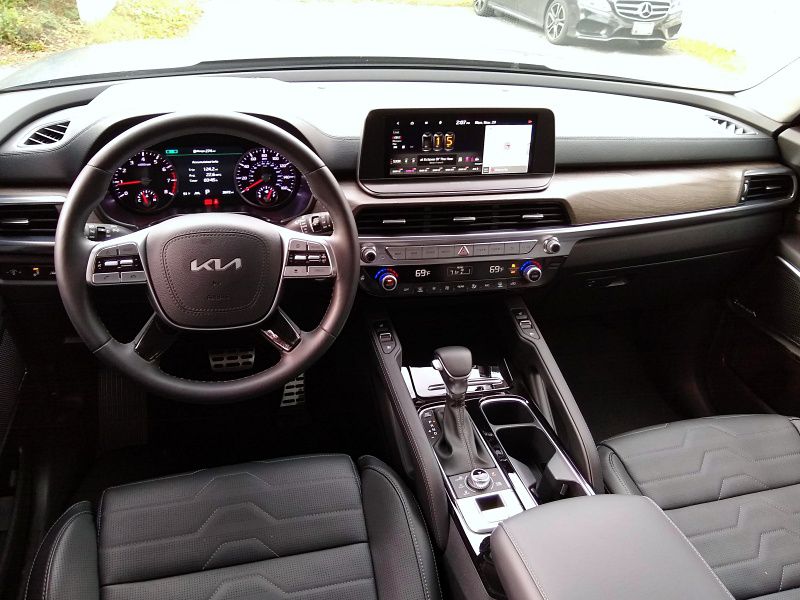 Photo by Brady Holt
Luxury Styling
The Telluride has been turning heads since it debuted. Its soft curves and boxy shape both stand apart from the class norms of swoopy silhouettes and sharp-edged details. Newer Kias are also moving that way, which threatens to age the Telluride's details. But for now, this crossover has the timeless presence of a Range Rover. 
That's not to say the Telluride copies the Range Rover, or anything else. Vertical rounded-off headlights and slim, curved taillamps are unique cues. But the overall shape is pure SUV in a world where many models are styled more like tall cars. And the Telluride's details are classy rather than off-road-style aggressive — a wise choice, since this is a car-based crossover with limited off-road capability. With its optional all-wheel-drive system and 8 inches of ground clearance, it will go places that a Kia Carnival minivan cannot, but you wouldn't choose the Telluride for recreational off-roading. The 2022 model year brings the brand's new logo, with splashier "Kia" letters freed from the old badge's oval outline. To our eyes, the new logo works well on the Telluride's grille but looks lost on the rear end.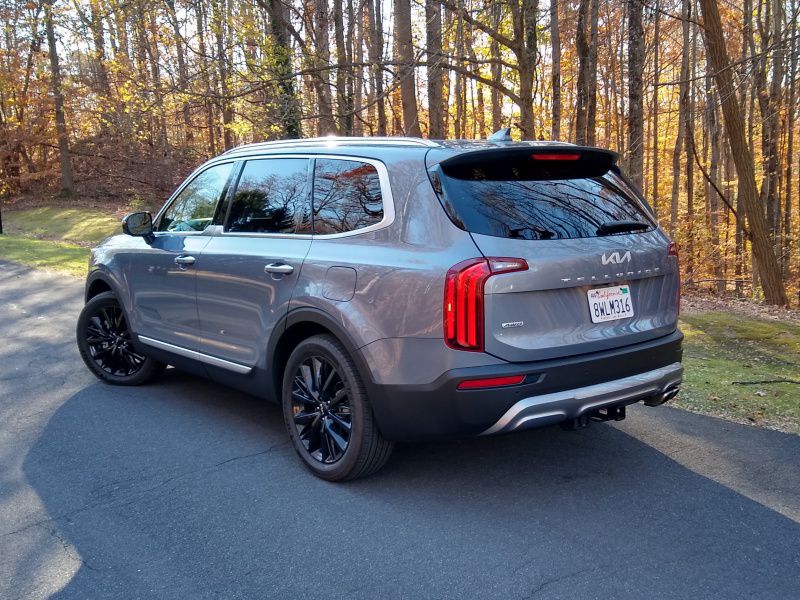 Photo by Brady Holt
Ritzy Interior
Kia could have packed the Telluride with features, then skimped on interior materials to keep costs down. Instead, it created one of the nicest cabins in its class. The Telluride's dashboard is simple yet elegant, with straight lines and rich materials that include metal accents and textured woodgrain. Leather-wrapped grab handles on the center console provide a touch of Jeep-style SUV-ness for someone who doesn't need a Jeep's off-road mastery. 
Better still, the Telluride also has simple controls. This isn't a high-style SUV that sacrifices its everyday functionality for a flashier dashboard. Buttons and knobs are simple, well-placed, and well-labeled. And new this year, the big 10.25-inch touchscreen is standard equipment on every model. Some competitors now have even bigger screens, and we don't love the new blank homescreen, which adds a step to using the system. And while the gauges are simple and clear, some competitors now dazzle with customizable digital displays. While we're picking nits, the turn-signal stalk feels budget-grade and a center-console bin may need multiple presses to open. But overall, the Telluride delivers a cabin with equal parts style, quality, and everyday usability. 
Photo by Brady Holt
Ample Space
The Telluride provides seating for up to eight passengers with a second-row bench seat (standard on the LX and EX models) or seven passengers with second-row captain's chairs (standard on the S and SX, and optional on the EX). Passenger space is ample, and kids will appreciate the big side windows. Adults can fit in the third row even with the second-row seats all the way back — a rarity in this segment. And there's enough second-row legroom that you can easily bring those seats forward without cramping anyone. Plus, as we mentioned, the Telluride SX has the rare feature of ventilated second-row seats; even most luxury SUVs save this perk for the front seats. 
When it comes to cargo, the Telluride remains competitive, though it falls more in line with other big three-row crossovers. It provides 21 cubic feet behind the third-row seat, 46 cubic feet behind the second row, and 87 cubic feet with both rows folded down (they drop easily). Similarly, towing capacity matches but doesn't exceed the class standard of 5,000 pounds, though the towing package does include a self-leveling rear suspension.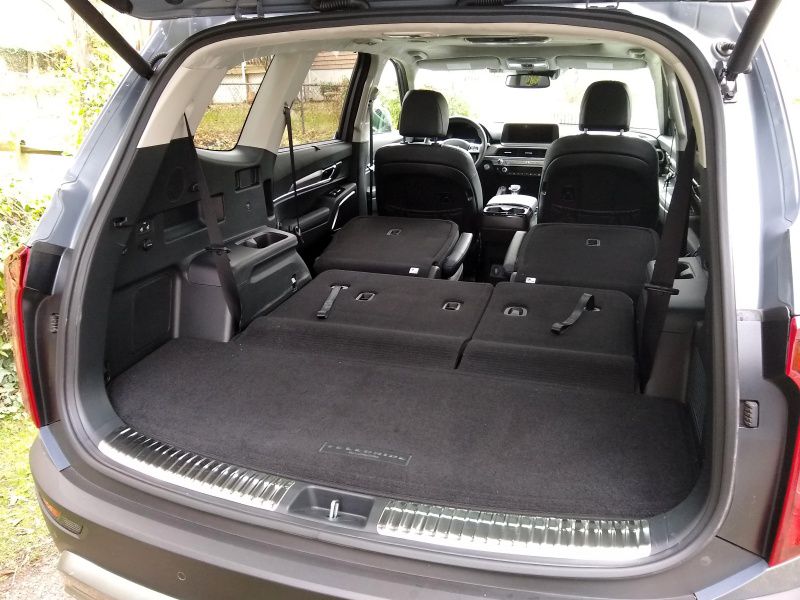 Photo by Brady Holt
Gentle Ride
Kia gave the Telluride's styling more personality than the typical big crossover. But its driving experience is less about character than about mild-mannered competence. The Telluride rides smoothly, keeps out unwanted noise, and is easy to drive. It's not stiff or clumsy, and its 3.8-liter V6 — making 291 horsepower and 262 lb-ft of torque — is neither slow nor raucous. 
But the Telluride's best dynamic strengths are the same ones that would make a great minivan. If its luxury-SUV vibe led you to expect Audi-like handling or a burlier engine note, the Telluride humbly points to the $33,000 base price that the styling and interior let you forget about. The Telluride still drives well for a three-row mainstream-brand crossover, with no dynamic faults. But this is an area where it hews closer to the norm rather than setting a new standard.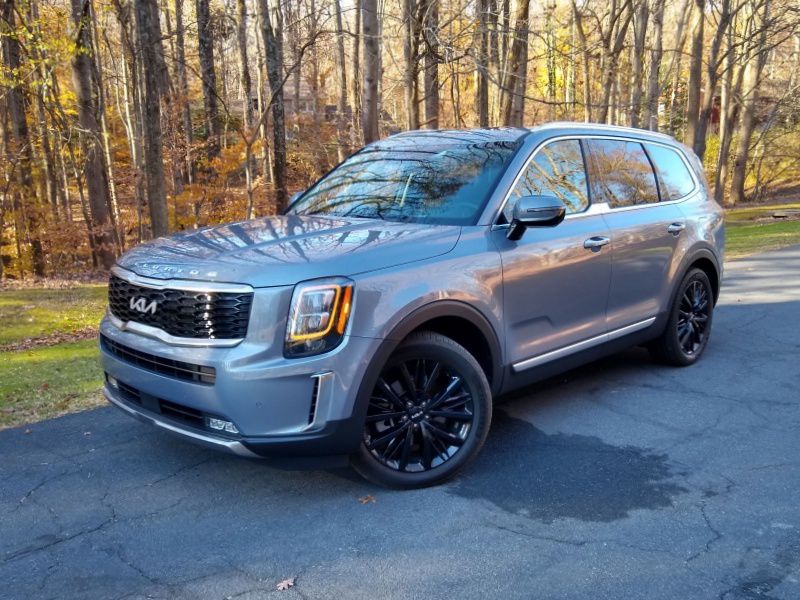 Photo by Brady Holt
Decent Gas Mileage
Fuel efficiency is another way the Telluride is content to be competitive rather than superlative. EPA estimates are 20 mpg in the city, 26 mpg on the highway, and 23 mpg combined with front-wheel drive and 19 mpg city, 24 mpg highway, and 21 mpg combined with all-wheel drive. Our AWD test vehicle averaged 22 mpg in mixed driving. 
These numbers aren't a shock. The Telluride is a boxy SUV with a big, naturally aspirated V6 engine and a conventional eight-speed automatic transmission. It doesn't turn to turbocharging, advanced transmissions, or gas-electric hybrids. Kia does have a great new turbocharged four-cylinder engine in the smaller Sorento crossover, which makes 281 hp and 311 lb-ft of torque while also reducing fuel consumption. We'd expect the Telluride to offer this engine at some point in the future. (There's also a less powerful Sorento Hybrid, but we don't think its engine would be a good fit for the big Telluride.)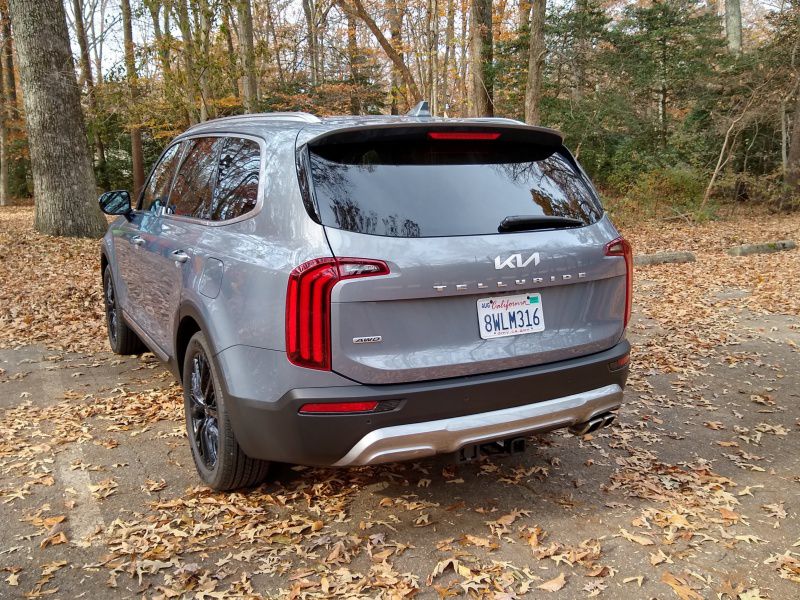 Photo by Brady Holt
Top Safety Pick
We mentioned that the Telluride comes standard with a long list of advanced safety and driver-assistance features. These include forward automatic emergency braking with pedestrian and bicyclist detection, a lane-departure warning with lane-keeping steering assistance, adaptive cruise control, blind-spot monitoring with a rear cross-traffic alert, and rear parking sensors. The SX model adds front parking sensors, a surround-view parking camera, and a nifty blind-spot camera, which activates in the gauge cluster when you use the turn signal. The only missing safety feature is reverse automatic braking, and between the federally mandated backup camera, the parking sensors, and the cross-traffic alert, we're not too troubled. 
If a collision happens anyway, the Telluride provides plenty of protection. It earned a Top Safety Pick designation from the Insurance Institute for Highway Safety, falling just shy of the IIHS's top honor (Top Safety Pick+) because most models have low-rated headlight illumination. Also, while the Telluride earned the top five-star overall safety rating from the National Highway Traffic Safety Administration, its frontal-impact protection was a less outstanding four stars. The Telluride is a safe SUV, but you can find competitors that do even better.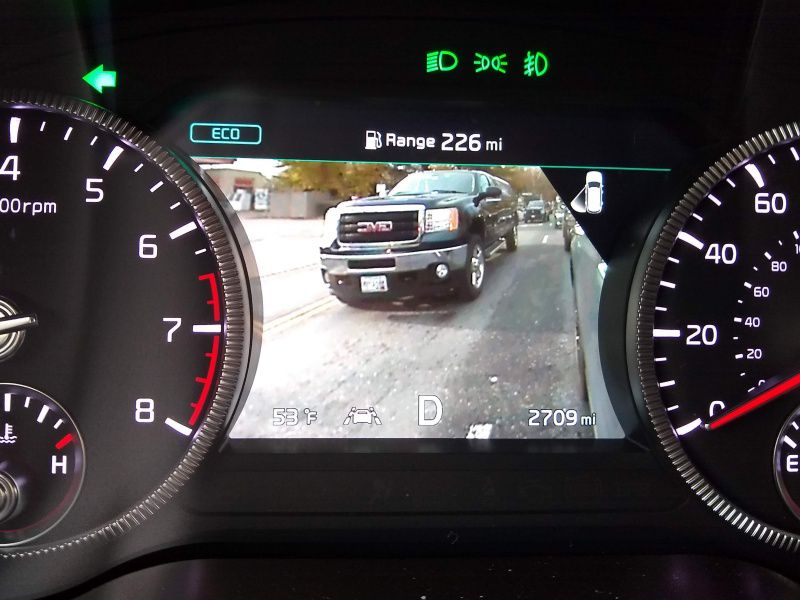 Photo by Brady Holt
Competitors to Consider
The Telluride is a strong mid-size three-row crossover. It has more space and luxury at lower prices than its most popular competitors: the Ford Explorer, Honda Pilot, and Toyota Highlander. It's a supremely well-rounded vehicle. But you might still consider one of those competitors if you want better gas mileage (especially the gas-electric Highlander Hybrid). And the Explorer provides sportier driving manners and a higher towing capacity. 
We also came away impressed with the newly redesigned 2022 Nissan Pathfinder, which delivers a high-end interior and sporty driving manners without compromising comfort — until you get to its small third-row seat, anyway. It also has higher sticker prices than comparably equipped Telluride. A fellow value alternative is the Volkswagen Atlas, which offers a huge interior and sporty handling at relatively affordable prices; unlike the Kia, though, the VW feels like a budget car inside. Lastly, you can consider the Hyundai Palisade, the Telluride's corporate cousin with different styling but the same bones. A final note: While the Telluride's sticker price is outstanding, sticker prices haven't reliably reflected what it costs to buy one. This highly sought-after SUV might cost more than a competitor in the end — if you can even find one.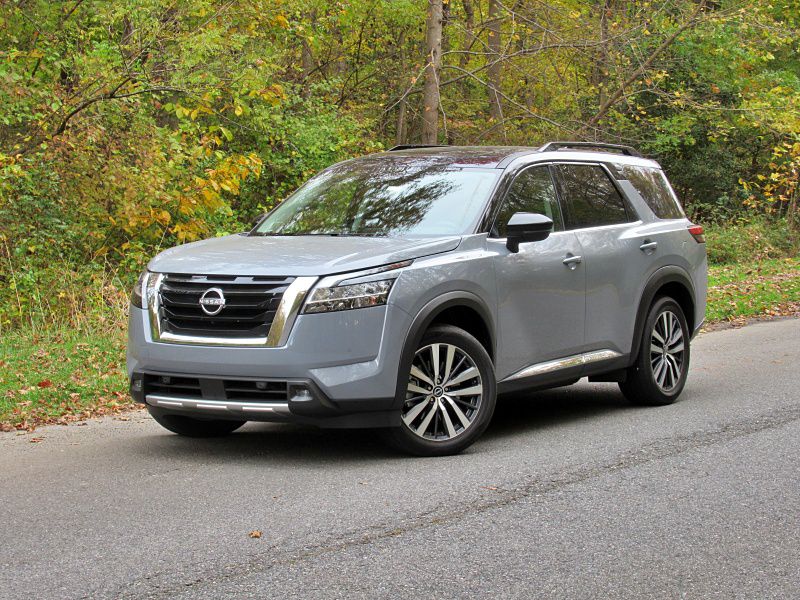 Photo by Brady Holt
Family-Friendly Luxurious Value
Few cars do everything as well as the 2022 Kia Telluride. Even in its third model year, it remains a class act. It's a winner whether you want an affordable family-friendly crossover or a luxurious one. And it's the rare family-friendly crossover with enough character to broaden its appeal; anyone looking at any upscale mid-size SUV, whether they care about a roomy third-row seat or not, could appreciate this Kia's style, elegance, and long list of available features. 
There are areas for improvement. We'd tweak a few minor interior details, like the turn-signal stalk and the infotainment homescreen. Some drivers will want more character than the Telluride's driving experience. And gas mileage, though class-competitive, falls a bit behind some key rivals. But those niggles pale in comparison to its standout design, quality, comfort, and functionality. if you can find a Telluride to buy, we don't think it will disappoint — even at a marked-up price.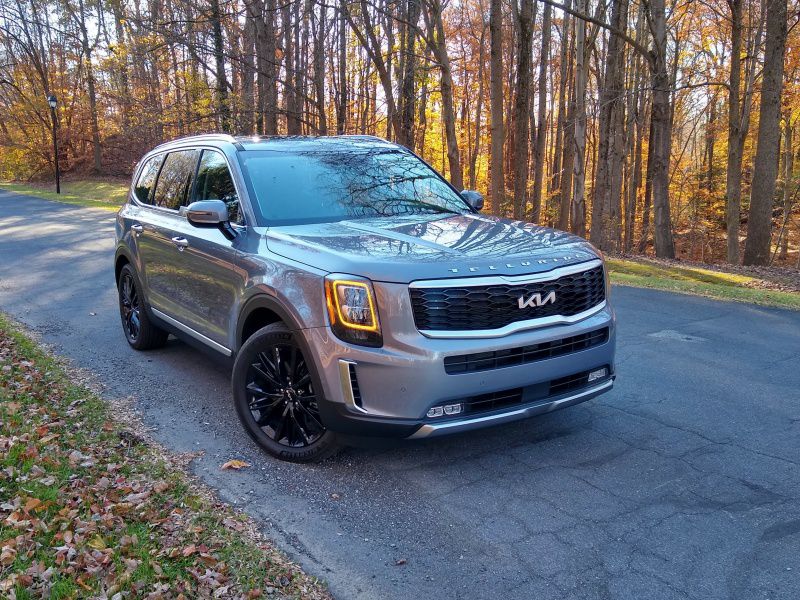 Photo by Brady Holt