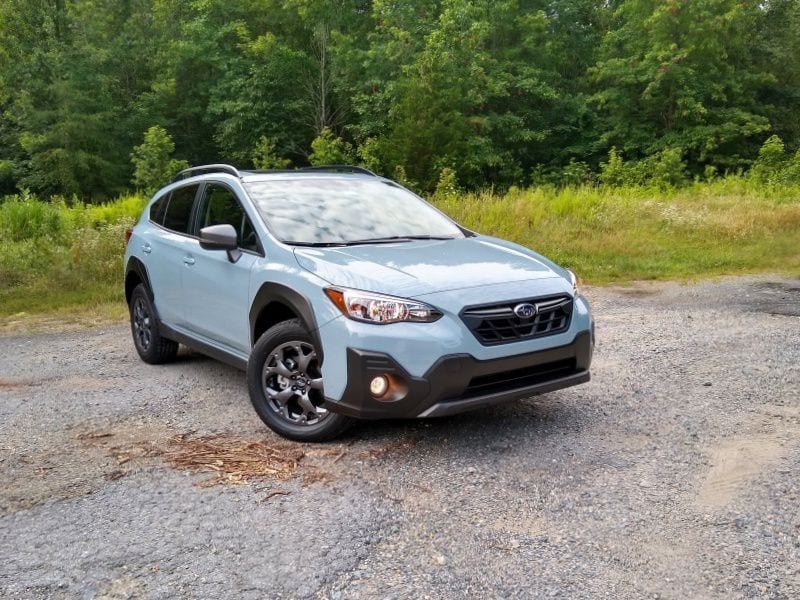 2021 Subaru Crosstrek Sport ・ Photo by Brady Holt
Most of America's favorite SUVs fall into the compact crossover segment. These models blend affordable prices and manageable sizes with roomy interiors and gentle rides. But when you're ready to give up a bit of the latter for some more of the former, it's time to consider a subcompact crossover.
Two of the best subcompact crossovers are the 2022 Kia Seltos and the 2022 Subaru Crosstrek. But based on our tests of these two mini utility vehicles, each one has its own unique strengths and weaknesses. In this review, we'll explore how the Seltos and Crosstrek compare in each of eight categories, and then name an overall winner. Keep reading to learn which one we chose and which one is the better subcompact crossover for you.
Pricing and Features
The Crosstrek isn't an expensive crossover, priced from just $22,645 — nearly identical to the base Seltos LX's $22,590. However, the Kia provides more features for the money. 
For example, the base Seltos has an automatic transmission instead of a manual, a six-speaker stereo to the Subaru's four speakers, and an 8-inch touchscreen to the Crosstrek's 6.5 inches. Adding an automatic transmission (bundled with several safety features that are also standard on the Kia) brings the Crosstrek to $23,995. By contrast, just $24,290 buys a Seltos S AWD with a 10.25-inch touchscreen, GPS navigation, and automatic climate control. You can also get those features without AWD — which is standard on other Seltos trims and every Crosstrek — for $22,790. Other Seltos models include the leatherette-trimmed EX ($25,890) and the turbocharged Nightfall ($26,790) and SX ($28,090). Other Crosstreks include the Premium ($25,145) and two models with more features and a larger engine: the Sport ($26,995) and Limited ($28,495). Kia leaves adaptive cruise control to the top SX while it's standard on every Crosstrek with an automatic transmission, but otherwise the Seltos costs less.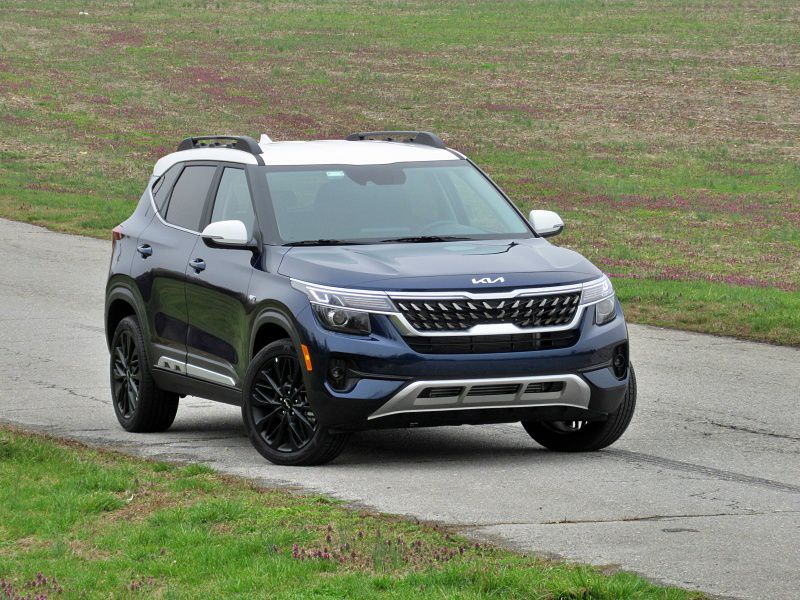 Photo by Brady Holt
Exterior Design
The Crosstrek is essentially a Subaru Impreza hatchback that is lifted higher off the ground, then fitted with rugged body cladding and a tough-looking roof rack. You see that it has the body of a car when you look at its low hood flowing gently into the roof's A-pillar. 
The Seltos isn't any less of a passenger car under the skin. If anything, as we'll discuss, it's less SUV-rugged than the Subaru. But its higher front end and boxier shape are more traditional. The Seltos's front and rear bumpers are also styled to look like there are protective skid plates under the vehicle. And the Kia also benefits from crisply styled headlights and, on our tested Nightfall model, a two-tone paint job and blacked-out wheels. Overall, we'll let you choose between the flashier and more conventionally handsome Seltos and the more rugged but perhaps more awkward Crosstrek. 
Tie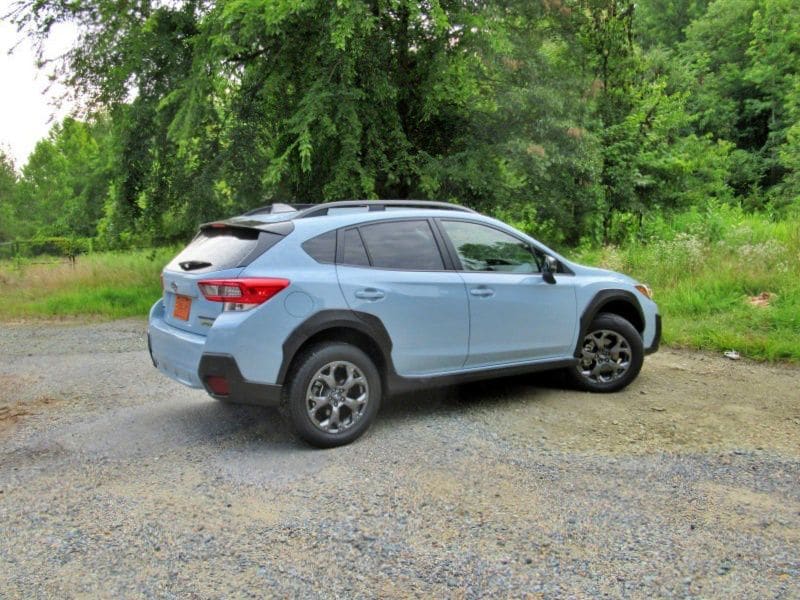 Photo by Brady Holt
Interior Design
The Crosstrek has a pleasant interior. The dashboard is finished with soft-touch materials, colored accents dress up the cabin on certain trim levels, and the controls are simple. But our pick is the Seltos. 
Kia provides fewer soft-touch surfaces than Subaru, but its carefully chosen shapes and textures keep it from seeming too basic. Everything is solidly assembled, and its buttons, knobs, and gear selector move with more precision than the Crosstrek's. But the Seltos's biggest advantage is its infotainment system. Most Crosstreks have a tiny 6.5-inch infotainment touchscreen, while an 8-inch screen is optional on the Sport (our tested Sport included it as an option) and standard on the Limited. By contrast, an 8-inch touchscreen is included only on the base Seltos LX; starting this year, all other models have a big 10.25-inch screen.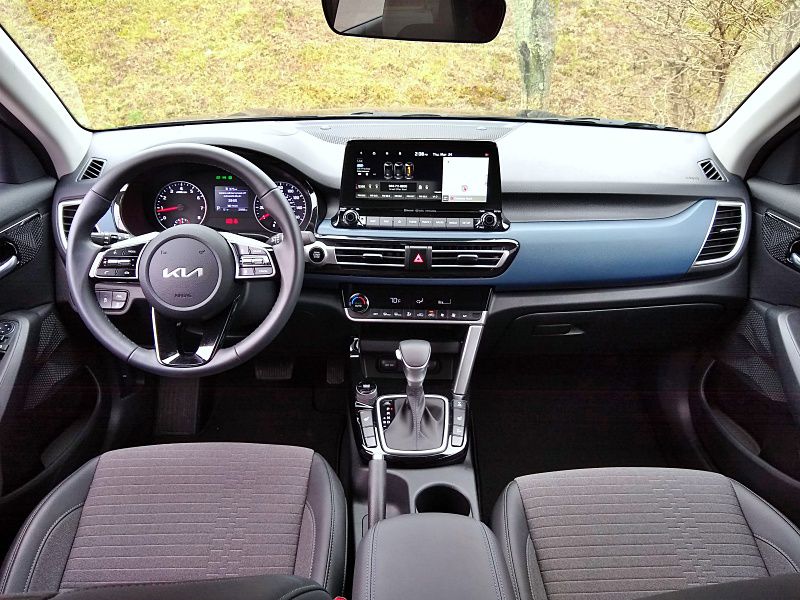 Photo by Brady Holt
Passenger Accommodations
The Seltos is one of the roomiest subcompact crossovers. There's a high seating position, good visibility, and an adult-friendly rear seat. 
But we preferred sitting in the Crosstrek. The front seats are beautifully shaped to hold you snugly into place without being confining, while the Seltos's are comfortable enough but more ordinary. And while most subcompact crossovers have tighter rear seats than the Seltos, the Crosstrek isn't among them. Subaru also provides heated front seats at a lower price than Kia, just as you'd expect from a brand that has made itself synonymous with cold-weather regions. We think you'd be comfortable in either the Crosstrek or the Seltos, but Subaru wins this category.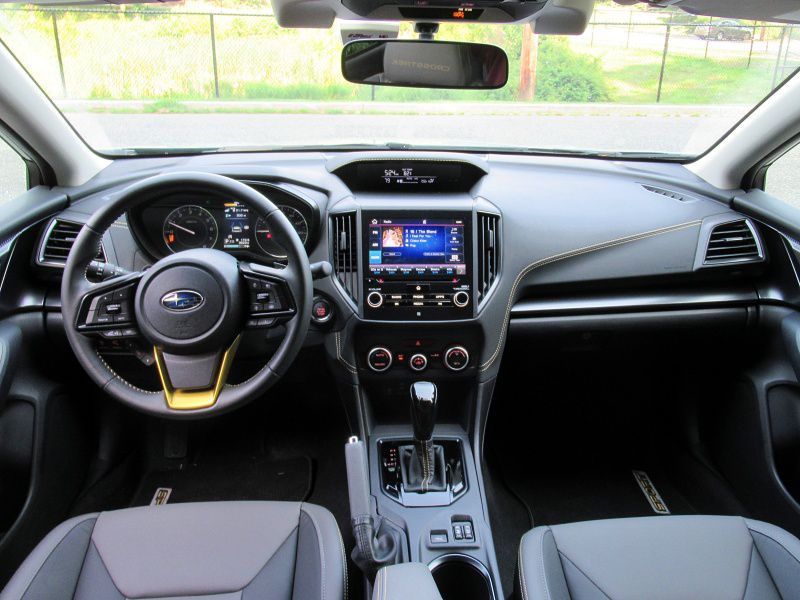 Photo by Brady Holt
Cargo and Utility
The Crosstrek is smaller and less boxy than the Seltos, and while you don't feel that shortfall as a passenger, it's evident if you try to load cargo. The Crosstrek has decent room for a subcompact: 20.8 cubic feet behind the rear seat and 55.3 cubic feet with the rear seat folded. But it's nothing like the standout Seltos. 
Kia provides 26.6 cubic feet behind the rear seat — 28 percent more than the Subaru — and 62.8 cubic feet with the rear seat folded. We made use of the Seltos's extra space behind the backseat while taking our family of four to the airport, and we appreciated its adjustable-height cargo floor (lower it for more volume, raise it to create a flush surface with the folded seatbacks). The Subaru does have some advantages: A sturdy roof rack is standard, and the Crosstrek is rated to tow a small trailer of up to 1,500 pounds, while the Seltos isn't rated to tow at all. But we think the Kia's extra cargo room will matter to more drivers.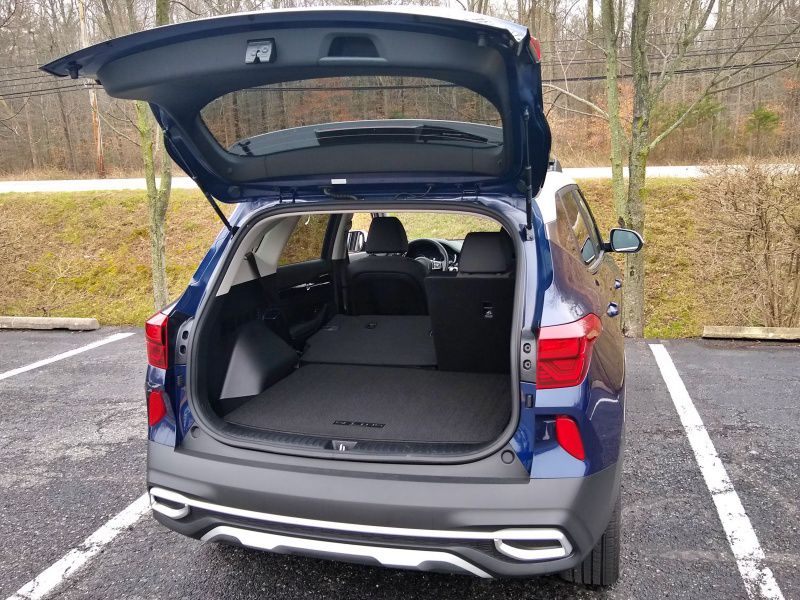 Photo by Brady Holt
Driving Impressions
The Seltos has a firmly tuned suspension for agile on-road handling, while the Crosstrek's is more compliant for a smoother ride over bumpy surfaces or off-road conditions. Subaru also provides nearly an extra inch of ground clearance than Kia: 8.1 inches in total, quite good for a crossover. The winner between those two approaches is a matter of opinion, but the Seltos comes out ahead when you press on the gas pedal. 
The Crosstrek's 152-horsepower 2.0-liter four-cylinder produces a mournful droning noise amid leisurely acceleration. The Seltos's base engine is similar — a 146-hp 2.0-liter four-cylinder — but it stays quieter until you're pushing harder, and it has a more naturally progressive throttle compared with the jumpy Subaru. But it's the Seltos's available turbo engine that makes the most difference. This 1.6-liter makes 175 hp and 195 lb-ft of torque, and it's both gleefully speedy and slickly smooth. By contrast, the biggest Crosstrek engine is only modestly quicker or quieter than the base engine; it's a 2.5-liter with 182 hp and 176 lb-ft of torque. Only the Crosstrek offers a manual transmission, but if that's not a priority, we pick the Seltos.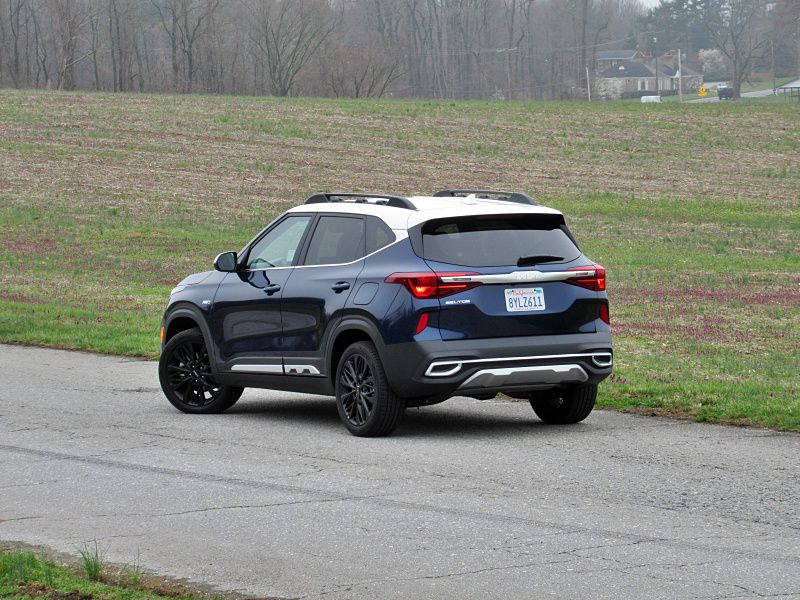 Photo by Brady Holt
Fuel Economy
You can buy a Seltos S with front-wheel drive and its base 2.0-liter engine. It gets an EPA-estimated 29 mpg in the city, 35 mpg on the highway, and 31 mpg combined. That's better than the 2.0-liter or 2.5-liter Crosstreks, sold only with all-wheel drive. Respectively, they managed 28 mpg city, 33 mpg highway, and 30 mpg combined, and 27 mpg city, 34 mpg highway, and 29 mpg combined. We averaged 30 mpg in our 2.5-liter test vehicle and 31 mpg in a 2.0-liter. 
However, nearly all Seltos models have AWD, and their EPA ratings trail the Crosstrek's. The 2.0-liter AWD Seltos returns 27 mpg in the city, 31 mpg on the highway, and 29 mpg combined, while the 1.6-liter turbo manages 25 mpg city, 30 mpg highway, and 27 mpg combined. We did beat EPA estimates in two tests of the turbo, averaging 31 mpg in mixed driving and 32 mpg in mostly highway conditions. But the Crosstrek's scientifically repeatable mileage is better. What's more, Subaru offers a limited-production Crosstrek Hybrid, a pricy plug-in model with an estimated 17 miles of all-electric range followed by 35 mpg combined.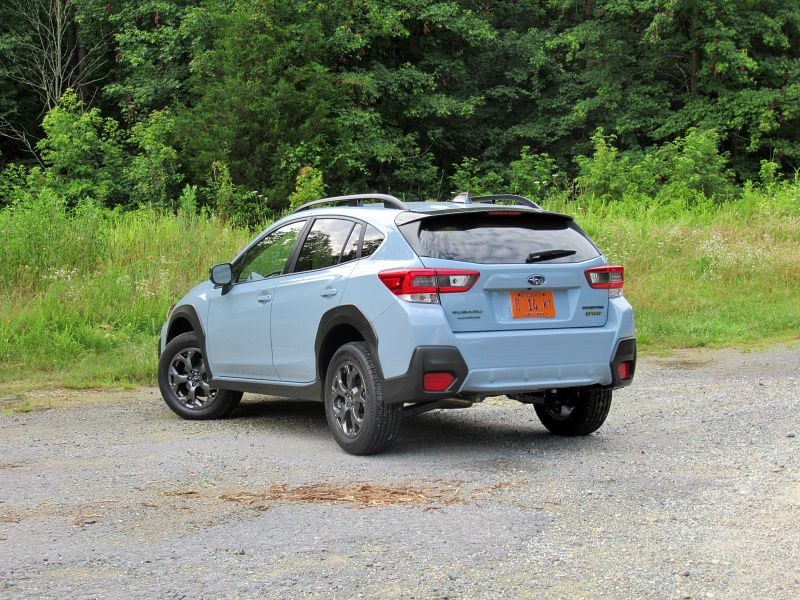 Photo by Brady Holt
Safety
Both the Crosstrek and Seltos earned high marks in most crash tests from the Insurance Institute for Highway Safety and the National Highway Traffic Safety Administration. Both crossovers aced every IIHS evaluation except the illumination of their headlights, in which only their top trim levels performed well. And both earned a top five-star NHTSA score for side-impact performance, though a middling four stars in frontal impacts. 
A couple of factors tip the scales to the Subaru. First, while both come standard with forward automatic emergency braking (along with lane-keeping steering assistance), only the Crosstrek is available with reverse automatic braking; it's included on the Limited trim level. And secondly, the Crosstrek narrowly scored five stars overall from NHTSA while the Seltos has an overall four-star rating despite similar individual test scores. Another slight difference is that Crosstreks with a manual transmission are missing the advanced driver aids you'd find on every Seltos, but we don't count that against the Subaru; after all, you can't even get a manual on the Kia.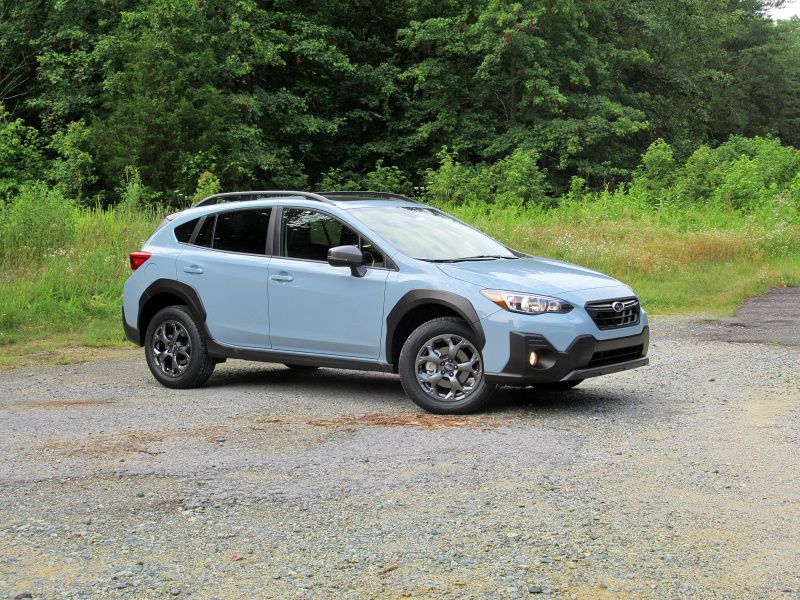 Photo by Brady Holt
Final Thoughts
The 2022 Subaru Crosstrek and 2022 Kia Seltos each have a lot to offer for the right buyer. The Crosstrek is comfortable, capable, economical, and safe. The Seltos is fun to drive, modern and high-tech, extra-spacious, and extra-affordable. 
Our money is with the Kia. More room for less money is a simplistic equation for success, but it's only a starting point with the Seltos. We also like driving it more than the Subaru (at least on paved roads), especially with the smooth, strong turbo engine that's as eager to accelerate as the Crosstrek is reluctant. True, the Subaru's higher ground clearance, smoother ride, cushier seats, and slightly better gas mileage are definite strong points. But whether you're looking for tons of cargo space, sporty driving manners, or budget-friendly pricing, the Seltos beats the Crosstrek — and we think that represents a bigger slice of the subcompact crossover clientele. 
Kia Seltos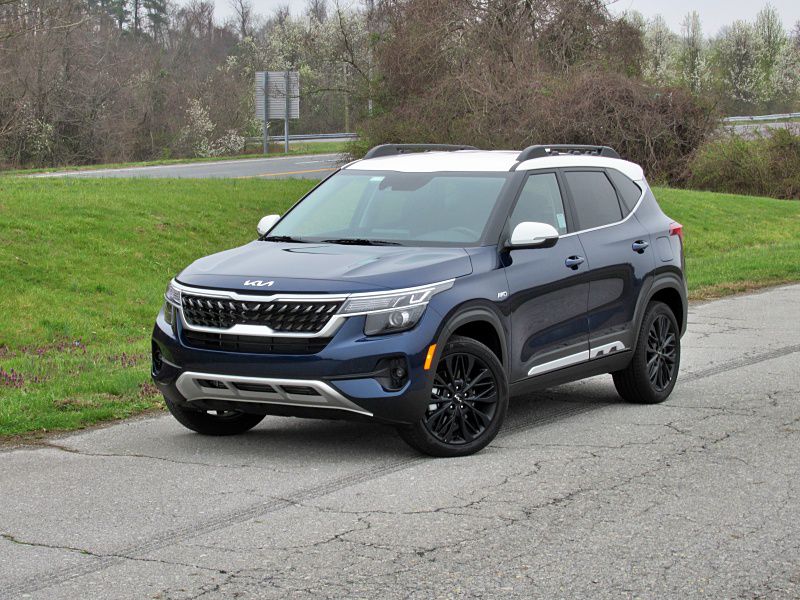 Photo by Brady Holt