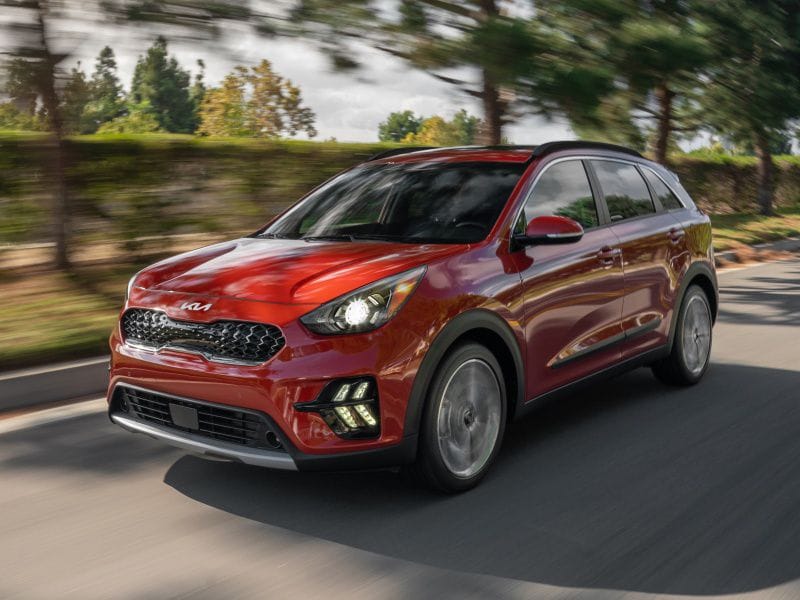 2022 Kia Niro ・ Photo by Kia
The small crossover SUV segment is one of the fastest-growing in the car industry. The category allows many consumers to scratch their itch for an SUV without spending tons of money. One of the most interesting vehicles in the segment is the Kia Niro, a vehicle that comes in several flavors with one theme — efficiency. Available as a hybrid, plug-in hybrid, and battery-electric, the Niro emphasizes fuel economy. And of course, the battery-electric version doesn't use fuel at all. The Niro's interior space makes it a very useful vehicle, and its short overall length gives it a handy feel in urban driving. The Niro is mechanically similar to the Hyundai Ioniq, and its tall roof endows it with better-than-expected carrying capacity. In this road test and review of the 2022 Kia Niro, we'll tell you how it compares to other good choices in the segment.
Exterior Design
The 2022 Kia Niro has an attractive shape that could be described as a small station wagon or a small SUV. The distinction between the two in the small car realm is nebulous these days. No matter how you describe it, the Niro has a good-looking face with an upper and lower grille in the gasoline-powered versions. The Niro EV fills in the upper grille with a textured plate, which makes it clear that this car doesn't need air to breathe. The Niro's flanks are attractively sculpted, and the roof rails — an SUV touch — are nicely integrated into the overall design. 16-inch alloy wheels are standard on the conventional hybrid, and the Touring Edition has 18-inch alloy wheels. The Niro EV has its own 17-inch alloy wheels. In all, the Niro won't cause your heart to skip a beat, but it is a good-looking vehicle.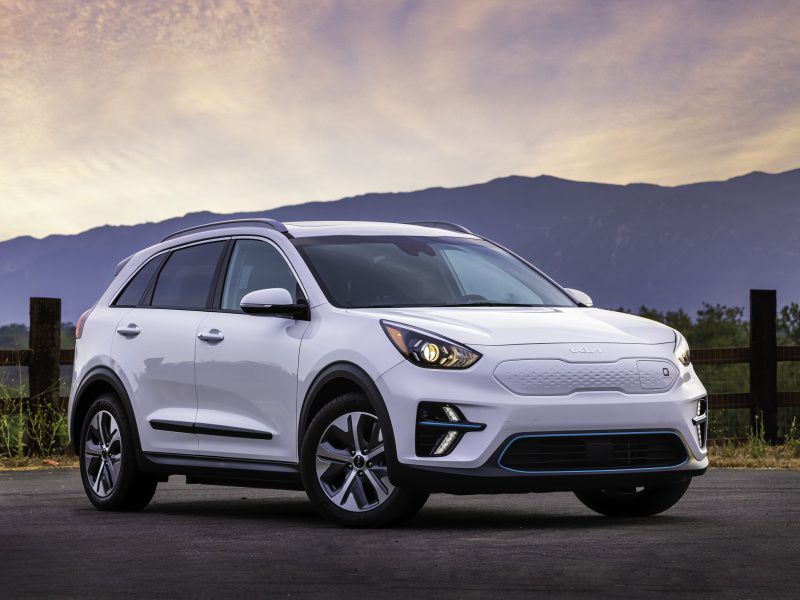 Photo by Kia
Powertrains
The 2022 Kia Niro offers three powertrain choices, all designed to limit the amount of carbon dioxide emitted into the atmosphere. The hybrid uses a 1.6-liter four-cylinder engine combined with an AC synchronous magnet electric motor. Total system horsepower is 139 horsepower and peak torque is 195 lb-ft. An interesting aspect of the hybrid system is its use of a six-speed dual-clutch automatic transmission. In comparison, the Toyota Prius, the dictionary definition of a hybrid, is powered by a 1.8-liter four-cylinder engine teamed with a continuously variable transmission and electric motor to offer 121 total horsepower. The Niro PHEV (plug-in hybrid electric vehicle) uses the same engine-motor-transmission setup as the Niro hybrid but adds a larger-capacity 8.9 kWh lithium-ion polymer battery. According to the Environmental Protection Agency (EPA), it offers 26 miles of electric-only driving range. The Niro EV has a 64 kWh lithium-ion battery and a 201-horsepower electric motor. It will deliver around 239 miles of range on a full charge.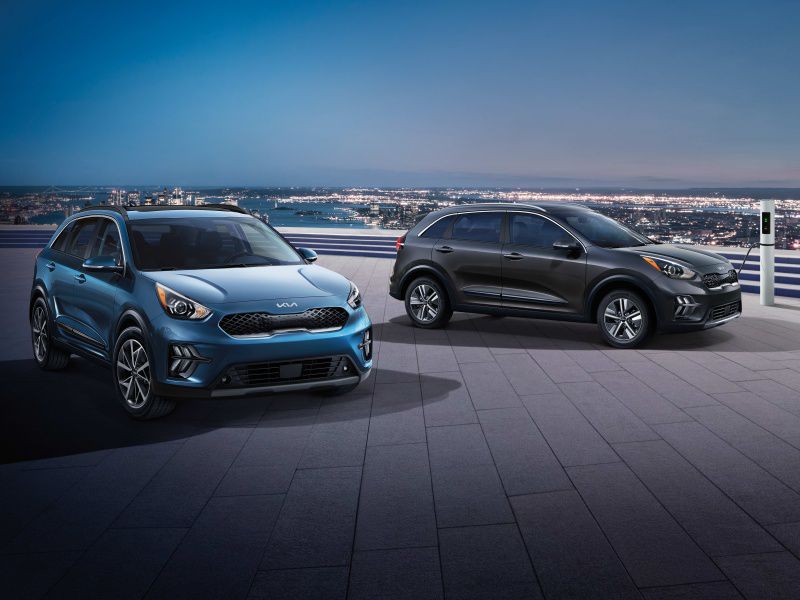 Photo by Kia
Driving Impressions
With less than 140 horsepower, the Niro hybrid and Niro PHEV offer leisurely acceleration. At the same time, they are quicker and seem more refined than the Toyota Prius, which puts fuel economy above all else. Both the Niro hybrid and plug-in hybrid are perfectly adequate for all-around driving, and their compact size makes them a good choice for city dwellers who face narrow streets and parking challenges. With its high horsepower and torque, the Niro EV is the highest-performance version of the model by far. The added weight of its battery pack does offset its horsepower advantage somewhat. But the Niro EV offers smooth, strong acceleration that has its own rewards. With its 230-plus mile range, it opens up the idea of some cross-country touring as well. The Niro hybrid and PHEV aren't range-limited at all because a gasoline fill-up is always at hand.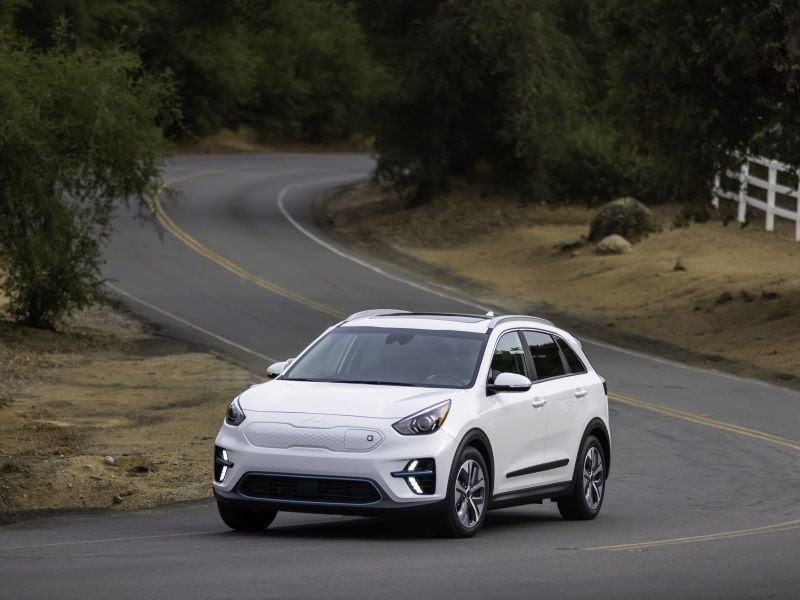 Photo by Kia
Interior Style
The Kia Niro has a modern-looking interior with comfortable seating for as many as five. High-efficiency is the Niro's primary goal, so it leans toward simple functionality rather than ostentation. For example, cloth seats are standard throughout most of the lower-grade trims with faux leather only available on the upper grades. But the car is no "penalty box."  A 10-way power-adjustable driver's seat with power lumbar support and a 6-way manually adjustable passenger seat with height adjuster are widely available.  A look at the Niro's dimensions confirms that it offers more interior space than the Toyota Prius and Hyundai Ioniq. Drivers who favor a higher "command-of-the-road" driving position will appreciate its slightly elevated stance. The Niro's dual-zone climate control, standard on all trims, adds to the overall comfort.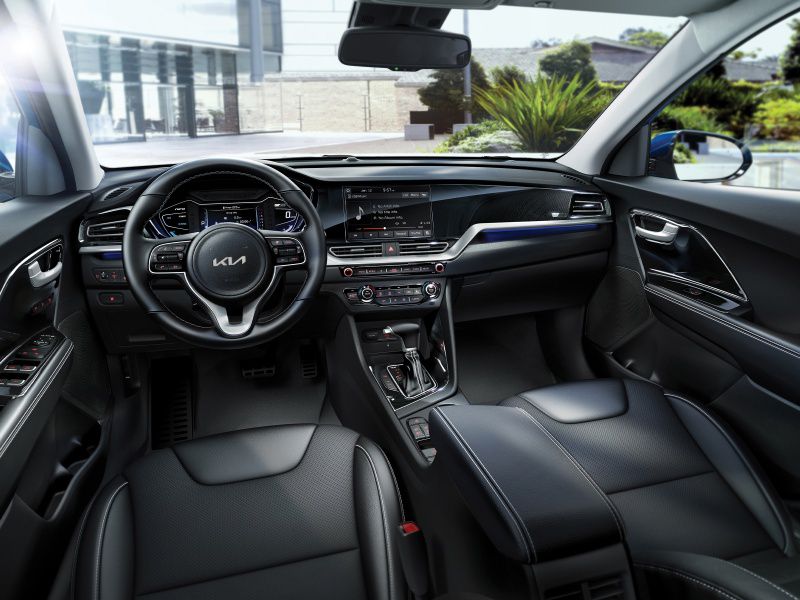 Photo by Kia
Infotainment & Technology
All 2022 Kia Niro models have touchscreen infotainment systems with substantial display sizes. In hybrid and PHEV models, LX, LXS, and LXS SE trims have an 8-inch touchscreen while the upper trims have a 10.25-inch display. The 10.25-inch screen is standard in the Niro EV. Interestingly, the infotainment system with the smaller 8-inch display offers wireless Apple CarPlay and wireless Android Auto, but in vehicles with the 10.25 inch display, those functions are wired-only. Perhaps to balance that, the larger of the two touchscreen systems features integral navigation, premium audio system with SiriusXM, and an embedded modem. The Niro EV has a Harman Kardon sound system with Clari-Fi technology and eight speakers. That same system is standard on the top trims of the hybrid and PHEV models. Wireless-device charging is also standard on middle and top trim levels.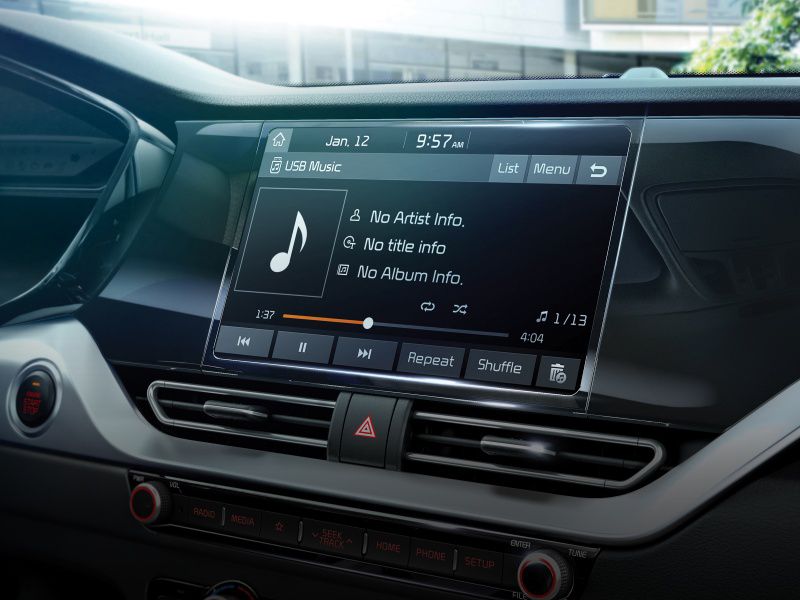 Photo by Kia
Safety & Driver Aids
The 2022 Niro offers a variety of electronic active safety and driver-assist features to supplement its passive safety offerings. The Kia Drive Wise systems get more feature-filled as the prices and trim levels climb. The LX offers only the legally required rear-view camera, but the LXS model includes high-beam assist, lane-keeping assist, automatic emergency braking with front pedestrian and cyclist detection, driver attention monitor, blindspot warning, and rear cross-traffic collision warning.  The Touring SE and EX Premium trims add smart cruise control with curve control and stop and go and Highway Driving Assist. The Kia Niro EV has a very comprehensive suite of safety equipment across its two trim levels. Included are a pedestrian warning system, rear parking distance warning, blind-spot collision warning, rear cross-traffic collision warning, and lane-keeping assist. It also has driver attention warning, lane-following assist, high beam assist, rear-view camera with dynamic guidelines, rear occupant alert, forward collision-avoidance assist, and navigation-based adaptive cruise control with stop and go and curve assist.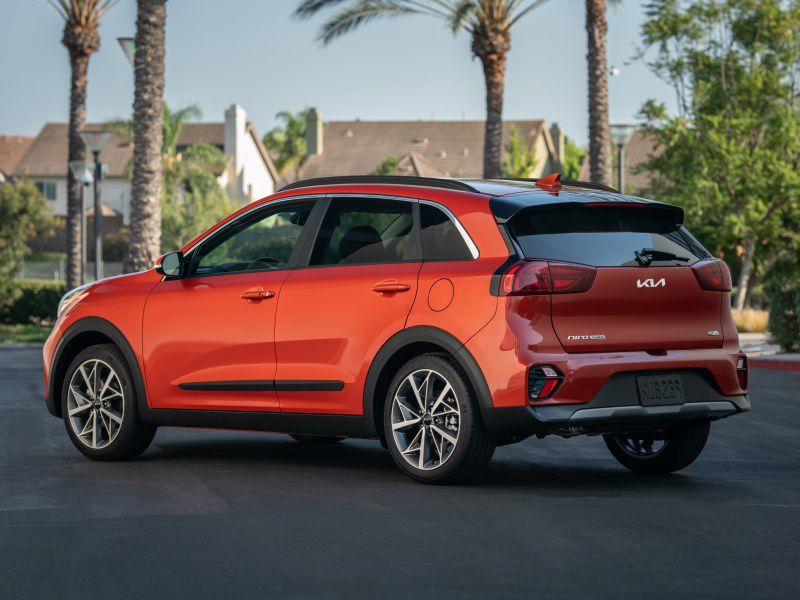 Photo by Kia
Fuel Economy
The fuel economy of the Kia Niro's two gasoline-fueled models ranges from very good to excellent. And of course, the Niro EV doesn't use any fuel at all and is a zero-emissions vehicle. According to the Environmental Protection Agency (EPA), it has an MPGe rating of 112 with 239 miles of total range on a full charge. The highest-fuel-economy Niro with a conventional hybrid powertrain delivers an estimated 53 mpg city and 48 mpg highway. The Niro plug-in hybrid (PHEV) is rated at 46 mpg for combined city and highway driving when using just the gasoline engine, while in hybrid mode it is rated at 105 MPGe. The Toyota Prius Prime plug-in hybrid is rated at 54 mpg combined when using just the gasoline engine and 133 MPGe in plug-in hybrid mode. The conventional Prius hybrid has an EPA rating of 54 mpg city and 50 mpg highway.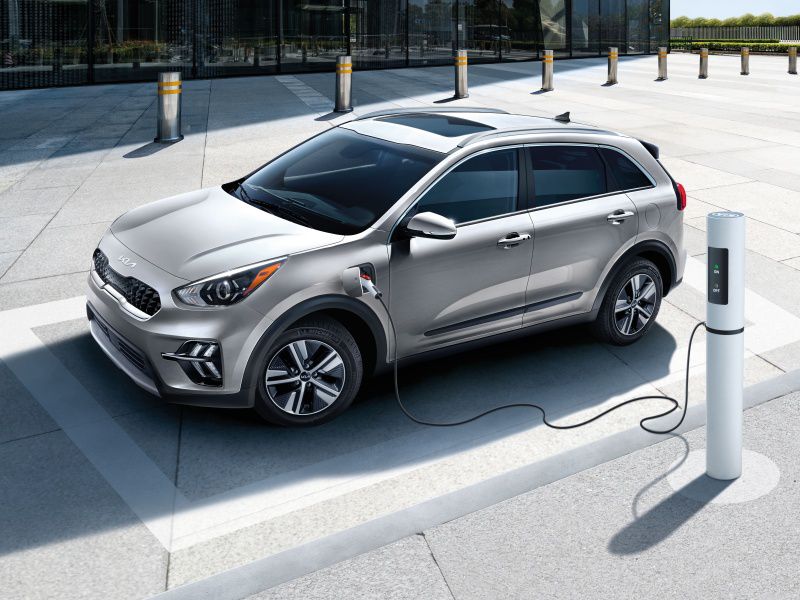 Photo by Kia
Cargo-Carrying Ability
In hybrid form, the 2022 Kia Niro has more than 100 cubic feet of passenger volume. With a battery pack to accommodate, the Niro EV gives up a bit of interior space, about four cubic feet worth. When it comes to cargo, the Kia Niro hybrid and PHEV have 19.5 cubic feet of luggage space behind the rear seats. With the rear seatback folded down, the usable space in the Niro hybrid and PHEV is 54.5 cubic feet. Interestingly, the Prius and Ioniq hatchbacks offer roughly the same amount of cargo space. The Niro EV has slightly less cargo area than its siblings. It offers 18.5 cubic feet of cargo space behind the rear seat. With the rear seatback folded, 53.0 cubic feet of cargo area opens up. In all configurations, the Niro has a lightweight liftgate that is easy to open and close.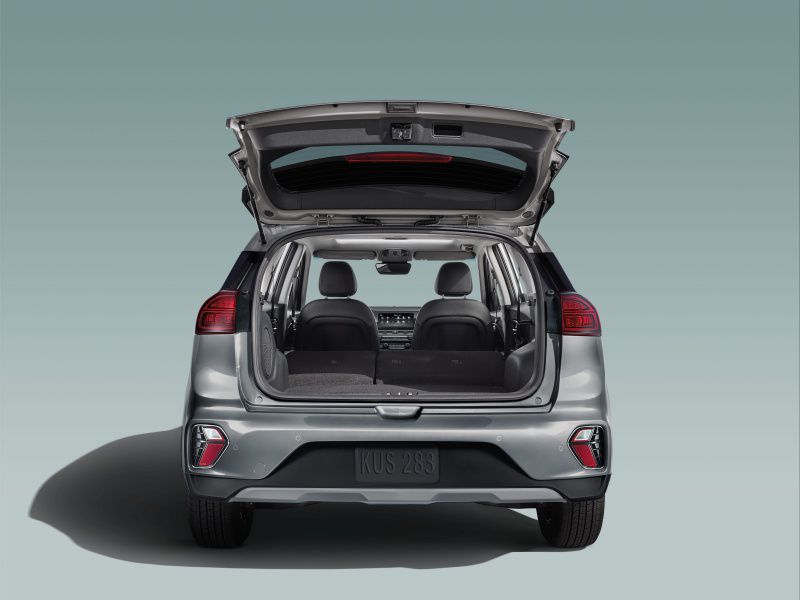 Photo by Kia
Trim Levels
The 2021 Kia Niro is available in a number of trims across the hybrid, PHEV, and EV model lineups. The conventional hybrid has the largest number of trims — five in all. They are LX, LXS, LXS SE, Touring SE, and EX Premium. The PHEV is offered in three trims: LXS, EX, and EX Premium. And the Niro EV is offered in EX and EX Premium trims. The Niro LX is the base-level hybrid. It is fitted with 16-inch alloy wheels, halogen headlights, roof rails, 4.2 inch driver's info display, cargo area light, and a 6-way manual adjustable driver's seat. The LXS is probably the best value of the hybrid trims. It includes luxuries like a leather-wrapped steering wheel, a leather-wrapped shift knob, and a smart key with pushbutton start, remote start, panic alarm, and liftgate unlock features. At the top of the heap, the Niro EX Premium delivers serious luxury with simulated leather front seats that are heated and ventilated, plus a heated, leather-wrapped steering wheel.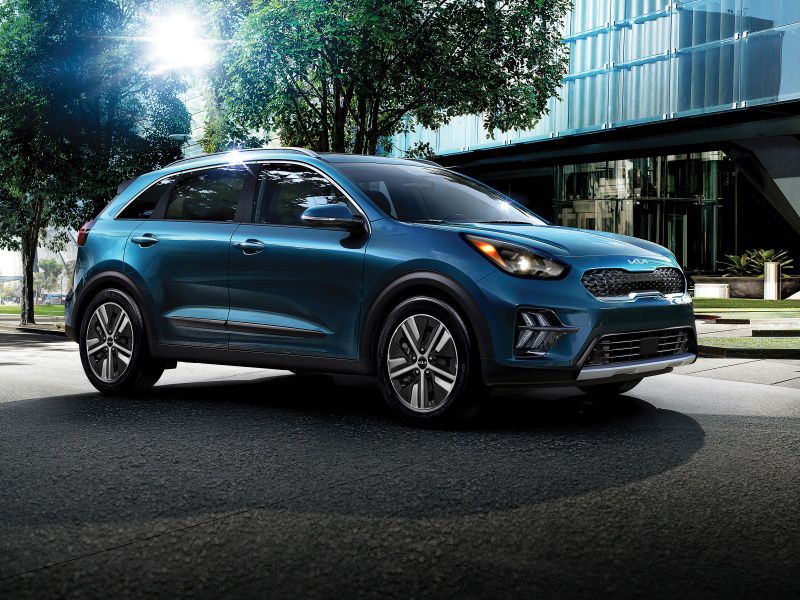 Photo by Kia
Pricing & Value
With a base price of less than $26,000 including the destination fee, the 2022 Kia Niro is a good value among hybrid-powered small crossovers. Its compact size could be just the thing for city dwellers who need a small vehicle for around-town errands but is also big enough for out-of-town weekend trips. The PHEV has those advantages, plus it can go more than 20 miles on electric power alone. It starts at over $30,000 with destination fee, but that is mitigated by a federal tax credit of over $4,000. An even higher tax credit takes the sting out of the 2022 Kia Niro EV's $40,000-plus purchase price. It is eligible for a $7,500 federal tax credit along with potential state and local incentives. Only you can decide how much you are willing to pay for the privilege of driving a pure EV.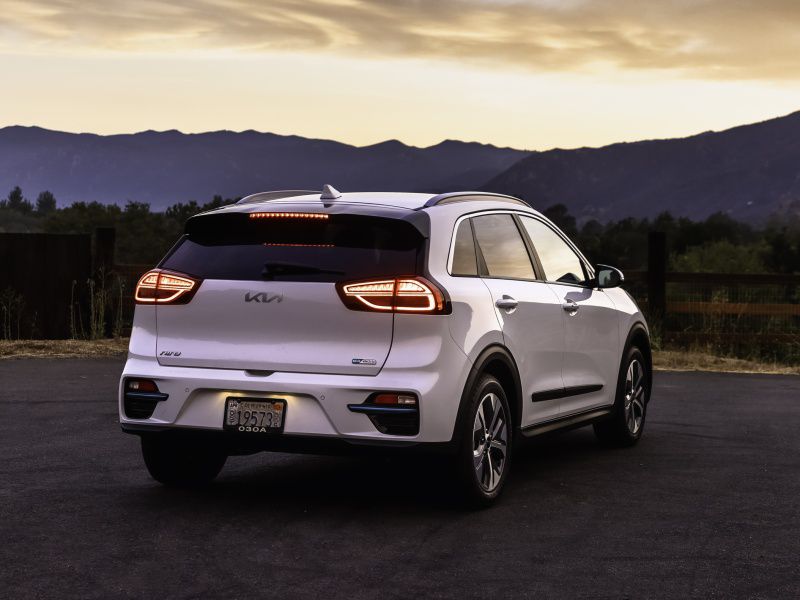 Photo by Kia