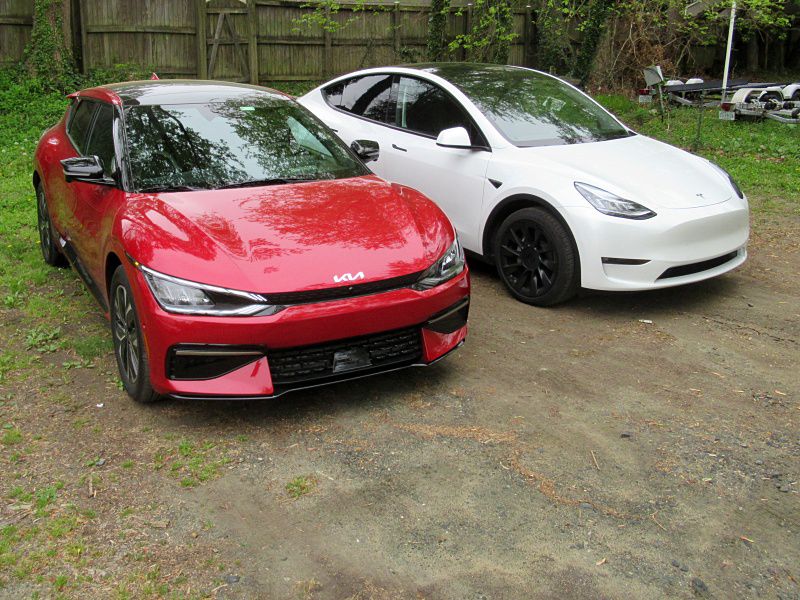 2022 Kia EV6 and 2022 Tesla Model Y ・ Photo by Brady Holt
Tesla is wearing a target on its back. It makes the only electric vehicles in America that have been serious sales successes. Its most popular model — the 2022 Tesla Model Y compact crossover SUV — racked up more than 10 times the sales volume of most rivals last year. Every new EV is the latest Tesla challenger.
The all-new 2022 Kia EV6 is one of the strongest rivals yet to the Model Y. It brings the Kia brand's value focus, but not in the sense of a cut-rate bargain-hunter's electric vehicle. This is a high-style, high-range, carefully engineered, premium-grade crossover. But it starts at $40,900, while the Tesla's quickly soaring base price has risen to $62,990. For this review, we drove the EV6 and Model Y back to back so that we could compare them across eight categories and then name an overall winner. Keep reading to learn which one we chose and which one is the better electric SUV for you.
Exterior Design
The best-selling Model Y needs little introduction. It's a sleek egg, a transportation pod, a computer mouse on wheels. It has no pretense of a grille, no pretense of SUV toughness, and an anti-SUV gently sloped roofline. It's non-traditional in a way that Tesla has made familiar, and it's instantly recognizable. 
The EV6 is distinctive in its own way. Not everyone would instantly know it's an electric car — a small imitation grille still hangs out between the Kia's headlights — and it doesn't look much like an SUV. Whatever it is, though, it'll get noticed. A stubby hood and wide headlights make it hug the ground like a sports coupe. Around the back, a slim lightbar slides up from the fenders to meet just below the sloped windshield, with a patterned silvery bar arching below it. The Model Y is 3 inches taller and about an inch wider than the EV6, but the Kia looks much lower and wider. You'll choose for yourself between the coolly modern Tesla and the brashly extroverted Kia. 
Tie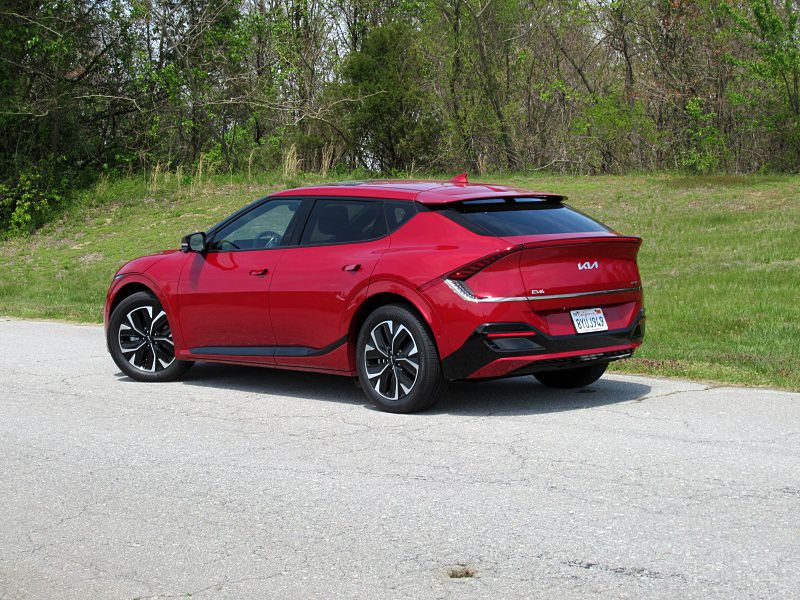 Photo by Brady Holt
Interior Design
Kia took steps to make the EV6's interior unconventional. You'll find funky patterns on the dashboard and console; a sleek toggle that repurposes the dashboard's buttons and knobs between infotainment and climate controls; and big open storage spaces. 
But while the EV6's interior looks like a normal car with some extra quirks, the Tesla's is like no other automobile's. Its dashboard is empty save for a strip of wood trim, the steering wheel, and a massive 15-inch touchscreen housing everything from the radio to the speedometer to the headlight controls. We understand the appeal, and our tested 2022 Model Y had richer trim than the EV6. Still, we find objective advantages to the Kia's more conventional cabin. With a 12.3-inch digital gauge cluster in addition to a 12.3-inch touchscreen, you can see more information at a single glance without needing to swap menus. Dedicated hard buttons make it easier to adjust, say, the radio volume. And the EV6 supports Apple CarPlay and Android Auto smartphone integration. We appreciate the Tesla's aesthetic, and the EV6's ergonomics aren't perfect either, but we'll give the Kia the nod for superior ease of use. 
Kia EV6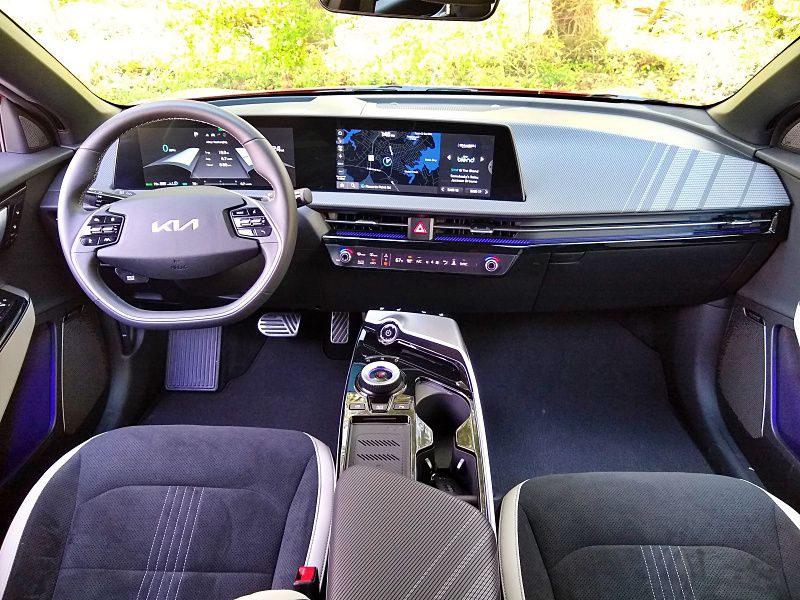 Photo by Brady Holt
Passenger Accommodations
A couple inches longer, wider, and taller than the EV6, the Model Y has more interior room. And the difference is even bigger than the numbers suggest. You sit higher in the Tesla, yet you also have more headroom above you. It gives you an SUV-like seating position, while the Kia's is more like a sedan's. We also loved the Model Y's extra-supportive front seats, though some drivers will prefer the EV6's slightly flatter ones. 
The Tesla advantage grows in the backseat. The EV6 has generous rear legroom, but foot space is constrained under the low front seats. The Model Y has ample clearance for you to stretch out and relax. The Tesla even offers an optional (tiny) third-row seat. Only the Kia gives you ventilated front seats; we love that option on any car, but it's especially useful on an EV where you can cool off without air-conditioning the whole cabin, extending your range. But overall, we preferred sitting in the Tesla.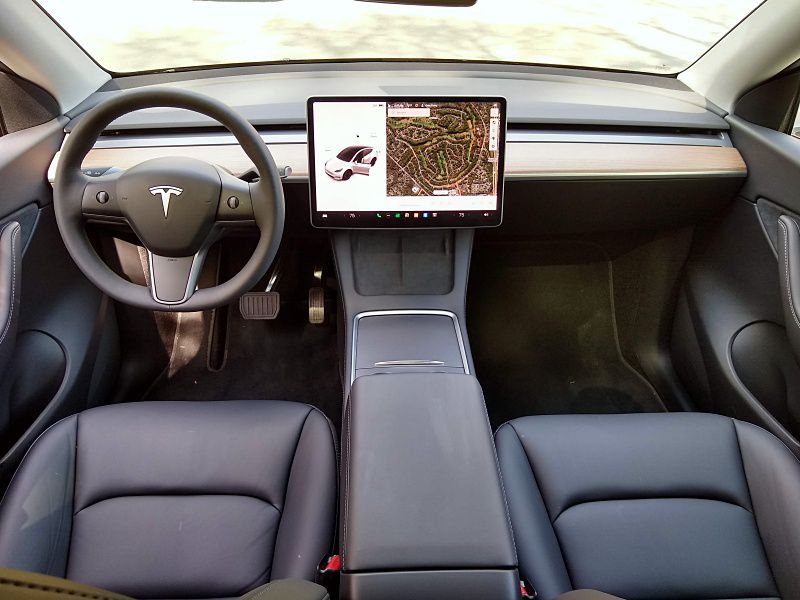 Photo by Brady Holt
Cargo and Utility
The EV6 may look more like a sports car than an SUV, but this crossover still has a useful amount of cargo room. You get 24.4 cubic feet of space behind the rear seat, which folds down to open up 50.2 cubic feet in total. There's also a small cubby under the hood, where a normal car's engine would go, with enough space to keep a spare charging cable or a few other odds and ends. 
This cargo capacity is a valuable asset if you're shopping the EV6 against the Tesla Model 3, which has a conventional sedan trunk. But the Model Y is significantly roomier, with 30.2 cubic feet behind the rear seat and 76.2 cubic feet with the rear seat folded. You'll feel the difference if you're carrying something big or bulky, which would be a tighter squeeze in the lower-roofed EV6. The Tesla also has a bigger front trunk (frunk), and it can tow up to 3,500 pounds versus 2,300 pounds for the Kia.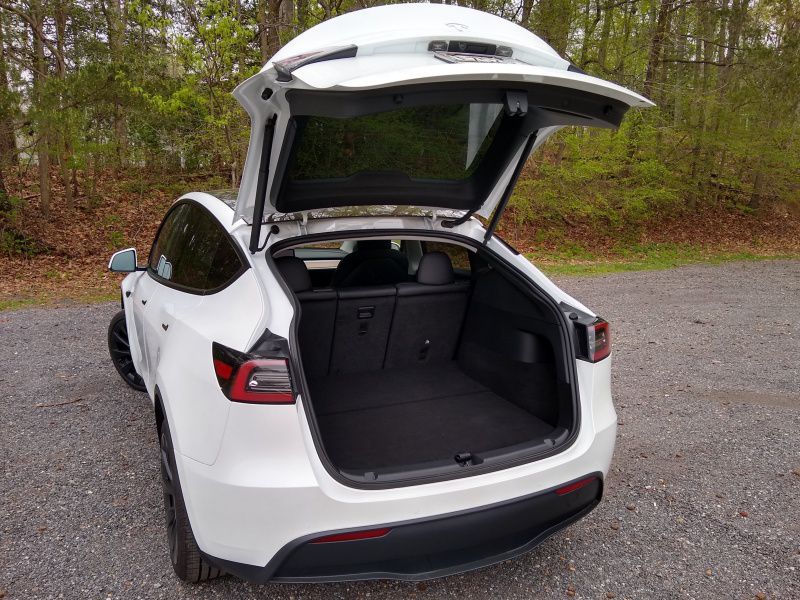 Photo by Brady Holt
Ride and Handling
Despite its tech-focused vibe, Tesla also includes sporty performance among its priorities. This is most true in its famously explosive acceleration (more on that soon), but it also carries over to the Model Y's agile handling. A firmly tuned suspension and a low center of gravity — the result of a big, heavy battery pack near the ground — yield sharper responses than a typical SUV. Still, our pick was the EV6. 
The Kia shares the Tesla's on-paper advantages: the same low center of gravity and a rear-wheel-drive-based platform. But at the same time, it's lighter and easier to drive. Even when you adjust the Model Y's steering to "comfort" mode, it lacks the Kia's blissfully low effort when you're parking. The EV6 has a smoother ride, too. We did find Tesla's Autopilot system of advanced driver aids to work a little more smoothly than the Kia's similar technologies, but we still preferred the EV6 overall. 
Kia EV6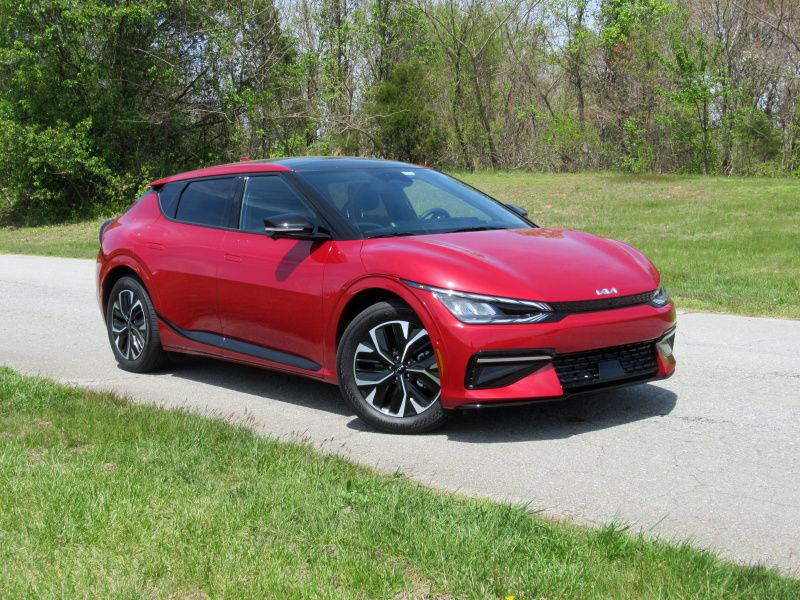 Photo by Brady Holt
Acceleration
The EV6 is a quick car. Most electric vehicles are. Most EVs have ample torque, and all deliver it right off the line — no buildup required before you're blasted forward. Even the base rear-wheel-drive EV6 should be pretty speedy, with a healthy 258 pound-feet of torque making the difference over a weak-looking 167 horsepower. Other rear-drive models, like our test vehicle, improve to 225 hp but still 258 lb-ft. 60 mph should arrive in a near-silent 7 seconds. All-wheel drive bumps things to 320 hp and 446 lb-ft, with 0-60 in 4.6 seconds; that's better than many sports cars, and enough to catch your breath in your throat if you floor the accelerator. 
The Model Y is faster. The base Long Range AWD model, like our test vehicle, needs 4.8 seconds to reach 60 mph. But the Performance AWD model, which we've tested previously, needs a mere 3.5 seconds. (Tesla doesn't quote horsepower or torque ratings.) Kia is promising a 576-horsepower EV6 GT later this year that's supposed to beat the fastest Model Y, but Tesla wins this round for now.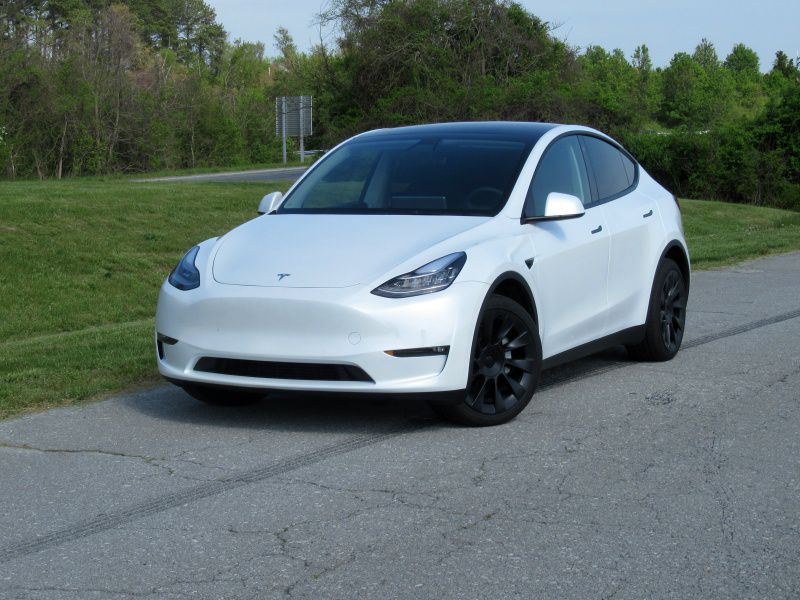 Photo by Brady Holt
Range, Efficiency, and Charging
Just like its acceleration, the EV6's range and efficiency vary widely by model. The base rear-drive EV6 can travel an EPA-estimated 232 miles per charge at the equivalent of 117 miles per gallon. Other rear-drive trim levels increase to 310 miles per charge, still at 117 MPGe. With AWD, range dips to 276 miles per charge and mileage to 105 MPGe. The Model Y is more efficient despite its standard AWD (122 MPGe for the Long Range, 111 MPGe for the Performance). The Long Range gets up to 330 miles, or 318 miles on our test vehicle with 20-inch wheels instead of the standard 19-inchers. The Performance goes 303 miles per charge. 
But an even bigger difference is the Supercharger: Tesla's comprehensive network of proprietary fast-charging stations. Plug in your Tesla, and the Supercharger recognizes your car and bills you automatically, while promising about 200 miles of range within 15 minutes. The EV6 can charge fast, too — nearly 70 miles in less than five minutes and up to 217 miles in 18 minutes on the fastest chargers. But non-Tesla public charging stations are scattered more randomly, often require payment via an assortment of different accounts, and typically have much slower charging speeds.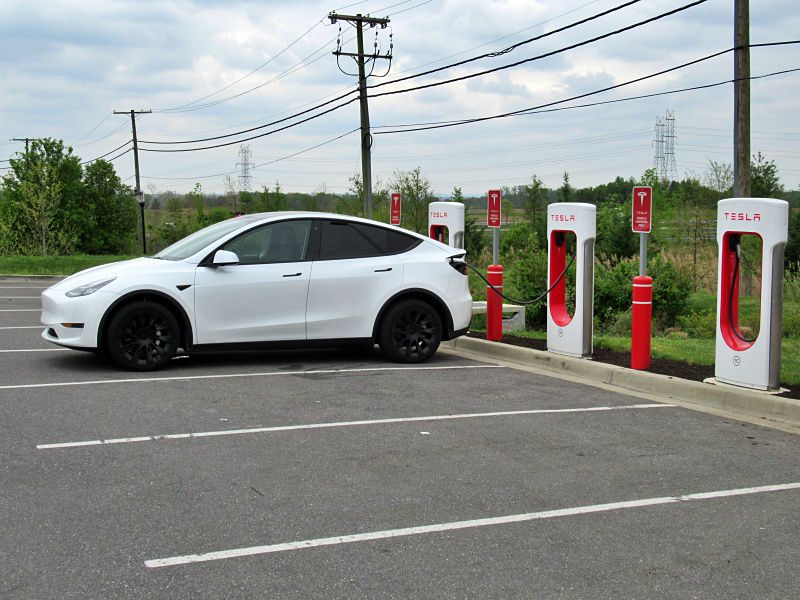 Photo by Brady Holt
Pricing and Features
Tesla prices change often, but as we write, the Model Y starts at $62,990 for the Long Range — a $10,000 price hike over the past two years — and $67,990 for the Performance. Tesla currently warns of longer delivery times for base models than high-end ones: possibly more than a year for a Long Range with no options, about six months to a year if you pay $2,000 for 20-inch wheels, and just two to four months for the Performance.
Meanwhile, Kia gives you a lot of features even on the base $40,900 Light model. The next-up Wind model ($47,000 with rear-wheel drive and $50,900 with AWD) has most of the same features as the Model Y, along with comparable performance. The top GT-Line costs $51,200 with rear-wheel drive like our test vehicle and $55,900 with AWD, bringing the model's fanciest technology and flashiest design while still undercutting the Tesla. What's more, electric Kias still qualify for a $7,500 federal tax credit, while Tesla has already sold too many vehicles to qualify. Teslas are sold for their sticker prices while Kia dealers can add markups, but the EV6 still costs much less. 
Kia EV6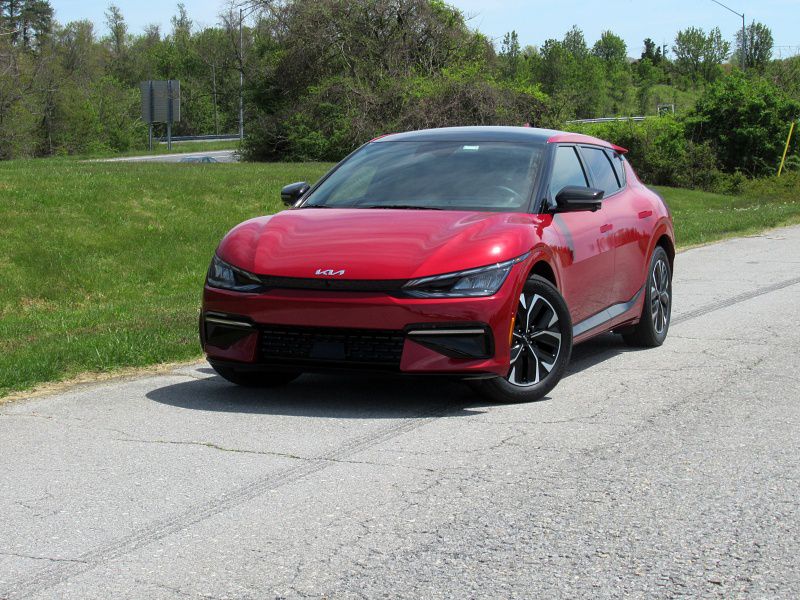 Photo by Brady Holt
Final Thoughts
The 2022 Tesla Model Y is an excellent EV that fits seamlessly into the world's best charging network. It's usefully roomy and ridiculously quick, yet it's also incredibly economical. It goes the farthest on a charge, and it's the easiest to charge up again on the go. It has a distinctive style and vibe of sleekly high-end technology. It justifies its steep price and long waiting list. 
But for the money, the new 2022 Kia EV6 impresses us more. It brings its own distinctive style to the party; has simpler controls and the convenience of Android Auto and Apple CarPlay smartphone integration; and is easier and more comfortable to drive. And it comes close to the Telsa's mighty speed and range. The key difference: After federal tax incentives, you can get many of the Kia's strengths for barely half the price of the Model Y, and you still get all of its strengths for some $15,000 less than a base Tesla. This is a relative bargain whose appeal goes well beyond its price tag. 
Kia EV6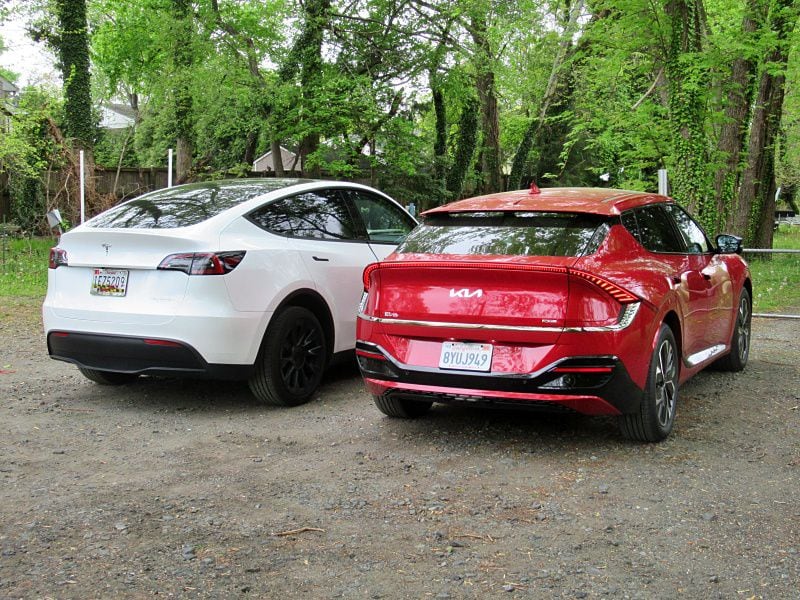 Photo by Brady Holt