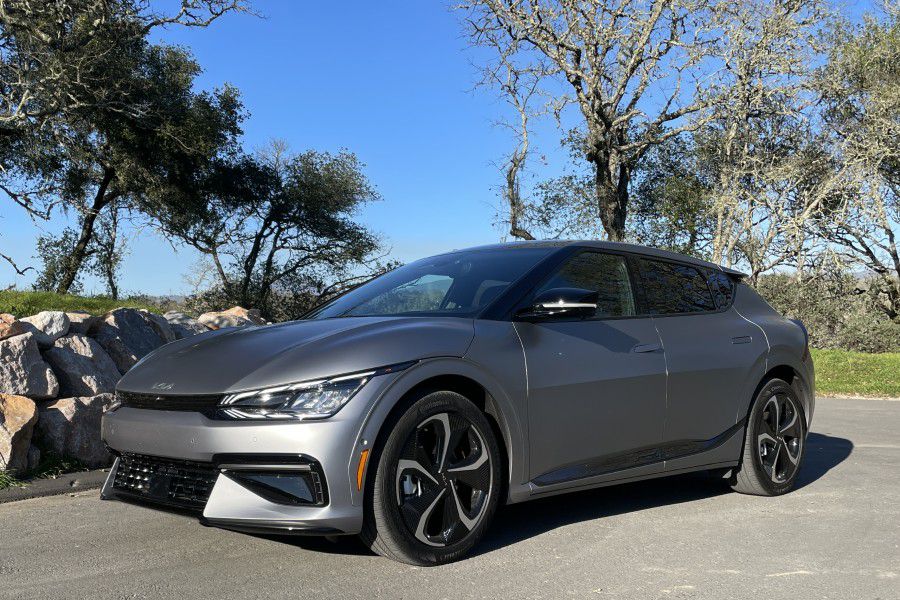 2022 Kia EV6 Front Quarter ・ Photo by Nicole Wakelin
The 2022 Kia EV6 is the first dedicated electric vehicle from the brand, and it marks a new naming convention. All Kia's electric vehicles will start with "EV" followed by a number referencing its size and place in the lineup. The EV6 is the first of their new electric vehicles to launch as part of a plan that includes launching 11 new electric vehicles worldwide by 2026.
Set to go on sale in the first quarter of this year, the EV6 is a crossover with seating for five people. It offers a choice of rear-wheel or all-wheel drive with two battery sizes across a four-trim lineup. It has a good range of standard safety features and a pair of 12.3-inch screens on the dashboard that give it a futuristic feel. Let's take a closer look at the 2022 Kia EV6 to see if it's the right choice for you.
Four Available Trims
There are four EV6 trims from which to choose from, starting with the Light at $40,900, which is rear-wheel drive only and has the smaller battery. Standard features include a 12.3-inch instrument cluster and 12.3-inch infotainment touchscreen, wireless charging, cloth seats, heated front seats, and an 8-way power driver's seat. The Wind at $47,000 has rear-wheel or all-wheel drive along with the larger battery and standard synthetic leather seats, ventilated front seats, and a premium Meridian audio system.
The GT-Line priced from $51,200 adds an electro-chromatic rearview mirror, smart cruise control, enhanced forward collision avoidance, blind-spot monitor, auto evasive steering assist, enhanced navigation, and remote parking assist. There's also a limited run First Edition of 1,500 units price at $58,500. It's all-wheel drive only with a heat pump, ultra-wide sunroof, vegan leather interior, and the choice of a home charging unit, 1,000 kWh charging credit, or an Apple Watch.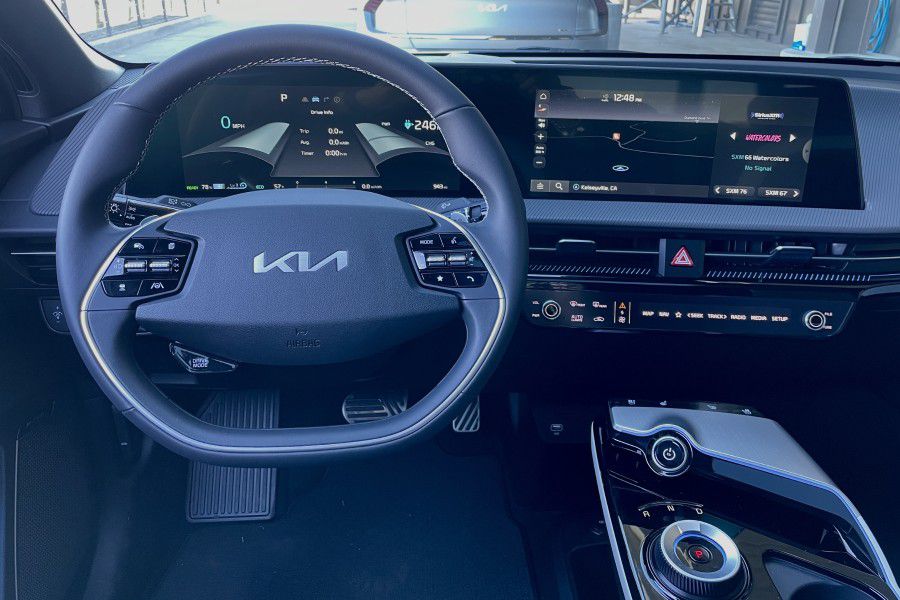 Photo by Nicole Wakelin
Two Battery Options
The EV6 has two battery options. The smaller 58.0 kWh battery is only found on the Light trim, which is only available with rear-wheel drive. It delivers 167 horsepower and 258 lb-ft of torque with a single electric motor for the rear axle. The rest of the lineup has a 77.4 kWh battery. It delivers 225 horsepower and 258 lb-ft of torque with rear-wheel drive. Equipped with all-wheel drive, which adds a second electric motor for the front axle, it delivers 320 horsepower with 446 lb-ft of torque.
There's plenty of power in the EV6 for aggressive starts and effortless highway merges with the instant torque that you can only get with an electric vehicle. It delivers power so quickly, you'll need to get used to easing up on the accelerator for smoother starts.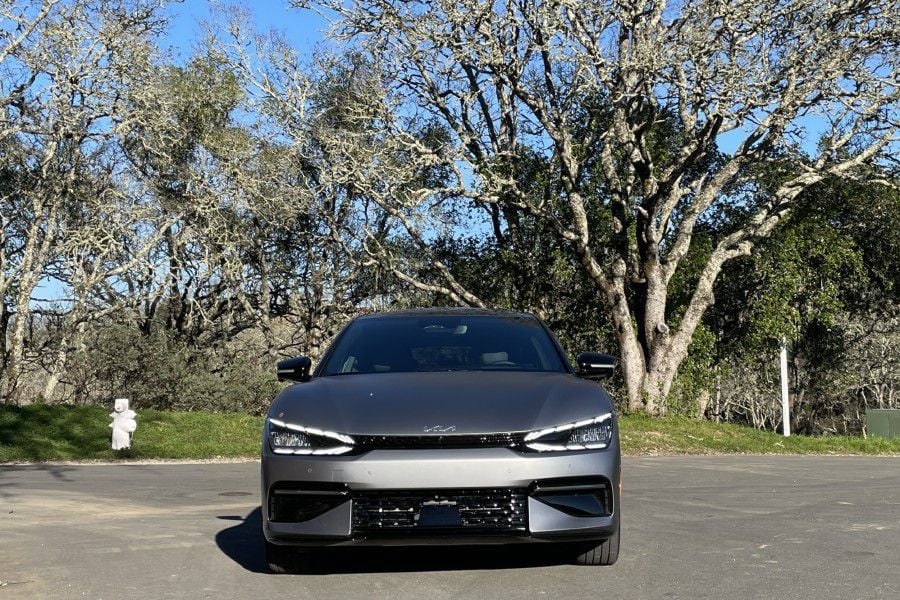 Photo by Nicole Wakelin
Charge up Quickly When You're on the Go
The range for the EV6 with the smaller 58.0 kWh battery is 232 miles. That number increases to 310 miles with the 77.4 kWh battery and rear-wheel drive. Sitting in the middle is the 77.4 kWh battery with all-wheel drive, which has a range of 274 miles. That's enough to manage a typical day and without ever having to worry about finding a charging station.
When it does come time to charge, the EV6 can go from 10 perfent to 80 percent in less than 18 minutes. Use a 350-kW charger and it can charge 217 miles in 18 minutes with 60 miles of range in under 5 minutes. At a Level 2 charger, it takes roughly 7 hours and 10 minutes for the 77.4 kWh battery to fully charge. You can easily charge your EV6 fully overnight no matter the charger, but even a quick stop significantly replenishes the battery.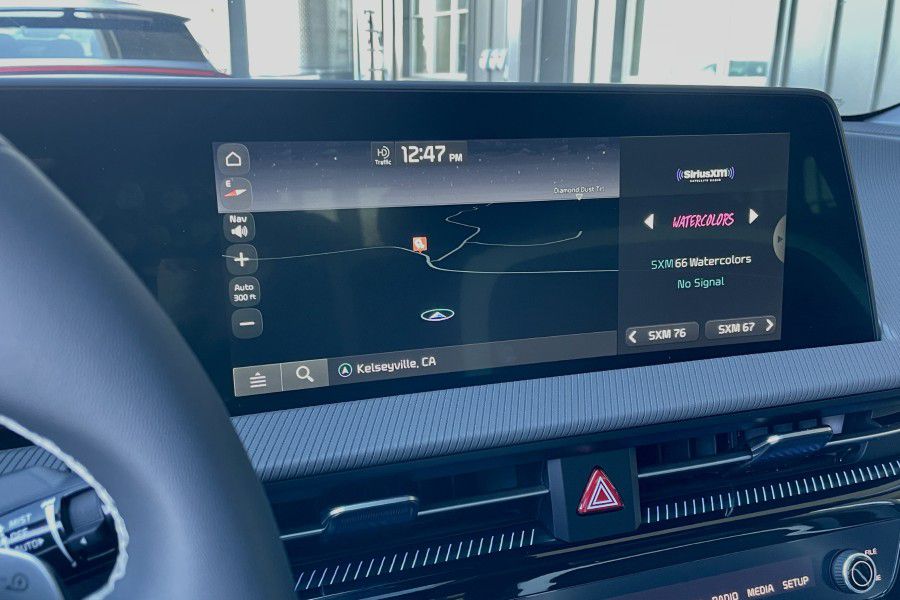 Photo by Nicole Wakelin
Responsive Handling Drivers Will Enjoy
The Kia EV6 is a crossover with compact dimensions. This includes a low, coupe-like roofline that gives it sporty, performance styling. Its handling matches up to that first impression with impressive acceleration. Steering stays centered and controlled even under hard acceleration with good feedback so the driver always has a sense of what's happening beneath the wheels.
While straight-line acceleration is impressive, the EV6 impresses even more when subjected to twisting roads. Here, it handles less like a crossover and more like a sports sedan. The suspension system is well-tuned so the EV6 remains level even during sharp maneuvers. Rough road surfaces won't unsettle this little crossover. Instead, it soaks up the bumps and dips, hiding all but the worst road surfaces and making the task of driving not just easy, but something you'll enjoy.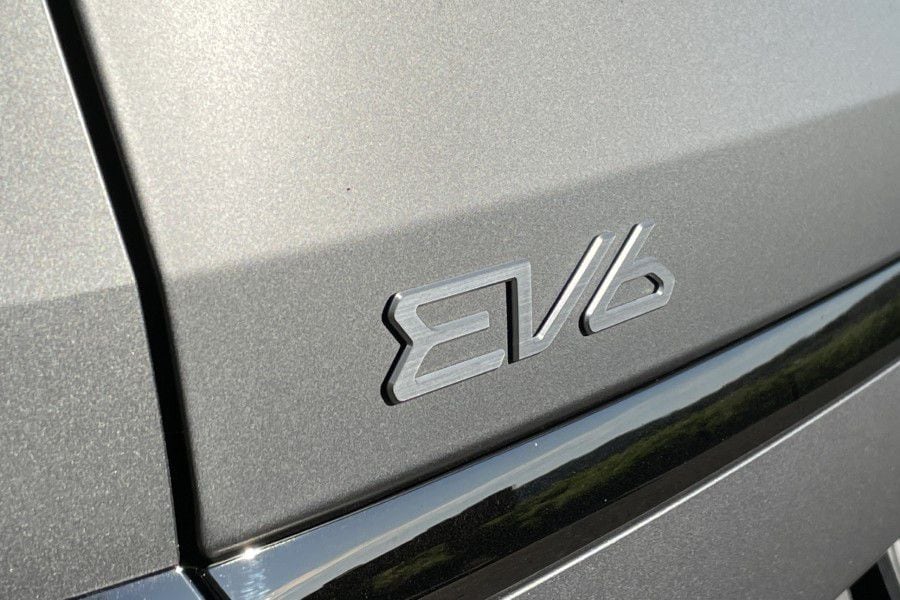 Photo by Nicole Wakelin
A Smooth Ride Delivers Passenger Comfort.
The EV6 is a crossover, which means there's a good chance it's going to have a full load of people on board. This makes a smooth, comfortable ride a priority, and the EV6 delivers. Only the worst road imperfections will jostle passengers and when that happens, the EV6 quickly regains its composure. There's no excessive bounce and sway when there are dips in the road, which means passengers ride undisturbed.
In addition to a smooth ride, wind noise is kept to a minimum and road noise is equally well-muted. It creates a remarkably calm and relaxed ride for passengers. This makes the EV6 ideal for longer trips. Even on short trips, the well-mannered ride and quiet interior of the EV6 make it a crossover that is well-suited to both everyday family life and the daily commute to work.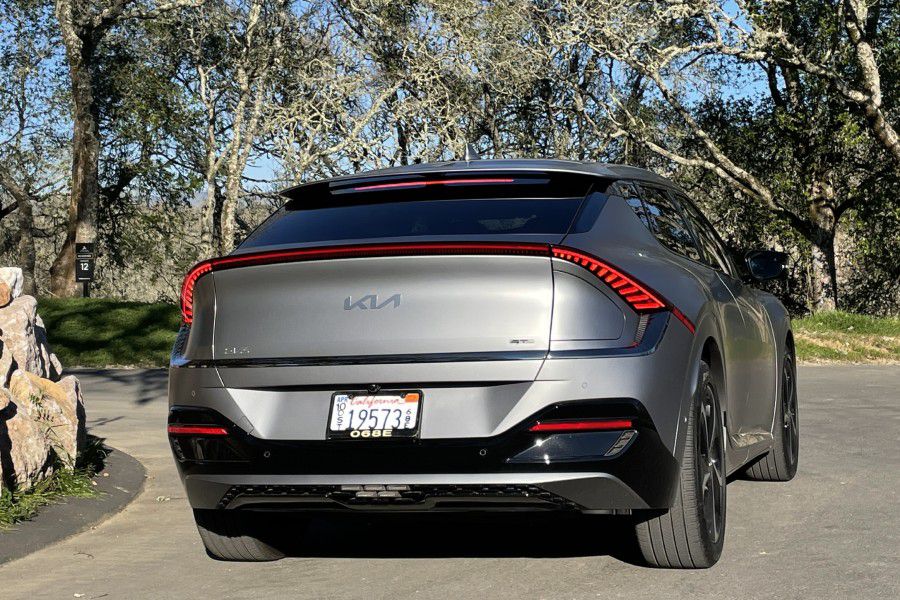 Photo by Nicole Wakelin
A Modest Yet Attractive Interior
The interior of the EV6 is comfortable and roomy with plenty of space for five adults. Its sloped roofline makes it look less roomy on the outside but doesn't compromise interior space for passengers. Front seats are supportive with modest bolstering ideal for longer drives, especially family road trips. Standard features include cloth seats with an 8-way power driver's seat that also has 2-way lumbar support. Both front seats are also heated with ventilation standard on all but the base trim. There's also a leather-wrapped steering wheel and reclining second row.
It's a well-equipped car in any trim, with increasing amenities as you move through the lineup. This solid range of features combines with a smooth, quiet ride to create a calm and relaxing interior for passengers. Especially in top trims, the EV6 provides a surprisingly upscale experience for a brand that is solidly mainstream.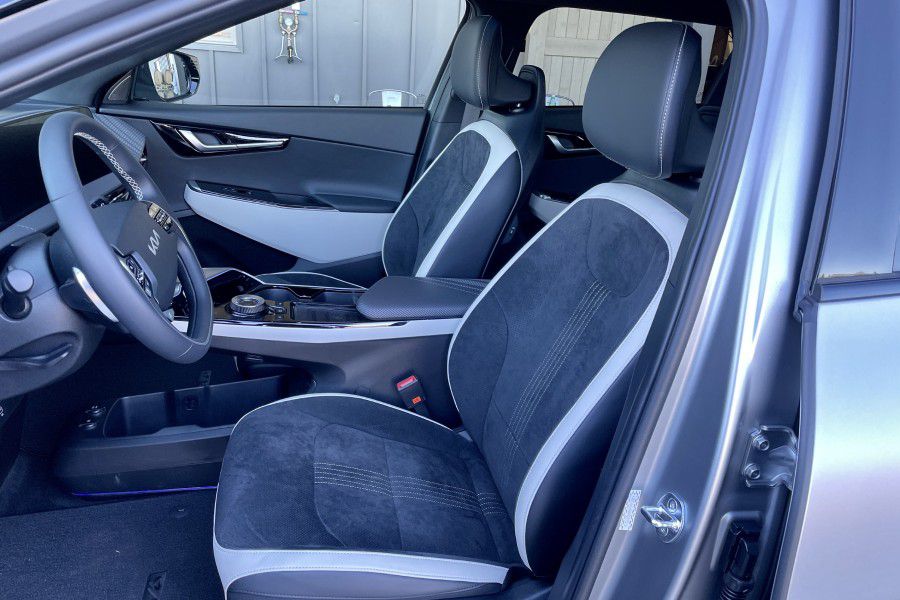 Photo by Nicole Wakelin
A Long List of Standard and Available Safety Features
Standard features on the Kia EV6 are extensive. They include blind spot collision warning, lane keep assist system, driver attention warning, lane following assist, high beam assist, and rear occupant alert. There's also forward collision-avoidance assist, rear cross-traffic collision avoidance assist, and reverse park distance warning.
There are also several new safety features that are available for the first time on the Kia EV6. There's highway driving assist 2 that includes auto lane changing, remote smart parking assist, and an augmented reality head-up display with safety warnings. The long list of standard safety features included across the lineup is impressive. There's no need to spend extra or risk getting only a minimum of features. This makes the Kia EV6 a strong proposition for those who prioritize safety.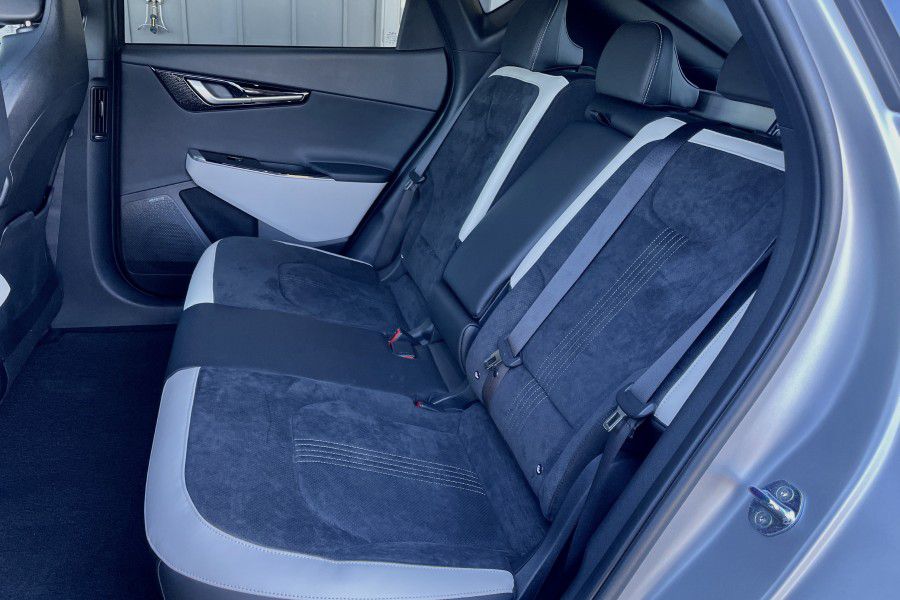 Photo by Nicole Wakelin
Room For All Your Stuff
The EV6 is a compact crossover, but it still has plenty of room for your cargo. In addition to a thoughtful design that includes space in the passenger area for storing smaller items you want readily at hand, there's good room in back for larger items. Behind the rear seats, there's 24.4 cubic feet for cargo. Fold down the rear seats and that cargo capacity expands to 50.2 cubic feet.
That's a significant amount of space. It easily handles luggage and day-to-day needs with a full load of passengers. Fold those seats, and now you have room for when your cargo needs are larger. In addition to a spacious interior, the EV6 can also tow. It has a maximum tow rating of up to 2,300 pounds when properly equipped. Whatever you need to take along for the ride, the Kia EV6 can accommodate your cargo needs.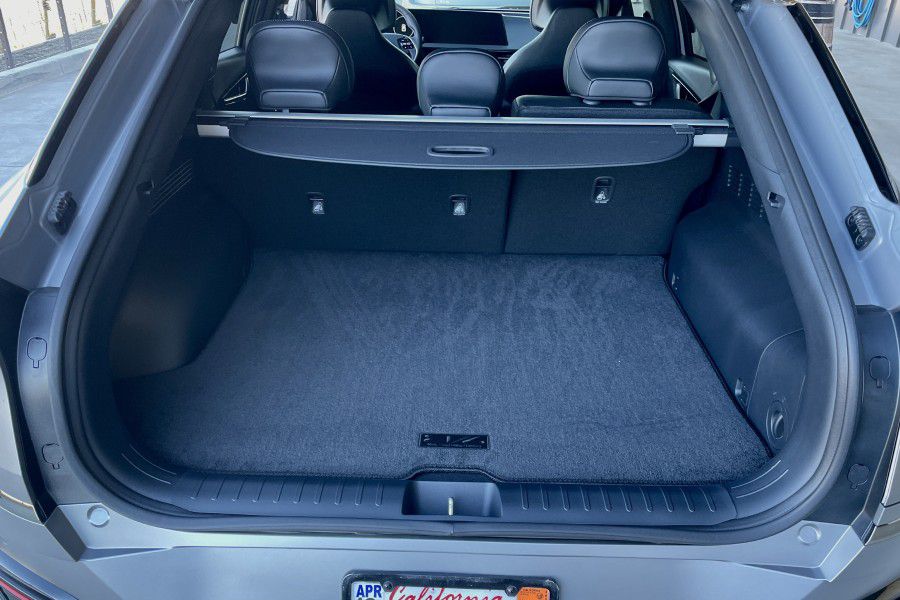 Photo by Nicole Wakelin
Final Thoughts
The Kia EV6 marks the start of a new chapter for Kia. It's the first of a series of 11 new electric vehicles it plans to introduce worldwide by 2026. It's also the first dedicated electric vehicle for the brand. It's a great start with a choice of four trims, two batteries, and rear-wheel or all-wheel drive. It charges quickly so you won't have to wait around all day, and it has range figures that help reduce anxiety.
The interior is attractive and comfortable and there's good room for cargo, although there are competitors who offer more room if that's a priority. It's responsive with strong acceleration that makes the EV6 fun to drive. As the number of electric vehicles on the market continues to rise, the 2022 Kia EV6 offers plenty of reasons for buyers to give it a try.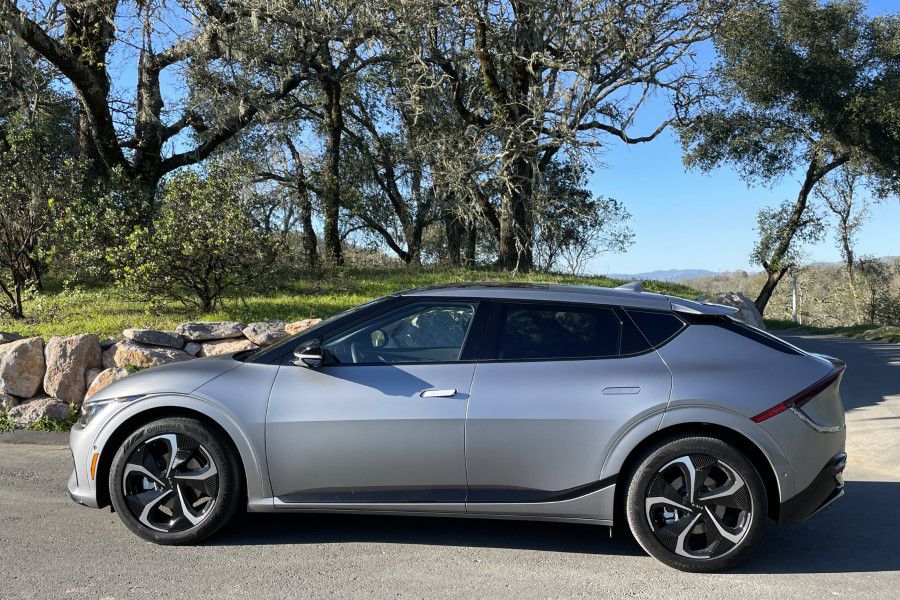 Photo by Nicole Wakelin