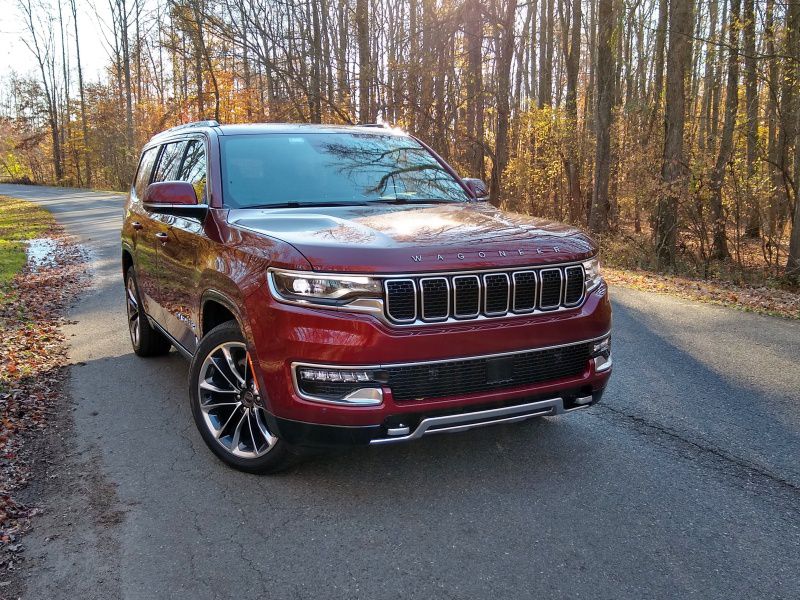 2022 Jeep Wagoneer ・ Photo by Brady Holt
Jeep is a beloved maker of off-road-ready SUVs that recently cornered the market on smaller vehicles. In recent years, you've been able to choose among five different five-passenger Jeeps. But until recently, bigger families have been out of luck ever since the brand discontinued the unsuccessful three-row Commander in 2010. 
Over the past couple of years, Jeep has moved aggressively to change that, adding three different three-row SUVs to its portfolio: the Grand Cherokee L, the Wagoneer, and the Grand Wagoneer. The Grand Cherokee L is an extended-length version of the ever-popular mid-size Grand Cherokee. The Wagoneer is an all-new full-size model, and the Grand Wagoneer is a higher-end version of the Wagoneer with richer cabin materials, more available features, and a bigger engine. In case you're not sure whether to bring home the Grand Cherokee L or the Wagoneer, we tested both models for this review. Over the following pages, we'll break down how they compare in eight different categories, then name an overall winner. Keep reading to learn which one we chose and which one seems like the better three-row Jeep for you. 
Pricing and Features
Let's get this one out of the way now: If you're on a budget, you're not going to buy a Jeep Wagoneer. At least for now, the cheapest model costs a whopping $67,995. That compares with $38,890 for the base Jeep Grand Cherokee L. 
Now, the difference isn't quite as crazy as it sounds. The base Wagoneer Series II is already luxuriously equipped. (A less decadent Series I is promised later this year, likely costing about $10,000 less.) Once you add the Wagoneer's standard features to the Grand Cherokee L — things like heated and ventilated leather seats, a GPS navigation system, and a hands-free power liftgate — the price has jumped to $48,500. And if you want a V8 engine — which is standard on the Wagoneer — it isn't available on the Grand Cherokee L for less than $60,000. Both Jeeps are available with a decadent array of luxury amenities and high-end technologies, as long as you're willing to pay up. But however you slice it, the Wagoneer costs significantly more. 
Jeep Grand Cherokee L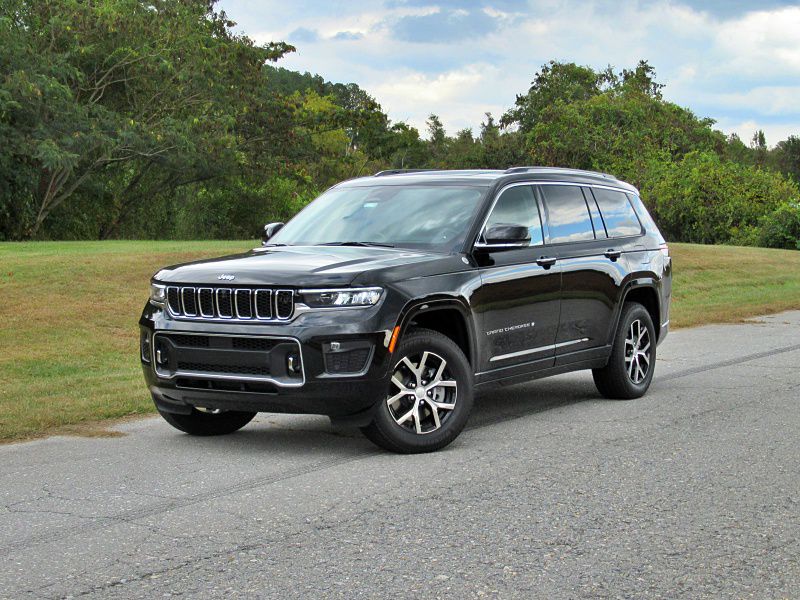 Photo by Brady Holt
Exterior Design
At a glance, and from certain angles, the Grand Cherokee L and Wagoneer look pretty similar. They're both upright, rounded-off-box SUVs with Jeep's classic seven-slot grille. Both have slim headlights and taillights that stretch horizontally around the sides of the vehicle. The difference in their exterior design is their size and proportions. 
As an extended version of the five-passenger Grand Cherokee, the Grand Cherokee L is long for a mid-size SUV. At 204.9 inches, it's within spitting distance of some full-size models. But it's still only as wide as a typical mid-size SUV or crossover: 77.9 inches. By contrast, the Wagoneer is just big, big, big in every dimension. It's 214.7 inches long and 83.6 inches wide, which is longer than any competitor and wider than a RAM 1500 pickup (82.1 inches). The Wagoneer is also 75.6 inches tall to the Grand Cherokee L's 71.5 inches. To us, the Wagoneer is better proportioned, and its size gives it presence. We also appreciate how its subtle design avoids the overkill of aggressive bodywork or a massive grille. But to others, the Wagoneer is just too big to be attractive — or to fit into their garages even if they love it. So we'll leave this category to individual tastes. 
Tie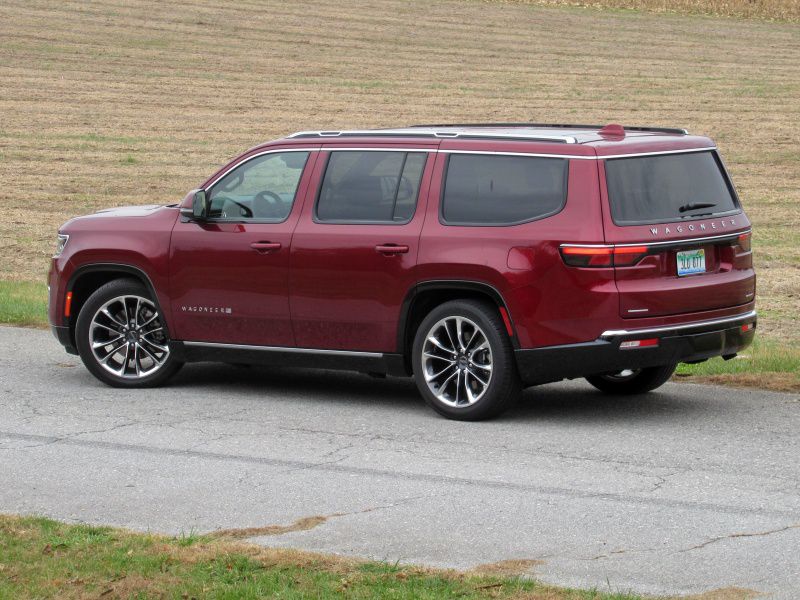 Photo by Brady Holt
Interior Design
As you might expect from an SUV that starts near $70,000, the Jeep Wagoneer has an attractive, upscale interior. A flowing piece of woodgrain trim spans the dashboard, dipping below a 10.1-inch touchscreen infotainment system. The shiny black trim around the screen, which includes some touch-sensitive buttons for the seat heaters and other controls, makes the screen look even more impressively large. If that's not enough, you can also equip the Wagoneer with a second touchscreen right in front of the front-passenger seat, along with twin screens for the second row. 
That's all well and good, but the Grand Cherokee L (pictured on this page) does the same. It's another stylish, tech-filled, and luxuriously trimmed cabin. And for the 2022 model year, it even adds the same option for a passenger-side infotainment screen. We did have some quibbles with each SUV. Our tested Grand Cherokee had some misaligned interior panels and a roughly finished turn-signal stalk, and its main infotainment screen repeatedly froze up during our week in the vehicle. Meanwhile, while the Wagoneer's few touch-sensitive controls make a cleaner, sleeker look, they proved incredibly cumbersome. Overall, we'll call this category a tie despite the Wagoneer's higher price. 
Tie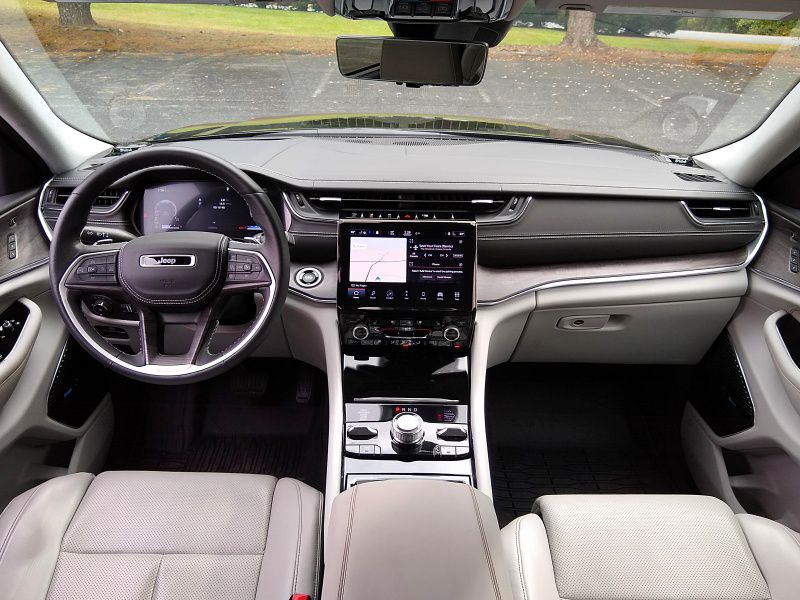 Photo by Brady Holt
Passenger Accommodations
Now the Wagoneer's price premium starts to pay off in a big way. You won't find a more comfortable SUV for a large family. This is a massive SUV that feels cavernous inside, even in the far back. We also appreciated the cushy, supportive, well-shaped seat cushions in all three rows. Seating capacity is eight passengers if you choose a second-row bench seat or seven passengers if you pick second-row captain's chairs. 
The Grand Cherokee L isn't bad either. Some mid-size SUVs offer only a nominal third-row seat, but this Jeep's is actually usable. It's just not stretch-out comfortable like the jumbo Wagoneer's. Nor are the front seats as magnificent; we found them stiff and flat. And with room for only two people in the third row rather than the Wagoneer's total three, the Grand Cherokee L's total capacity drops to seven passengers with a second-row bench seat and just six with second-row captain's chairs. 
Jeep Wagoneer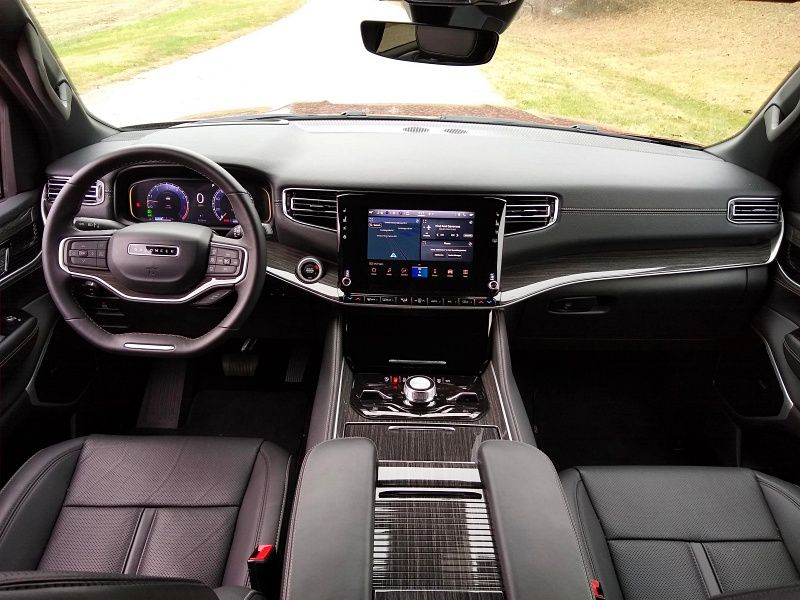 Photo by Brady Holt
Cargo and Utility
Just as the Wagoneer has more room for passengers than the Grand Cherokee L, it also has more room for cargo. The Grand Cherokee L is already pretty roomy, with 17.2 cubic feet behind its third row, 46.9 cubic feet behind its second row, and 84.6 cubic feet behind its front seats. That's class-competitive for a mid-size SUV. 
But it's got nothing on the Wagoneer, which is not only a full-size SUV, but which has outstanding cargo volume even by that class's standards. In total, the Wagoneer gives you 27.4 cubic feet of cargo space behind its third row, 70.9 cubic feet behind its second row, and 116.7 cubic feet with both rows folded down. That makes it much easier to carry a full load of luggage even when passengers are occupying all three rows. And it means that if you fold down the Wagoneer's third-row seat, you get to carry five passengers at the same time as more cargo than many SUVs can hold in total. The Wagoneer is also a towing leader, rated to pull 10,000 pounds versus the Grand Cherokee L's 7,200-pound maximum. 
Jeep Wagoneer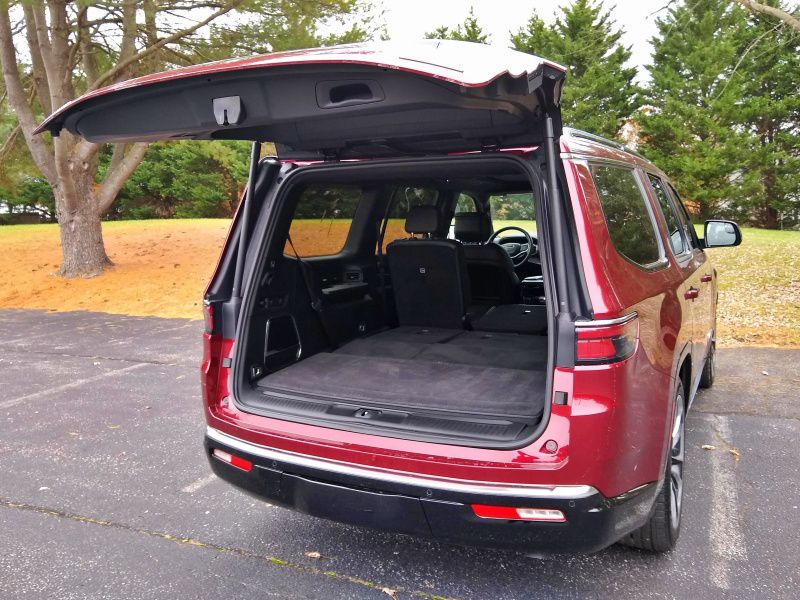 Photo by Brady Holt
Ride and Handling
The Wagoneer is designed to be big and comfortable, and that's just how it drives. Unlike most modern full-size SUVs with giant alloy wheels, it has a splendidly cushy ride — a classic American luxury vehicle. Handling agility isn't the Wagoneer's forte, but we were pleasantly surprised given the excellent ride quality. And although this massive SUV doesn't fit easily into small spaces, the turning circle is an unexpectedly tight 38.0 feet. 
The Grand Cherokee L, meanwhile, felt more ordinary. It's comfortable, sure. It's decently agile. And if we had to take bets, we'd put our money on the Grand Cherokee over the jumbo Wagoneer in tough off-road conditions. But we found the Wagoneer driving experience more cohesive. That is to say, it wants to be a big, comfortable SUV, and you won't find a better example of one. The Grand Cherokee L may be more agile than its big brother, but numb steering keeps it from feeling energetic. The ride, while comfortable, isn't as cushy. It even needs a bit more space to turn around: 38.4 feet. 
Jeep Wagoneer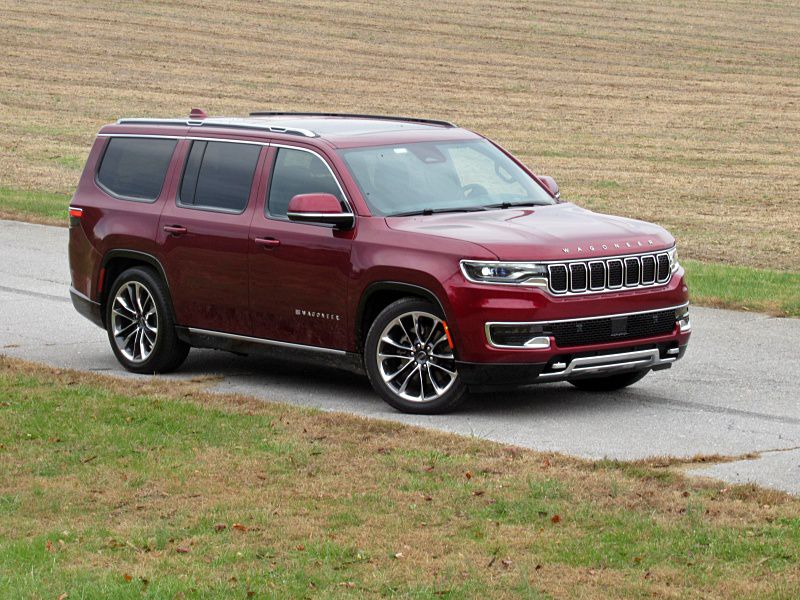 Photo by Brady Holt
Acceleration
Most Jeep Grand Cherokee L vehicles use a 3.6-liter V6 engine that makes 290 horsepower and 257 pound-feet of torque. It felt plenty strong to us, but in instrumented testing, it comes up short even against V6 rivals. Fortunately, if you're considering the Wagoneer, it means you also have the budget for the Grand Cherokee L's optional 5.7-liter Hemi V8. It makes 357 hp and 390 lb-ft of torque. 
The Wagoneer's version of the 5.7-liter V8 actually has even more punch: 392 hp and 404 lb-ft of torque. But its extra weight more than offsets the extra horsepower, leaving the Grand Cherokee L as the quicker vehicle. Buyers with unlimited budgets can upgrade to the Grand Wagoneer's 6.4-liter 471-hp V8, but otherwise, the Grand Cherokee L wins.
Jeep Grand Cherokee L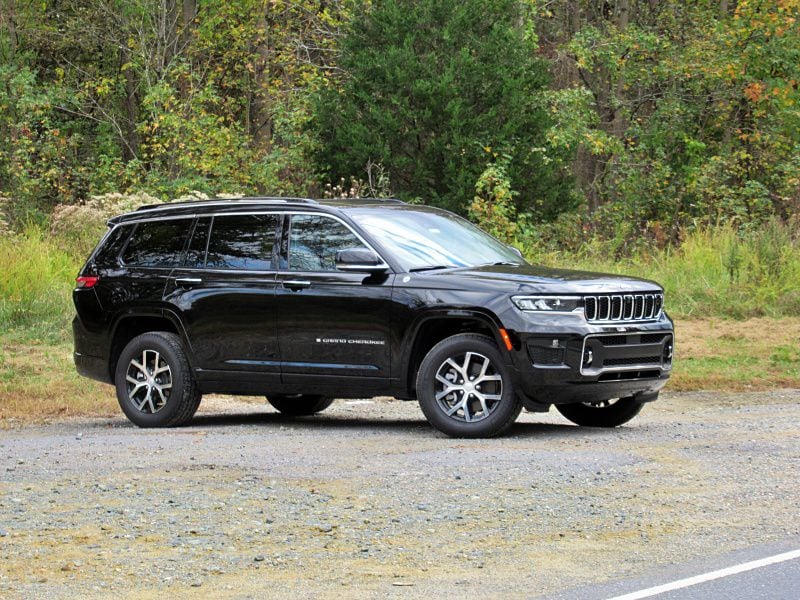 Photo by Brady Holt
Fuel Economy
The Wagoneer is big, heavy, and powerful, and that's not an economical combination. Its EPA ratings aren't disastrous — 16 mpg in the city, 22 mpg on the highway, and 18 mpg combined with two-wheel-drive and about 1 mpg less with four-wheel drive. Credit goes to Chrysler's "eTorque" mild hybrid system, which uses a small electric motor to boost acceleration without burning extra fuel. Still, Jeep isn't going to win environmental awards for this SUV.
The Grand Cherokee L is thriftier, at least if you stick to its standard V6 engine. It scores EPA estimates of 19 mpg city, 26 mpg highway, and 21 mpg combined with rear-wheel drive and about 1 mpg less with 4WD. The caveat is that the Grand Cherokee V8 is sold only with 4WD and lacks the Wagoneer's mild-hybrid technology. Its EPA ratings are 14 mpg city, 22 mpg highway, and 17 mpg combined, no better than the Wagoneer's. Still, we'll award this category to the smaller Jeep.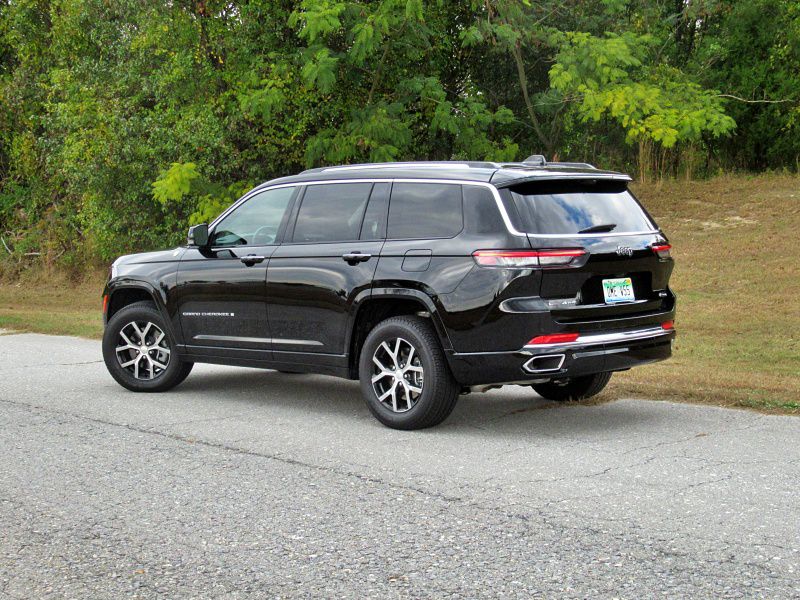 Photo by Brady Holt
Final Thoughts
We're fans of the Jeep Wagoneer. Aside from some quibbles about a few dashboard controls, it's supremely well-executed. It's massively spacious and it's pleasant to drive. The problem: It's so expensive. 
The Grand Cherokee L doesn't have as much space as the Wagoneer. It tows less. And we didn't like driving it as much. But we think the Grand Cherokee L comes close enough for many people. You get three usable rows of seats and a usable amount of cargo room. You get a high-end interior design and a long list of luxury options. And depending on how you value different features, you get it for some $20,000 less than a comparable Wagoneer. If you want the ultimate three-row Jeep, the Wagoneer (or the even pricier Grand Wagoneer) is worth the money. But the Grand Cherokee L is the stronger value.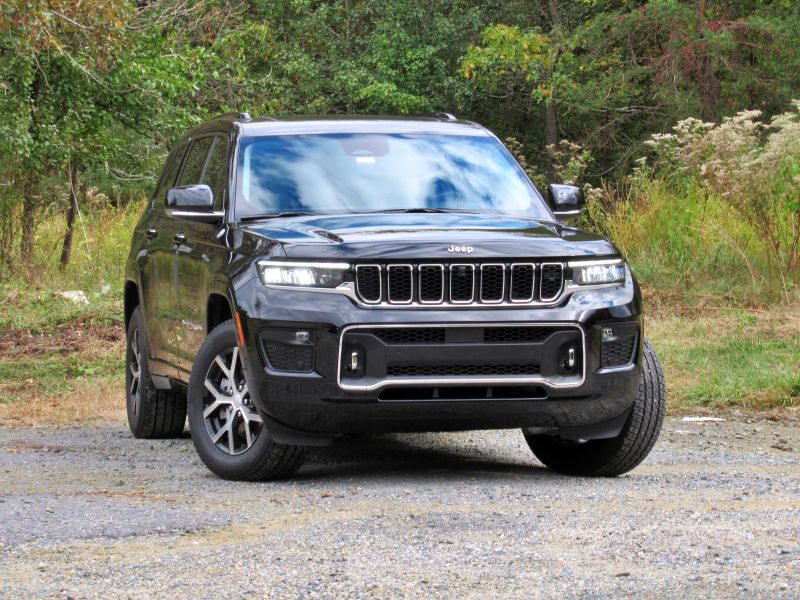 Photo by Brady Holt