2022 Jeep Wagoneer ・ Photo by Jeep
The Wagoneer is an all-new vehicle in a very important market segment. It is Stellantis's first full-size, three-row SUV, and it is meant to compete with heavyweights like the Chevrolet Tahoe and Ford Expedition. At the same time, its luxury sibling, the Grand Wagoneer, is intended to compete with luxury SUVs like the Cadillac Escalade, Lincoln Navigator, and Lexus LX 570. To make inroads in such a well-established segment, Stellantis is relying heavily on the heritage in the Wagoneer name. Introduced in the 1960s, the Jeep Wagoneer was one of the first SUVs, and it developed a strong following before being dropped some 30 years later. To support the well-regarded name, Stellantis has piled on value in the form of a well-designed and beautifully crafted interior and an impressive collection of tech.
Exterior Design
The Wagoneer is a good-looking vehicle that performs better than its size would lead you to believe. While some of its competitors are so large they appear cumbersome, the Wagoneer looks lithe and quick on its feet. It has a wide stance, and its large windows are a prominent and highly functional part of its overall design. They make outward visibility much easier whether you are cruising on the freeway or backing up a boat trailer. Though not technically a Jeep, the Wagoner features a Jeep-signature seven-slot grille, flanked with LED lighting, including a light signature created by its daytime running lights. The profile has hints of previous-generation Wagoneers in its profile and roofline. The simple rear end features LED taillights and a bold WAGONEER in chrome letters across the hands-free power-operated liftgate. The standard wheels are 20 inches in diameter.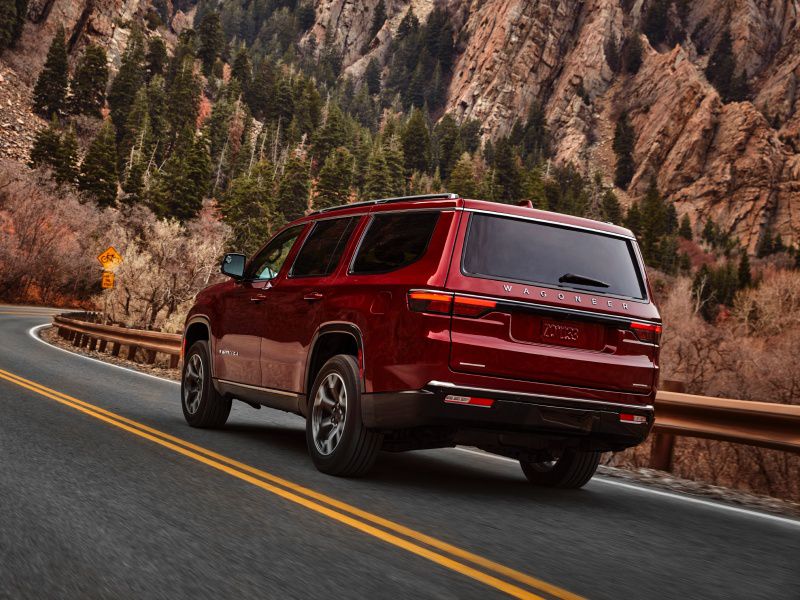 Photo by Jeep
Powertrains
The 2022 Wagoneer features a 5.7-liter V-8 engine, while the luxury-level Grand Wagoneer uses a higher-horsepower 6.4-liter V8. Both engines use stop-start technology, and both are mated to efficient eight-speed automatic transmissions. The Wagoneer is equipped with a standard eTorque mild hybrid system, and its 5.7-liter engine delivers 392 horsepower and 404 lb-ft of torque. The eTorque system includes a 48-volt battery pack that enables the electric motor to contribute torque when that is advantageous. The air-cooled battery sits on the floor inside the Wagoneer's cabin. The eTorque system collects energy that would otherwise be wasted during deceleration and braking and cycles it into the battery pack as electricity. That electricity then powers the eTorque electric motor to assist in propelling the vehicle, contributing to good all-around drivability. In another effort to conserve fuel, the engine is fitted with cylinder-deactivation technology that shuts down for cylinders when they aren't needed.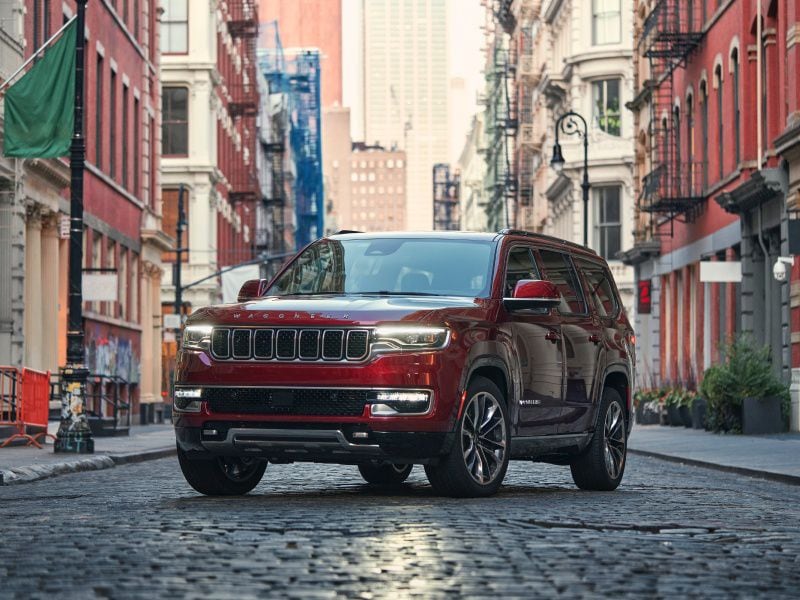 Photo by Jeep
Driving Impressions
One of the things that immediately strikes you when you drive the Wagoneer is how composed it is. It's a vehicle with very real off-road capabilities, but in everyday driving, it feels like a well-engineered mid-size crossover. In other words, it drives smaller than it is. Ride quality is excellent, and the Wagoneer tracks well on the highway. All this comes courtesy of the independent double-wishbone suspension. The front stabilizer bar is positioned behind the front wheels enhancing roll stiffness. At the rear, a multi-link, coil-spring suspension provides a superior on-road ride reminiscent of the superb ride offered by the RAM 1500 pickup truck. The Wagoneer's standard coil-spring steel suspension has load-leveling capability, which automatically detects load on the suspension and compensates for it. An air suspension system with electronically controlled semi-active damping is available, too.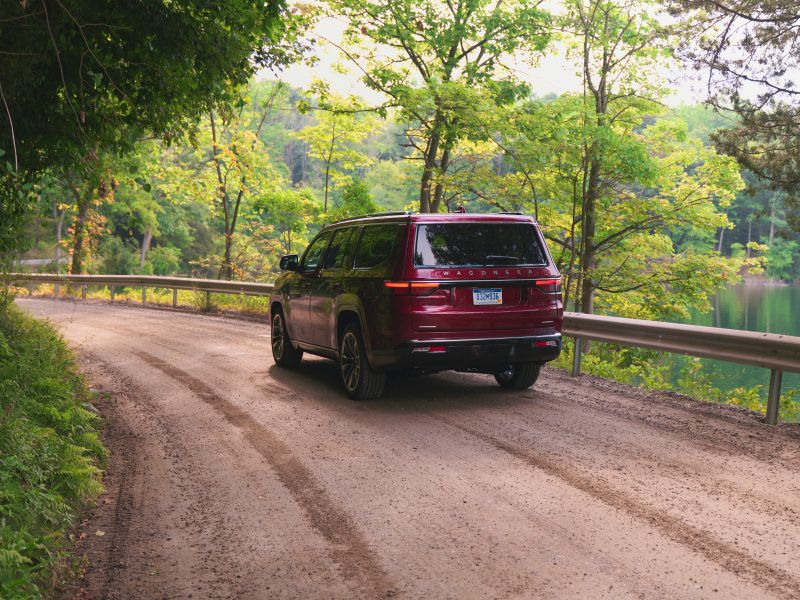 Photo by Jeep
Four-Wheel-Drive Systems
One thing that distinguishes the Wagoneer from its competitors in the full-size SUV segment is its serious off-road capabilities. While most big SUVs are for family hauling on pavement, the Wagoneer can strut its stuff off road, as we discovered on our test drive. The 4x4 Wagoneer Series II is equipped with the Quadra-Trac I full-time single-speed four-wheel-drive system. The top-level Wagoneer Series III 4x4 has Quadra-Trac II, an active four-wheel-drive system that has a two-speed transfer case and hill descent control. The most sophisticated four-wheel-drive system —Quadra-Drive II — is available on both trims. It features an electronic limited-slip differential on the rear axle, and it, too, has hill descent control. The Selec-Terrain traction management system is standard with Quadra-Trac II and Quadra-Drive II. It has five drive modes: Auto, Sport, Rock, Snow, and Sand/Mud.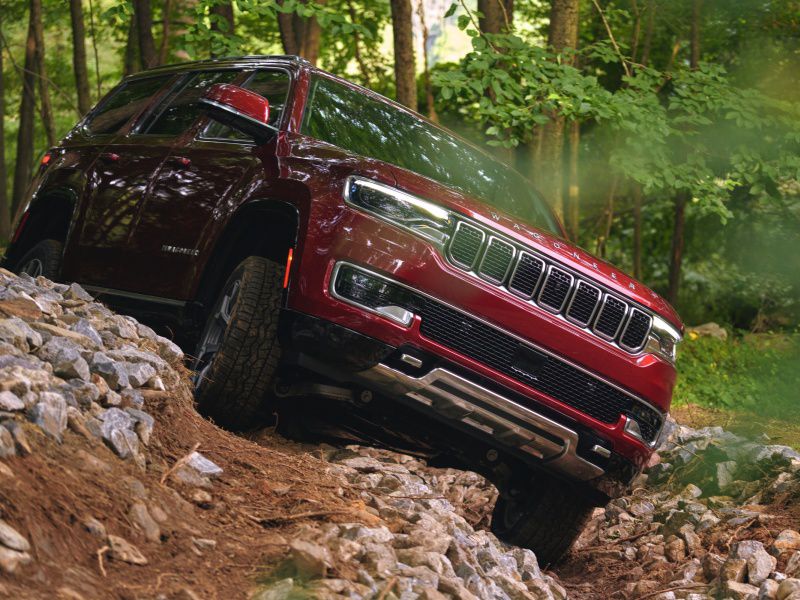 Photo by Jeep
Interior Style
The new 2022 Wagoner offers a well-styled, nicely crafted interior with plenty of room to stretch out. Fresh and modern, the interior draws on classic themes and seems familiar the second you sit in it. While the Grand Wagoneer goes to the extremes with extensive amounts of genuine wood and leather trim, the less expensive Wagoneer also has a very nicely finished cabin. Even mundane items like the start button and the vents get extra-effort treatment. The start button has a knurled bezel, while the inboard and outboard vents are surrounded by "liquid chrome" bezels. On a more functional level, the Wagoneer has a three-zone climate control system. All Wagoneer models feature Nappa leather-trimmed seats, including 12-way power front seats with memory settings, power lumbar support, and four-way manual headrest. Buyers have the choice of second-row captain's chairs or a three-person bench. Even the third-row seats are accommodating for adults.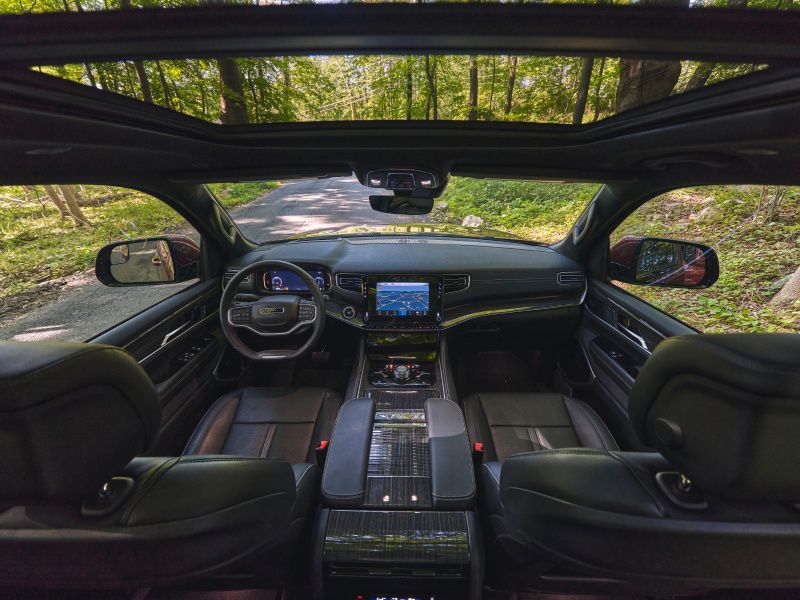 Photo by Jeep
Infotainment & Tech
The 2022 Wagoneer goes over the top with its innovative infotainment system. One indication of that is the fact the Wagoner offers 50 inches of total digital screen display area. The heart of the infotainment is Stellantis's Uconnect 5, the latest version of the well-regarded system the automaker has used for years. It's five times faster than the previous generation and offers more capabilities. One of the most interesting features is the available 10.25-inch front-passenger screen that allows the passenger to navigate, view television shows or movies via Fire TV, view the feeds from the vehicle's cameras, or manage the vehicle's other entertainment screens. The Wagoneer has a 10.25-inch digital instrument cluster, a 10.1-inch information screen, and a 10.25-inch horizontal "comfort display" that controls interior features. Second-row passengers have access to individual 10.1-inch display screens with the rear-seat entertainment system. Wireless Apple CarPlay, wireless Android Auto, and Amazon Alexa compatibility are also part of the program. The upscale audio systems are from McIntosh.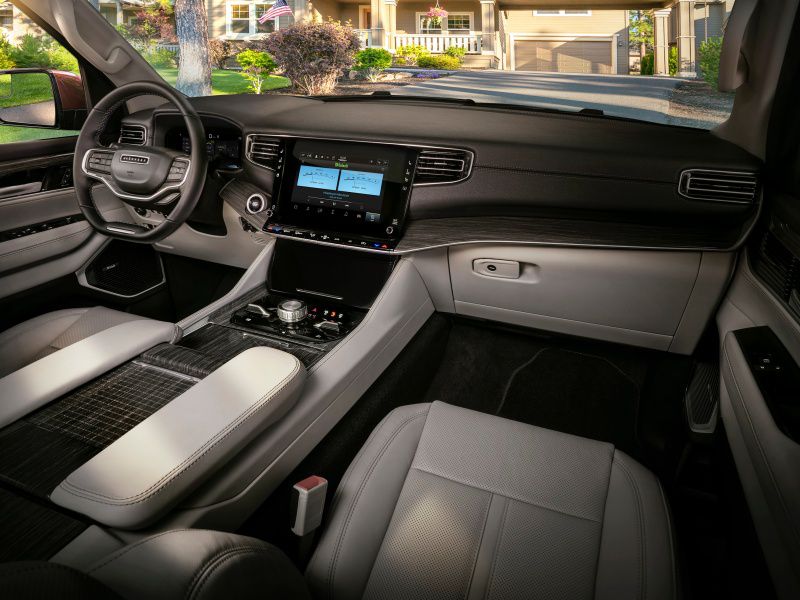 Photo by Jeep
Safety & Driver Aids
As a family-oriented vehicle, the 2022 Wagoneer is stuffed with safety and driver-assistance technology. Included as standard equipment are automatic emergency braking with pedestrian and cyclist detection, adaptive cruise control with stop and go, active lane management, blind-spot monitoring, and rear cross-traffic alert. Rear parking assist sensors with auto stop and a switch-activated electric parking brake are also standard. Intersection collision assist detects vehicles approaching from the driver's left and right when nearing a crossroad. If a collision appears imminent, the system provides audible and visual alerts. And if the driver does not respond, the system automatically activates the vehicle's brakes. The system is available on the Wagoneer and is standard on the Grand Wagoneer. The Wagoneer also has a surround-view camera system as an option. There are three LATCH positions for child safety seats when the vehicle has a second-row bench.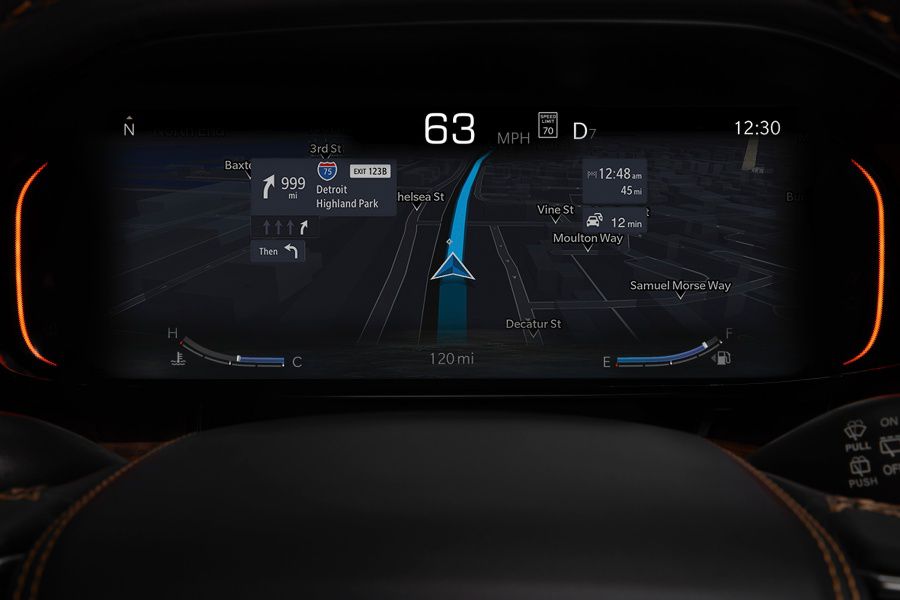 Photo by Jeep
Cargo & Towing
The standard Wagoneer interior configuration is for eight passengers, and the vehicle offers tons of interior space. According to SAE measuring criteria, the Wagoner has 179.2 cubic feet of total passenger area. With all three rows of seats in use, it has 27.4 cubic feet of luggage space. With the third row folded, the cargo space increases to 70.8 cubic feet. And with both rear rows folded, cargo space jumps to 116.7 cubic feet. Not only will the Wagoner accommodate a lot of cargo inside, but it also has very impressive towing capability. In both four-wheel-drive and rear-wheel-drive forms, the Wagoneer will tow a maximum load of 10,000 pounds when properly equipped.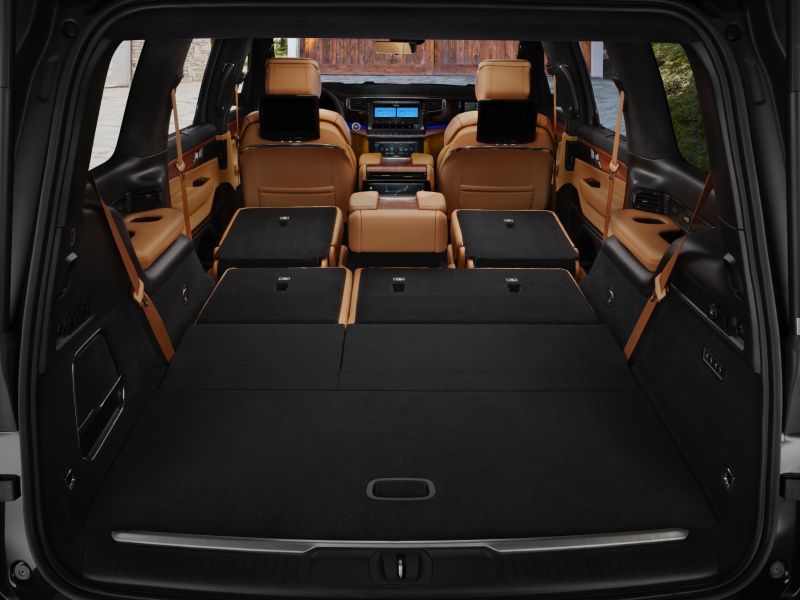 Photo by Jeep
Trim Levels
The Wagoneer will shortly be available in three different trims — Series I, Series II, and Series III. At launch, Series I vehicles are not available. Both Series II and Series III models are available in rear-drive and four-wheel-drive with the 5.7-liter V-8 engine with eTorque hybrid assist.  The Series II 4x4 has Quadra-Trac I four-wheel drive, while the Series III 4x4 has Quadra-Trac II with a two-speed transfer case. The even more sophisticated Quadra-Drive II is optional. Both Series II and Series III models have a power-operated rear liftgate and 20-inch aluminum wheels. 18-inch off-road-oriented alloy wheels are optional on the Series I model. Heated second-row seating is standard on the Series II and optional on the Series III. To replace the standard 9-speaker Alpine audio system, the Series III offers an optional 19-speaker, 950-watt McIntosh system.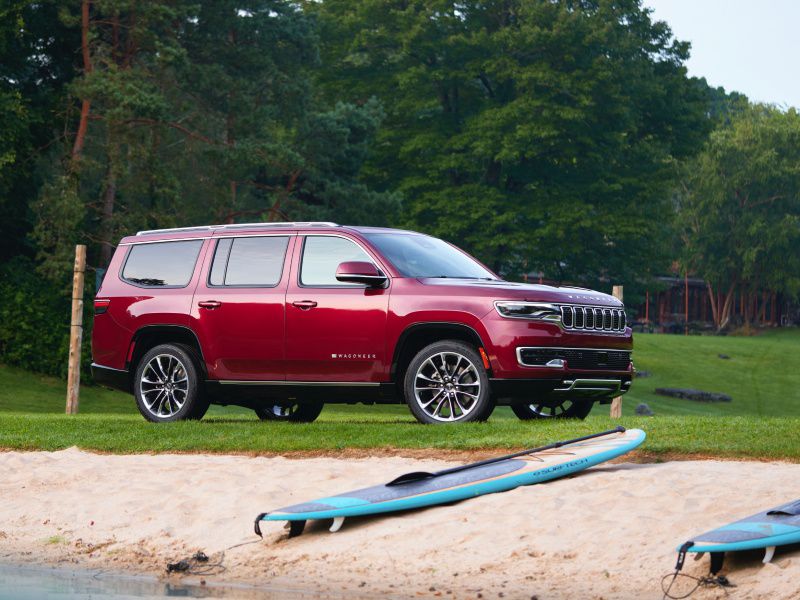 Photo by Jeep
Pricing & Value
The Wagoneer delivers exceptional value in the segment since it shares so much with the much costlier Grand Wagoneer.  The Wagoneer Series I will have a starting MSRP of $57,995 in rear-drive form and $60,995 in four-wheel-drive trim when it becomes available. A rear-drive version of the Series II starts at $67,995 while the four-wheel-drive version bases at $70,995.  A rear-drive Wagoneer Series III 4x2 has a base price of $72,995, and the four-wheel-drive model bases at $75,995. In comparison, the Grand Wagoner has a starting price of $86,995 and the Series III has a base topping $100,000. While the competition is well-entrenched and well-regarded, the all-new 2022 Wagoneer presents a fresh face with very impressive all-around capabilities.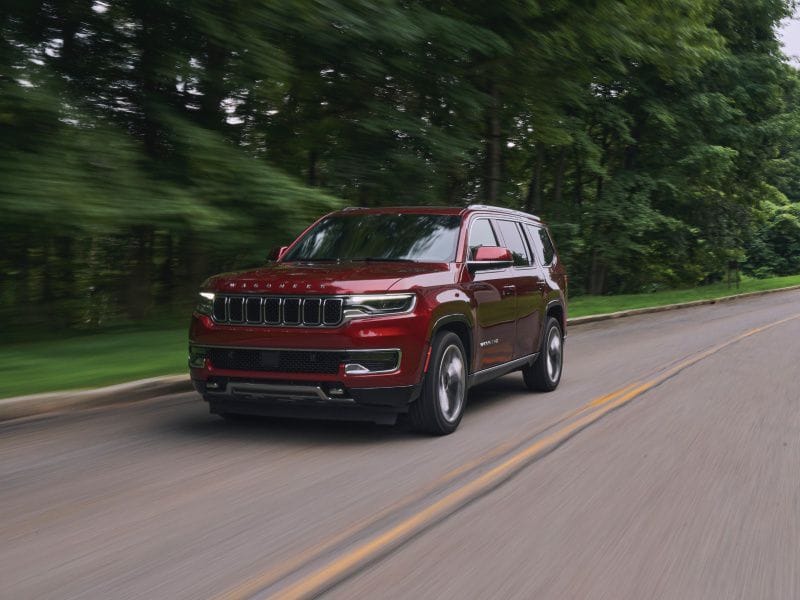 Photo by Jeep