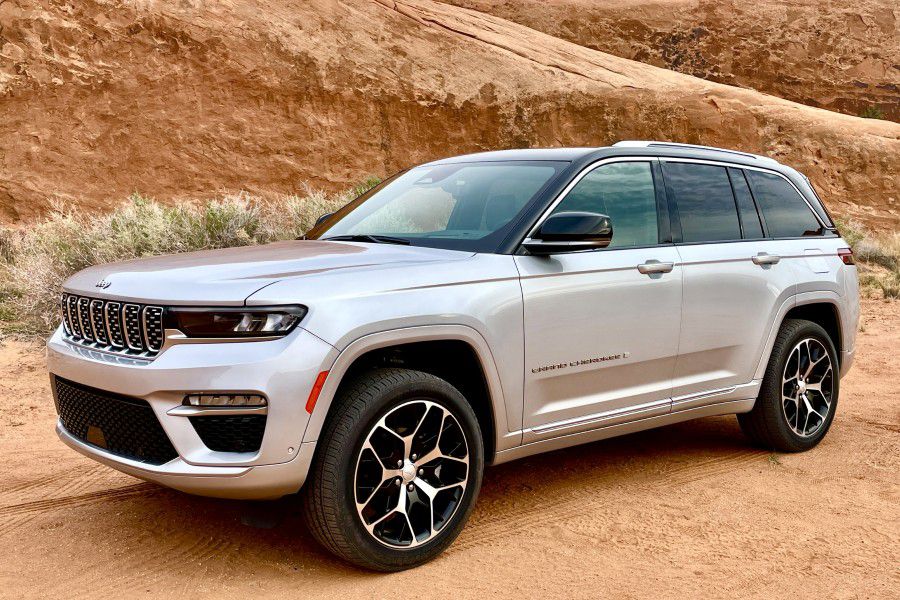 2022 Jeep Grand Cherokee Front Quarter ・ Photo by Nicole Wakelin
The 2022 Jeep Grand Cherokee is all-new this year with an updated look inside and out and a long list of new features. This adds to the Grand Cherokee's overall appeal with improved interior materials and improved capability whether you're looking for an off-road SUV or one that will smoothly cruise the highway, the new Grand Cherokee fits the bill.
There's also the most recent version of Uconnect infotainment. It's a highly customizable system that includes a unique interactive passenger screen. A choice of three powertrains includes two gas engines and a plug-in hybrid coming early next year. There's also a wide range of trims, with the top trims in the lineup boasting interiors on par with luxury cars. Let's take a closer look at the all-new 2022 Jeep Grand Cherokee to see if it's the right SUV for you.
Wide Range of Pricing and Trims
The Grand Cherokee comes in six trims. These include more modest base trims, off-road focused trims, and luxury trims that coddle passengers with comfort. The base Laredo has a starting price of $37,390 with a 3.6-liter V6 engine, 8.4-inch infotainment touchscreen, and automatic emergency braking. The Limited adds comfort features at a price of $43,710. The Trailhawk is the most off-road capable trim with standard four-wheel drive and skid plates at a price of $51,275. It's also the first trim to offer the option for a 5.7-liter V8 engine.
The next trim in the lineup is the Overland at $53,305 with premium features including Nappa leather seats, genuine wood trims, and ventilated front seats. The Summit gets pricing of $57,365 with quilted Nappa leather seats, Absolute Oak wood, and active driving assist. At the top is the Summit Reserve at $63,365 with quilted Palermo leather and 19-speaker McIntosh audio.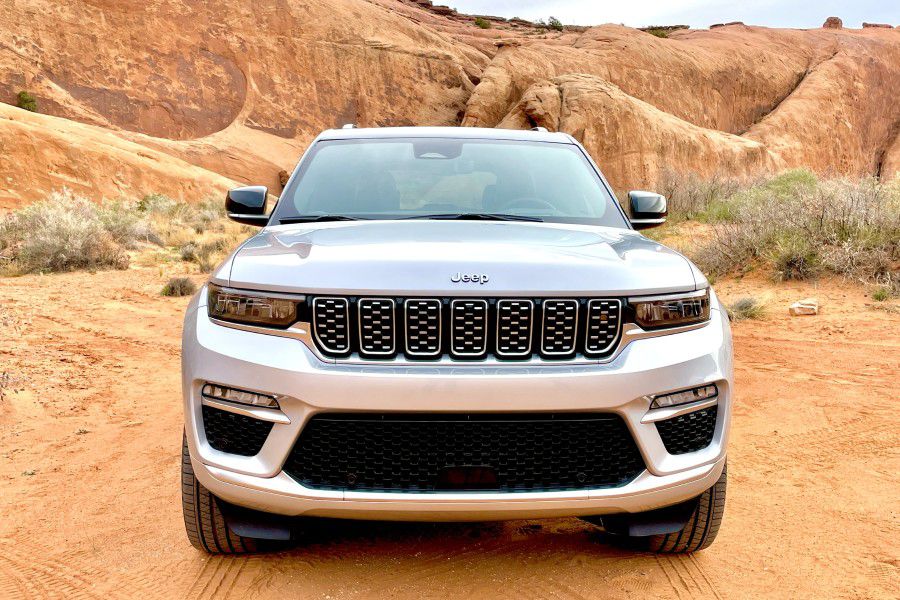 Photo by Nicole Wakelin
Two Gas and One Plug-In Hybrid Powertrain
The Grand Cherokee has two gas engines and a plug-in hybrid, which will be available slightly after the initial vehicle launch. The base engine is a 3.6-liter V6 with 293 horsepower and 260 lb-ft of torque. Optional starting with the Trailhawk trim is a 5.7-liter V8 engine with 357 horsepower and 390 lb-ft of torque. The plug-in hybrid will have a 2.0-liter turbocharge 4-cylinder with 375 horsepower and 470 lb-ft of torque. All are paired to an 8-speed automatic transmission.
We spent time in both the V6 and V8 driving up winding mountain roads and towing a trailer. The V6 easily got the Grand Cherokee up to speed, even accelerating up a steep mountain road. The V8 provides stronger acceleration and makes towing a stress-free experience with confident handling. No matter which engine you choose, the 2022 Jeep Grand Cherokee has the power you need to get through the day.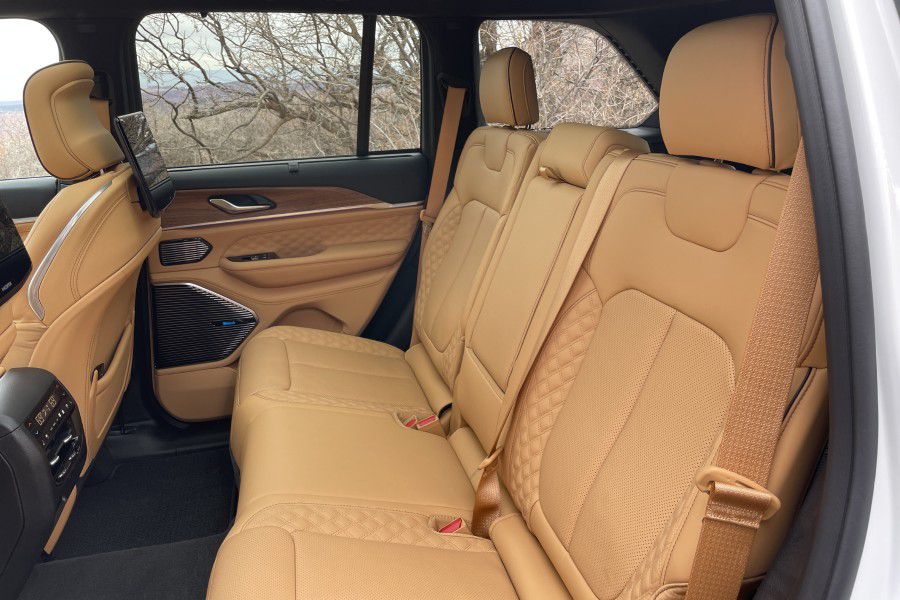 Photo by Nicole Wakelin
Impressive Towing With More Room for Cargo
The Grand Cherokee has an interior that's well suited to passengers, but it's equally ready to satisfy your cargo needs. This year's redesign increased cargo capacity by 6 cubic feet, making it easier than ever to store all your stuff. There's a total of 37.7 cubic feet behind the second row with 70.8 cubic feet behind the first row. Jeep engineers worked to make the most of every last inch of cargo capacity so there's now enough room to store a set of golf clubs lengthwise across the width of the cargo area.
In addition to its roomy interior, this SUV also has a high tow rating. It can handle up to 7,200 pounds when properly equipped. Whether you have just a little too much to fit inside or are towing something larger like a boat or trailer, the Grand Cherokee has the versatility to handle the load.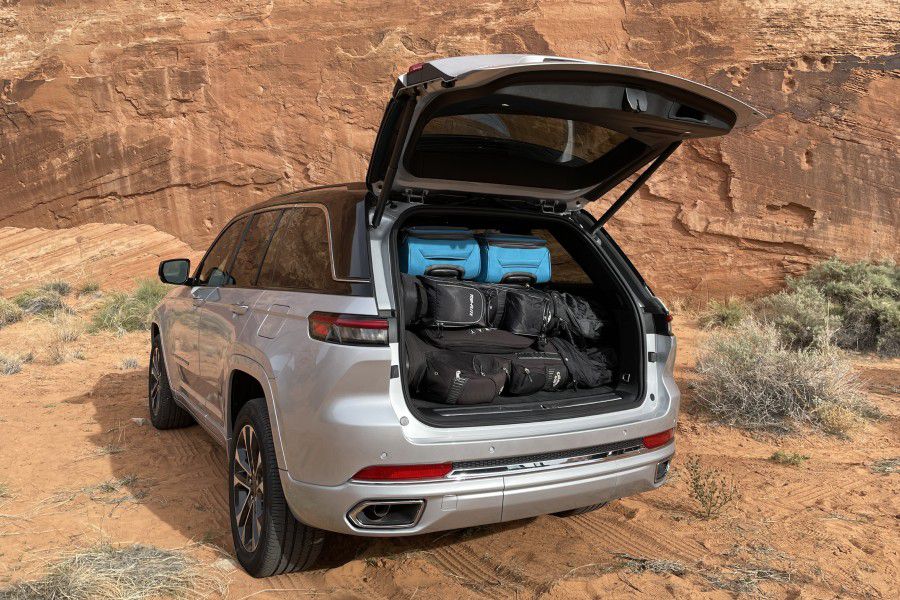 Photo by Nicole Wakelin
Fuel Efficiency
Fuel economy figures vary depending on the configuration you choose for your Grand Cherokee. Equipped with the 3.6-liter engine and rear-wheel drive, it gets an EPA-estimated 19 mpg in the city, 26 mpg on the highway, and 21 mpg combined. Those numbers dip slightly with four-wheel drive to 18 mpg in the city, 25 mpg in the highway, and 21 mpg combined. Choose the more powerful V8 engine, which is available with four-wheel drive only, and numbers fall even further to 14 mpg in the city, 22 mpg on the highway, and 17 mpg combined.
The best fuel economy figures will come from the plug-in hybrid engine. EPA figures have not yet been released for this engine, but Jeep is targeting 57 mpge with an all-electric range of 25 miles. Driving the Grand Cherokee does require a bit of budgeting for fuel costs, especially over longer trips.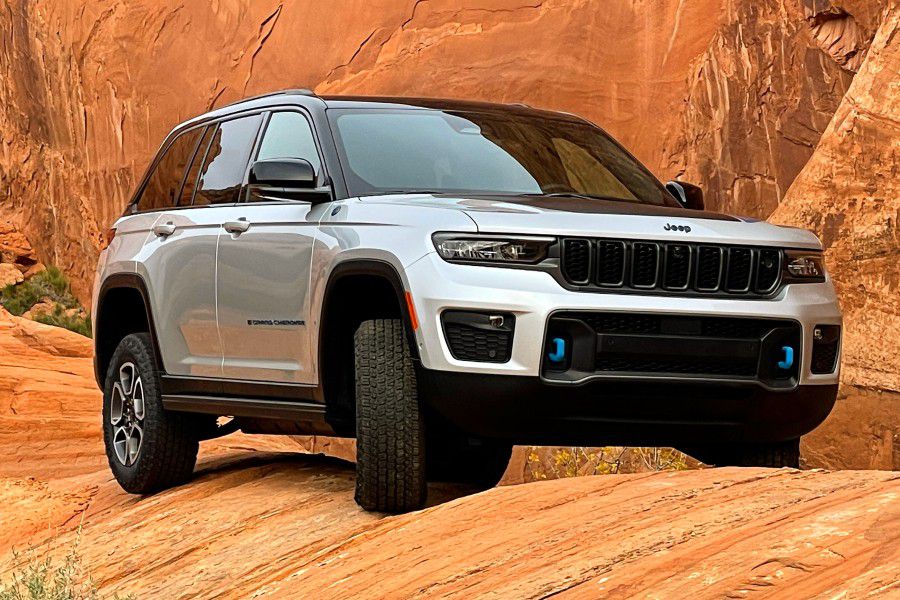 Photo by Nicole Wakelin
Off-Road Capability in Every Trim
Every Jeep Grand Cherokee boasts impressive capability with a choice of either rear-wheel or four-wheel drive. The base system is Quadra-Trac I with single-speed four-wheel drive. Next is Quadra-Trac II with a two-speed transfer case. The most robust four-wheel-drive system is Quadra Drive II with a limited-slip rear differential. This system is standard on the Trailhawk, which is the most off-road-focused trim of the lot.
In addition to standard four-wheel drive, it has sway-bar disconnect, Selec-Terrain management with five modes, skid plates for the front suspension, transfer case, and fuel tank, and two front tow hooks. Those who plan to frequently tackle more aggressive off-road terrain will find this the trim of choice. You wouldn't think you could crawl over rocks with a wheel or two in the air in an SUV this big and luxurious, but you absolutely can if you're so inclined.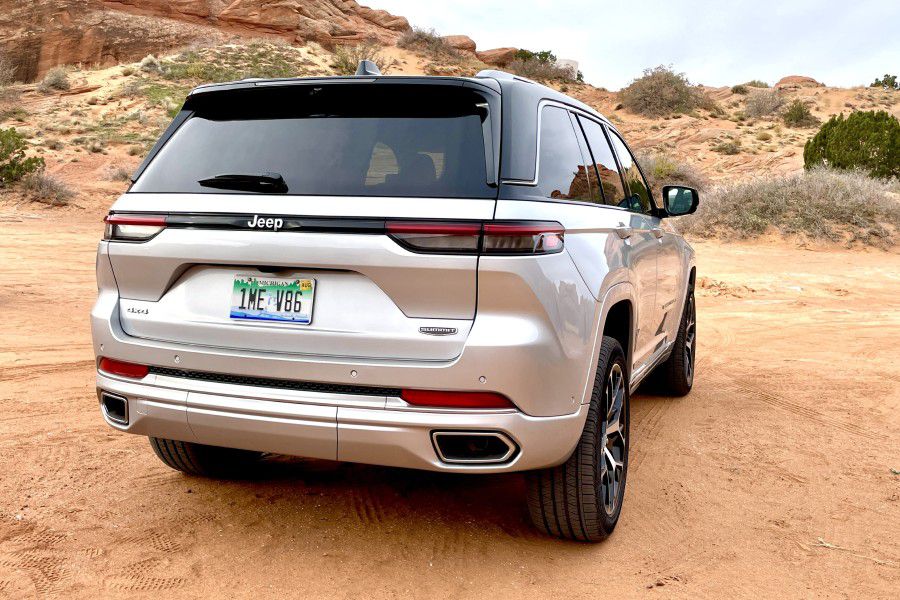 Photo by Nicole Wakelin
An Interior Worthy of a Luxury Car
The interior of the Jeep Grand Cherokee is plush no matter the trim level you choose. Even the base Laredo has features including an 8-way power driver's seat, dual automatic front climate control with single-zone rear control, and a techno-leather wrapped steering wheel. Once you reach the top of the lineup, you're treated to truly luxurious materials. There are hand-wrapped Palermo leather sets, open-pore Waxed Walnut wood trims, and a 10.25-inch interactive screen for the front passenger.
There's seating for five people with supportive front seats that make even the longest drives less taxing. The second-row bench seat accommodates three with plenty of headroom and legroom for even the tallest adults. Small design changes make accessing those seats easier by offering more room when you open the doors. The 2022 Jeep Grand Cherokee is a capable SUV with the comfort of a luxury car.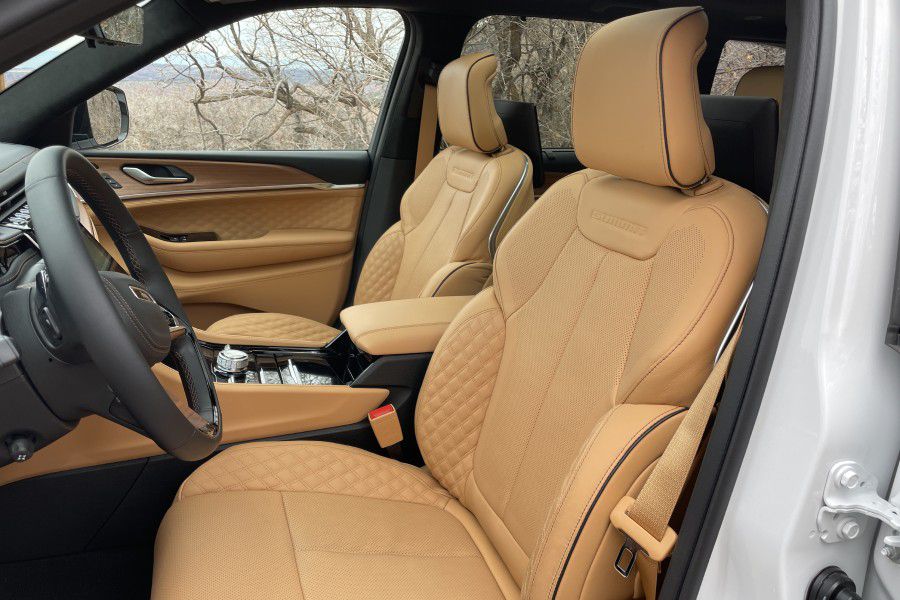 Photo by Nicole Wakelin
Infotainment With Screens for Everyone
The Grand Cherokee features the latest generation of Uconnect infotainment. On base trims this includes an 8.4-inch touchscreen with Apple CarPlay, Android Auto, and Amazon Alexa compatibility. Optional features include navigation, wireless charging, and a 10.1-inch touchscreen. The screen is clear and crisp with well-organized menus and good responsiveness so you're less likely to get frustrated by repeatedly having to touch the same icon to get it to react. The system incorporates plenty of customization so you can put the functions you use most within easy reach.
Also available are dual 10.1-inch rear seat entertainment touchscreens and a 10.25-inch interactive front passenger display. This extra front screen is viewable only by the passenger so there's no chance of it distracting the driver. There's also a range of audio systems that includes a 6-speaker, 9-speaker Alpine, and 19-speaker premium McIntosh audio system with exceptional sound quality that audiophiles will appreciate.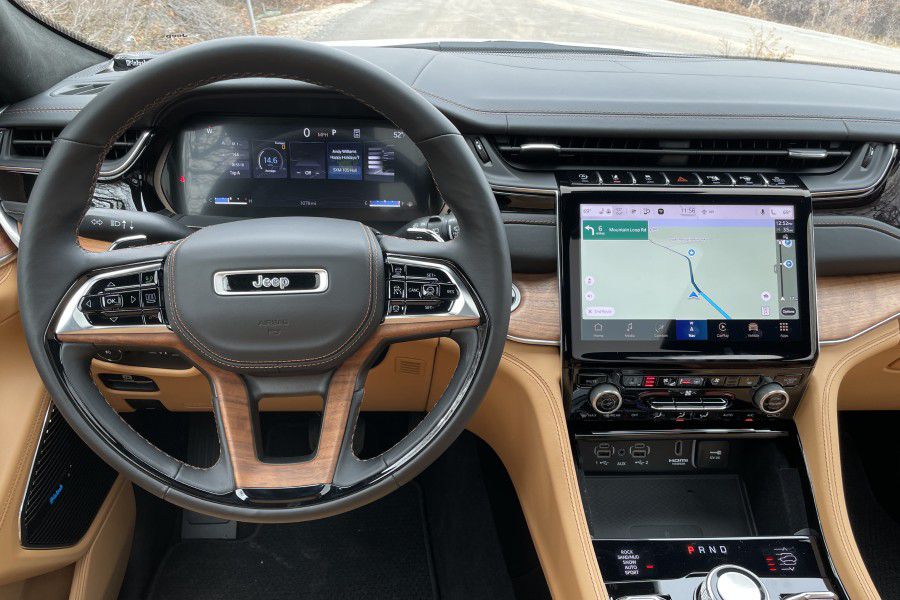 Photo by Nicole Wakelin
A Wide Range of Standard Safety Features
The Insurance Institute for Highway Safety (IIHS) and National Highway Traffic Safety Administration (NHTSA) have not yet tested the 2022 Jeep Grand Cherokee. Even without those test results, there is a long list of standard safety features. It includes advanced brake assist, active lane management, full-speed forward collision warning with active braking and pedestrian and cyclist detection, blind-spot monitoring, rear parking sensors, and lane departure warning with lane keeping assist.
In addition to those standard features, there are plenty of options. These include drowsy driver detection, night vision camera with pedestrian and animal detection, intersection collision assist, parallel and perpendicular park assist, 360-degree camera with lens washers, and front parking sensors. The standard features are extensive, so you can drive with confidence even if you don't choose to go with options.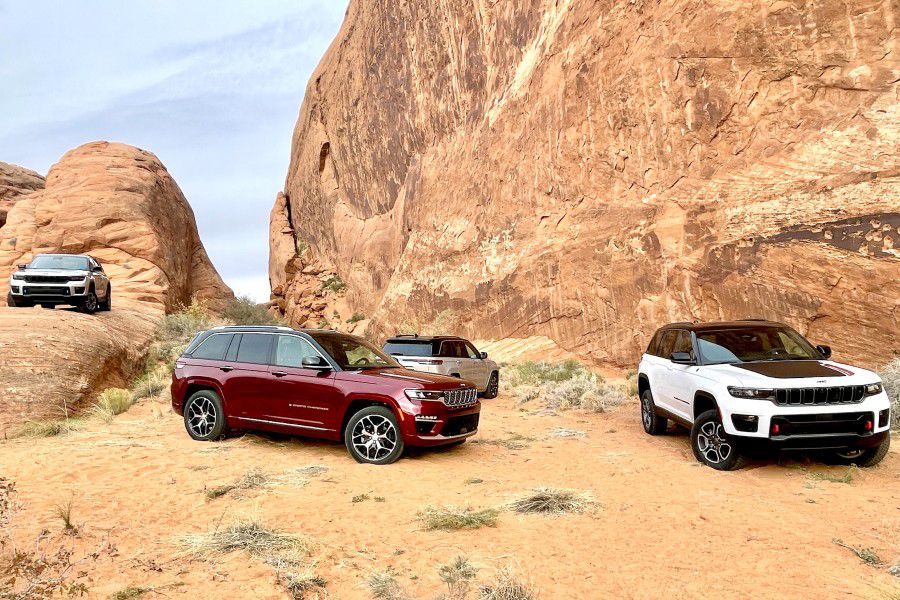 Final Thoughts
The 2022 Jeep Grand Cherokee delivers a premium SUV experience with unparalleled off-road capability. There are few vehicles that create as comfortable and eye-catching an interior as the Grand Cherokee with real off-road capability. It's one thing to drive down an everyday dirt road; it's another thing entirely to climb rocks, and the Grand Cherokee can do that for you.
It also has a wide range of safety features and a comprehensive infotainment system with the unique addition of that available front passenger screen. A high tow rating and extra room for cargo this year make it more versatile for everyday life. Lastly, a wide range of trims makes it easy to find the perfect Grand Cherokee for you. Those who want a roomy, capable SUV will find the 2022 Jeep Grand Cherokee a great fit.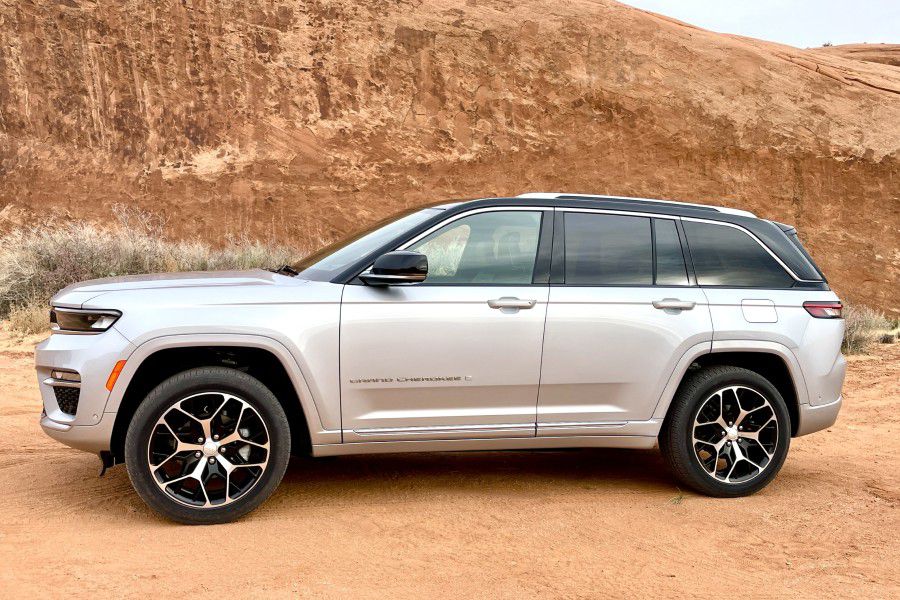 Photo by Nicole Wakelin