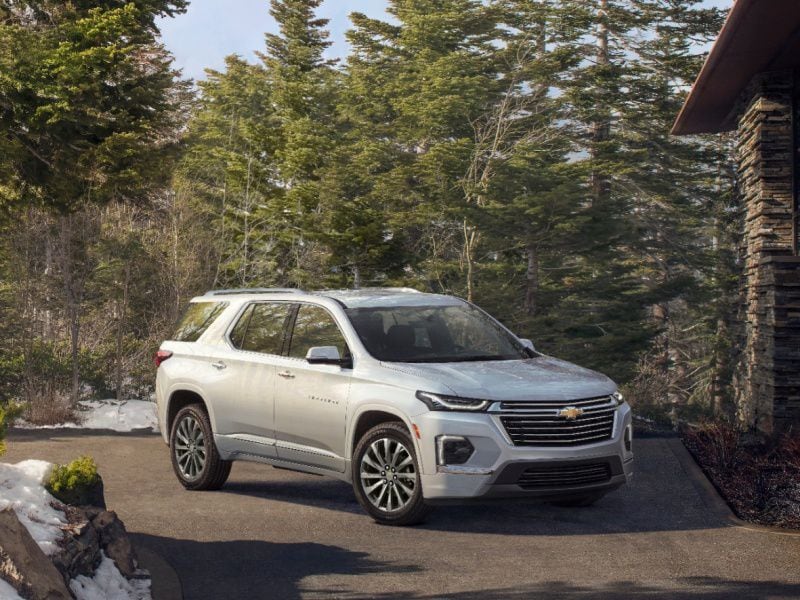 2022 Chevrolet Traverse Premier ・ Photo by Chevrolet
The world is full of SUVs, and 2022 is a great year to be in the market. New and refreshed models are all over the place, and we're here to compare two of them: The 2022 Jeep Grand Cherokee L and 2022 Chevrolet Traverse. Jeep redesigned the Grand Cherokee for 2022, adding a third row for the first time. The longer "L" version is available in a variety of trims and becomes quite opulent near the top of the lineup. The Chevy Traverse got a refresh for 2022 that brought sharper styling and better tech. 
Which is the better SUV of the two? The good news is that it's hard to go wrong between them. The bad news is that it's even harder to pick, since both offer quite a bit. But as the line from the iconic movie Highlander states, "There can be only one." Let's dive in and take a closer look at what separates the Jeep Grand Cherokee L and Chevrolet Traverse.
Exterior Design
The Jeep Grand Cherokee got a complete makeover for 2022, and the Grand Cherokee L is a new model altogether, but both unmistakably feature Jeep design traits. The upright segmented grille, boxy profile and rugged persona are all part of the package. Though not a radical departure from Grand Cherokees of years past, the L is Jeep's first three-row SUV to wear the nameplate, and the shape works well.
The Chevy Traverse also got a makeover for 2022, but the changes here are much subtler than updates made to the Grand Cherokee. There are new headlights and a fresh grille design. Both bumpers are new as well, and feature chrome accents up front. The SUV's shape remains familiar otherwise, and features a clean design with few frills and no unnecessary elements.
: Tie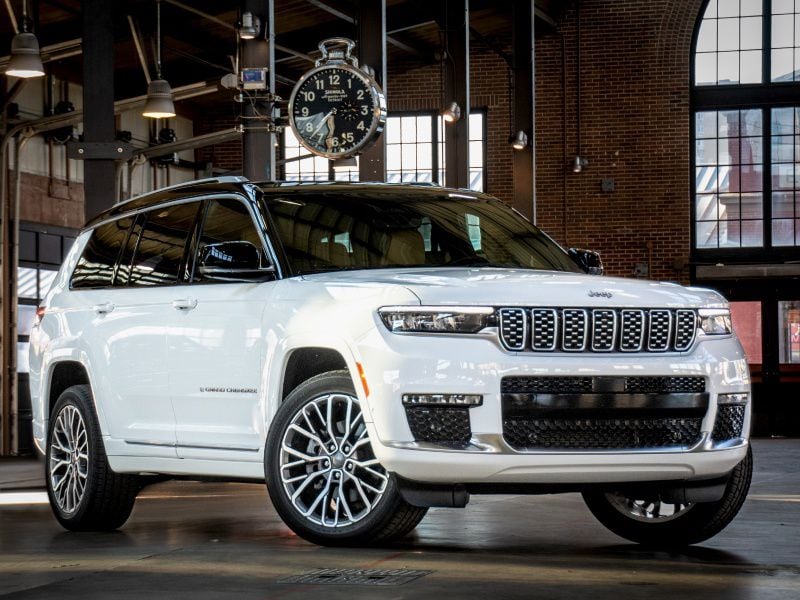 Photo by Jeep
Interior Design
The Jeep Grand Cherokee L comes with an interior that matches those from many luxury brands, and the addition of a third row opens the space for the whole family. Top trims offer plush leathers and heated, cooled, and massaging seats that remain comfortable during trips of any length. The second row is spacious and comfortable, especially with the available captain's chairs, and the third row is actually usable, though kids will be happiest in the "way back."
The Traverse's interior is much more pedestrian by comparison and carries a load of cheapish materials that take away from the experience. That said, the cabin is otherwise comfortable and features great room in the second and third rows. Visibility is good, thanks to the Traverse's large windows and high driving position, and tall adults will have no problem riding in the second row.
: Jeep Grand Cherokee L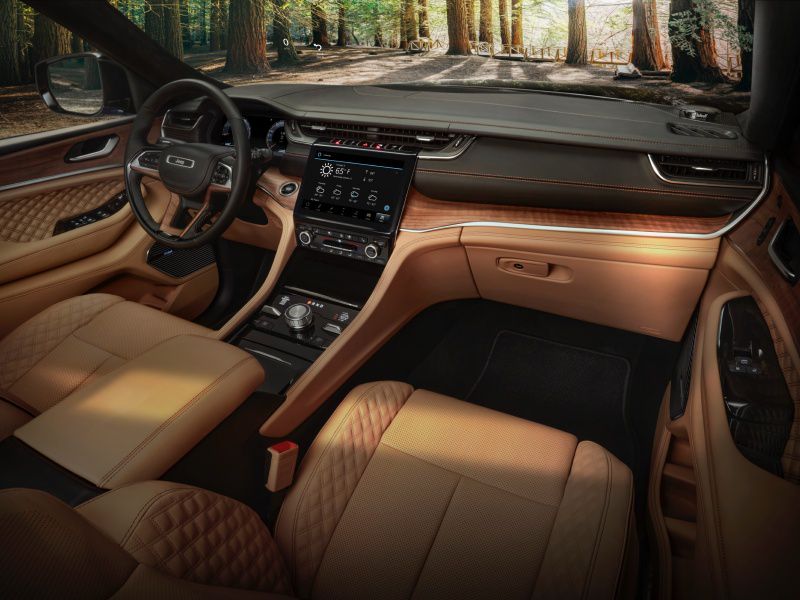 Photo by Jeep
Technology
The Grand Cherokee L comes standard with an 8.4-inch touchscreen and a 10.25-inch digital gauge cluster. Apple CarPlay and Android Auto are also standard, along with SiriusXM radio, six speakers, USB inputs, and more. A larger 10.1-inch touchscreen is available, and Jeep offers a 10.2-inch touchscreen for front passengers. Wireless charging, upgraded stereos, and four-zone climate controls are available. Jeep's Uconnect 5 infotainment software is one of the best in the business and offers an intuitive and responsive way to interact with the vehicle.
The Traverse offers a 7.0-inch touchscreen, wireless Apple CarPlay and Android Auto, six speakers, SiriusXM radio, and tri-zone climate controls. Chevy offers a larger 8.0-inch screen, navigation, wireless charging, and upgraded audio options. Chevy's infotainment system is just as easy-to-use as Jeep's, and it runs well on both available screens.
: Jeep Grand Cherokee L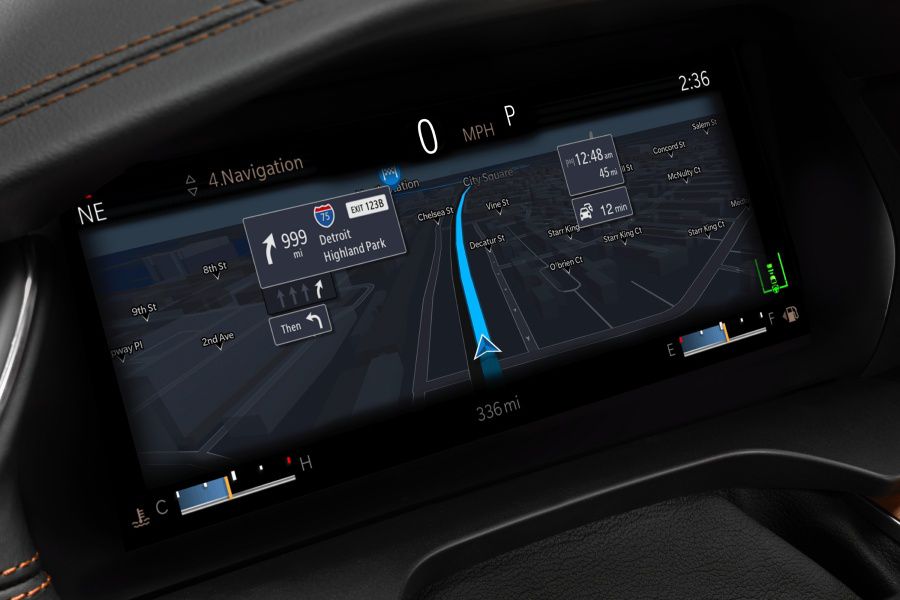 Photo by Jeep
Powertrains
Jeep offers two engines for the 2022 Grand Cherokee L. The base powertrain is a 3.6-liter V6 that makes 293 horsepower and 260 pound-feet of torque. A 5.7-liter V8 is available that produces 357 horsepower and 390 pound-feet of torque. An eight-speed automatic transmission is standard for both engines. Rear-wheel drive comes standard, but four-wheel drive is available. Both engines provide more than decent power to move the large Jeep with gusto, but the V8 is much better for the job. Though it's thirstier than the V6, it makes plenty of power for towing and delivers excellent acceleration with a side of V8 growl. 
The Traverse comes with just one powertrain option. It's a 3.6-liter V6 with 310 horsepower and 266 pound-feet of torque. A nine-speed automatic transmission is standard and either front- or all-wheel drive are available. 
: Jeep Grand Cherokee L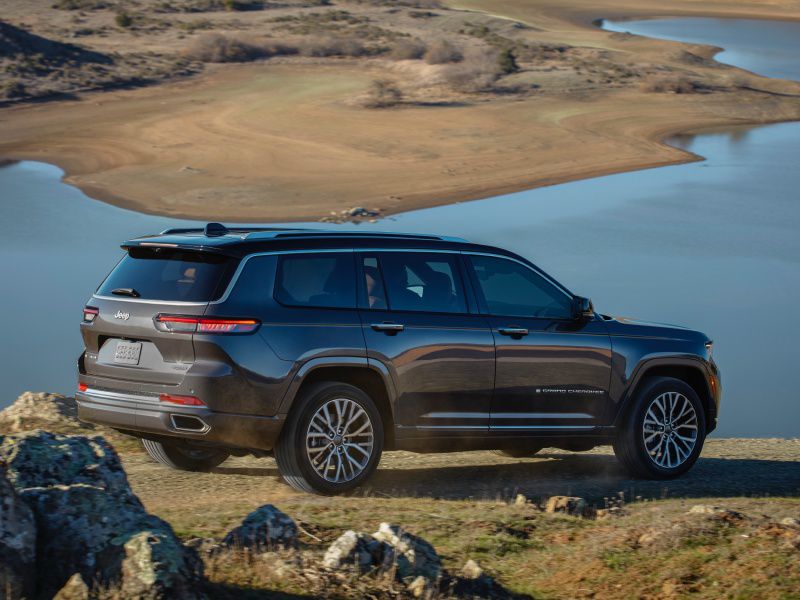 Photo by Jeep
Safety
The 2022 Jeep Grand Cherokee hasn't been evaluated by the Insurance Institute for Highway Safety, but it earned a five-star overall rating from the National Highway Traffic Safety Administration. Several advanced driver aids are standard, including lane keeping assist, adaptive cruise control, blind spot monitoring, rear cross-traffic alerts, and forward collision warnings with pedestrian and cyclist detection. 
The Traverse earned "Good" scores in all crash tests performed by the IIHS but has not yet been rated by the NHTSA. It comes standard with automatic emergency braking, following distance indicators, forward collision alerts, front pedestrian braking, lane keep assist, and a rearview camera system.
: Grand Cherokee L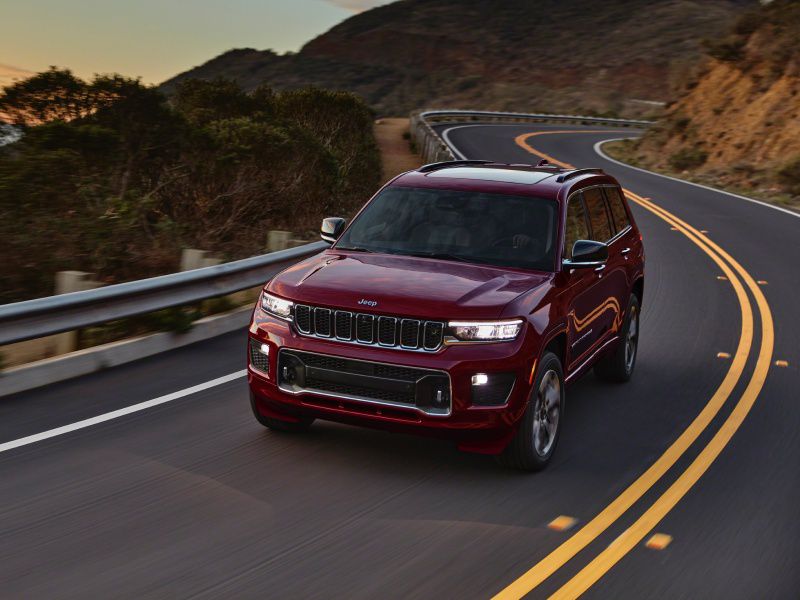 Photo by Jeep
Interior Space and Cargo
The Jeep Grand Cherokee L offers 17.2 cubic feet of space behind its third-row seats, 46.9 cubic feet behind the second-row seats, and 84.6 cubic feet with the back rows folded flat. There's great small-item storage inside and even more in the second row with optional captain's chairs installed.
With all three rows of seating upright, the Traverse offers 23 cubic feet of space. There's 57.8 cubic feet behind the second row and 98.2 cubic feet with the second- and third-row seats folded flat. Those numbers aren't just competitive, they're better than most other vehicles in its class.
: Chevrolet Traverse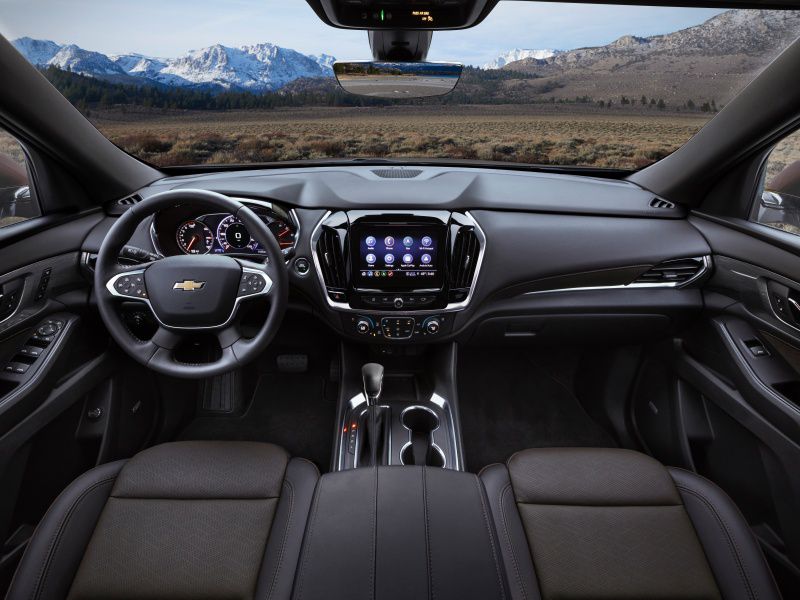 Photo by Chevrolet
Fuel Economy
With the base V6 and rear-wheel drive, the Grand Cherokee L returns 19 mpg in the city, 26 mpg on the highway, and 21 mpg combined. Four-wheel drive shifts those numbers downward slightly, to 18 mpg in the city, 25 mpg on the highway, and 21 mpg combined. The optional V8 and 4WD return 14 mpg city, 22 mpg highway, and 17 mpg combined.
The Traverse returns fuel economy of 18 mpg in the city, 27 mpg on the highway, and 21 mpg combined. With all-wheel drive, those numbers change to 17 mpg in the city, 25 mpg highway, and 20 mpg combined.
Neither SUV is available with a hybrid option, which would greatly improve fuel economy for both. The Traverse's standard V6 provides slightly better fuel economy in some areas than the Jeep's six-cylinder, but not by much. It's far better than the Grand Cherokee L's optional V8, however, but there's a tradeoff between fuel economy and capability with the larger engine.
: Chevrolet Traverse
Photo by Chevrolet
Price and Value
Though the Grand Cherokee L can become exorbitantly expensive, it starts at around $40,000. That's still not cheap by any means, but Jeep throws enough at the Grand Cherokee L to make it at least feel worth the money. It's got a long list of standard safety gear and good tech that go a long way to help the SUV earn its keep. 
The Traverse is considerably cheaper, at just shy of $33,000 to start. It's got stellar interior space and comfortable passenger accommodations, but it's short of the tech and safety features that the Jeep gets standard. Many people will find the cheaper price tag compelling, and options can always be added after the fact and still may not add up to the Jeep's starting price.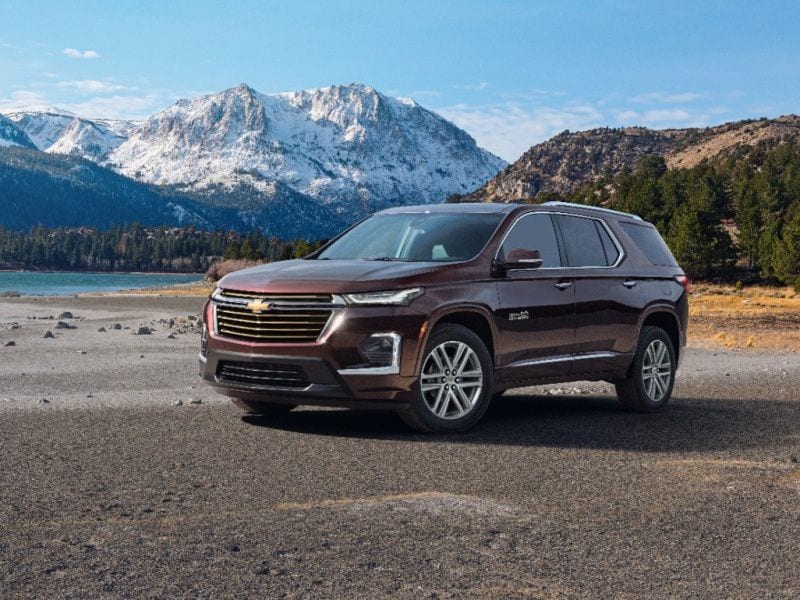 Photo by Chevrolet
Overall Winner
The Jeep Grand Cherokee L took the win here, but only just. Its tech, safety features, and powertrains helped put it over the top, but the Traverse won in key areas such as fuel economy, cargo space, and price. The decision here comes down to budget and brand recognition, really, as both SUVs are great for family hauling and road trips.
: Jeep Grand Cherokee L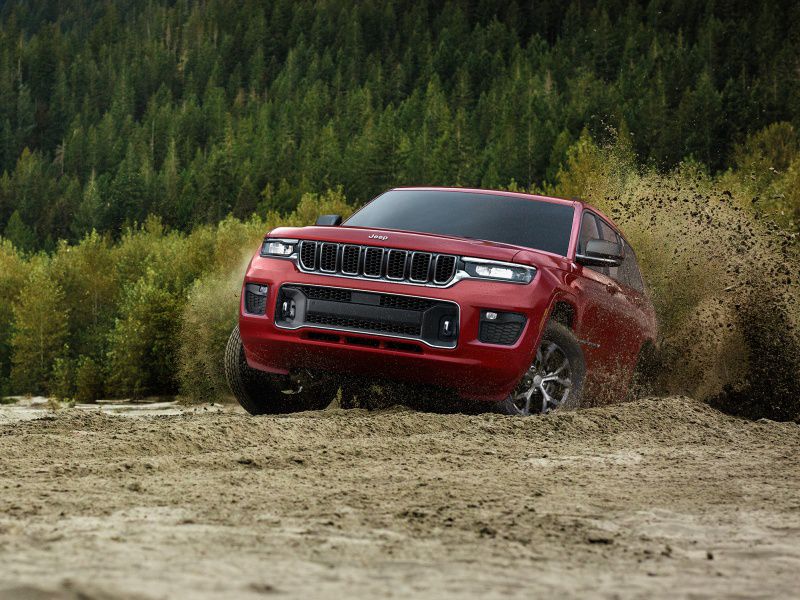 Photo by Jeep