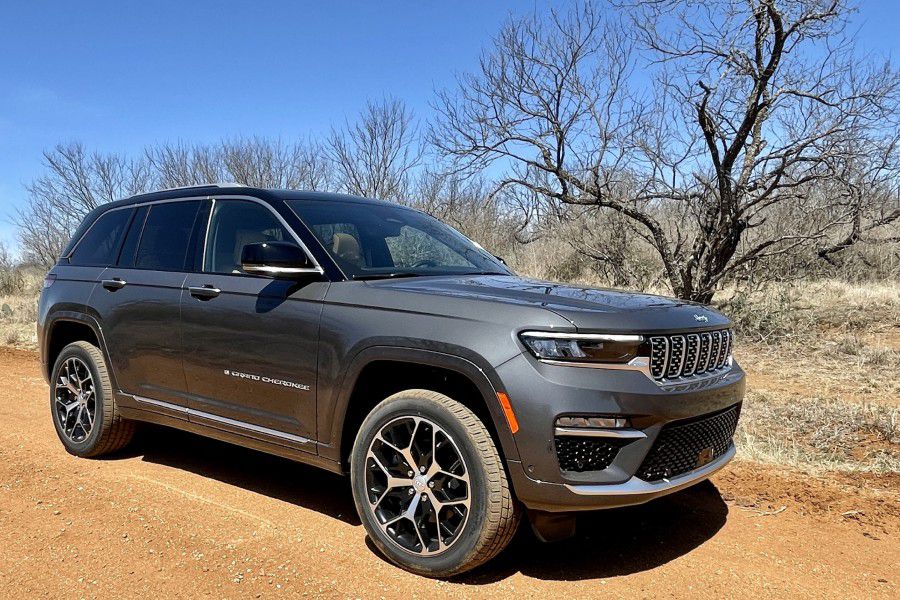 2022 Jeep Grand Cherokee 4xe Front Quarter ・ Photo by Nicole Wakelin
The 2022 Jeep Grand Cherokee 4xe is the latest entry in Jeep's move toward electrification. This is Jeep's second plug-in hybrid following the Wrangler 4xe, which was introduced last year. There are an increasing number of choices when it comes to plug-in hybrids, but the 4xe lineup offers a unique combination. It has the efficiency of a hybrid with the capability of a Jeep.
The name 4xe, pronounced "four by e," is a play on Jeep's 4x4 capability. You can go off road and even ford water in the Grand Cherokee 4xe. It can take you anywhere you want to go, and it does that in style with a beautiful interior that seats five. There's also 26 miles of electric range so you can avoid stops at the pump. Let's take a closer look at the 2022 Jeep Grand Cherokee 4xe go see if it's the right choice for you.
An Efficient Hybrid Powertrain
When it comes to electrification, plug-in hybrids sit in the middle ground between regular hybrids and fully electric vehicles. They strike a balance with the added efficiency of being able to plug-in and charge while still having a gas engine for those who aren't quite ready to move to full electric. This gives them fantastic fuel efficiency ratings. The 2022 Jeep Grand Cherokee 4xe gets an EPA-estimated 56 mpge with an all-electric range of up to 26 miles.
Power comes from a 2.0-liter turbocharged 4-cylinder engine with two electric motors and a 400-volt battery pack. It delivers 375 total system horsepower with 470 lb-ft of torque and is paired to an 8-speed automatic transmission. This is a responsive powertrain that easily gets this large SUV moving without sounding or feeling like it's working too hard whether you're cruising the highway or making your way up a steep off-road trail.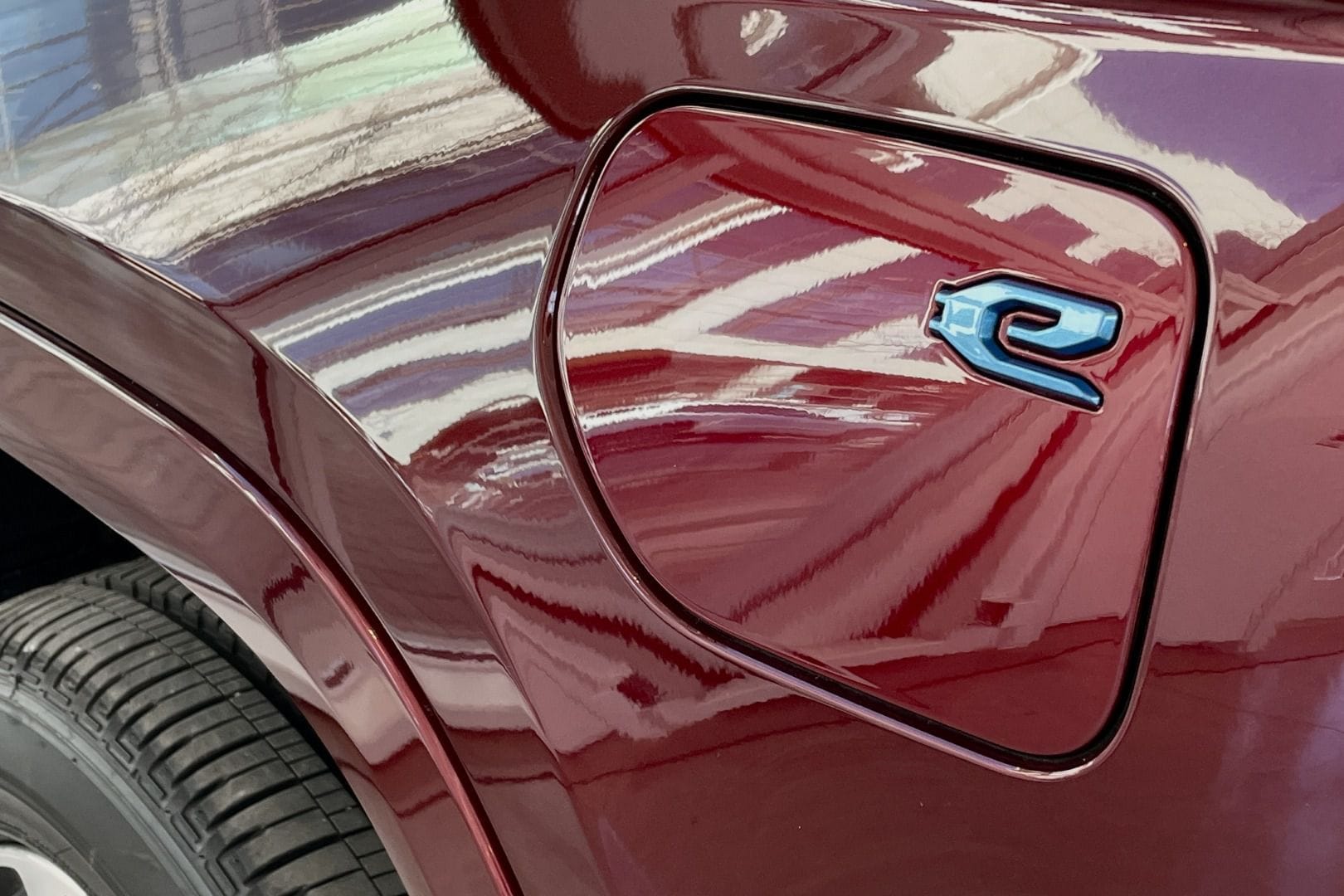 Photo by Nicole Wakelin
Charged Up and Ready to Go
While there's still a gas engine with a tank you can fill up like normal, the Jeep Grand Cherokee 4xe has a battery that you can plug-in and charge. This is a more affordable option than relying on gas, and it's one that's better for the environment since it reduces greenhouse gas emissions. You can charge up at either a Level 1 120-volt charger or a Level 2 240-volt charger.
There are also three 4xe E Select Modes that let you tailor how you use the battery. Hybrid mode optimizes the battery for a balance of fuel efficiency and performance. Electric mode uses only the battery until it's at its minimum charge or until the driver needs enough torque to require the engine. The final mode is eSave, which uses only the engine so you can save the battery and use it at your discretion.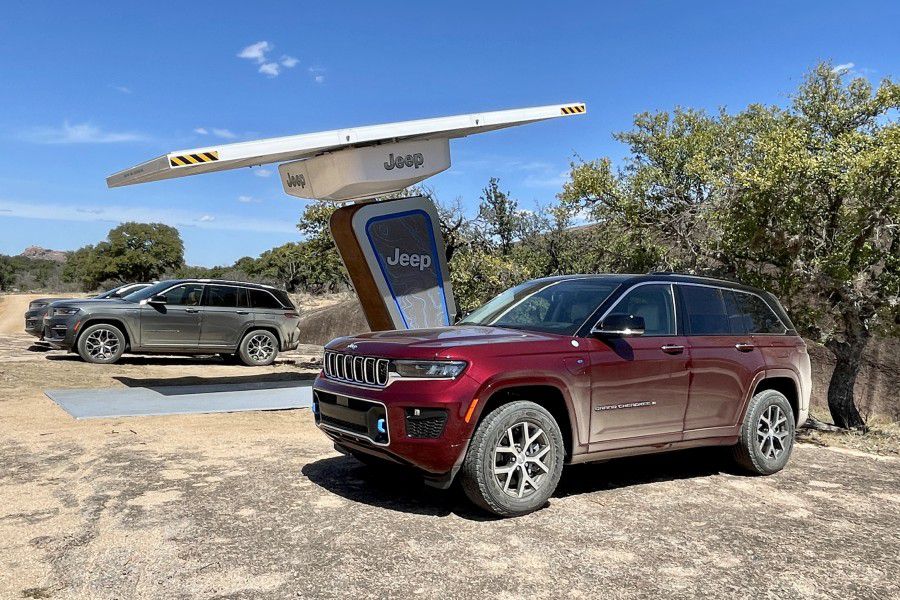 Photo by Nicole Wakelin
The Off-Road Capability of Jeep
There are legions of SUVs that you can choose, but not all of them can manage heading off-road. They may have all sorts of appearance enhancements that make them look off-road capable, but the most many can manage is an unpaved country road. The Grand Cherokee 4xe, however, is a Jeep, and that means you can do some serious off-road exploring.
It offers two four-wheel-drive systems, a rear electronic locking slip-differential, air suspension with electronic semi-active damping, sway bar disconnect, and up to 10.9 inches of ground clearance. You can even ford two feet of water. We took this SUV through water, across the dirt, and up huge rock inclines without issue. The Grand Cherokee is an efficient hybrid with loads of amenities that can take you as far away from civilization as you want to go.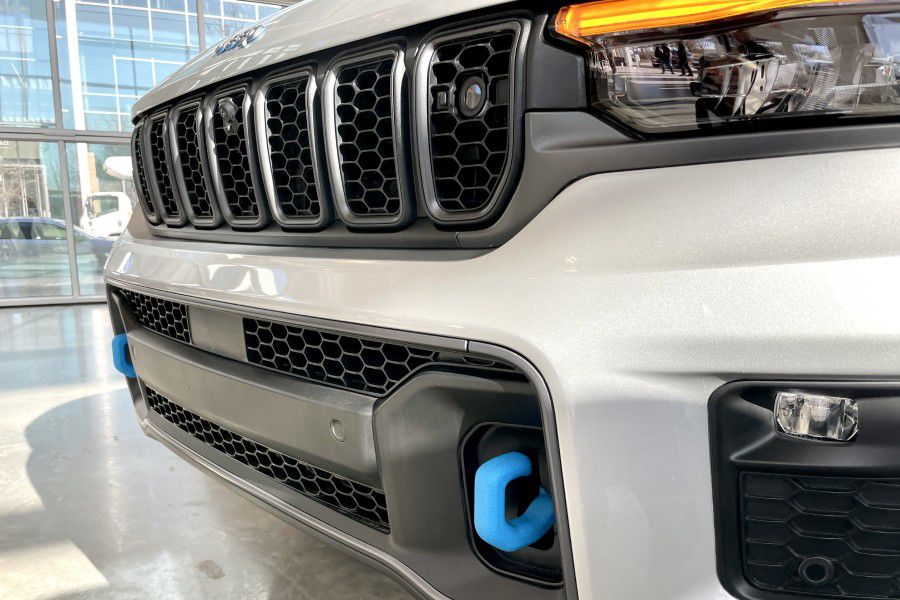 Photo by Nicole Wakelin
A Quiet and Comfortable Ride
This is an SUV with off-road capability uncommon in the segment. We drove the Grand Cherokee 4xe on highways, twisting country roads, and through a challenging off-road course. No matter where we drove, it delivered a quiet and comfortable ride. There was a minimum of wind noise, even at highway speeds without intrusive road noise.
As capable as the Grand Cherokee 4xe is when it comes to off-roading, it still puts the spotlight on passenger comfort. Even over rougher road surfaces with pebbled pavement that was cracked and uneven, it remained well-mannered. While some off-road vehicles deliver harsh, unforgiving rides that are rough on passengers, that's not the case here. Whether you're taking a family road trip across miles of highway or adventuring on off-road trails, the Jeep Grand Cherokee 4xe keeps everyone comfortable.
Photo by Nicole Wakelin
A Luxurious Interior
If you think an SUV rugged enough to climb over rocks and ford through water can't deliver a premium interior, then the Grand Cherokee 4xe is here to prove you wrong. On top of it's smooth on-road manners, it has a roomy and comfortable interior with quality materials and a striking design. There's dual-zone automatic climate control up front, single-zone rear control, Capri leather seats, 8-way power driver and front passenger seats, and heated front and second rows standard.
Top trims pile on even more features with available quilted Palermo leather, ventilated first and second row seats, massaging front seats, real wood trims, and four-zone automatic climate control. It's a premium experience no matter where you sit and no matter which trim you choose. It makes the Grand Cherokee 4xe a great choice for families with long road trips in their futures.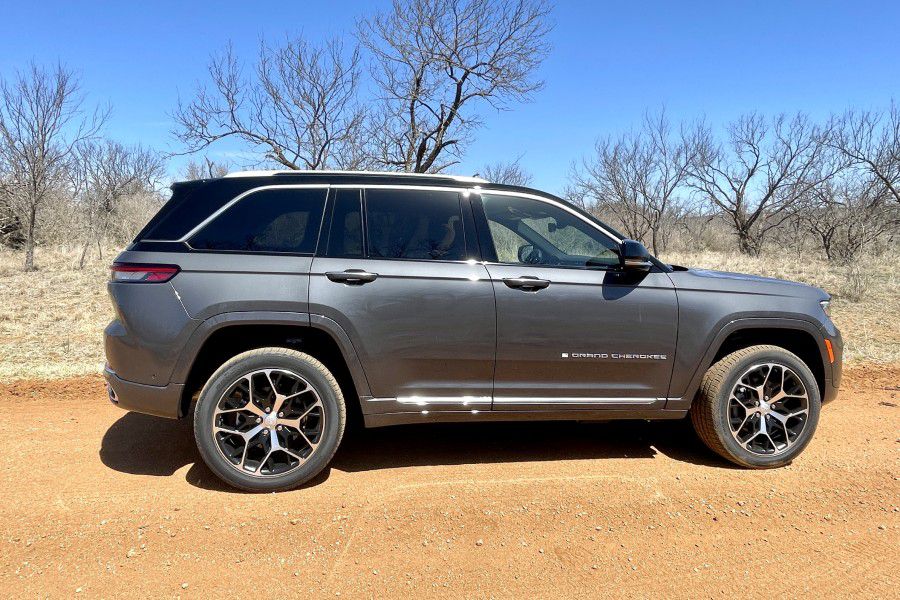 Photo by Nicole Wakelin
Room for Cargo and the Capability to Tow
An SUV needs to manage people and all their cargo. The Jeep Grand Cherokee 4xe has plenty of room for all your stuff and a high tow rating for bringing along larger items. There's 37.7 cubic feet for cargo behind the rear sets with 70.8 cubic feet behind the front seats. That not only let's you take along the family's luggage for a week away, but also makes it easy to carry home everything you need for a weekend project.
If you do need more space or if you have something that's simply to large too fit inside the cargo area, then you can take advantage of the Grand Cherokee 4xe's high tow rating. It can manage up to 6,000 pounds properly equipped. When it's time to manage cargo, this SUV has the room and capability to get the job one.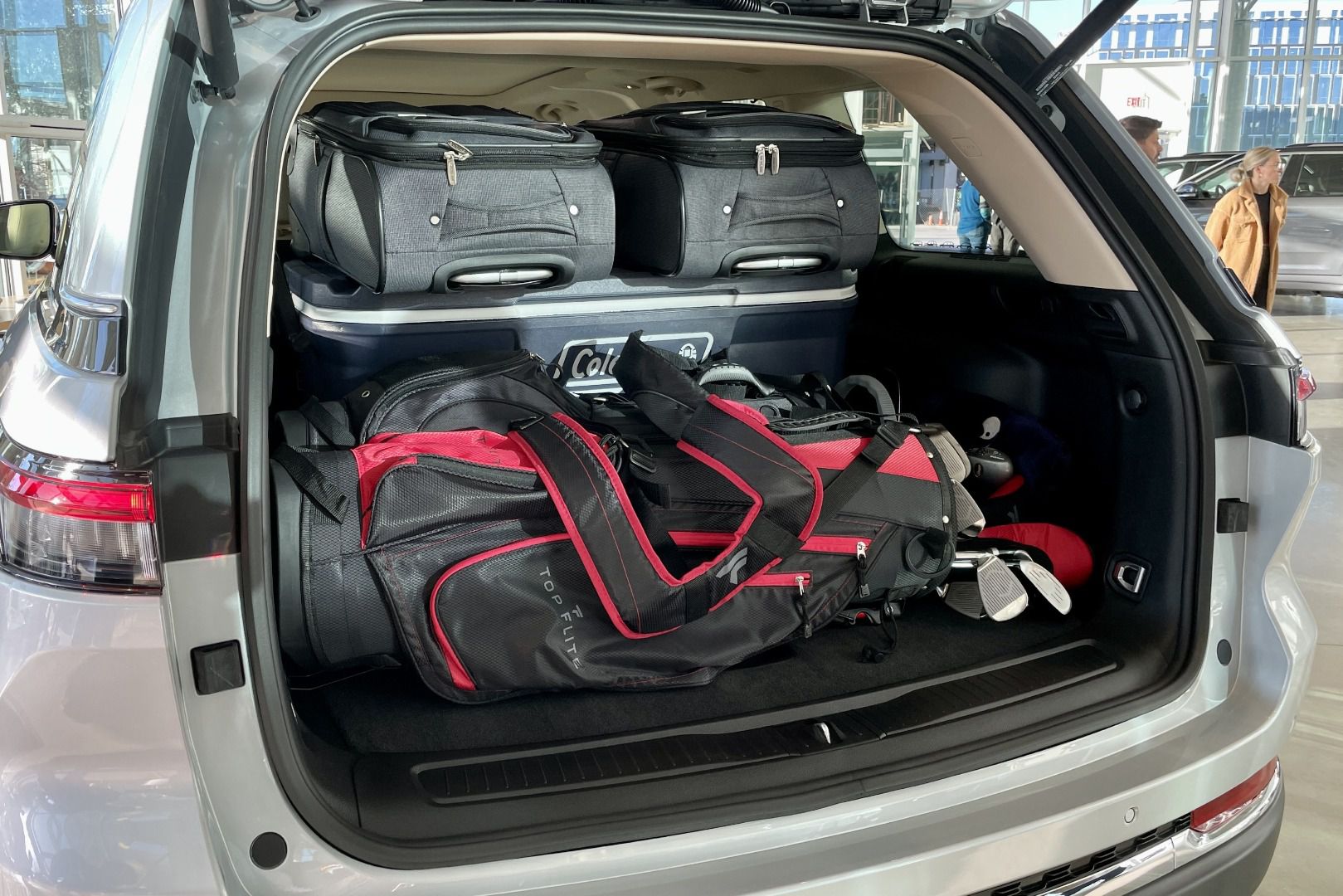 Photo by Nicole Wakelin
Infotainment for Everyone
Standard infotainment includes a 10.1-inch touchscreen, Apple CarPlay, Android Auto, navigation, and SiriusXM. There's also a 9-speaker Alpine audio system, four USB ports, and a 10.25-inch front passenger touchscreen. This second screen lets passengers have their own access to select system features an even allows for watching streaming content. No worries about distracting the driver as the screen can't be viewed from the driver's seat.
There's also an available rear-seat entertainment system to keep the kids busy. It features dual 10.2-inch touchscreens and is optional across the Grand Cherokee 4xe lineup rather than being limited to only the top trims. Audiophiles will appreciate the premium McIntosh sound system on the Overland and Summit trims. This 950-watt system includes 19 speakers with a 10-inch subwoofer and produces rich sound that easily fills the cabin of this large SUV.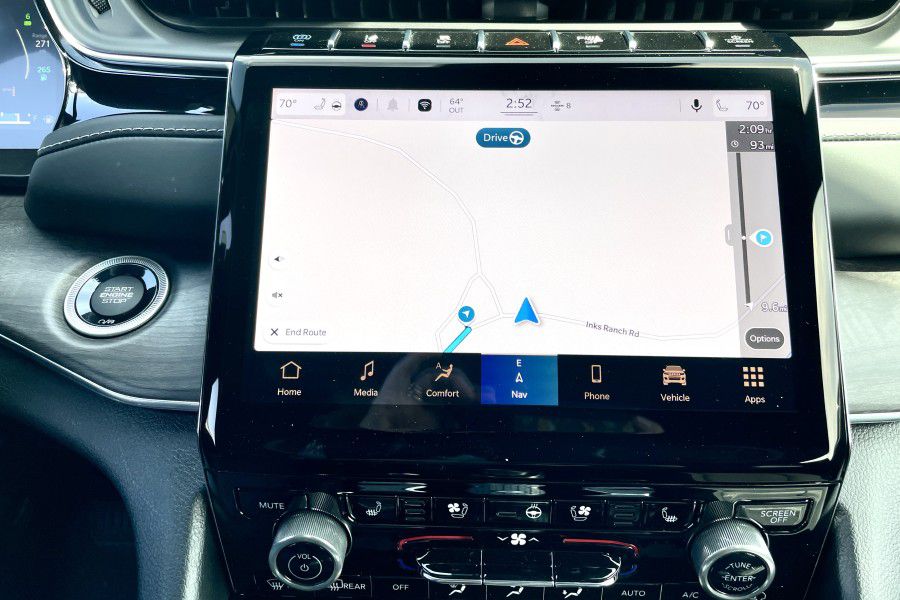 Photo by Nicole Wakelin
Plenty of Standard and Available Safety Features
When it comes to safety, there is no shortage of standard and available features on the Grand Cherokee 4xe. The full lineup has blind spot monitoring, full-speed collision warning with active braking and pedestrian and cyclist detection, lane departure warning, lane keep assist, rear parking sensors with stop, rear cross-path detection, and trailer sway control.
Options include drowsy driver detection, intersection collision assist, front and rear parking sensors with stop, a 360-degree camera, and traffic sign recognition. There's also a night vision camera that activates at the touch of a button. This is useful not just when it's dark to help spot animals on country roads, but even in poor weather conditions where those same animals can be tough to see.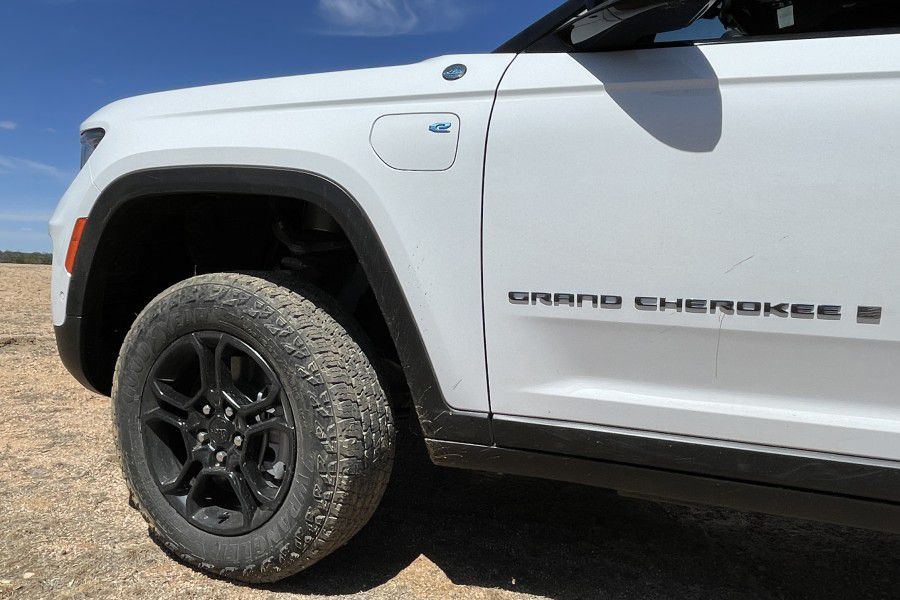 Photo by Nicole Wakelin
Final Thoughts
The Jeep Grand Cherokee 4xe adds a second electrified option to the Jeep lineup. It's available in a range of well-equipped trims priced from $57,700 to $74,300, making it a premium offering. Although it is a more expensive option, you get something unique for that price.
There's all the capability of a Jeep with standard four-wheel drive and even a Trailhawk trim, which is a badge given to only the most off-road worthy vehicles in the Jeep lineup. There's also a beautiful interior with attractive trims and luxury touches at the top of the range. And there's that new plug-in hybrid powertrain that saves on fuel, reduces emissions, and allows for a uniquely silent off-road experience in electric mode. This is an upscale family SUV worth considering for off-road enthusiasts ready to make the move toward electrification.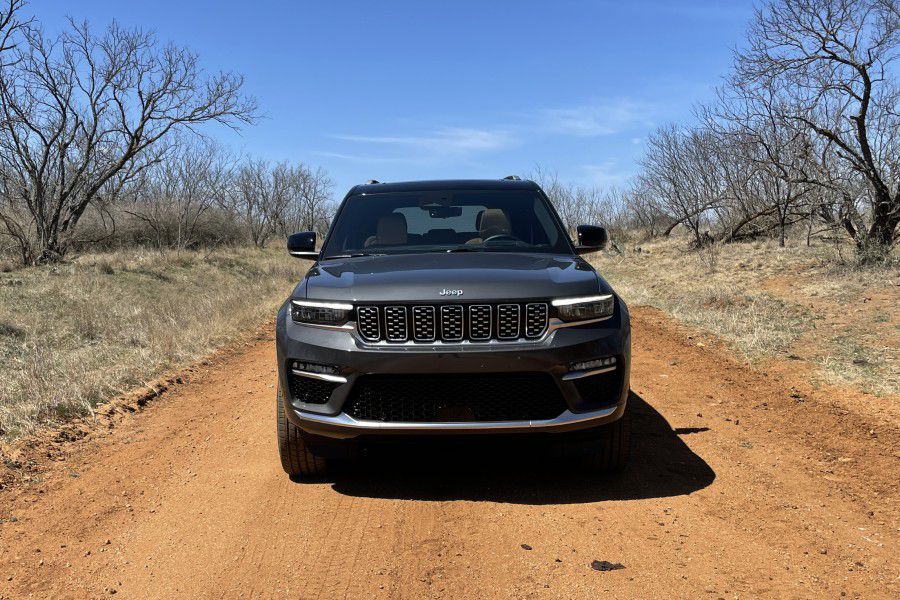 Photo by Nicole Wakelin