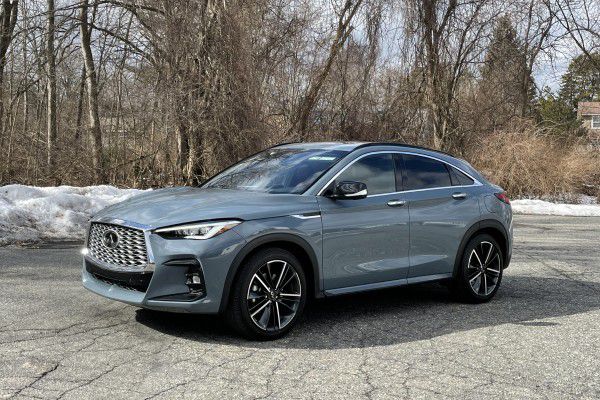 2022 Infiniti QX55 Front Quarter ・ Photo by Nicole Wakelin
The 2022 Infiniti QX55 is an all-new five-passenger crossover. It marks the start of an overhaul of the Infiniti brand that includes not just new models, but updates to existing models. This luxury crossover boasts coupe-like styling that gives it a sleek, refined look that speaks to both its performance handling and its luxurious interior. The QX55 is available in a range of three trims with pricing starting at $46,500.
Crossovers are a competitive segment, making that price a key part of this vehicle's appeal. It comes in below many of its luxury competitors without sacrificing features. The interior has high-quality materials throughout, infotainment includes key connectivity, and its range of standard and available driver-assistance technologies is impressive. Let's take a closer look at the all-new 2022 Infiniti QX55 to see if this is the right luxury crossover for you.
Three Well-Equipped, Well-Priced Trim Levels
There's a choice of three Infiniti QX55 trim levels, starting with the base Luxe at a price of $46,500. It includes standard all-wheel drive, 20-inch wheels, and a 2.0-liter four-cylinder turbocharged engine paired to a continuously variable automatic transmission. There's a power moonroof, leatherette seats with eight-way power-adjustability for front passengers, wireless Apple CarPlay, and dual infotainment touchscreens. Standard safety includes forward emergency braking with pedestrian detection, a lane-departure warning, blind-spot monitoring, and a rear cross-traffic alert.
The Essential adds navigation, perforated leather seats, cooled front seats, a heated steering wheel, and a 16-speaker Bose audio system for a starting price of $51,600. Sitting at the top of the lineup is the Sensory at $57,050. It adds semi-aniline leather seats, open-pore wood trims, tri-zone automatic climate control, and a motion-activated liftgate. The Sensory also adds safety features including lane departure prevention, ProPilot Assist, traffic sign recognition, and a head-up display.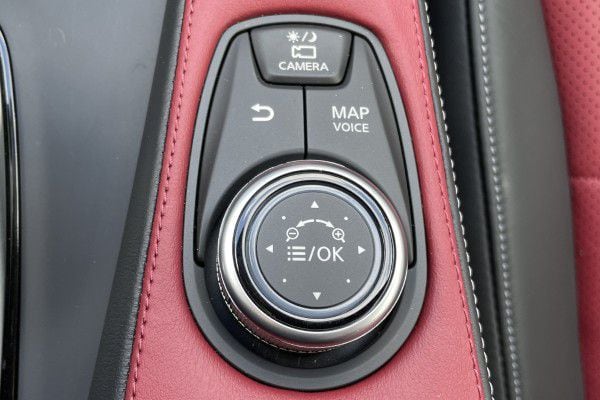 Photo by Nicole Wakelin
Responsive Turbo Engine
The Infiniti QX55 lineup is powered by a 2.0-liter turbocharged four-cylinder engine with 268 horsepower and 280 lb-ft of torque paired to a continuously variable automatic transmission. All-wheel drive is also standard across the three-trim range. There are steering-wheel-mounted paddle shifters and a manual mode for those who want more refined control of the transmission. Additionally, there's a drive mode selector with options for standard, eco, sport, or personalized settings.
The QX55 isn't a full-size SUV. It's a compact crossover, so it doesn't need a massive engine with loads of power to offer solid performance. Press the accelerator and the QX55 quickly responds with all the power you need, whether it's simply to merge into highway traffic or for passing slower vehicles at highway speeds. The engine is responsive and engaging, without any harshness or overt noise. This is a luxury car, so power delivery is well-mannered rather than rowdy.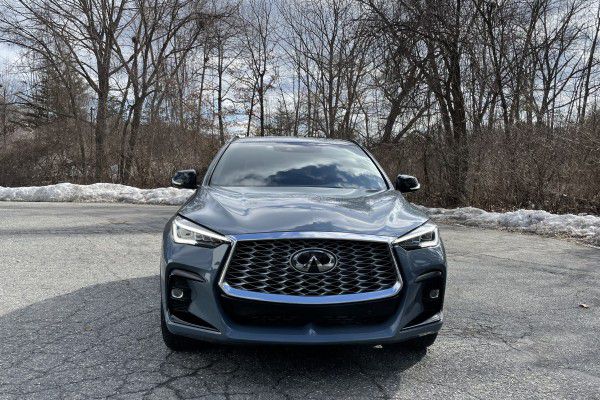 Photo by Nicole Wakelin
Fuel Economy That's Easy on Your Budget
The Infiniti QX55 has a responsive, powerful engine that might make you worry about fuel economy. A vehicle that offers solid performance tends to be rather thirsty at the pump. That can make it tough on your budget, especially if fuel prices rise or your daily commute suddenly gets a bit longer. You can put aside those worries with the QX55 as it offers fuel economy that's easy on your wallet.
The 2022 Infiniti QX55 gets an EPA-estimated 22 mpg in the city, 28 mpg on the highway, and 25 mpg combined. This makes driving this crossover a more affordable proposition whether driving around town, the daily commute, or even a long-distance road trip. While there are more fuel-efficient options, the QX55 offers a combination of good fuel economy along with a responsive engine that lets you enjoy your time behind the wheel.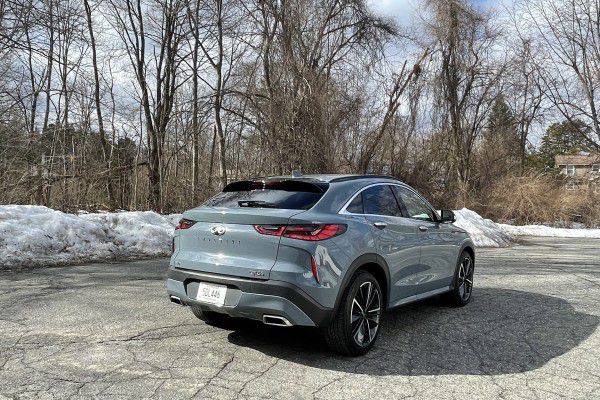 Photo by Nicole Wakelin
Smooth Ride, Sporty Handling
There's a balance to be found when a car is designed to be both luxurious and sporty. Especially in a crossover, there are people on board and those people want to be comfortable. That means paying careful attention to delivering the responsive ride of a sports car with the quiet, comfortable interior of a luxury car. The Infiniti QX55 manages to find that balance by catering to those two opposing needs.
The ride is smooth and quiet with a suspension that mitigates the bounce from potholes and uneven pavement. There's little noise from rougher road surfaces, wind, or rain, so passengers can sit back and relax. The hum of the engine is a pleasant background noise rather than intrusive. That ride is matched by handling that is crisp and sporty without being taxing. It engages the driver without becoming tiring, so even long trips are enjoyable.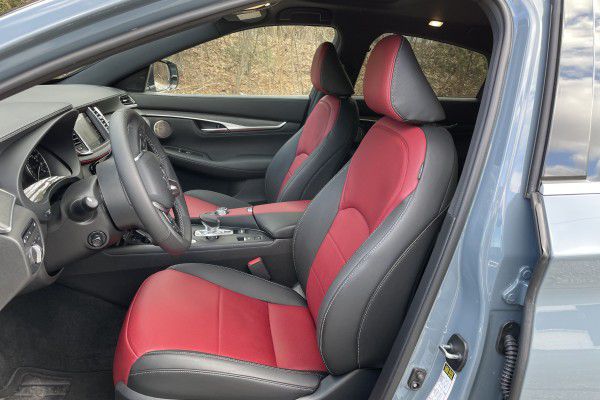 Photo by Nicole Wakelin
Quiet, Comfortable, Attractive Interior
The interior of the QX55 is every bit a luxury car. It's attractive and comfortable with rich trims and plenty of room for passengers. Front seats have eight-way power adjustability with standard heat, and all but the Luxe trim also have ventilation. Seats are supportive without being stiff, making them ideal for longer trips, and they're trimmed in leatherette or supple leather; no cloth seats on this luxury crossover.
There's room for three in the rear seats with ample head and legroom. The QX55's sloped roof, which gives it that sleek coupe-like look on the outside, doesn't compromise headroom. Even taller adults will find plenty of space to get comfortable. There's standard dual-zone automatic climate control with tri-zone automatic climate control on the top Sensory. Rear HVAC vents help ensure a comfortable ride for everyone, and the standard power moonroof adds light to make this already airy cabin feel spacious.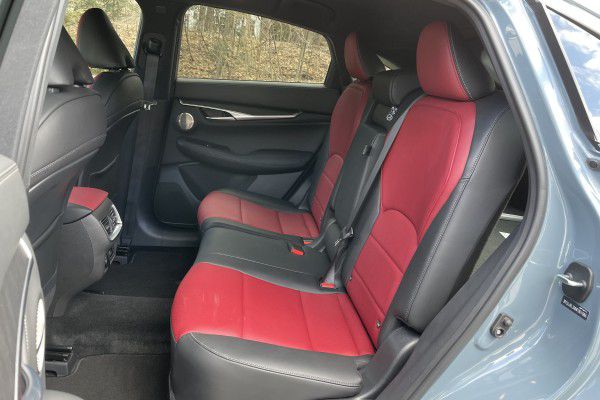 Photo by Nicole Wakelin
Room for All Your Cargo
While a crossover needs to provide a comfortable space for passengers, it also needs to have the room to handle cargo. The Infiniti QX55 obliges with 26.9 cubic feet of cargo room behind the rear seat. It split-folds 60/40 giving the versatility to carry varying combinations of people and their stuff. Fold those seats completely and there's 54.1 cubic feet behind the front seats. There's plenty of room to carry luggage with a full load of people or all the supplies you need for your next weekend project.
There are standard aluminum roof rails for securing larger cargo and a standard power liftgate with the Sensory trim adding a motion-activated liftgate to make loading cargo easier when your arms are full. Whether it's people or passengers, the QX55 has the versatility to handle both with ease.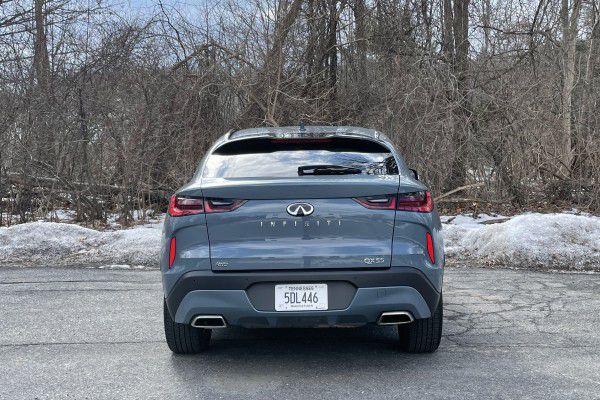 Photo by Nicole Wakelin
Dual-Screen Infotainment With Key Features Standard
Standard infotainment on the QX55 includes an 8-inch upper and 7-inch lower touchscreen with a six-speaker audio system. Multiple charging points include USB A and USB C data ports for front passengers and USB A charging ports in the center console and for the second row. Sirius XM, AM/FM, CD player, Wi-Fi hotspot connectivity, Android Auto, and wireless Apple CarPlay are all standard features. The Essential and Sensory trims get an audio upgrade that includes a 16-speaker Bose premium audio system.
The system is fully-featured no matter the trim you choose, so there's no need to move higher just to get the basics. Only audiophiles who want the Bose audio system will see a reason to move up a trim level just for better infotainment. Regardless of the audio, the Infiniti system is easy to use with intuitive menus and responsive touchscreens that are easily used by the driver or passenger.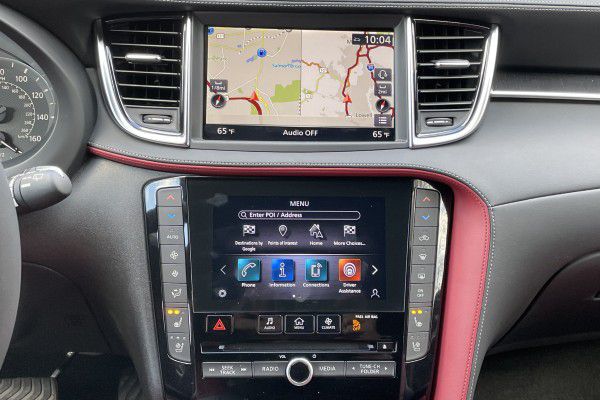 Photo by Nicole Wakelin
Extensive Standard Safety
The Infiniti QX55 comes with a wide range of advanced safety features, many of which are standard across the lineup. These include forward emergency braking with pedestrian detection, blind-spot monitoring, a lane-departure warning, automatic high beams, rear automatic braking, and a rear cross-traffic alert.
The Essential adds available ProAssist with intelligent cruise control, distance control assist, blind-spot intervention, and lane-departure prevention. There's also a ProActive package with traffic sign recognition, direct adaptive steering, and a head-up display. Lastly, optional ProPilot Assist adds steering assist with intelligent cruise control with full speed range, stop and hold. All those features become standard on the top Sensory trim. While the top trims of the QX55 offer more standard and available safety features, the inclusion of key features on the base Luxe provides ample peace of mind without having to stretch your budget.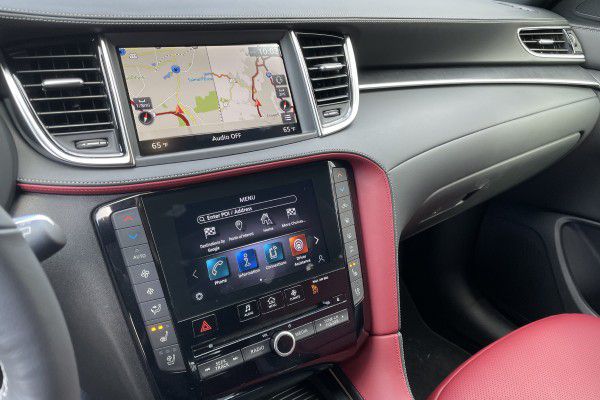 Photo by Nicole Wakelin
Final Thoughts
The 2022 Infiniti QX55 adds a thoroughly modern crossover to the Infiniti lineup. It has sleek, sporty styling outside with a comfortable and luxurious interior. There's room for five adults with plenty of room left over for holding cargo. Its powerful turbocharged engine not only makes driving the QX55 effortless in heavy traffic, but it also makes the experience engaging and enjoyable.
A fully featured infotainment system with seamless smartphone connectivity and a wide range of standard and available safety features further increase this crossover's appeal. And then there's the price. While this is a luxury car and cheaper crossovers can be found, you'll be hard-pressed to find a comparable luxury crossover at this price point. The 2022 Infiniti QX55 is a compelling combination of style and luxury that won't break your budget.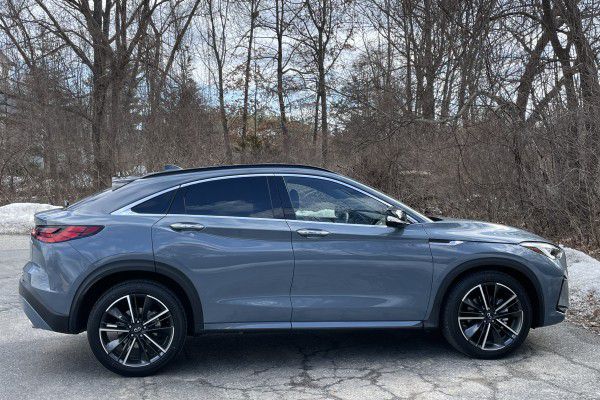 Photo by Nicole Wakelin