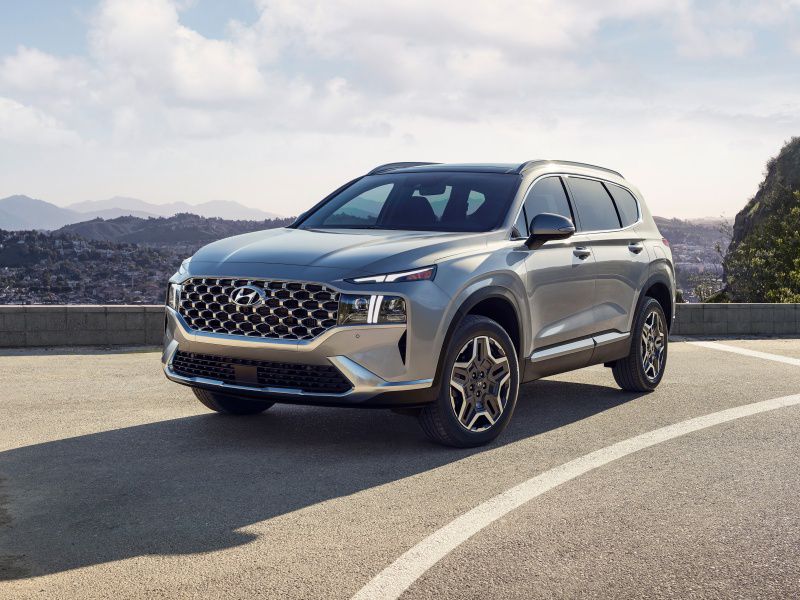 2022 Hyundai Santa Fe PHEV ・ Photo by Hyundai
The Hyundai Santa Fe Plug-In Hybrid (PHEV) is a five-person SUV that sits alongside the gas Santa Fe and hybrid Santa Fe. It offers the capability of an SUV combined with the efficiency of a plug-in hybrid. Those who want to make the move toward electrification but aren't quite ready to ditch the gas engine will find a plug-in hybrid to be a happy medium between the two.
The Santa Fe PHEV is offered in two well-equipped trims with a wide range of features so even the base trim is a comfortable and attractive option. There's also good standard safety along with a fully featured infotainment system to keep everyone connected. Let's take a closer look at the 2022 Hyundai Santa Fe Plug-In Hybrid to see if this is the right electrified SUV for you.
Two Trim Options
There are not a large number of trims for the Santa Fe Plug-In Hybrid with a lineup of only two from which to choose. The base SEL Convenience starts at $40,000 and has standard features including all-wheel drive, cloth seating surfaces, 8-way power driver's seat, heated front seats, 8-inch infotainment touchscreen wireless Apple CarPlay and Android Auto, automatic emergency braking, lane keeping assist, and blind spot collision avoidance assist.
The Limited starts at $46,010. It adds leather trimmed seating surfaces, 8-way power passenger seat, ventilated front seats, heated rear seats, 10.25-inch infotainment touchscreen, premium 12-speaker Harman Kardon audio, and wireless device charging. It's a big price jump between trims with a matching big jump in features. While those features are attractive, the lower price of the base trim makes it far easier on your budget and still delivers an attractive and well-equipped experience for driver and passengers alike.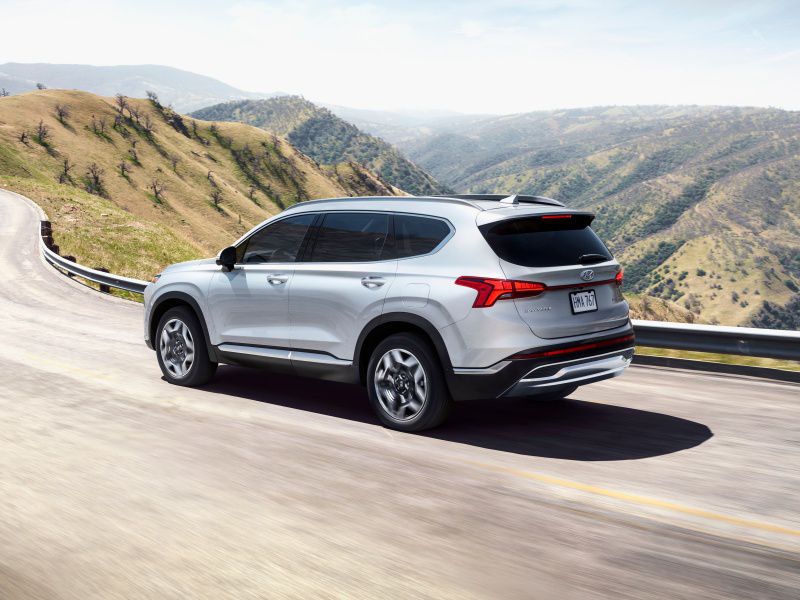 Photo by Hyundai
A Responsive Powertrain
The Santa Fe PHEV is powered by a 1.6-liter 4-cylinder engine with 178 horsepower and 195 lb-ft of torque along with a 66.9-kW electric motor for a combined 261 net system horsepower. This is all paired to a 6-speed automatic transmission. All-wheel drive is standard on both trims, as are paddle shifters to give the driver more control over the transmission to create a more engaging driving experience.
It's a responsive powertrain that easily gets this SUV up to highway speeds with a minimum of noise intruding into the cabin. The transmission smoothly manages power delivery with no harsh shifts, even under hard acceleration. Those who think driving a hybrid is a lackluster experience will be pleasantly surprised by the responsiveness of the Santa Fe. It's not a sports car, but it's still a strong offering that won't have you wishing you'd gone with a purely gas engine instead.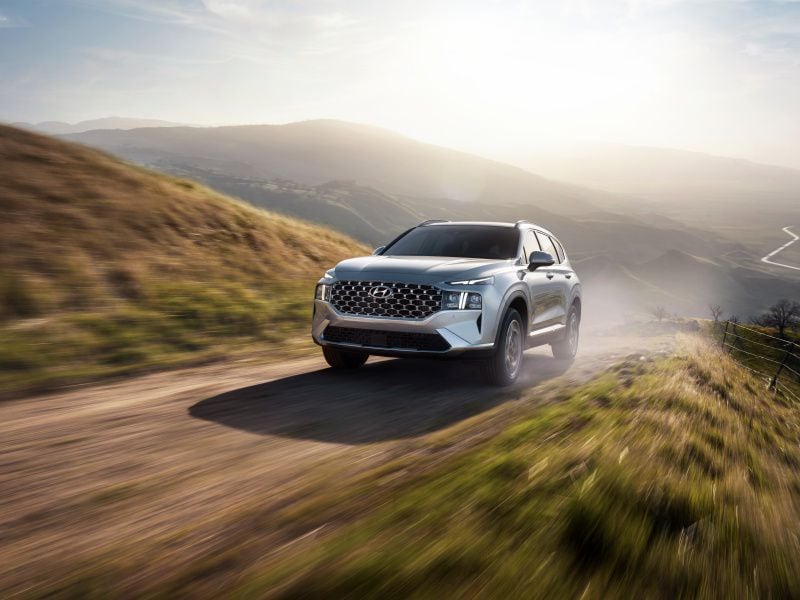 Photo by Hyundai
An All-Electric Range and Good Fuel Economy
Since this is a plug-in hybrid, it can be driven in electric mode only without using the gas engine at all for a limited number of miles. The Santa Fe Plug-In Hybrid has an EPA-estimated all-electric range of up to 31 miles per charge with a total range of 440 miles. The more you plug-in to charge, the more you can take advantage of that battery and even avoid using gas altogether on shorter trips.
Combined with the gas engine, the EPA-estimated fuel economy estimate is 76 mpge. If you use the gas engine only, then you'll average roughly 33 mpg city and highway combined. Those numbers make the Santa Fe Plug-In Hybrid a fuel-efficient option that's easy on your wallet when gas prices rise. The more you take advantage of being able to plug-in plug and charge, the better your overall fuel economy.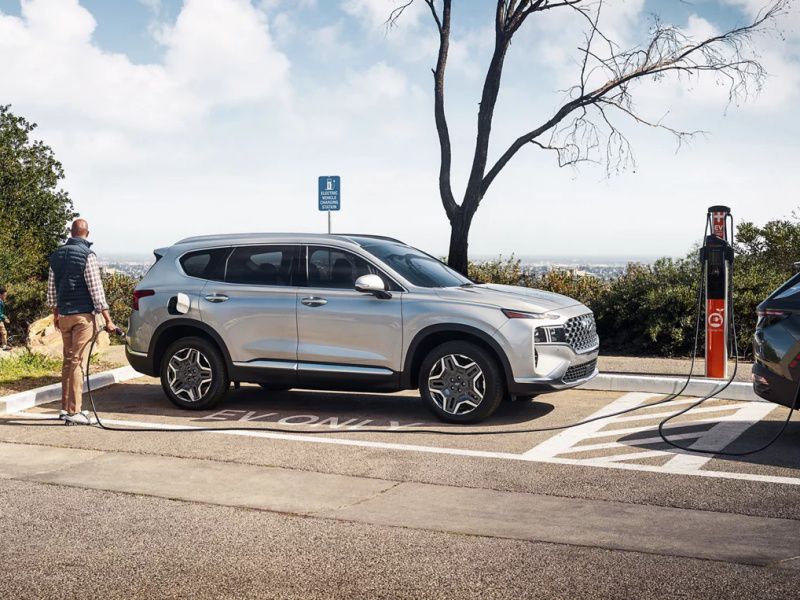 Photo by Hyundai
Enjoy a Smooth Ride
The Santa Fe Plug-In Hybrid is an SUV, which means it's a good bet there will often be several passengers along for the ride. Especially for families, a smooth ride that keeps everyone comfortable and happy on vacation road trips is a priority. Hyundai delivers with acoustic-laminated front side glass that helps keep wind noise to a minimum, even during stormy weather with heavy wind and rain.
Road noise is also minimal. Rough road surfaces are smoothed out by the suspension system so they're neither seen nor felt by passengers. Unless you're taking the Santa Fe Plug-In Hybrid down an exceptionally rough dirt road, it's likely that sleeping kids will stay asleep and adults won't be complaining about being jostled. The accommodating ride of this SUV makes it a great choice for families and for those who have long daily commutes and just want to be comfortable.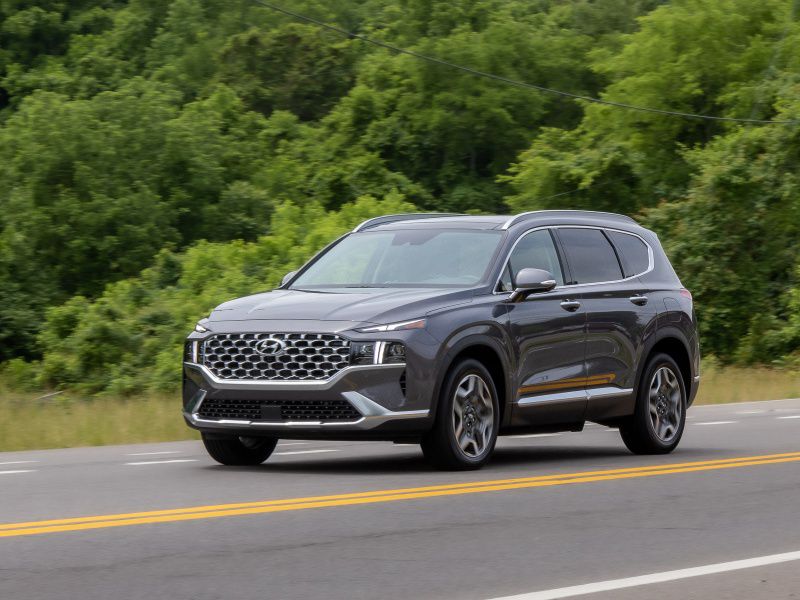 Photo by Hyundai
Lots of Interior Amenities
Though there are only two trims, both are well-equipped when it comes to comfort and convenience features. The base SEL Convenience trim has cloth seats, an 8-way power driver's seat with 2-way lumbar, heated front seats, dual automatic climate control, second-row air vents, a tilt and telescopic steering wheel, and a 12.3-inch digital instrument cluster. The Limited adds leather-trimmed seats, 4-way lumbar for the driver with leg cushion extension, an 8-way power front passenger seat, ventilated front seats, heated rear seats, and a heated steering wheel.
The interior is attractive and comfortable in either trim with supportive front seats that make long rides less tiresome. Those in the rear seats also get a comfortable ride with enough room for three adults on all but the longest road trips. Along with a welcoming interior, the ride is notably quiet with no intrusive wind or road noise so passengers can easily relax.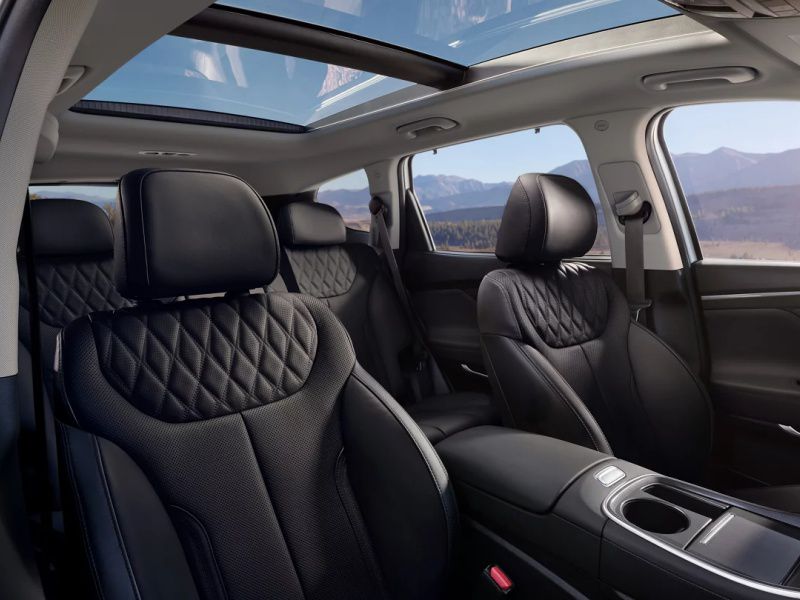 Photo by Hyundai
Room for Everyone's Stuff
Much of an SUV's appeal is its ability to carry people and cargo with varying combinations of the two. The Santa Fe Plug-In Hybrid has good cargo room with 36.4 cubic feet behind the rear seats. Fold those seats down and cargo capacity expands to 72.1 cubic feet. The fold-flat rear seats also split-fold 60/40 to give added cargo versatility. Loading cargo is made easier thanks to a handsfree liftgate with an adjustable height setting so those with low garage ceilings won't have to worry about accidentally scraping against the tailgate.
That's a good amount of room for cargo, but if you have larger items that simply won't fit inside the vehicle, the Santa Fe Plug-In Hybrid can also tow. Equipped with trailer brakes, it has a maximum tow rating of 2,000 pounds. There's also standard trailer sway control along with a 4-pin trailer wire connection to make towing safer and easier.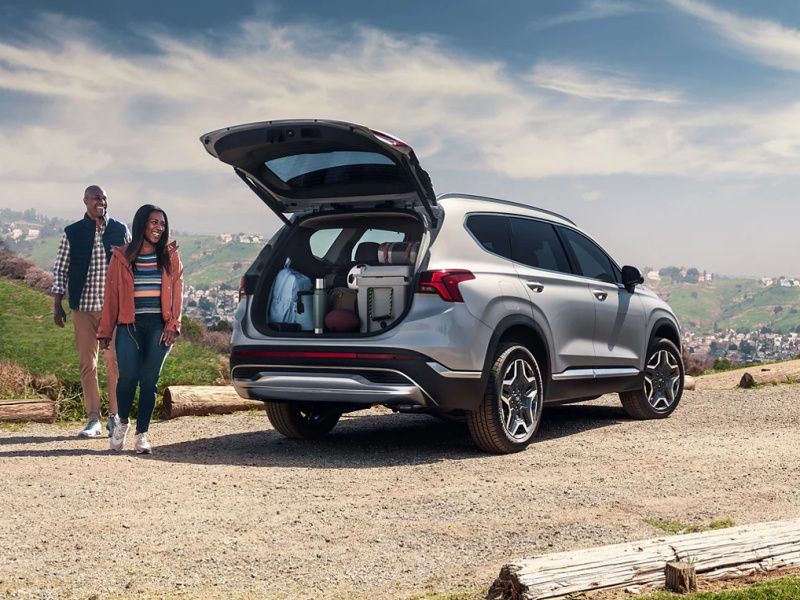 Photo by Hyundai
Infotainment With Large Touchscreens
The base trim of the Santa Fe Plug-In Hybrid has an 8-inch touchscreen with AM/FM, wireless Apple CarPlay and Android Auto, and wireless device charging. There are dual front USB outlets and Bluelink connected car services with complimentary 3-year subscriptions to the Care and Remote packages. The Limited trim gets a 10.25-inch touchscreen with navigation and HD Radio. There's also a 12-speaker Harman Kardon premium audio system and a 115-volt power outlet. The one downgrade on the Limited trim is smartphone connectivity with only wired Apple CarPlay and Android Auto.
It's a comprehensive system that's easy to use with responsive touchscreens and intuitive menus. The larger touchscreen on the Limited trim makes following navigation easier, but the lack of wireless smartphone connectivity creates more cord clutter and detracts from the overall experience.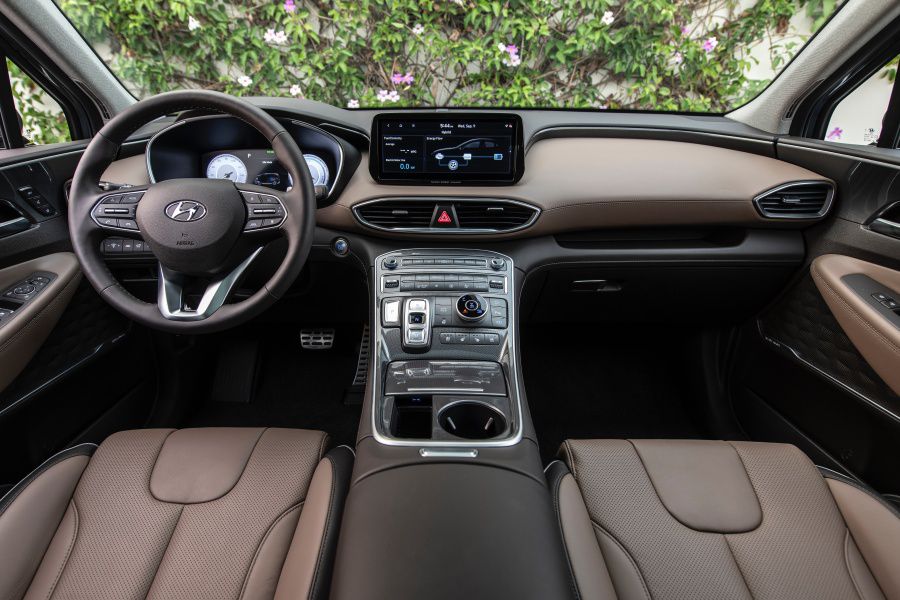 Photo by Hyundai
Lots of Standard Safety
Having a strong offering of safety features is always a priority when the vehicle in question is likely to have the family along for the ride. The Santa Fe Plug-In Hybrid steps up with a long list of standard safety features to help keep you and your loved ones safe. These include blind-spot collision avoidance assist, rear cross-traffic collision-avoidance assist, reverse park distance warning, rear occupant alert, forward collision-avoidance assist with pedestrian, cyclist, and junction turning detection, lane keeping assist, driver attention warning, and safe exit assist.
The Limited adds front park distance warning, remote smart parking assist, highway driving assist, blind-spot view monitor, and a surround view monitor. Although there are a few features that you can't get on the base SEL Convenience, most are standard for both trims so you can stay on budget rather than stretching your budget in the name of safety.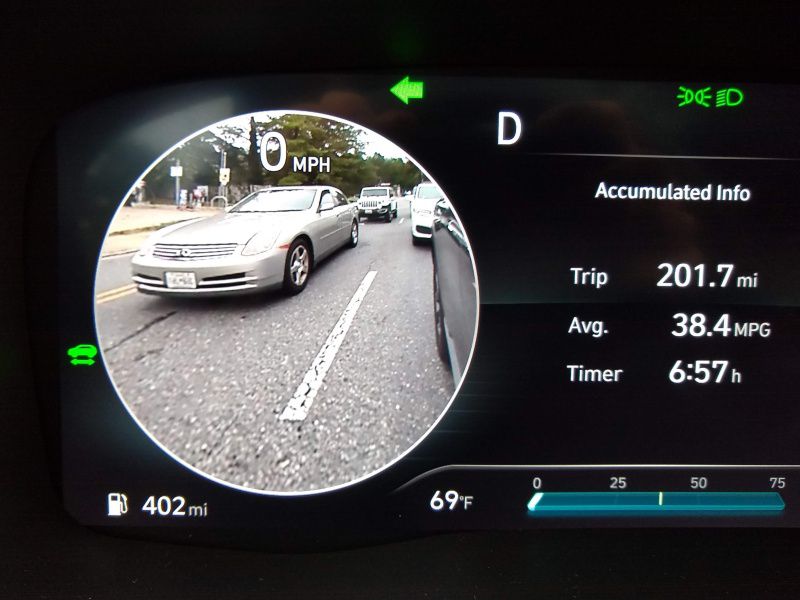 Photo by Brady Holt
Final Thoughts
Joining the electrification movement is a big change, especially when it includes plugging in a vehicle after years of simply stopping for gas. The Santa Fe Plug-In Hybrid is the middle ground between purely electric vehicles and gas vehicles. It has an efficient hybrid engine that let's you plug-in and charge while still having a gas engine to fall back on if there's no charging station available.
This attractive SUV also has standard all-wheel drive for dealing with winter weather and a comprehensive infotainment system with large touchscreens that make them easier to use. Add in good standard safety features and a responsive powertrain and there are plenty of reasons to consider this as your next vehicle. The 2022 Hyundai Santa Fe Plug-In Hybrid has the performance, features, and fuel-efficiency to make it a strong option for those ready to make the move away from gas and toward electrification.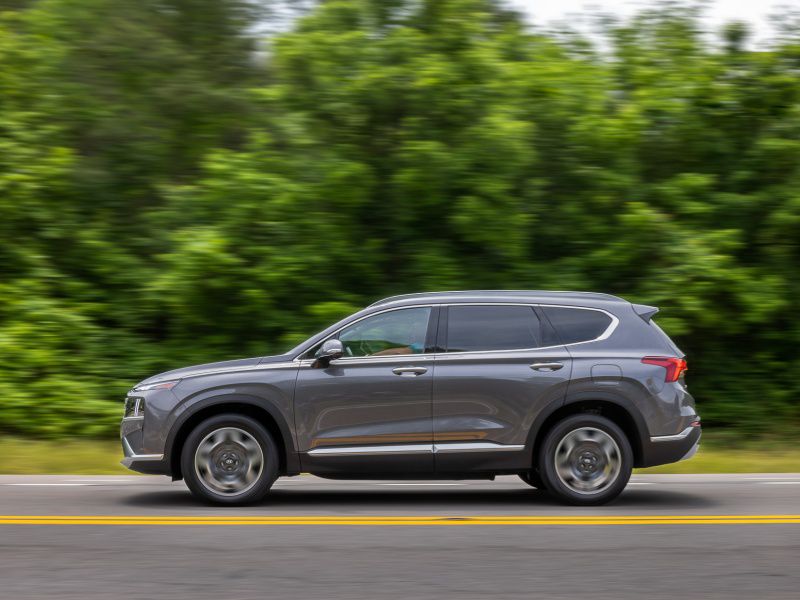 Photo by Hyundai