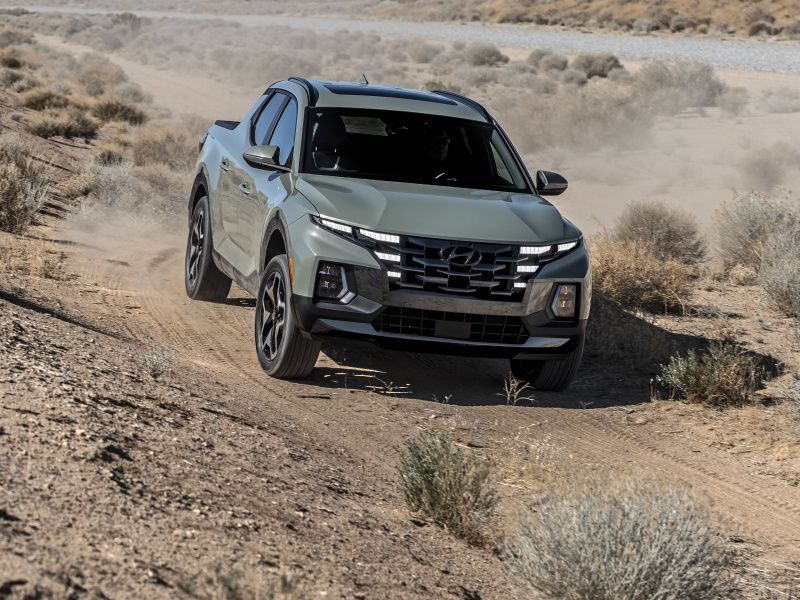 2022 Hyundai Santa Cruz ・ Photo by Hyundai
The 2022 Hyundai Santa Cruz is an all-new vehicle in the Hyundai lineup. It looks like a pickup truck, but Hyundai is calling it a Sport Adventure Vehicle. It combines the best parts of a compact pickup with the best parts of an SUV. There's nothing else on the market right now quite like the Santa Cruz.
In profile, it looks like a truck with a short cargo bed. That bed hides a multitude of features that make it an ideal everyday vehicle whether you're doing a home improvement project or taking the family off for a weekend adventure. Inside, it has all the comforts of an SUV. It's designed for an active lifestyle with the features busy people need to get through their day. Let's take a closer look at the 2022 Hyundai Santa Cruz to see if it's the right choice for you.
Four Affordable Trims
The Hyundai Santa Cruz is available in four trims. The two base trims offer a choice of front-wheel or all-wheel drive while the two top trims are all-wheel drive only. The SE starts at $23,990 with standard features including an 8.0-inch infotainment touchscreen, Apple CarPlay, Android Auto, forward collision avoidance assist, 6-way manual driver's seat, and cloth seating surfaces. The SEL is priced from $27,190 and adds features including an 8-way power driver's seat, heated front seats, blind-spot warning, and rear cross-traffic alert.
The SEL Premium starts at $35,680 with standard all-wheel drive, leather-wrapped steering wheel and shift knob, and dual automatic climate control. At the top of the lineup is the Limited at $39,720. It adds leather seating surfaces, 10.25-inch infotainment touchscreen, Bose premium audio, and ventilated front seats. It's a comprehensive lineup with a well-equipped base trim and top trims that add lots of value for the price.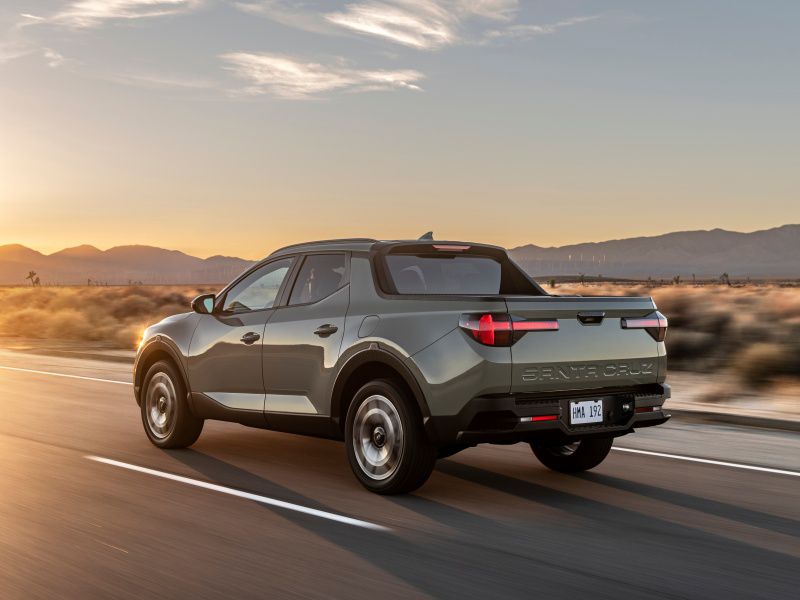 Photo by Hyundai
A Choice of Two Responsive Powertrains
The base engine in the Santa Cruz is a 2.5-liter 4-cylinder with 191 horsepower and 181 lb-ft of torque paired to an 8-speed automatic transmission. It's a responsive powertrain that has the power to get the Santa Cruz up to highway speeds easily. A heavy foot on the accelerator delivers extra power for passing with a minimum of engine noise intruding into the cabin.
There's also a 2.5-liter turbocharged 4-cylinder with 281 horsepower and 311 lb-ft of torque. This is paired to an 8-speed dual-clutch automatic transmission with paddle shifters that give you added control. This combination is the more responsive of the two with quicker shifts and more power. It makes the Santa Cruz more responsive and fun to drive and stops it from becoming harsh under hard acceleration. Whichever you choose, the Santa Cruz is an engaging vehicle with plenty of power.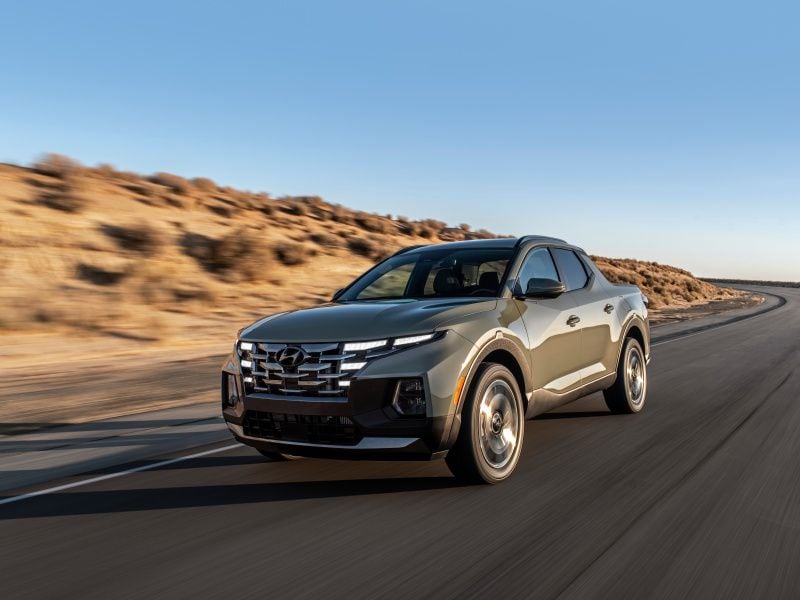 Photo by Hyundai
Fuel Economy That's Easy on Your Budget
The Hyundai Santa Cruz gets good fuel economy overall. It does best with the base engine equipped with all-wheel drive. This configuration gets an EPA-estimated 21 mpg in the city and 27 mpg on the highway. Go with front-wheel drive and the numbers drop to 21 mpg in the city and 26 mpg on the highway. It's a modest drop that still makes the Santa Cruz a fuel-efficient choice.
The lowest figures come from the more powerful engine, which comes with all-wheel drive only. That combination yields EPA-estimated fuel economy of 19 mpg in the city and 27 mpg on the highway. Compared to compact pickup trucks, the Santa Cruz comes out ahead with fuel economy figures that will help keep you on budget even as gas prices rise.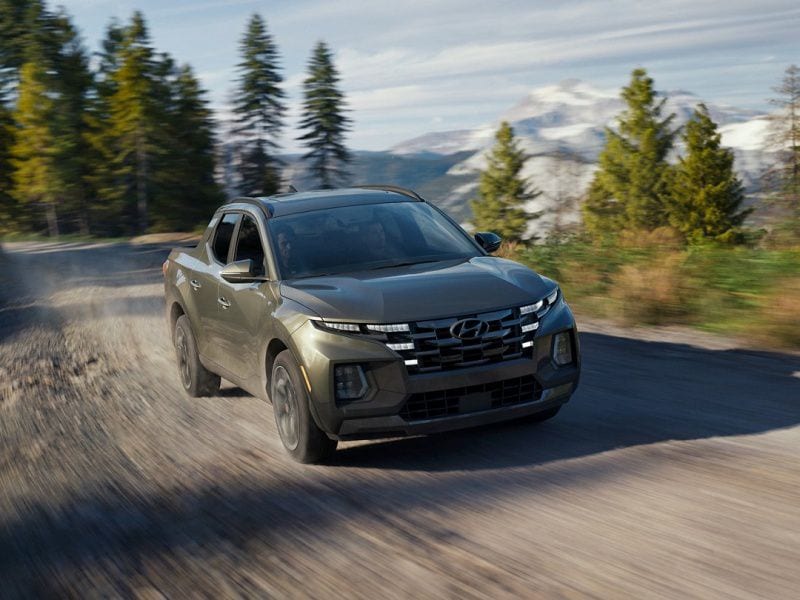 Photo by Hyundai
A Choice of Front-Wheel or All-Wheel Drive
The Santa Cruz offers a choice of front-wheel or all-wheel drive. The all-wheel drive system gives this vehicle the capability to go off-road, but it doesn't have the capability of compact pickup trucks that have four-wheel drive systems, multiple skid plates, and features designed specifically for the off-road enthusiast.
This is where the Santa Cruz is more like an SUV. It has the capability to manage snowy roads in winter, and it can easily take you up rutted dirt tracks for a mountain getaway. It's a light off-roader, which has its benefits. This makes the Santa Cruz more well-mannered on the highway with a smooth, quiet ride and better handling. If your priority is off-roading, then this isn't an ideal choice. If, however, you're looking to get the versatility of a truck bed for handling cargo and are more focused on on-road driving, give the Santa Cruz a try.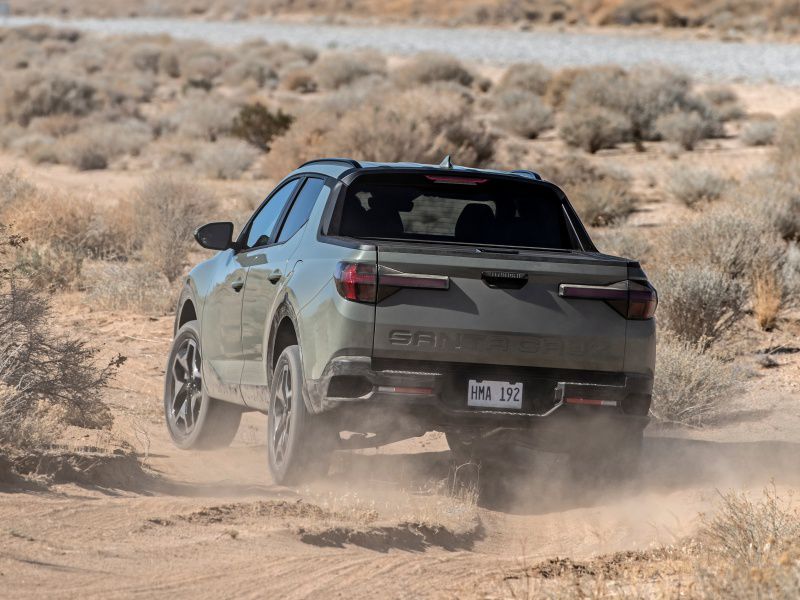 Photo by Hyundai
Small But Capable Bed
The bed on the back of the Santa Cruz is smaller than what's typically found in a compact truck. It's only 52.1 inches long, while compact trucks tend to run around 60 inches long. The benefit is that the Santa Cruz is much easier to maneuver in more urban environments where a longer bed is a challenge. That smaller bed can still manage up to 1,906 pounds of cargo properly equipped. It also has lots of built-in features that make carrying a payload easier, including a lockable underbed storage area, sidewall storage, a multi-function tailgate, and an adjustable track rail system for securing cargo.
The Santa Cruz can also tow up to 5,000 pounds when properly equipped. Don't let the pint-sized dimensions of this vehicle fool you; it has plenty of capability to handle cargo whether it's a trailer or a payload.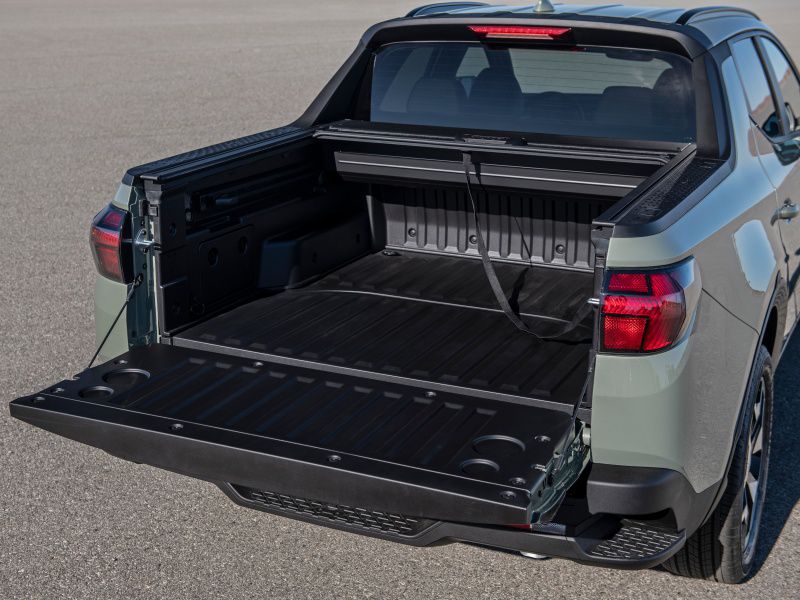 Photo by Hyundai
A Roomy and Quiet Interior
While the bed gives the Santa Cruz truck capability, the interior is where it becomes an SUV. There's seating for five people with a spacious back seat — no need to worry about accomodating tall adults or fitting carseats in for young children. Headroom and legroom are ample, making this a great choice for families. It's also comfortable with supportive seating in both rows. Front seats offer good adjustability, and the smaller dimensions of the Santa Cruz make it easy to find a position that provides a clear view of the road.
Standard features include cloth seats with a 6-way manual driver's seat, but comforts increase as you move through the lineup. Available features include dual-zone automatic climate control, an 8-way power driver's seat, leather seating surfaces, and heated and ventilated seats. It's attractive and comfortable, and road and wind noise are kept to a minimum so conversation is easy.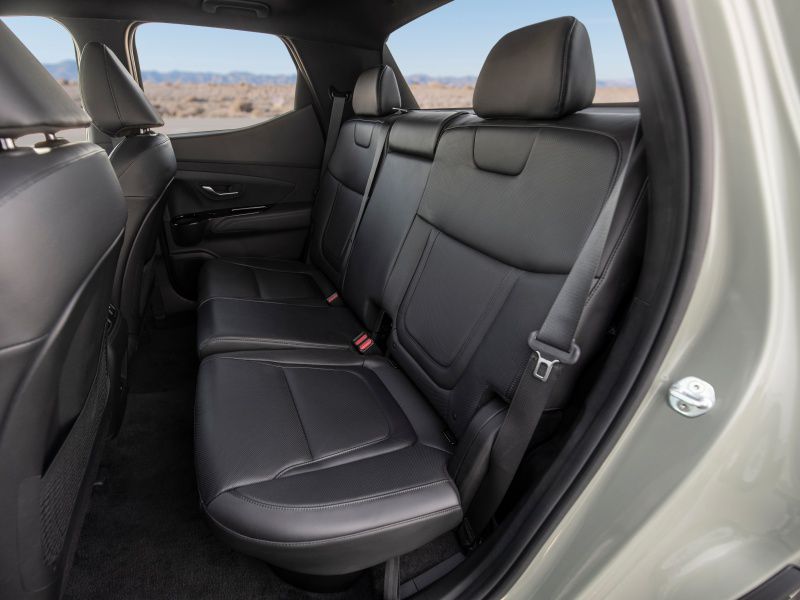 Photo by Hyundai
Infotainment With Large Screens and Smartphone Connectivity
Standard infotainment in the Santa Cruz includes and 8.0-inch touchscreen, wireless Apple CarPlay and Android Auto, 6-speaker audio, dual front USB ports, and AM/FM/HD radio. The system is easy to use with a large, responsive screen and standard wireless smartphone connectivity that helps keep cord clutter to a minimum. Menus are logically arranged making it quick to learn. Mid-range trims add SiriusXM and wireless device charging.
There's also an available 10.25-inch touchscreen on the top Limited trim only. This system also adds navigation, a Bose premium audio system, and dual rear USB ports to keep more people charged and ready to go. The one downside is that although Apple CarPlay and Android Auto are included, they are not wireless with the larger screen.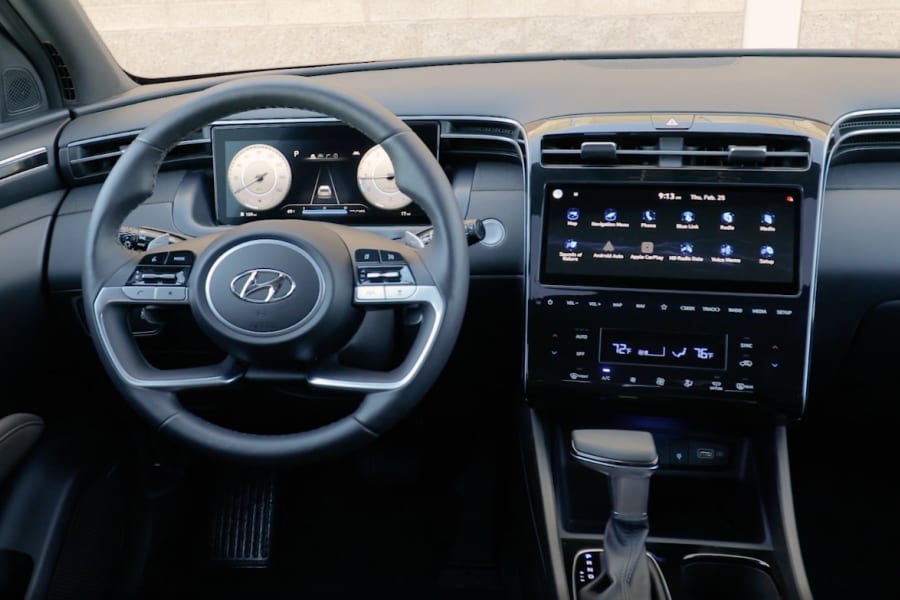 Photo by Hyundai
Good Standard Safety
The 2022 Hyundai Santa Cruz has not yet been crash-tested by either the Insurance Institute for Highway Safety or the National Highway Traffic Safety Administration. It does, however, come with a solid suite of standard and available safety features to help keep you and your loved ones safe.
Every Santa Cruz has standard forward collision avoidance assist with pedestrian detection, driver attention warning, lane keeping assist, lane follow assist, and high beam assist. Options include blind-spot collision avoidance assist, rear cross traffic collision avoidance assist, highway driving assist, and intelligent speed limit assist. It's a comprehensive offering with key standard features to set your mind at ease.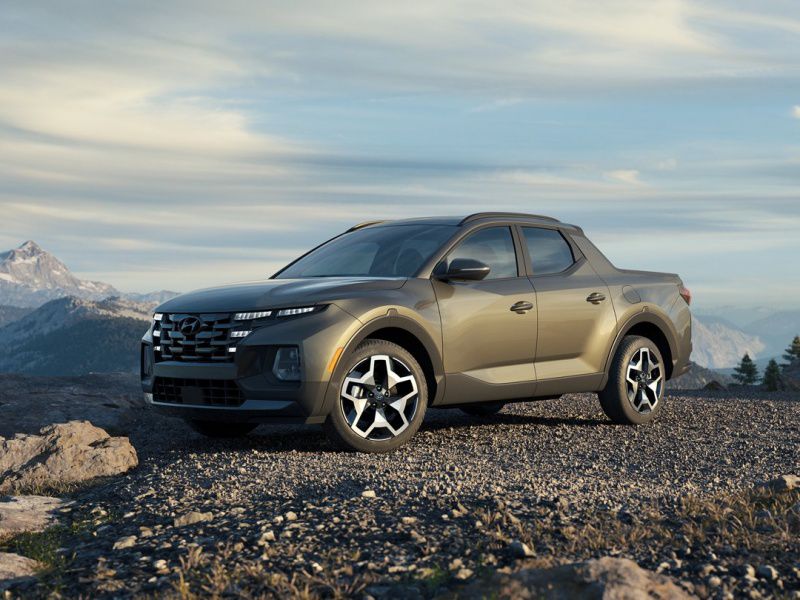 Photo by Hyundai
Final Thoughts
The 2022 Hyundai Santa Cruz adds something new to the automotive landscape. Sure, you can call it a truck despite Hyundai's insistence that it's a Sport Adventure Vehicle, but what you call it doesn't really matter. What matters is the versatility of the Santa Cruz to cater to those who want creature comforts, the passenger focus of an SUV, and the capability of a truck.
The Santa Cruz has an affordable price point with a comfortable and spacious interior full of quality materials. Its smaller size makes it easy to drive in congested urban areas while still offering the versatility of a truck to carry a payload and tow a trailer. It's a unique combination that makes the 2022 Hyundai Santa Cruz an appealing choice that carves out its own automotive niche.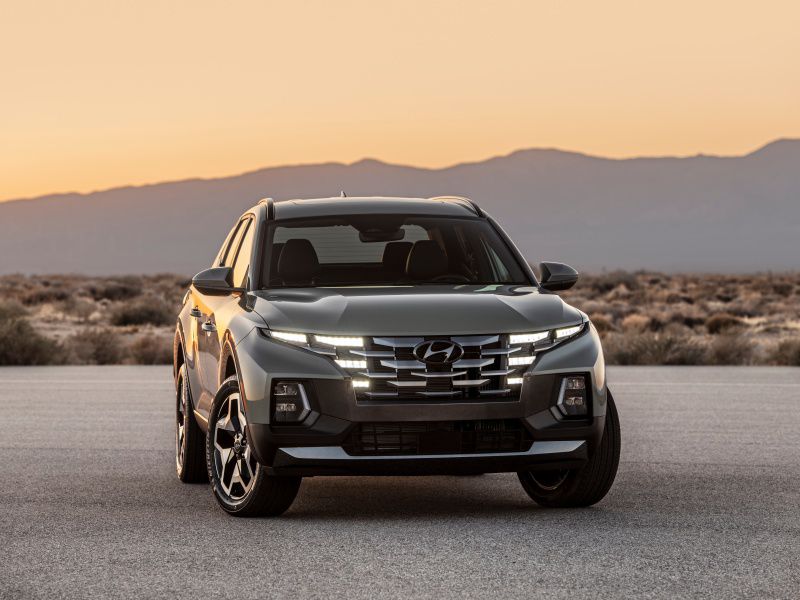 Photo by Hyundai