2022 Hyundai Kona Limited ・ Photo by Brady Holt
Many driving enthusiasts shun SUVs as dull at best, and clumsy and plodding at worst. For this review, we're comparing two SUVs that are neither: the 2022 Mazda CX-30 and 2022 Hyundai Kona subcompact crossovers. 
These two pint-sized models promise sporty performance and spunky styling, along with affordable pricing — both start below $23,000 — and city-friendly dimensions. But which is best? We've tested the CX-30 along with the newly updated 2022 Kona so that we can compare them in eight categories and then name an overall winner. Keep reading to learn which one we chose and which one sounds like the better subcompact SUV for you.
Exterior Design
With a long nose, high windowline, and smooth lines, the CX-30 looks like the slightly taller, more plastic-clad version of the Mazda3 hatchback that it is. It's clean and classy, yet also with a touch of sporty menace in its slim headlights and big grille — the only part of the design with sharp lines. 
Where the CX-30 aims for quiet confidence, the Kona is styled to be funky. This year's update rounds off the front end for a smoother look, but Hyundai kept the little SUV's split-level headlights, blacked-out front bumper (on most trim levels), sharply defined fenders, creased bodywork, and hunched-forward shape. The Kona also has a shorter nose than the CX-30, the main reason the Mazda measures nearly 8 inches longer overall; this adds to the Hyundai's spunky-little-runabout vibe. We'll let you choose between the graceful CX-30 and the cheeky Kona. 
Tie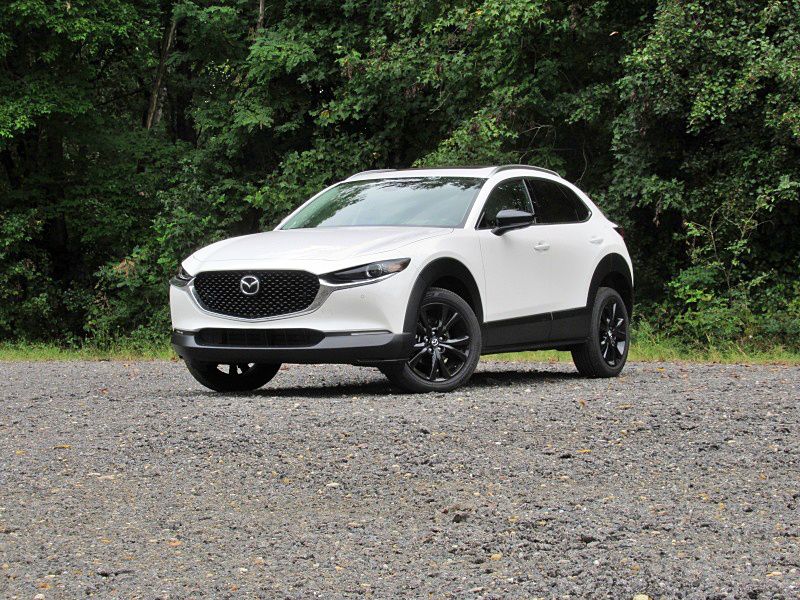 Photo by Brady Holt
Interior Design
Like its exterior, the Kona's cabin is styled to be more fun than elegant. The dashboard's interesting shapes and textures keep it from being dull, and everything is nicely assembled. But while it's solidly built and avoids coming across as overly drab, these efforts don't make it feel like a luxury car. 
By contrast, the CX-30 has one of the poshest interiors you'll find south of $30,000. All surfaces are richly padded. All moving parts operate with polished precision. Either leatherette or genuine leather upholstery is included on all but the base model. And its minimalist dash reflects high-end design influences. The Kona does have some advantages. The Hyundai's base infotainment system uses an 8-inch touchscreen, while upper trim levels like our Limited test vehicle are bumped up to a 10.25-inch unit. By contrast, every CX-30 has an 8.8-inch display that relies on fussier console-mounted controls. We also prefer the way Hyundai splits its screens' displays so you can see multiple things at once (like the navigation system map and the song you're listening to). But the luxury-grade Mazda still gets our overall vote.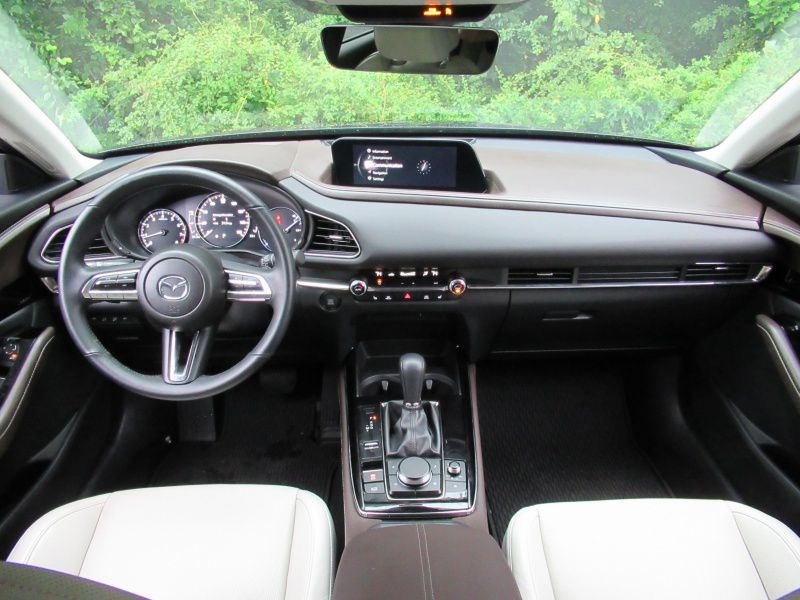 Photo by Brady Holt
Interior Space and Comfort
The CX-30 is bigger than the Kona, but because most of that difference is in the Mazda's long nose, their interiors are equivalently roomy. And neither will let you forget about the "subcompact" moniker. 
There's plenty of space for the driver in either crossover, but rear legroom is limited unless the front seats are well forward. Cargo capacities are similar as well: They're more useful than a sedan, but neither is roomy for an SUV. By the numbers, the CX-30 has 20.2 cubic feet of luggage space behind the rear seat and 45.2 cubic feet with the rear seat folded. The Kona has 19.2 cubic feet behind the rear seat and 45.8 cubic feet once it's folded down. Neither crossover is rated to tow a trailer. These equally small interiors come to a tie. 
Tie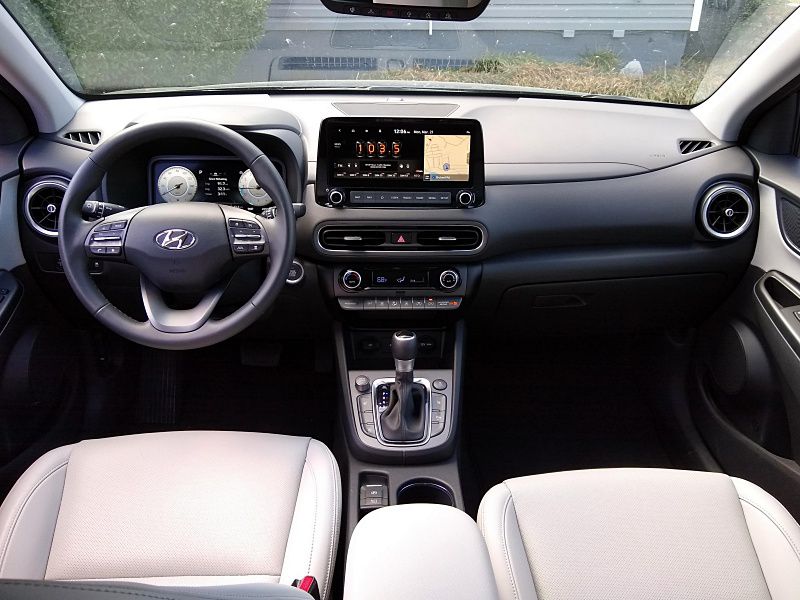 Photo by Brady Holt
Ride and Handling
Mazda is known for an emphasis on driving pleasure. But to us, the CX-30 is quiet and easy to drive, but it comes up short when it comes to handling thrills. We found the steering light, numb, and neither responsive nor precise. Other opinions have differed, but we did not come away impressed with the CX-30's steering or handling. It's nothing terrible, just nothing joyful, and short of the driving pleasure we've enjoyed in the similarly sized Mazda3 hatchback. 
We had more fun in the smaller, lighter Kona. You won't think you're in a sports car, but we preferred the Hyundai's quicker, firmer steering, which nicely complements its tautly tuned suspension. The Kona's firm ride edges toward stiff, transmitting bumps more clearly than the CX-30, but we otherwise preferred the Hyundai. And when top-notch agility matters more than a quiet ride, the max-performance Kona N delivers all-out thrills.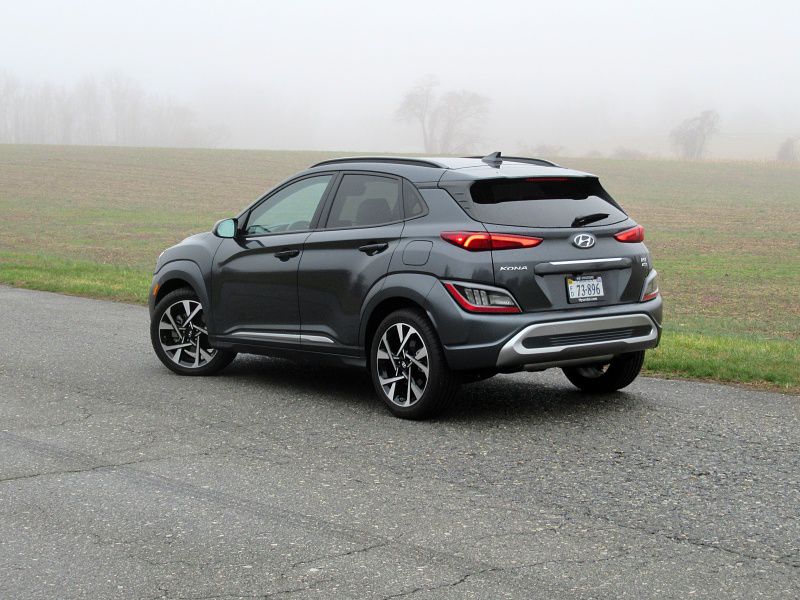 Photo by Brady Holt
Acceleration
Mazda regains its performance advantage for straight-line speed. The base CX-30 has a big 2.5-liter four-cylinder engine with 186 horsepower and 186 lb-ft of torque, while the base Kona engine is a 2.0-liter four with 147 hp and 132 lb-ft of torque. While neither car was a thrill, gunning the Hyundai results in a reluctant groan versus a milder hum from the CX-30. 
You can upgrade each crossover with a turbo four, too. We loved our tested Kona's smooth and peppy 1.6-liter, which makes 175 hp and 195 lb-ft of torque. But it's no match for the speed of the CX-30 turbo, a turbocharged 2.5-liter that makes up to 250 hp and 320 lb-ft of torque (or 227 hp and 310 lb-ft if you stick with regular-grade fuel instead of premium). That's the same engine Mazda uses in its seven-passenger CX-9, and it's enough to make the subcompact CX-30 into a little rocket. The Kona N is the fastest of all, packing a snarling 286 hp and 289 lb-ft of torque into an even lighter package, but the Mazda otherwise trumps the Hyundai's speed.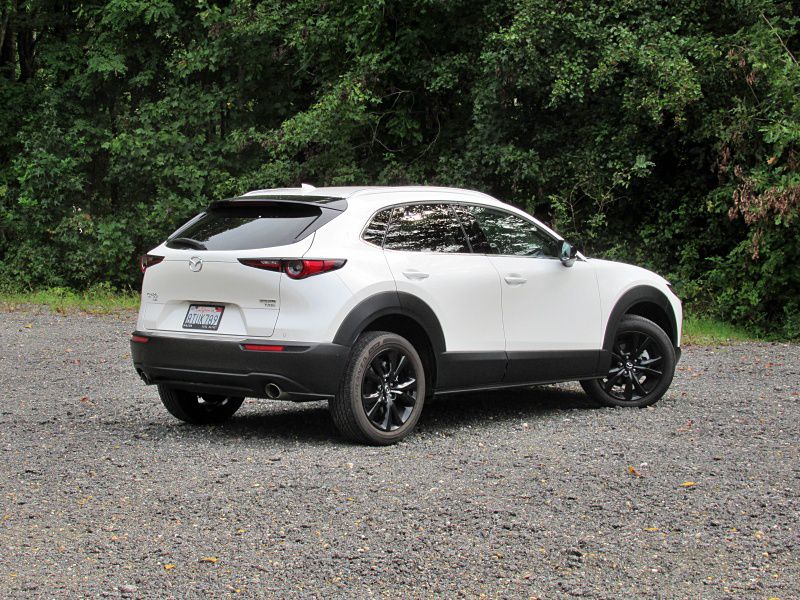 Photo by Brady Holt
Fuel Economy
This year, Mazda made all-wheel drive standard on every CX-30. That cuts further into the gas mileage of a small crossover whose big, powerful engines already drank fuel like a larger vehicle. The non-turbo engine achieves an EPA-estimated 24 mpg in the city, 31 mpg on the highway, and 26 mpg combined. The turbo dips to 22 mpg city, 30 mpg highway, and 25 mpg combined. 
By contrast, the front-drive Kona returns about 30 mpg city, 35 mpg highway, and 32 mpg combined with front-wheel drive and either its 2.0-liter or 1.6-liter engine. Choosing AWD cuts those figures to 28 mpg city, 33 mpg highway, and 30 mpg combined with the base engine and 1 mpg less for the turbo. The Kona N gets just 20 mpg city, 27 mpg highway, and 23 mpg combined, but other Konas do better than any CX-30. There's even a Kona Electric with zero tailpipe emissions and a 258-mile range per charge.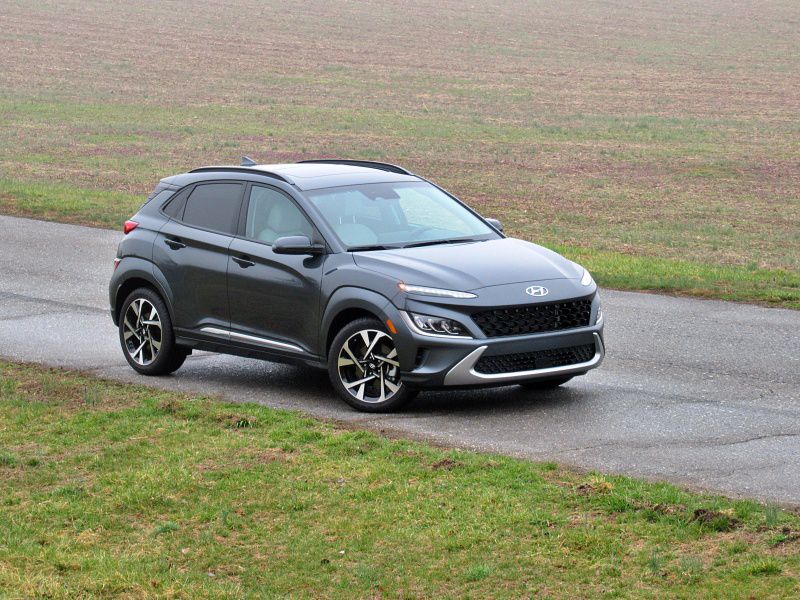 Photo by Brady Holt
Safety
The Kona and the CX-30 both earned top five-star ratings from the National Highway Traffic Safety Administration. Both earned the highest possible scores in most Insurance Institute for Highway Safety crash tests. And both are packed with advanced safety features like automatic emergency braking and lane-keeping steering assistance as standard equipment, and both include blind-spot monitoring on all but their base models. 
Still, the Mazda comes out a bit ahead. The IIHS hasn't evaluated the updated Kona's headlights, but the CX-30's earn top marks. And the Mazda's automatic emergency braking system is slightly more effective at avoiding pedestrians. These are subtle differences between two safe crossovers, but they tip this category in the CX-30's favor.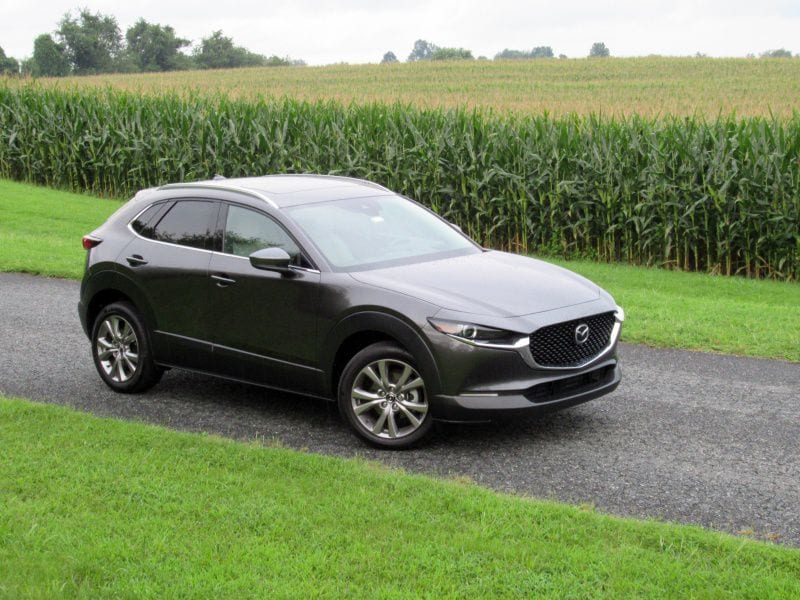 Photo by Brady Holt
Pricing and Features
Even at $21,300, the base Kona SE has plenty of standard safety and infotainment technology, along with three years of free scheduled maintenance. You can also step up to the SEL at $23,100 for a few more standard features plus the chance to buy a lot more. The next two trim levels include the 1.6-liter engine: the sport-themed N Line ($25,850) and the leather-trimmed Limited ($28,600). AWD costs $1,500 extra on all but the Kona N ($34,200), which has it standard, and the Kona Electric ($34,000), which doesn't offer it. 
The base CX-30 has a higher base price ($22,200) but a few more standard features, including AWD. Leatherette arrives on the Select that costs just $24,600, though you annoyingly need the Preferred ($27,650) for heated seats. The equivalently equipped CX-30 Turbo costs $30,200 with the bigger engine. The Premium combines genuine leather and the base engine for $30,500, while the equivalent Turbo Premium costs $32,800 and the Turbo Premium Plus has the most features at $34,400. Mazda packs a lot of luxury features into low-priced trim levels, but Hyundai makes it easier to get an extra-affordable model: an overall tie. 
Tie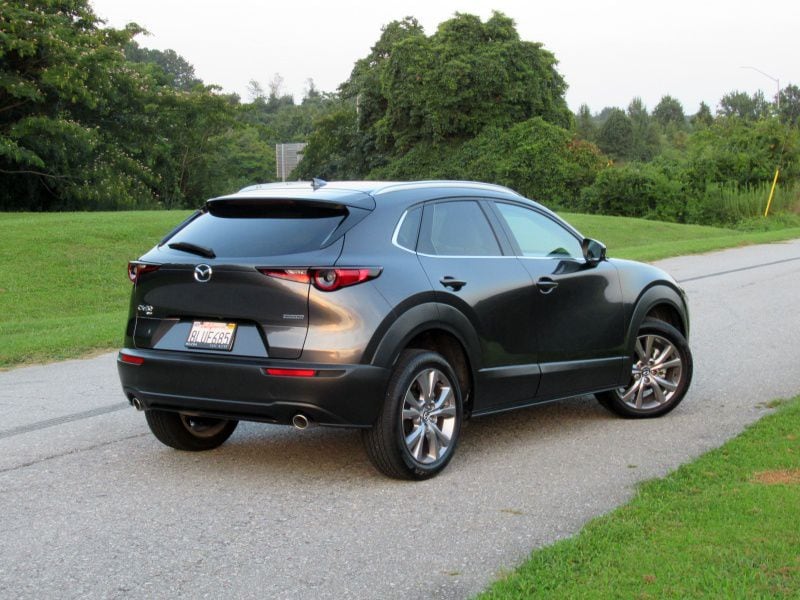 Photo by Brady Holt
Final Thoughts
The 2022 Mazda CX-30 is a tempting blend of luxury and value, providing high-end style, features, interior quality, and acceleration at relatively affordable prices. We think some people will love it. 
But we didn't. We respect the Mazda's fine qualities but came away frustrated with its dull steering, awkward infotainment system, and mediocre gas mileage. It's hardly perfect either, but we found the 2022 Hyundai Kona to be more endearing. It's more sprightly and fun, while also more economical and less expensive. And its controls are refreshingly simple. The Kona is a little rougher around the edges than the polished Mazda, but to us, Hyundai successfully passes that off as character rather than cheapness. You may disagree, and that's fine. But the Kona is our winner. 
Hyundai Kona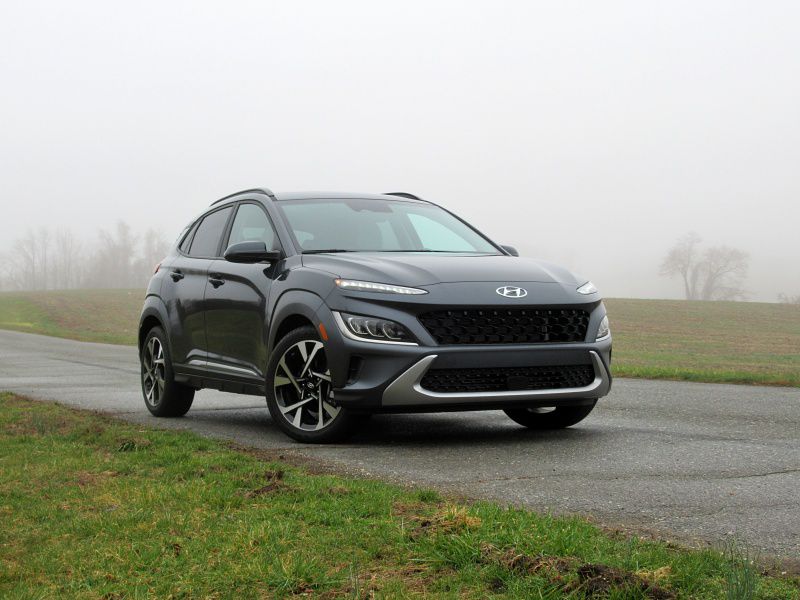 Photo by Brady Holt