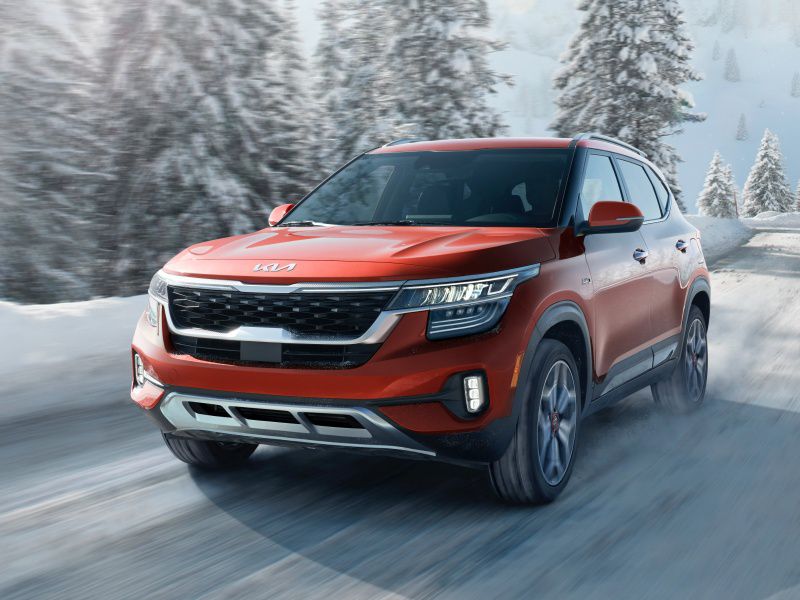 2022 Kia Seltos ・ Photo by Kia
Kia and Hyundai are two peas in a pod, offering similar vehicles with closely related powertrains, great warranties, and solid value. The Hyundai Kona and Kia Seltos are great examples of this relationship, since both vehicles share a platform and plenty of their underlying technologies. Choosing between them could pose difficult, but the good news for you is that we've compared these two vehicles in several key categories to determine which one is best. Let's get started.
Pricing and Features
Though closely related, the Kona and Seltos are sold at slightly different prices and come with slightly different features. The Hyundai Kona starts at around $21,000 and features a complete redesign for the new model year. Several desirable features come standard, including an 8-inch touchscreen with wireless Apple CarPlay and Android Auto, a load of standard safety tech, and more.
The Seltos has a starting price in the mid-$22,000 range and gets plenty of standard gear. It also comes standard with all-wheel drive, which is a feature held back in added-cost options and trims for the Kona. Standard tech is similar to the Hyundai's with an 8-inch touchscreen and standard Apple CarPlay and Android Auto. Kia also hit the mark with plenty of standard safety tech.
: Hyundai Kona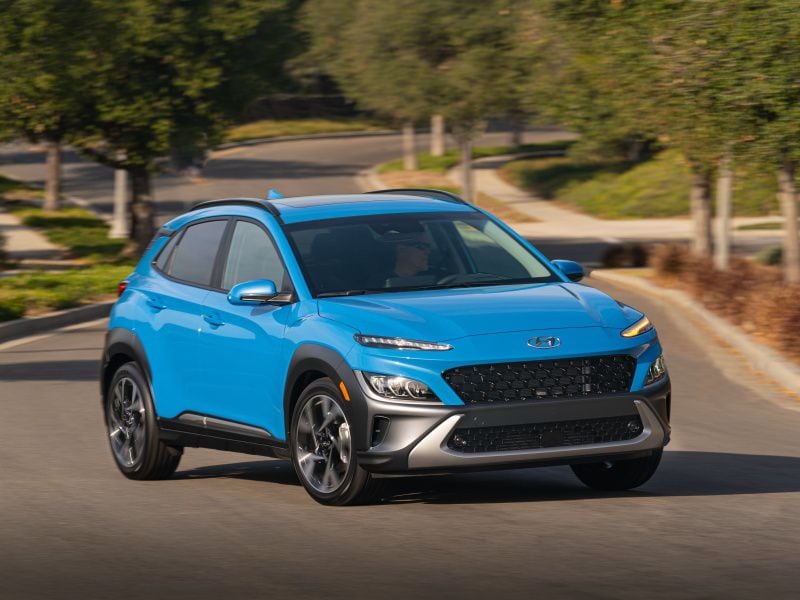 Photo by Hyundai
Exterior Design
The Hyundai Kona is a boldly styled vehicle that may take some getting used to for many buyers. The 2022 redesign brought a wider grille but retained the Kona's funky split-light design up front. The aggressive look works well on the Kona svelte body, and it's even more attractive on the performance-oriented Kona N. Though still funky, the Kona's rear end is less dramatic. Hyundai still employed a unique split-light design, but the overall styling is less busy in back.
The Kia Seltos, while quite boldly styled, is not as "out there" as the Kona. It features Kia's signature grille shape and unique headlights that wrap around to the front quarter panels. Kia offers the Seltos in striking colors and with a two-tone paint scheme, if desired.
: Kia Seltos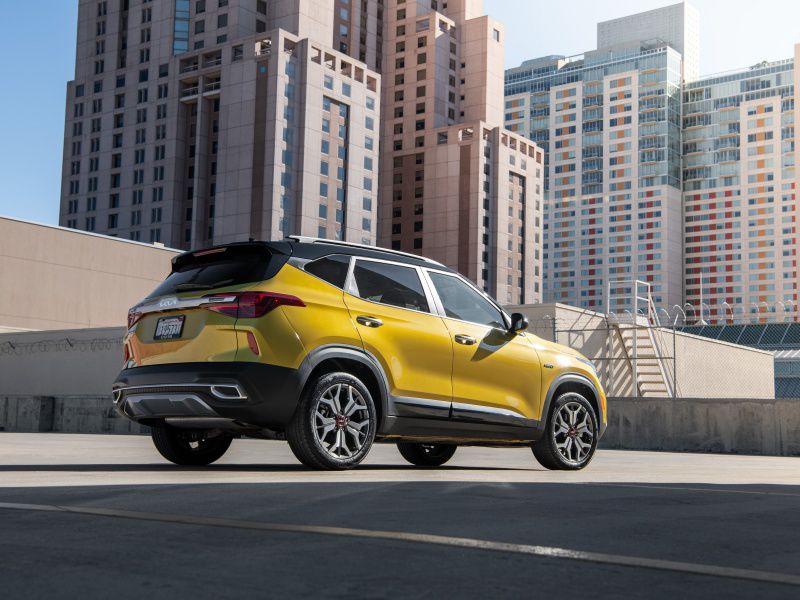 Photo by Kia
Interior Design
Inside, the Kona and Seltos are strikingly similar, with closely related shapes and design. Both feature a high-mounted infotainment touchscreen and clean dash designs with all controls and displays well within sight and reach of the front passengers. The Kona carries round air vents and soft, rounded shapes in other areas, while the Seltos cabin is more sharply styled and features more abstract shapes. Both vehicles feature a simple back seat design with no clutter and straightforward accommodations. 
Cloth upholstery is standard for the Kona and Seltos, along with manual seat adjustments and more. Both are available with larger infotainment displays, but the Kona is available with leather while the Seltos can only be upgraded to synthetic leather. Other options line up between the two, including heated front seats and power adjustments.
: Hyundai Kona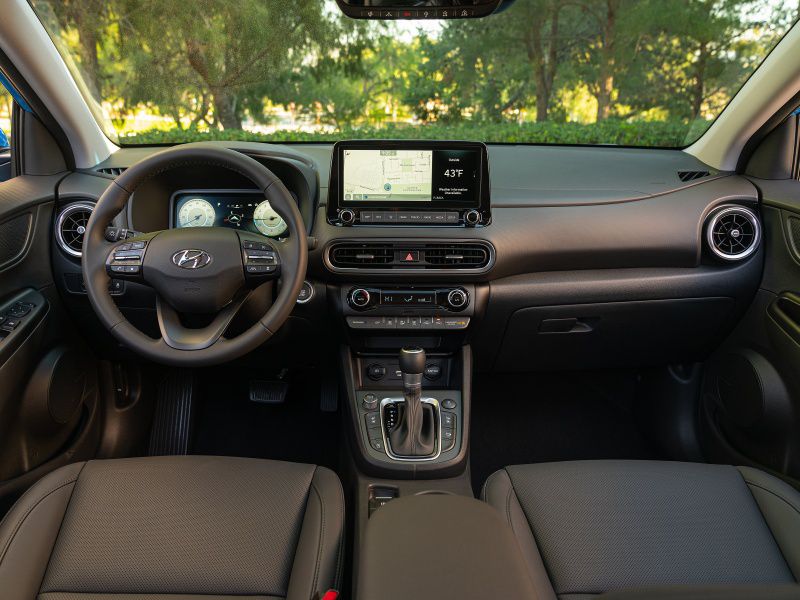 Photo by Hyundai
Interior Comfort
Though similar in configuration and equipment, the Kona and Seltos offer diverging interior comfort and space experiences. The Kona's cabin is a comfortable, ergonomic place to spend time, with 39.6 inches of headroom up front and 37.8 inches in back. Legroom measures 41.5 inches in front and 35.2 inches in back. It's not a huge space, but the Kona's interior feels welcoming, and its seats offer nice padding to keep backsides happy for long-haul drives.
The Seltos feels (and is) larger inside than the Kona. It offers 40 inches of headroom in front and 38.4 in back. Legroom lands at 41.4 inches up front and 38 inches in back. The extra space makes a difference, especially in the back seat, where the Seltos offers nearly 3 inches more legroom than the Kona.
: Kia Seltos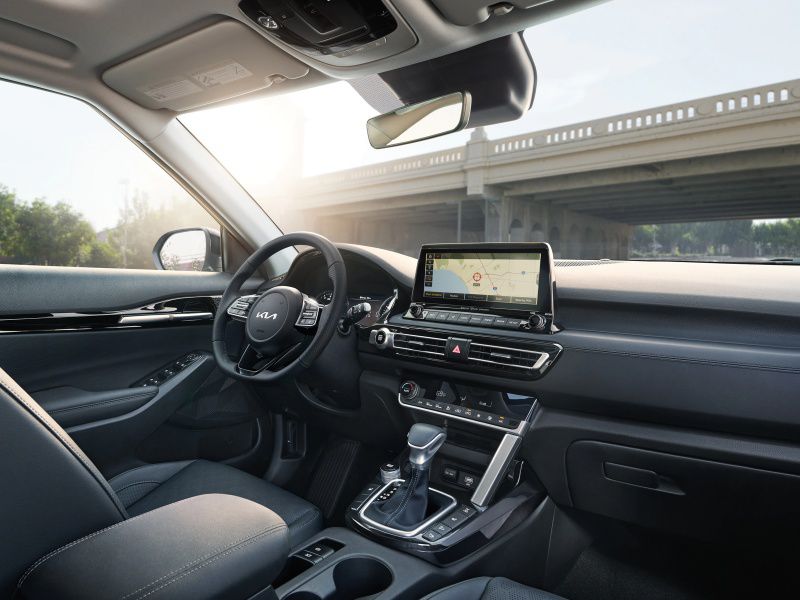 Photo by Kia
Cargo Space and Utility
The Hyundai Kona offers 19.2 cubic feet of cargo space with the rear seats upright and 45.8 cubic feet with the rear bench folded down. The Kona's cargo hold features a wide flat load floor, which makes it easier to load and carry large and heavy items. 
The Kia Seltos far outpaces its Hyundai counterpart on cargo space. It packs 26.6 cubic feet of space behind the rear seat, but things open to 62.8 cubic feet with the seats folded down. The Seltos also offers a low, flat load floor that is easy to deal with when handling heavy cargo.
: Kia Seltos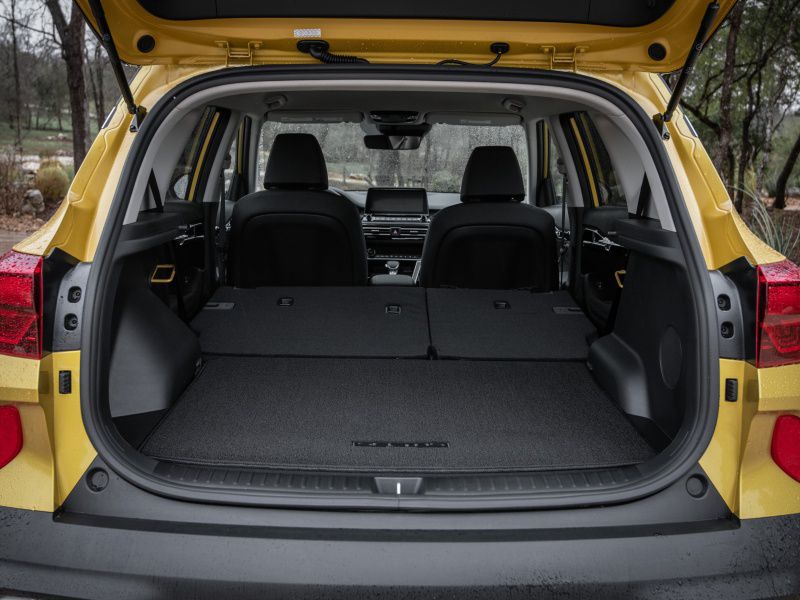 Photo by Kia
Driving and Performance
Hyundai offers three energetic powertrains for the Kona, including a strikingly powerful turbo-four in the sporty N trim. The base engine is a 2.0-liter four-cylinder that makes 147 horsepower and 132 pound-feet of torque. The N-Line and Limited trims come with a turbocharged 1.6-liter four-cylinder engine rated at 195 horsepower and 195 pound-feet of torque. At the top of the Kona lineup, the N trim gets a turbocharged 2.0-liter four-cylinder engine that produces 280 horsepower and 289 pound-feet of torque. The base powertrain could use a little more grunt to lend more eagerness to the Kona, but upgrading to either of the available engines brings a drastically more engaging experience.
The Seltos gets a 2.0-liter four-cylinder engine as standard kit that produces 146 horsepower and 132 pound-feet of torque. A turbocharged 1.6-liter engine is available that makes 175 horsepower and 195 pound-feet of torque. All-wheel drive and either a CVT or a seven-speed dual clutch automatic transmission are standard. Neither engine provides great acceleraton, and both feel sluggish at highway speeds.
: Hyundai Kona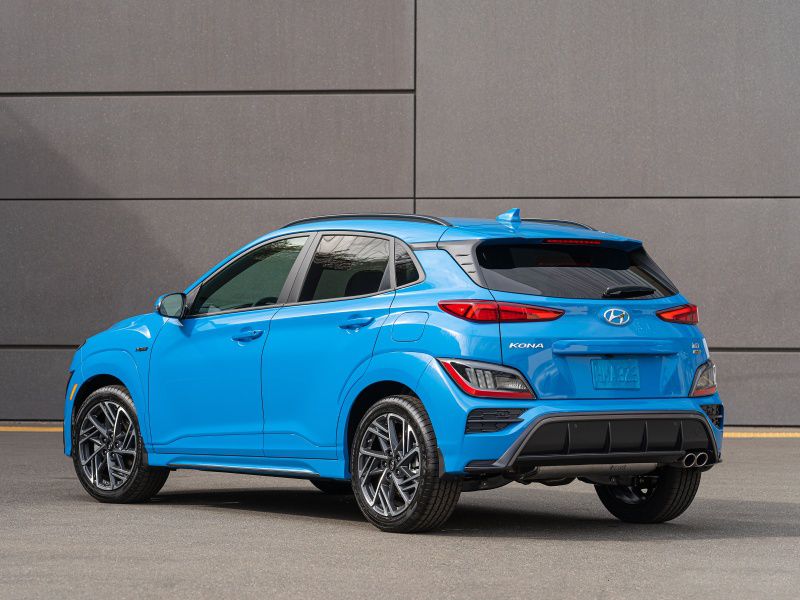 Photo by Hyundai
Fuel Economy
The Kona's base engine and front-wheel drive deliver 30/35/32 mpg city/highway/combined. All-wheel drive knocks two mpgs off the city rating for a 2 mpg score and two off the combined rating for a total of 30 mpg. The 1.6-liter engine returns 29/35/32 with front-wheel drive and 27/32/29 mpg with all-wheel drive. The high-performance Kona N returns the worst fuel economy of the bunch, at 20/27/23 mpg. With the exception of the Kona N, those numbers are better than many of the Kona's rivals.
The Seltos returns 27/31/29 mpg with the base engine and 25/30/27 mpg with the upgraded turbo engine. Hyundai offers an electric version of the Kona, but Kia does not offer a hybrid or electric Seltos. The difference is clear, as the Seltos maxes out at 31 mpg combined and the Kona bests it, even in pure gas format.
: Hyundai Kona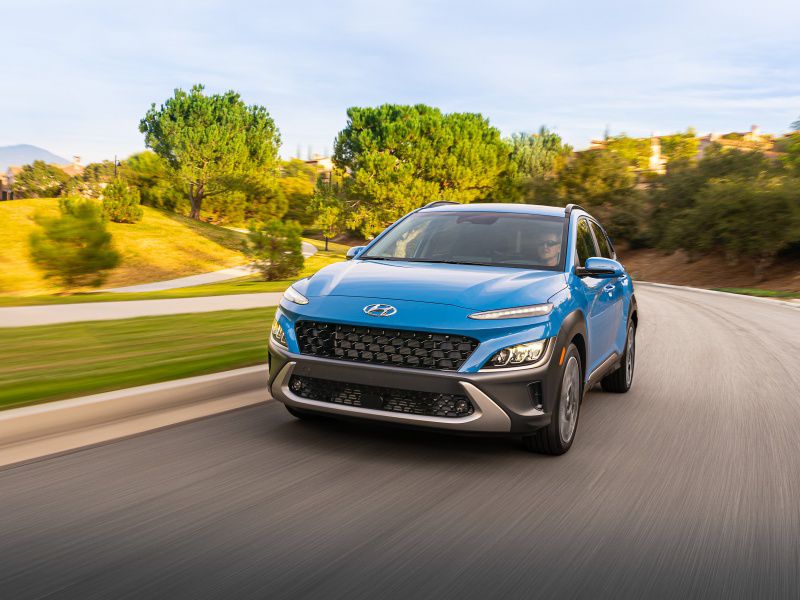 Photo by Hyundai
Safety
Though it's packed with advanced driver aids, the 2022 Hyundai Kona missed out on a Top Safety Pick designation from the Insurance Institute for Highway. Still, the vehicle earned "Good" scores in all crash-test categories, a Superior score for vehicle-to-vehicle crash prevention, and a "Advanced" score for vehicle-to-pedestrian crash protection. Standard safety tech is slim and requires a step up from the base model. The SEL trim comes with safe exit warnings, blind spot warnings, rear cross-traffic alerts, and rear occupant alerts. Hyundai offers a driver attention warning system, smart cruise control with stop and go, forward collision avoidance assist with pedestrian detection, and lane keep assist.
The 2022 Seltos did earn a Top Safety Pick award. It picked up "Good" scores in all crash testing areas, a "Good" or "Poor" score for headlights, and Superior ratings for crash prevention tech across the board. It comes standard with rear occupant alerts, forward collision warnings with vehicle and pedestrian detection, driver attention warnings, lane keep assist, lane departure warnings, lane following assist, and automatic high beams. Several features are available with higher trim levels, including blind spot monitoring and rear cross-traffic alerts, safe exit assist, highway driving assist, and adaptive cruise control.
: Kia Seltos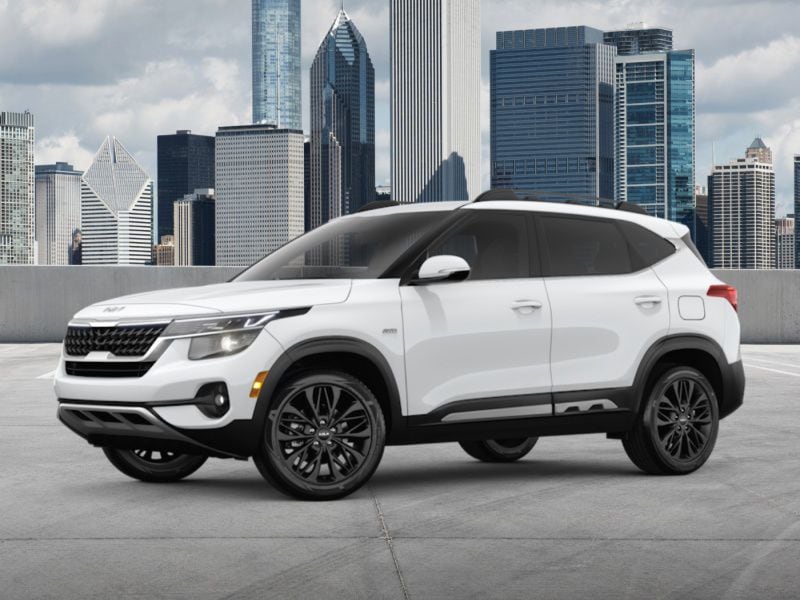 Photo by Kia
Final Thoughts
As part of the same corporate conglomerate, it's not a surprise that Kia's and Hyundai's vehicles are similar in many ways. The Kona and Seltos share more than a few features, since they ride on the same platform. That makes the choice between them more difficult because the deciding factors boil down to styling and other details. Both provide excellent tech and comfortable interiors, but the Kia Seltos offers better safety tech and more interior space. That said, the Kona holds its own in this comparison, leveling the field for a tie.
: Tie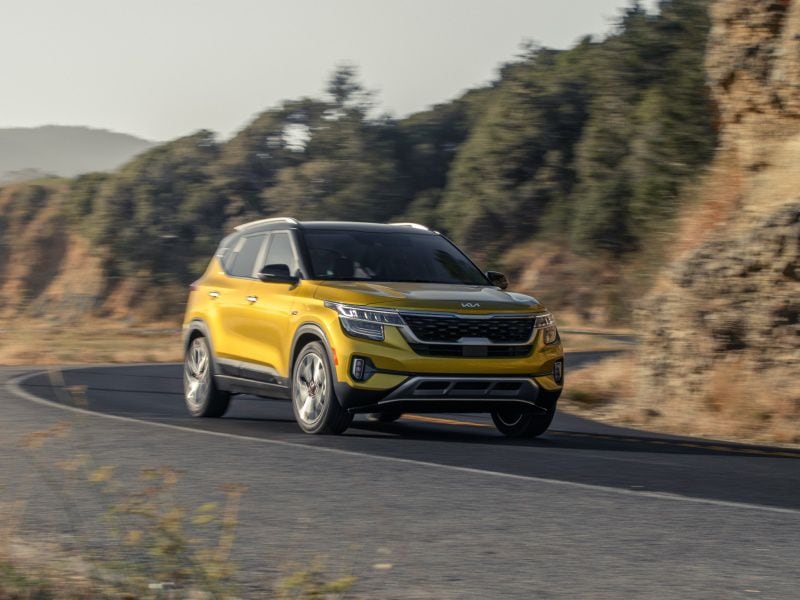 Photo by Kia