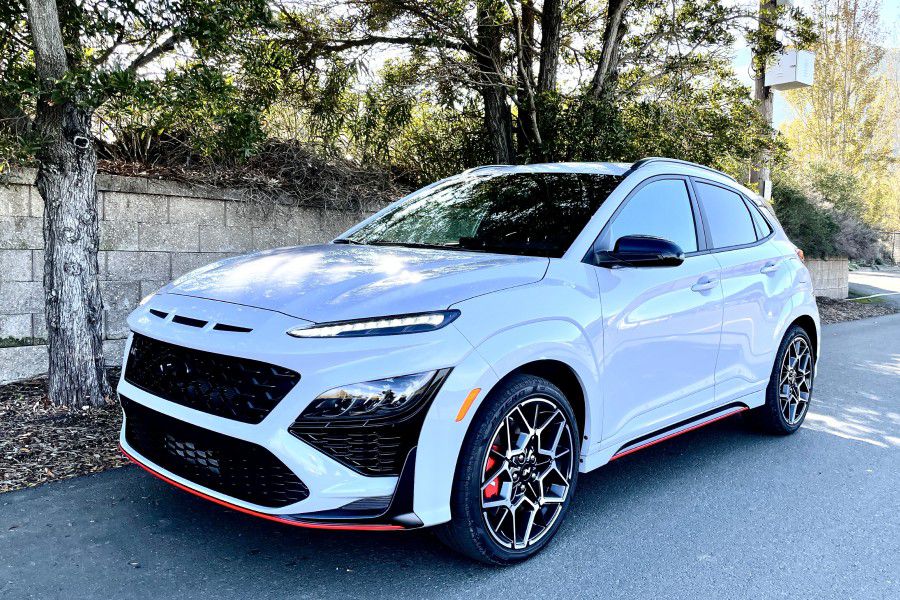 2022 Hyundai Kona N Front Quarter ・ Photo by Nicole Wakelin
The 2022 Hyundai Kona N isn't your typical Kona. Yes, it's still an SUV that has the versatility to seat up to five passengers. It also has plenty of room for cargo with a wide hatchback opening that lets the Kona carry larger items that won't fit into the trunk of a sedan. What makes it different is its focus on performance.
The N lineup from Hyundai now includes seven models, all of which incorporate a series of improvements that make these vehicles perfectly suited to the driving enthusiast. They show off strong acceleration, crisp handling, and unique styling cues that give them an edgier, sportier appeal. This makes them ideal for those who want a healthy dose of performance in their practical, affordable car. Let's take a closer look at the 2022 Hyundai Kona N to see if this is the performance car for you.
A Single Trim With Ample Standard Features
The Hyundai Kona N is a single trim within the greater Kona lineup of four trims with pricing from $21,150 for the SE up to $28,450 for the Limited. That existing Kona lineup is already available, but the Kona N is not quite here, nor has Hyundai announced pricing. Expect to see more information regarding price closer to the on-sale date, which is set for later this year.
Despite not knowing its price, we do know that the Kona N comes with a solid set of standard features. These include unique 19-inch wheels, a large wing-type rear spoiler, leather and suede seats with N embossing, 8-way power driver's seat with lumbar, 10.25-inch infotainment touchscreen, alloy sport pedals, and a leather-wrapped N logo steering wheel. It also gets good standard safety features, including forward collision avoidance with pedestrian detection, lane keeping assist, blind-spot warning, and rear cross-traffic alert.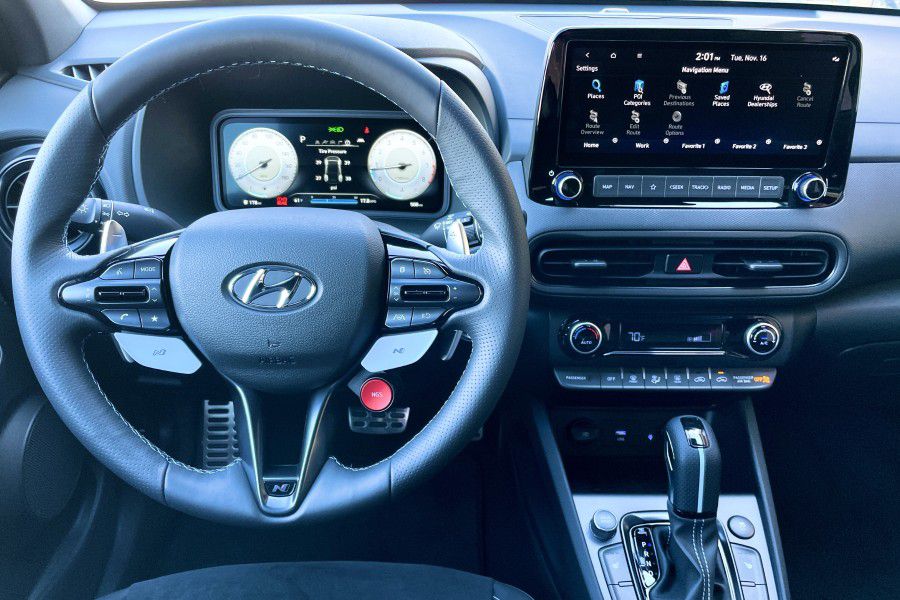 Photo by Nicole Wakelin
Performance-Focused Ride
The Kona N has the most powerful engine in the Kona lineup with a 2.0-liter turbocharged 4-cylinder with 276 horsepower and 289 lb-ft of torque. That's a lot of power for what isn't a large vehicle. For comparison, the N-Line and the Limited trims have a 1.6-liter turbocharged 4-cylinder with only 195 horsepower and 195 lb-ft of torque. It's a noticeable difference. The N also gets a unique a 8-speed dual-clutch automatic transmission with paddle shifters.
While numbers tell part of the story, the real test is when you get behind the wheel and the Kona N passes that test quite handily. It accelerated strongly in on-road driving and showed off aggressive acceleration when we took it out on the track. All it takes is a light foot on the gas to get a strong response, whether you're aiming for a new lap time or just merging into highway traffic.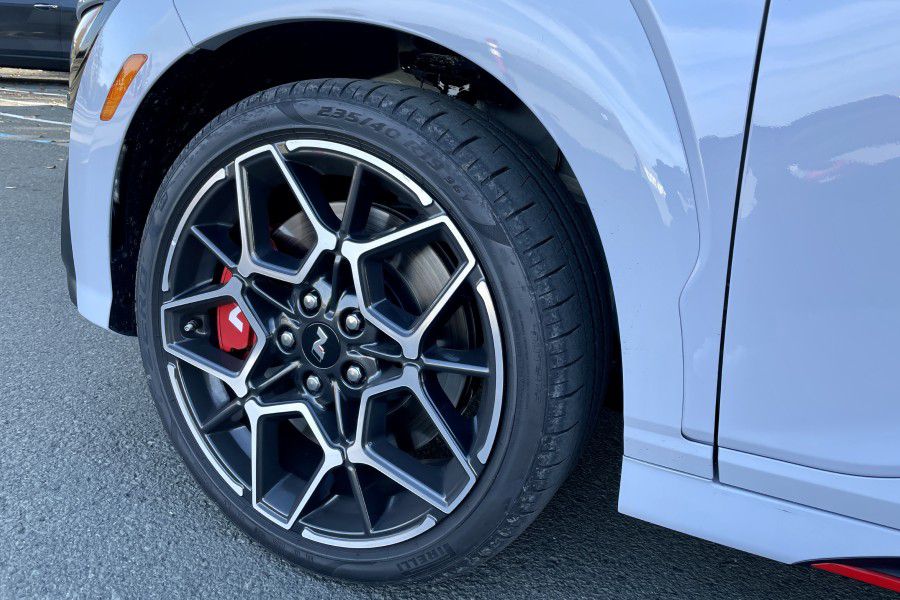 Photo by Nicole Wakelin
A Ride That's Firm But Not Punishing
The ride in a performance car can be tough on passengers. This is because all the things engineers do to make a car handle well make it stiff and unforgiving over bumps. There's a balance to be found there, but the Kona N is focused on the performance side of the equation. It's not as compliant as the rest of the linuep, and that's how Hyundai intended the Kona N to ride.
That's not to say that it's uncomfortable. There are some hot hatchbacks out there with performance tuning that will toss you around mercilessly on rough pavement all in the name of performance. While the Kona is stiff enough that you will feel the bumps in the road, it's not punishing. It's more something to be aware of so you can drive accordingly when the pavement is less than perfect. It's a fair trade for the Kona's fantastic handling.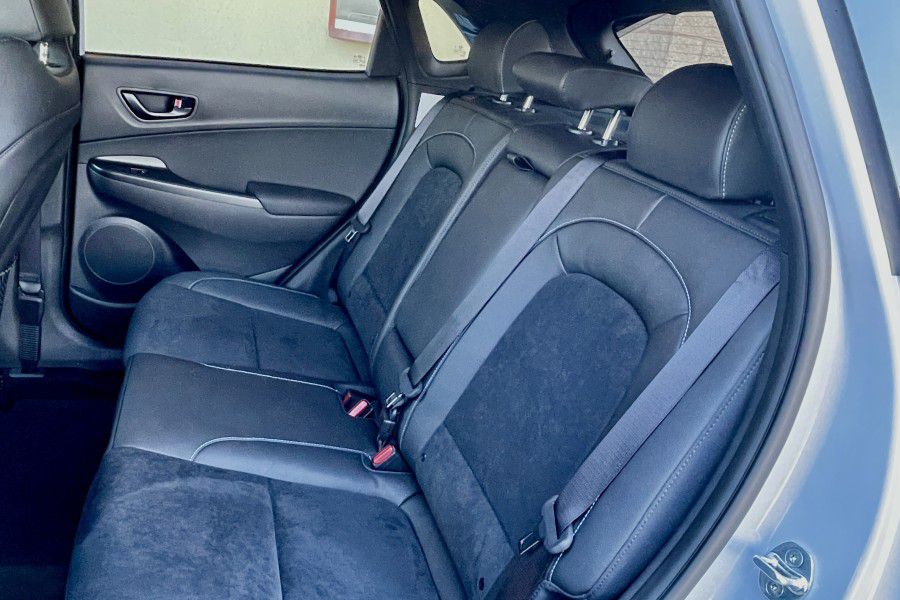 Photo by Nicole Wakelin
The Crisp Handling of a Performance Car
The idea of a hatchback having sporty, responsive handling isn't hard to grasp, but this is an SUV. They're not known for being sporty, but that's exactly what you get with the Kona N. It stays level and composed requiring only small steering adjustments as you drive. The N also gets features you won't find on other Konas including launch control, rev matching, sport exhaust tone notes, and a choice of drive modes that let you tailor the ride for more or less dynamic handling.
The Kona N proved its worth at every turn on the track. It's surprisingly controlled and lets you push harder than you'd expect. You have to toss aside the notion that this is a responsible, sedate, SUV. Instead, think of it as a hot hatchback and then you'll have a more accurate idea of the performance engineering Hyundai packed into the Kona N.
Photo by Nicole Wakelin
An Attractive and Comfortable Interior
The interior of the Kona N has seating for up to five people. Front seats are roomy and comfortable with strong bolstering to keep you in place on the corners. It's snug, but not so snug that large adults will feel confined. The seats are as well-suited to a day at the track as they are the daily commute. Leather and suede trims are standard with N embossing on the backs of the front seats. The driver gets 8-way power adjustability with power lumbar and both front passengers have heated seats for cold mornings.
The rear seats are comfortable with ample room for two adults. There's good headroom as well, so even those who are taller will find the Kona N spacious. Technically there's seating for three adults in the rear seats, but shoulder room is narrow. It's fine for short trips, but for longer drives, keep it at two.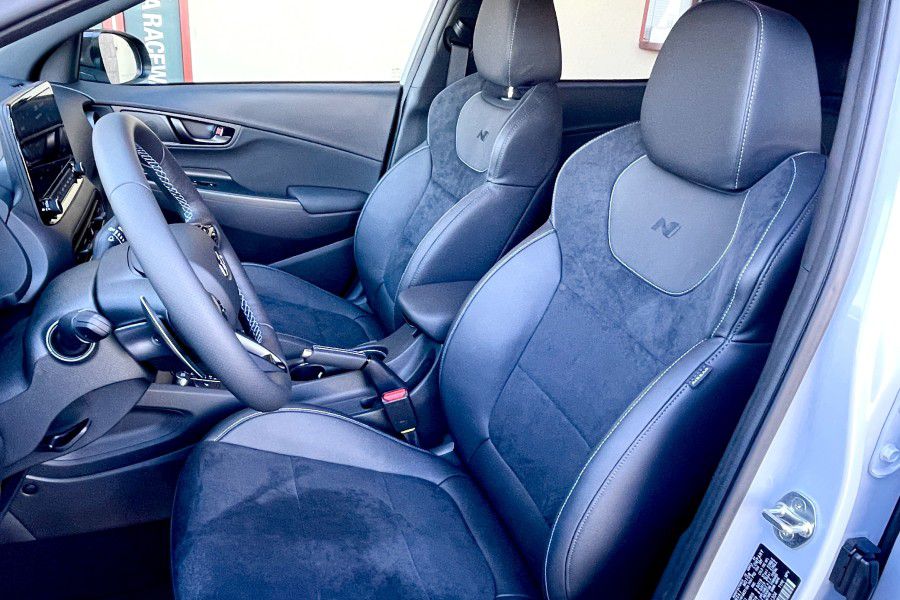 Photo by Nicole Wakelin
The flexibility to carry cargo.
The Kona N is a performance-focused vehicle, but it's still an SUV. That means it must have the flexibility to manage both passengers and their cargo. It offers 19.2 cubic feet behind the rear seats for holding all your cargo. Those seats split-fold 60/40 increasing cargo capacity to 45.8 cubic feet behind the front seats. It's a roomy interior that gives you the versatility to carry whatever you need for a day-long adventure or a weekend getaway.
Adding to the Kona N's versatility is a wide hatchback opening that lets you stow larger items that would never fit in a trunk. If those items are heavy, then you'll be grateful for the low load floor so you don't have to lift cargo as high up to properly stow.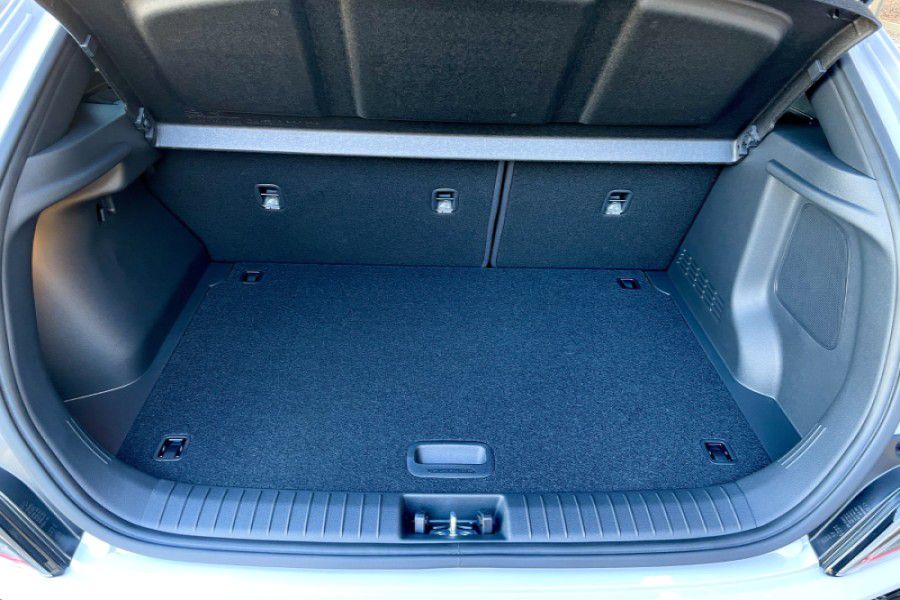 Photo by Nicole Wakelin
Large, Responsive Infotainment Screen
Infotainment includes a 10.25-inch touchscreen with AM/FM/SiriusXM, navigation, Apple CarPlay, and Android Auto. There are two front USB ports and one rear port to keep everyone connected. Wireless charging is standard, but unlike the rest of the Kona lineup, wireless Apple CarPlay and Android Auto are not available, even as options. A Harman Kardon 8-speaker audio system is also standard.
The large touchscreen makes the system easy to use. It's especially helpful for keeping track of navigation through congested city streets. The touch response of the screen is fantastic, which helps eliminate the frustration of tapping the same icon repeatedly to get a reaction. Even passengers who don't use the system everyday will find it easy to learn on the fly.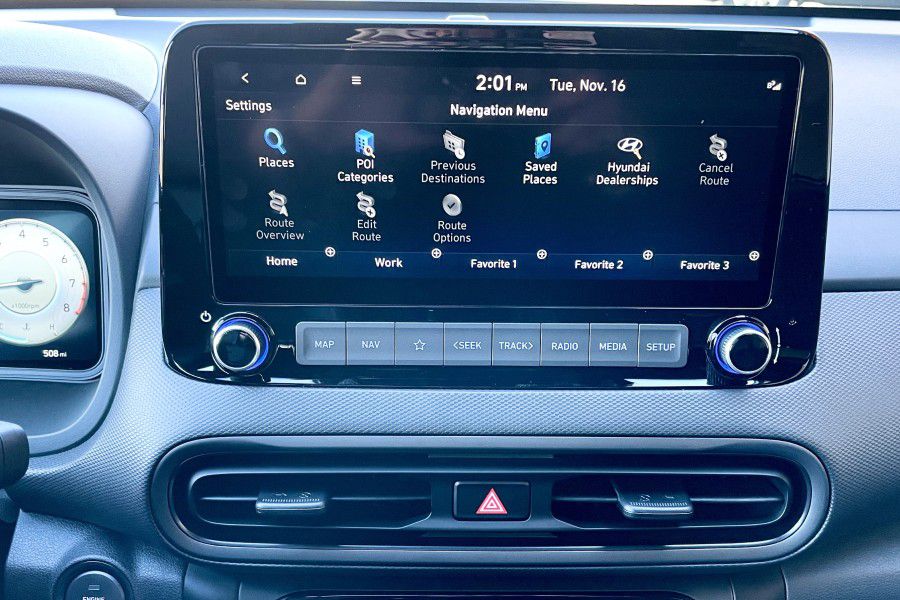 Photo by Nicole Wakelin
Good Standard Safety
The Kona N is strong on safety. It includes blind-spot collision avoidance assist, rear cross-traffic collision avoidance assist, and forward collision avoidance assist with pedestrian detection. There's rear parking distance warning, lane keeping assist, lane following assist, and highway driving assist.
To help avoid distracted driving, there's a driver attention warning that will alert you to keep your hands on the wheel in an effort to keep the driver focused on the job of driving. A rear occupant alert reminds the driver to check the back seat if the doors were opened at the start of the trip so nothing gets left behind. There's also a safe exit warning that helps keep passengers aware of what is behind the vehicle and warns them if there's something potentially coming that could cause a collision when the doors are opened. It's a comprehensive safety offering.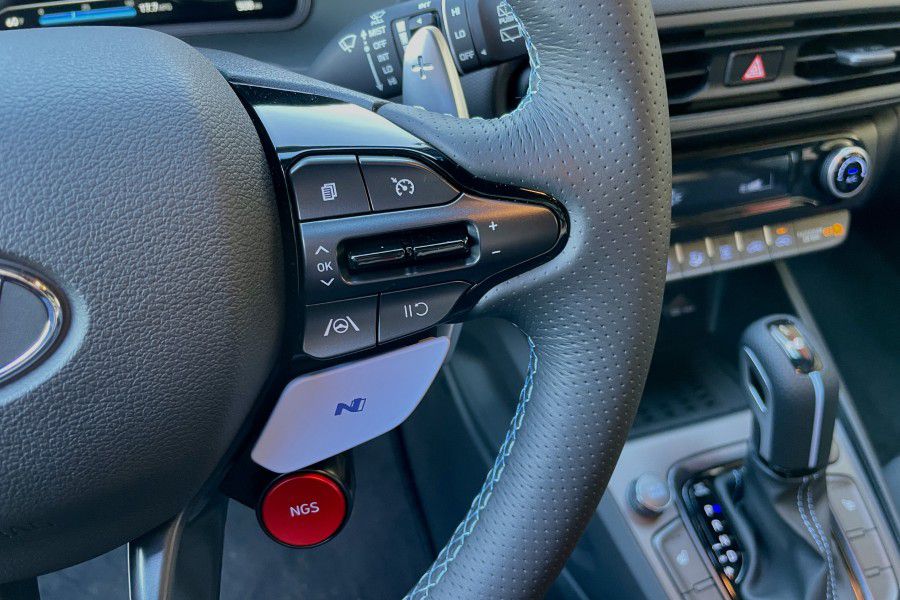 Photo by Nicole Wakelin
Final Thoughts
The 2022 Hyundai Kona N is a standout within the Kona lineup. It has all the flexibility for holding people and cargo that the rest of the lineup has along with numerous standard safety features and an attractive interior. Standard leather and suede seating surfaces give the Kona N visual appeal, and they're comfortable with enough bolstering to make more spirited driving fun.
But the star of the show for the Kona N is its performance. It has more horsepower, better handling, and a series of performance enhancements not found elsewhere in the lineup. Hyundai engineered its N cars for driving enthusiasts, and the Kona N is a welcome addition to the range. If you're looking for the versatility of an SUV with plenty of power and responsive handling, then the 2022 Hyundai Kona N will not disappoint.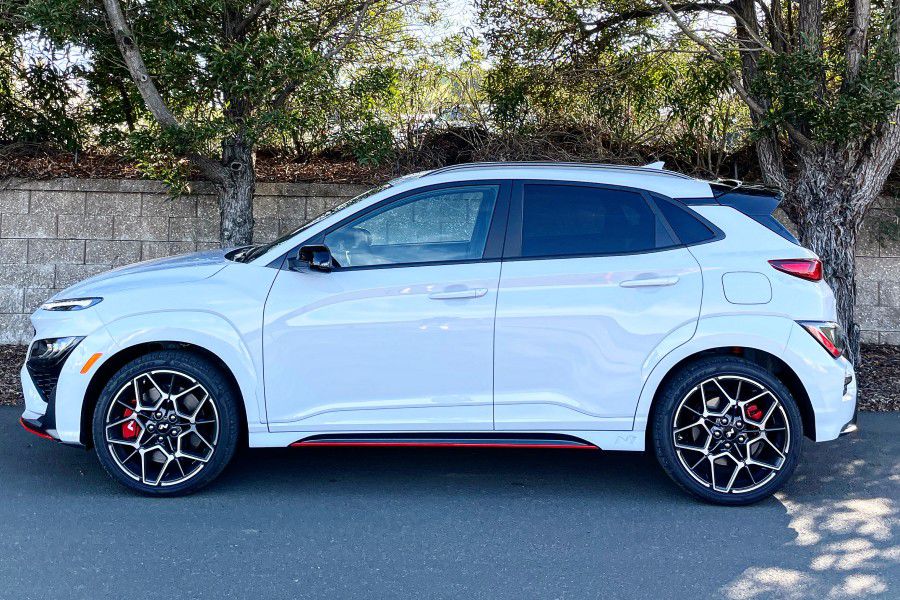 Photo by Nicole Wakelin