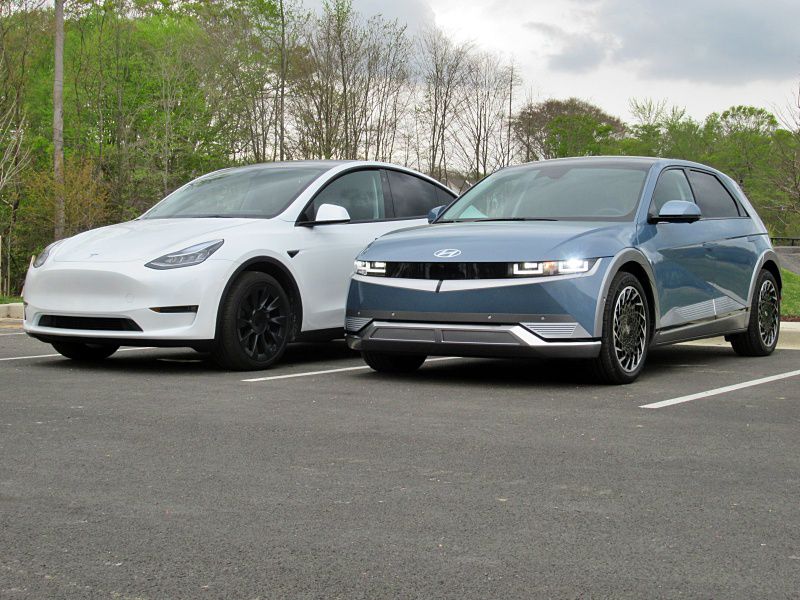 2022 Tesla Model Y and 2022 Hyundai Ioniq 5 ・ Photo by Brady Holt
Over the past five years, Hyundai has sold an anonymous-looking economy car called the Ioniq with a choice of hybrid, plug-in hybrid, and fully electric powertrains. You can still buy that Ioniq today if you're looking for efficiency on a tight budget. But when you want one of the best electric vehicles on the market, you want the all-new 2022 Hyundai Ioniq 5.
This new crossover has the range, performance, style, and overall mojo that were missing from earlier electric Hyundais. So for this review, we tested the Ioniq 5 back to back with the best-selling 2022 Tesla Model Y, by far the sales leader among American EVs. Over the following pages, we'll compare the two electric SUVs in eight different categories, then name an overall winner. Keep reading to learn which one we chose and which one is the right EV for you.
Pricing and Features
A Tesla is most people's automatic first choice for an electric vehicle, and the company knows it. It has raised the Model Y's starting price by $10,000 over the past two years — currently standing at $62,990 for the base Long Range model — and still has a waiting list. The Performance model costs an extra $5,000. Note that Tesla estimates quicker delivery times for pricier Model Y vehicles than the base model. 
As you might expect from Hyundai, the Ioniq 5 costs much less. Part of that is that you can buy it with fewer features and a smaller standard battery than the Model Y, but it's also a better deal when comparably equipped. Prices start at $39,950 for a rear-wheel-drive SE Standard Range and rise to $55,000 for an all-wheel-drive Limited. You can also get most Model Y features on the SEL AWD for just $49,750. What's more, the Ioniq 5 widens its price advantage by qualifying for a $7,500 federal tax credit while Tesla has already used up its supply of the credits. Those differences more than offset the markups you'll find at some Hyundai dealers. 
Hyundai Ioniq 5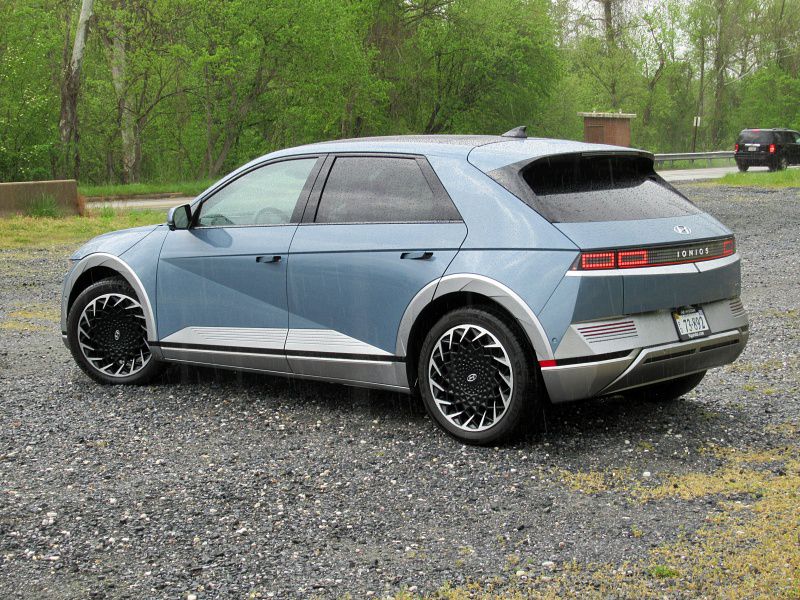 Photo by Brady Holt
Range, Efficiency, and Charging
One thing you pay for with a Tesla is the Supercharger network. Tesla builds and maintains its exclusive network of fast-charging stations, thoughtfully placed to facilitate road trips and engineered to recognize your own car as soon as you plug in. The Model Y even begins getting its battery ready to charge as you navigate to a Supercharger. A Supercharger can provide 200 miles of range within 15 minutes, and the Model Y's total EPA-estimated range varies from 303 to 330 miles, depending on the trim level and wheels. Its electricity usage ranges from the equivalent of 111 mpg to 122 MPGe. 
The Ioniq 5 also has great battery technology, but it relies on a scattershot collection of third-party charging stations that demand different accounts and mobile apps. Most owners will charge primarily at home, where it's cheaper and more convenient, but we'd pick Superchargers any day on a long road trip. The Hyundai needs a recharge sooner, too: The Ioniq 5 Standard Range travels an EPA-estimated 220 miles per charge at 110 MPGe, the rear-drive Long Range goes 303 miles at 114 MPGe, and the AWD Long Range goes 256 miles at 98 MPGe.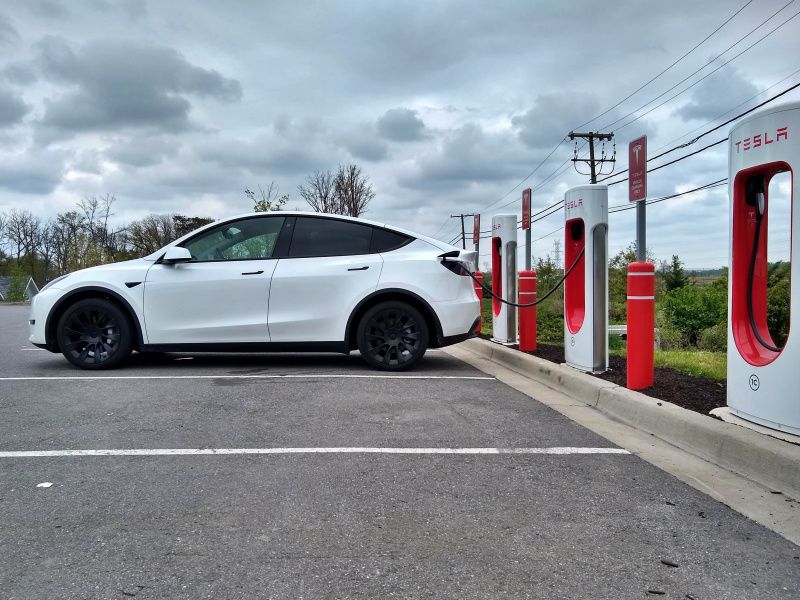 Photo by Brady Holt
Exterior Design
We're fans of the Ioniq 5's unique '80s-retro exterior. Its sharp angles and simple lines make it look like a small hatchback, but in person it's clearly a bigger vehicle with more presence. To us, it's clean and simple without looking like anything else. That's a tough combination to pull off. It's not instantly recognizable as an EV like a Tesla, though, and it doesn't look much like an SUV except for some gray plastic trim (shiny silver on our Limited test vehicle) on the wheel wells and door panels.
That's not to say the Model Y looks much like an SUV either. It's a taller version of the Tesla Model 3 sedan, with its gently curved roof raised a few more inches at the middle. And its grille-free front end could only belong to an electric vehicle. Tesla has its styling detractors, but the Model Y's brand of sleek, smooth modernity is unquestionably popular. We'll let you choose your winner between these different-looking EVs. 
Tie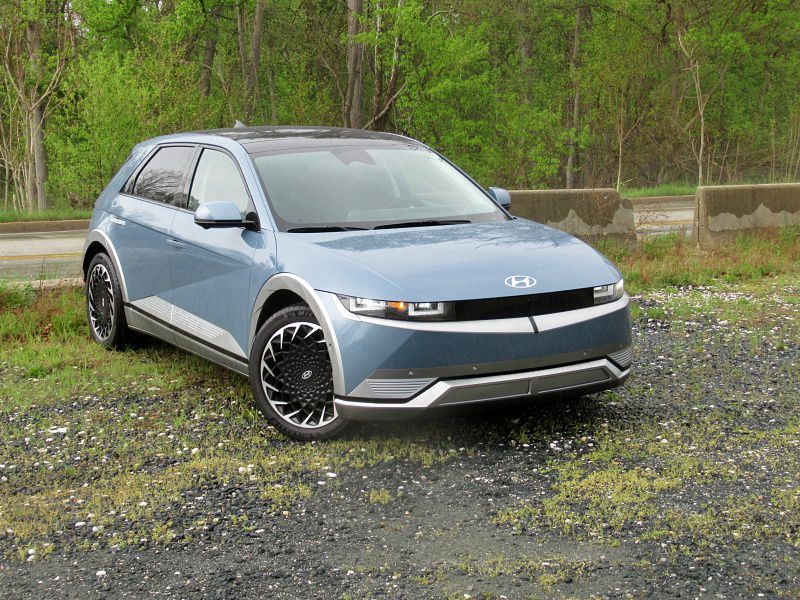 Photo by Brady Holt
Interior Design
Most electric vehicles have unconventional, futuristic interiors. The Model Y takes that to another level. Its dashboard is empty save for a strip of wood trim, the steering wheel, and a massive 15-inch touchscreen housing everything from the radio to the speedometer to the headlight controls. It's tech-focused minimalism that suits the vehicle well. We also found the interior of our 2022 Model Y Long Range test vehicle to be better-finished than an earlier-production Model Y we tested a couple years ago, and it has rich materials. 
Still, there's something to be said for convention. The Ioniq 5's dashboard doesn't look as groundbreaking or feel as rich as the Tesla's, but it's useful to have a speedometer in front of the driver (a 12.3-inch digital display), dedicated physical controls for common functions, and the ubiquity of Apple CarPlay and Android Auto smartphone integration in the 12.3-inch infotainment touchscreen. We wish Hyundai had extended that simplicity to the seat heaters, which are buried in touchscreen menus, but Tesla matches that frustration anyway. For us, the Ioniq 5's ergonomic advantages narrowly edge out the Model Y's spiffier ambiance. 
Hyundai Ioniq 5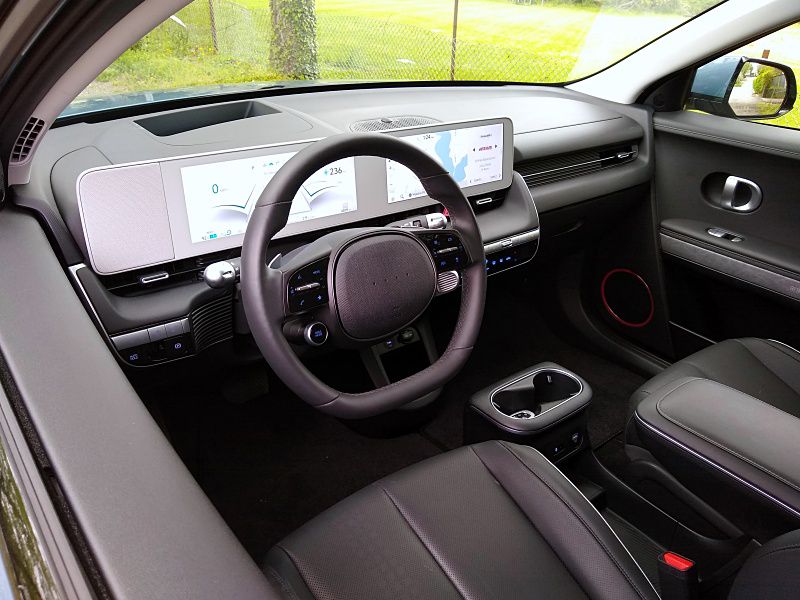 Photo by Brady Holt
Passenger Accommodations
The Ioniq 5 is a comfortable crossover to ride in. There's plenty of room in the front seats, and while the rear seat sits lower to the floor than we'd like, there's enough legroom to stretch out back there. But the slightly bigger Model Y has several advantages. 
First, the Model Y has a higher seating position than the Ioniq 5, more like a traditional SUV. While some folks will prefer the way Hyundai lets you sit lower, we know even more like sitting up high. We're also big fans of the Tesla's extra-supportive front seats, though some drivers will prefer the Hyundai's slightly flatter ones. In the backseat, the Model Y's higher cushion is more supportive and comfortable. And Tesla even lets you buy an optional (tiny) third-row seat, while every Ioniq 5 seats just five people.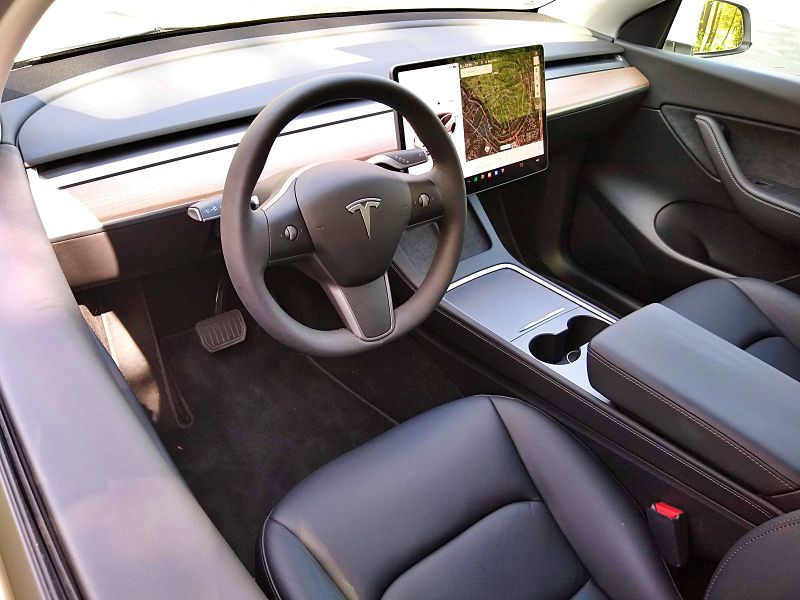 Photo by Brady Holt
Cargo and Utility
When it's time to carry cargo, the Ioniq 5 fits 27.2 cubic feet behind its rear seat and 59.3 cubic feet with the rear seat folded down. That's about what you'd get in a luxury-brand compact crossover: useful cargo volume but nothing incredible. There's also a tiny front trunk ("frunk") under the hood, where you can keep a charging cable but not much else. 
The sleeker Model Y doesn't look more useful than the boxier Ioniq 5, but the Tesla actually has a lot more total cargo room. The low roof near the vehicle's rear cuts volume behind the rear seat to 30.2 cubic feet, only a bit more than the Hyundai. But fold it down and you get 76.2 cubic feet. What's more, the Model Y can tow up to 3,500 pounds while the Ioniq 5 tops out at 2,000 pounds.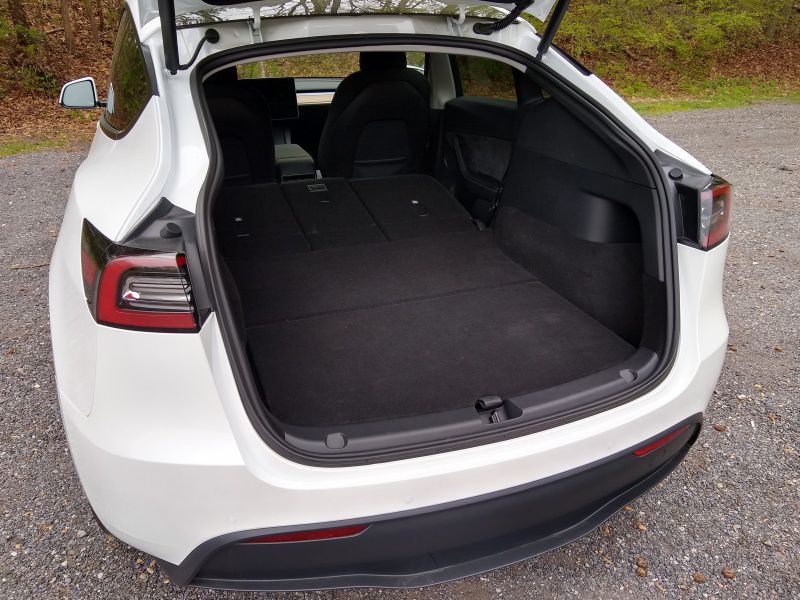 Photo by Brady Holt
Ride and Handling
Because electric vehicles have heavy batteries located at floor level, they have low centers of gravity. That's good news for their handling. The Model Y is particularly agile, cornering with eager verve. But that comes at the expense of ride quality, which is on the stiff side over bumps. And while we liked its firm steering at high speeds, it takes some extra effort while you're parking. 
The Ioniq 5 isn't quite as lively, with slightly dulled steering precision and responsiveness. But we still enjoyed driving this electric Hyundai, while also finding it more comfortable and agreeable in ordinary conditions. Its ride is gentler, and extra-light parking-speed steering make it easy to maneuver. We did slightly prefer the Tesla's Autopilot suite of advanced driver aids, and it's fun to watch the infotainment display showing what the car's sensors are "seeing," but the Ioniq 5's equivalent systems aren't far behind. It's our overall pick for ride and handling. 
Hyundai Ioniq 5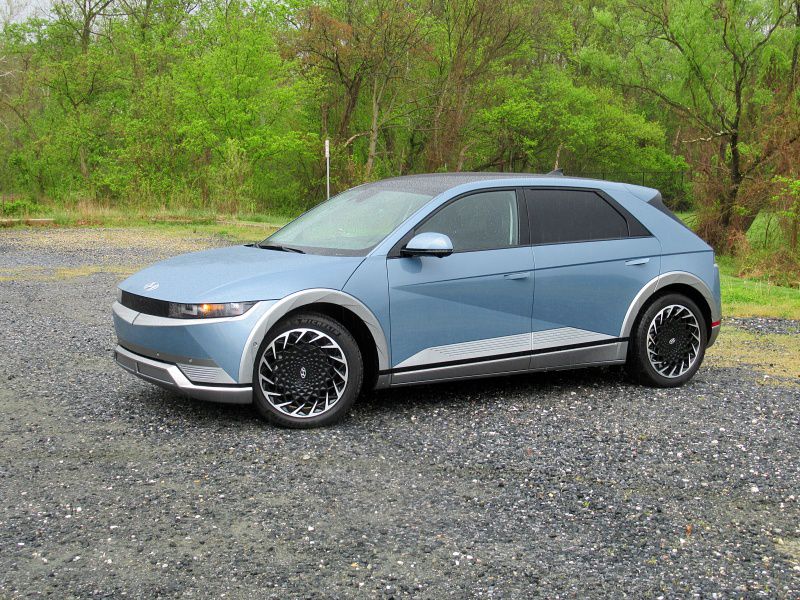 Photo by Brady Holt
Acceleration
Another built-in advantage to EVs is their acceleration. Electric motors make peak torque right off the line, so they can whisk you forward without needing to build up rpms. Tesla doesn't quote horsepower and torque ratings for the Model Y, but they're clearly ample. The base Long Range AWD model, like our test vehicle, needs 4.8 seconds to reach 60 mph. That's already better than many sports cars. But the Performance AWD model, which we've tested previously, needs a mere 3.5 seconds.
The Ioniq is quick by most reasonable standards, too, but not as ridiculous. An AWD Ioniq 5 like our test vehicle keeps up with the Model Y Long Range, but rear-drive models are more conventional, hitting 60 mph in roughly 7 drama-free seconds. What's more, there's no Ioniq 5 equivalent to the wild Model Y Performance.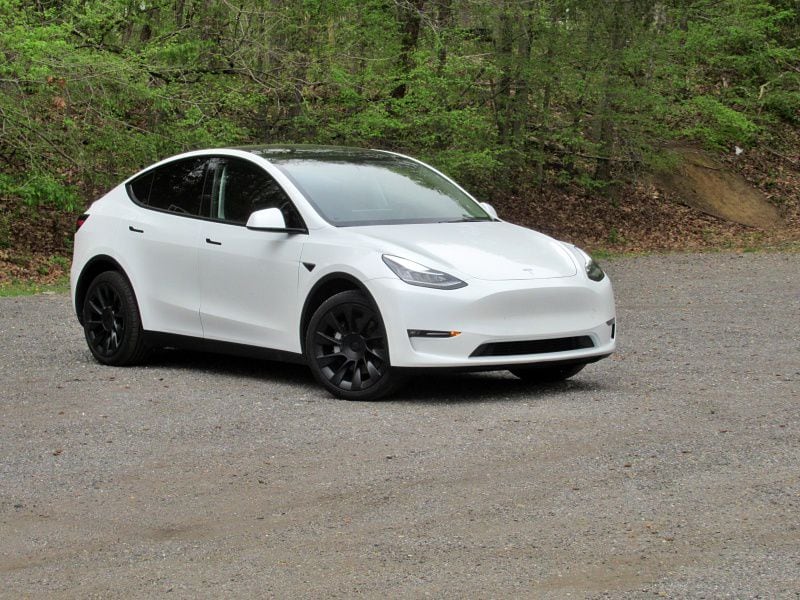 Photo by Brady Holt
Final Thoughts
When price is of limited concern, the 2022 Tesla Model Y is a great electric luxury suv. It's sleekly styled inside and out, with an aesthetic you won't find in any other company's automobiles. It's roomy, agile, and wildly fast. It goes more than 300 miles per charge, and it's seamlessly integrated with the country's best network of fast-charging stations. In short, it's easy to see why so many people are willing to wait for months to have one, even if you prefer small details about a rival like a smoother ride, gentler steering, or a few simpler controls. 
But to us, the 2022 Hyundai Ioniq 5's price advantage is too big to ignore. The Hyundai may not be worth $63,000 like the Tesla, especially when it comes to charging infrastructure, but it's a credible peer to the Model Y at a fraction of the price. It may trail the Tesla incrementally in each of these ways, but it still has explosive power, agile handling, a long range per charge, distinctive styling, and a usefully roomy interior. And especially after its $7,500 tax credit, it's an incredible bargain. 
Hyundai Ioniq 5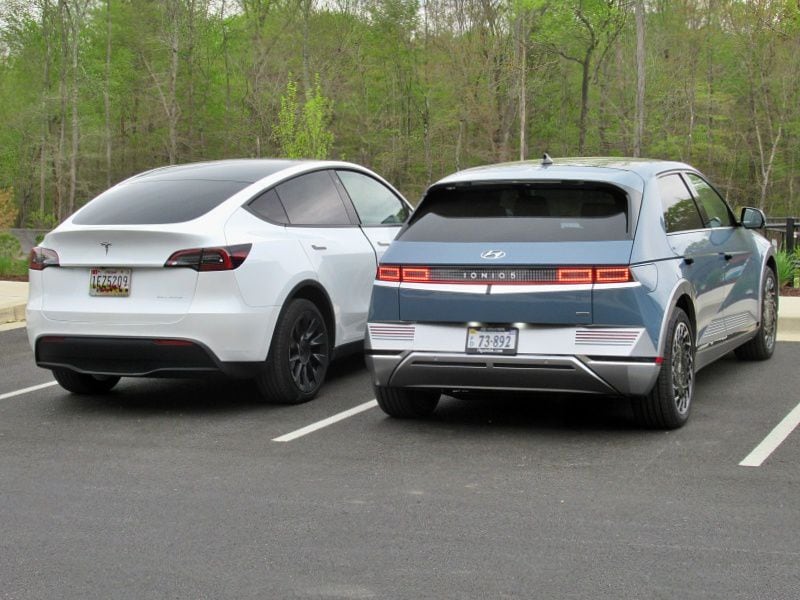 Photo by Brady Holt