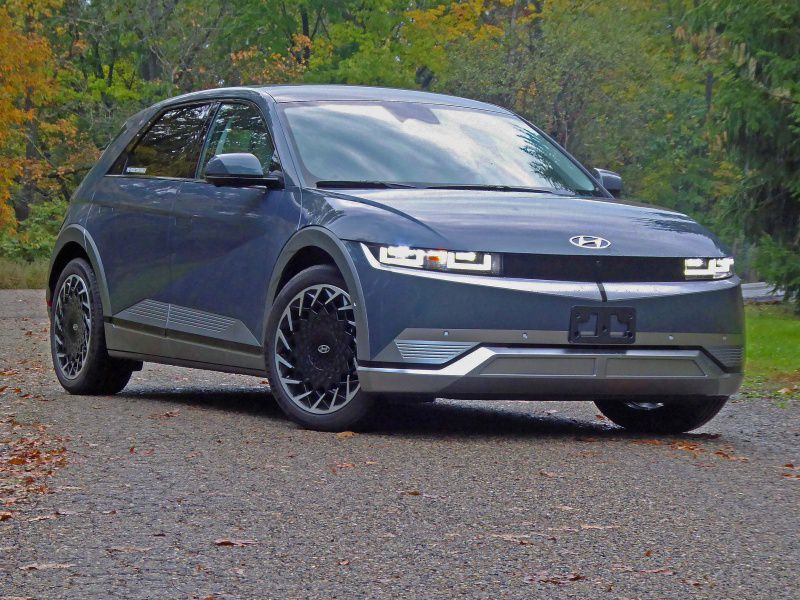 2022 Hyundai Ioniq 5 ・ Photo by Ron Sessions
The 2022 Hyundai Ioniq 5 looks like a futuristic concept car driven straight off the auto show stage and onto the road. Is it a robo sedan, a stretch-limo hatchback, or a tarmac-optimized crossover SUV? You decide. With a heavily creased and parametric-dappled exterior, low-slung stance, and extra-long wheelbase with wheels pushed to the corners, the Ioniq 5 doesn't play by the rules.
Hyundai calls the Ioniq 5 an Electric Crossover Utility Vehicle (ECUV). Built on the new Electric Global Modular Platform (E-GMP) that will also underpin the upcoming Kia EV6 and Genesis GV60, the 2022 Ioniq 5 will be available with rear-wheel drive and a single 168- or 225-horsepower rear-mounted motor, or all-wheel drive with 320 horsepower from the combined output of its front- and rear-mounted motors.
Including the $1,225 destination charge, the base SE standard-range rear-drive 168-hp SE model available in the Spring of 2022 will cost $40,925. The rest of the lineup using the extended-range battery, including the $44,875 rear-drive 225-hp SE, $48,375 AWD 320-hp dual-motor SE, $47,125 rear-drive 225-hp SEL, $50,625 AWD 320-hp dual-motor SEL, $51,825 rear-drive 225-hp Limited, and $55,725 AWD 320-hp dual-motor Limited, will be available in December, 2021. The Ioniq 5 is eligible for the $7,500 federal income tax credit, so for buyers who qualify, the base Ioniq 5 SE, for example, will start at just over $33,000 including delivery.
Ultra-Fast Charging
The Ioniq 5's hidden charge-port door is at the right rear corner of the car. What separates the Ioniq 5 from other battery electric vehicles in the $40,000 price range is its ultra-fast 800-volt, 350 kW DC fast-charge capability (usually confined to expensive vehicles like the Porsche Taycan or Audi e-Tron) that can take the big 77.4 kWh lithium-ion battery on extended-range trims from 10 to 80 percent charge in as little as 18 minutes. That's a game changer for public acceptance of EVs because if you factor in a restroom break and snack purchase, that's about the same time a driver of a gas-powered vehicle might spend at a service station. Depending on the configuration, the Ioniq 5 can go 220 miles, 256 miles, or up to 303 miles on a single charge.
Hyundai is also throwing in unlimited 30-minute free charging sessions for the first two years of ownership at Electrify America charging stations.
Another unique feature of the Ioniq 5 is its vehicle-to-load function that enables the new Hyundai to power electronic devices, small appliances like a 55-inch big screen television, and even charge another electric vehicle. The latter function could be a huge day-saver for another EV low on juice miles from civilization.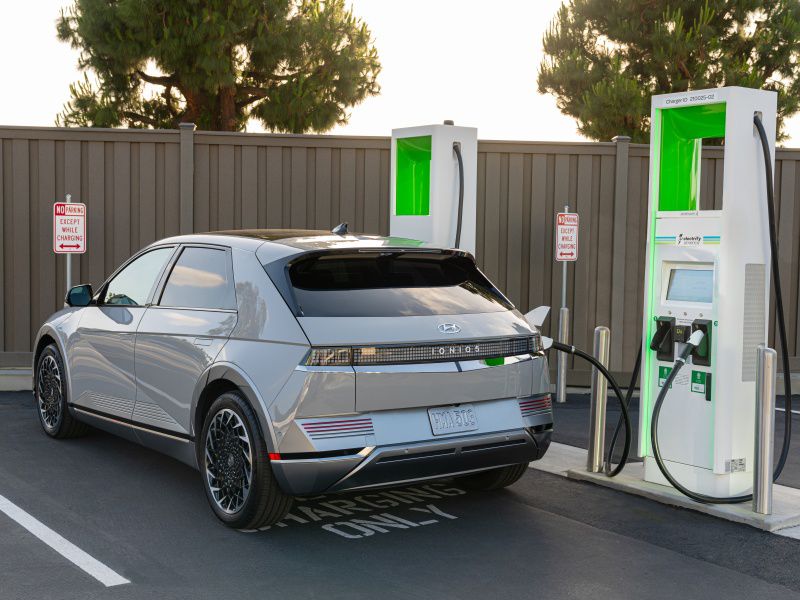 Photo by Hyundai
Roomy Cabin
First, this is a big space for such a modestly sized vehicle. The Ioniq 5 offers a full-size sedan-like 106.5 cubic feet of interior space, more than the VW ID.4 and Ford Mustang Mach-E. Second, the cabin is full of innovative features. There's a small magnetic bulletin board to the left of the driver dash display for posting notes, photos, business cards and such, just as you might on a refrigerator. The gear selector is a small twist toggle/joystick on the side of the steering column. Alongside the tilt and telescopic steering wheel is a pair of brake-regeneration paddles; tap one to increase battery regeneration and lift-accelerator braking for near-one-pedal driving and the other one to reduce it and drive more like a conventional car.  
Limited models feature a movable front seat center console can slide fore and aft up to 5.5 inches, and together with the flat floor, can allow the driver to enter the vehicle from either side if one is blocked. Both the standard fixed and the Limited's moveable console offers cup holders, USB charge ports, and a 15-watt wireless device charger. There's enough storage space underneath the center armrest to carry a large purse or handbag. Subtle, LED ambient mood lighting along the door trim and surrounding the speaker grilles adds, well, ambience. Dual-zone automatic climate control is standard and has a driver-only mode that heats or cools only the driver's immediate area.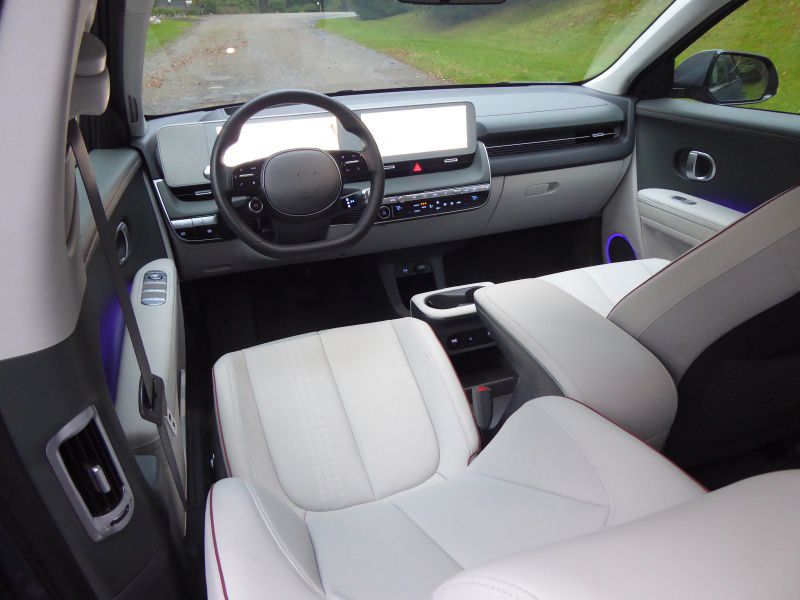 Dual-Cockpit Dash Screens
The Ioniq 5's dual-cockpit dash theme includes a pair of horizontal-format 12.3-inch digital displays, one centered in front of the driver and the other at dash center. The driver display can be personalized beyond the usual fare of a speedometer, digital odometer, and trip meter, plus a power system gauge and charge level indicator to include regenerative braking level, smart cruise control settings, drive mode indicator, ready to drive status indicator, and more.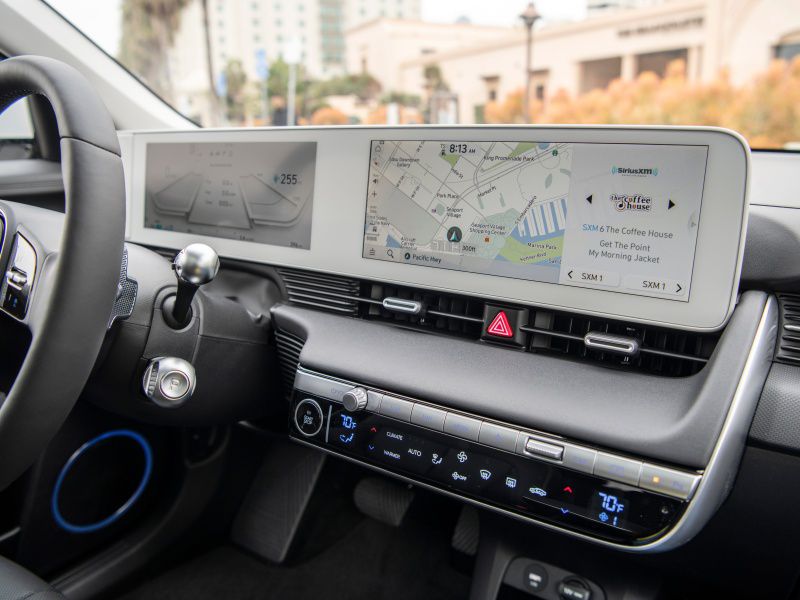 Photo by Hyundai
Infotainment
The center display is a 12.3-inch touchscreen with navigation, plus Apple CarPlay and Android Auto cellphone mirroring. The navigation system includes real-time travel-radius mapping based on the Ioniq 5's current state of charge, and Bluelink connected services can help with finding remote charging stations enroute. Three years of navigation map updates are included.
SE and SEL trims are equipped with a 6-speaker AM/FM stereo with SiriusXM and HD Radio, and traffic flow and incident data via HD Radio. Infotainment selections are accessed via large touchscreen icons, a single analog knob for adjusting volume, as well as steering wheel controls for changing volume, tuning, and seeking another audio source.
Dynamic voice recognition allows the driver and front passenger to ask for directions, change an audio source, adjust the climate control system, and more using natural language. Up to two Bluetooth devices can be connected, enabling one to be used for streaming and the other for phone calls. There are three USB-A ports up front.
A wireless device charger is standard with SEL and Limited trims. Limited models upgrade to a richer-sounding 8-speaker premium Bose audio system. The Limited trim also adds a head-up display for the driver at the bottom of the windshield that includes real-time augmented reality for keeping navigation and turn-by-turn directions front and center.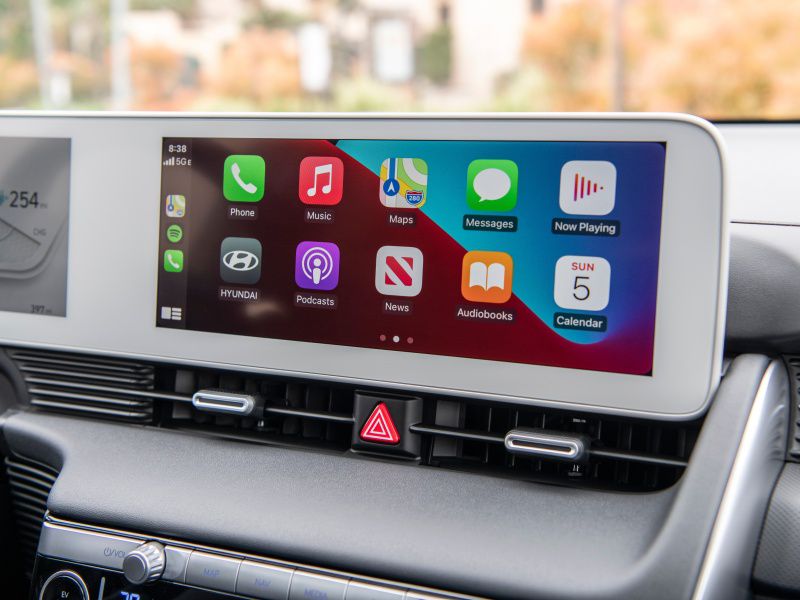 Photo by Hyundai
Cushy Front Seats
The Ioniq 5's comfy, fully reclining front seats are cloth-covered in SE models and with faux-leather covering in SEL and Limited. All trims get a power driver's seat with power lumbar settings, and the Limited trim adds a power-adjustable front passenger seat as well. All front seats are heated, with Limited models adding front-seat ventilation. The Limited driver's seat has integrated memory settings plus a relaxation function with a footrest that when raised supports under the driver's calves for perhaps taking a short nap during charging. The driver faces a uniquely styled leather-wrapped 2-spoke steering wheel which is also heated in SEL and Limited trims.
Photo by Ron Sessions
Spacious Rear Seat
The rear seats are split 60/40, fold flat, recline, and can slide fore and aft nearly a half foot. A large panoramic sunroof and pull-up rear side-window sunshades are standard in Limited. Rear seat passenger space is spacious thanks to the flat floor with no bad seats, even in the middle position. Legroom and headroom are generous. There is a pair of USB-A charge ports for rear seat passengers. SEL and Limited models get rear-seat air-conditioning vents. The Limited also comes with a vehicle-to-load 2-way onboard charger.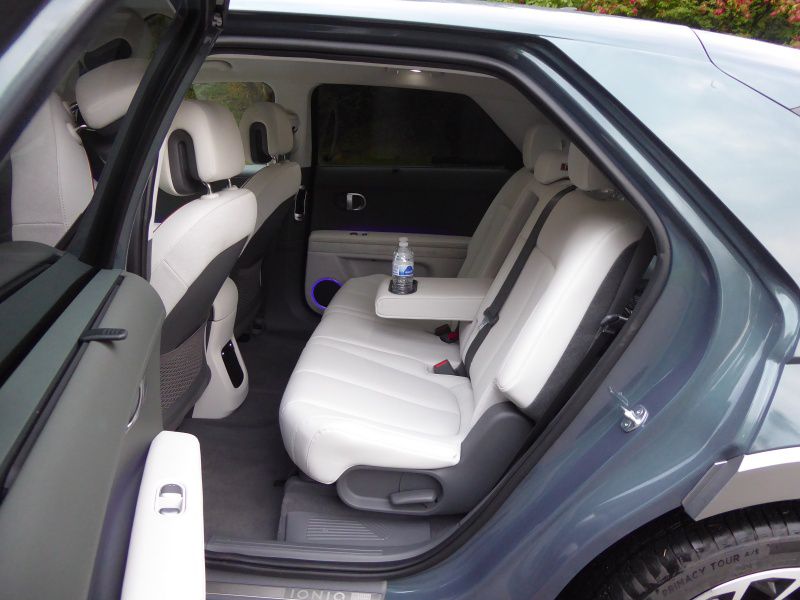 Photo by Ron Sessions
Commodious Cargo Hold
With 27.4 cubic feet of cargo space behind the rear seat and 59.3 when the rear seats are folded flat, the Ioniq 5 offers cargo-toting ability greater than the Kona and less than the Tucson. The space is large enough to tote a mountain bike or two. A hands-free power lift gate, standard with SEL and Limited trims, eases access when arms are full. There is no spare tire, so peeking under the cargo floor will reveal a tire mobility kit and some hidden additional storage, plus a place to stash the charge cord. A retractable cargo area cover for the area behind the rear seat is standard in the Limited.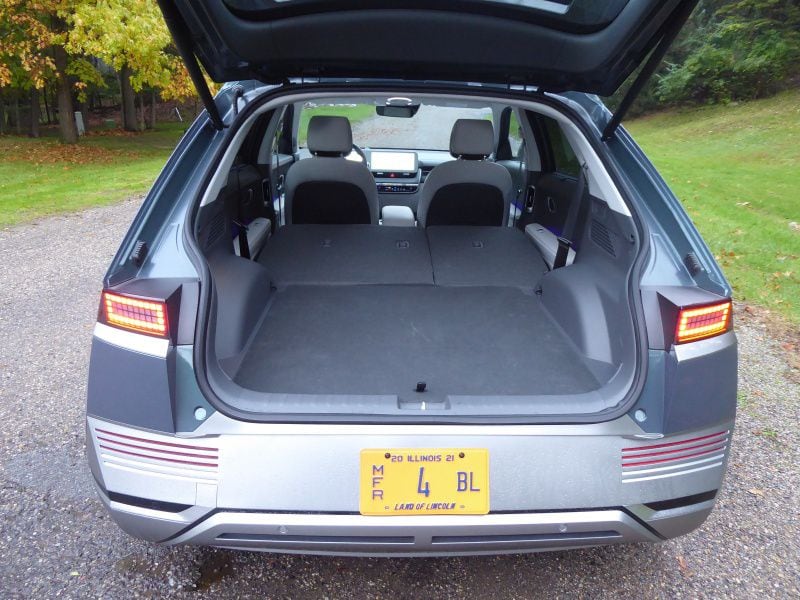 Photo by Ron Sessions
Frunk
It adds just under one cubic foot of storage, but the Ioniq 5's front trunk, or frunk, is a handy place to lock away small valuables, such as a computer, camera bag, briefcase, or purse, out of sight. Some new electric vehicles, such as the Volkswagen ID.4 and Mercedes-Benz EQS, don't even offer one.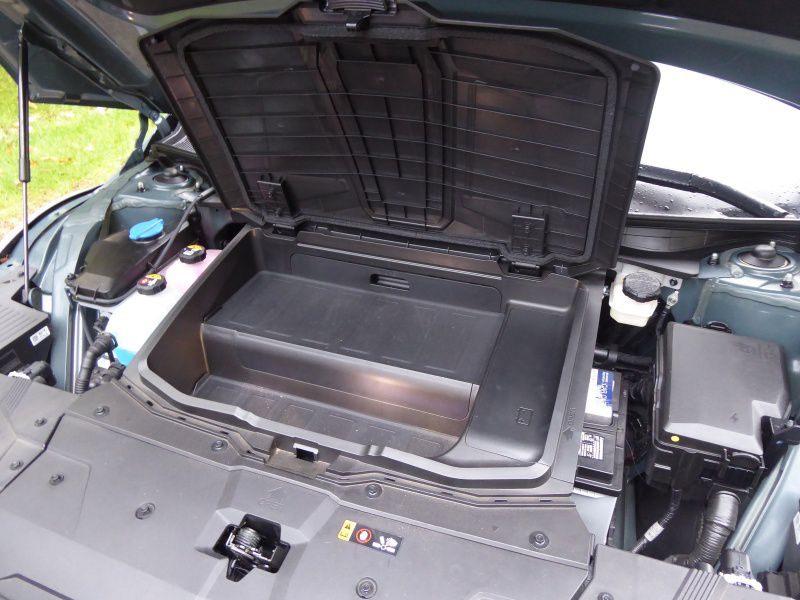 Photo by Ron Sessions
Safety and Driver-Assistive Tech
Along with sister brands Kia and Genesis, no automaker offers more advanced safety and driver-assistive technology at popular prices than Hyundai. All Ioniq 5 trims come standard with blind-spot and rear cross-traffic collision avoidance, lane-keeping and lane-following assist, adaptive cruise control, forward collision avoidance assist with car, cyclist, and pedestrian detection and junction turning, safe-exit assist, rear occupant alert, driver-attention warning, high-beam assist, reverse park distance warning, intelligent speed limit assist, and Highway Driving Assist.
SEL and Limited trims add front park distance warning, a more advanced forward collision-avoidance assist system with evasive steering ability to avoid oncoming vehicles or junction side traffic, plus an upgraded Highway Driving Assist II system that can respond to close-range cut-ins and make a semi-autonomous lane change with turn-signal application.
Exclusive to the Limited trim is reverse parking collision avoidance assist, a 360-degree surround-view monitor that replaces the standard backup camera, as well as a blind-spot monitor that projects a three-fourths rear view of the Ioniq 5 on the driver's screen when the driver activates the turn signal for that side.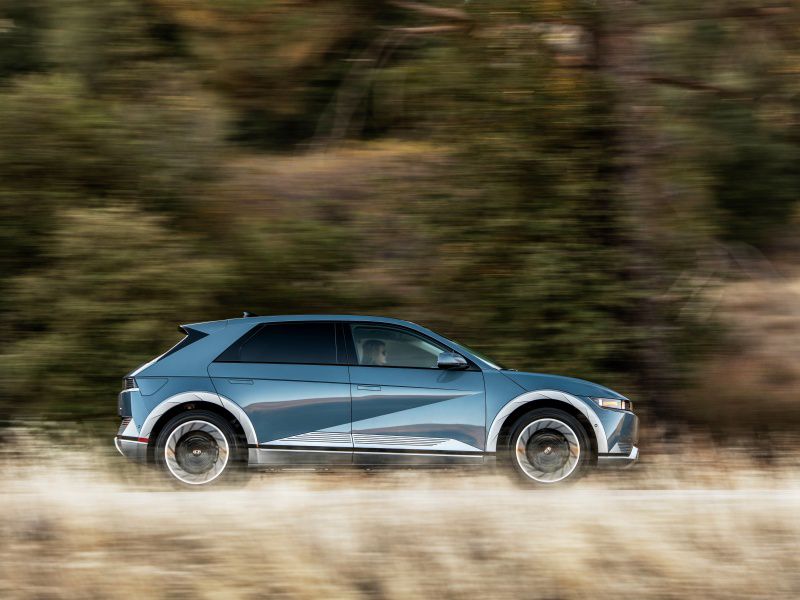 Photo by Hyundai
Breaking the Mold
As with other battery-electric vehicles, the Ioniq 5 offers serenely quiet operation, turbine-smooth launches from rest, instant torque, and with dual-motor AWD versions 0-60 performance in the low 5-second range. Overnight charging at home with the standard 10.9 kW charger and a 240-volt outlet can be accomplished in just under 7 hours.
For sure, Hyundai breaks new ground with the quite eclectic, battery-electric Ioniq 5. Hyundai calls it a compact crossover suv, but no one is likely to tackle the wilds of Baja with it or cram it full with the better part of a junior soccer team. Rather, the new 5-passenger Ioniq 5 is a game-changing segment-buster with the comfort of a big sedan, roominess and cargo utility of a compact crossover, and leading-edge fast-charge capability wrapped in an eye-catching, concept-car-worthy design at a price starting well below $50K.
The Ioniq 5 comes with the company's industry-leading 10-year/100,000-mile powertrain warranty covering the electric battery and related systems plus the same 5-year/60,000-mile vehicle warranty as the automaker's gas-powered vehicles. Hyundai also throws in three years/36,000 miles of free maintenance for things like tire rotation and wiper inspection.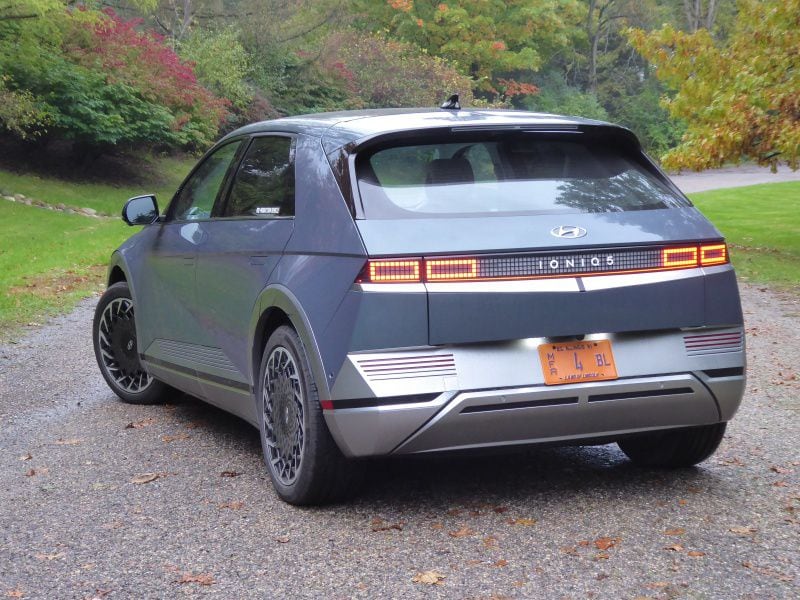 Photo by Ron Sessions