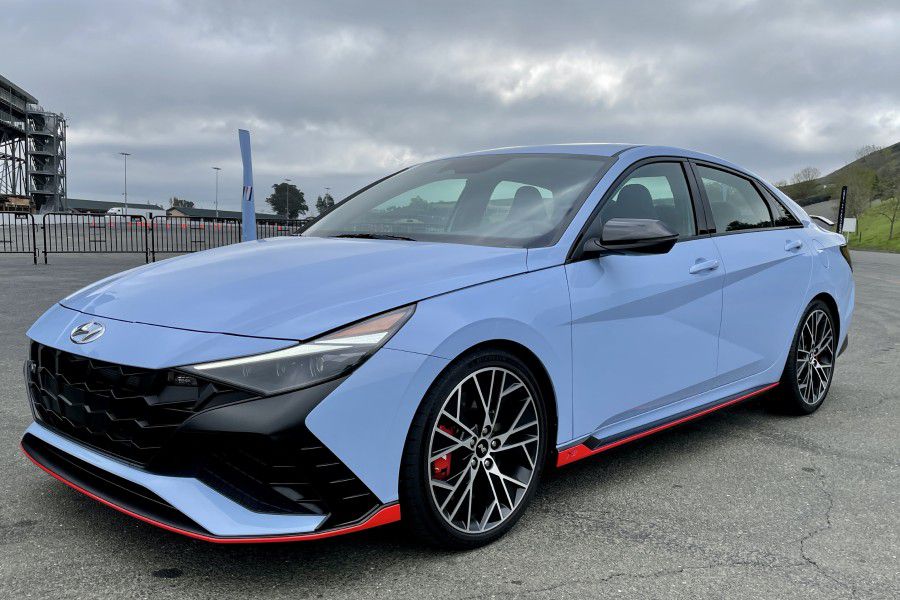 2022 Hyundai Elantra N Front Quarter ・ Photo by Nicole Wakelin
The 2022 Hyundai Elantra N is the sportiest version of the Elantra sedan. The full lineup includes seven trims with the N sitting at the top. It has better performance, improved handling, unique styling, and features you won't find on the typical Elantra sedan. This includes the most powerful engine in the Elantra lineup with 276 horsepower.
The Elantra N was designed for performance, but it's still a versatile mid-size sedan. It has a comfortable and spacious interior with seating for up to five people, a roomy trunk for all your cargo, and good standard safety features. It also has a comprehensive infotainment system that not only keeps you connected but also provides additional information about performance and handling to tailor the drive to your preferences. Let's take a closer look at the all-new 2022 Hyundai Elantra N to see if it's the sports sedan for you.
It's Available in Only One Trim
The Elantra N sits at the top the lineup, so it will command a premium, but we don't have an exact figure. Hyundai will be releasing that information closer to the on-sale date by the end of the year. Pricing for the base SE is $19,850 while the Limited hybrid starts at $28,250. The Elantra N will almost certainly sit near the top of that range.
What we do know is that it comes with a long list of standard features. These include leather and microsuede N sport bucket front seats with an illuminated N logo, heated front seats, 6-way power driver's seat, 10.25-inch infotainment touchscreen with navigation and a premium 8-speaker Bose audio system. It also has the most powerful engine in the lineup with a standard 2.0-liter turbocharged 4-cylinder that delivers 276 horsepower. There's no shortage of features on this premium offering.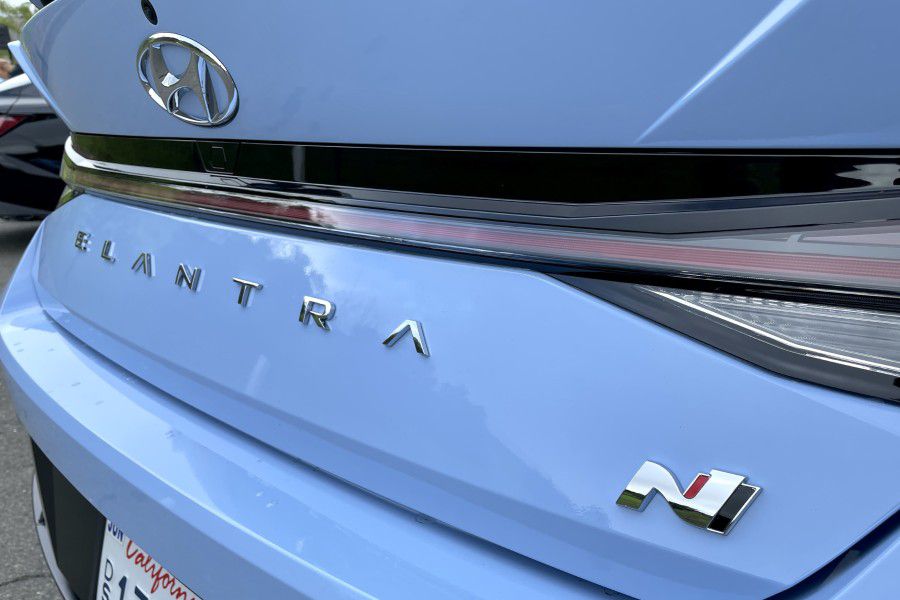 Photo by Nicole Wakelin
Aggressive Turbocharged Performance
As the performance trim in the Elantra lineup, there are lots of features designed to create an aggressive, responsive, and engaging drive experience. This includes the most powerful of the four available Elantra powertrains. Standard on the Elantra N is a 2.0-liter turbocharged 4-cylinder with 276 horsepower and 289 lb-ft of torque. This is paired to your choice either a 6-speed manual transmission or an 8-speed dual-clutch automatic.
It's an exhilarating sedan with ample power whether you're simply trying to merge into heavy traffic or having a bit of fun out on a weekend track day. The dual-clutch automatic has smooth, crisp shifts that make well-timed use of the engine's power, but enthusiasts will want to give the 6-speed manual a try. The dwindling number of manual transmissions on today's cars makes finding one on a performance car like the Elantra N a joy, and it should not be missed.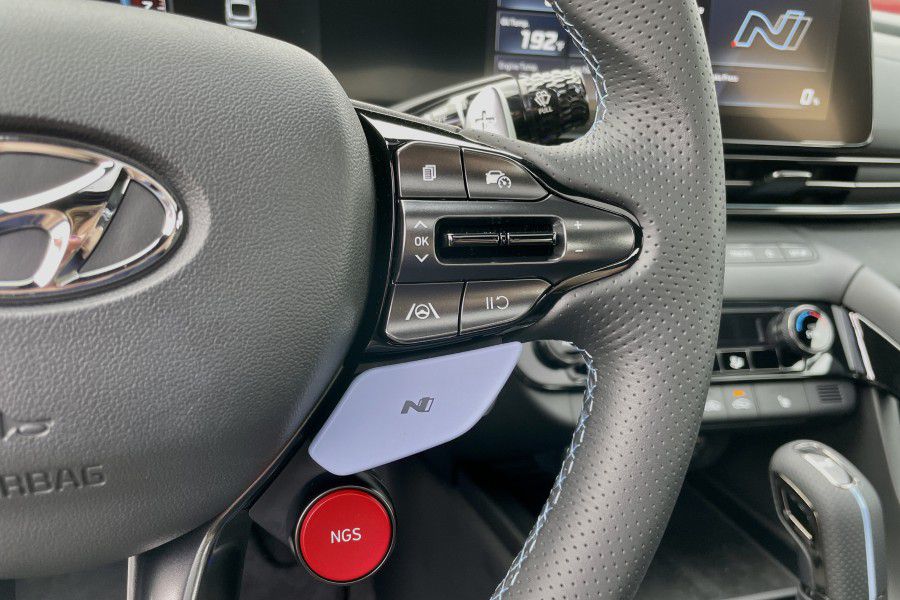 Photo by Nicole Wakelin
An Uncompromisingly Sporty Ride
The Elantra N is a performance sedan for those who put driving dynamics at the top of their list. Yes, sedans are ideal for carrying passengers, but this is a sports sedan. Making the people riding in the back seat happy isn't as important as ensuring that whoever is sitting behind the wheel has a giant grin plastered across their face.
What makes a car handle well in tight turns and high-speed driving tends to create a harsher ride. Uneven pavement causes a good bit of vibration and any dips in the road, especially due to broken road surfaces, will be noticed by passengers. It's not a gentle ride because Hyundai didn't design the Elantra N to coddle passengers. If you want a cushy ride, look elsewhere in the Elantra lineup. If you want a happier driver, go with the Elantra N.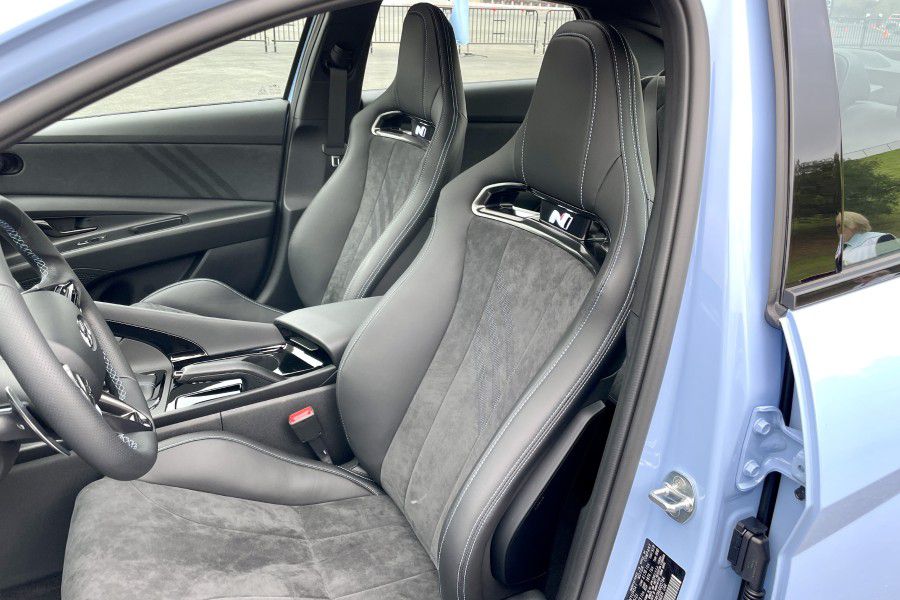 Photo by Nicole Wakelin
Responsive and Engaging Handling
The Elantra N has responsive handling that makes it every bit the sports sedan. Steering is controlled so only a minimum of input is required by the driver. It's engaging and something to be enjoyed whether cruising along a winding rural road or a busy highway interstate. It might look somewhat mild-mannered, but the Elantra N is a true performance sedan with features that include launch control and a series of modes featuring N Grin Shift (NGS). This gives you boosted performance for 20 seconds and likely will put a grin on your face.
Key features include an electronically controlled suspension system that aids in overall handling along with a rear chassis brace and a limited slip differential with electronic control. Also standard on the Elantra N are 19-inch wheels with 14.2-inch ventilated front brakes and 12.4-inch ventilated rear brakes to ensure you have plenty of stopping power.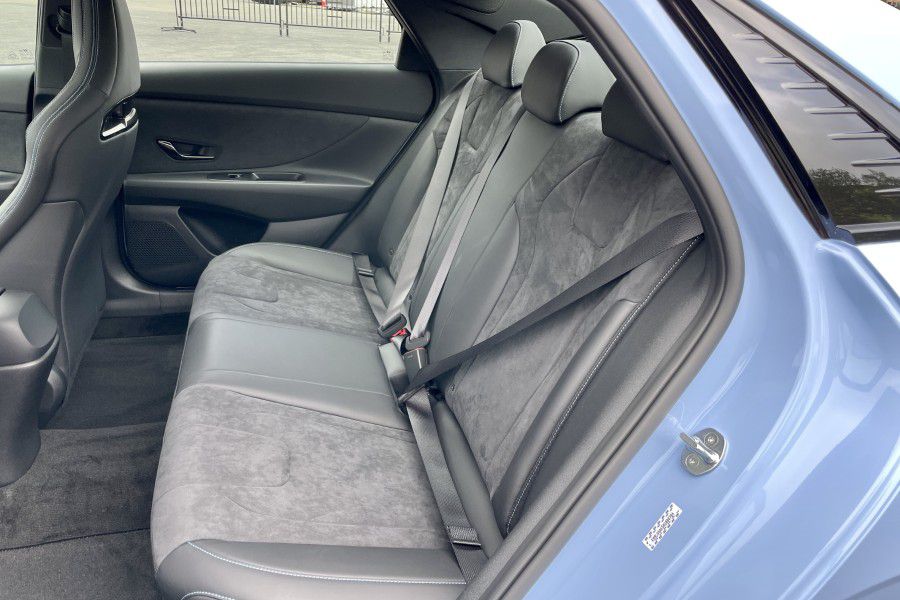 Photo by Nicole Wakelin
A Unique Exterior Design
It's not just the mechanical bits that received extra attention in creating the Elantra N. Hyundai also gave it a unique look that's eye-catching and aggressive. That styling also improves aerodynamics so there's practical purpose behind how it looks. There's a unique front fascia that takes its design cues from a racing helmet and a low lip spoiler that gives it a wider stance. The most noticeable design element that threads its way through the exterior is N-exclusive red.
It runs in a strip across the base of the front fascia and along the side valance. There's an N-exclusive wing spoiler with a rear diffuser to control airflow. Lastly, there's an inverted-triangle N-exclusive reflector and a dual, single-tipped exhaust for a striking rear view. Hyundai made sure that the Elantra N drives like a sporty sedan and looks like one, too.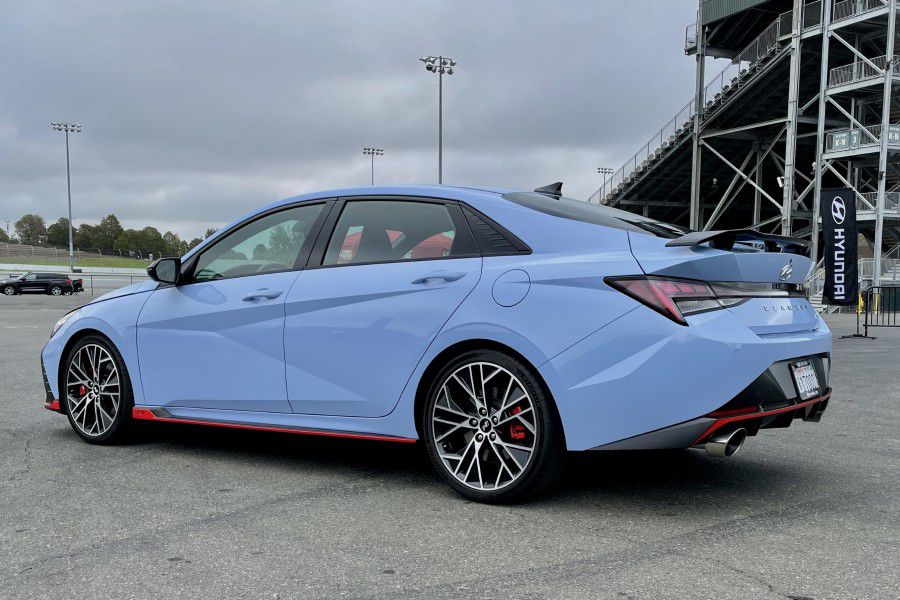 Photo by Nicole Wakelin
A Roomy Interior and a Large Trunk
The Hyundai Elantra N has the power and performance of a sports sedan. It also has the exterior styling of a sports sedan. Open the door and the package is complete with a striking interior that includes lots of standard amenities. There are leather and microsuede-trimmed seating surfaces with N sport bucket seats featuring an illuminated N logo. The driver has a 6-way power seat and both front seats are heated.
There's also a leather-wrapped shift knob and steering wheel, metal scuff plates, and ambient LED lighting with a choice of 64 colors. It's an attractive interior with high-quality materials that look and feel wonderful. Front seats have the bolstering you need to stay in your seat during more boisterous driving while the rear seats provide seating for up to three. And there's room for 14.2 cubic feet of cargo in the trunk.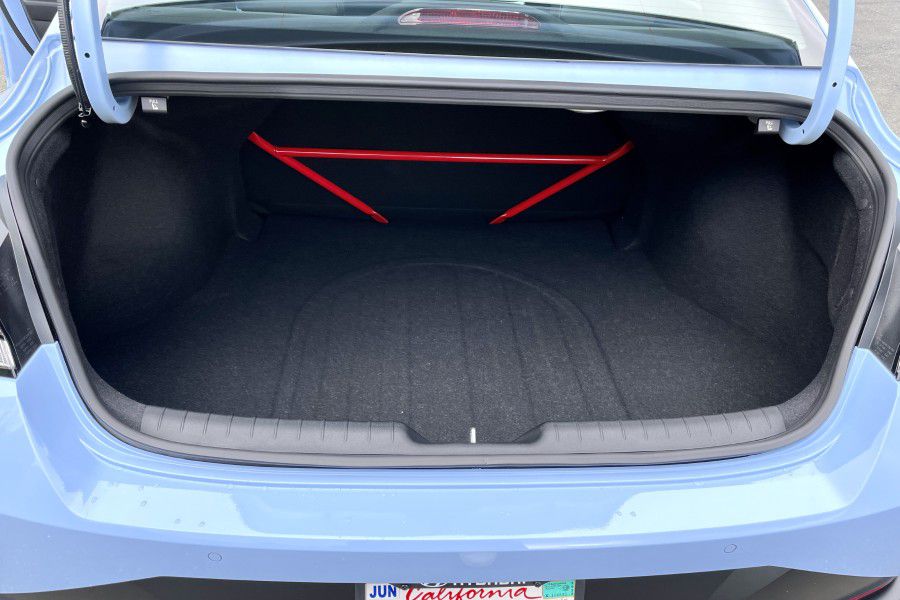 Photo by Nicole Wakelin
N-Exclusive Infotainment Features
Standard infotainment includes a 10.25-inch touchscreen with Apple CarPlay, Android Auto, and navigation. There's also a premium 8-speaker Bose audio system, Qi wireless charging, and two USB ports. That large standard screen size makes the system easy to use particularly when following complicated navigation routes. The screen is angled for easy use by both driver and passenger with good touch sensitivity that helps reduce frustration.
There's also an N-exclusive graphic interface for the infotainment system. Its bright and eye-catching with information designed to make the driver feel like they're behind the wheel of a race car. It displays gauges for oil, coolant, torque, and turbocharging. It also lets the driver customize the drive altering how the engine and steering feel for a more aggressive or relaxed drive. It's a unique system that balances the information and functionality you need with a little bit of fun.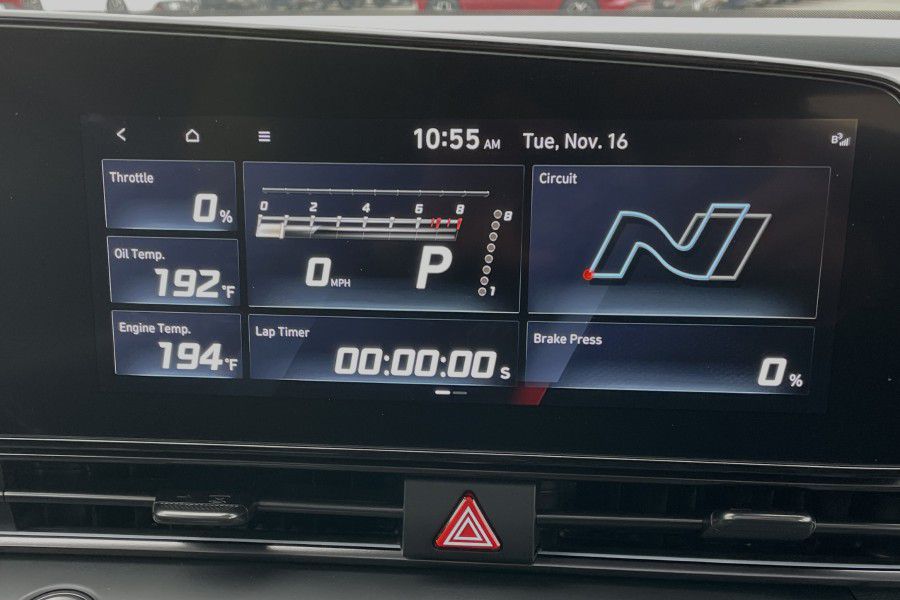 Photo by Nicole Wakelin
Ample Standard Safety
The Hyundai Elantra N comes with a wide range of standard safety features. These include forward collision-avoidance assist with pedestrian detection, blind-spot collision avoidance assist, rear cross-traffic collision-avoidance assist, lane keeping assist, and lane following assist. There's a driver attention warning to alert you if you're not staying completely focused on the road and a high beam assist so you don't have to worry about activating your high beams.
Safe exit warning helps prevent opening the doors when there's a vehicle about to pass and rear occupant alert provides a reminder to check the rear seats so that nothing is left behind at the end of the trip. Lastly, park distance warning reverse and parking collision-avoidance assist reverse help make parking easier. It's a strong offering that includes advanced safety features standard rather than making you purchase an optional package.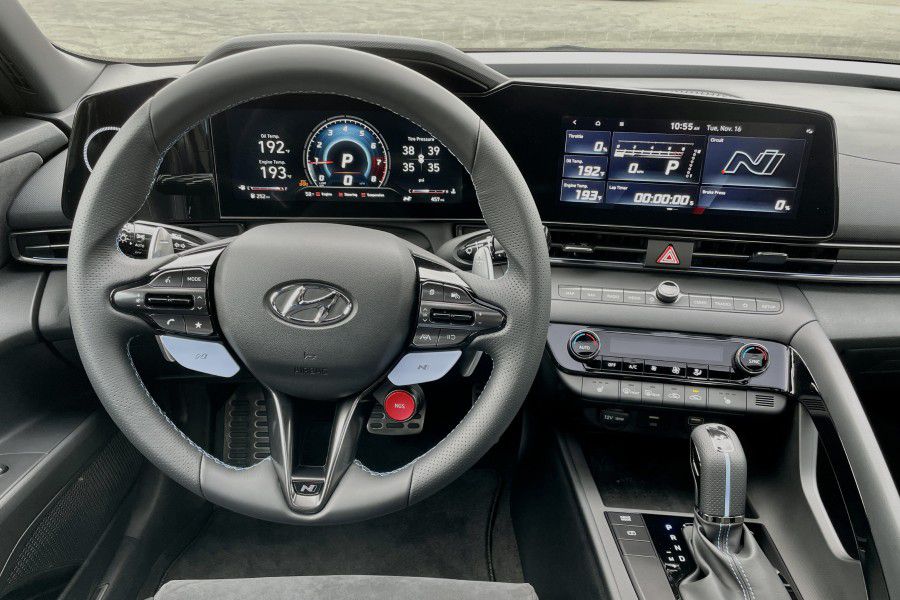 Photo by Nicole Wakelin
Final Thoughts
The 2022 Hyundai Elantra N is a sedan built for driving enthusiasts. Even as crossovers and SUVs continue their rise in popularity, Hyundai is providing good reason to reconsider the mid-size sedans. It has a comfortable interior with room for five. There are good standard features from infotainment to safety, and it has fantastic exterior styling.
But what really gives the Elantra N the edge is its performance. Its powerful turbocharged engine provides aggressive acceleration. This combines with agile handling that make winding roads something to seek out rather than avoid. The 2022 Hyundai Elantra N delivers true sports sedan performance in an attractive package.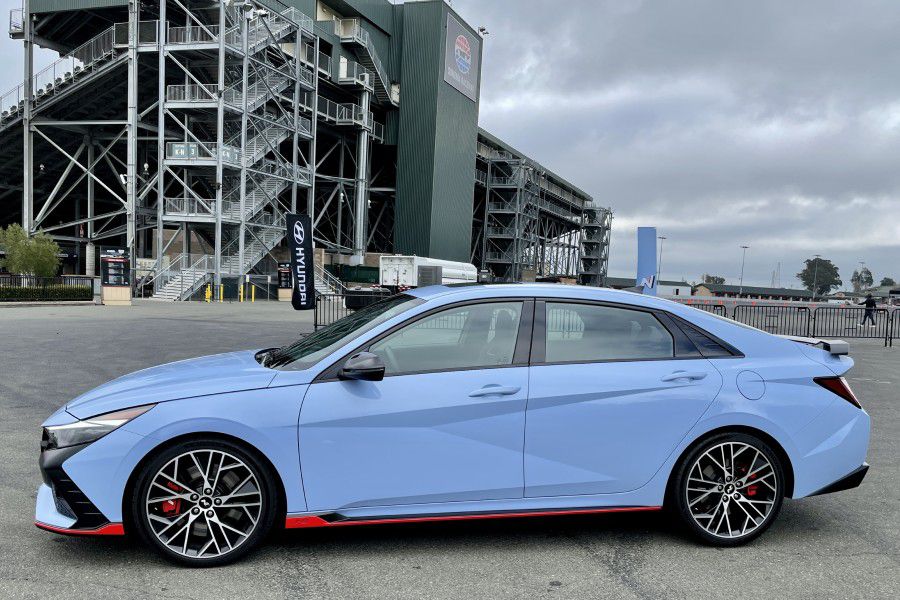 Photo by Nicole Wakelin