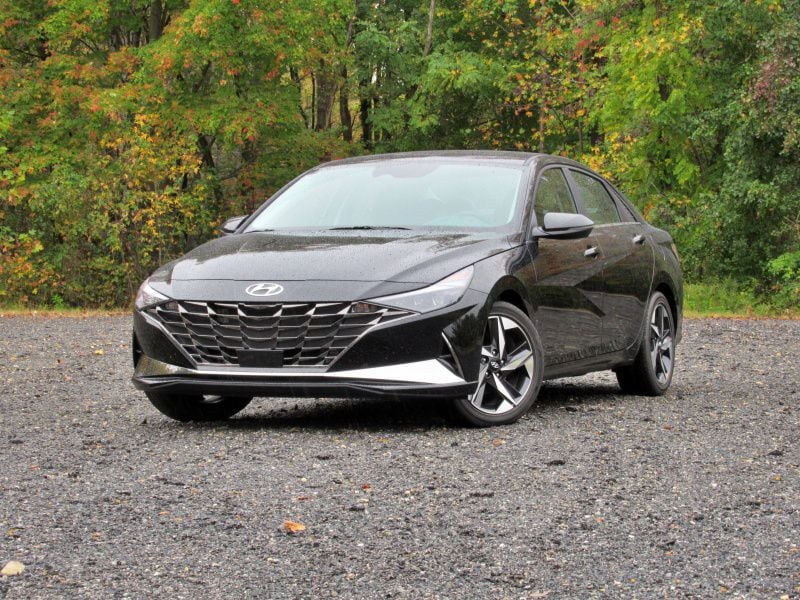 2021 Hyundai Elantra Hybrid Limited ・ Photo by Brady Holt
The Toyota Prius is an instantly recognizable fuel-saving hybrid. This five-door hatchback has an iconic shape that helps it stand apart from the crowd — for better or for worse. 
Another newly introduced compact hybrid is subtler. The Hyundai Elantra Hybrid is a gas-electric version of the popular Elantra sedan, and you'd need to spot a small "hybrid" badge on its trunk to realize it's anything special. But it delivers Hyundai's trademark value, undercutting the Prius's price while still getting EPA estimates of 50 mpg and up. For this review, we tested the Prius and the Elantra Hybrid so we could compare them across eight categories and then name our overall winner. Keep reading to learn which one we chose and which one sounds like the better fuel-sipper for you.
Exterior Design
Prius sales took off in 2004 when Toyota turned it from an ordinary-looking sedan to a quirkily futuristic hatchback, and a unique design has continued to be central to the model's identity. That's no different for the current generation, which debuted in 2016. Angles and wedges dash decorate a body that's designed to prioritize aerodynamics. A 2019 styling update did clean up some of the most controversial details, creating simpler headlight and taillight designs. 
As we mentioned, the Elantra Hybrid is visually identical to the gas-only Elantra sedan. But that doesn't mean it's dull. The redesigned 2021 Elantra ushered in sharply creased doors, trunk, and bumpers that look like an origami project. Its headlights swoop down into a bold, low grille. The angular taillights have a lightbar that runs below a pinched trunklid, and a chunk of chrome and plastic runs past the rear window the simulate additional glass. It doesn't shout "I save fuel," but it's also not just another small sedan. We'll let you choose your preferred aesthetic. 
Tie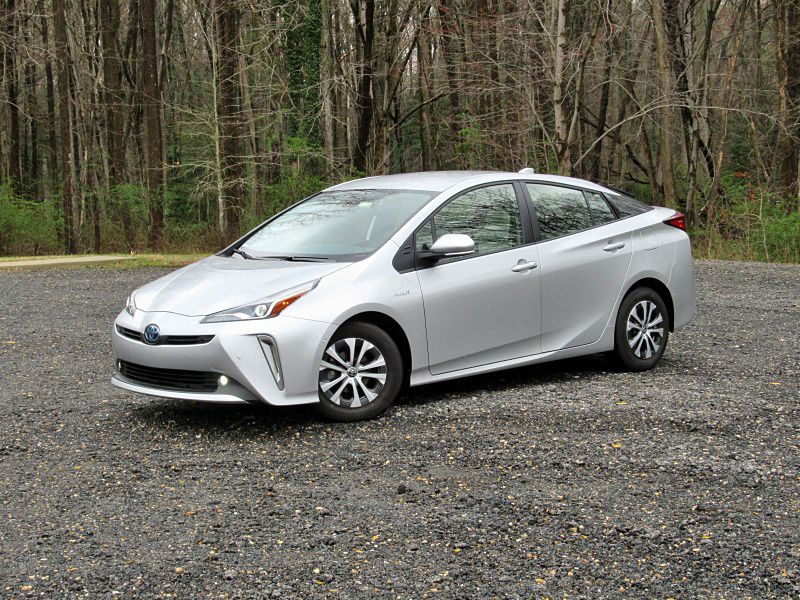 Photo by Brady Holt
Interior Design
The Prius's interior is as weird as its exterior. A center-mounted digital speedometer and a stubby electronic gear selector are longtime staples for this model. But behind the quirks is a nicely finished dashboard for an economy car. Not all materials feel fancy, but the dash is nicely textured and padded, and the Prius avoids glaring cheapness. 
The Elantra interior, meanwhile, sets out to dazzle with a Mercedes-style visual connection between the conventionally placed gauge cluster and the dashboard's infotainment screen. It extends to a horizontal strip across the dash that houses the climate vents, and then to a grab handle on the passenger side of the instrument panel. But although it looks trendier than the Prius, the Elantra isn't as expensively built. Low-end plastic abounds, and that grab handle is roughly finished with sharp edges. Hyundai also makes the screens look bigger than they are by printing a clock-esque diagram on some shiny black plastic next to the gauges. The Elantra makes a more compelling first impression, but we appreciated the Toyota's quality as we spent more time inside.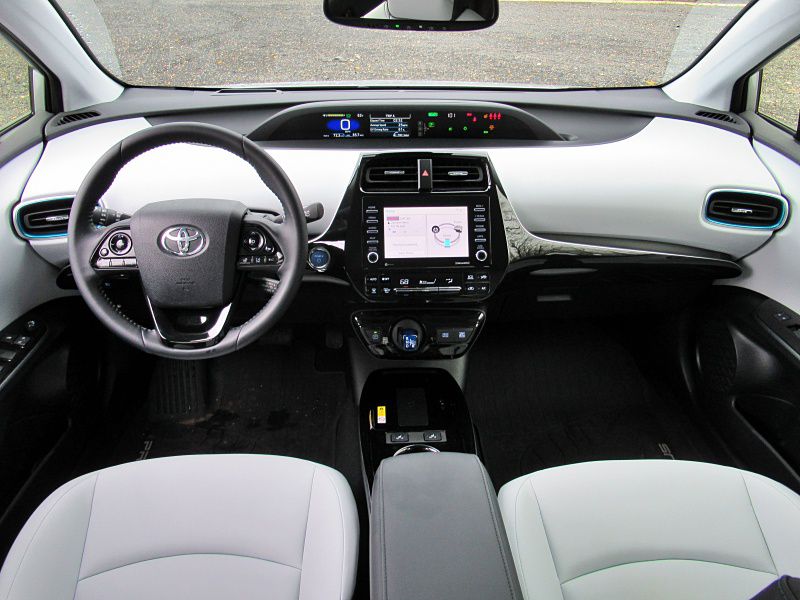 Photo by Brady Holt
Infotainment
One key issue with the Prius's interior is its infotainment system. In 2004, it was one of the first mainstream cars with a now-ubiquitous touchscreen, but Toyota let it fall behind the times. Today, most Prius models use a modest 7-inch touchscreen with wired Android Auto and Apple CarPlay integration. The top Limited model has a big 11.6-inch vertical screen, but it has dated graphics, isn't compatible with Android Auto, and eliminates many of the dashboard's simpler buttons and knobs. 
The Elantra Hybrid's infotainment is more modern. The base Blue model has an 8-inch screen with wireless Android Auto and Apple CarPlay, and our top Limited test vehicle sports a 10.25-inch horizontal screen. While that's smaller than the Prius's top screen, Hyundai keeps all the physical controls in place. That makes more room on the screen and — even more importantly — keeps it easy to adjust things like audio volume or climate settings. The Elantra's graphics are also more contemporary, its system responds faster, and it supports Android Auto in addition to Apple CarPlay (though it loses the base model's wireless capability). 
Hyundai Elantra Hybrid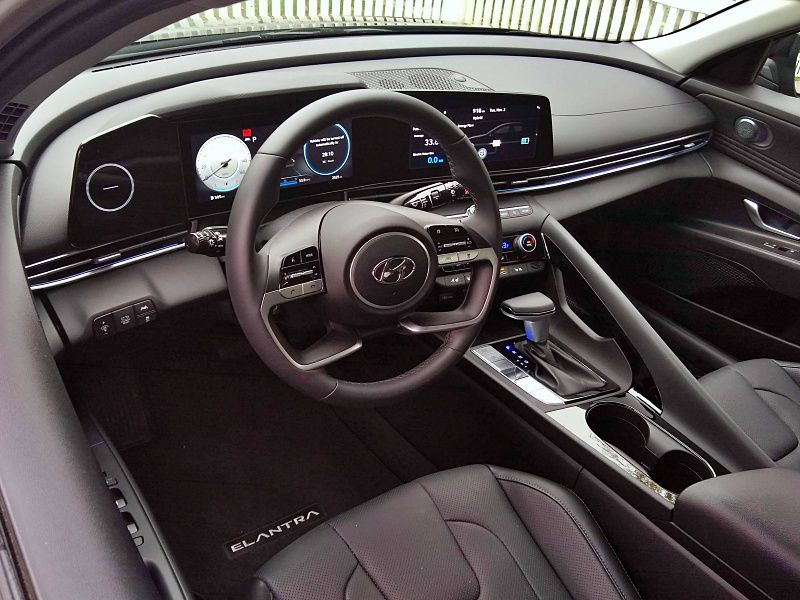 Photo by Brady Holt
Passengers and Cargo
The Elantra Hybrid has class-competitive interior space for a compact sedan. That means adults can fit comfortably into the front seat and fit in the rear seat without too much squeezing, though we didn't love maneuvering our knees around the hard-plastic front seatbacks. The Elantra Hybrid's trunk measures 14.2 cubic feet, bigger than most sedans in this class. 
But the Prius isn't a sedan — it's a hatchback. That means when you fold down the rear seat, you get a big, open cargo hold. The Prius gives you 27.4 cubic feet of cargo space behind the rear seat and 50.7 cubic feet with the rear seat folded down, which is more than some small suvs. We also found its rear seat more comfortable for adults than the Elantra's. Hyundai does offer a Prius-shaped hybrid called the Ioniq; its roominess competes well with the Prius on paper, but the Toyota has more real-world utility than either Hyundai hybrid.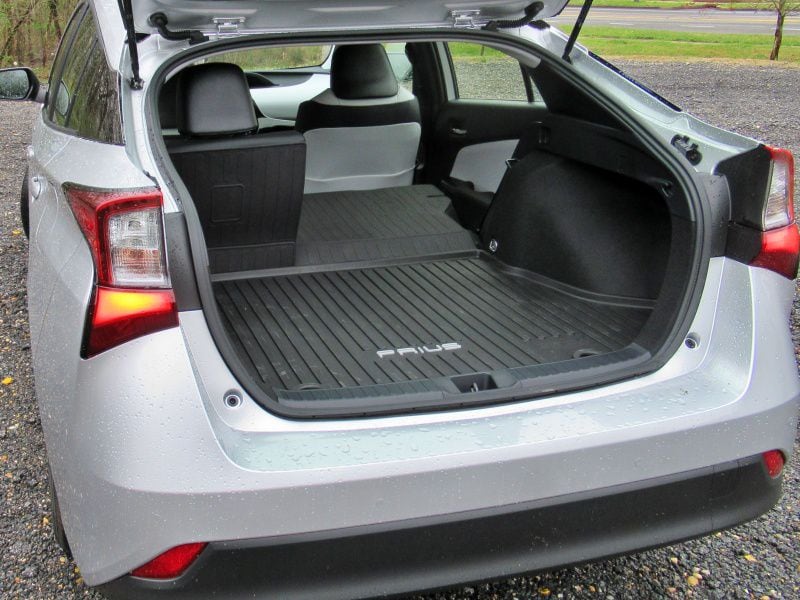 Photo by Brady Holt
Driving Experience
The Elantra Hybrid doesn't look like a Prius, and it doesn't drive much like one either. That's mostly a good thing. It packs a 104-horsepower gasoline engine and a 43-hp electric motor, which work together for a combined output of 139 hp. That's not going to set the world on fire, but it gets the Elantra Hybrid moving without too much fuss. 
The Prius, by contrast, fusses. It makes just 121 hp. And while it's not dangerously slow, it's happiest when the driver is in no hurry. In gentle acceleration, it's more willing than the Hyundai to accelerate using only electricity — especially if you select its Eco or EV driving modes, which the Elantra Hybrid lacks. But once the engine wakes up, it drones unhappily. The Hyundai uses a six-speed dual-clutch automatic transmission while the Prius uses a continuously variable automatic transmission (known as a CVT), and CVTs often exacerbate small engines' noise. The Elantra isn't hushed, but it growls more than it moans, and it struggles less to get moving. Both cars ride and handle well, but only the Hyundai also accelerates like a regular car. 
Hyundai Elantra Hybrid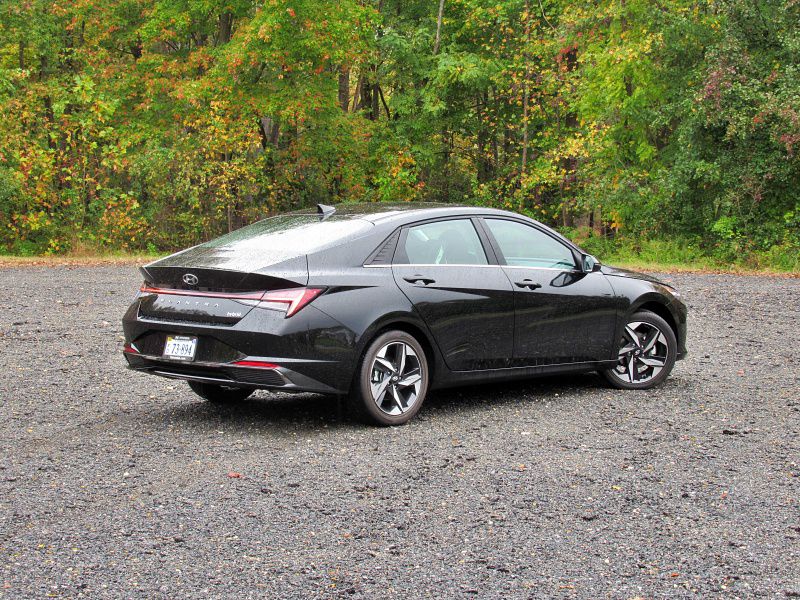 Photo by Brady Holt
Fuel Economy
In EPA fuel economy testing, the Prius and Elantra Hybrid are fairly competitive. The base Elantra Blue gets an estimated 53 mpg in the city, 56 mpg on the highway, and 54 mpg combined. That's better than all but the base Prius L Eco, which manages 58 mpg city, 53 mpg highway, and 56 mpg combined. The rest of the Prius lineup gets 54 mpg city, 50 mpg highway, and 52 mpg combined — or 3 mpg less if you opt for all-wheel drive, which the Hyundai doesn't offer. The other Elantra Hybrid trim level is the top Limited, like our test vehicle; it dips to 49 mpg city, 52 mpg highway, and 50 mpg combined. 
However, those numbers didn't match our real-world experience. We've tested a number of Priuses since 2016, and each of them crushed their EPA estimates — never averaging less than 60 mpg, including in two AWD models. Even when we spent half an hour experimentally flooring the throttle while driving around rather than feathering it, the trip computer reported 60.5 mpg. By contrast, our Elantra Hybrid Limited managed 48 mpg during a weeklong test. While the test conditions weren't identical, the difference was stark.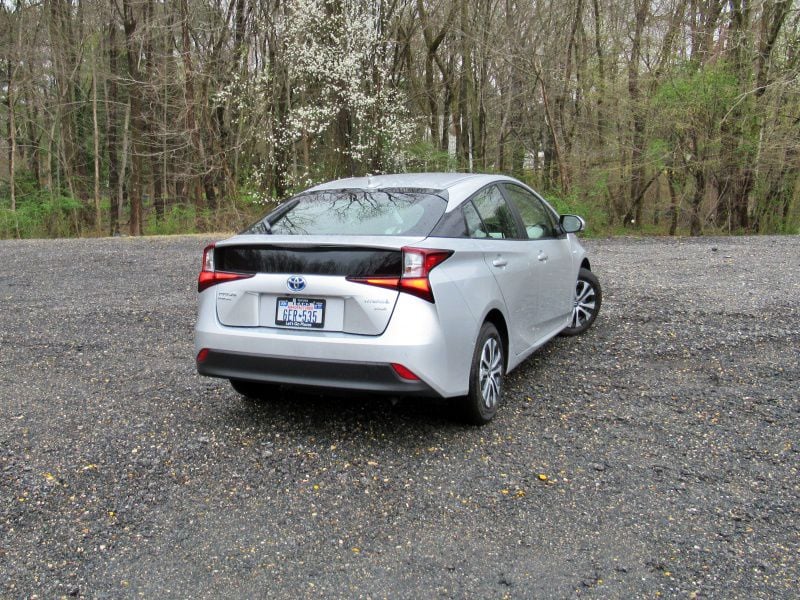 Photo by Brady Holt
Safety
Both the Elantra Hybrid and the Prius come standard with a long list of advanced safety and driver-assistance features, and they did well in crash tests. However, the Hyundai edges out the Toyota. 
Both hybrids come standard with forward automatic emergency braking and lane-keeping steering assistance. The Hyundai also adds blind-spot monitoring, which is missing from the base Prius L Eco model, and rear automatic braking, which the Toyota doesn't offer at all. The Elantra also edged out the Prius in one Insurance Institute for Highway Safety crash test: small-overlap passenger-side protection. While both of these small hybrids are safe, the Hyundai goes farther. 
Hyundai Elantra Hybrid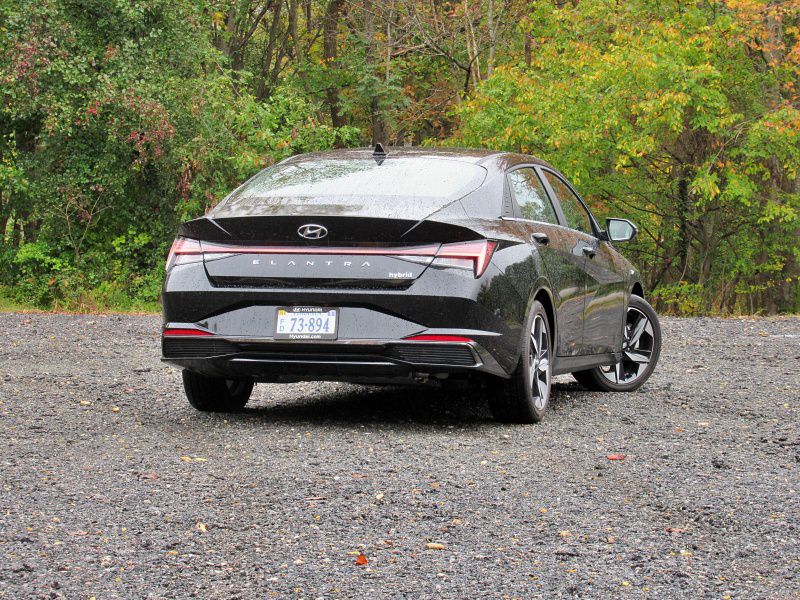 Photo by Brady Holt
Pricing and Features
The 2022 Hyundai Elantra Hybrid costs $23,750 for its base Blue trim level and $28,250 for the Limited like our test vehicle. Each is about $2,500 more than the most comparable gas-only Elantra sedan (the mid-level SEL and best-equipped Limited). In addition to the safety features we mentioned, every Elantra Hybrid includes push-button starting, automatic climate control, alloy wheels, and heated front seats. The Limited adds leather upholstery, adaptive cruise control, a power driver's seat, a sunroof, and the bigger infotainment system with GPS navigation. 
The base 2022 Toyota Prius L Eco costs $24,525, missing the Elantra Blue's blind-spot monitoring and heated front seats. The broad range of trim levels then extends to the LE (which adds blind-spot monitoring and a few other features at $25,735), the leatherette-trimmed XLE like our test vehicle ($28,745), and the top Limited ($32,820), which has the bigger infotainment screen, a premium sound system, and a navigation system. The Prius comes standard with adaptive cruise control, which Hyundai saves of the top Limited, but otherwise the Elantra Hybrid has more features for your money. 
Hyundai Elantra Hybrid
Photo by Brady Holt
Final Thoughts
If you want a hybrid that doesn't feel like a hybrid, Hyundai sells a tempting option. The 2022 Hyundai Elantra Hybrid drives like a normal Elantra while getting far better gas mileage. The $2,500 premium will pay for itself if you drive enough, especially if gas prices stay high. It's quicker, quieter, and less unusual than the Prius, and it has better infotainment systems. It also costs less. 
Still, we pick the Prius. If you're genuinely interested in a hybrid, rather than just buying what the spreadsheet spits out, Toyota provides something unique. And if you prefer coaxing out maximum mpgs to being the fastest away from the stoplight, the Prius delivers its own type of enjoyable driving experience. Besides, that unusual design boosts the Prius's gas mileage while giving it phenomenal cargo capacity for a compact car. Throw in far better real-world mileage, available all-wheel drive, and nicer interior materials than the Elantra Hybrid, and we think the quirky Prius is worth its drawbacks.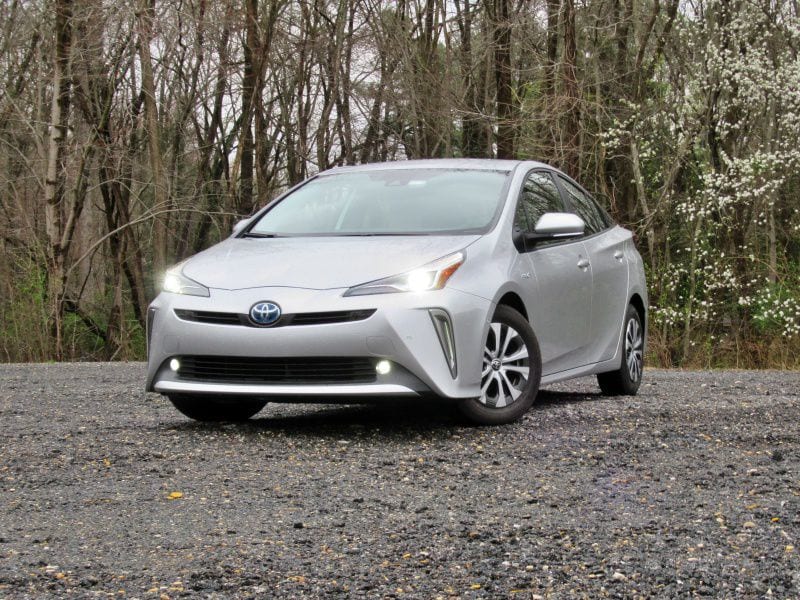 Photo by Brady Holt