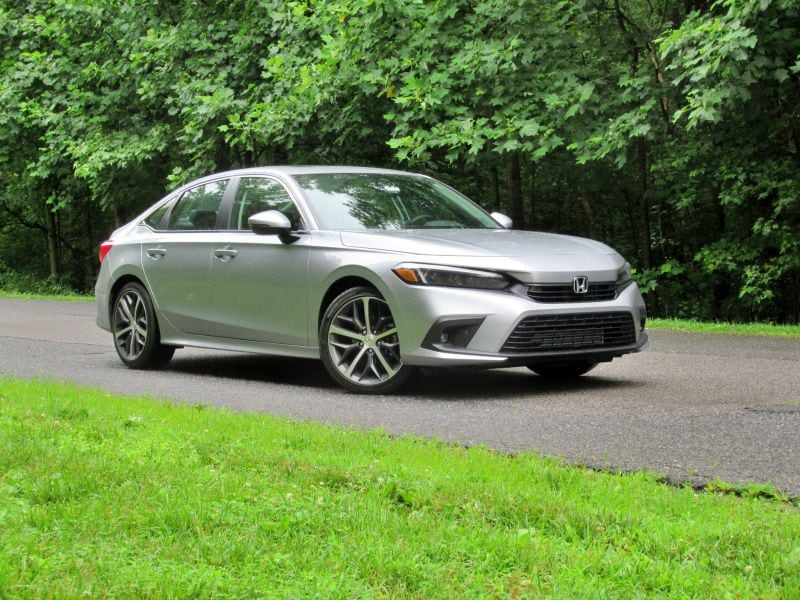 2022 Honda Civic Touring ・ Photo by Brady Holt
Break the mold, or play it safe? Carmakers face that decision every time they redesign one of their vehicles. A radical departure can get people excited, but it can also alienate would-be buyers. Meanwhile, an inoffensive but overly conservative vehicle could get overlooked. 
Hyundai and Honda have tried both approaches with their popular compact sedans, but at different times. The 2021 Hyundai Elantra got decorated with angles and shapes running every which way, working overtime to avoid being branded as dull (as some critics called the last Elantra redesign in 2017). The just-released 2022 Honda Civic, meanwhile, smooths out the busy details that proved polarizing on the dramatic 2016-2021 model. But aside from their different styling philosophies, which redesigned compact sedan is best? We tested both vehicles so we could compare them across eight categories and then name an overall winner. Keep reading to learn which one we picked and which is the better choice for you. 
Pricing and Features
Hyundai is known for its value, and the flashy new Elantra doesn't break that tradition. The base SE starts at just $19,650, despite a full complement of safety technology, an 8-inch infotainment touchscreen, and two USB ports. The base Civic LX costs $21,700, yet the extra $2,050 buys you a 7-inch touchscreen, plastic wheel covers, a single USB port, and no blind-spot monitoring. (Honda does include push-button starting, automatic climate control, and adaptive cruise control, though.) 
The Elantra's value advantage continues across the lineup. Honda requires the $24,700 Civic EX model for blind-spot monitoring, a second USB port, a split-folding rear seat, and a rear center armrest. And the top $28,300 Touring model is the only way to get a power driver's seat, a rear cross-traffic alert (usually paired with blind-spot monitoring), and SiriusXM satellite radio. You'll find most of that on the Elantra SEL ($20,900) and the rest — bundled with other options like a sunroof, heated front seats, and a premium sound system — at $23,950. There's also a leather-trimmed Elantra Limited ($25,450) along with a higher-performance N-Line and gas-electric hybrid. And Hyundai provides three years of free scheduled maintenance.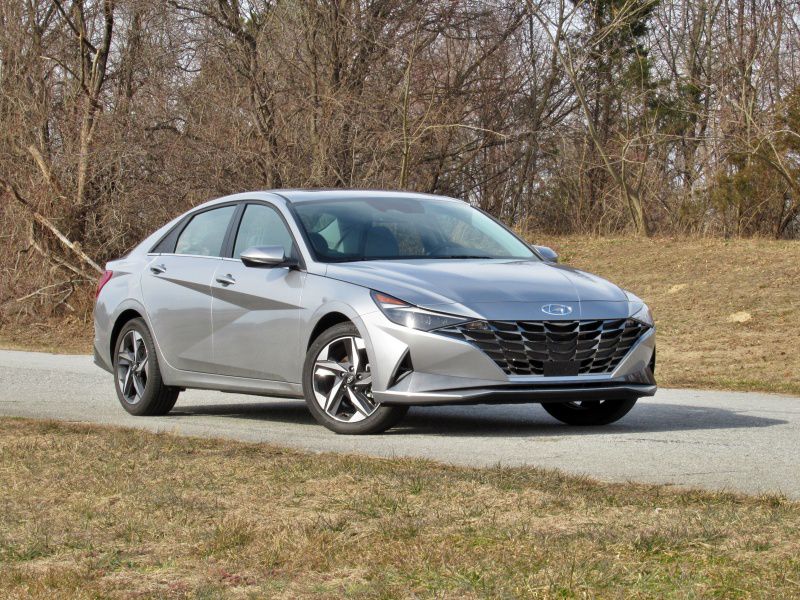 Photo by Brady Holt
Exterior Design
Honda received some harsh feedback for the wedges, angles, and bulges that festooned the 2016 Civic, and it dialed things way back for the new 2022 model. Extra shapes are kept to a minimum; there are just slim headlights astride a slim grille, a conventionally sleek roofline, and big simple taillights. A kick in the windowline just past the back door gives some spice to the profile, but this is not a risk-taking design overall. You'd have to be an auto expert to notice this is a brand-new design. 
By contrast, it feels like Hyundai gave the Elantra every detail its design team had ever considered. The sharply creased doors, trunk, and bumpers look like an origami project. The headlights swoop down into a bold, low grille. The angular taillights have a lightbar that runs below a pinched trunklid, and a chunk of chrome and plastic runs past the rear window the simulate additional glass. Nobody will think it's an old car. We won't declare a winner between the bold-looking Elantra and the quietly restrained Civic, leaving that up to your personal tastes. 
Tie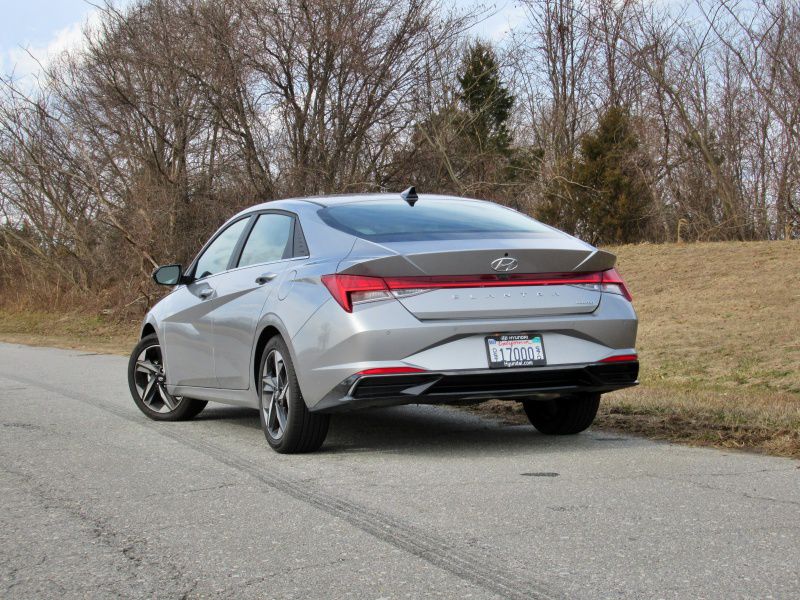 Photo by Brady Holt
Interior Design
Inside, Honda has returned to the Civic's roots of simple design, user-friendly ergonomics, and top-notch build quality. The dashboard is a straight horizontal line, decorated with a beautifully finished honeycomb that also houses the dashboard vents; it's neither busy nor dull. An infotainment touchscreen perches on top, and is complemented with easy-to-use physical controls. Except for a few out-of-the-way parts of the door panels, the Civic's cabin uses first-rate materials. Even more impressive, moving parts operate with a precision that's lacking even from some luxury cars. 
The Elantra's cabin makes a more overt effort to catch your eye. It also has a strip across the dashboard that includes the vents, but it angles back and forth to follow the asymmetrical dashboard. The center console has a big grab handle next to the gear selector, and it curves away next to the cupholders. Regardless of your aesthetic preference, while the Elantra is still fine for an economy sedan, its interior materials and moving parts feel more basic than the Civic's. 
Honda Civic
Photo by Brady Holt
Infotainment and Technology
Our tested Civic includes a generously sized 9-inch infotainment touchscreen, wireless Apple CarPlay and Android Auto smartphone integration, and a wireless smartphone charger. But that's because we tested the top-of-the-line Civic Touring. The rest of the lineup gets a 7-inch screen that requires a cable to sync with your smartphone's apps. It's easy to use, a refreshing upgrade from last year's Civic, but it's not amazing. 
By contrast, the Elantra comes standard with an 8-inch infotainment screen and wireless Apple CarPlay and Android Auto, even on the base model. A wireless smartphone charger is an affordable option on the mid-level SEL trim. And as we mentioned, the Elantra also has two USB ports standard instead of the base Civic's lone port. The top Elantra Limited like our test vehicle adds a jumbo 10.25-inch touchscreen, though it loses wireless Apple CarPlay and Android Auto integration. Upper-trim Elantras also include the functionality to use your phone as a key. Overall, the new Civic has lots of great technology — just not for most people who'll buy one. The Elantra wins for making its tech available across the board. 
Hyundai Elantra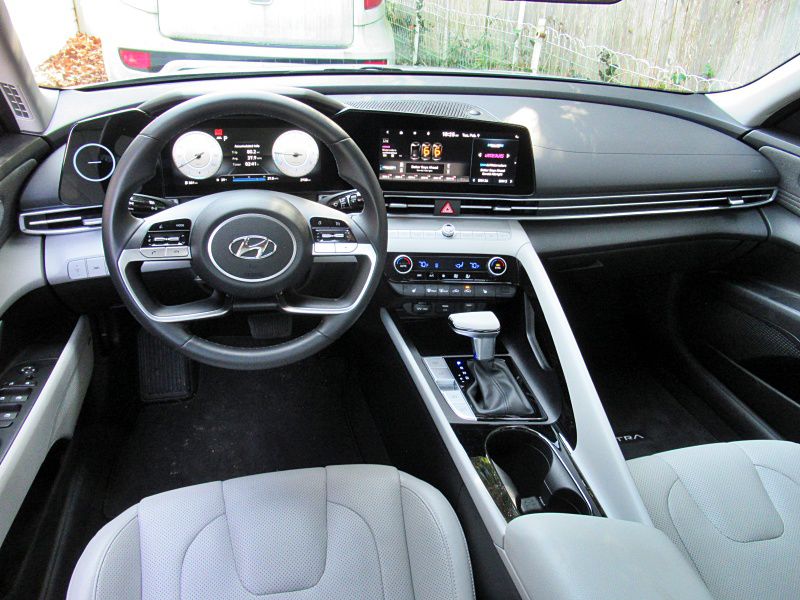 Photo by Brady Holt
Interior Space and Comfort
The Elantra's seats are about what you'd expect from a modern compact car. Four adults can fit inside and a fifth could squeeze in, but anyone in the back would feel the pinch of just-OK legroom and headroom. And the front seats aren't generously supportive, even on our top Limited test vehicle. 
The Civic challenges the norms of an economy car. Like last year's model, its rear seat is downright comfortable for adults. And more than ever, the front seats are excellent, too. They're thickly padded and supportive without being confining. Some critics have wished lumbar support were available, but we felt fine without it. The Elantra does have a couple of comfort advantages: the broader availability of a power driver's seat and fold-down rear armrest. But the Civic's more supportive seats and greater passenger space matter more to us. It also has a slightly bigger trunk: 14.8 cubic feet (or 14.4 cubic feet on the Touring) versus 14.2 cubic feet in the Elantra. And unlike the Elantra, the Civic will be offered as an extra-functional five-door hatchback model later this year.
Honda Civic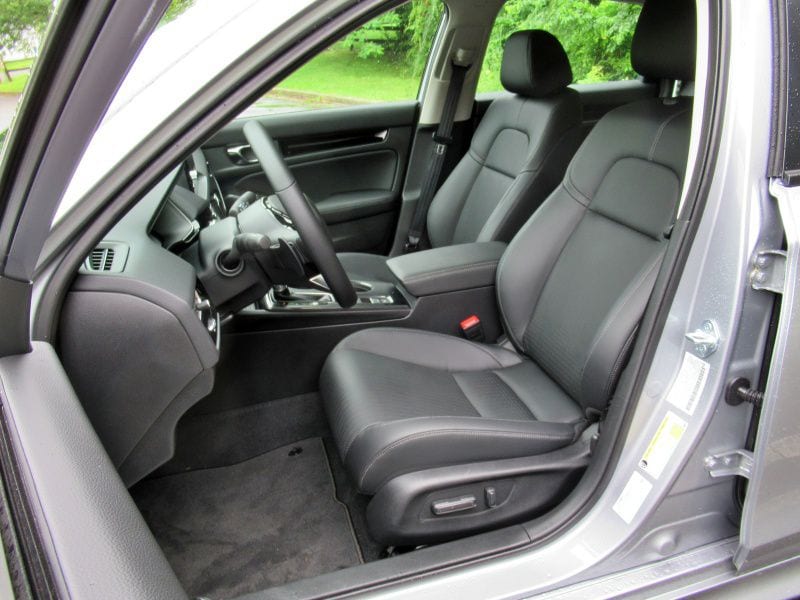 Photo by Brady Holt
Driving Impressions
Despite the 2021 Elantra's dramatic new look, it drives pretty much like the previous-generation model. That is to say, it's pleasant but not exciting. The ride is generally smooth, and the steering feels natural until you push it harder; then, the vehicle's lack of sporty agility shows through. The 147-horsepower four-cylinder engine is shared with last year's Elantra, and it's decently quick and quiet if not outstanding. The N-Line brings a 201-horsepower turbo and a stiffer suspension, and the upcoming Elantra N goes all the way up to 276 horsepower. The Elantra Hybrid makes 139 horsepower. 
The Civic takes the driving experience to the next level. It has an underlying firmness without ever being stiff: supreme composure to its steering and suspension. Honda has created a car that will satisfy driving enthusiasts without alienating everyone else. Except for excess high-speed road noise, the Civic drives like a luxury sports sedan. The base LX and Sport trim levels have a 158-horsepower engine; the EX and Touring upgrade to a peppier 180-horsepower turbo. Higher-performance Si and Type R models will likely join the lineup soon.
Honda Civic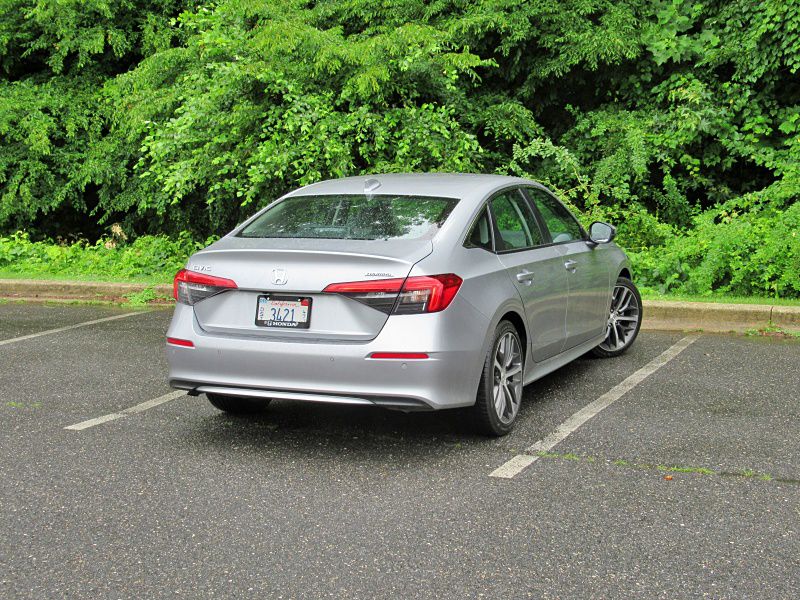 Photo by Brady Holt
Fuel Economy
Both the gas-powered Civic and Elantra have among the highest EPA ratings in their class. The base Civic engine gets 35 mpg in mixed driving on the LX and 33 mpg on the Sport, while the turbo gets 36 mpg in the EX and 34 mpg on the Touring. We averaged 38 mpg in our Touring test vehicle. Every Civic sedan has a continuously variable automatic transmission (CVT), but the upcoming hatchback and performance models will offer a manual. 
Most Elantra trim levels get 35 mpg in mixed driving, while the base SE rises to 37 mpg. Our Limited test vehicle averaged 37 mpg. The base Elantra engine comes only with a CVT; the N-Line achieves 31 mpg with a dual-clutch automatic transmission and 28 mpg with a manual. But the real winner is the Elantra Hybrid, whose gas-electric powertrain achieves 50 to 54 mpg depending on the trim level. Honda instead sells a competing hybrid called the Insight, which is based on the previous-generation Civic; if you want a fuel-sipping Honda and aren't interested in the new Civic's lively driving experience and modern cabin, the Insight scores an EPA-estimated 52 mpg in most trim levels. 
Hyundai Elantra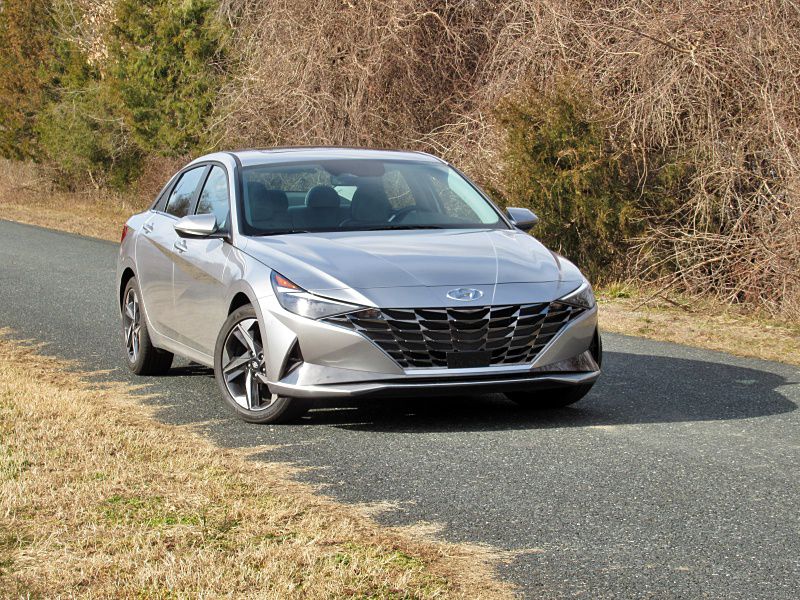 Photo by Brady Holt
Safety
The all-new Civic hasn't yet been crash-tested, but it comes with a number of advanced safety features as standard equipment, including automatic emergency braking with pedestrian and bicyclist detection, along with a lane-departure warning and lane-keeping steering assistance. However, blind-spot monitoring is limited to the EX and Touring, and only the Touring has a rear cross-traffic alert or rear automatic braking.
The Elantra, meanwhile, provides automatic emergency braking with pedestrian detection, a lane-departure warning, lane-keeping assistance, and blind-spot monitoring with a rear cross-traffic alert on every trim level. Cyclist detection (along with detection of turning vehicles at intersections) is optional on the Elantra SEL and standard on the Limited, and rear automatic braking is also Limited-specific. Overall, Hyundai provides plenty of safety features for everyone, while Honda is more restrictive. And the Elantra already has proven safety performance, earning a Top Safety Pick designation score from the Insurance Institute for Highway Safety in the Limited trim level. (Other models have weaker headlight illumination and a slightly less effective automatic emergency braking system.) Every Elantra scores five out of five stars overall in National Highway Traffic Safety Administration crash testing. 
Hyundai Elantra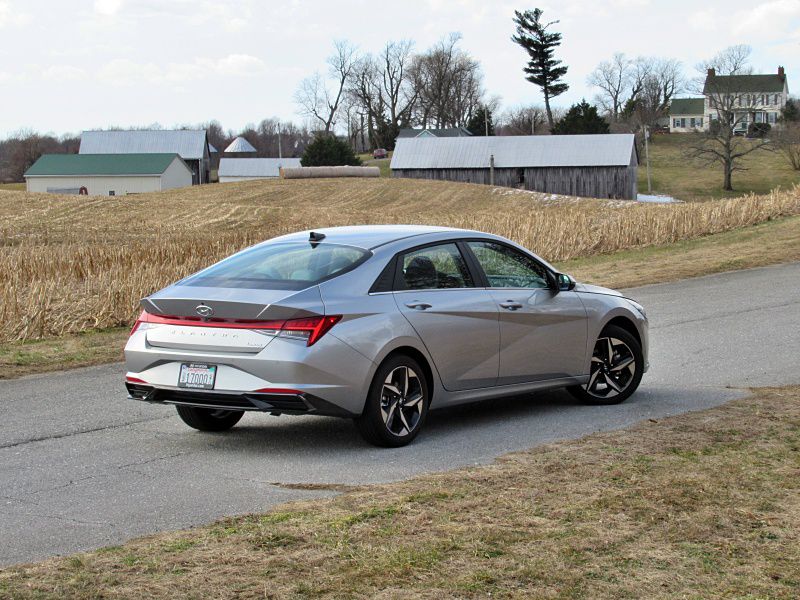 Photo by Brady Holt
Final Thoughts
The 2022 Honda Civic is an uncommonly fine automobile. Unlike many small cars, it's a great car that just happens to be small, with a beautifully detailed interior and exceptional driving manners. It's also uncommonly roomy for its size, meaning you could consider it as an alternative to mid-size sedans — good news given that it costs more than most equivalently equipped compact cars. It's not exciting to look at, though, and Honda is stingy with certain features. 
Meanwhile, the 2021 Hyundai Elantra is an ordinary budget-friendly car wrapped in an out-of-the-ordinary body. It's a pleasant and economical sedan at a great price. It's loaded with safety features, and even lower-trim models sync smoothly with your smartphone. For many people, this is the perfect compact economy sedan, even more so with the fuel-sipping hybrid powertrain. But the Civic is a higher tier of car. To us, its superior ride, handling, acceleration, interior quality, spaciousness, comfort, and overall experience are worth this price premium over the Elantra.
Honda Civic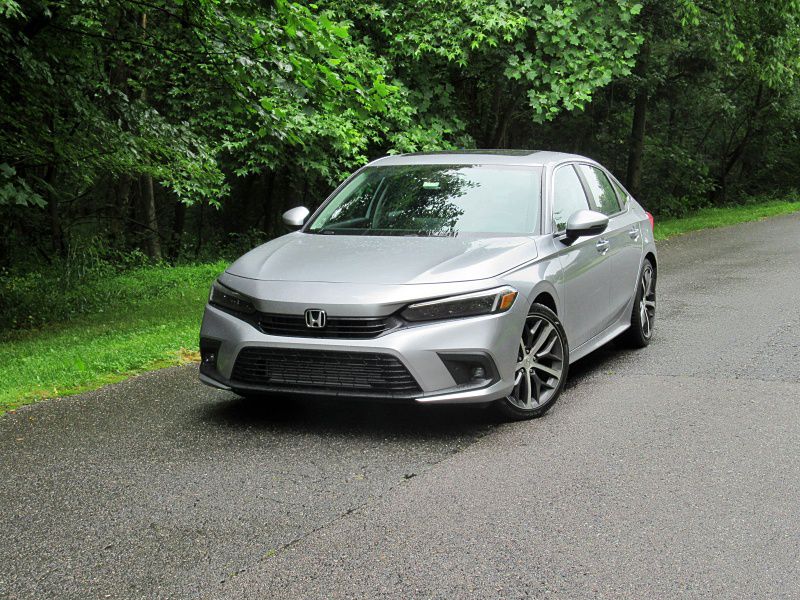 Photo by Brady Holt