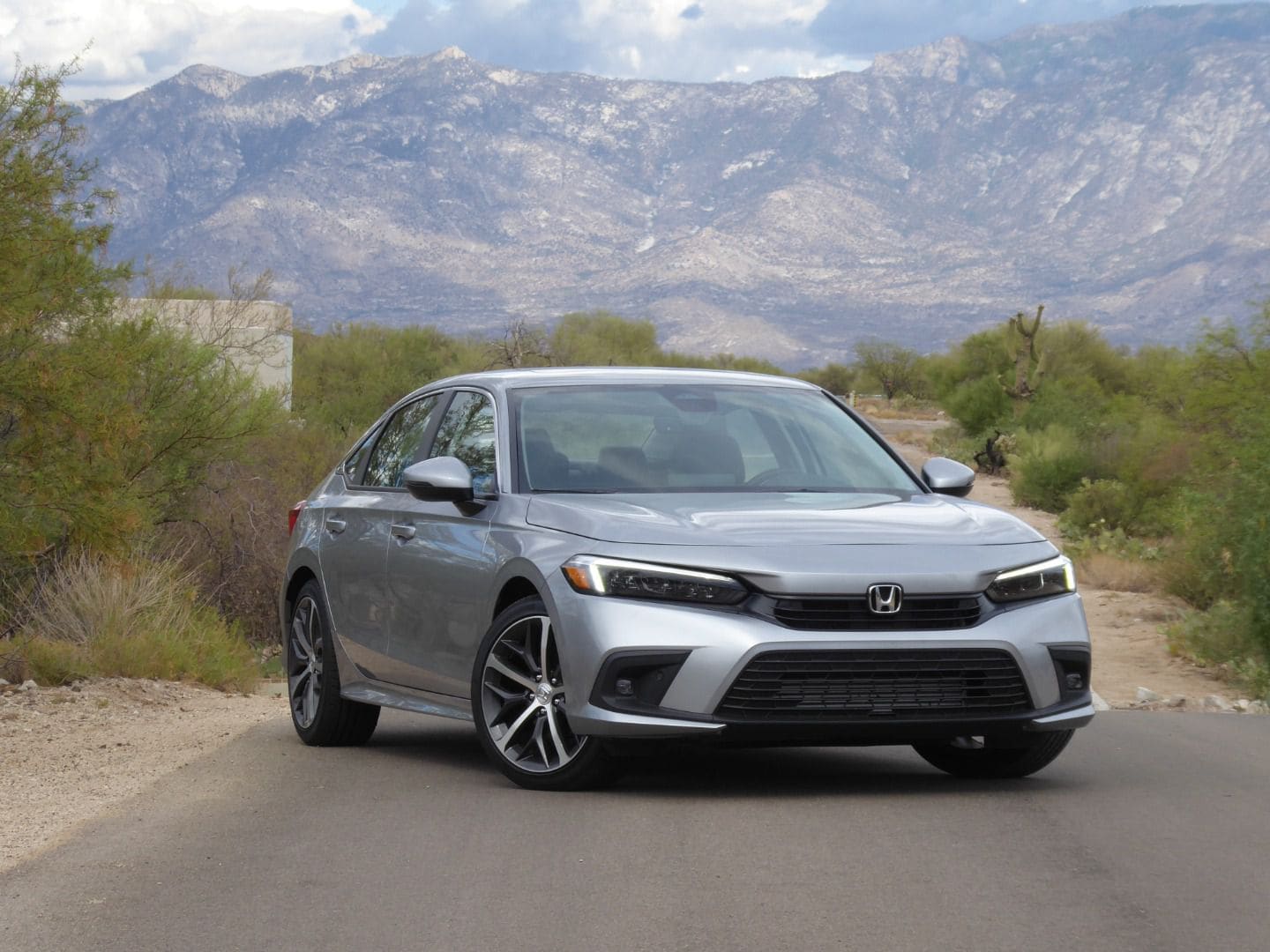 2022 Honda Civic ・ Photo by Ron Sessions
Since it was first introduced a half-century ago, the Honda Civic has been a top seller in the small-car space, offering a winning combination of fuel-efficiency, value, and fun-to-drive character. Model year 2022 marks the introduction of an all-new, 11th-generation compact Civic sedan with a classier, more-sophisticated appearance not unlike that of the larger midsize Accord sedan. The preponderance of scoops, body creases, and other "Rocket Boy" surface excitement from last year's version are now gone, replaced by a handsome, well-proportioned 4-door sedan that looks good from all angles. A 1.4-inch longer wheelbase and more vertical windshield pillars result in a longer hood and more premium dash-to-front-axle perspective and overall profile.
Other improvements include updated infotainment with available wireless Apple CarPlay and Android Auto, a new Bose audio system, an available all-digital driver display, updated Honda Sensing with a wide-view camera, and new front airbags engineered to reduce head and neck injuries.
For 2022, Honda drops the previous EX-L sedan trim. Including the recently raised $1,015 destination charge, the simplified Civic sedan model lineup includes the base $22,715 LX, well-equipped $24,115 Sport, turbo-powered $25,715 EX, and range-topping $29,315 Touring. All are equipped with front-wheel drive and a continuously variable automatic transmission.
Major compact sedan competitors include the Toyota Corolla, Nissan Sentra, Hyundai Elantra, Kia Forte, Volkswagen Jetta, Subaru Impreza, and Mazda 3.
Choice of Engines
The LX and Sport trims are powered by a naturally aspirated 2.0-liter 4-cylinder with 158 horsepower and a modest 138 lb-ft of torque. The EX and Touring trims upgrade to a direct-injected, turbocharged 1.5-liter 4-cylinder with a more invigorating 180 horsepower and more importantly, 177 lb-ft of torque over a broad plateau from 1700 to 4500 rpm, the engine speeds most drivers encounter in regular daily use.  
But the 1.5-liter turbo, despite increases of 6 horsepower and 15 lb-ft of torque for 2022, doesn't feel quite as quick as last year's version did although it has the same continuously variable automatic transmission-ratio spread and final-drive gearing. Expect 0-60 times of about 8.5 seconds for the 2.0-liter and 7.5 seconds for the 1.5-liter turbo. As in recent years, no manual transmission is offered in the sedan for 2022.
There's some good news on the fuel-economy front, however. With EPA estimates of 30 mpg to 31 mpg city/37 mpg to 40 mpg highway/32mpg to 33 mpg combined, the 2.0-liter is 1 mpg to 2 mpg more fuel efficient in combined city/highway driving than its 2021 counterpart. The more powerful 1.5-liter turbo does even better overall, EPA-rated at 31 mpg to 33 mpg city/38 mpg to 42 mpg highway/34 mpg to 36 mpg combined. The 1.5-liter turbo Touring test car averaged 37.0 mpg over a week of mixed city and highway operation.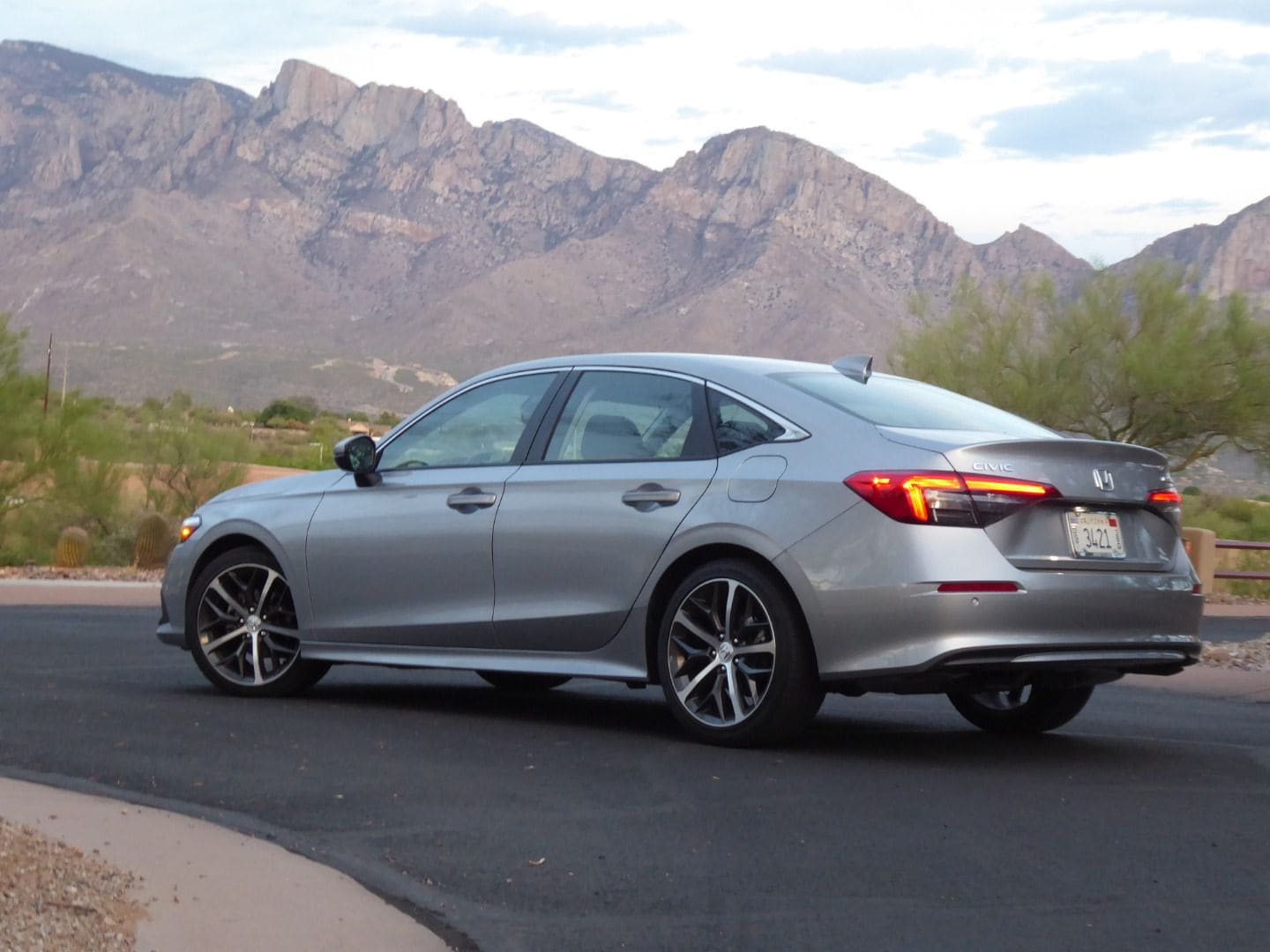 Photo by Ron Sessions
Clean and Tidy Interior Layout
As with the cleaned-up exterior design, the new Civic sedan's interior now looks classy and grown up, shedding its previous Game Boy-like busyness. The tidy design of the exterior continues into the cabin where a unique metal-mesh screen incorporates and hides the face-level climate control vents and emphasizes the horizontal, low-and-away dash theme.
In typical Honda fashion, all switchgear is ergonomically arrayed, simple to use, and possesses good tactile feel. The automatic transmission shift lever is a traditional PRNDL fore-aft transmission shift lever; no weird push/pull buttons that require eyes-off-the-road time to change gears.
The low dash, thin windshield pillars and door-mounted side mirrors contribute to good outward visibility to the front and sides. However, the rear view is blocked partially by head restraints and the center high-mounted stoplight.
The tilt-out glovebox is much smaller than its door size suggests; otherwise, cabin storage is good with deep bins in the doors, generously sized cup holders moved forward for easy access, a deep bin under the sliding center armrest, and an open tray under the dash for small electronics or miscellaneous items.
Standard fare on all trims includes pushbutton start, a tilt and telescope steering column, automatic climate control, and power door locks, windows (fronts are auto up/down), and mirrors. The Sport trim adds paddle shifters and the EX trim brings a power moonroof. The EX and Touring upgrade to dual-zone automatic climate control.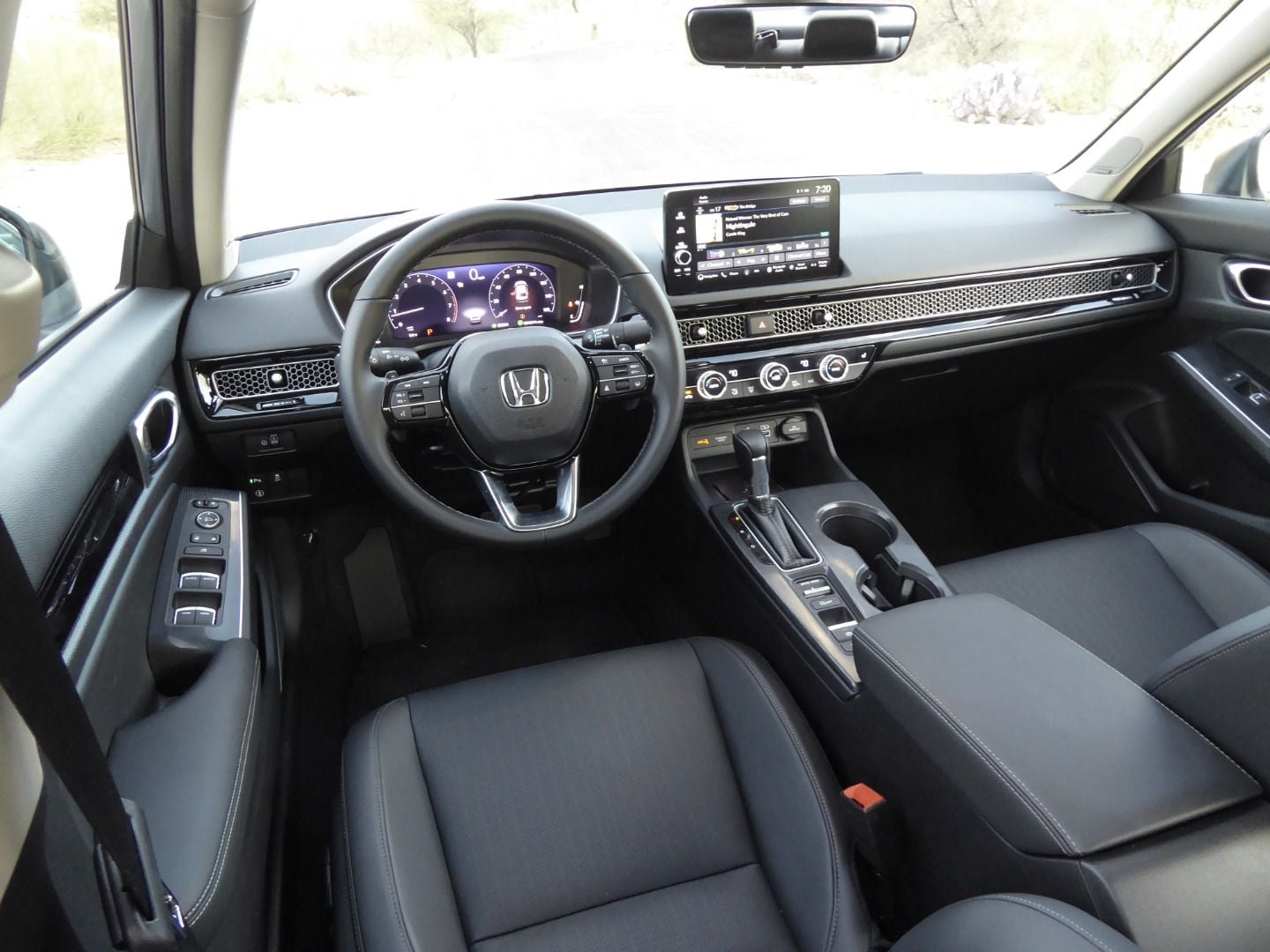 Photo by Ron Sessions
Upgraded Infotainment
LX, Sport, and EX grades come standard with a new 7-inch color touchscreen (up from 5 inches in last year's base LX trim). This version gets both an analog rotary volume knob plus a tuning knob for easy on-the-road adjustments, as well as a bank of hard shortcut buttons for frequently used features. Apple CarPlay and Android Auto cellphone mirroring are included but require a wired USB connection. The basic AM/FM stereo comes with four speakers in the LX and eight with Sport and EX.
The range-topping Touring upgrades to a 9-inch color touchscreen featuring satellite-based navigation with voice recognition and real-time traffic updates. The Touring also adds a 12-speaker Bose premium audio system with a thumping subwoofer, SiriusXM satellite radio, and HD Radio. The Bose system features Centerpoint 2 technology that makes cabin occupants feel like they're sitting center stage at a concert. Apple CarPlay and Android Auto is wireless with this system, eliminating the cable clutter. It also has an analog volume knob, but trades the rotary tuning knob of the smaller screen for a pair of small, hard tuning buttons. Touring trim also adds a console-mounted wireless charger for Qi-compatible phones.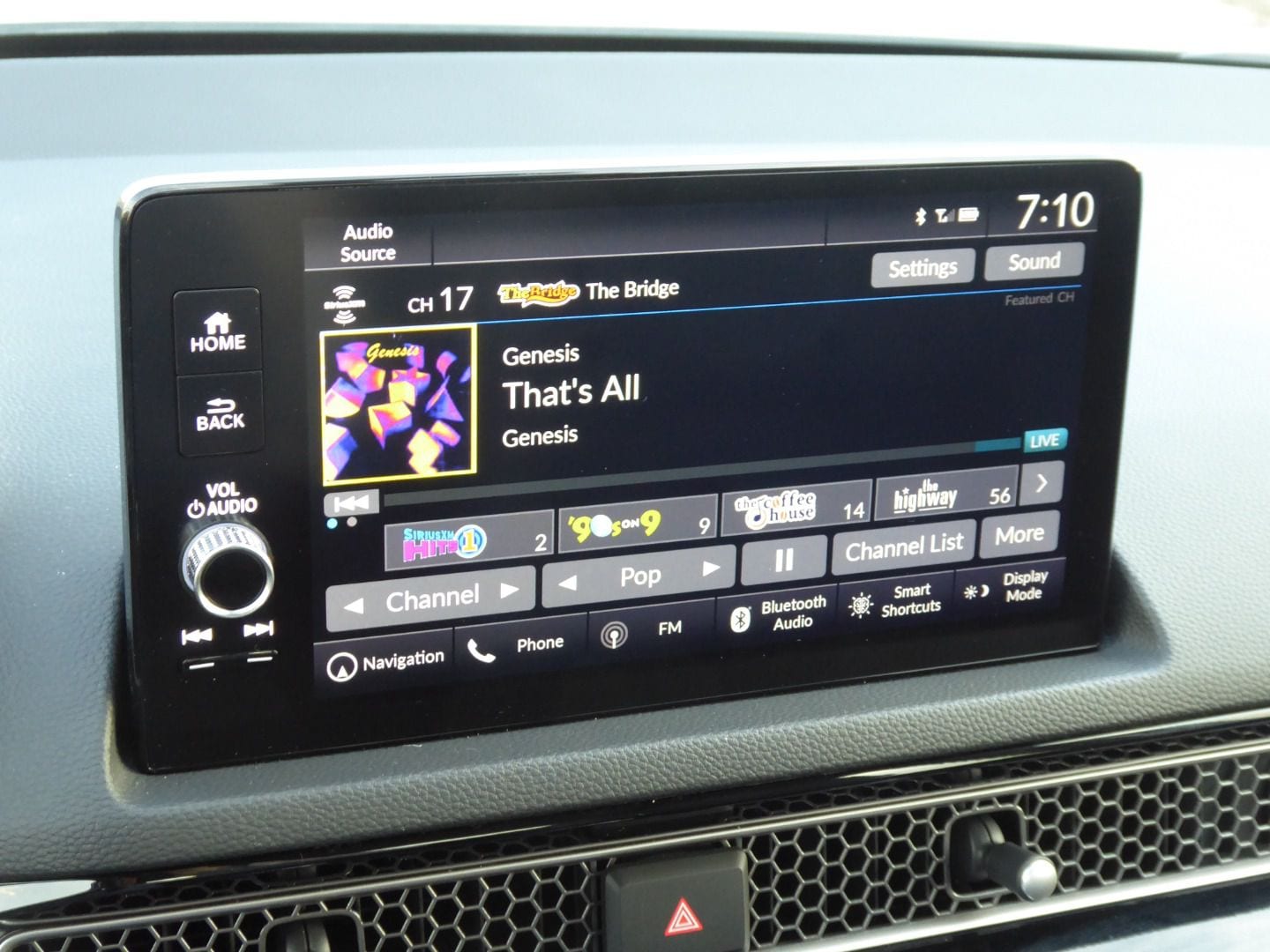 Photo by Ron Sessions
Supportive Front Seats
Honda redesigned the front bucket seats this year to improve lateral and lower back support, increasing comfort during longer roadtrips. The front seats encapsulate and hug the lower body, providing a pocket designed to better support the hips and spine. These aren't sport seats and there are no hard wires or bolsters to slide over when getting into or out of the car.
The base LX, Sport, and EX trims have manually adjusted, cloth-covered front seats with a manual driver's seat-height adjuster. The EX trim adds front seat heaters and the Touring model brings leather seat coverings as well as power seat adjustments for the driver and front passenger.
All but base LX trim feature a standard leather-wrapped steering wheel and shift lever.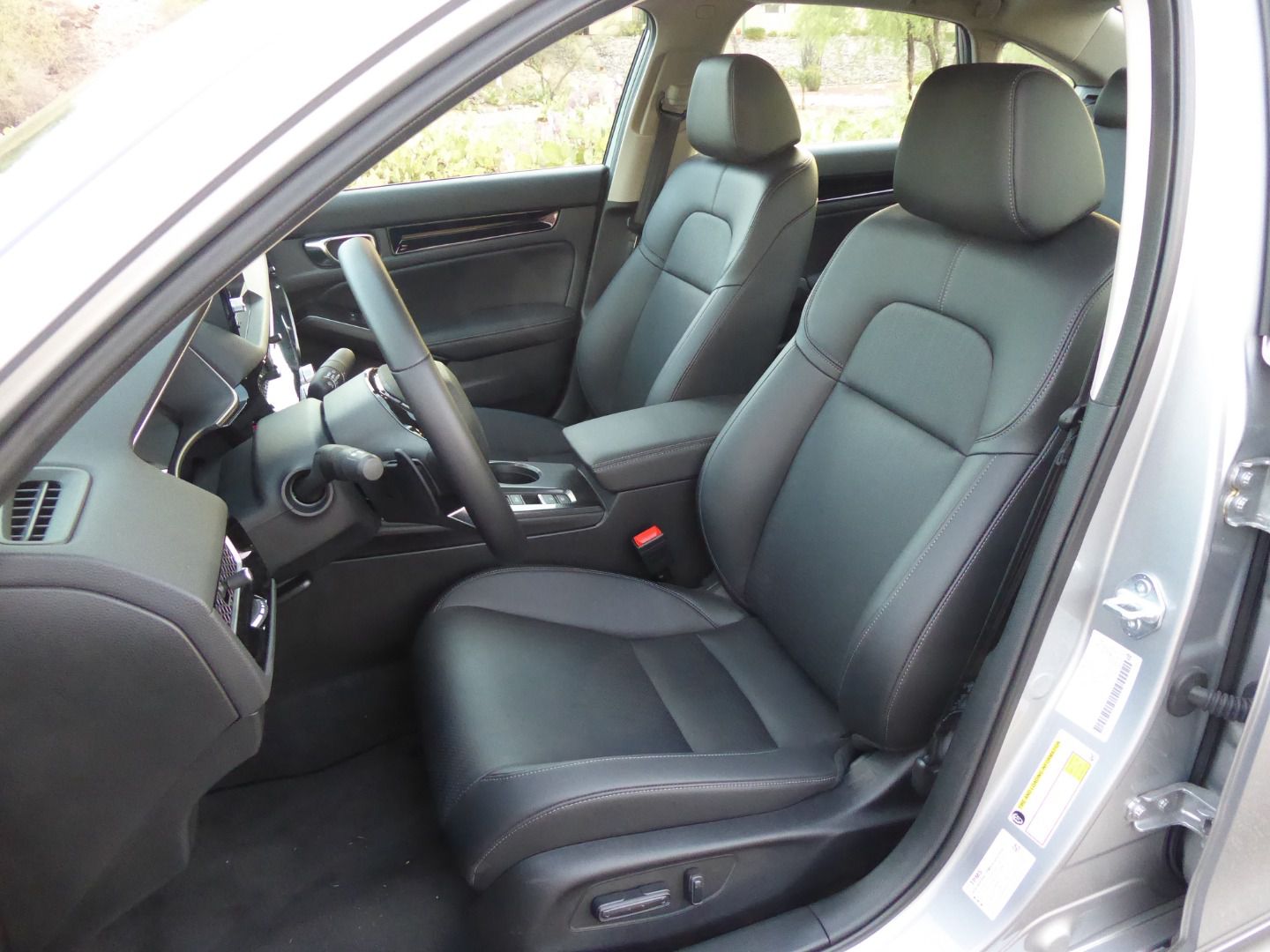 Photo by Ron Sessions
Accomodating Rear Seat
Spread-out space in the Civic sedan's three-passenger rear seat is reasonable for a compact four-door, offering more rear seat headroom than in the Nissan Sentra but a bit less than the Hyundai Elantra does. In terms of legroom, rear-seat occupants get more space than in the Nissan Sentra and Toyota Corolla, but slightly less than in the Elantra. The bottom seat cushion is a little low, but that's typical for this class of car.
On EX and Touring trims, the folding rear seat is split 60/40 and includes a fold-down center armrest with a pair of cup holders. The EX and Touring trims also include a passenger-side seatback pocket. Bins in the rear doors of all models offer additional storage. Rear passengers get a pair of Type-A USB ports for charging their mobile devices and floor-level heater ducts.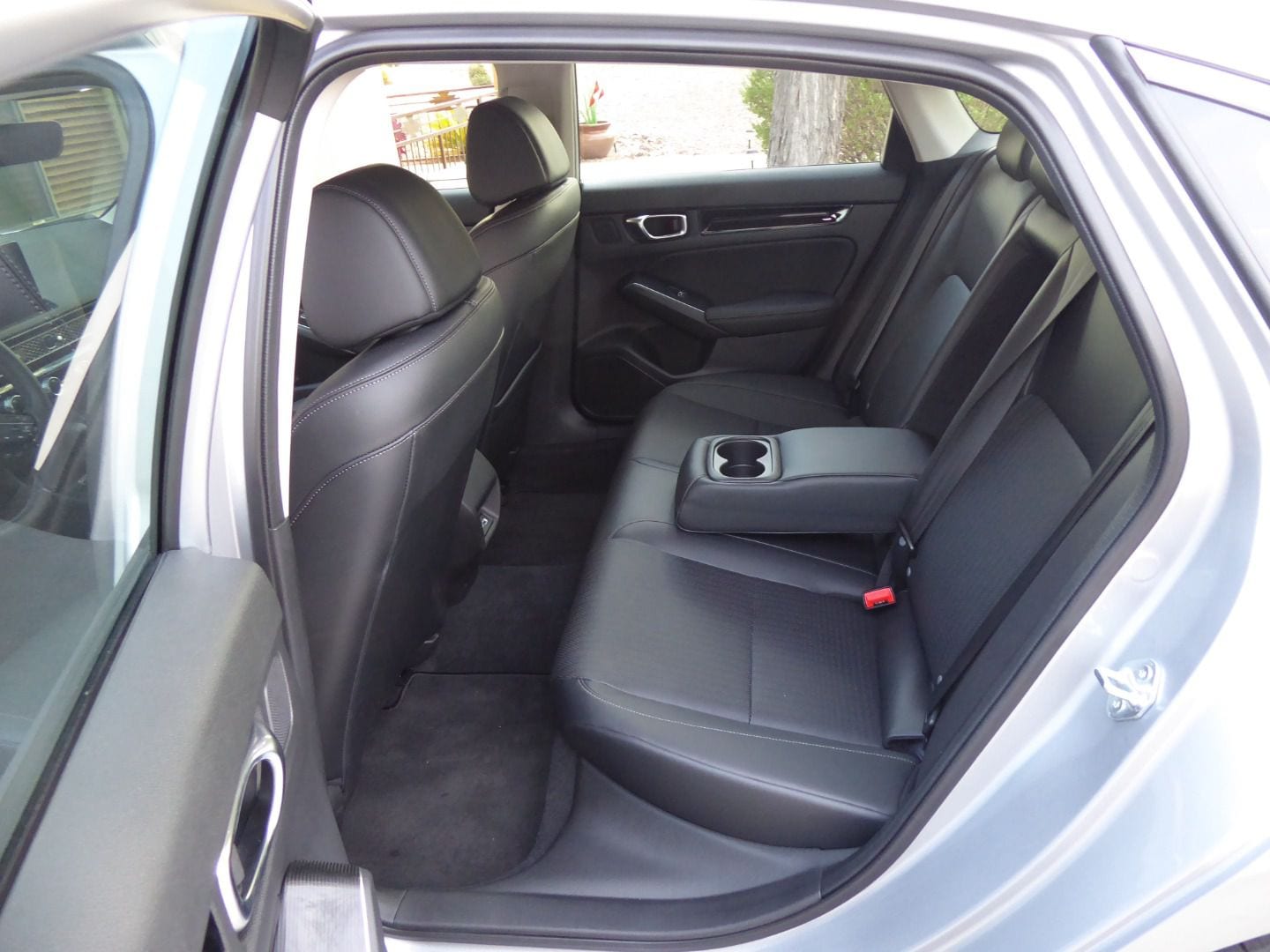 Photo by Ron Sessions
Roomy Trunk
As far as compact sedans go, the Civic has one of the roomiest trunks in the segment. It can stash up to 14.8 cubic feet of cargo, which is more than the Toyota Corolla, Nissan Sentra, Volkswagen Jetta, and even the Hyundai Elantra can handle. The Civic's trunk will easily swallow five or six airport roller bags, and the trunk hinges are far enough outboard that they're not likely to crush fragile items when the lid is closed. The rear seatbacks fold down, opening up space for longer items such as step ladders, skis, or even more roller bags. There is an electric trunk-lid release in the cabin. A pair of handy seatback release levers are located by the trunk hinges, just inside the top of the trunk opening.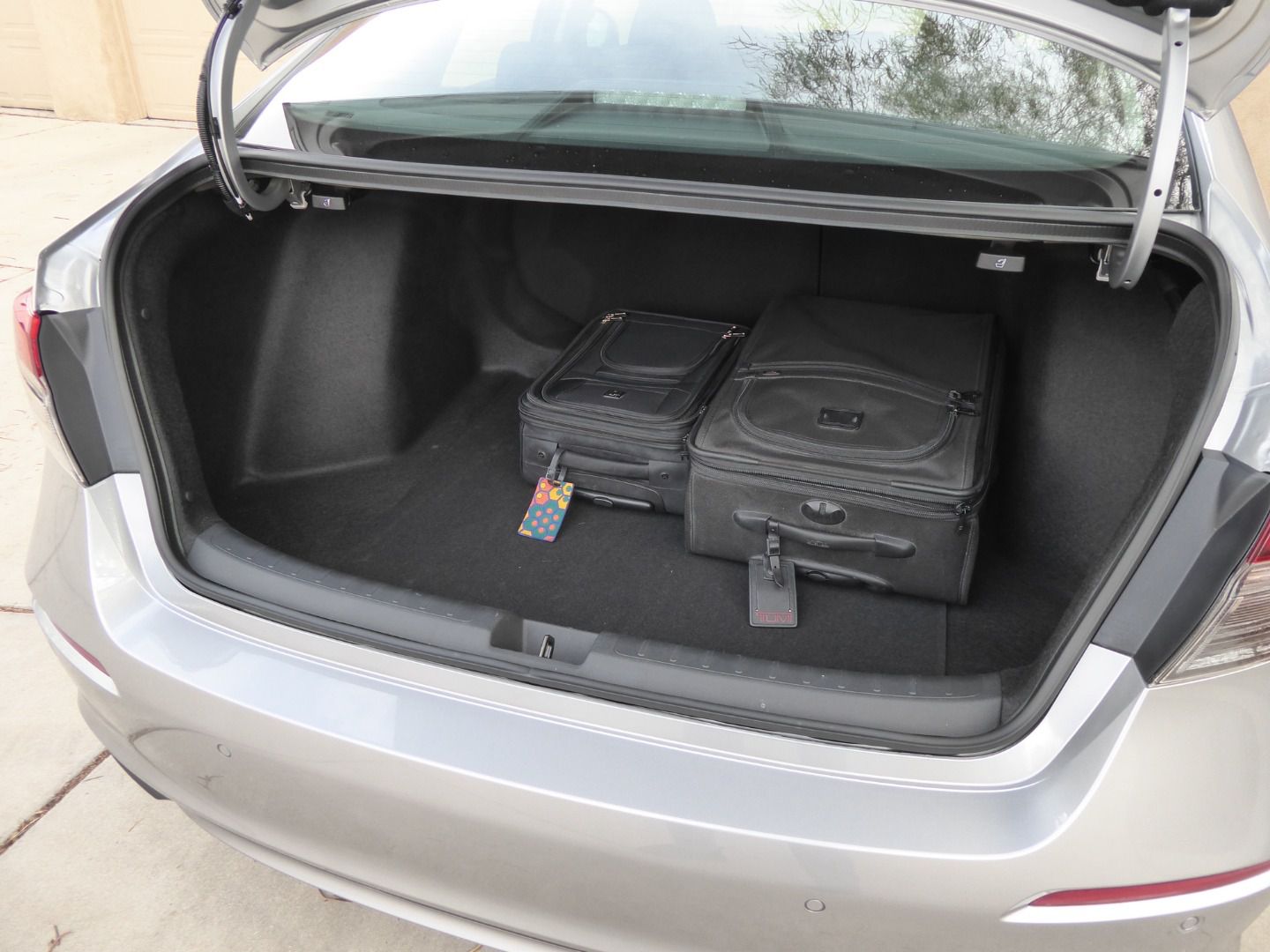 Photo by Ron Sessions
Safety and Driver-Assistive Technology
Standard Honda Sensing driver-assistive tech on all 2022 Civics includes adaptive cruise control with low-speed follow, lane-departure warning with lane-keeping assist, Traffic Jam Assist which combines adaptive cruise control and lane-centering for low-speed, hands-on operation on clogged highways), and traffic-sign recognition. Additionally, all Civics include automatic high-beam control and a rear seat reminder. The latter displays a message in the driver display to check the rear seat for children or pets after the ignition has been shut off if a rear door was opened during the previous key cycle. Lane keeping works well but it is sometimes fooled by longitudinal paving lines and previous road construction repairs it mistakes for lane markings.
The EX and Touring trims bring a blind-spot monitor and the top-of-the-line Touring model adds a rear cross-traffic monitor and new-for-2022 low-speed braking control which provides more linear braking when following another car.
Additionally, the 2022 Civic is equipped with 10 airbags, including its first-ever rear-seat side airbags.
The National Highway Traffic Safety Administration and Insurance Institute for Highway Safety have not tested the 2022 Civic sedan yet. However, the 2021 model was an IIHS Top Safety Pick, and NHTSA gave it five out of five stars for crashworthiness in all categories.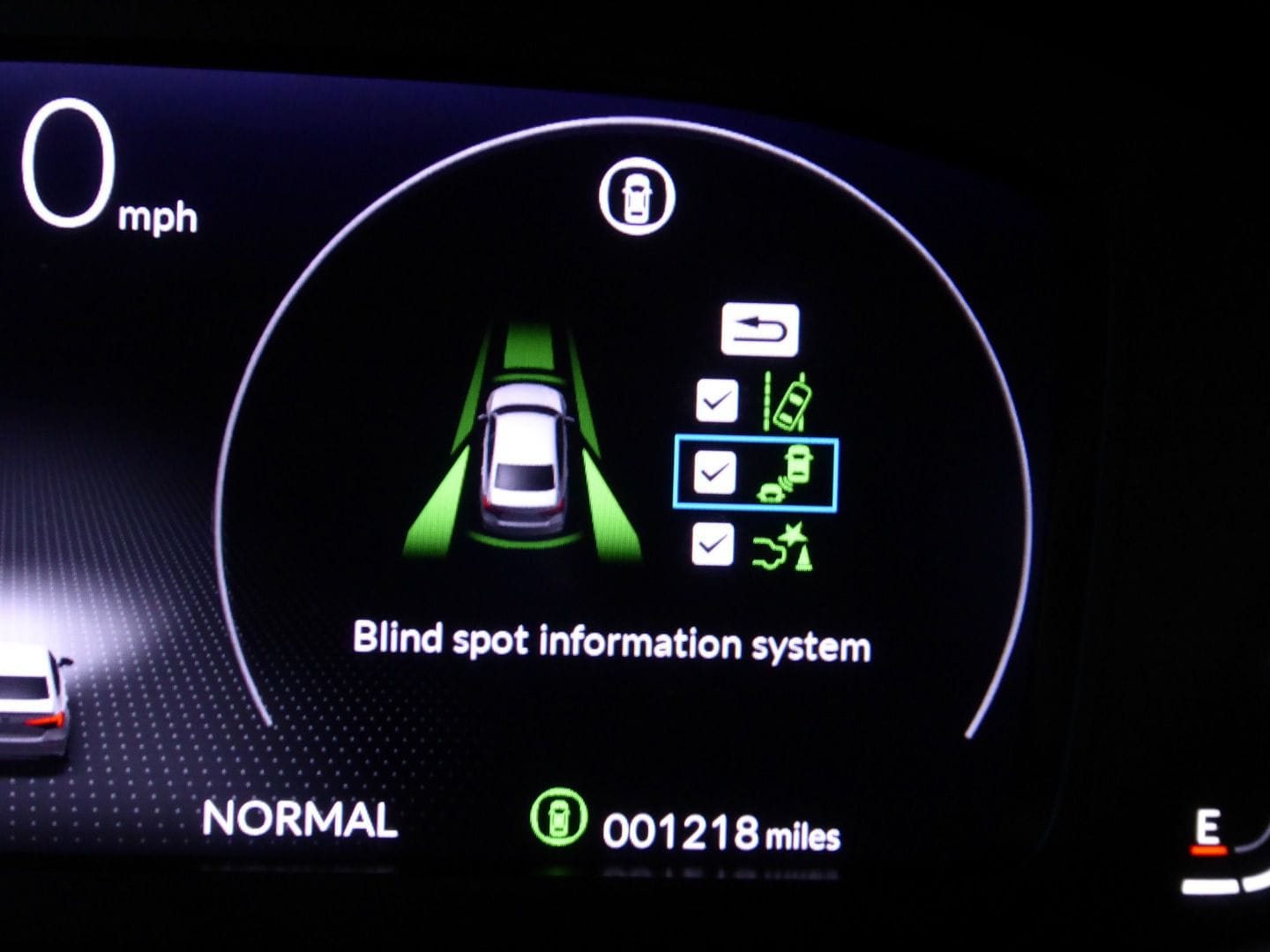 Photo by Ron Sessions
Class-Leading Driving Dynamics
The 2022 Civic sedan may not have the under 6-second 0-60 zing of the Mazda3 turbo, but it does offer ample acceleration combined with an outstanding balance of athletic handling and stable and secure dynamics. Especially with the larger 235/40R18 tires on Sport and Touring models, the Civic brings light and precise, albeit slightly slower-ratio, steering and synaptic brake response. The standard dampers deliver tight vertical body control. Touring models add a selectable Sport mode, activated by a console switch, that keeps the turbo engine at higher revs and in the thick of its power curve.
Buyers looking for even greater performance can select from upcoming Si and Type R models coming later in the model year, some with manual-transmission availability.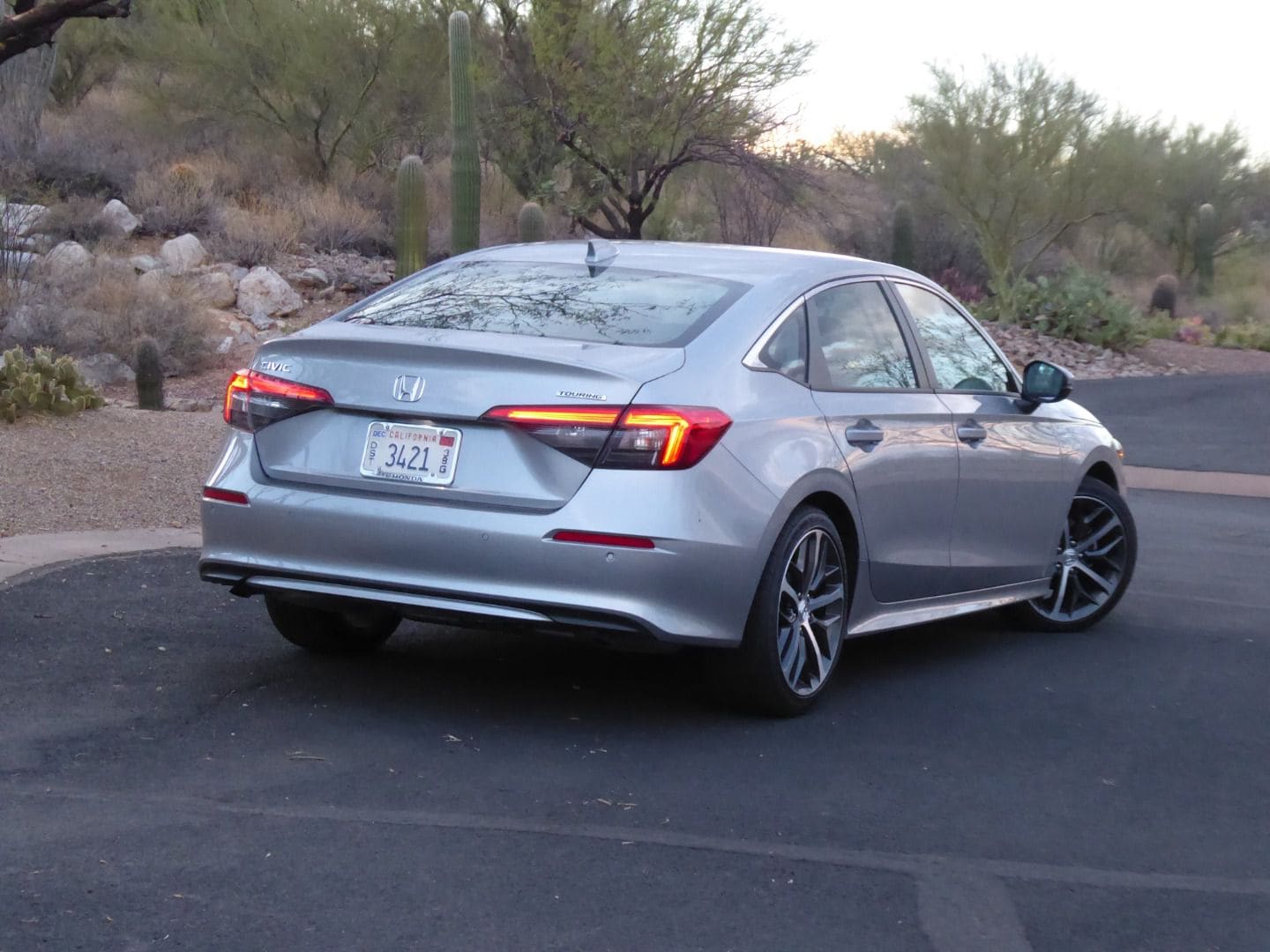 Photo by Ron Sessions
Civic Pride
For the better part of 50 years, the Honda Civic has set the standard that other small-car makers strived to meet. The 2022 Civic brings a cleaner, more-upscale, Accord-inspired exterior design with a quieter, more-comfortable cabin and a satisfying balance of fun-to-drive handling and ride comfort, while offering key upgrades in infotainment, safety and driver-assistive technology.
A smart choice for Civic buyers seeking maximum bang for the buck is the EX trim. It offers the 180-hp 1.5-liter turbo engine, dual-zone automatic climate control, a power sunroof, heated front seats, a leather-wrapped steering wheel and shifter, and standard blind-spot monitoring at an affordable price of just $25,715 including destination.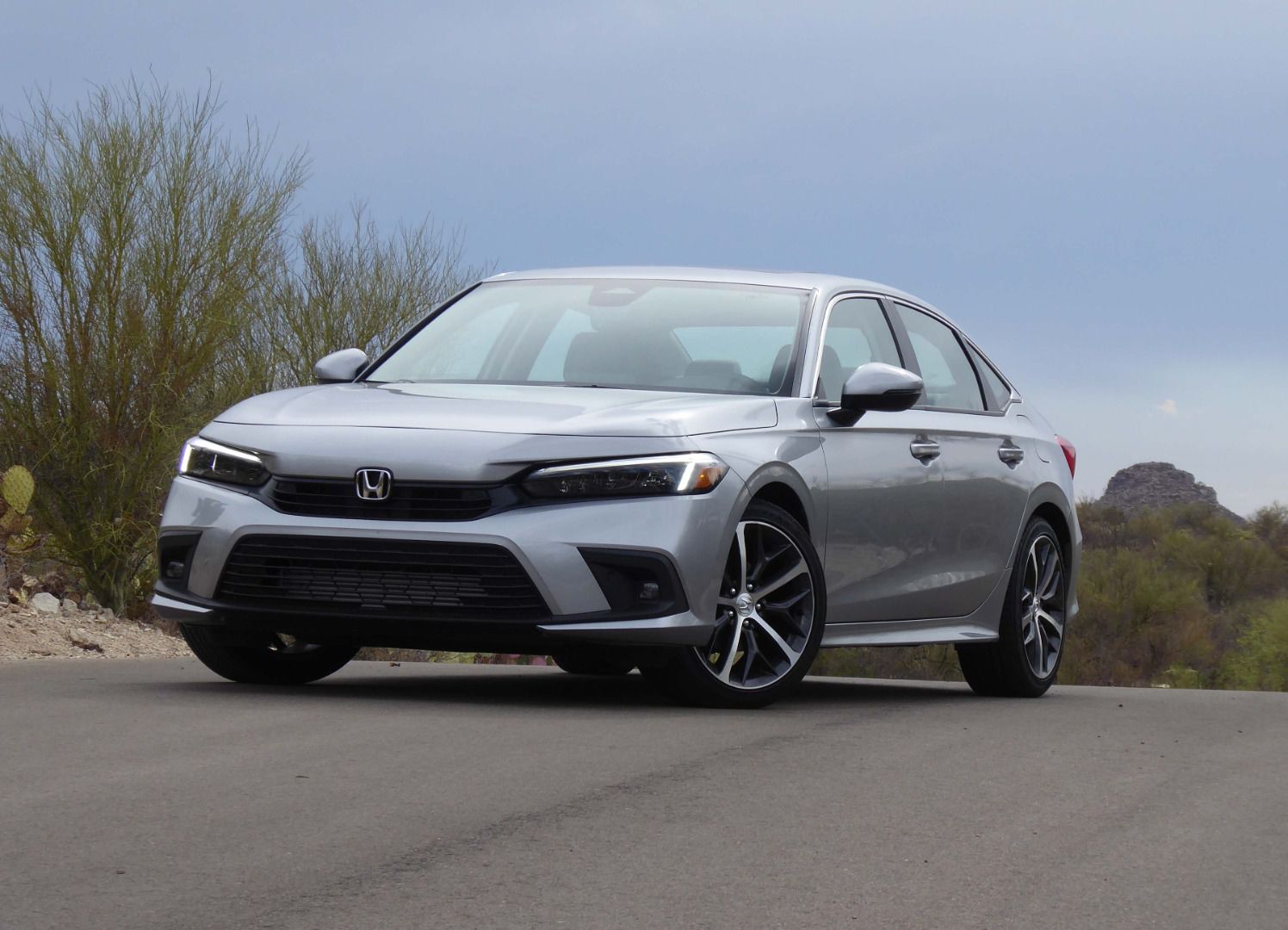 Photo by Ron Sessions