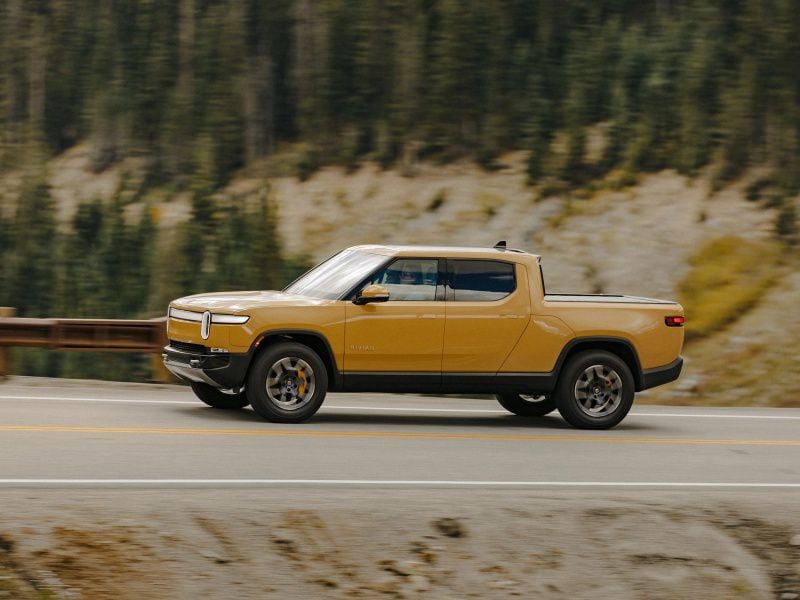 2022 Rivian R1T ・ Photo by Rivian
The 2022 GMC Hummer EV is an all-new electric truck. It's off-road capable and easily tackles challenging terrain. It has impressive horsepower and a long range, so you go further between charges. This is a luxury truck that comes with a matching luxury price.
The 2022 Rivian R1T is also an all-new electric truck, but this one comes from an entirely new automaker. This is the first in what is due to be a full lineup of electric vehicles. It's a bit smaller than the Hummer EV, and it's more affordable with a good driving range and off-road capability. Let's take a closer look at these two trucks to see which is the better of the two.
It's a Waiting Game for Either
The GMC Hummer EV Edition 1 went on sale last fall. Starting price was $110,295, and it is now sold out. You can join the waitlist to see if a reservation opens up or reserve the upcoming EV3X, which is due this fall at $99,995. The EV2X arrives for spring of 2023 at $89,995 with the EV2 slated for spring of 2024 at $79,995.
The Rivian R1T was initially offered as a Launch Edition that is also sold out. Reservations are open for the Explore at $67,500 or Adventure at $73,000. Both are more affordable than the Hummer EV, but neither is expected until 2024. You're in for a wait, but the wait is shorter for the Hummer EV.
: GMC Hummer EV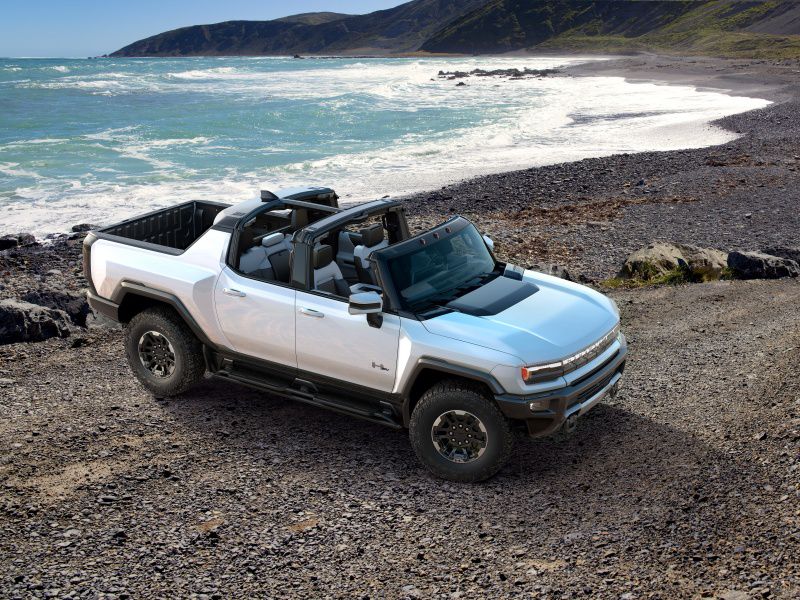 Photo by GMC
So Much Horsepower
The Hummer EV Edition 1 has up to 1,000 horsepower with 11,500 lb-ft of torque. There's also Watts to Freedom ("WTF") mode which is basically launch control that rockets this truck from 0-60 mph in about 3 seconds. The upcoming EV3X offers up to 830 horsepower with the same 11,500 lb-ft of torque.
The Rivian R1T with dual motors has 600 horsepower with a matching 600 lb-ft of torque. Choose to go with a quad motor setup and those numbers increase to 800 horsepower with 900 lb-ft of torque. Though still strong numbers, the Rivian R1T falls short of what's offered by the Hummer EV.
: GMC Hummer EV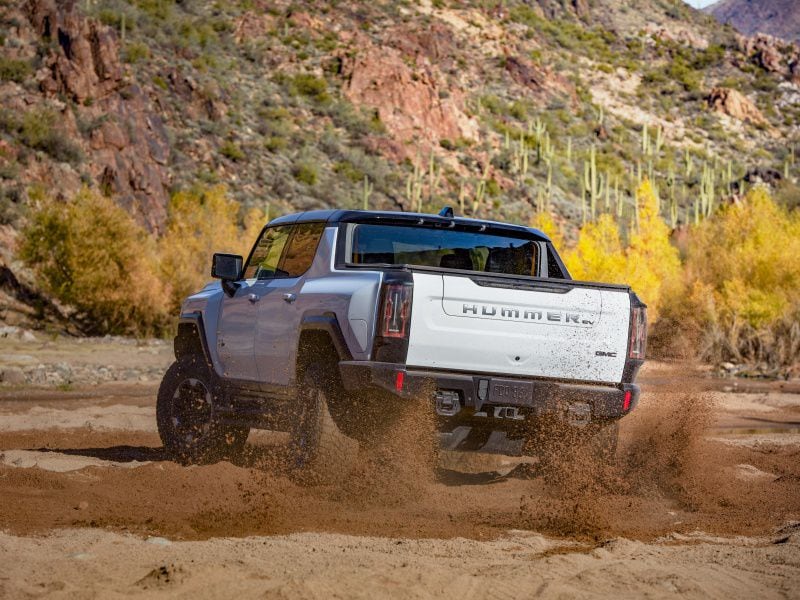 Photo by GMC
How Far Can You Go?
The Rivian R1T offers a choice of three batteries. The Standard has a range of 260 miles per charge. Next up is the Large with an EPA-estimated range of 314 miles per charge. At the top of the lineup is the Max with a range of 400 mile per charge.
The GMC Hummer EV Edition 1 has a 329-mile range. The EV3X will have a battery with over 300 miles per charge while the EV2 is set to come with an estimated range of over 250 miles per charge. Those figures aren't great, which gives Rivian the win.
: Rivian R1T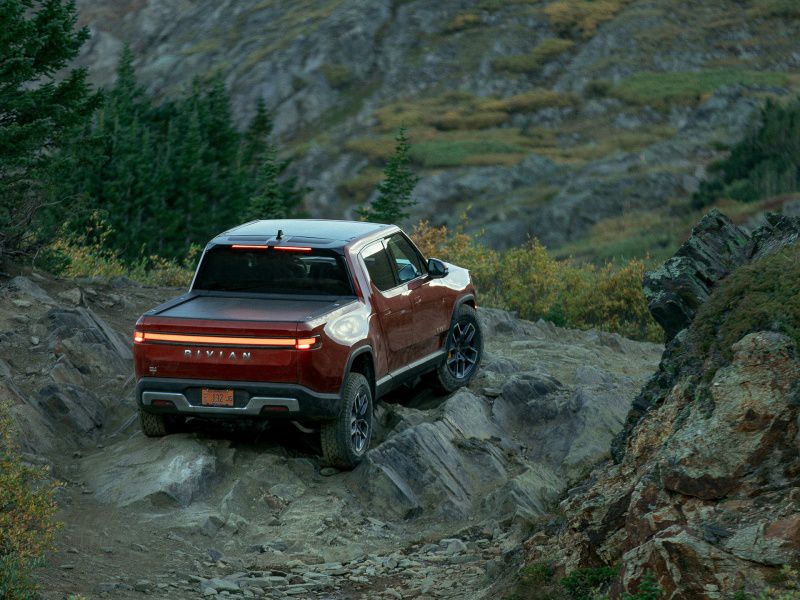 Photo by Rivian
How Fast Can You Charge?
The Rivian R1T can be charged at Level 1, Level 2, or DC fast chargers. At a Level 2 charger, it adds approximately 25 miles of range an hour while a DC fast charger will add 140 miles of range in just 20 minutes. So you can be back on your way quickly.
The GMC Hummer EV can also utilize Level 1, Level 2, and DC fast charging. The Edition 1 gains about 100 miles of range in 12 minutes at a DC fast charger. It takes about 42 minutes to go from 20 percent to 80 percent at a speed of 175 kilowatts while a 150-kilowatt charger doubles those numbers. You'll be on your way more quickly in the Rivian.
: Rivian R1T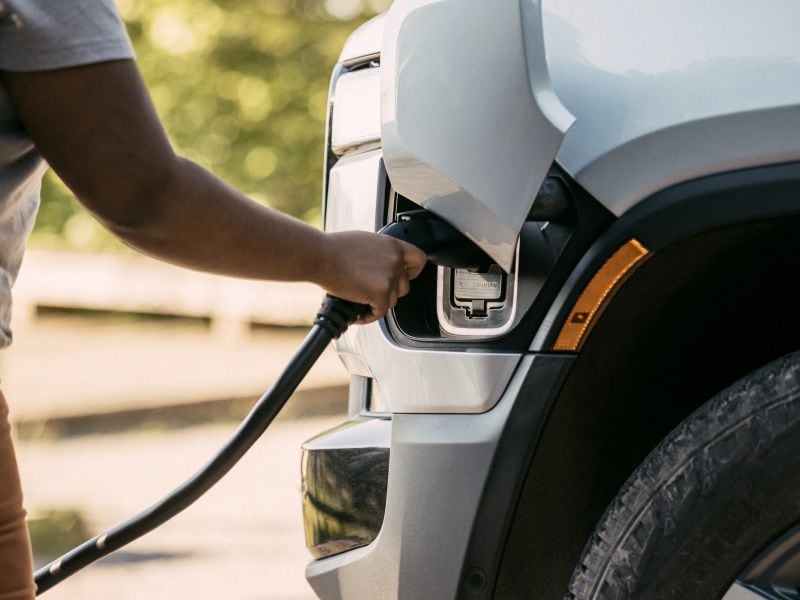 Photo by Rivian
Ready to Off-Road
You can do serious off-roading in either of these trucks. The Rivian has eight drive modes including four dedicated to off-roading. These make it possible to handle everything from high-speed off-roading to rock crawling to more mild-mannered hill climbs.
The GMC Hummer EV is bigger than the Rivian R1T, which might seem like a problem, but it has some nifty tricks, including Crabwalk. This lets the GMC Hummer EV drive almost perpendicular, just like a crab. There's also four-wheel steering and two off-road drive modes that make is surprisingly agile. For its ability to get you out of spots where you never should have tried to go in the first place, we give this one to the GMC Hummer EV.
: GMC Hummer EV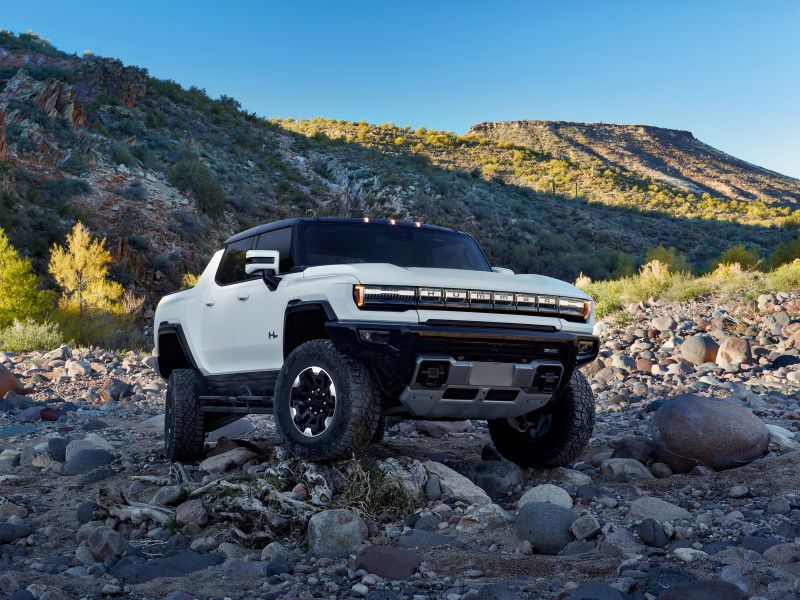 Photo by GMC
A Big Difference in Towing and Payload Ratings
The Rivian R1T can manage a payload of up to 1,760 pounds with a maximum tow rating of 11,000 pounds. There's additional cargo room under the hood in the front trunk (frunk) since there's no need for an engine, so you get an extra 11.1 cubic feet for cargo. There's also a cargo storage tunnel that runs the width of the vehicle behind the cab with 11.7 cubic feet.
The GMC Hummer EV can tow up to 7,500 pounds and manage a payload of up to 1,300 pounds. It also has a frunk with 11.3 cubic feet for cargo, but there's no gear tunnel. Despite its impressive power, the Rivian R1T comes out ahead if cargo is a priority.
: Rivian R1T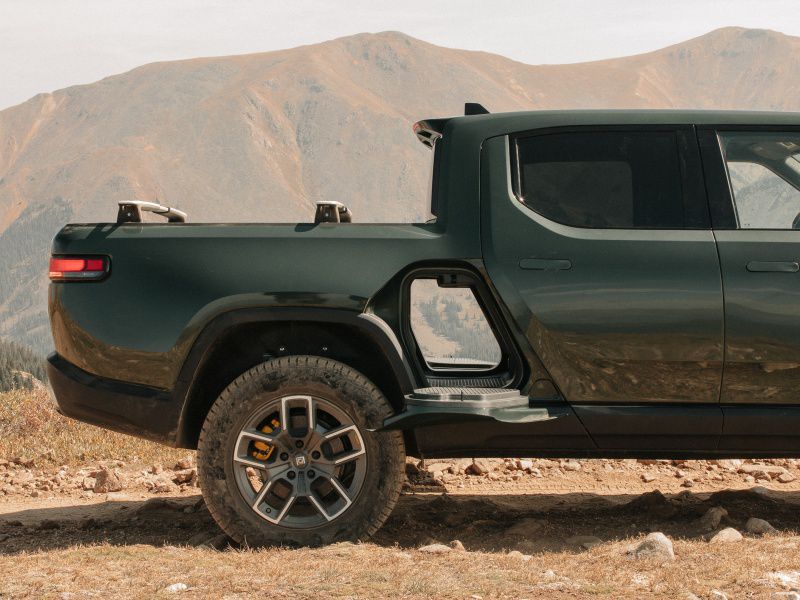 Photo by Rivian
Massive Infotainment Screens for Both
The Rivian R1T features a 15.6-inch infotainment touchscreen. It houses all the usual infotainment functions along with controls for the climate and the hood release. It's easy to use, but is missing both Apple CarPlay and Android Auto connectivity, which is a big downside.
The GMC Hummer EV has a 13.4-inch touchscreen with outstanding graphics. This Android-based system is powered by the Unreal Engine that's used in video games, and it makes for an exceptional user experience. The displays as you change drive modes are stunning, and there's both Apple CarPlay and Android Auto connectivity.
: GMC Hummer EV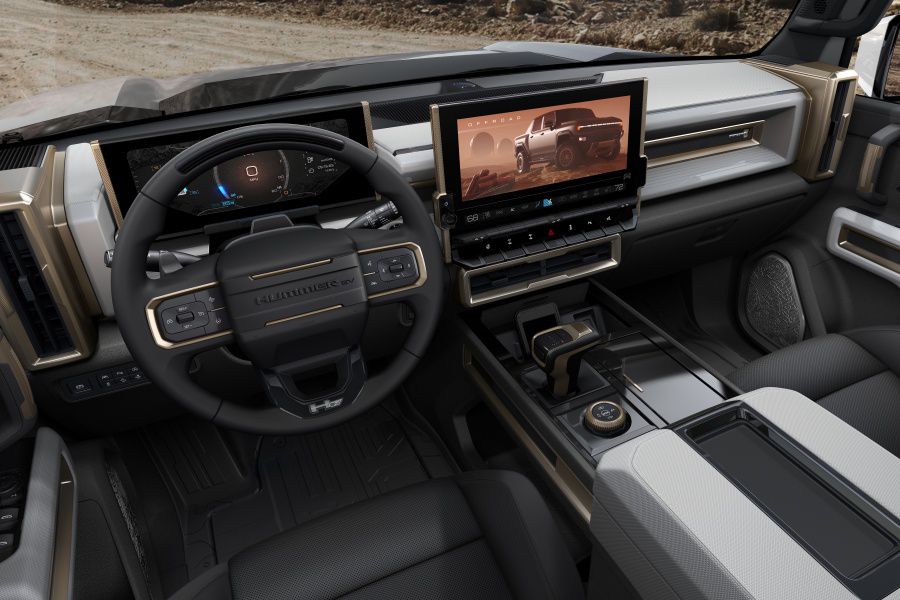 Photo by GMC
Luxurious Trucks With Upscale Interiors
Both of these trucks fall into luxury territory, especially the GMC Hummer EV with its six-figure price. The interior is beautifully equipped with plenty of room for five adults and eye-catching design details. Even the speaker grilles get attention with a topographical map of the moon and a little astronaut boot print, but there is a heavy use of plastics.
The Rivian R1T also comes at a premium with an attractive interior that seats five. It's not flashy, but rather somewhat subdued with vegan leather seating surfaces and available natural-grain ash wood trims. Both are attractive, but we give this to the Hummer EV for it's more unique design touches that make it different and not just another luxury truck.
: GMC Hummer EV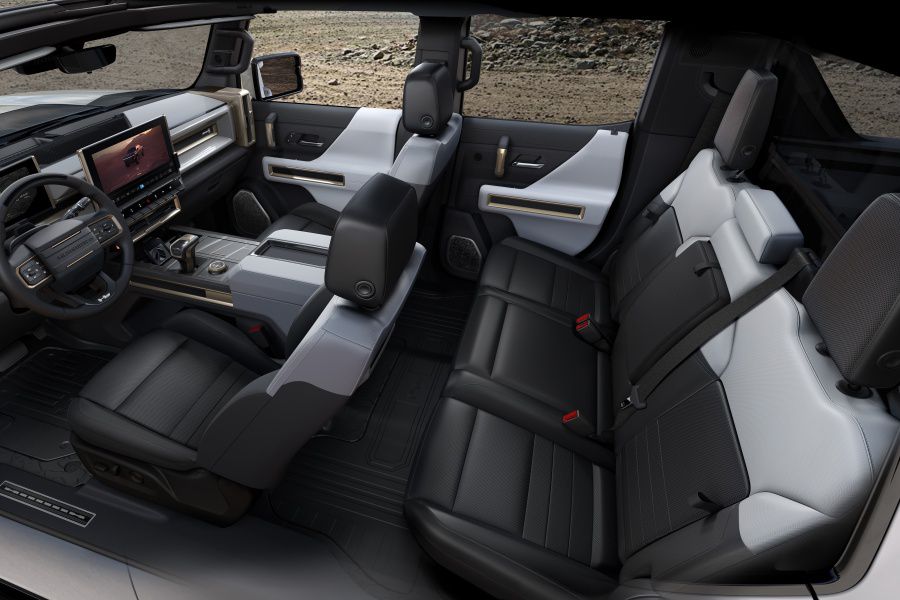 Photo by GMC
Handsfree Driving for Easier Road Trips
Handsfree driving is slowly rolling out to today's vehicles with both of these trucks featuring their own proprietary systems. The Rivian R1T has what it calls Driver+. This system can steer and adjust your speed for handsfree driving, which makes longer trips much easier on the driver.
GMC offers the Hummer EV with Super Cruise. This covers over 200,000 miles of highways in North America and now includes automated lane-change assist. It's a smoother, more comfortable system for the driver to use and trust because it better recreates human driving characteristics.
: GMC Hummer EV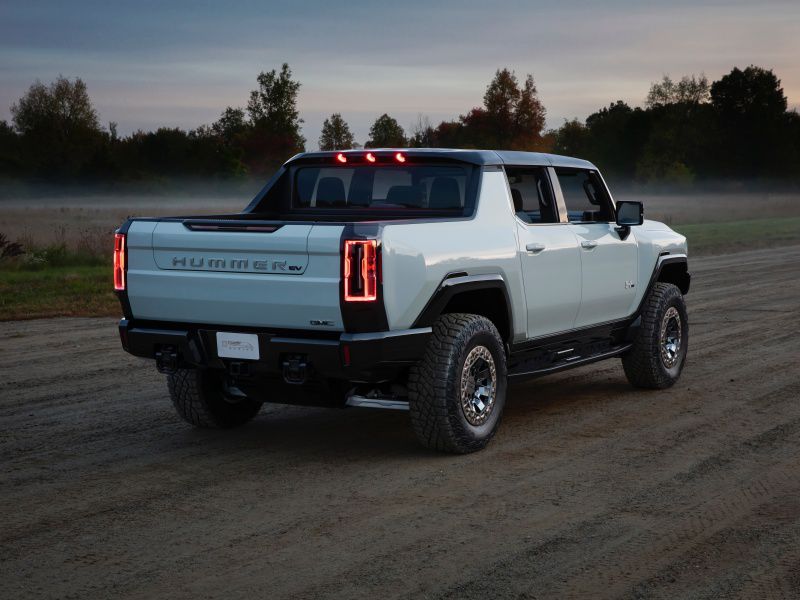 Photo by GMC
And the Winner Is…
Trucks are late to the electric-vehicle world, but the ones that are available are compelling offerings. The Rivian R1T delivers great range along with creative ways for storing cargo and high towing and payload ratings. It also charges quickly.
The GMC Hummer EV  comes out ahead for its performance, off-road capability, and handsfree driving technology. It also delivers a far superior infotainment system and has better availability. This makes it our pick of the two.
: GMC Hummer EV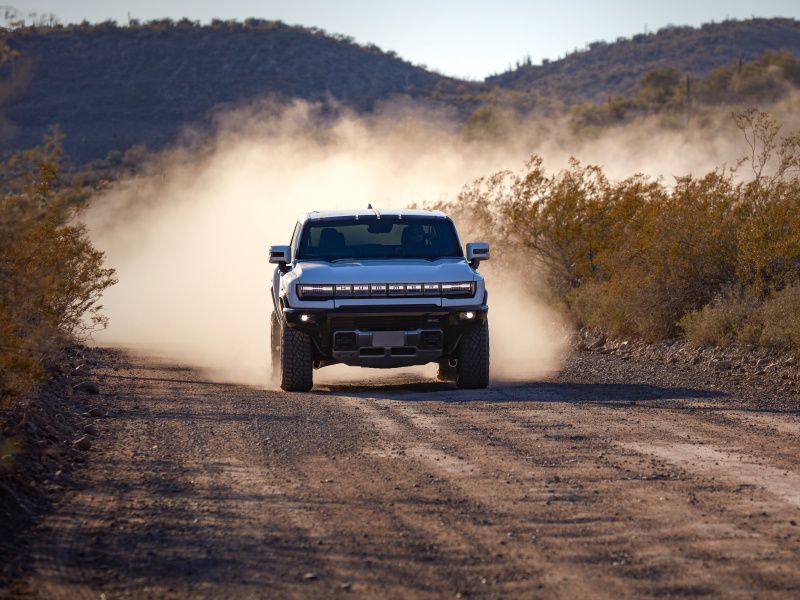 Photo by GMC