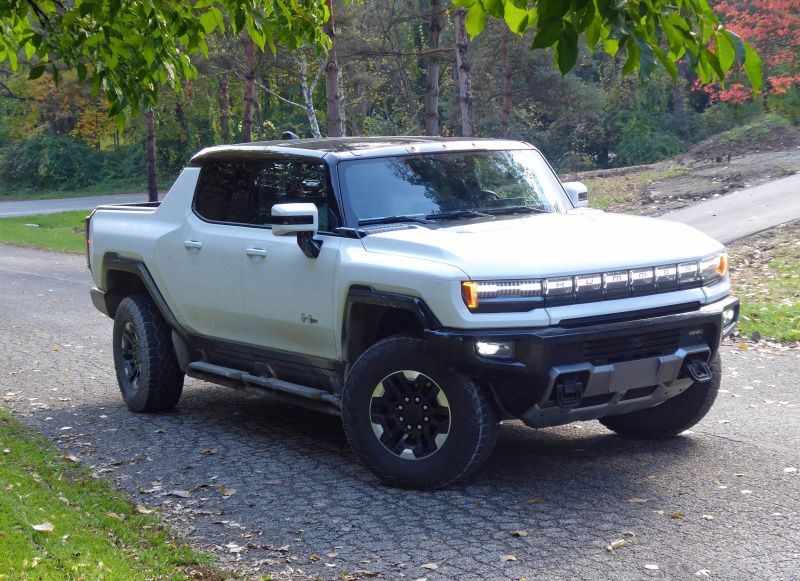 2022 GMC Hummer EV ・ Photo by Ron Sessions
The last time General Motors offered a product with the Hummer name on it was the early 2000s. Back then, GM created a whole new brand around the Hummer name, offering a lineup of rugged, gas-powered SUVs and the odd pickup based on the styling of the HUMVEE military vehicle to compete with Jeep's expansive lineup of off-road-oriented 4x4s.
For 2022, GM is reviving the Hummer name, but this time as an exclusively electric offering from its all-truck and SUV brand, GMC. The first out of the gate will be the GMC Hummer EV pickup, a near full-size, all-electric, crew-cab pickup with four-wheel steering. Available late this year, the fully loaded Edition 1 Hummer EV Pickup trim hits dealer showrooms. It is priced at a lofty $112,595 (including the destination fee). Accroding to GMC, the three-motor Edition 1 Hummer EV pumps 1,000 horsepower for 0-60 mph blasts in 3 seconds and a driving range of 350 miles.
The company also has plans to roll out less-expensive, more simply equipped versions of the EV pickup with slightly less power and range over the next year and a half, in addition to an SUV version for 2024.
Electric-powered competition for the 2022 GMC Hummer EV pickup includes the already on-sale Rivian R1T, as well as the upcoming Tesla Cybertruck, Ford F-150 Lightning, and the Chevrolet Silverado EV pickup.
Capable of Charging Fast
The 2022 GMC Hummer EV marks the production debut of GM's new Ultium battery pack, which will eventually power scores of the carmaker's future electric vehicles. The Ultium battery isn't the solid-state technology that experts believe will be less expensive to produce and less prone to thermal issues than the current lithium-ion type. However, it uses much less cobalt in its lithium-ion chemistry, a pricey element sourced overseas and potentially subject to today's ever-present supply-chain disruptions.
What's even more significant is the Hummer EV battery has the capability to be fast-charged at an 800-volt DC charger up to 350 kilowatts, with the potential to add almost 100 miles of range to the massive, 2,000-lb, 200 kilowatt-hour battery in as little as 10 minutes. This goes a long way in reducing what are perceived as long wait times when recharging an electric vehicle compared to simply refueling a gas-powered one on extended road trips. It also addresses a major customer complaint and impediment to EV adoption from a larger portion of the driving public.
It, of course, can still be charged at home with a house-current 120 or 240 AC charger, albeit with much, much longer charging times.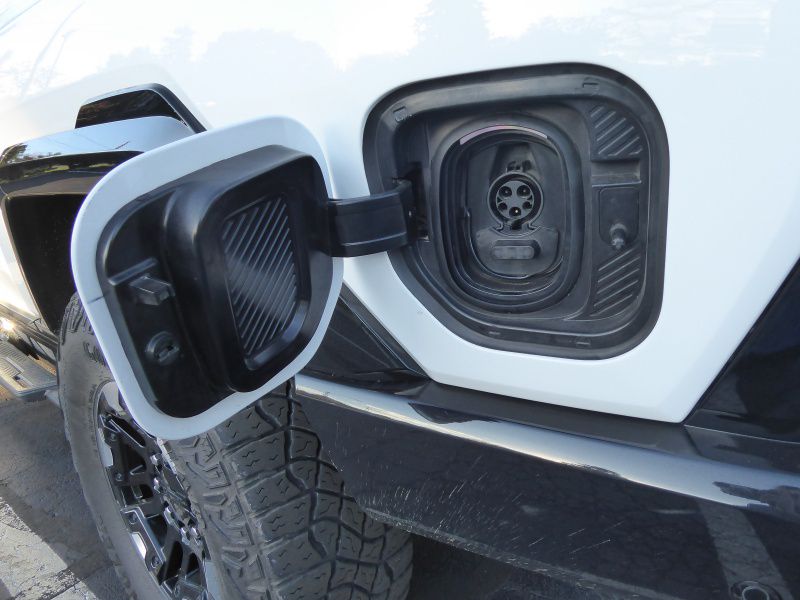 Photo by Ron Sessions
Rugged and Modern Cabin
The GMC Hummer EV's cabin bridges the gap between rugged functionality and high-tech luxury that buyers forking over nearly $113,000 might expect. The climb into the interior is eased by standard reinforced running boards. Once inside, up to five passengers will find space approximating that of a GMC Sierra Double Cab pickup.
The generously proportioned front bucket seats are decked out in two-tone leather, a theme repeated in the dash, console, and door trim panels. The front buckets are bolstered to keep occupants in place when traversing off-road terrain, but not so much as to impede getting in and out of the vehicle. Following the off-road theme, the Hummer EV goes without interior carpeting, instead featuring easy-to-clean vinyl flooring with grippy, high-quality rubber inserts at all seating positions.
Facing the driver is a grippy leather-wrapped steering wheel and a pair of large, high-definition color displays, a 12.3-inch one directly in the driver's line of sight and at dash center, a landscape-format 13.4-inch infotainment touchscreen. Developed by Epic Game, creator of the Fortnite video game, the screens feature rich animation sequences and brilliant colors. The large center screen is the entry point for the Hummer EV's driving modes and many of its off-road features. However, there are redundant hard buttons for accessing many functions as well.
Up front, cabin storage is generous courtesy of a wide, two-tier center console.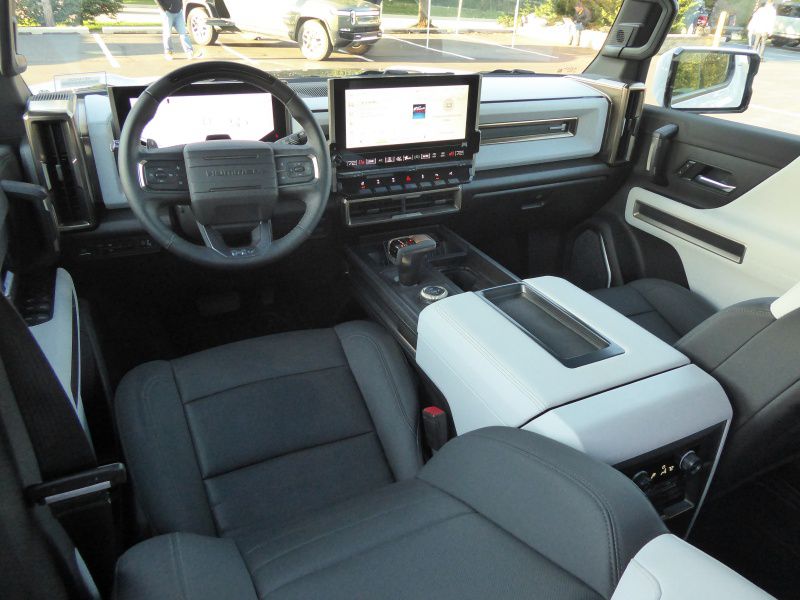 Photo by Ron Sessions
Center Screen Controls
The GMC Hummer EV is equipped with a high-mounted version of the landscape-format 13.4-inch infotainment touchscreen just introduced in the uplevel versions of the 2022 GMC Sierra and Chevrolet Silverado full-size pickups. As with the Sierra and Silverado, the Hummer EV retains an analog rotary knob for easy, on-the-fly audio on/off and volume control, but all other functions are controlled using the steering wheel buttons, touchscreen tiles, or voice control.
Apple CarPlay and Android Auto cellphone mirroring are standard. A 4G LTE Wi-Fi hotspot is included as well and becomes active with a valid subscription plan.
For tunes, the Hummer EV rolls with an immersive, 14-speaker premium Bose Centerpoint surround-sound system. It doubles as a vehicle sound-enhancer that pipes in spacey-sounding electric-propulsion audio tracks. The whimsical fun extends to the front door speaker covers that feature a Sea of Tranquility moonscape embossed pattern.
On the left side of the center screen is a jumping off point for access to navigation, phone, towing, off-road, and vehicle-settings menus. Favorites are located along the bottom of the screen. The screen's contents can be saved and stored in personalized profiles.
Directly beneath the center screen is a bank of hard switches for the automatic climate control and seat heating/cooling functions.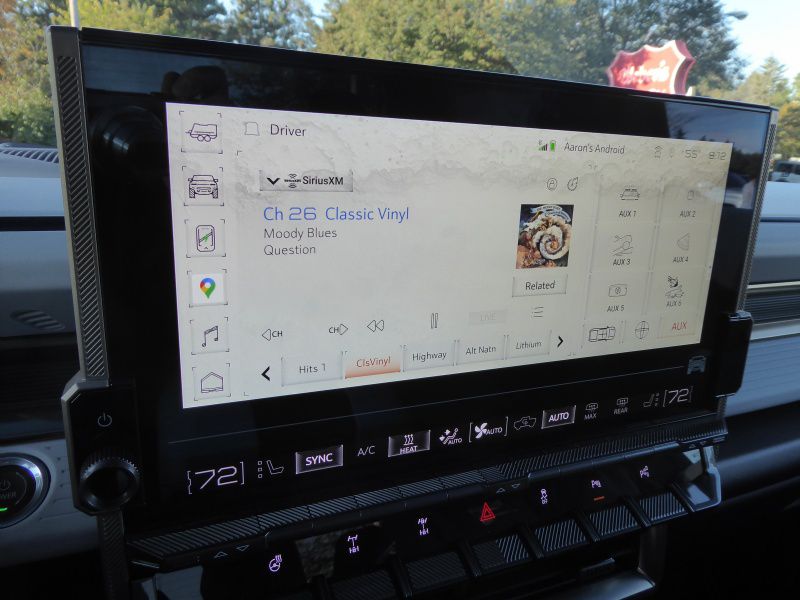 Nearly Crew Cab-Sized Back Seat
Big Bird may not be able to fit back there, but three of your 6-foot tall buddies will be plenty comfortable thanks to the EV's flat floor. Rear legroom in the Hummer EV is about 4 inches more than in a full-size GMC Sierra Double Cab and 4 inches less than a Sierra Crew Cab offers. A generously sized fold-down center armrest with cup holders is standard. There's plenty of hidden storage under the bottom seat cushions, and a pair of laptop-size cubbies discreetly located inside the lower sections of the seatback cushions. Even if you're not driving, the show's just great thanks to a power retracting rear window and removable transparent Sky Panels.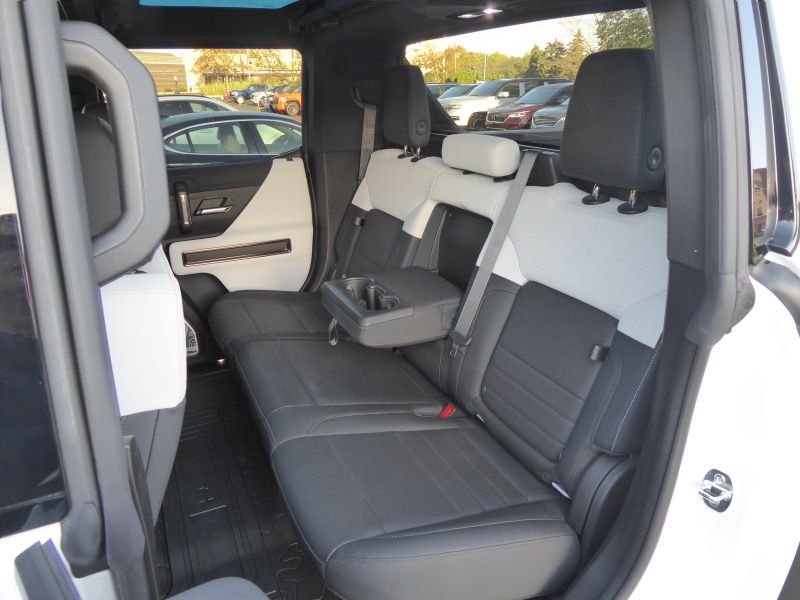 Photo by Ron Sessions
Lots of Secure Storage
Speaking of the Hummer EV's transparent Sky Panels, you can take them with you after they're removed. A huge front trunk (frunk) that's visibly larger than the concealed luggage area of most compact sedans will handily provide stash space for all four panels of the roof panels should you want to re-install them once you've arrived at your destination.
In everyday use, the large frunk not only provides convenient, lockable, weatherproof storage, but it also means you could also ferry five people to the airport without having to ask passengers to hold their luggage on their laps in the cabin or have the bags sliding around in the bed.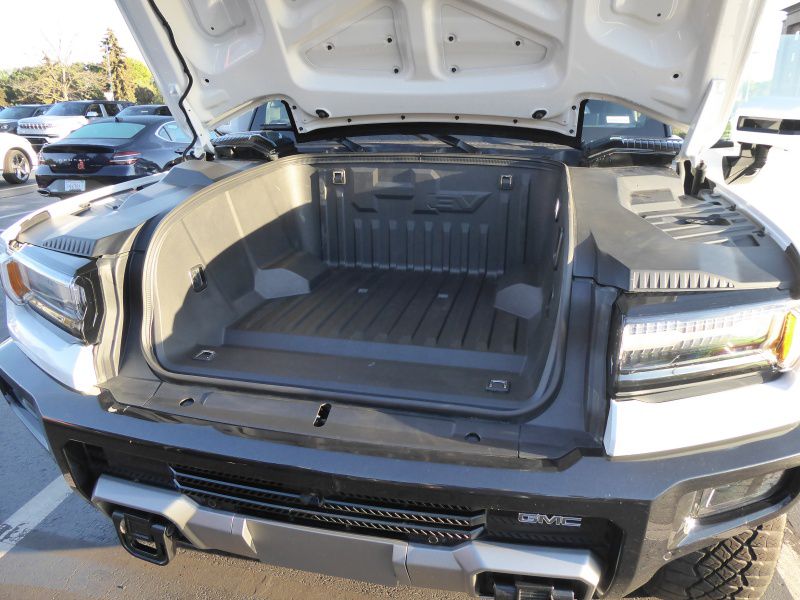 Photo by Ron Sessions
5-Foot Bed and MultiPro Tailgate
GMC's signature MultiPro tailgate, introduced a few years back on the full-size Sierra pickup and only recently shared with Chevrolet's full-size Silverado, is a natural fit for the Swiss Army Knife-like Hummer EV. For those who need a refresher, the MultiPro has six positions: full tailgate lowered, full tailgate lowered with extender end stop deployed, full tailgate and center section lowered with assist step deployed, small upper tailgate/shelf lowered, small upper tailgate/shelf lowered with end stop deployed, and tailgate closed. That's about everything except downward-facing dog.
The bed itself is 5 feet long and lockable with a spray-in liner and six tie-downs. It comes with a power-retractable tonneau cover.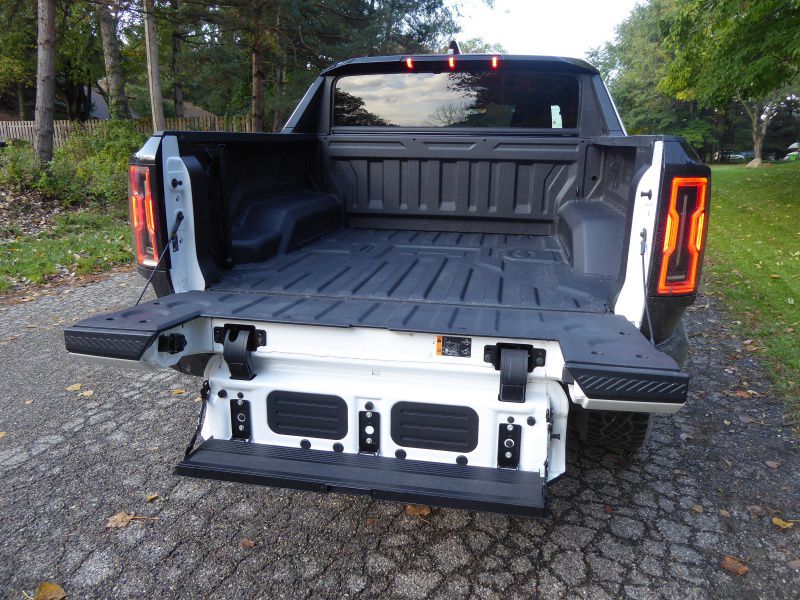 Photo by Ron Sessions
Driver Assistance and Super Cruise
As you'd expect in a vehicle priced in the six-figure range, the 2022 GMC Hummer EV comes with a long list of standard driver-assistive tech content. That includes the usual forward collision warning system with pedestrian detection and auto emergency braking, lane keeping assist, park assist, blind-spot and rear cross-traffic alerts, adaptive cruise control, and GM's own haptic safety alert seat, but it also gains a 3-year subscription to GM's Super Cruise hands-free driving assistance system which adds a hands-free lane-change feature this year. Previously a Cadillac exclusive, Super Cruise enables hands-free driving on more than 200,000 miles of interstate and other limited-access highways across the continental U.S. and Canada.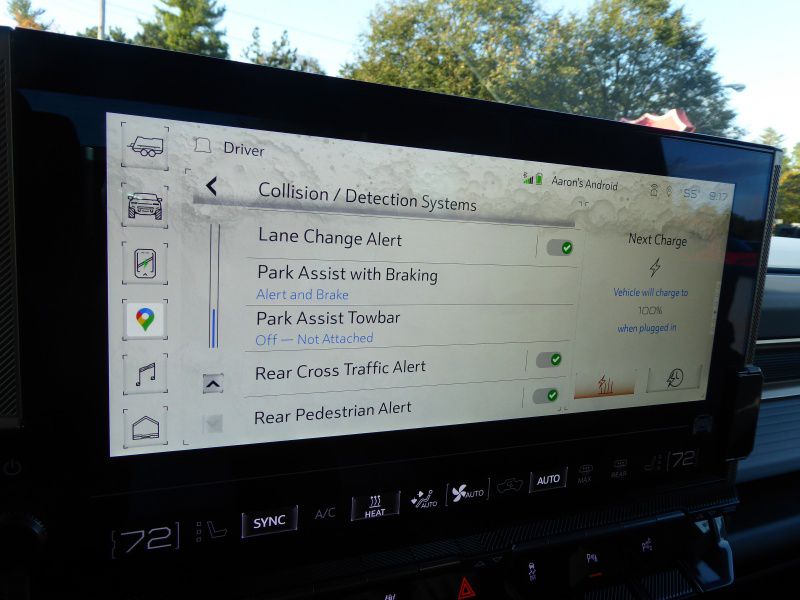 Photo by Ron Sessions
Four-Wheel Steering
There is a lot of capability built into the GMV Hummer EV Pickup. All early-build versions will be equipped with four-wheel steering. GMC offered a version of this on its full-size pickups 20 years ago, but at the time, a high option price and low take rate forced it to drop the novel feature. But in the check-all-boxes Hummer EV pickup, the steerability of all four wheels is a great add. From a practical standpoint, adding, rotating the rear wheels a few degrees in the opposite direction to the fronts helps make this 18-foot-long pickup truck behave like a much smaller one, enabling the Hummer EV to make much tighter low-speed turns, such as when turning around in a cul-de-sac, and reducing the turning circle diameter from 44.3 feet to 37.1 feet.
Another neat feature of the four-wheel-steering system is the CrabWalk. In this case, the driver can punch in the desired amount of same-phase front and rear steering up to 10 degrees and 15 mph, allowing the big pickup to drive diagonally around obstacles.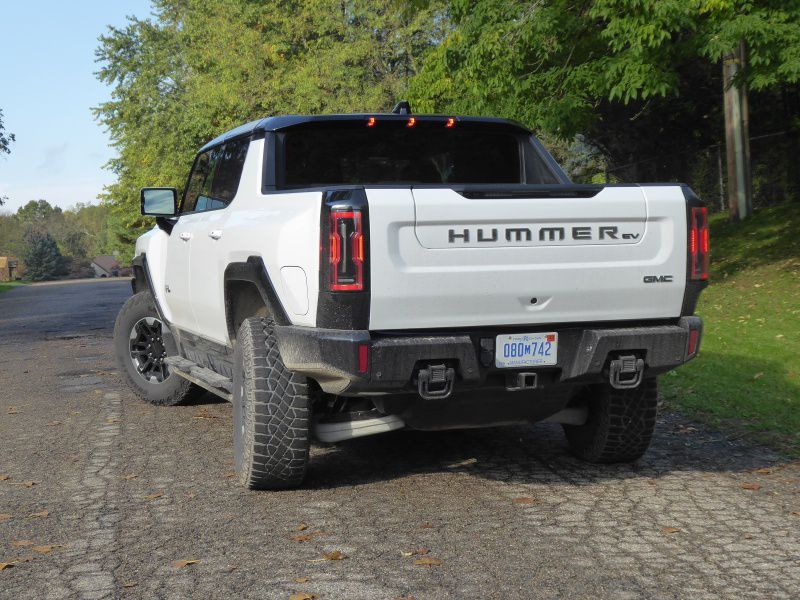 Photo by Ron Sessions
Driving Dynamics
All early-build Hummer EVs come equipped with adaptive air suspension, torque vectoring, and Watts to Freedom, which is the electric equivalent of launch control.
The GMC Hummer EV tips the scales at a hefty 9,000 pounds. Yet in 1,000-horsepower Edition 1 trim, it feels amazingly responsive. The instant torque of three electric motors (unofficial estimates put that in excess of 1,000 pound-feet) available when the accelerator is matted has to be experienced to be believed. That a vehicle this large and mass-intensive can move like this is truly amazing. What's even more remarkable is the strong torque push continues well past highway speeds, pressing driver and passenger alike back in their seats. The big pickup's nose rises just a bit as the Hummer EV thrusts forward. From rest, the Edition 1 wizzes past the 60 mph mark in 3 seconds flat.
Sans tire smoke, the jumbo-sized 35-inch Goodyear Wrangler Territory MT tires grip ferociously. The big rubber along with strong 4-wheel disc brakes and driver-selectable Regen on Demand help reign in the 9,000-pound pickup.
The Hummer EV's air suspension system not only delivers astute adaptive damping but also lets the driver tailor ride height, lower for highway driving and ingress/egress and higher for additional ground clearance.
Photo by Ron Sessions
Off-Road Electric Disruptor
The Hummer nameplate re-enters the automotive scene at a pivotal moment. Not everyone needs or likely can afford a $112,595 pickup with vehicular superpowers, but enough buyers will be drawn to the GMC Hummer EV's unique mix of powerful performance, high-tech chassis features, and fierce off-road abilities built atop the Ultium battery-powered electric architecture that will drive the next big chapter in General Motor's electrification quest.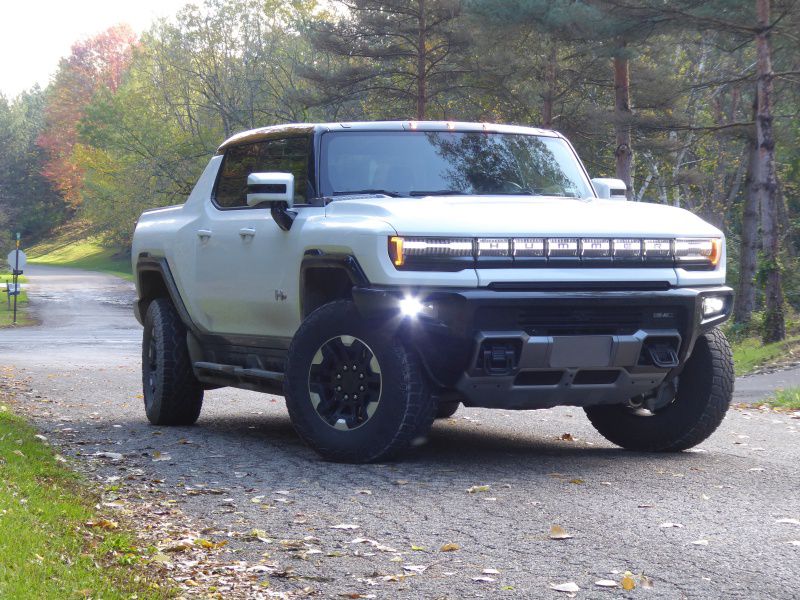 Photo by Ron Sessions