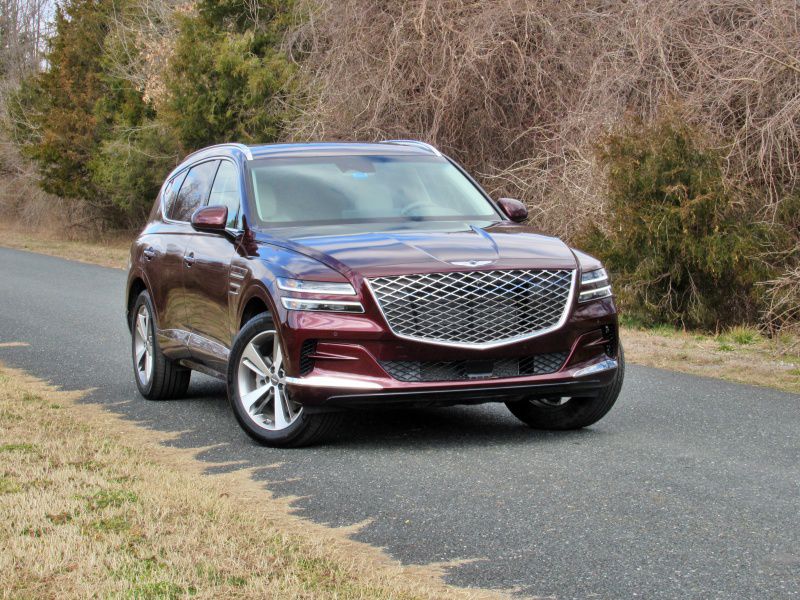 2021 Genesis GV80 ・ Photo by Brady Holt
If you're familiar with the Genesis brand, you probably know it's the luxury division of the Korean value-focused automaker Hyundai. So you'd be justified in expecting that Genesis would sell its vehicles at a discount to an established marque like Lexus. 
In the mid-size luxury SUV class, though, that's not the case. The 2022 Genesis GV80 starts thousands of dollars higher than the best-selling 2022 Lexus RX. The base GV80 costs $50,200 versus the RX's $45,570. Does the Genesis have what it takes to trump its better-known rival, or does it make more sense to stick with the established Lexus? We tested the two high-end crossovers back to back so we could compare them across eight categories and name an overall winner. Keep reading to learn which one we chose and which one sounds like the better fit for you. 
Pricing and Features
The GV80 comes with a long list of standard features while undercutting its German rivals. These include heated leatherette front seats, a massive 14.5-inch infotainment screen with GPS navigation, a 12-speaker stereo, and lots of advanced safety gear. You'll pay a lot to get all-wheel drive, though, since it's bundled with other features. For example, on the base model, you pay $5,900 extra to get AWD; that money also buys you ventilated front seats, a panoramic sunroof, and a heated steering wheel, but it pushes the cheapest AWD GV80 all the way to $56,100. If you want all the goodies, a fully loaded model pushes $80,000 with an upgraded engine, Nappa leather upholstery, a blind-spot camera, messaging front seats, a 21-speaker Lexicon stereo, a remote-control feature, and soft-close doors. 
The RX costs much less. It starts at $45,570 with front-wheel drive and $46,970 with all-wheel drive. It's missing the Genesis's navigation system and heated front seats, and its base sound system has just nine speakers instead of 12, but it's easy to upgrade. There aren't as many options as the GV80, but the Lexus costs much less than a comparably equipped Genesis. 
Lexus RX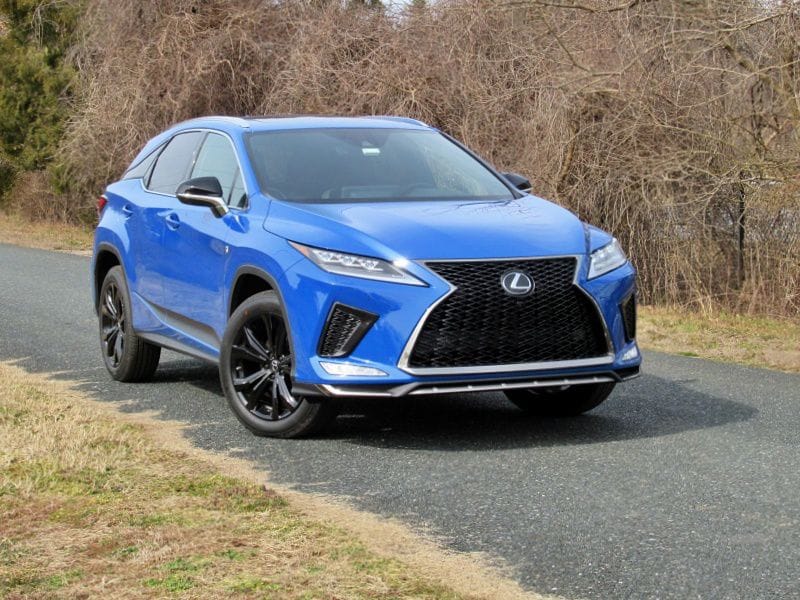 Photo by Brady Holt
Exterior Design
It's hard to make any vehicle look distinctive without looking like it's trying too hard. To our eyes, the GV80 strikes a great balance. It's upright and purposeful, with clean, straight lines. Yet it also sports unique details like split-level headlights and taillights. And the pinched windowline contrasts nicely with the straight lines on the rear windshield and taillights. 
The less restrained RX will be perfect for some tastes, though. Its swoopy hatchback-like shape was ahead of the "SUV coupe" curve, and the front end features Lexus's big hourglass-shaped "spindle" grille that drops down from two high, slim headlights. For a slightly more conservative look, the extended-length RX L has a bigger and boxier rear end. You'll know your choice between the wilder Lexus and the more conservative Genesis. 
Tie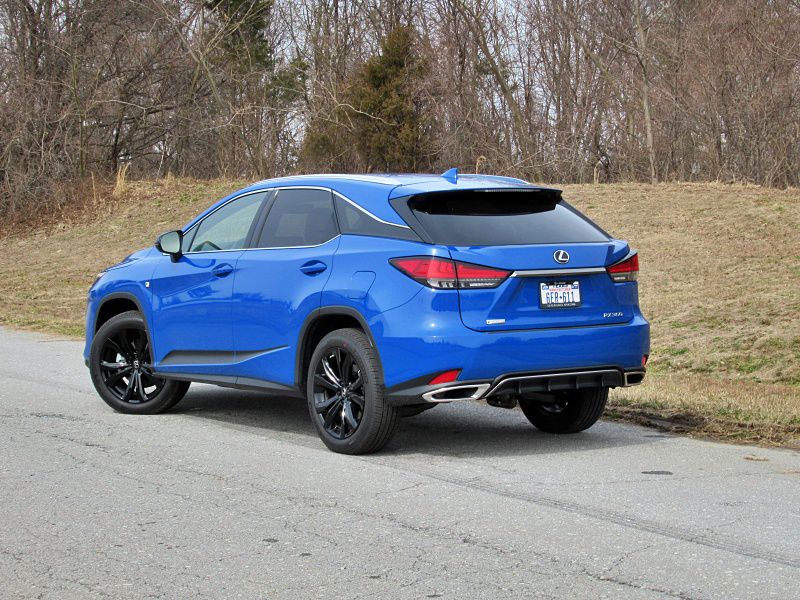 Photo by Brady Holt
Interior Design
The RX's interior isn't as wild as its exterior. The dashboard flows gently down to meet the center console, while an infotainment screen perches on the top: 8 inches on the base model with the option for a 12.3-inch unit. Lexus has also made this interior more conventional since the current-generation RX debuted in 2016; a couple of years ago, it added touchscreen capability to its infotainment system. That's a welcome upgrade over earlier RX vehicles, which had forced you to interact with the screen via a clunky touchpad controller between the front seats. 
Despite the improvement, the GV80 feels more special to us. Its cabin materials range from excellent to extraordinary; they all feel worthy of a more expensive luxury car. The RX has its nice pieces, too, but areas of the dashboard and its buttons are low-end plastic. The gauge cluster's indicator lights lack the gentle, crisply rendered view of most luxury vehicles. And the interior's warning beeps are shrill and harsh, rather than gentle and relaxing like we'd expect in Lexus. None of this is disastrous, and the Genesis's controls aren't always simple, but the GV80 provides a more convincing luxury experience to win this category. 
Genesis GV80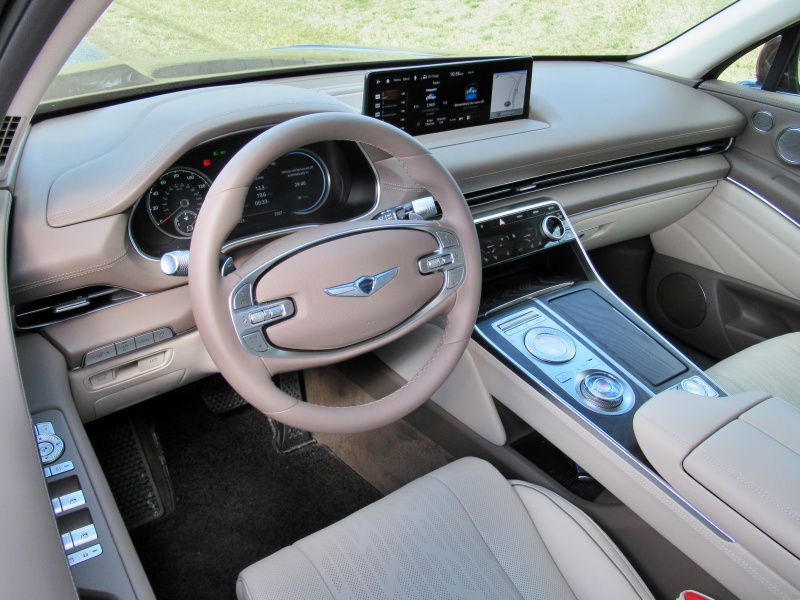 Photo by Brady Holt
Passenger Accommodations
Both the GV80 and RX have comfortable, supportive front seats. Our pick in the RX lineup is the better-bolstered seating on the F Sport versions, though your tastes may differ. The GV80 has an extra-adjustable 16-way driver's seat, helping you tailor things to your tastes. We preferred the Lexus's higher second-row cushion, which had more thigh support than the RX's, but both SUVs have enough room for adults. 
Many mid-size luxury crossovers are also available with third-row seating, and the same applies to the RX and GV80. Lexus lets you pay about $3,000 extra for the extended-length RX L model, which fits in a tiny third row. The GV80 only offers a third row on the $68,000 V6-powered Advanced+ trim level. In both cases, the third row is tiny; in the Lexus, though, there's another problem: That barely usable third row robs legroom from the second-row seat that you're more likely to need on a regular basis. Neither of these SUVs is your best bet if you're looking for three-row capacity. Between these two imperfect passenger-haulers, we'll call this category a tie. 
Tie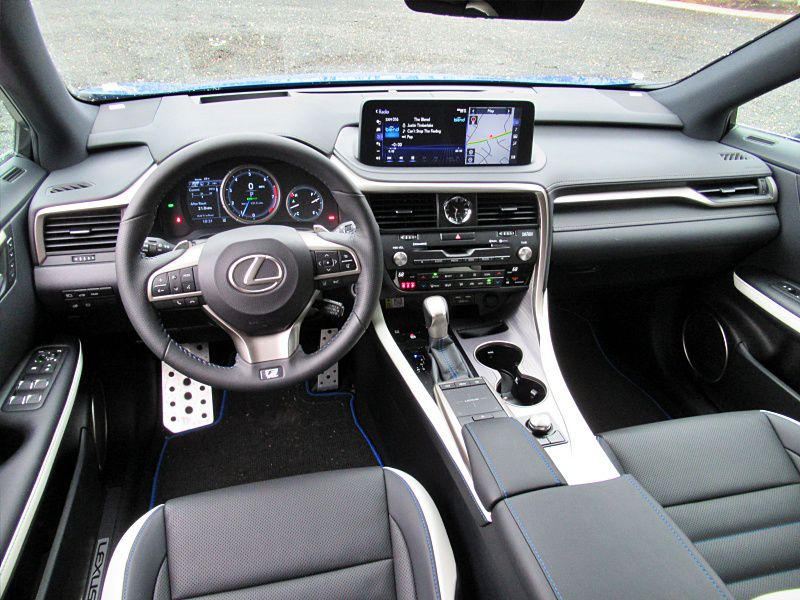 Photo by Brady Holt
Cargo and Utility
The GV80 may not have the most comfortable rear seating, but it has tons of cargo room: up to 84 cubic feet with the second and third rows folded down. You also get 35 cubic feet behind the second row and, when equipped, a modest 12 cubic feet behind the third row. 
The RX comes up short as a cargo hauler. Between the sporty coupe-like styling and a high cargo floor, there's a mere 18 cubic feet of cargo space behind its rear seat — barely half what Genesis gives you. Fold it down for a total of 56 cubic feet, still less than what you'll find in many smaller SUVs. The extended-length RX L improves things a bit, but the third row takes up a fair bit of space when it's folded. You get a tiny 8 cubic feet behind the third row, along with 23 cubic feet behind the second row and 59 cubic feet behind the front seats. The RX offers a decent towing capacity of 3,500 pounds, but the GV80 can tow 6,000 pounds. 
Genesis GV80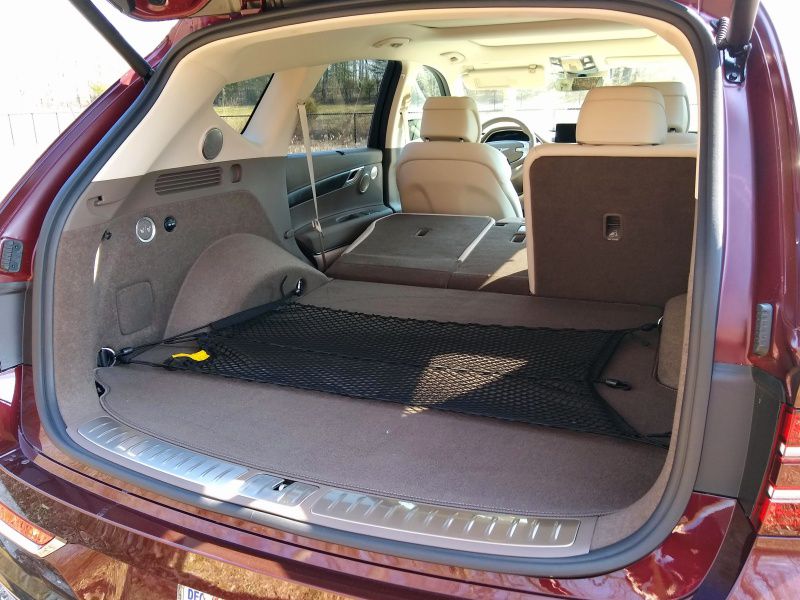 Photo by Brady Holt
Driving Impressions
Though the GV80 is technically from a "budget" luxury brand, it has the solidity you'd expect from a higher-end model. Credit its rear-wheel-drive-based architecture, sophisticated suspension, and heftier weight (typically about 500 pounds more than a comparable RX). It corners with respectable agility, too. Under the hood, the base engine is a 2.5-liter turbocharged four-cylinder with 300 horsepower and 311 lb-ft of torque. The available 3.5-liter V6 turbo makes 375 hp and 391 lb-ft. Even our four-cylinder test vehicle accelerated with vigor and refinement. 
The RX, meanwhile, borrows its suspension and engines from lower-priced Toyota models. Skip the F Sport model's stiffer suspension and you'll get a slightly smoother ride than the more agile GV80, but you lose the Genesis's feeling of being in an unstoppable tank. Nor do you get the GV80's agile handling, even on the F Sport. The RX 350 model's 3.5-liter V6 engine trails the four-cylinder GV80, too, with 295 horsepower and 268 lb-ft of torque; the RX 450h hybrid improves slightly to 308 hp. Overall, while we wish the GV80 rode more smoothly, it's an unquestionably high-end overall experience. Driving the RX feels more ordinary.  
Genesis GV80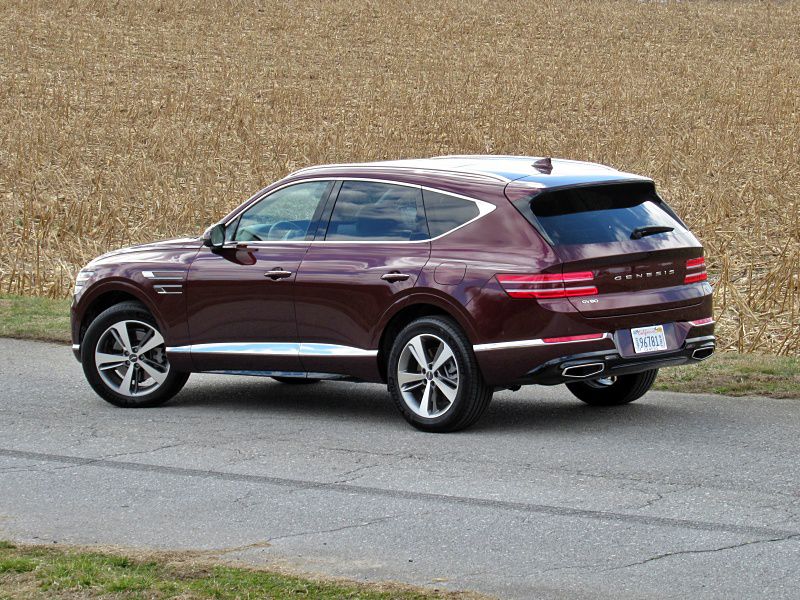 Photo by Brady Holt
Fuel Economy
The RX 350 and the four-cylinder GV80 2.5T achieve similar EPA ratings: 23 mpg in mixed driving with two-wheel drive and 22 mpg with all-wheel drive. The difference is that the Lexus uses regular-grade fuel while the Genesis prefers much costlier premium. (The extended-length RX 350L slips by 1 mpg.) Our nonscientific experience did deviate from the EPA's, as we averaged 23 mpg in our AWD GV80 2.5T and just 20 mpg in our AWD RX 350. 
If you spend much time in stop-and-go traffic — whether in crowded cities, low-speed suburban neighborhoods, on bumper-to-bumper highways — the RX 450h broadens the Lexus advantage. Three electric motors complement this hybrid's V6 engine, returning 31 mpg in the city, 28 mpg on the highway, and 30 mpg combined. (Once more, the extended-length RX gives up about 1 mpg; our RX 450hL test vehicle matched EPA estimate of 29 mpg) Meanwhile, the GV80 3.5T manages just 20 mpg combined. 
Lexus RX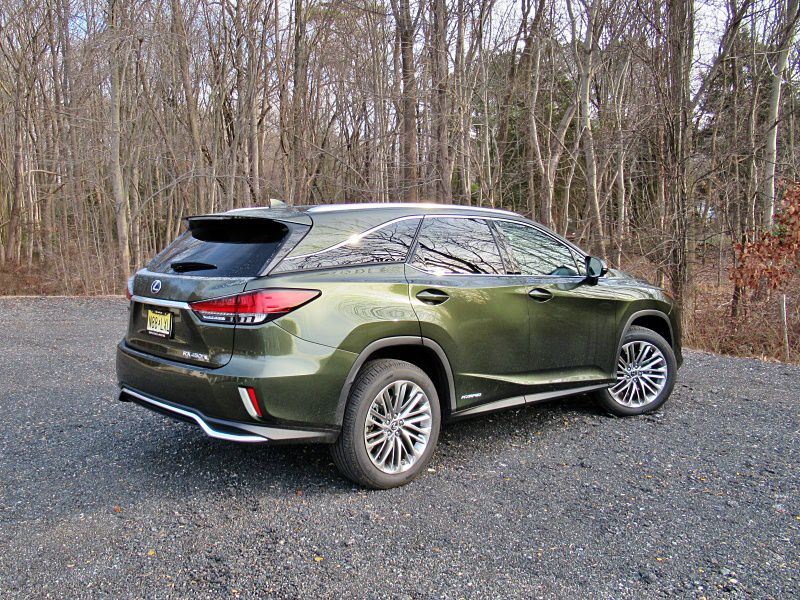 Photo by Brady Holt
Safety
Both the GV80 and RX have lots of standard safety features and excellent crash-test performance. The Genesis does a bit better on the latter front. 
The GV80 earned the highest Top Safety Pick+ designation from the Insurance Institute for Highway Safety. The Lexus fell short of that mark, earning Top Safety Pick status instead, due to low-scoring headlights on certain RX models. The GV80's automatic emergency braking system was also slightly better than the RX's at avoiding pedestrians. In National Highway Traffic Safety Administration testing, both SUVs earned a middling four out of five stars in frontal-impact performance (along with a top five-star score for side impacts and five stars overall); however, the RX dipped all to three stars for protecting the driver in a frontal collision. 
Genesis GV80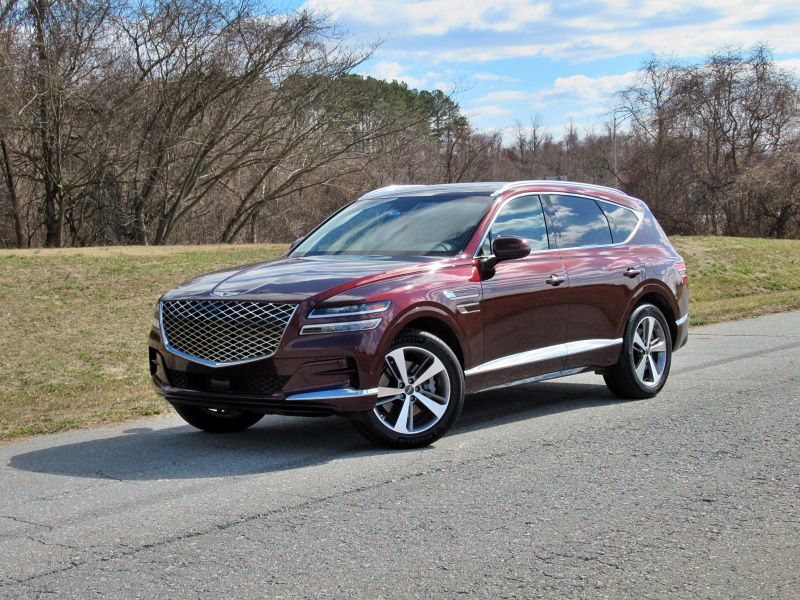 Photo by Brady Holt
Final Thoughts
Especially if you're looking for all-wheel drive and not a ton of features from your luxury suv, the Genesis GV80 is a pricy proposition. For thousands of dollars less, the Lexus RX offers sharp looks, economical engines, and a smooth, quiet ride. 
Still, our pick is the GV80. Whether you're looking for opulence (the beautifully finished interior and additional luxury features), performance (speedier acceleration and livelier handling), or functionality (greater towing and cargo capacities), the Genesis comes up on top by a substantial margin. And more than just summing up its parts, the GV80 feels like a special vehicle. A sometimes-bumpy ride, some ergonomic foibles, and middling rear-seat accommodations detract — and might be dealbreakers for some buyers. And the price difference is too big to ignore entirely. Still, the GV80 justifies the higher price. It's the better luxury SUV. 
Genesis GV80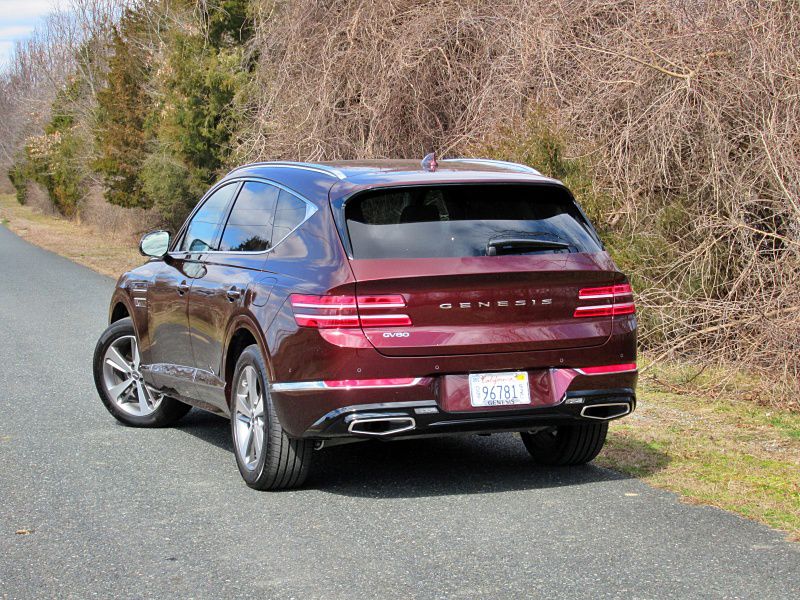 Photo by Brady Holt