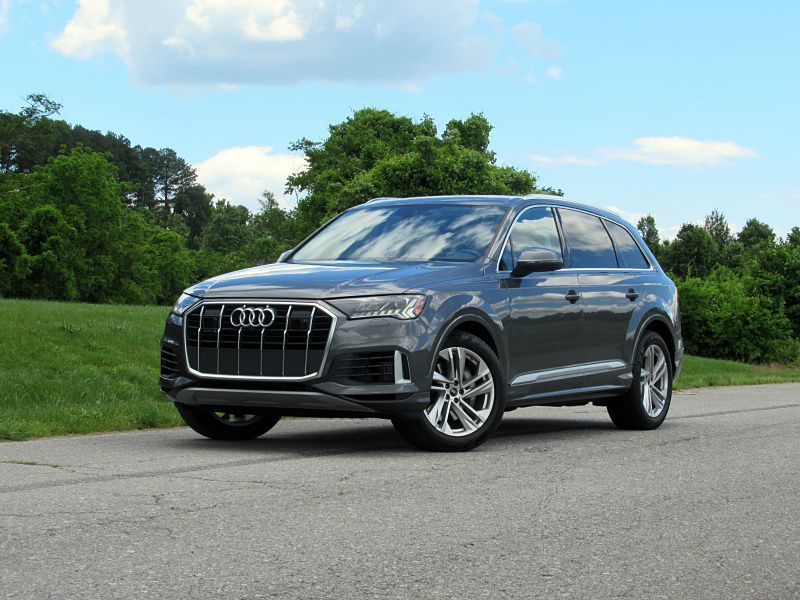 2022 Audi Q7 ・ Photo by Brady Holt
Value and luxury can sound antithetical. Aren't luxury goods more expensive by definition? When you've already committed to a big-bucks high-end purchase, who really wants the penny-pinching alternative to the real thing?
That's why Genesis has taken a different approach to value-oriented luxury. It's not hoping to sell you a pretty nice luxury car for less money than the true luxury brands. Instead, Genesis — the premium division of Korean carmaker Hyundai — wants to make class leaders, then sell them for less money than top luxury brands. To measure its success, we spent a week driving the mid-size 2022 Genesis GV80 mid-size SUV. Today, we want to see how it stacks up against one of our favorite big-name competitors in this space: the 2022 Audi Q7. We'll compare the two luxury SUVs in eight categories, then declare an overall winner.
Pricing and Features
Given that a lower price is a GV80 calling card, it's no surprise that Genesis wins this category. The 2022 Genesis GV80 is available for as low as $48,900, in contrast to the $57,500 starting price of the 2022 Audi Q7. Still, the two luxury suvs are priced closer than you might think.
That's because the Q7 comes standard with all-wheel drive, while the base GV80 has rear-wheel drive. And because Genesis bundles AWD with several other features, you can't get an AWD GV80 for less than $56,100. Similarly, upgrading from a four-cylinder engine to a V6 brings a starting price of $60,600 in the Genesis and $62,500 in the Audi. The Q7 also brings some standard features that cost extra on the GV80, including leather upholstery instead of leatherette, plus a panoramic sunroof. Genesis does counter with standard adaptive cruise control and lane-keeping assistance. Overall, the GV80 still wins this category, but don't go in assuming that it will be dirt-cheap.
Genesis GV80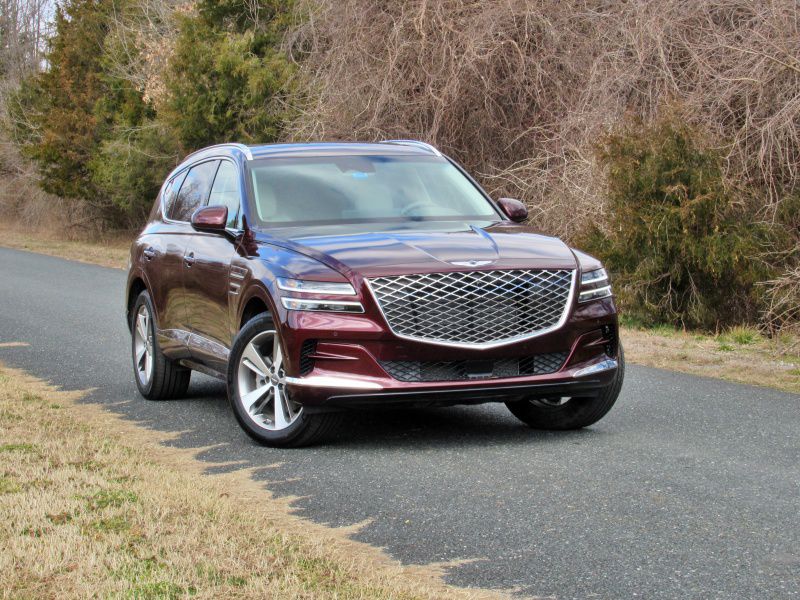 Photo by Brady Holt
Exterior Design
The current-generation Audi Q7 debuted as a 2017 model with a serious, all-business design. Nearly every line was straight, and no details were superfluous. We wouldn't call the resulting design either dull or anonymous — this was clearly a high-end Audi — but some people would find it too cold. Audi later softened the design by retrofitting a few curves to its headlights, grille, and taillights. Backtracking a bit from old stoic angularity makes the Q7 less clinical, but perhaps less distinctive.
We're frankly more impressed with the GV80, which creates a more interesting result with its more cohesive mix of boxy and curvy cues. A pinched windowline toward the rear of the vehicle contrasts nicely with the dead-on-horizontal lines around the back: the windshield, a body crease, and the taillights. The GV80's stance is upright and purposeful, while distinctive split-level headlights and taillights tie the vehicle to the Genesis design language. Still, design is the most subjective category we'll write about today, so we won't name a formal winner.
Tie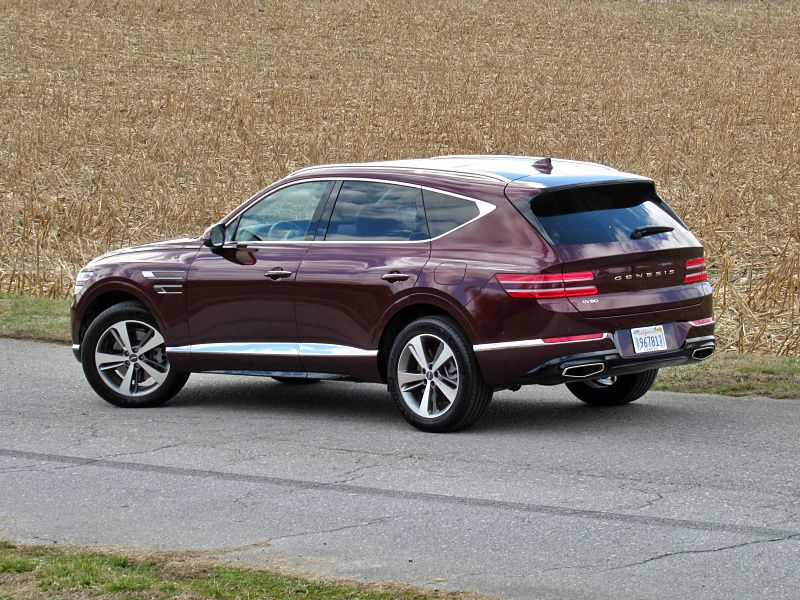 Photo by Brady Holt
Interior Design
The Q7 and GV80 both have impeccably finished and technologically advanced interiors. The Audi's most recent update brought an advanced new infotainment system that dominates the dashboard: a 10.1-inch touchscreen that sits above a second 8.6-inch screen and next to a 12.3-inch digital gauge cluster. The latter is the industry's best, with many customizable views, crisp resolution, and fast responses. The rest of the controls are a mixed bag — it's all attractive and has unsurpassed build quality and tactile feel, including haptic feedback when you successfully tap a touchscreen function. But it's more distracting than conventional buttons and knobs.
The GV80's cabin has a more traditional flavor than the ultra-modern Q7, but it's still quite a contemporary vehicle. Genesis provides a relaxing minimalism, with more curves and more empty space than the Q7. It also has two touchscreens (a primary 14.5-inch infotainment screen and a small screen for some climate functions), but they don't dominate the dashboard the way the Audi's do, and there are more physical controls to complement them. Because both interiors are magnificently executed, we'll let your tastes determine the winner between them.
Tie
Photo by Brady Holt
Interior Comfort
The Q7 is about 4 inches longer than the GV80, and you feel that difference in the cabin. The most obvious difference is that every Q7 seats seven passengers across three rows of seats, while the GV80 limits its tiny third-row seat to a single pricey model — a midlevel trim with the optional V6 engine. The Q7's third row isn't just more widely available, but it's also more usable in a pinch than the GV80's.
Up in the front seats, both SUVs are perfectly comfortable, and they have good visibility out their big windows and windshields. The GV80's seats are cushier, while folks who prefer an extra-firm cushion will pick the Q7. But the Audi wins this category for its markedly superior second row. It's higher off the floor, providing better leg support and real-world legroom. The GV80 feels less generously accommodating, even if you slide its fore-aft seat all the way back. Unlike several competing mid-size luxury suvs, neither the Q7 nor the GV80 offers second-row captain's chairs.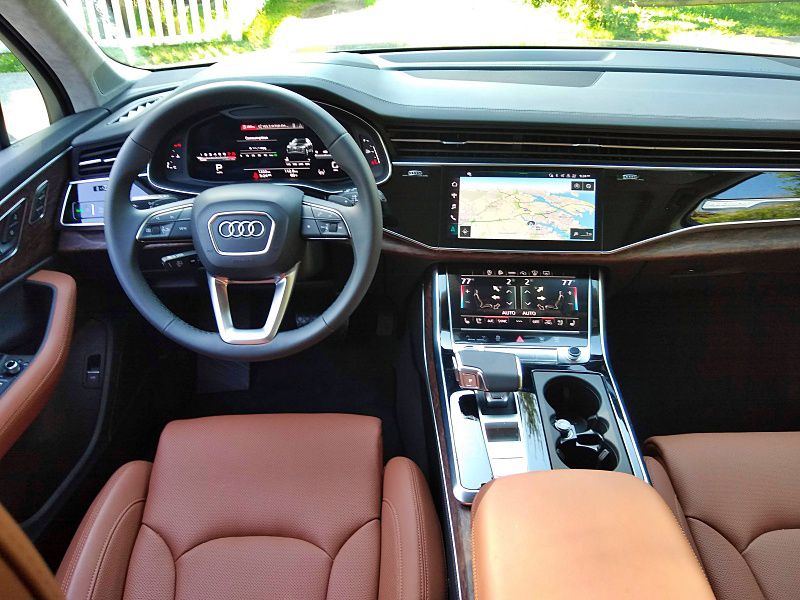 Photo by Brady Holt
Cargo and Towing
Both the Q7 and GV80 are usefully spacious vehicles, as all three-row SUVs are by default. However, neither of them is especially roomy for the class overall.
The Q7 provides 14.2 cubic feet of space behind its third row, 35.7 cubic feet behind its second row, and 69.6 cubic feet behind its front seats. The GV80 has less space behind the third and second rows, with 11.6 cubic feet and 34.9 cubic feet, respectively. But its total volume can reach 84 cubic feet, and its seats fold more easily than the Audi's. When it comes to towing a trailer, the Audi can pull 4,400 lbs with its four-cylinder engine and a mighty 7,700 lbs with its V6. Genesis splits the difference, allowing a 6,000-lb capacity with either GV80 engine.
Tie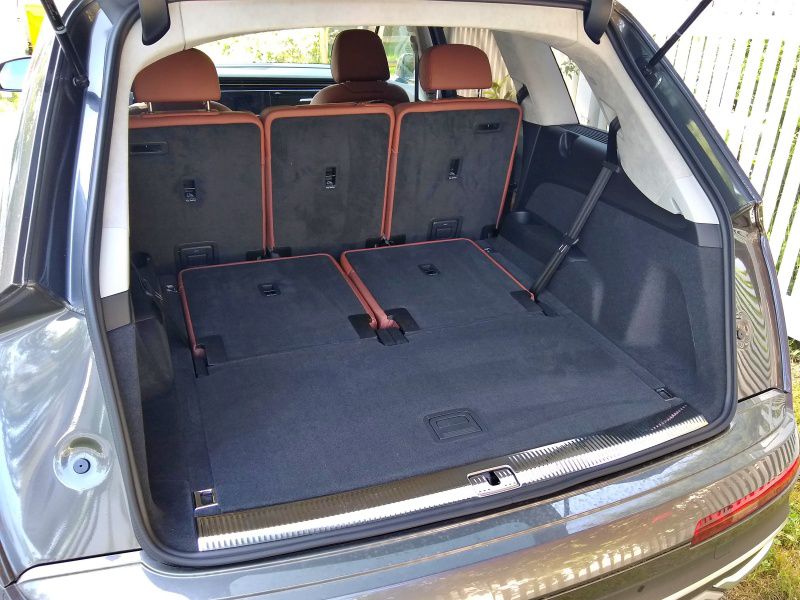 Photo by Brady Holt
Acceleration and Fuel Economy
The Audi Q7 comes standard with a 2.0-liter turbocharged four-cylinder engine that makes 248 horsepower and 273 lb-ft of torque, while the optional turbocharged 3.0-liter V6 makes a heartier 335 hp and 369 lb-ft of torque. While neither Q7 engine is slow, the GV80 has stronger engines that also sound pleasant. It offers a 2.5-liter turbo four with 300 hp and 311 lb-ft of torque, and a 3.5-liter turbo V6 with 375 hp and 391 lb-ft. (Audi does sell a 500-horsepower V8 in the SQ7 performance model, but it starts at $85,000.) 
Fuel economy is another GV80 triumph. The EPA says the four-cylinder will get 23 mpg in mixed driving with front-wheel drive and 22 mpg with all-wheel drive, and we beat the estimate to average 23 mpg in our AWD test vehicle. The optional V6, sold only with AWD, is a 375-horsepower turbo with a still-respectable EPA score of 20 mpg in mixed driving. The Q7 scores 21 mpg with its four-cylinder and 20 mpg with its V6, and we averaged 21 mpg in our V6 test vehicle.
Genesis GV80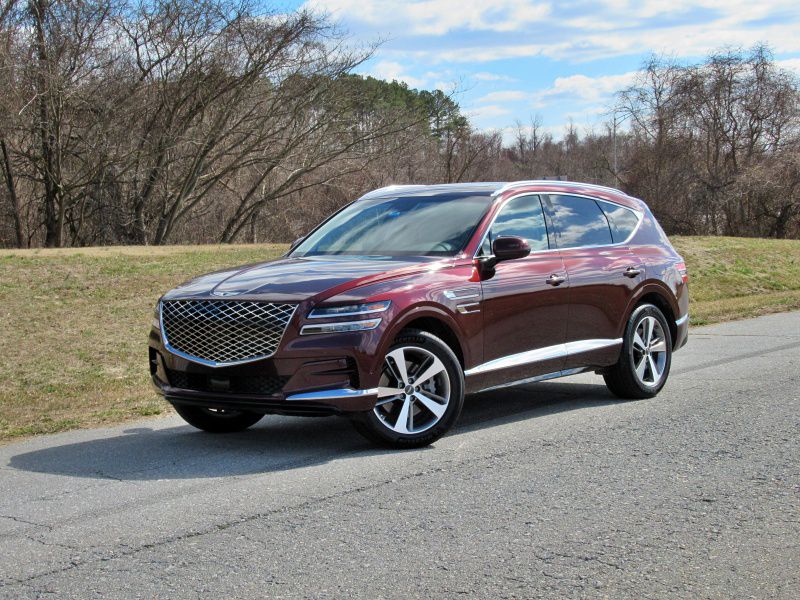 Photo by Brady Holt
Ride and Handling
Though the GV80 is technically from a "budget" luxury brand, it has the solidity you'd expect from a higher-end model. It also handles with agility and composure for an SUV. That said, it can't match the truly stellar driving experience of the Q7.
First, the GV80 has an unexpectedly bumpy ride. It's quiet, but we found it jiggly and unsettled on the highway for a luxury vehicle, and it doesn't absorb bumps as nicely as the Audi. But even with a gentler ride quality, the GV80 driving experience would still be a cut below the Q7. The Audi handles like a sports sedan, zesty and lithe — delivering outright fun along with a smoother, steadier ride than the GV80. It doesn't disguise the road from you, but its manners are unflappable. You feel like Audi's engineers decided exactly how it should drive, then hit their target. This is the supreme, unflappable composure that we look for in an outstanding luxury vehicle, and the Q7 delivers it. The GV80 isn't unpleasant either, to be clear; it's just not all the way there.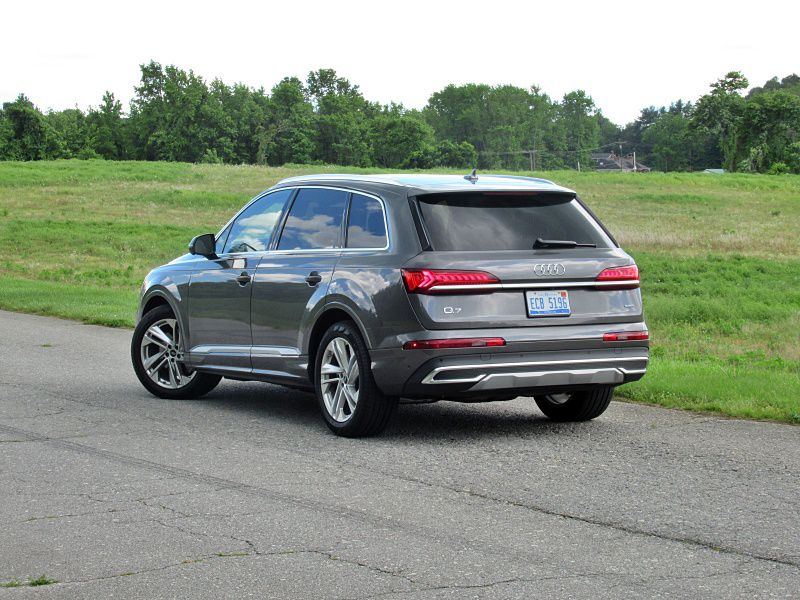 Photo by Brady Holt
Safety
Both the GV80 and Q7 earned top marks in crash tests and come with a long list of safety features. But when it comes down to the details, the Genesis edges out the Audi.
To start, the GV80 earned the highest honor of Top Safety Pick+ from the Insurance Institute for Highway Safety. The Q7 missed that designation with low-scoring headlights; they earned the lowest grade of Poor, while the GV80 managed the second-highest score of Acceptable. Secondly, the GV80 has more safety technology than the Q7; the Audi lacks the Genesis's optional rear automatic braking, optional blind-spot cameras, and standard front cross-traffic alert. It also charges extra for adaptive cruise control and lane-keep assistance, which are standard on every GV80. The Q7's optional augmented-reality parking camera is a stunner, but the GV80 wins this category overall.
Genesis GV80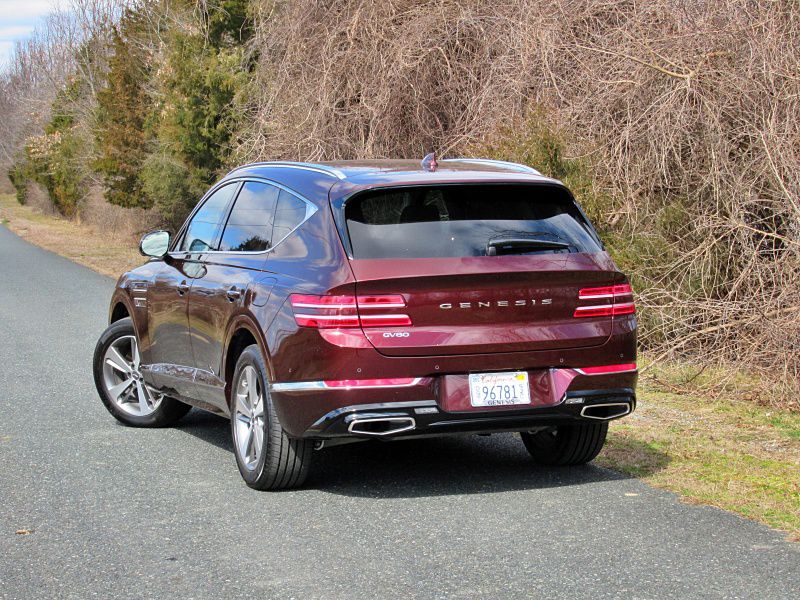 Photo by Brady Holt
Final Thoughts
The 2022 Genesis GV80 came out to make a splash, with its classy yet distinctive design, beautifully finished interior, and powerful yet fuel-efficient engines — all at comparatively reasonable prices. That's a formula that quickly won fresh attention to the fledgling Genesis brand, which had struggled by offering only sedans in a market hungry for crossover suvs.
But our pick is the 2022 Audi Q7. Its driving experience is polished to perfection, better than many sedans. Its interior is immaculately assembled and also usefully spacious. And while it costs more than the GV80, the difference isn't as big as you might think. If you're drawn to the Genesis's more distinctive style or extra horsepower, you shouldn't be disappointed unless you were counting on three-row seating. The Q7, however, impressed us even more and remains a mid-size luxury suv benchmark.
Audi Q7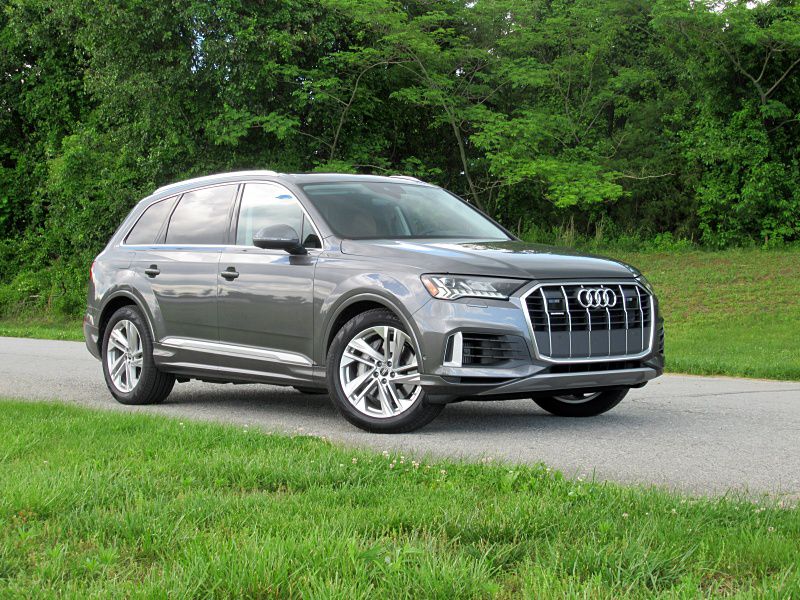 Photo by Brady Holt