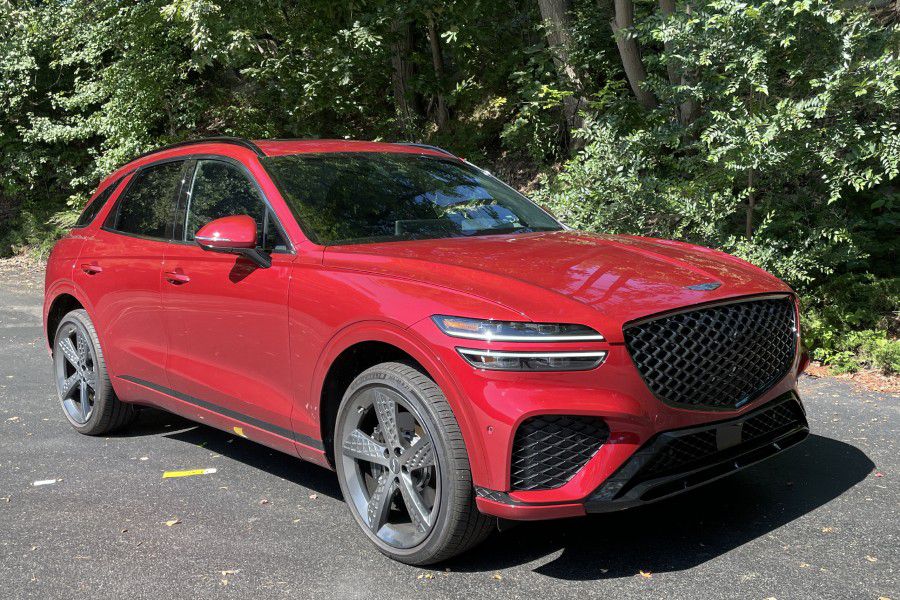 2022 Genesis GV70 Front Quarter ・ Photo by Nicole Wakelin
The 2022 Genesis GV70 is an all-new crossover slotting just below the existing GV80. It has seating for up to five passengers with standard all-wheel drive. This luxury vehicle has a beautiful interior with high-quality materials throughout and supremely comfortable seating. Since it's a crossover, it also has good room for cargo. It offers all the flexibility for cargo or people that makes crossovers such a popular choice.
In addition to that versatility, the GV70 has two responsive powertrains that provide an engaging driving experience. There's also an infotainment system with a wide range of features along with good standard safety. Genesis might be less well-known than its rivals, but it offers a true luxury experience. Let's take a closer look at the 2022 Genesis GV70 to see if it's the best luxury crossover for your needs.
A Choice of Four Trims
The Genesis GV70 comes in four well-equipped trims. As a luxury car, each has a high level of comfort and numerous features. There's also standard all-wheel drive and either a 2.5-liter or 3.5-liter turbocharged engine available on all four trims. The base Standard starts at $41,000 with 18-inch wheels, 12-way power driver's seat, 14.5-inch infotainment touchscreen, leatherette seating surfaces, and forward collision avoidance assist. The Select is priced from $45,000 with 19-inch wheels, panoramic sunroof, and 18-speaker Lexicon audio system.
The Advanced at $49,150 adds leather seating surfaces, blind-spot view monitor, and parking collision-avoidance assist. The top Sport Prestige comes in at $52,750 with 21-inch wheels, sport appearance packages, leather seats with mesh inserts, and haptic carbon trim. It's a good lineup of trims that includes plenty of features on the base models at an affordable price.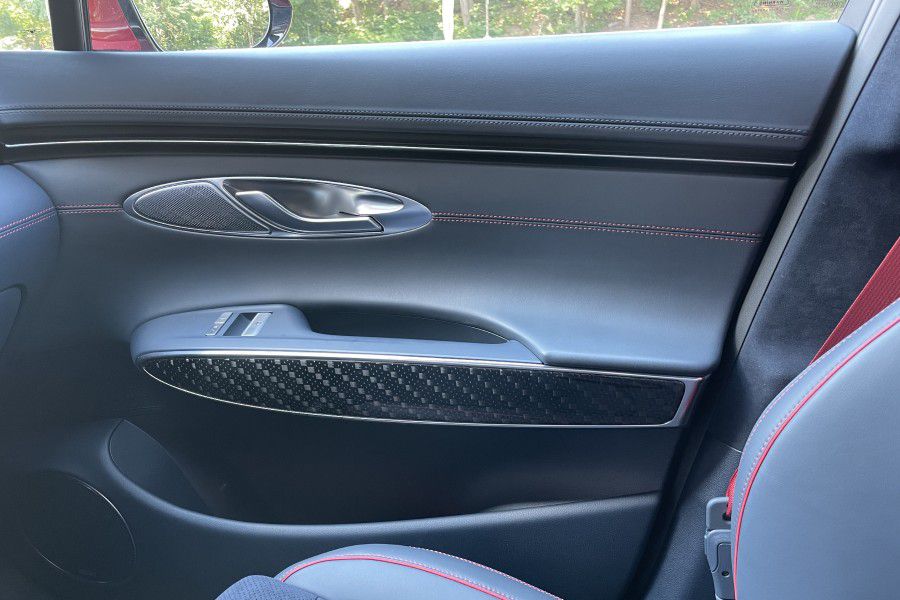 Photo by Nicole Wakelin
Two Strong Engine Options
The base engine in the Genesis GV70 is a 2.5-liter turbocharged 4-cylinder with 300 horsepower and 311 lb-ft of torque. Optional is a 3.5-liter twin-turbocharged V6 with 375 horsepower and 391 lb-ft of torque. Both are paired to an 8-speed automatic transmission. There are standard paddle shifters that override the automatic transmission to give you more control over power delivery. Further tailor the ride to your preferences by choosing one of five drive modes.
These are both powerful turbocharged engines, so you won't likely be disappointed if you go with the 2.5-liter. Since a choice of either is available on the full lineup, you don't have to with the 3.5-liter to get better overall features. If, however, you enjoy a more aggressive, engaging ride, then the 3.5-liter is the way to go. It has strong acceleration that makes getting up to highway speeds a breeze.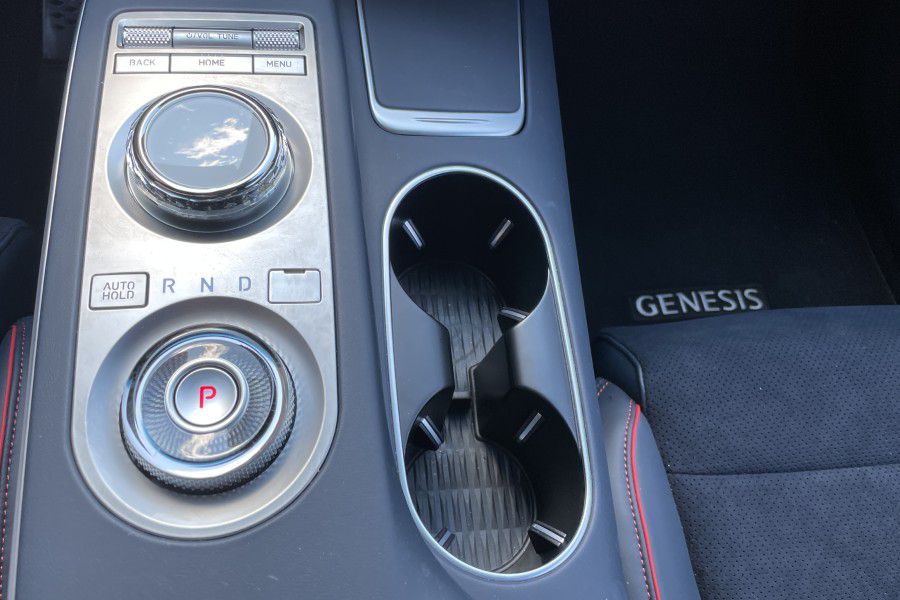 Photo by Nicole Wakelin
Luxury-Car Smooth
One of the hallmarks of a luxury car is its smooth ride. Genesis is a luxury brand and it delivers that smooth ride with a suspension system that turns uneven road surfaces flat. Pebbled pavement that makes the average SUV rattle and vibrate will go unnoticed by passengers in the GV70. It's also blissfully quiet. Heavy winds, rain, and the sounds of large trucks on the highway are silenced.
That smooth and quiet luxury ride is enhanced by crisp handling. The GV70 is sporty, but not harsh. It takes only modest steering inputs to pilot so although it makes for an engaging driving experience, it's not a tiring one. Even long road trips won't have the driver looking for a break from their time behind the wheel. The GV70 lives up to its pedigree with a luxurious ride and responsive handling.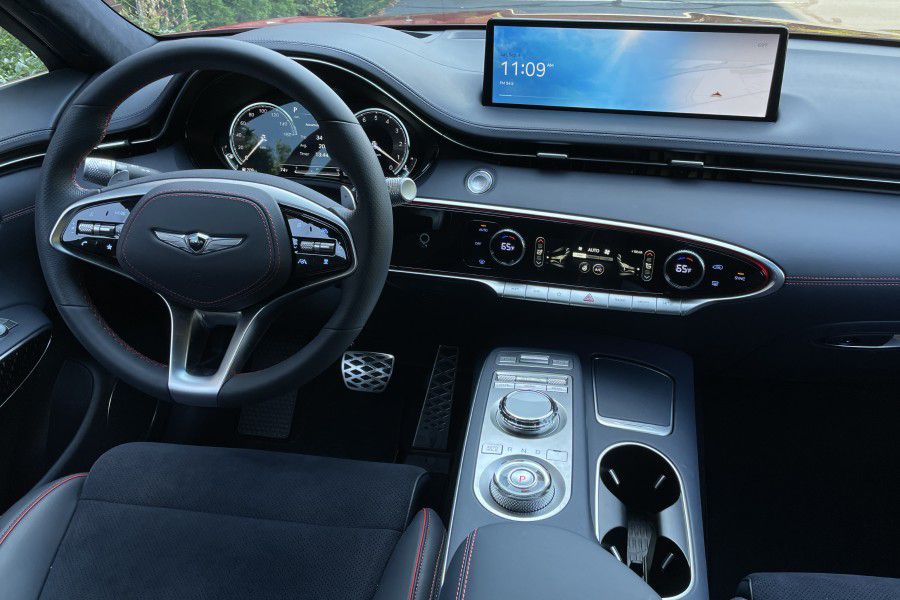 Photo by Nicole Wakelin
A Beautiful and Comfortable Interior
The interior of the GV70 has room for five passengers with supportive seats and downright beautiful materials. Genesis manages to deliver a level of luxury that matches and even exceeds what many competitors offer, and it does it at a more affordable price. Front seats are supportive and roomy with standard leatherette trims, 12-way power adjustability, and heat. There's also dual-zone automatic climate control. Options include ventilated front seats and 16-way power adjustability with power side bolsters.
There's room for three in back. Those seats are available heated and they recline up to 26 degrees so although not as nice as the front seats, they're still plenty comfortable, even on longer road trips. The curved roofline and funky rear quarter window give the GV70 enough headroom for even taller passengers. Rich, vibrant trims, ample standard amenities, and plenty of room make the GV70 a win for passengers.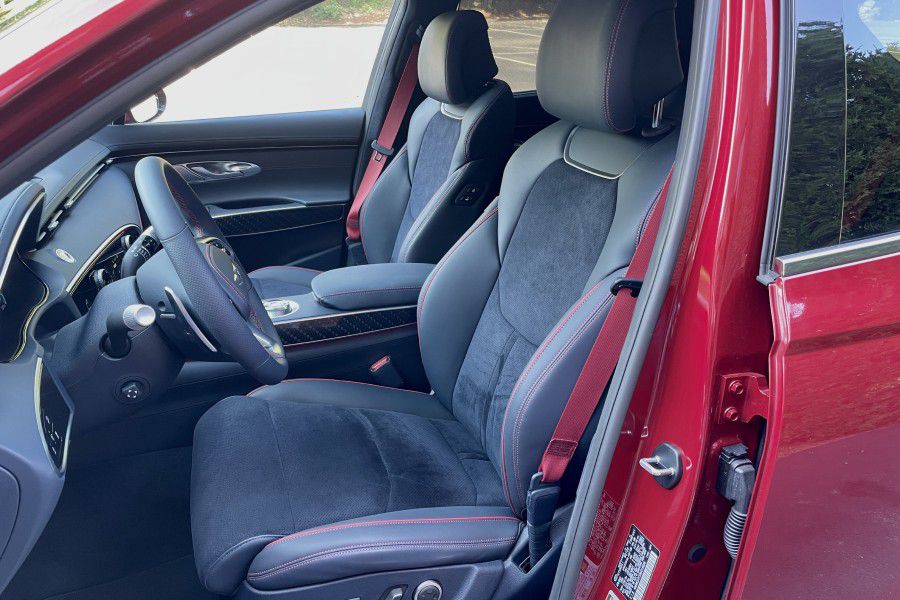 Photo by Nicole Wakelin
Extensive Standard Safety
The 2022 Genesis GV70 has not yet been rated by either the Insurance Institute for Highway Safety or the National Highway Traffic Safety Administration. Despite the lack of crash test ratings, it does have a comprehensive list of standard and available safety features. Standard features include forward collision-avoidance assist, lane following assist, blind-spot collision avoidance assist, smart cruise control with stop and go, driver attention warning, high beam assist, rear cross-traffic collision-avoidance assist, and safe exit assist.
Options include a blind-spot view monitor, which displays a camera view of your blind spot in the instrument cluster. There's also parking collision-avoidance assist that helps you avoid objects and pedestrians when you're entering and exiting parking spots. The Genesis makes most of its safety features standard, so you don't have to break your budget by going to a higher trim just to get peace of mind.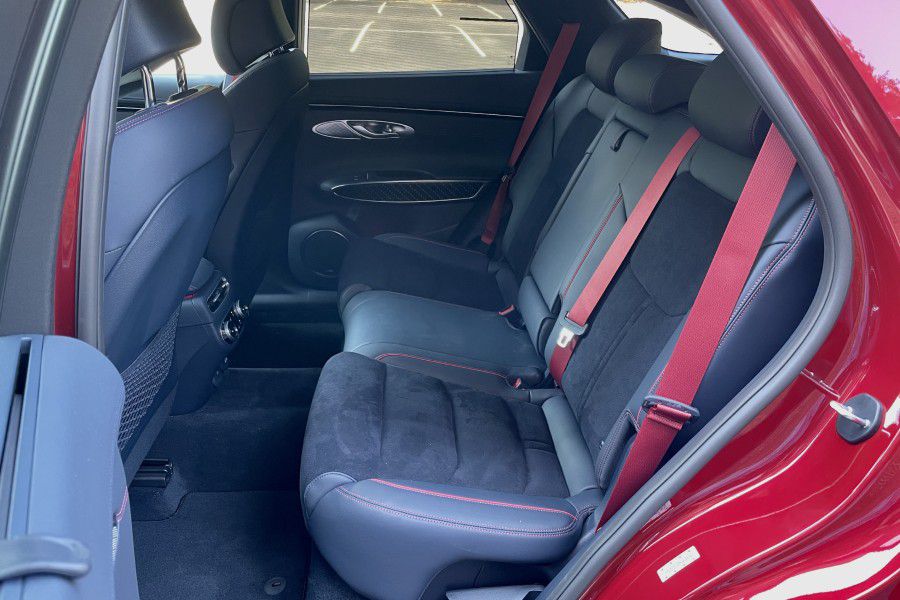 Photo by Nicole Wakelin
A Standard 14.5-Inch Infotainment Touchscreen
Infotainment in the Genesis GV70 includes a standard 14.5-inch touchscreen. This is mounted lengthwise on the top of the dashboard within easy reach and easy view of both driver and front passenger. In addition to allowing for touchscreen control, the system can be operated with steering-wheel mounted controls, a center console dial, or voice commands.
Also standard is a 9-speaker audio system, wireless device charging, multiple USB ports, Apple CarPlay, Android Auto, and navigation. All but the base trim adds a standard 18-speaker Lexicon premium audio system. It's a fully featured infotainment offering that includes a large touchscreen and key connectivity on every trim. It's easy to operate and takes little time to master with a well-organized series of menus and a crisp, clear screen that's easy to see even in bright sunlight.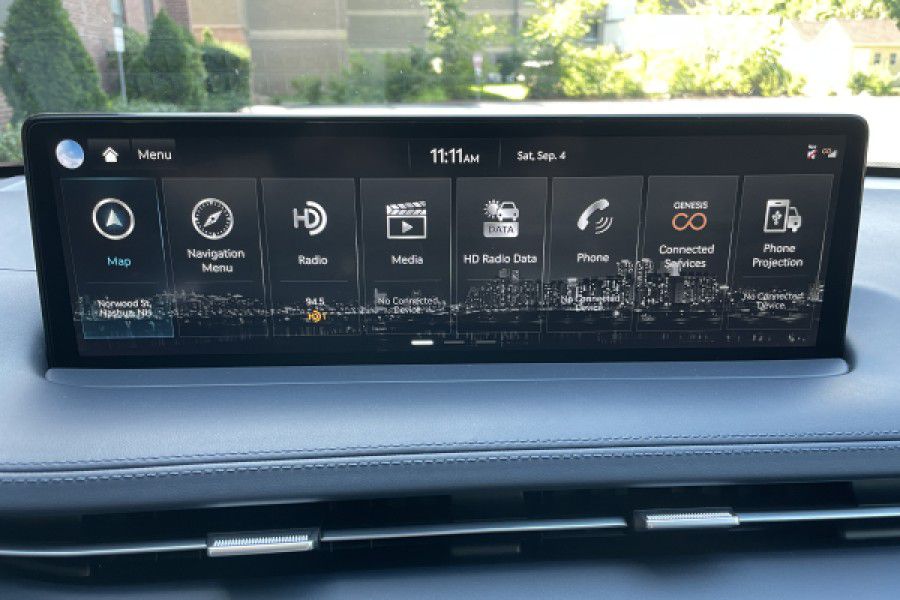 Photo by Nicole Wakelin
Room for Cargo
As a luxury vehicle, the Genesis GV70 is focused on providing a premium interior that surrounds passengers in rich, beautiful materials. As an SUV, it also needs to be able to handle plenty of cargo and whatever combination of the two you need at any given moment. The GV70 has an impressive 28.9 cubic feet behind the rear seats. That's more than average compared to most luxury compact crossovers.
The rear seats split fold 60/40 for added flexibility. If you don't need the rear seats at all for passengers, then fold those seats completely. This gives you a total of 56.9 cubic feet for cargo. Larger items that won't fit inside can be towed by a trailer with a maximum tow rating of 3,500 pounds when properly equipped. The Genesis GV70 has the capability to manage your needs whether it's people or cargo you need to carry.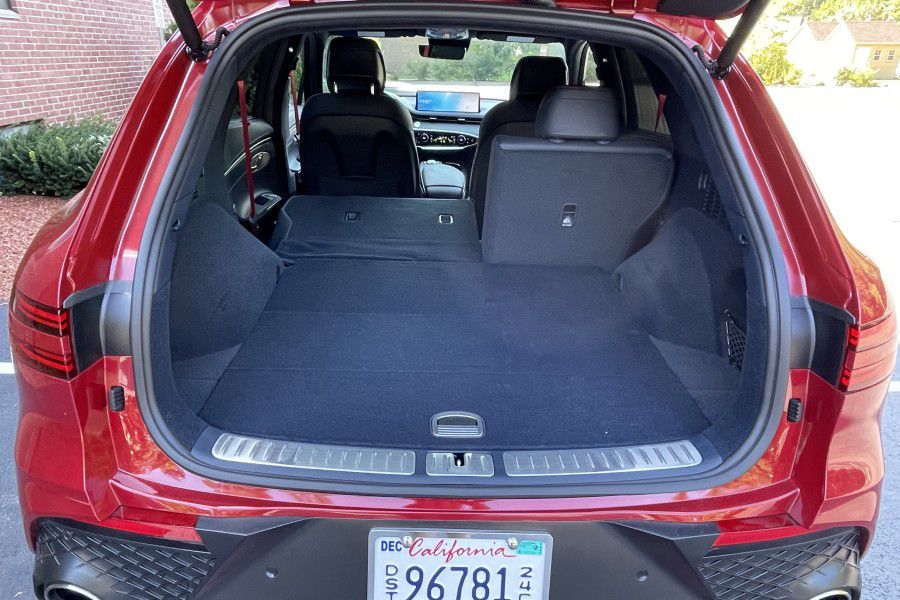 Photo by Nicole Wakelin
Good Fuel Economy
The 2022 Genesis GV70 gets good fuel economy, but it's not exceptional for the class. Equipped with the base 2.5-liter engine, it gets an EPA-estimated 22 mpg in the city, 28 mpg on the highway, and 24 mpg combined. If you choose to equip the GV70 with the available 21-inch wheels, then those numbers drop to 19 mpg in the city, 26 mpg on the highway, and 22 mpg combined.
There's one final drop with the 3.5-liter engine, but it's a small one. This engine gets an EPA-estimated 19 mpg in the city, 25 mpg on the highway, and 21 mpg combined. The difference between the two engines isn't dramatic, but if getting the best possible fuel economy is your focus, then the 2.5-liter is a better choice.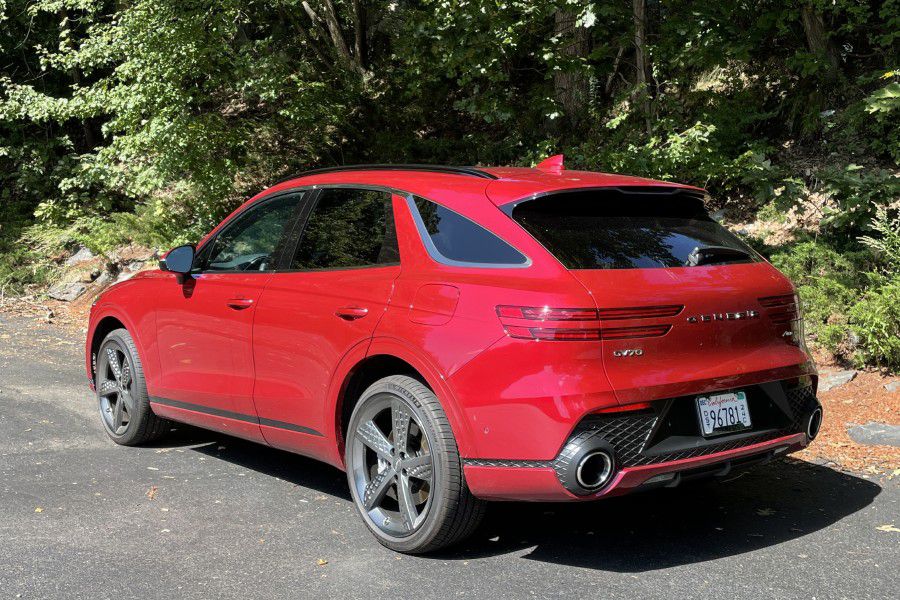 Photo by Nicole Wakelin
Final Thoughts
The 2022 Genesis GV70 is a welcome addition to the Genesis lineup of luxury vehicles. The newness of the Genesis brand makes it one that many aren't familiar with, but its impressive offerings are worth some attention. The GV70 has all the style and luxury of more well-known brands, just with a more affordable price. There's no compromise here. This is a high-end luxury car through and through with a beautiful, richly appointed interior that is appealing to the eye and comfortable for passengers.
It combines that luxury aesthetic with a choice of powerful engines and great standard safety features. There's also an infotainment system with a large standard touchscreen and smartphone connectivity. Buyers looking for a luxury SUV that has all the right premium touches at a more affordable price will find the 2022 Genesis GV70 delivers.