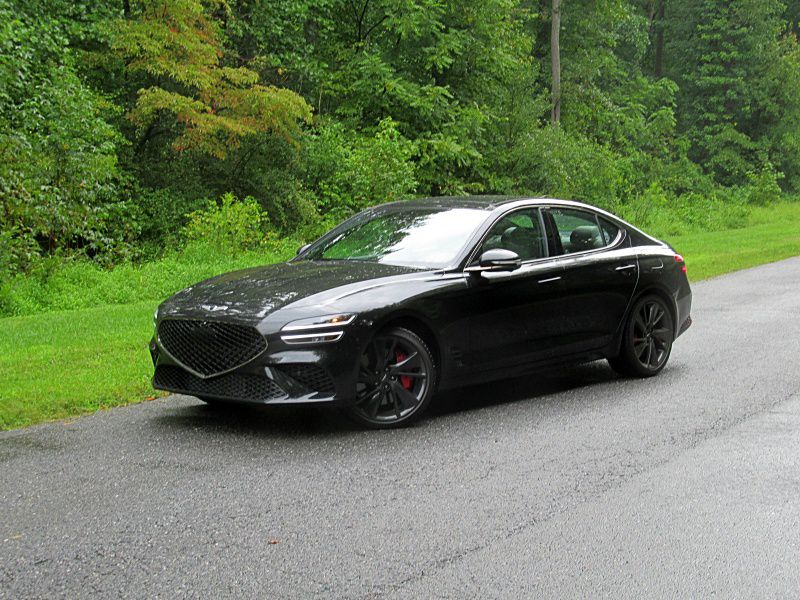 2022 Genesis G70 ・ Photo by Brady Holt
Historically, the world's best sports sedans have been German. BMW, Audi, and Mercedes-Benz invested heavily in intricately engineered vehicles with exquisite driving dynamics. These days, though, Germany's best sometimes feel cold. Even classic driving machines like the BMW 3 Series have lately skewed more toward isolation than excitement. 
That left room for upstarts to challenge the Germans on their historic turf. Two such models are the 2022 Cadillac CT4 and the newly updated 2022 Genesis G70. The G70 is the first compact sedan from Hyundai's premium division, which got its start with full-size models. It debuted to rave reviews in 2019 and now features fresh styling and an upgraded infotainment system. The CT4, introduced last year, is an overhauled version of the Cadillac ATS — a compact sedan with sterling ride and handling but also a host of drawbacks. Priced from less than $40,000, they promise luxury and driving fun at relatively attainable prices. Which one pulls it off better? Keep reading as we break down these two sedans in different categories and name an overall winner. 
Exterior Design
The CT4 provides a stately, serious aesthetic that's a little at odds with its frisky driving manners. It looks like a bigger sedan than it is, and it favors simple lines over potentially garish cues. Like other recent Cadillacs, it has a vertical theme to its headlights and taillights; up front, that includes a slim stretch of LED that wraps around from above the front fender to point down toward the ground. The rear bumper spreads up to fill a gap between the vertical taillights and the small trunk opening, which some might find off-putting. 
The G70 is more rounded than the CT4, with a curved windowline, big curved taillamps, and a gentle bulge that extends from the rear of the car to gradually disappear as it makes its way under the side windows. The 2022 model year brought an all-new front end, rounding off the headlights and grille and splitting the headlights with a horizontal strip — the latter cue borrowed from newer Genesis models. The taillights also get dressed up with a horizontal strip, and new LED lights make it look extra sharp. We won't choose for you between the angular Cadillac and more rounded Genesis. 
Tie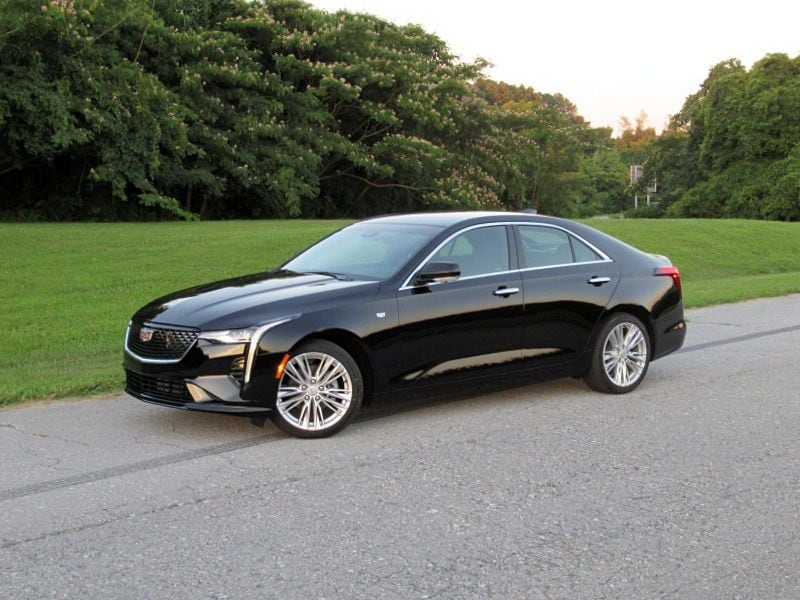 Photo by Brady Holt
Interior Design
Neither the G70 nor the CT4 has the highest-end interior in their class. While they have classy designs and most materials are suitably upscale for the price, both have areas that feel cheaper. The Cadillac's weak points include budget-grade plastics on the lower parts of the interior door panels and center console. Meanwhile, the Genesis has cheap plasticky dashboard controls, including the climate dials and the engine's start-stop button. 
We'll give this win to the Genesis for trying harder to dazzle than the Cadillac, even if the results are inconsistent. Our G70 test car had rich pleated Nappa leather upholstery, while things consistently look more businesslike in the CT4. The updated 2022 G70 also adds a new 10-inch infotainment touchscreen, which trumps the mere 8-inch unit available in last year's G70 and the current CT4.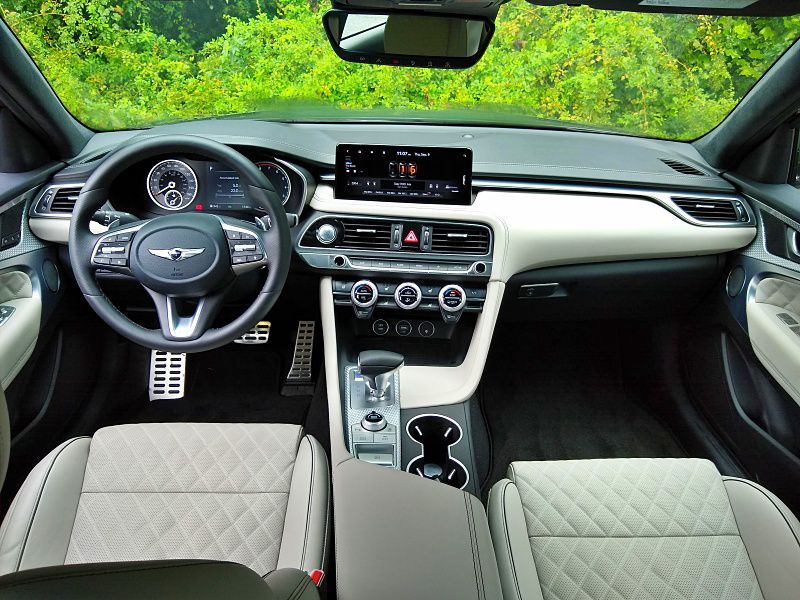 Photo by Brady Holt
Interior Space and Comfort
The CT4 and G70 both have comfortable front seats with plenty of room, supportive bolsters, and available heating and ventilation. But that's where the good news stops. They're both cramped in the back, with limited legroom for adults. What's more, they have among the smallest trunks of any modern sedans: shallow spaces with less than 11 cubic feet of space. 
We're giving the Genesis the edge because of some extra optional features. You can get rear seat heaters, adjustable driver-seat bolsters, and secondary controls for the power-adjustable passenger seat, which the driver or rear passenger can use to easily create some more rear legroom. Still, neither sedan is a top choice if you need to carry more than one passenger.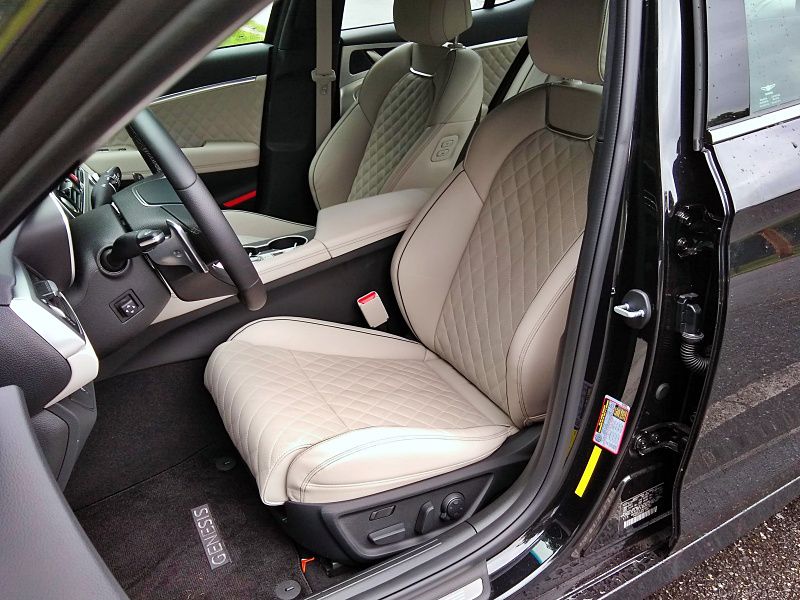 Photo by Brady Holt
Ride and Handling
Continuing their similarity, the G70 and the CT4 both balance a firm but comfortable ride with agile, responsive handling. They provide crisper, more involving driving experiences than their German rivals, yet generally without sacrificing comfort. Both have standard rear-wheel drive with optional all-wheel drive. 
The Genesis wins this round for two reasons. First, the steering system on our CT4 Premium Luxury test vehicle felt slightly numb as we sped up; it was impressively composed and inspired confidence, but the G70 did better. Upgrading to the CT4-V performance model should rectify that issue, but it doesn't solve the Cadillac's other drawback: Its four-cylinder engines sound harsher and more gravelly than the smooth, refined V6 included on our G70 test vehicle. A new CT4-V Blackwing model upgrades to a turbocharged V6 and even sharper handling, but only for much money. With normal trim levels, we pick the Genesis.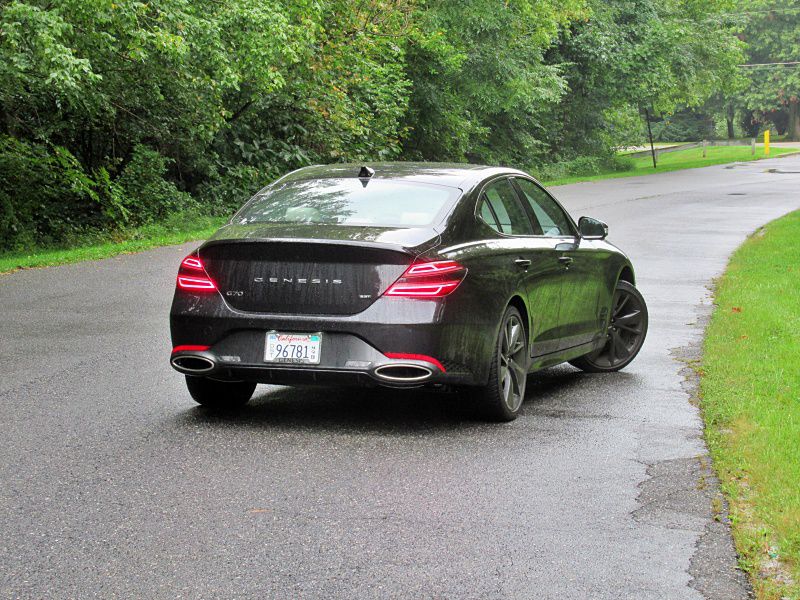 Photo by Brady Holt
Acceleration
Powertrains are the biggest difference between the G70 and CT4. The Cadillac comes with a choice of three turbocharged four-cylinder engines and a turbocharged V6. A 2.0-liter with 237 horsepower is standard on most trim levels. Our test car had a 2.7-liter with 310 hp, which is optional on the Premium Luxury trim level. The CT4-V has a 325-hp version of the 2.7-liter, while the CT4-V Blackwing has an incredible 472 horsepower — along with the option for a manual transmission. 
The G70 has a more conventional lineup, which hasn't changed this year: a base 252-hp 2.0-liter turbocharged four-cylinder and a 365-hp 3.3-liter turbocharged V6, each paired exclusively to an eight-speed automatic transmission. Despite its on-paper advantage, the G70 fails to out-accelerate the Cadillac. Its V6 engine does sound nicer, but the 2.7-liter CT4-V is quicker, while the 2.0-liter Cadillac can outrun the base Genesis — which does not have a particular aural advantage. The CT4 doesn't hold a huge acceleration advantage over a comparable G70, but the numbers we found are consistent. And then Cadillac seals the deal with the Blackwing.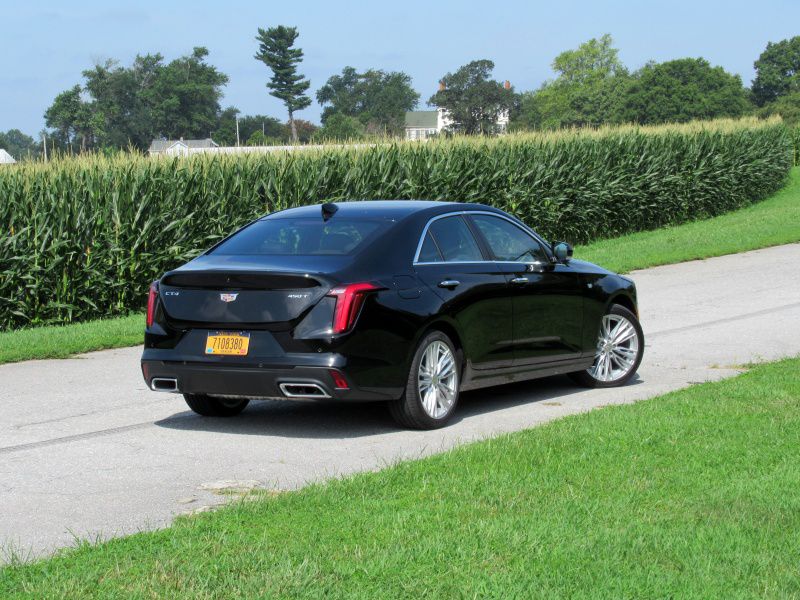 Photo by Brady Holt
Fuel Economy
In addition to speedy, the CT4's engines are decently fuel-thrifty, too. Its base 2.0-liter scores EPA ratings of 23 mpg in the city, 34 mpg on the highway, and 27 mpg overall with rear-wheel drive and 23 mpg city, 32 mpg highway, and 26 mpg overall with all-wheel drive. That compares with 21 mpg city/31 mpg highway/24 mpg combined for the RWD 2.0-liter Genesis and just 20 city/28 highway/23 combined with AWD. 
The difference grows when you choose their bigger engines. The 2.7-liter CT4 ranges from 20 mpg city/28 mpg highway/23 mpg combined for an AWD CT4-V up to 21 city/31 highway/25 combined for a rear-drive CT4 Premium Luxury like our test vehicle. The V6 G70 gets 18 mpg city, 27 mpg highway, and 21 mpg combined, while AWD does about 1 mpg less — which is only 1 mpg better than the far more powerful CT4-V Blackwing. Our tested CT4 averaged 29 mpg and, according to the trip computer, got as high as 40 mpg on the open highway. Our V6 AWD G70 managed 23 mpg.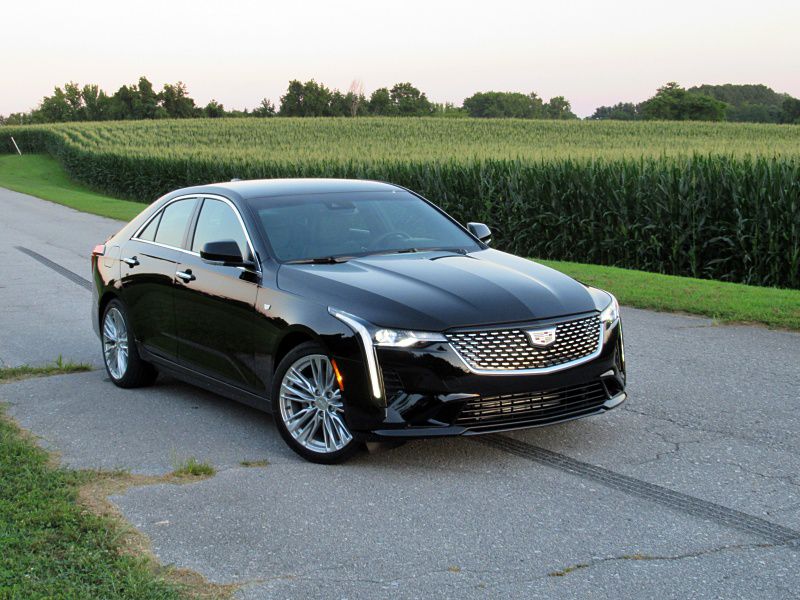 Photo by Brady Holt
Safety and Driver Assistance
The Cadillac CT4 hasn't yet been crash-tested. But it would have a hard time beating the Genesis G70, which earned the Insurance Institute for Highway Safety's highest honor of Top Safety Pick+. 
On the other hand, Cadillac has a new advantage this year: It's newly available with General Motors' Super Cruise system. This enhanced semiautonomous driver aid was the first to invite drivers to take their hands off the steering wheel, rather than instructing them to remain in control even while the car accelerates and steers by itself. Super Cruise works on more than 100,000 miles of pre-mapped controlled-access highways in the U.S., perfect if you'd like to split the driving tasks with your Cadillac on a multistate trek. The Genesis also has adaptive cruise control, lane-keeping assistance, and automatic emergency braking — as standard equipment at that. It also has a newly available blind-spot camera mirror. But this sedan can't do as much without the driver's input. Overall, we'll call this category a tie between the G70's proven crash performance and the CT4's superior Super Cruise.
Tie
Photo by Brady Holt
Pricing and Features
The 2022 Genesis G70 starts at $37,525, compared with $33,695 for the 2022 Cadillac CT4. Genesis helps offset the price difference with additional standard features: a navigation system, heated front seats, adaptive cruise control, and 12-way adjustability for the driver's seat. Still, the CT4 is significantly less expensive — especially if you want a sunroof, which is part of a $4,000 options package on the base G70. 
The gap narrows if you want a bigger engine. This year's update made it much more affordable to upgrade to the V6 G70, which now costs just $42,100 versus last year's $46,200. Still, the 2.7-liter CT4 is a couple thousand less. And while the CT4-V Blackwing is $58,995, you can option up a V6 G70 to nearly that amount. The G70 offers a lot of features for the money by the standards of its class, but the CT4 costs even less. 
Cadillac CT4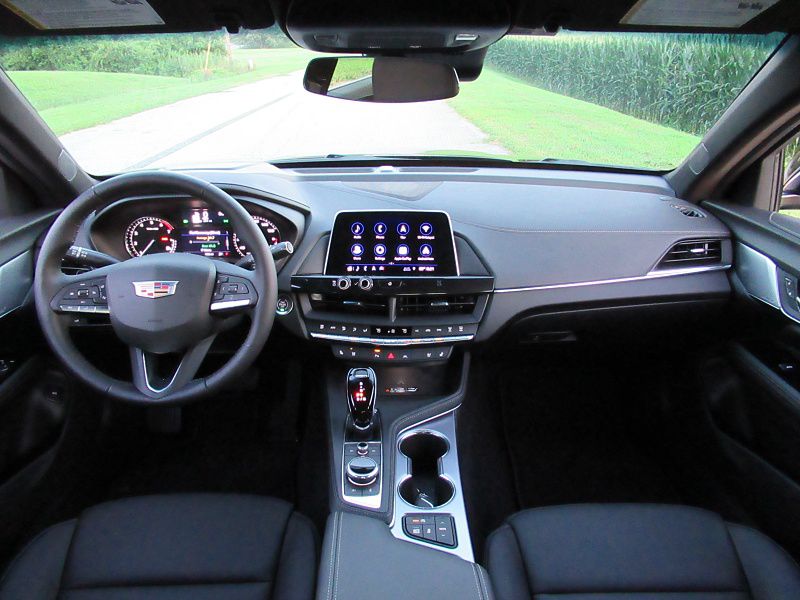 Photo by Brady Holt
Final Thoughts
The G70's update this year brings welcome changes. Its infotainment system still doesn't set the class standard for luxury sedans, but it's much better than before. And we love that you can get the V6 engine without spending such a large fortune now. Overall, it feels more expensive than the CT4, especially if you like the sound of a smooth V6. 
Of course, there's a simple explanation for why the G70 feels more expensive: It is. The CT4 may not have a gorgeously finished interior or perfect steering feel, but it's not embarrassingly far behind the G70. It's quicker and more economical, too, and it gives you access to the extra-advanced Super Cruise system. We're definitely tempted by the G70's bigger infotainment screen, rich-sounding V6, and sharper steering, but the Cadillac gives you more for the money. We'd look there first. 
Cadillac CT4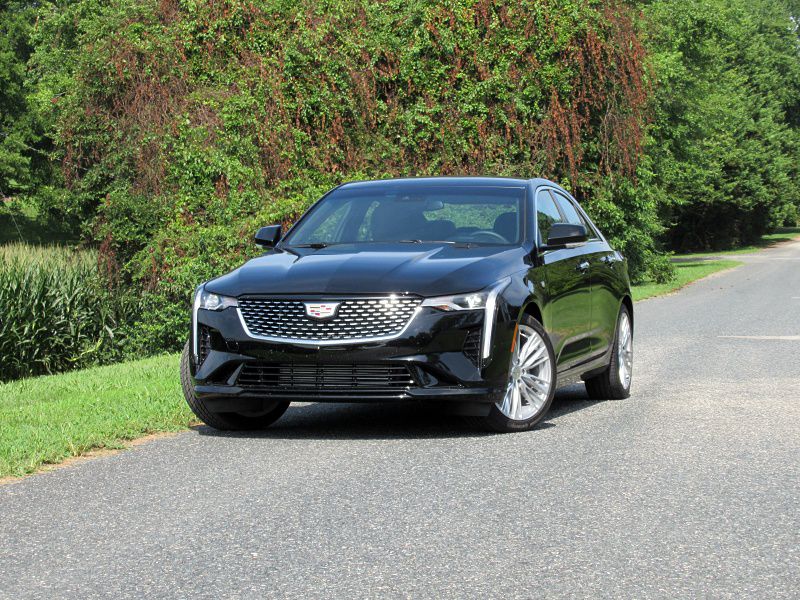 Photo by Brady Holt