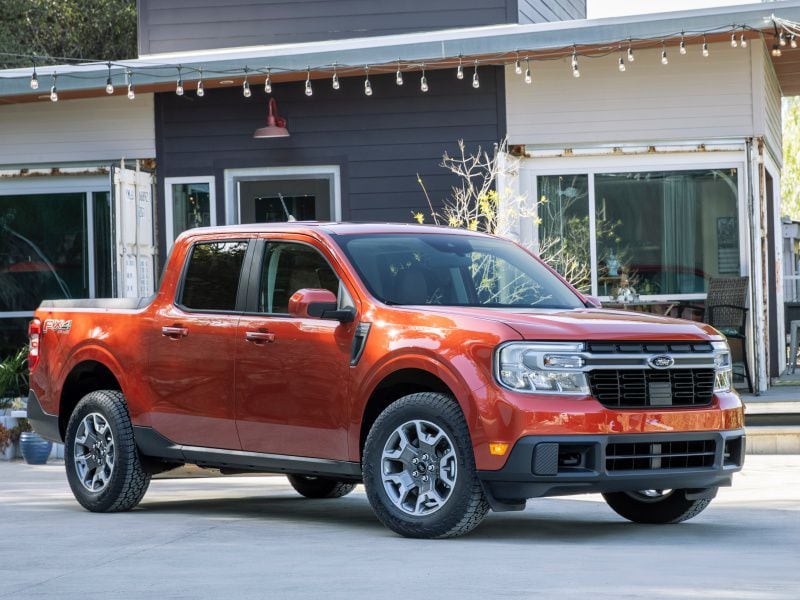 2022 Ford Maverick Lariat ・ Photo by Ford
In a car marketplace as crowded as America's, it is difficult to imagine there are opportunities for new vehicle types. But with the 2022 Ford Maverick and the 2022 Hyundai Santa Cruz, two global manufacturers have staked out new territory — the 5-passenger compact truck. As similar as the Maverick and Santa Cruz seem at first glance, though, in terms of emphasis and details, the two vehicles are very different. Designed, engineered, and manufactured by acclaimed truck builder Ford Motor, the Maverick is intended to be nothing more or less than a truck. Yes, it's a small truck; but it is every inch a built-Ford-tough truck. The Hyundai Santa Cruz is a pony of a different color. It could be viewed as a compact sport utility that has an open bed in lieu of the typical cargo compartment. And in turbocharged form, it is a sports sedan with a pickup truck bed grafted to where the trunk would otherwise be. Here is our comparison of the 2022 Ford Maverick and the 2022 Hyundai Santa Cruz.
Exterior Style
Taking a close look at the Ford Maverick, it becomes obvious its designers intended it to be seen as a legitimate small pickup, not some new type of vehicle. Styling details like the dip at the front window and the wide grille bedecked with the blue Ford oval make that obvious. In another bow to truck styling, the rear pillar of the cab is virtually vertical for added headroom and interior space. The Maverick leaves no doubt its multi-purpose bed is designed to carry heavy loads. The Hyundai Santa Cruz takes a different tack. It borrows themes from crossovers, pickup trucks, and sports sedans. At the same time, it delivers on the promise of its open bed by offering many ingenious cargo-carrying options, and its factory-installed tonneau over the bed is a giant plus. Because their purposes are different, it is hard to choose one over the other.
: Hyundai Santa Cruz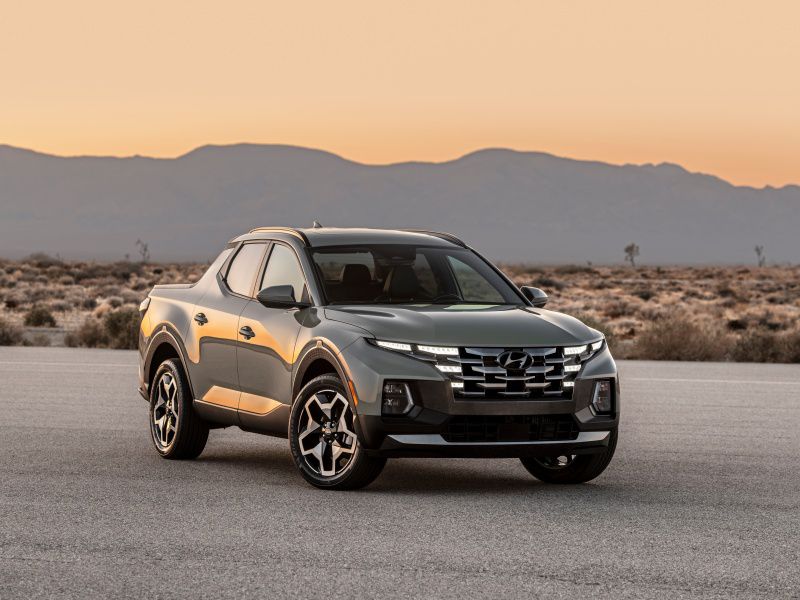 Photo by Hyundai
Interior Design
The Ford Maverick and Hyundai Santa Cruz differ from the popular small pickups of the 1970s and 1980s by offering five-passenger cabins. And the accommodations for the rear-seat passengers don't force them to assume uncomfortable positions with things like bolt upright backrests and short seat cushions. Both Ford and Hyundai offer all five passengers real seats. The Maverick has a more inventive and distinctive interior than the Santa Cruz, essentially reveling in its simplicity and celebrating its low cost. The Santa Cruz pulls its interior almost intact from the Hyundai Tucson crossover utility. The Santa Cruz interior is 1.5 cubic feet larger than the Maverick's, according to EPA measurements. Lockable interior storage is at a premium, but the Santa Cruz does offer flip-up 60/40 lower rear seat cushions that provide added flexibility. The Maverick counters with large storage areas under the fold-up rear seat cushion. The Ford truck's armrests have a split design to accommodate one-liter water bottles, and the door pockets can accept large items like laptops.
: Hyundai Santa Cruz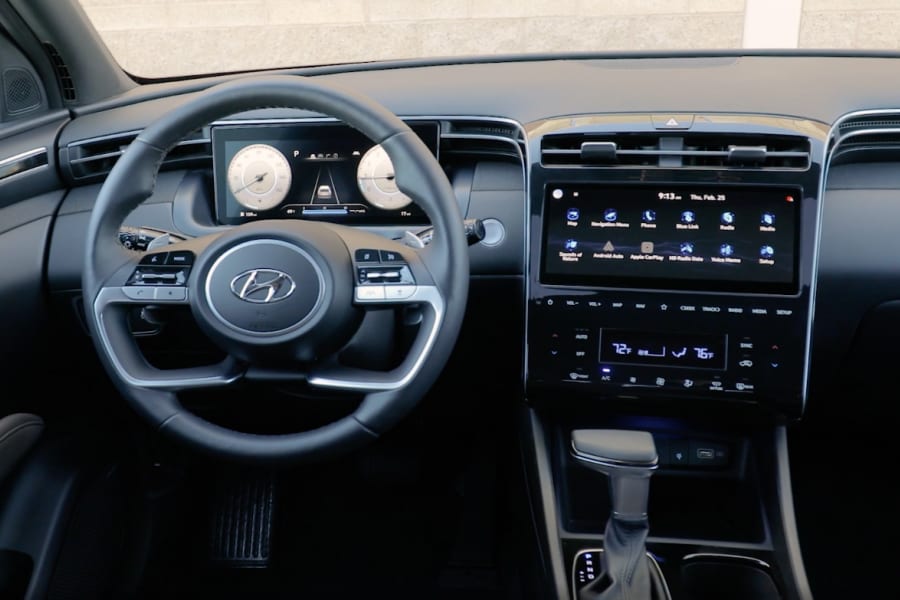 Photo by Hyundai
Infotainment & Technology
The top-level infotainment offering in the Hyundai Santa Cruz has a 10.25-inch touchscreen, while the other trims have 8-inch touchscreens. Apple CarPlay, Android Auto, and HD Radio are standard across the Santa Cruz lineup, and wireless Apple CarPlay and wireless Android Auto are offered with the 8-inch touchscreen system. An upscale Bose audio system is standard on Limited models. Like all Hyundai infotainment systems, it is easy to use and intuitive in operation. The Ford Maverick's infotainment system is equally clear and easy to operate. It features a standard 8-inch touchscreen set high on the dash. Wired Apple CarPlay and wired Android Auto are also standard as is FordPass Connect. The Maverick offers an embedded modem and Wi-Fi hotspot connectivity for up to 10 devices. An even more sophisticated SYNC 3 infotainment system is available on the top-of-the-line Lariat trim. For those seeking premium audio, a 660-watt 8-speaker B&O system is available as an option.
: Hyundai Santa Cruz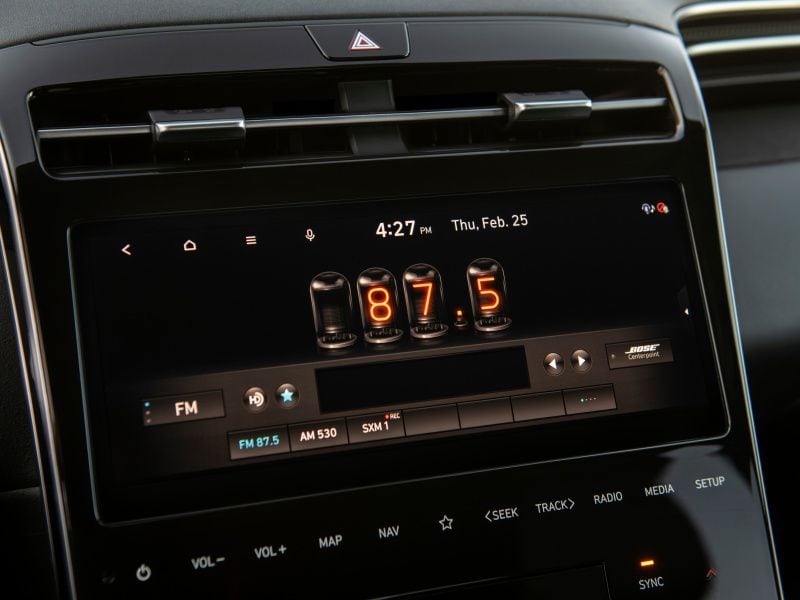 Photo by Hyundai
Powertrains
When it comes to powertrains, the headline-grabbing offering is the hybrid system standard in the Ford Maverick. The low-priced base Maverick uses a 2.5-liter Atkinson-cycle 4-cylinder engine teamed a permanent-magnet electric motor. Total system output is 192 horsepower, and the electric-motor torque adds significantly to the Maverick's overall drivability. The base Hyundai Santa Cruz is powered by a 2.5-liter 191-horsepower naturally aspirated 4-cylinder engine. The engine drives either the front or all wheels via an 8-speed conventional automatic transmission. The Maverick can also be equipped with a 250-horsepower 2.0-liter turbocharged EcoBoost 4-cylinder engine teamed with an 8-speed automatic transmission. With this engine, the Maverick is available in both front-drive and all-wheel-drive configurations. The Santa Cruz's uplevel engine is a turbocharged 2.5-liter 4-cylinder engine that offers 281 horsepower. It's fitted with a sporty 8-speed wet dual-clutch transmission with manual shift capabilities.
: Ford Maverick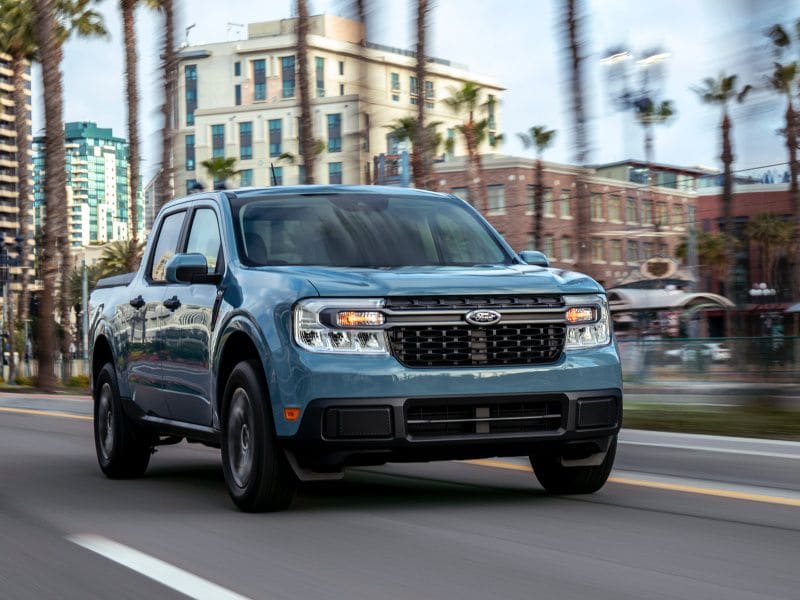 Photo by Ford
Driving Impressions
The base engine in the Hyundai Santa Cruz is a normally aspirated 4-cylinder, and it provides more than adequate performance, while the turbocharged engine transforms it into a sports sedan with a pickup truck bed. The acceleration is strong, and the suspension provides excellent handling. With the turbocharged engine, the Santa Cruz will scoot from zero to 60 mph in about 7.5 seconds. There is a sizable disparity between the Maverick's 191-horsepower hybrid base engine and the optional 250-horsepower turbocharged powerplant, but both Ford trucks have similar driving characteristics. The instant torque of the hybrid's electric motor makes up for some of the shortfall in horsepower versus the turbo engine, so the base Maverick feels ready to accelerate. Both hybrid and turbo-powered Mavericks feature five standard drive modes that enable the driver to choose the characteristics appropriate for each driving situation. With the FX4 Performance Package, The Maverick acquitted itself well on an off-road course during our test regimen. With a high-output engine and all-wheel-drive, The Hyundai Santa Cruz is the one to choose for enthusiast-style driving.
: Hyundai Santa Cruz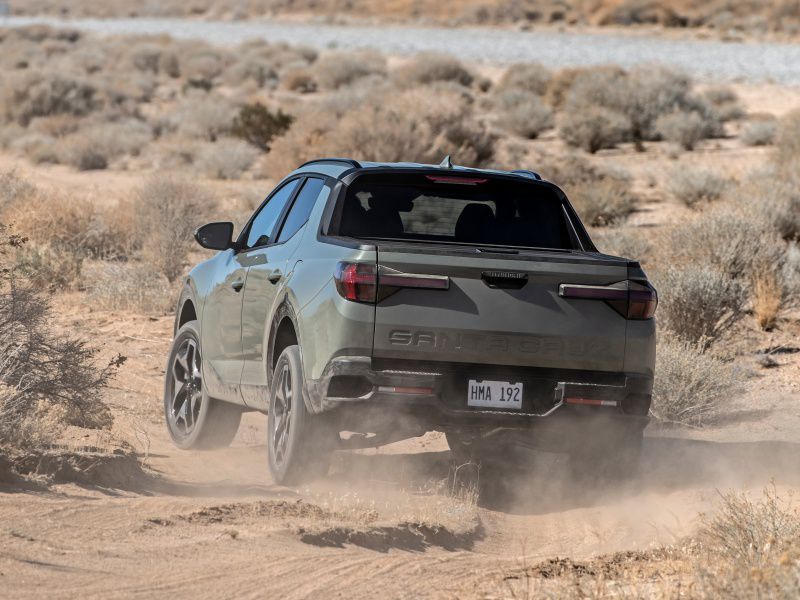 Photo by Hyundai
Safety & Driver Assists
Both vehicles in this face-off offer excellent arrays of safety and driver-assist gear. The 2022 Ford Maverick features the Ford Co-Pilot360 technology package. Standards include pre-collision assist with automatic emergency braking, pedestrian detection, and forward-collision warning plus automatic high-beam headlights. Adaptive cruise control with stop-and-go, lane-centering and evasive steering assist and blind-spot monitor with cross-traffic alert are available options. Also optional are intersection collision-avoidance assist, lane-keeping system, post-collision braking, and rear parking sensors. The 2022 Santa Cruz has several standard active safety features with more available on more expensive trims. Forward collision avoidance with pedestrian and cyclist detection, lane-keeping assist, rear occupant alert, and driver attention warning are the standard features. Blind-spot collision avoidance assist, rear cross-traffic collision avoidance assist, and safe exit warning are available on uplevel models. So are surround-view monitor and navigation-based smart cruise control with curve control.
: Tie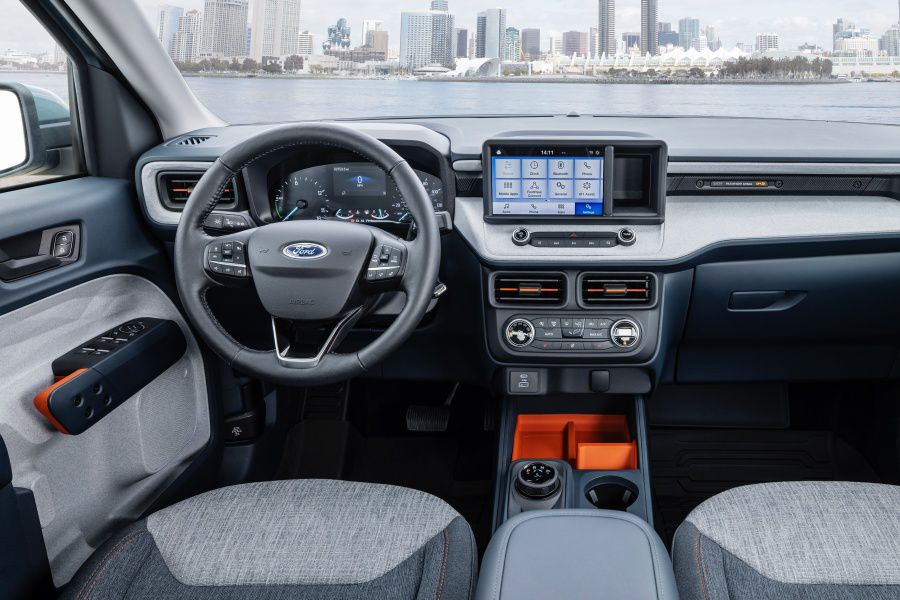 Photo by Ford
Payload & Towing
The 2022 Ford Maverick has impressive payload and towing capabilities. The base Maverick has a maximum payload of 1,500 pounds and is rated to tow 2,000 pounds. With the optional 4K tow package, the Maverick fitted with the EcoBoost engine is rated to tow up to 4,000 pounds. As impressive as that is the Hyundai Santa Cruz tops it. The Hyundai's towing capacity with the base 2.5-liter 4-cylinder model is 3,500 pounds. The turbocharged 2.5-liter model with all-wheel drive is rated to tow 5,000 pounds. Both vehicles have very versatile cargo beds, and the Ford can be fitted with homemade accessories like bike racks at very low cost using plans provided by Ford. The Maverick's cargo bed is 4.5-feet long with the tailgate closed and 6-feet long with the tailgate down. At 52.1-inches at the floor, the bed in the Santa Cruz is 2.3 inches shorter than the Maverick's, but the script is flipped with the tailgate open. In that situation, the Santa Cruz has a 2.8-inch length advantage, 74.8 inches to 72.0 inches. A 110-volt/400-watt AC power outlet, LED cargo light, and two 12-volt, 20-amp pre-wired sources for DIY electrical applications add to the Maverick's versatility. On the other hand, the Santa Cruz has a locking under-bed storage area and a lockable semi-watertight tonneau.
: Tie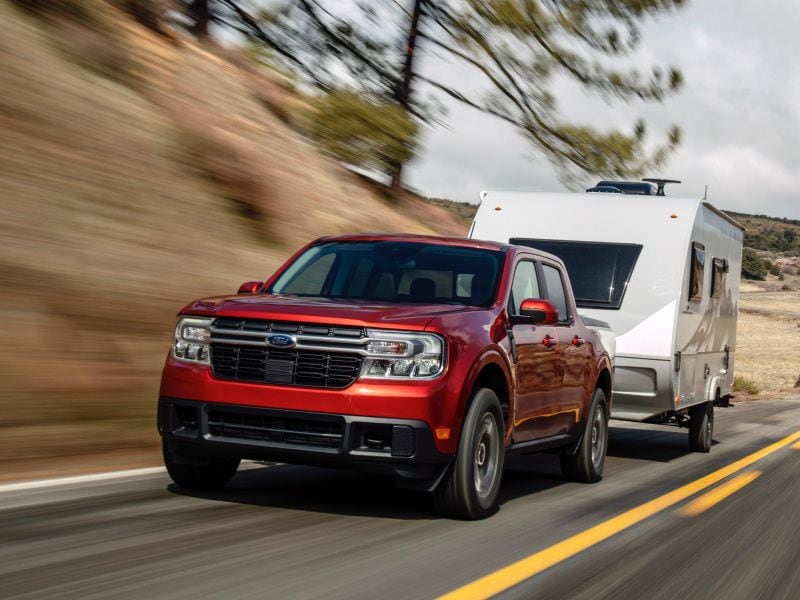 Photo by Ford
Fuel Economy
As this is being written, the Environmental Protection Agency has not yet established fuel economy figures for the hybrid version of the Ford Maverick with the hybrid powertrain, but it is expected to be stellar. Ford hints that the hybrid will get around 40 mpg in city driving. A front-drive Maverick with optional EcoBoost powertrain is rated at 23 mpg city/30 mpg highway/26 mpg combined. The all-wheel-drive Maverick with the more powerful turbocharged engine is EPA-rated at 22 mpg city/29 mpg highway/25 mpg combined. With front-wheel-drive, the Hyundai Santa Cruz has EPA ratings of 21 mpg city/26 mpg highway/23 mpg combined. Equipped with all-wheel-drive and the optional turbocharged 4-cylinder engine the Santa Cruz has EPA ratings of 19 mpg city/27 mpg highway/22 mpg combined.
: Ford Maverick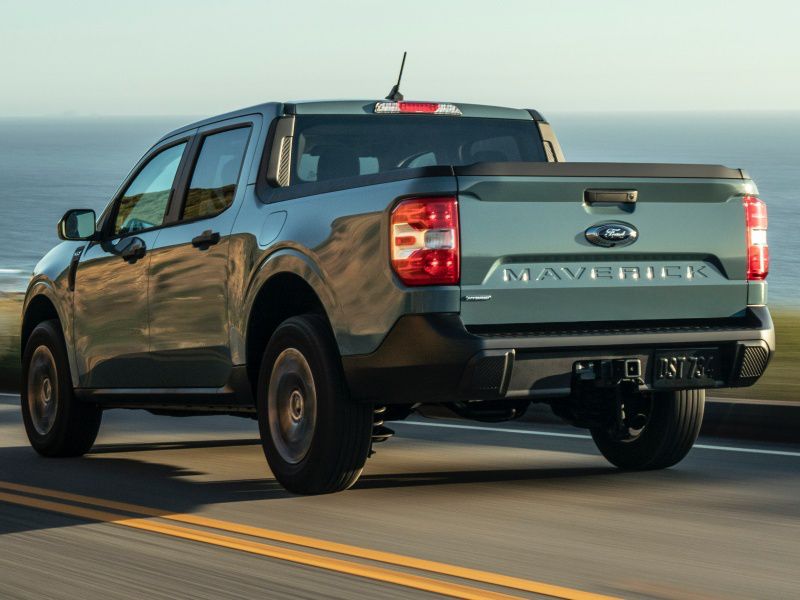 Photo by Ford
Trim Levels
When it comes to trims, the 2022 Ford Maverick leans toward low-priced, high-value offerings. The Hyundai Santa Cruz takes a less price-sensitive approach and offers more highly equipped up-level trims. The Maverick is offered in three trim levels: XL, XLT, and Lariat. The Maverick XL is one of the least expensive Fords available for 2022 of any type. Yet it has an 8-inch infotainment display, Apple CarPlay and Android Auto compatibility, and several storage areas in an ingeniously designed cabin. It also boasts the availability of Ford Co-Pilot360 safety collection as a reasonably low-cost option. The mid-level XLT adds 17-inch alloy wheels, rear-seat armrest with integrated cupholders, 10 in-bed tie-downs, and the availability of more options. The top-level Lariat has a power-sliding rear window, additional LED lighting, and 18-inch alloy wheels. The Hyundai Santa Cruz is available in four trim levels: SE, SEL, SEL Premium, and Limited. Both front-drive and all-wheel-drive versions are offered. The base SE has a multi-function tailgate, composite bed, lockable under-bed storage, and 18-inch alloy wheels. The mid-level Santa Cruz SEL adds heated exterior mirrors, 8-way power driver's seat with power lumbar support, heated front seats, and Sirius XM. SEL Premium, which is all-wheel-drive only, has dual-zone automatic climate control, leather-wrapped steering wheel, and 10.25-inch digital instrument cluster. The luxury Limited has leather seats, ventilated front seats, 10.25-inch touchscreen with integrated navigation, and Bose premium audio.
: Hyundai Santa Cruz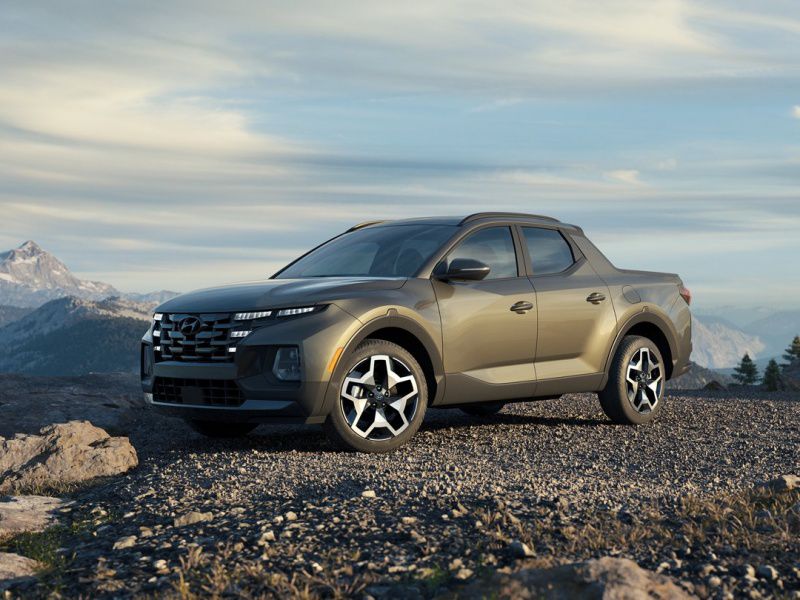 Photo by Hyundai
Pricing & Value
While the Ford Maverick and Hyundai Santa Cruz share some basic similarities, they are priced very differently. In its pricing, the Maverick is designed to appeal to the consumer seeking very high value and less inclined to purchase luxury-like equipment. On the other hand, the Santa Cruz seeks to lure buyers who would otherwise likely choose a compact crossover suv.  The Maverick XL has an MSRP of $19,995 plus a $1,495 freight cost. An XLT version has a suggested retail price of $22,280, and the uplevel Maverick Lariat has a base price of $25,490. With packages and options, a Ford Maverick with the off-road FX4 Package could cost $35,000 or so. In comparison, the base Hyundai Santa Cruz has a suggested list of $23,990 plus a $1,185 destination charge. All-wheel drive costs an additional $1,500. The Santa Cruz SEL has a base price of $27,190 and the SEL Premium has a base MSRP of $35,690 plus destination. The high-luxe Santa Cruz Limited starts at over $40,000.
: Ford Maverick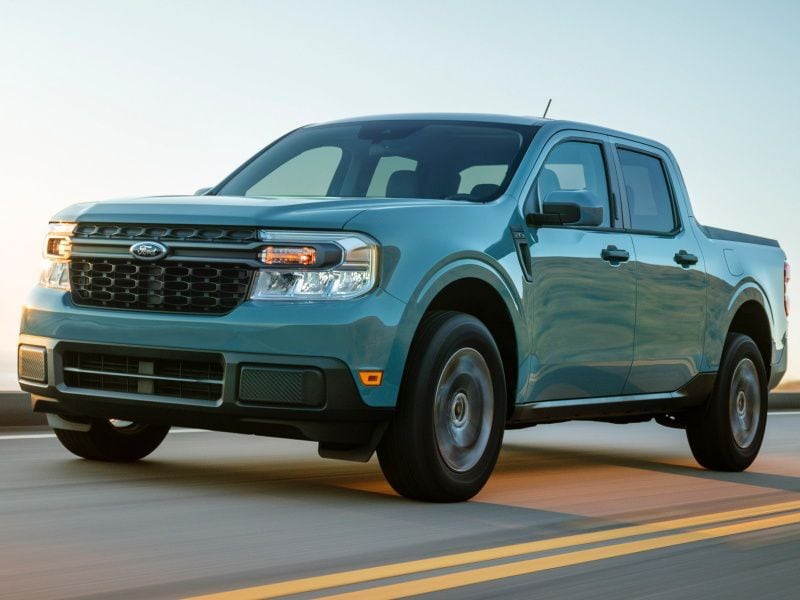 Photo by Ford