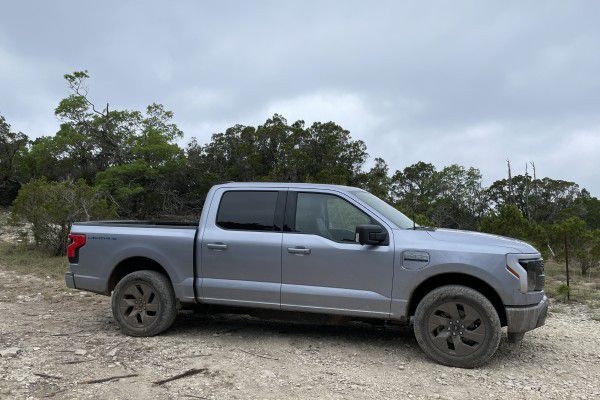 2022 Ford F-150 Lightning Profile ・ Photo by Nicole Wakelin
The 2022 Ford F-150 Lightning is an all-new all-electric version of the best-selling vehicle in the United States. It combines all the capability to tow and haul a payload with the efficiency of an electric powertrain. There's also solid off-road capability with standard four-wheel drive so you aren't confined to the pavement with this electric vehicle.
You can choose from either standard-range or extended-range batteries depending on how far you typically drive in a day. There are also multiple charging options since the Ford F-150 Lightning accepts Level 2 or Level 3 fast charging so you can be on your way more quickly and spend less time waiting for that battery to charge up. Let's take a closer look at the all-new 2022 Ford F-150 Lighting to see if this is the truck that will convince you to make the move to an electric vehicle.
Choose From Four Trims
Many electric vehicles have narrow trim lineups with only one or two choices, but the Ford F-150 Lightning is available in a range of four trims. The base Pro starts at $39,974 with the standard-range battery, 12.0-inch infotainment touchscreen, and dual-zone automatic climate control. The XLT is priced from $52,974 and adds signature front lighting, an available extended-range battery, and a leather-wrapped steering wheel.
The Lariat comes in at $67,474 with a 15.5-inch infotainment touchscreen, leather-trimmed seating surfaces with heated and ventilated front bucket seats, a heated steering wheel, and a power tailgate with signature rear lighting. Sitting at the top of the lineup is the Platinum at $90,874. This trim adds 23-inch wheels, a twin-panel moonroof, real wood interior accents, and Pro Trailer Backup Assist. It's a comprehensive lineup that makes it easy to find an F-150 Lightning that fits your needs.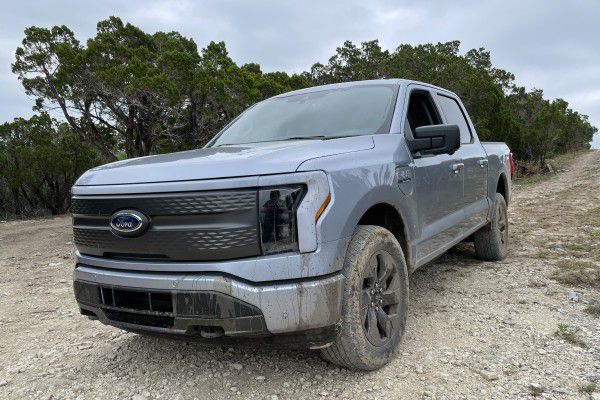 Photo by Nicole Wakelin
A Roomy and Comfortable Interior
There's plenty of room to spread out and get comfortable in the Ford F-150 Lightning with seating for five people and spacious rear seats that offer good support. Those up front will have more than enough room, and even shorter drivers won't have trouble finding the perfect seating position to view the road.
While base trims are more modestly equipped with manual front seats and vinyl seating surfaces, higher trims get cloth or leather surfaces and power front seats that are both heated and ventilated. The Platinum sits firmly in luxury truck territory with Nirvana leather seating surfaces, 10-way power front seats, power-adjustable foot pedals, a heated steering wheel, ambient lighting, and real wood accents. If you want a luxury experience from your truck, then you can have it with the F-150 Lightning.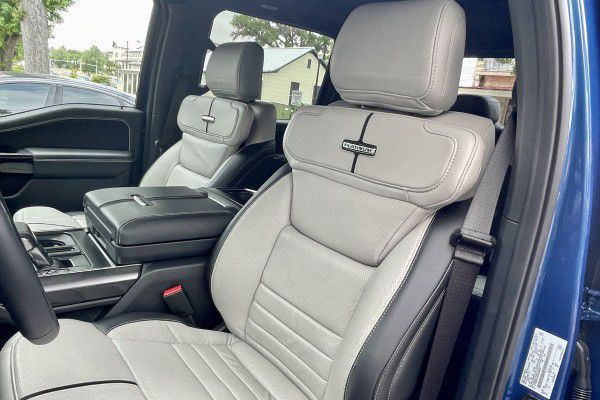 Photo by Nicole Wakelin
A Choice of Two Batteries With Varying Range
Range continues to be a big concern for those making the switch to electric. Though most of us drive far fewer miles in one day than what the average electric battery provides, that doesn't eliminate the range anxiety caused by seeing that charge go down and wondering if there will be a place to plug-in before you run out of power. The F-150 Lightning offers both a standard range and extended range battery to help ease range anxiety.
The standard-range battery, which is your only option on the base trim, has an EPA-estimated range of 230 miles per charge. Choose the extended-range battery in either the XLT or Lariat trims and range increases to 320 miles per charge. The Platinum, which offers only the long-range battery, gets 300 miles per charge. No matter which you choose, it's an impressive range that easily handles a typical day's driving.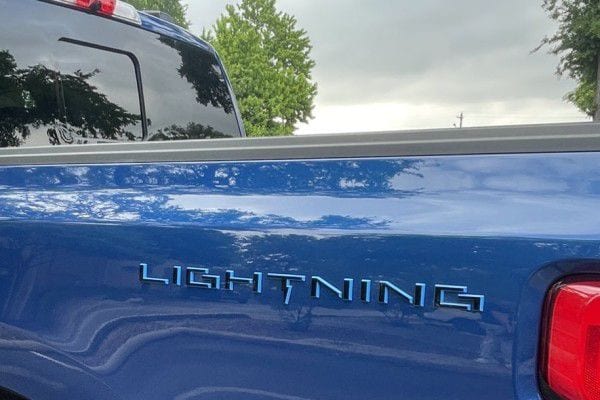 Photo by Nicole Wakelin
Charging Times That Won't Keep You Waiting
No one wants to sit around waiting for their vehicle to charge. The Ford F-150 Lighting accepts both Level 2 and Level 3 fast charging to get you on your way more quickly. The standard-range battery charges from 15 to 100 percent in about 10 hours at a Level 2 80-amp charger while the extended-range battery drops that number to 8 hours.
Plug-in to a 150-kW Level 3 charger and you can charge from 15 to 80 percent in 44 minutes with the standard battery or 41 minutes with the extended-range battery. Those figures work out to about 41 miles in 10 minutes at a 150-kW DC fast charger for the standard-range battery or 54 miles with the extended-range battery. While it's not as fast as simply filling your tank up with gas, the quick charging times offered by the Ford F-150 Lightning won't keep you waiting.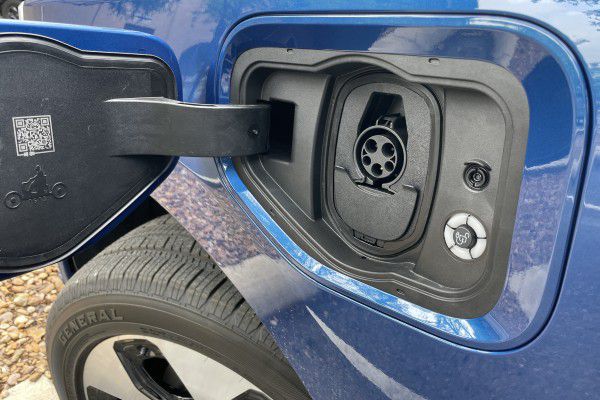 Photo by Nicole Wakelin
A Truck That Can Power Your House
While the focus on electric vehicles is how quickly they can charge, with the Ford F-150 Lightning, you can turn the tables and use the battery to power other things. First, there's Pro Power On-Board for smaller items like power tools at a jobsite. This is also handy when you're tailgating or camping. While this is an available feature on other trims in the F-150 lineup, the Lightning takes things a step further with the capability to power your home if the power goes out in your neighborhood.
Equipped with the extended-range battery, the F-150 Lightning can power you home for three days. If the outage runs longer, careful management of power usage can take that all the way up to 10 days. Whether it's a storm or something unexpected that temporarily cuts your power, the Ford F-150 Lightning can keep your home running smoothly.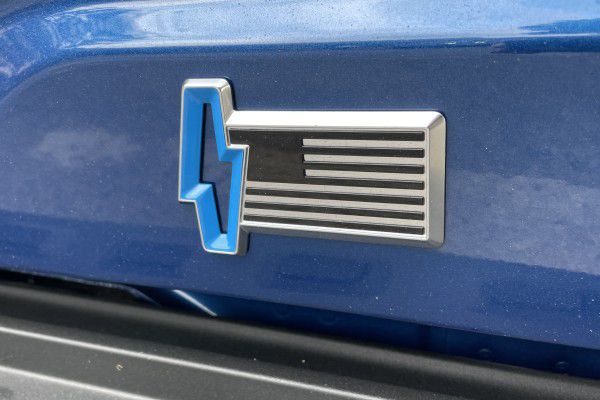 Photo by Nicole Wakelin
Strong Performance and Towing Capacity
This is an electric vehicle, but it's still a truck. It needs to handle getting work done whether that's towing a trailer or managing a payload. Power numbers are impressive for the F-150 Lighting with 563 horsepower with the extended range battery or 452 horsepower with the standard range. Both have 775 lb-ft of torque. That makes for exhilarating performance whether you're simply enjoying a drive or doing the work of towing a trailer.
Properly equipped, the F-150 Lightning can manage a payload of up to 2,235 pounds. If what you need to bring along is too large for the bed, then hook up a trailer to take advantage of its 10,000-pound maximum tow rating. Need even more room for stuff? Instead of an engine, there's the Mega Power Frunk under the hood with 14.1 cubic feet of additional cargo room and a max payload rating of 400 pounds.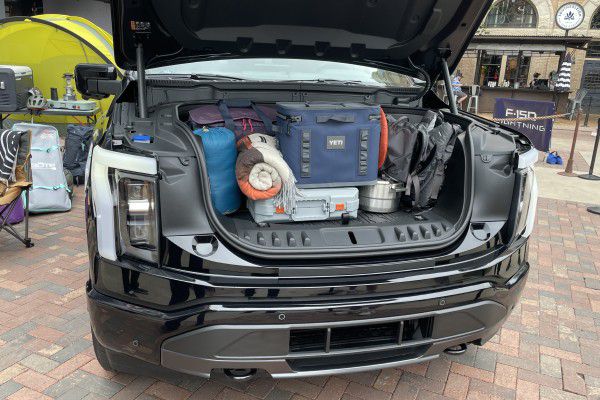 Photo by Nicole Wakelin
The Tech to Make Towing With an Electric Vehicle Easy
To make towing and even everyday driving easier, the Ford F-150 Lightning includes several smart technologies that provide you with the most accurate information possible about your driving range. Intelligent Range collects vehicle data including speed, climate control use, available battery, and even route topography to figure into range estimates. It also uses cloud sampling to compare this to the performance of similar Ford electric vehicles to further improve those estimates.
Available onboard scales provide the system with additional info to accurately account for the extra weight of cargo and figure that into range estimates. There's also FordPass Power My Trip. This lets you create a profile for your trailer and map out a route in conjunction with Intelligent Range so you know well in advance when and where you need to stop to charge.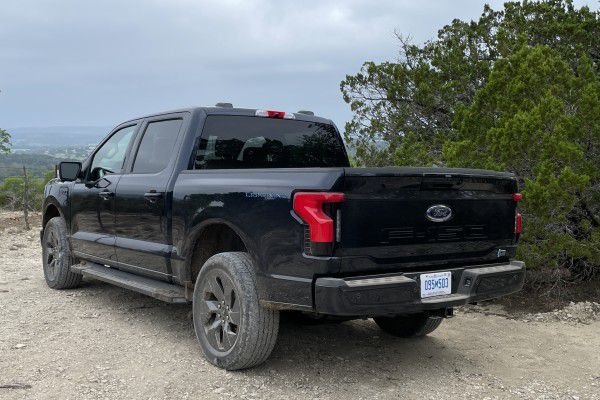 Photo by Nicole Wakelin
Infotainment With Huge Touchscreens
There are two infotainment touchscreens offered on the Ford F-150 Lightning. The two base trims have a 12.0-inch touchscreen with Apple CarPlay, Android Auto, 4G LTE Wi-Fi connectivity, and navigation. That screen size is massive and makes the system that much easier to use, especially when you're trying to follow a complicated drive route through city streets.
The rest of the lineup has an even larger 15.5-inch touchscreen that dominates the dashboard. This version of the system also has SiriusXM with 360L and one of two premium B&O Bang & Olufsen sound systems along with wireless charging. No matter which trim level you choose, the large screens combined with intuitive menus make it an easy system to learn and to use.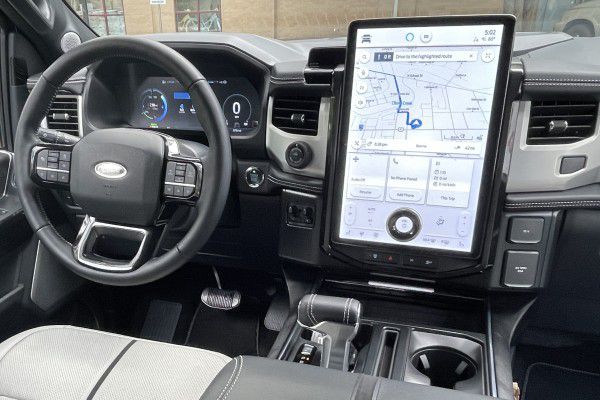 Photo by Nicole Wakelin
Final Thoughts
The 2022 Ford F-150 Lightning expands the lineup to include an electric pickup that opens the idea of owning an electric vehicle to a whole new segment of consumers. While there are plenty of options when it comes to cars and crossovers, the choices are limited when it comes to electric trucks. Many of them are also luxury vehicles that are a challenge for modest budgets.
That all changes with the F-150 Lightning. It has the capability to tow and haul. It has a range of trims from basic to luxurious. And it has two battery options that let you go further combined with fast charging times so you don't get stuck waiting around. Truck owners who want to make the move to electric will find the F-150 Lightning has the features and capability they want at an affordable price.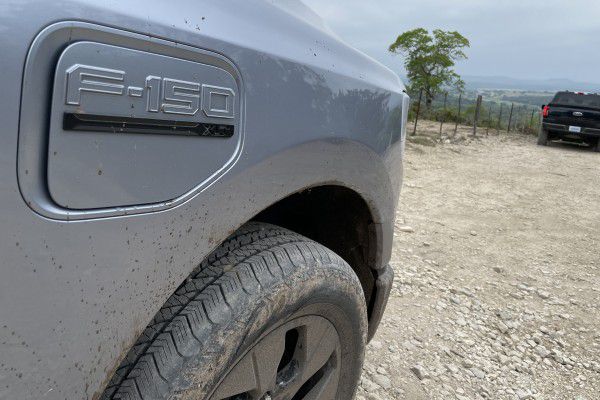 Photo by Nicole Wakelin