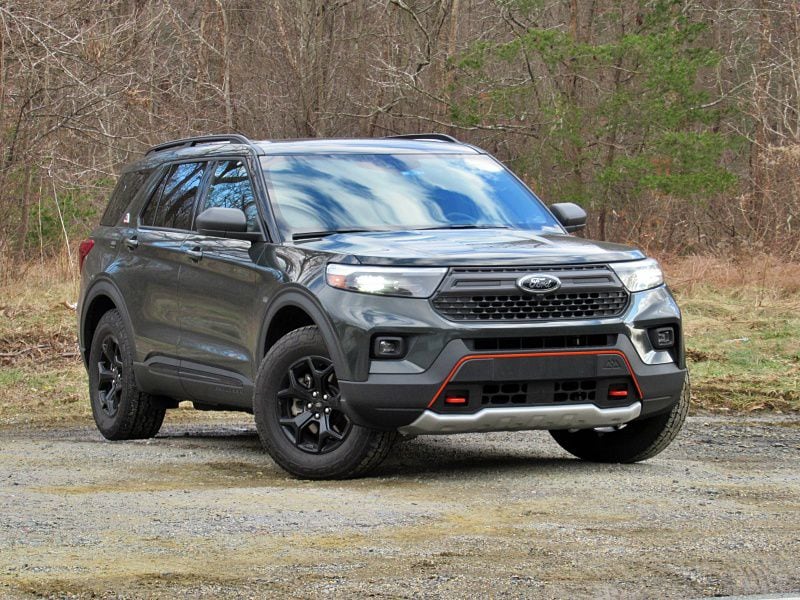 2022 Ford Explorer Timberline ・ Photo by Brady Holt
The first Ford Explorer helped introduce America to the SUV as a family car. In 1991, that still meant an off-road-focused vehicle, just one with more creature comforts than its competitors. But the Explorer faded out of relevance with the advent of more economical, better-driving car-based crossovers like the Honda Pilot and Toyota Highlander. Ford finally responded in 2013 by turning the Explorer into a crossover, too — and it became a best-seller again. 
Today, the Explorer is in its second generation as a mid-size three-row crossover. With its rear-wheel-drive-based platform and extra-powerful engines, it stakes out a middle ground between a traditional SUV and an extra-light-duty crossover. Prices start at $33,100. Read on to learn more about the Explorer's pros and cons and how it stacks up to a host of strong competitors. 
Familiar Styling
When the current-generation Explorer arrived as a 2020 model, it wore similar styling to its predecessor — disguising its transformation from front- to rear-wheel drive. The headlights and grille are high but slim, without an aggressive vibe. The rear end has blocky taillights, and a blacked-out roof pillar makes it look like the rear windshield glass wraps around to the side windows. The Explorer isn't tall and blocky, and its small windows make it look lower. 
For an outdoorsy Explorer, consider the recently introduced Timberline trim level, which has a more rugged-looking front end, different wheels and tires, skid plates, and a slightly higher suspension. And for on-road performance, you can choose between the max-performance ST and a newly introduced ST-Line — which has the style of the ST without the bigger engine.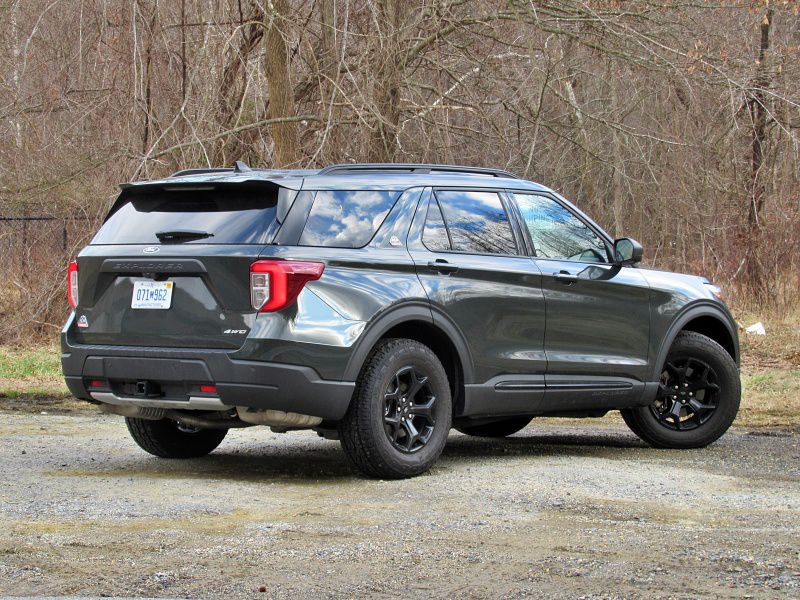 Photo by Brady Holt
Modern Infotainment
The Explorer may not look brand-new, but it has modern infotainment systems. Most Explorers, including our test vehicle, have an 8-inch landscape-oriented touchscreen. Top models have a bigger 10-inch portrait-oriented screen, which mirrors the layout of a smartphone but also looks like a big smartphone stuck to the dashboard. Both screens include Android Auto and Apple CarPlay smartphone integration. 
The rest of the Explorer's dashboard is simple enough, with a symmetrical design and a user-friendly cluster of buttons and knobs below the touchscreen. The dashboard vents pop out for a chunkier look, but it's otherwise rounded and simple. Our Limited test vehicle has some woodgrain trim, but it's fairly subtle. If you want an unpretentious, user-friendly interior, the Explorer delivers. However, many competitors are significantly more upscale, with richer materials and better panel fits — at similar or lower prices. We were especially bothered by our test vehicle's roughly finished turn-signal stalk, right where drivers will regularly put a finger.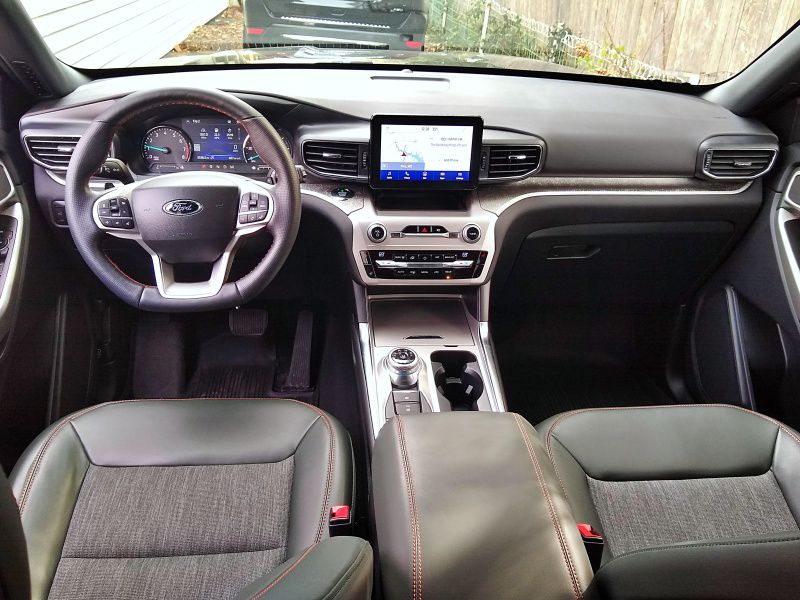 Photo by Brady Holt
Comfortable Front Seats
We're fans of the Explorer's front seats. Where some SUVs in this class have flat slabs, Ford provides cushy yet supportive chairs. They hold you nicely in place without feeling confining, at least unless you're broad-statured. 
The Explorer's second row offers a choice of a three-passenger bench seat or twin captain's chairs. Both options are comfortable and offer plenty of room, even if you don't make full use of their fore-aft adjustment. That's good news for anyone in the two-passenger third row, which has little legroom if the second row is all the way back. Many competitors are roomier, except for smaller mid-size crossovers like the Toyota Highlander and Kia Sorento. And even the Highlander seats eight passengers, while the Explorer tops out at seven seats with the second-row bench seat and just six with captain's chairs. Cargo capacity is class-competitive, though: 18.2 cubic feet of space behind the third row, 47.9 cubic feet behind the second row, and 87.8 cubic feet behind the front seats.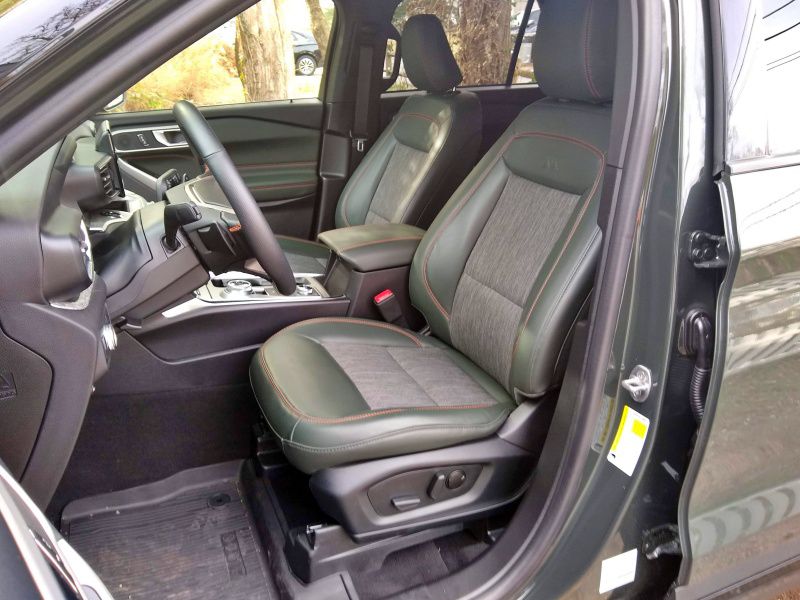 Photo by Brady Holt
Turbo Power
The Explorer comes with a hearty base engine, with a twist. It makes an excellent 300 horsepower and 310 pound-feet of torque, but it's a 2.3-liter turbocharged four-cylinder facing primarily V6 competitors. This "EcoBoost" engine is agreeably quick and has a hearty growl, and it's rated to tow up to 5,300 pounds — good for its segment. And it's economical for its class, too; EPA estimates put the 2.3-liter at 21 mpg in the city, 28 mpg on the highway, and 24 mpg combined. We fell just short of this, averaging 23 mpg with our rear-wheel-drive test vehicle. All-wheel-drive models fall by 1 mpg. 
You can also upgrade the Explorer with a choice of V6 engines. The performance ST model introduces an exhilarating 400-horsepower turbocharged 3.0-liter V6. This year, the most luxurious King Ranch and Platinum models now have this same engine; they'd previously had a 365-hp version. The EPA pegs them at 21 mpg combined with rear-wheel drive and 20 mpg with AWD. You can also get the Explorer with a V6 hybrid with a total of 318 horsepower, but it's only a bit more economical than the turbo four: 27 mpg combined with rear-wheel drive and 25 mpg with AWD.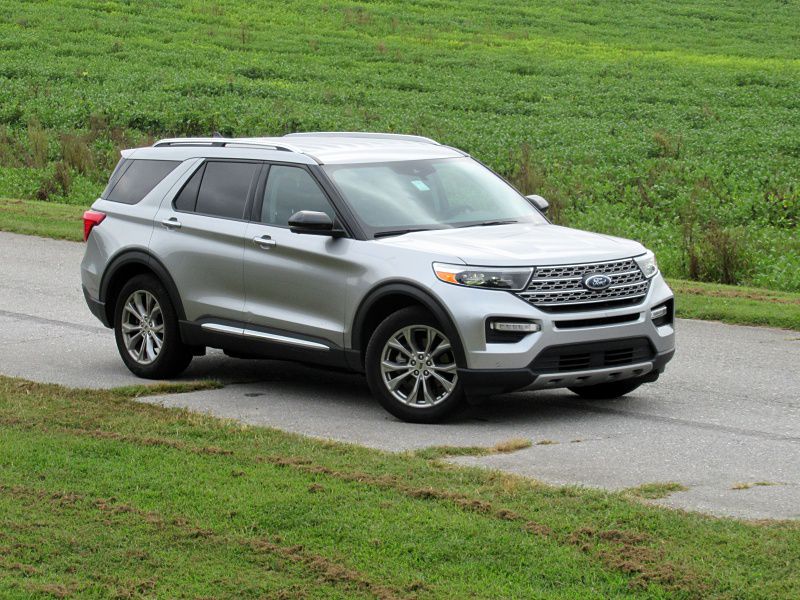 Photo by Brady Holt
Smooth Yet Agile
The Explorer feels solid as it goes down the road, and its ride is smooth and comfortable. At the same time, it also handles with respectable agility for a three-row SUV. The steering is super-light at low speeds, so you can easily spin the wheel when you're parking. Then it firms up nicely when you get moving. 
For livelier performance, the ST model has a stiffer suspension in addition to the bigger engine. That reduces body roll when you're pushing the Explorer hard, and there's also firmer steering for a sportier vibe. But in the real world, we'd pick the standard suspension and steering, especially since you no longer need the ST to get maximum horsepower. When it's time to work rather than play, even the base engine can tow 5,300 pounds, while the 400-hp Explorer can handle 5,600 pounds and the hybrid can tow 5,000 pounds. The standard Explorer has an above-average 7.9 to 8.3 inches of ground clearance, depending on the trim level, while the Timberline edges higher still to 8.7 inches. This isn't a rock-crawler, but the Explorer is more off-road-ready than the typical crossover.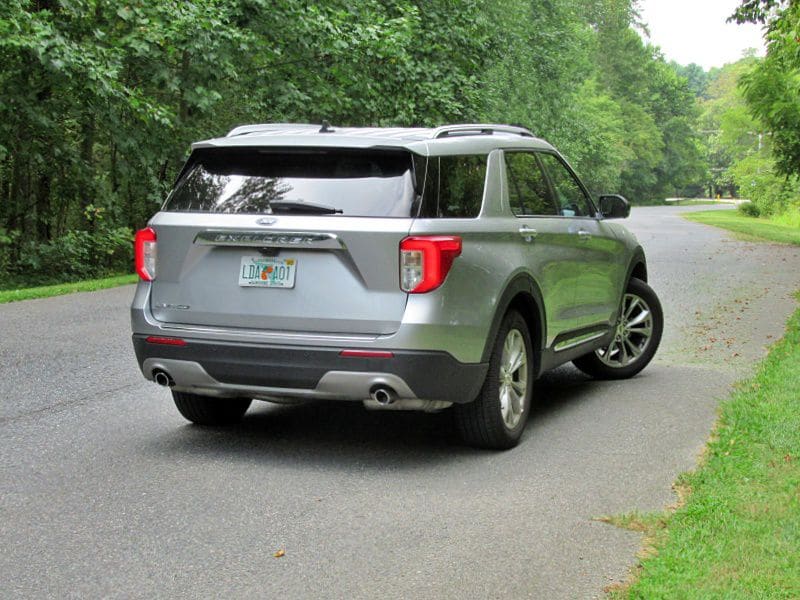 Photo by Brady Holt
Top Safety Pick
The Explorer earned a Top Safety Pick+ designation from the Insurance Institute for Highway Safety, the organization's highest honor. That rating reflects its performance in crash tests, its excellent collision-avoidance technologies, and its good headlight illumination. It also earned five out of five stars from the National Highway Traffic Safety Administration. 
Even the base Explorer includes a generous array of advanced safety technology: automatic emergency braking, lane-keeping assistance, blind-spot monitoring, and rear parking sensors. That's generous for a mid-size three-row crossover. You can also upgrade the vehicle with automatic evasive steering and rear automatic braking, which many competitors don't offer at all.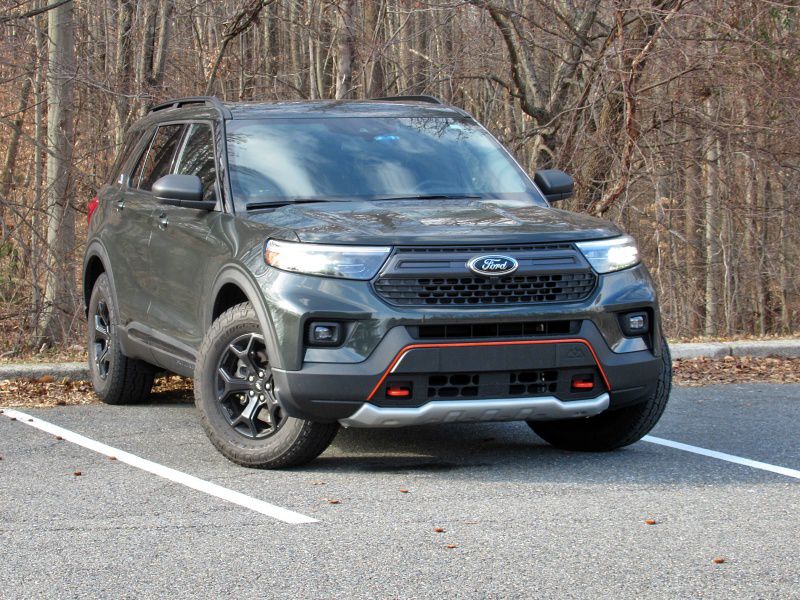 Photo by Brady Holt
Prices Rise Fast
In addition to the safety features, the base Explorer model includes niceties like a power liftgate, tri-zone automatic climate control, and 18-inch alloy wheels. But the base Explorer ($33,100) is equipped with less-stylish wheels, black plastic door handles and side mirrrors, no roof rails, a duller grille, and limited color selections. It looks more like an undercover police car than a pricey family car. 
We expect most people to buy the $35,250 XLT model, which in addition to looking sharper, has extra USB ports, heated front and second-row seats, and upgraded cloth upholstery. This trim level is also available with leatherette upholstery and a moonroof. We tested the next-up Limited, which starts at $45,430 with standard leather upholstery, an upgraded sound system, adaptive cruise control, evasive steering assistance, a navigation system, and more. For maximum luxury, you buy either the King Ranch or Platinum, which have similar features and prices to each other (about $54,000) but different styling. They have the V6 engine and most of the Limited's options as standard features. The Timberline, ST-Line, and ST round out the model lineup.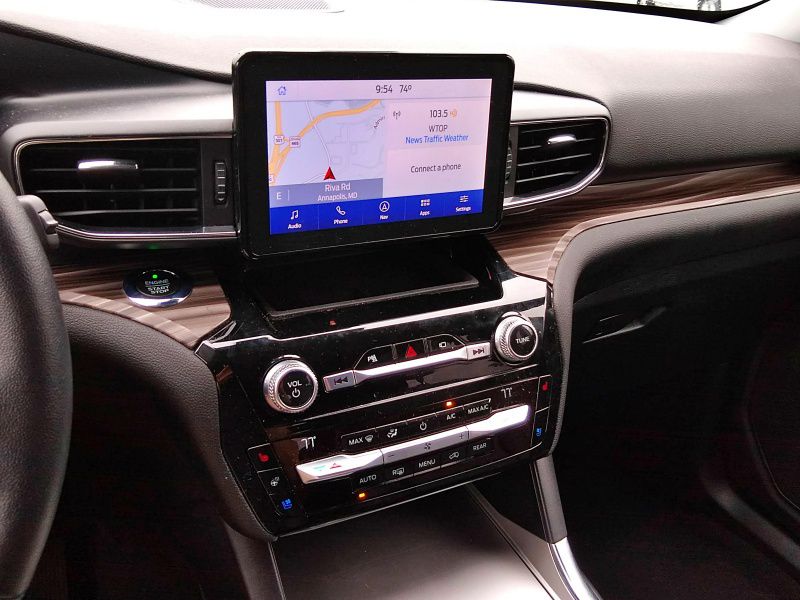 Photo by Brady Holt
Lots of Competitors
The market has no shortage of three-row family-friendly crossovers. The Hyundai Palisade and Kia Telluride are corporate cousins that have surged to the top of most critics' lists, and for good reason. They're roomier and seat up to eight passengers instead of seven, quieter, and better-finished than the Explorer, at lower prices. The four-cylinder Explorer is more economical than the Koreans, though, and Ford's V6 is more powerful. 
Compared with the wildly popular Toyota Highlander, the Explorer has sportier handling and a more solid-feeling ride. But its hybrid version is much more economical than the Ford's, and while it doesn't beat the Explorer's legroom, it can fit up to eight passengers. The Volkswagen Atlas is much roomier (though still fitting no more than seven people), is aggressively priced, and has lively handling, but its gas mileage and interior decor aren't great. The Chevrolet Traverse is an extra-roomy eight-seater, but it has few standard safety features and little driving excitement. Amid more SUV-like crossovers, the Dodge Durango is a refined and affordable choice that can tow up to 8,700 pounds, but this aging model struggled in some crash tests and doesn't get great gas mileage.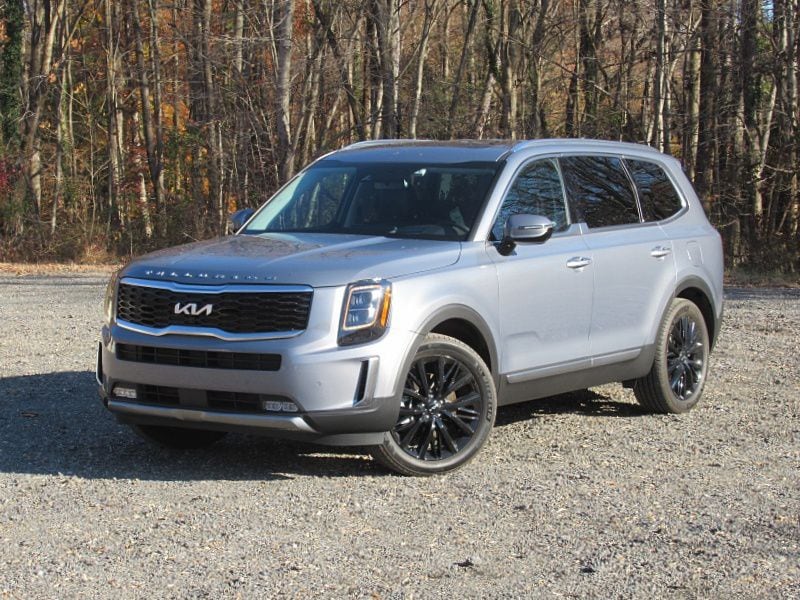 Photo by Brady Holt
Crossover Meets SUV
The 2022 Ford Explorer isn't the best crossover on the market for everyday use. It's relatively expensive, it's not especially roomy, and its interior quality is nothing special. When you want the closest thing to a minivan, or expect a $40,000-plus vehicle to be upscale, there are better alternatives. 
But the Explorer also has more traditional SUV qualities than most light-duty crossovers. It can tow and go off-road a little more, and it's available with 400 horsepower. And anyone can appreciate the comfortable seats, commendable ride and handling, powerful yet economical four-cylinder, and excellent safety record. If you don't need the roomiest interior, fanciest cabin decor, or lowest price, check out this Ford.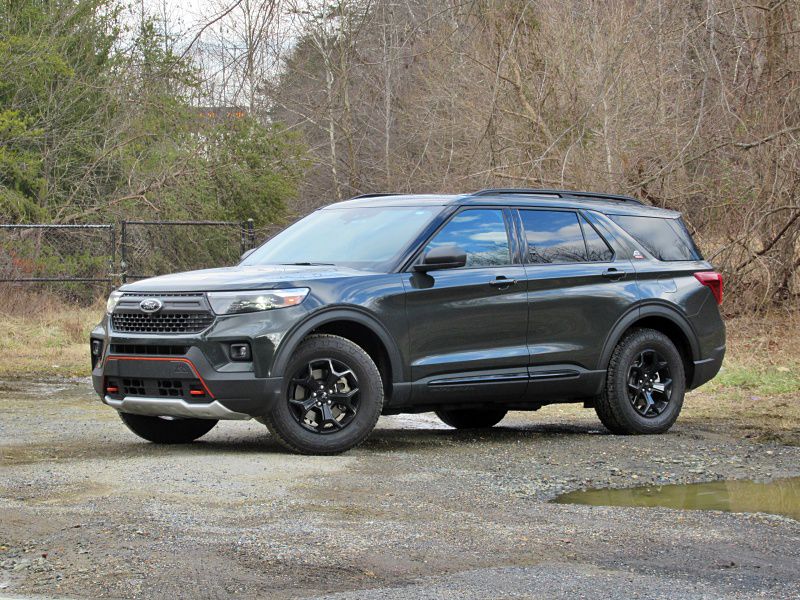 Photo by Brady Holt