2022 Ford Bronco Raptor ・ Photo by Ford
The return of the Ford Bronco for the 2021 model year was exciting news for off-road enthusiasts. This capable SUV offers two-door and four-door body styles with impressive capability in a wide range of trims. The ability to remove the doors and the roof creates an open-air driving experience that outdoor adventurers love. This year, Ford expands the lineup to include the Bronco Raptor.
Those who are familiar with Ford will recognize the Raptor name as one given to vehicles designed specifically for high-speed driving in desert conditions. The Bronco Raptor has features that are made to handle the rigors of desert driving, and we had the chance to put it to the test on a route that included everything from rock crawling to high-speed driving. Let's take a closer look at the 2022 Ford Bronco Raptor to see if it's the off-road SUV that's perfect for you.
Only Available as a Four Door
While the Bronco includes both two-door and four-door body styles, the Bronco Raptor is only available as a four door. It includes an extra 9.8 inches in width compared to standard Broncos with huge fender flares that are a love it or hate it proposition. We love it as it makes the Bronco Raptor look like a rugged, capable, off-road vehicle that can take you pretty much anywhere you want to go.
Driving through the desert at high speeds, that width isn't an issue. Where it can be a challenge is in tight quarters. This includes rocky canyons with a minimum of clearance where a spotter will save you a scraped fender or two. It can also be a bit much on city streets. It looks big and it feels big, so you won't be easily wedging it into a tight parallel-parking spot.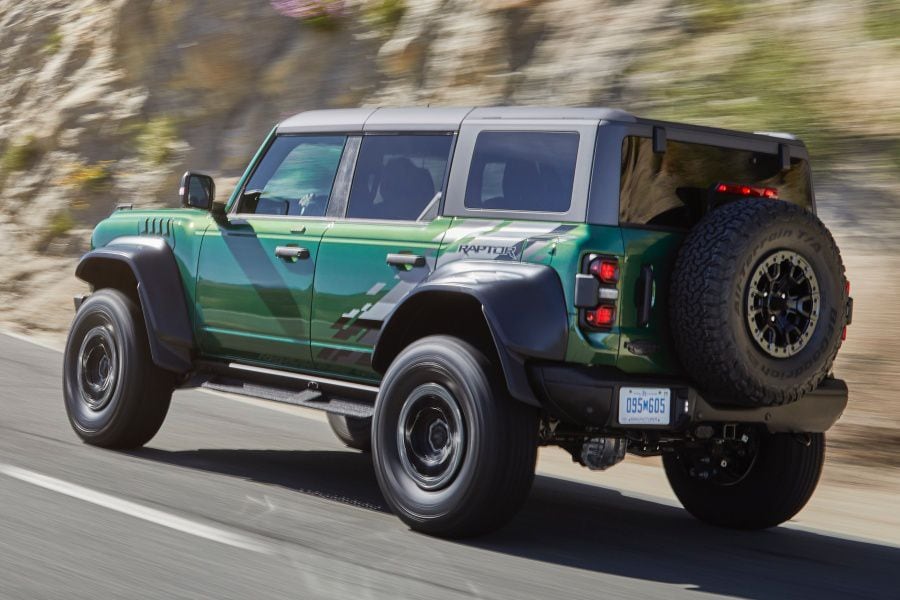 Photo by Ford
An Interior Ready to Get Dirty
If you take a vehicle into the desert, it's going to get dirty. Especially driving at speed and kicking up clouds of dust, you'll find the inside of your Bronco Raptor just as liberally coated as the outside. This isn't necessarily a bad thing as it's a part of the fun of driving off-road. The desert is the kind of environment that can be hard on vehicle's interior, but the Bronco Raptor is ready for all that grit.
The interior is attractive and comfortable but in no way delicate. You won't panic the first time sand swirls in through an open door. It has standard marine-grade vinyl seating surfaces that can stand up to abuse and clean up easily; however, leather is optional for those who want a more premium feel. It's attractive and durable so you can simply enjoy yourself rather than worrying about keeping things tidy.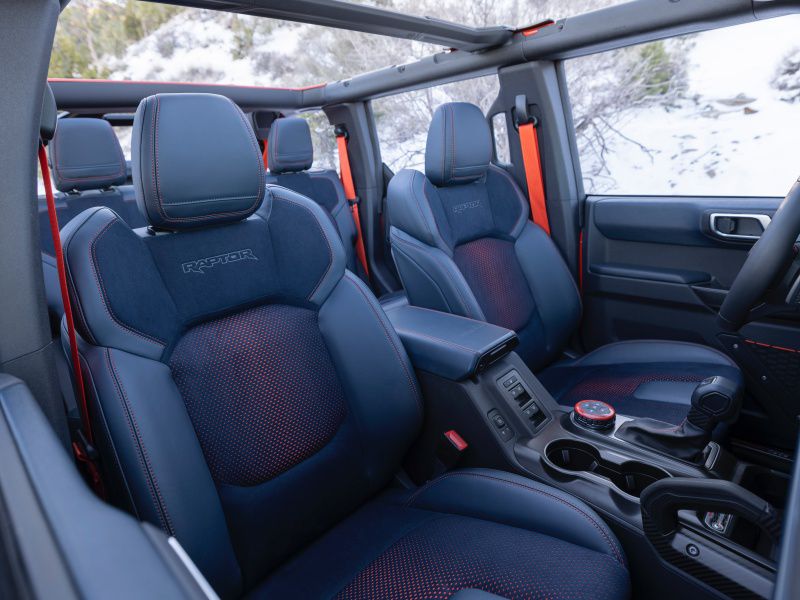 Photo by Ford
A Beefed-Up Exterior
Park a standard Bronco alongside a Bronco Raptor and the difference between the two is nothing short of dramatic. While both look capable – and they are – the Raptor looks like the Bronco's cousin that's spent long hours at the gym. It has 37-inch all-terrain tires with 17-inch alloy wheels standard. These tires provide the traction you need to crawl over rocks and maintain control at high speeds. There are also two beadlock-capable wheels available.
There's a signature two-piece rectangular grille with unique LED headlights that include amber daytime running lamps and amber integrated marker lamps. The Bronco Raptor has a heavy-duty modular steel front bumper with tow hooks and removable bumper caps for those times when you need a little extra clearance. There are also unique front and rear quarter panels, fenders, and huge fender flares that add to the Bronco Raptor's imposing presence while helping make this a more capable off-road SUV.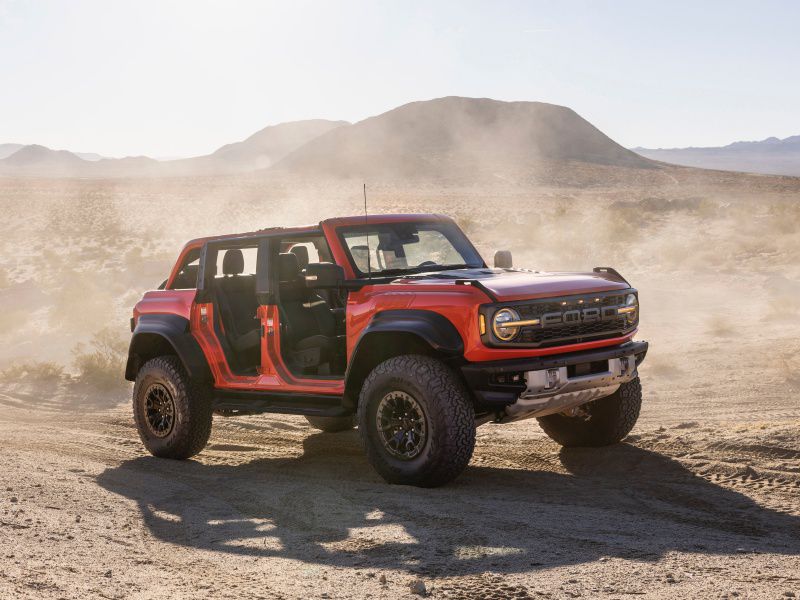 Photo by Ford
Packed With Performance
The Ford Bronco Raptor is a desert racer, so it needs to have strong performance. It delivers with a powerful twin-turbo 3.0-liter V6 engine that boasts 418 horsepower and 440 lb-ft of torque. It's paired with a 10-speed automatic transmission that manages power delivery well. This engine is specially tuned to meet the rigorous standards of the Ford Performance team. It provides aggressive acceleration when you hit the gas with no hesitation despite this SUV's substantial bulk.
On the pavement, that makes merging into heavy traffic easy, but where it truly shines is off road. There are few vehicles designed for high-speed driving in the dirt with the capability to handle both the speed and the terrain. The Bronco Raptor has that performance capability. It's an absolute joy to take it up to speed in the sand with nothing but open countryside ahead.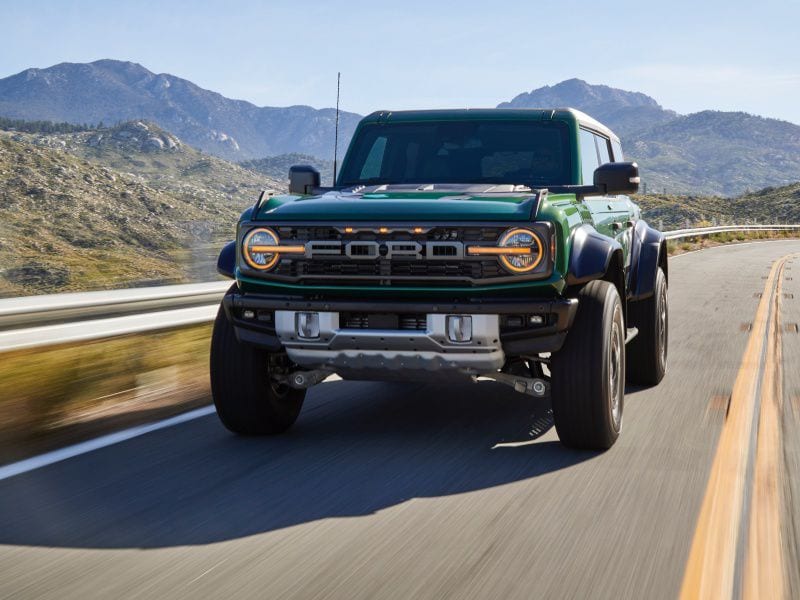 Photo by Ford
Off-Road Capability That Lets You Tackle Anything
While there are some SUVs that say they're ready for off-roading, the Bronco Raptor takes that idea to heart with some of the most robust capability available and a long list of helpful features. There's a high-strength steel frame along with new shock towers that allow for increased wheel travel during aggressive off-road driving. Heavy-duty bash and skid plates protect key components while Ford Performance-developed axles provide the strength to withstand rigorous adventures.
There's a high-performance off-road stability suspension (HOSS) system with internal bypass semi-active dampers and suspension height sensors that constantly adjust the suspension tuning to current conditions. Even the control arms are modified in the Bronco Raptor to deliver 13 inches of travel for the front wheels and 14 inches for the rear wheels, a marked increase over the base Bronco. This combination of enhanced components helps make the Bronco Raptor one of the most capable vehicles you can buy.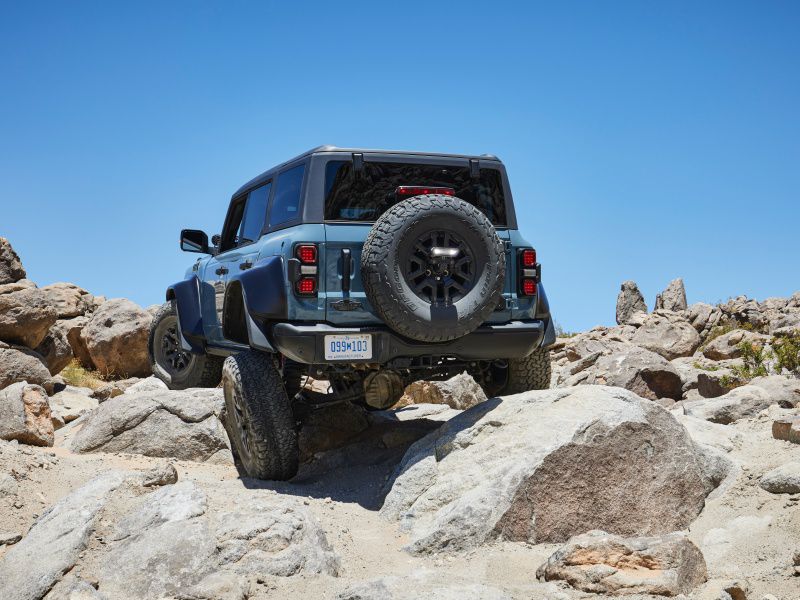 Photo by Ford
The Versatility of G.O.A.T. Modes
The G.O.A.T. acronym stands for Goes Over Any Type of Terrain, just like a little goat, only much bigger and more powerful. It includes seven available drive modes that switch with the twist of a dial to suit current road conditions, whether that road is paved, a dirt trail, or rocks. Drive modes include normal, sport, rock crawl, slippery, off-road, Baja, and tow/haul. The off-road mode is good for most off-roading scenarios, but rock crawl and Baja offer more specialized experiences.
Baja is for the high-speed desert driving that makes the Raptor a singular experience. It lets you blast across the sand while staying in control so you can keep your foot firmly planted on the gas. Rock crawl slows it all way down to accommodate low-speed rock-crawling rather than the all-out speed of Baja mode. These are two very different driving scenarios, both of which the Bronco Raptor manages well.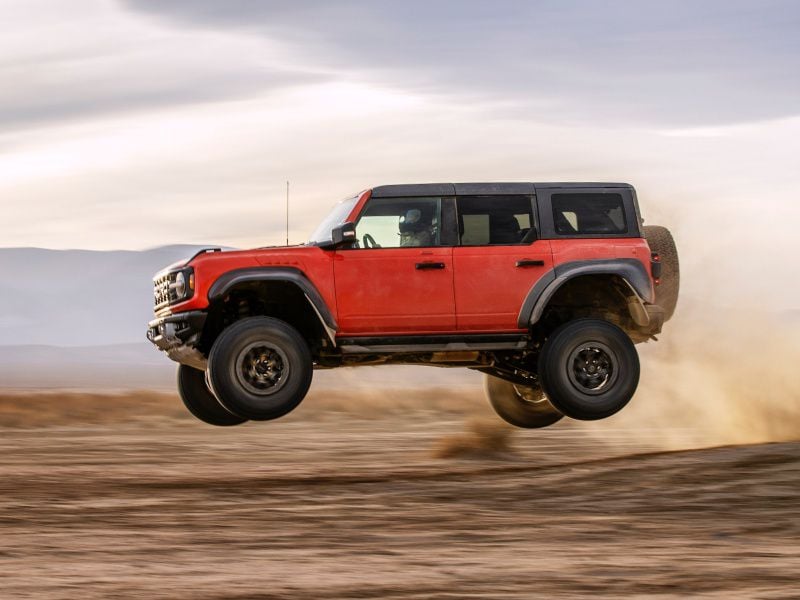 Photo by Ford
Infotainment Features a Large Touchscreen
Standard infotainment includes a 12.0-inch touchscreen. It has crisp, clear graphics and good responsiveness so you won't find yourself stabbing the screen repeatedly in frustration. There's also wireless Apple CarPlay and Android Auto so you stay connected while reducing cord clutter around the front console. A 7-speaker audio system with subwoofer is also a standard feature. It's an intuitive system that is quick to learn, which makes it easy for passengers to use, too.
Those looking for a more premium experience have the option to add on the Lux Package. This package has several upgrades, including a 10-speaker B&O sounds system by Bang & Olufsen. The base infotainment system, however, is a comprehensive offering with good standard features so you don't need to spend extra unless you put a priority on premium sound.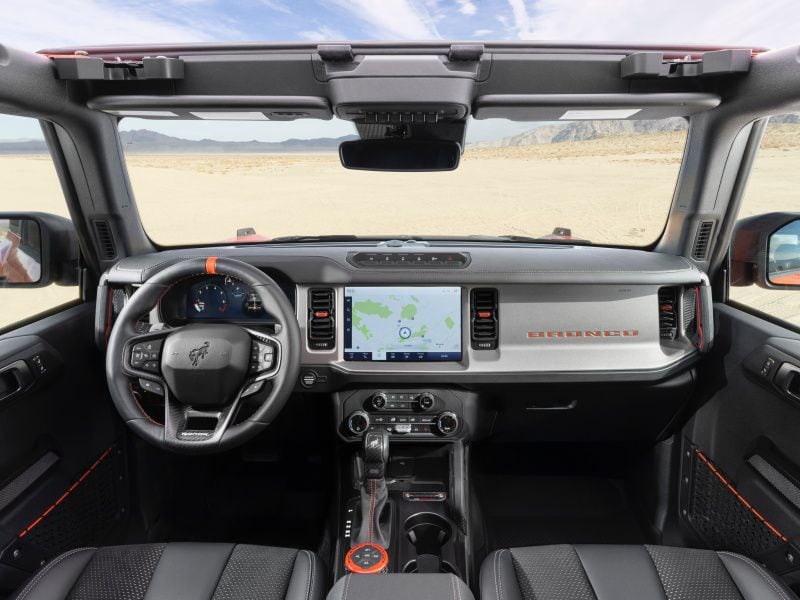 Photo by Ford
It Can Tow and Manage a Payload
Though blasting through the desert sand at high speed is where you'll want to spend most of your time with the Ford Bronco Raptor, there may be times when you need to bring along some cargo. It could be packing the back with supplies for a camping adventure or maybe even towing a trailer to your home base before you head out for some fun. Either way, the Bronco Raptor can help you get the job done.
It has a maximum tow rating of up to 4,500 pounds, which is slightly more than what's offered by the standard Bronco. On the downside, its payload is slightly less. While the standard Bronco can manage a payload of up to 1,310 pounds, the maximum rating for the Bronco Raptor is 1,100 pounds. Still, that's likely more than enough to handle what most people will need to manage and doesn't detract overly from the Bronco Raptor's appeal.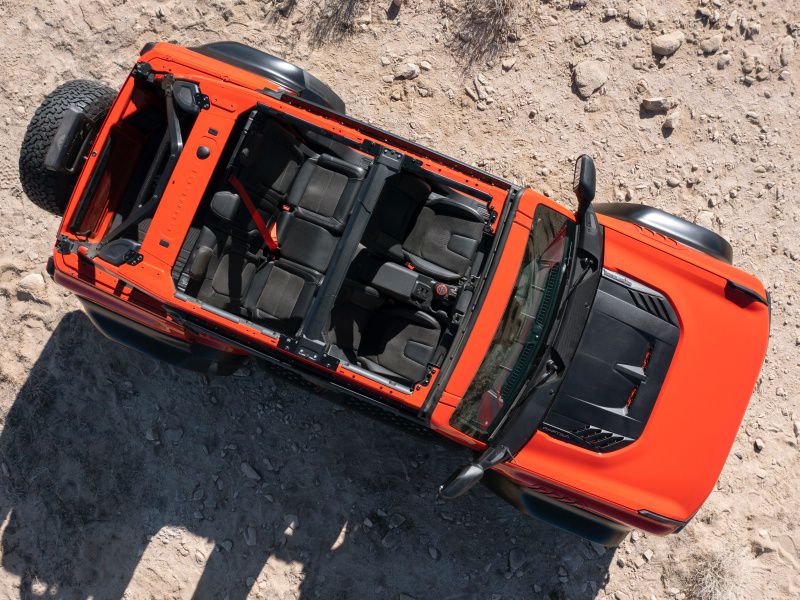 Photo by Ford
Final Thoughts
The Ford Bronco Raptor adds an even more capable option to what was already one of the most capable SUVs available. While the full Bronco lineup can take you off road, the Raptor takes it a step further by customizing that capability for high-speed desert driving. It gets enhancements throughout to make it rugged enough to stand the punishment of this kind of driving.
It's a very specific use case that won't appeal to everyone, but for those who have the opportunity to head out into the desert, this is the Bronco for you. It has bold, aggressive styling that grabs your attention and adds functionality, a responsive engine that delivers the power for spirited driving, and equipment upgrades galore that ensue you can get wherever you want to go, no matter how challenging the terrain.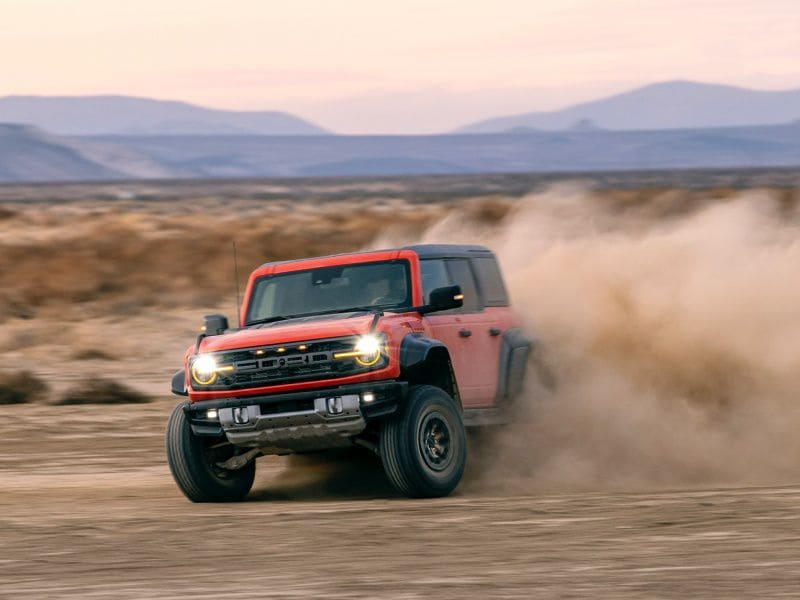 Photo by Ford