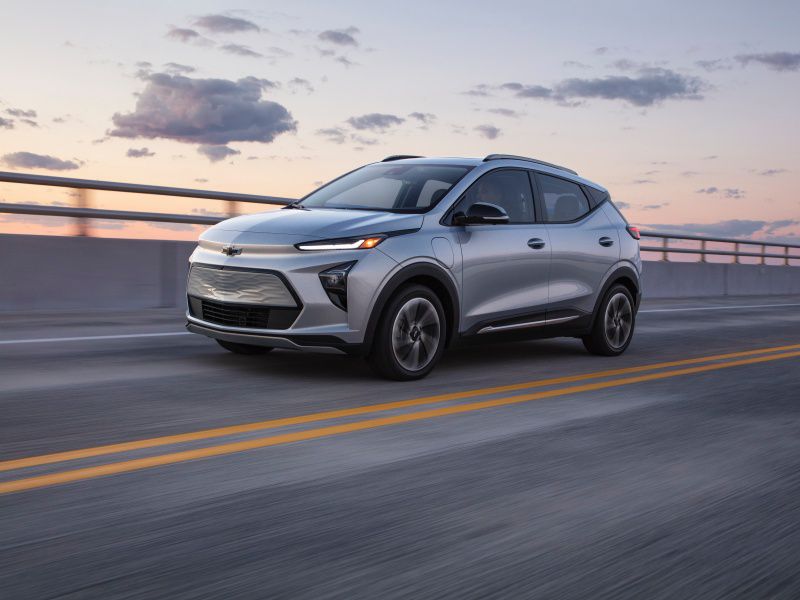 2022 Chevrolet Bolt EUV ・ Photo by Chevrolet
For the 2022 model year, Chevrolet is building two versions of the Bolt electric vehicle (EV). The first one is called the Bolt EV, and it's an updated version of the battery-powered 5-door hatchback that Chevy has been selling for several years. The second one is a stretched version of the Bolt EV with more rear passenger space and crossover SUV-styling elements. The second one is called the 2022 Chevrolet Bolt EUV.
No, that's not confusing.
When the new 2022 Bolt EUV goes on sale in the summer of 2021, it will come in LT, Premier, and Launch Edition trim levels. Prices range from $33,995 to $43,495, including the destination charge. The Bolt EUV is not eligible for an EV federal income tax credit of up to $7,500 because General Motors has sold so many electric and plug-in hybrid electric vehicles in years past. Some states, such as California, do offer rebates for the Bolt EUV.
Our test vehicle had Premier trim, extra-cost Bright Blue Metallic paint, and a word salad of an option package called Sun & Sound + Super Cruise. The price tallied up to $43,585.
2022 Chevrolet Bolt EUV Configurations
A Chevrolet Bolt EUV LT is going to be your best deal. Highlights from its standard equipment list include a dual-level charging cord (Level 1 and Level 2), DC Fast Charging compatibility, and free installation of a 240-volt power outlet at your home. Yes, Chevrolet will pay this installation cost if you buy or lease the Bolt EUV.
Additionally, the LT comes with cloth seats, an 8-inch digital instrumentation display, a 10.2-inch touchscreen infotainment system with wireless Apple CarPlay and Android Auto, and a smartphone app that helps you find nearby charging stations and to pay for charging service. A Chevy Safety Assist collection of driving assistance systems is also standard, along with wireless smartphone charging and, with a paid subscription, connected services including a 4G LTE Wi-Fi hotspot.
Upgrade to Premier trim, and the Bolt EUV includes a nicer set of aluminum wheels, leather seats, heated and ventilated front seats, heated rear seats, a rear camera mirror, adaptive cruise control, and a high-definition surround-view camera.
To this, the Launch Edition trim adds a unique wheel design, a panoramic sunroof, an illuminated charging port, and Chevrolet's Super Cruise hands-free driving technology.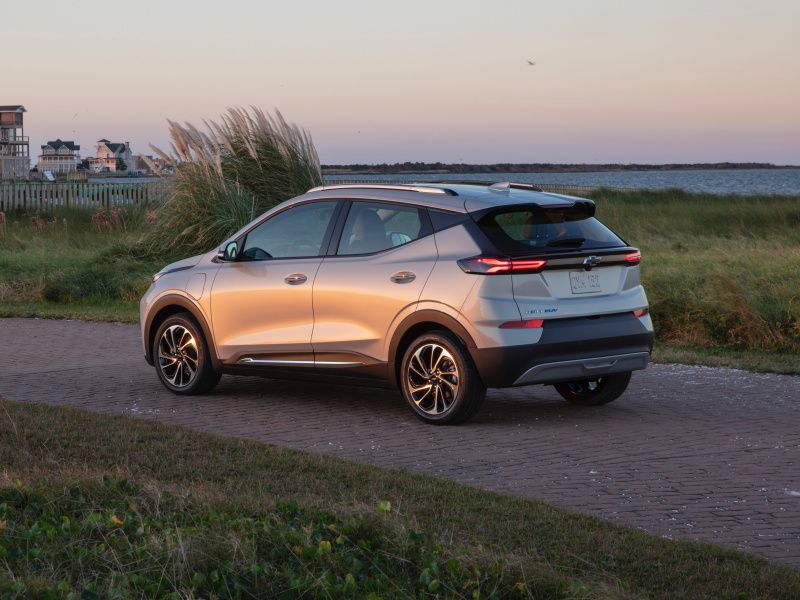 Photo by Chevrolet
Bolt EV and Bolt EUV Design Differences
Chevrolet says the Bolt EUV shares no exterior body panels with the Bolt EV. After all, one is supposed to be a car and the other is supposed to be a crossover suv. As such, the longer Bolt EUV has design flourishes such as simulated skid plates and roof rails.
Both Bolts have a friendly, technical appearance for 2022. The Bolt EV, free of role-playing as an SUV, is the more appealing of the two, especially in the back. The EUV has a huge fake silver skid plate garnish and a massive black bumper panel that just looks silly.
Inside, the Bolt EV and EUV share interior design and materials. The layout and quality are much improved over the original Bolt EV, reflecting a greater degree of sophistication and a more pleasing aesthetic. The dashboard emphasizes what little width the cabin offers, and a new center console design adds to the more open and airy feel.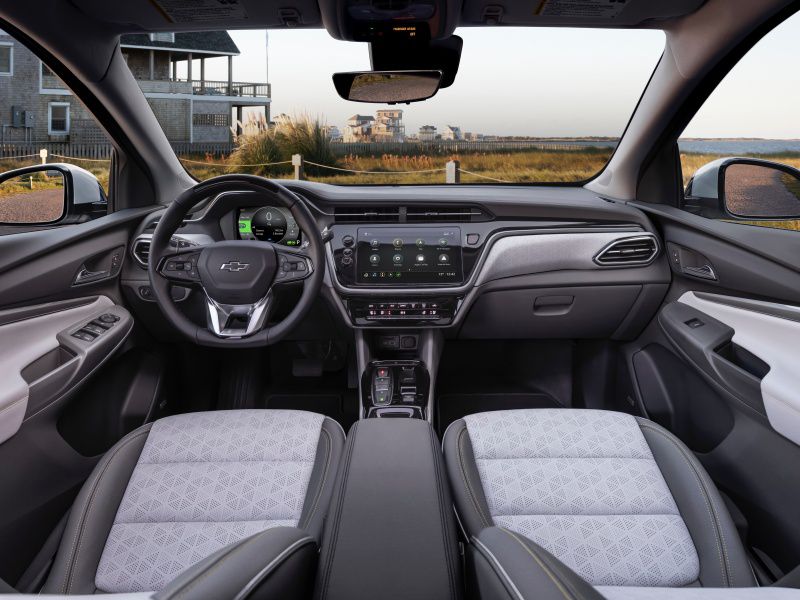 Photo by Chevrolet
The One Reason to Buy a Chevy Bolt EUV
The only reason to pay extra for a Bolt EUV is for its additional rear-seat legroom. If you're going to carry passengers on a frequent basis, it makes all of the difference in the world. Otherwise, the more affordable Bolt EV is the way to go.
Neither car is particularly comfortable, and despite the new dashboard and center console designs, they still feel tall and narrow from behind the steering wheel. However, as a daily commuter vessel, either version of the Bolt will serve an owner well. And because the Bolts sit high, they're easy to enter and exit.
With regard to the EUV's back seat, legroom is improved but headroom remains an issue. There still isn't any space for feet under the front seats, and Chevrolet doesn't offer rear air conditioning vents for rear passengers.
Compared to the Bolt EV, the Bolt EUV's cargo space is a little smaller. It measures 16.3 cubic feet behind the back seat and 56.9 cubic feet with the rear seat folded down.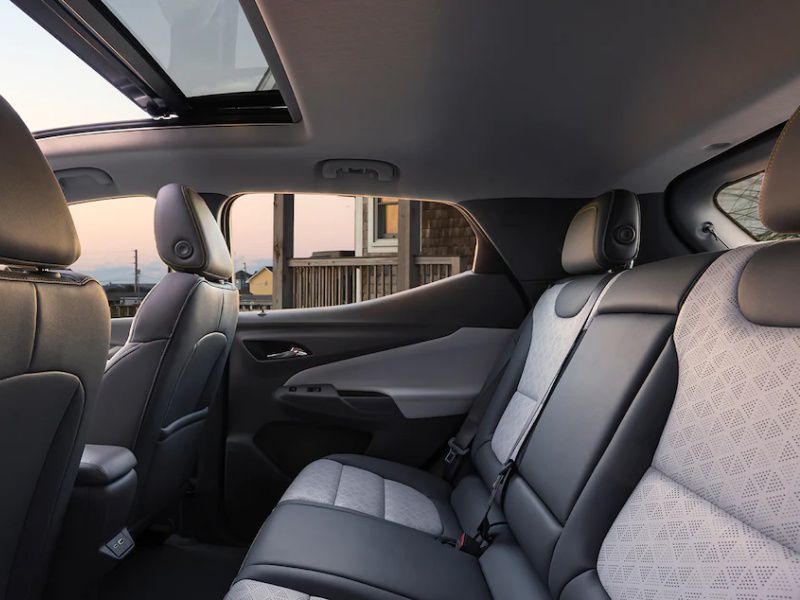 Photo by Chevrolet
Chevy Bolt EUV Infotainment System Details
New for 2022, the Bolt EUV's 10.2-inch infotainment system features the latest Chevrolet Infotainment System 3 technology for a sophisticated look and simple user experience.
The system includes Bluetooth connectivity, wireless Apple CarPlay, wireless Android Auto, an Amazon Alexa digital assistant, SiriusXM satellite radio, and access to numerous connected services (with a paid subscription). Among them, a Wi-Fi internet hotspot and automatic collision notification are particularly useful. Navigation and a Bose premium sound system are available.
During an afternoon of driving in Los Angeles, the infotainment system worked flawlessly. In addition to its intuitive controls, the voice recognition technology is excellent, and the navigation system supplies useful directions. We had no trouble pairing to the Bluetooth connection or streaming music via Pandora, either.
Thoughtfully, wireless smartphone charging is standard in every Bolt EUV. And the optional Bose sound system produces decent, if not remarkable, sound quality.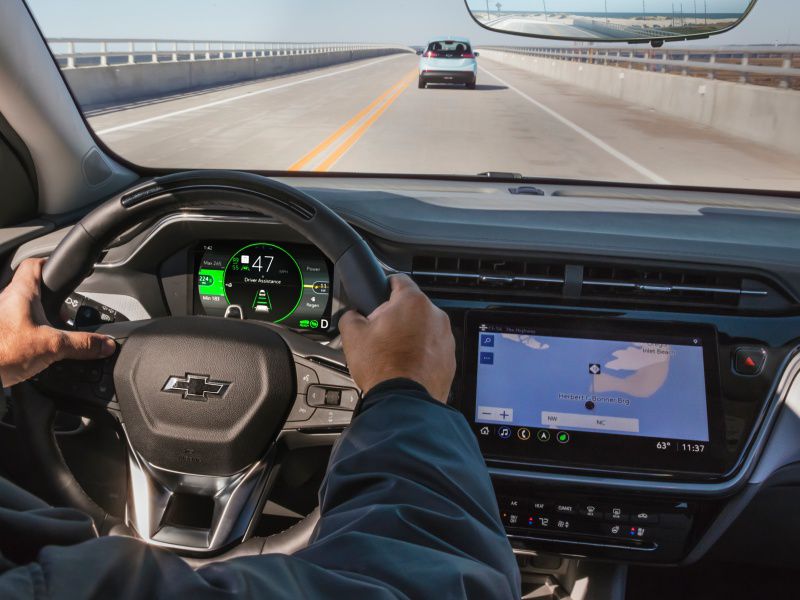 Photo by Chevrolet
General Motors Super Cruise Review
In addition to a standard Chevy Safety Assist package of driving assistance systems and the Premier's rear camera mirror and high-definition surround-view camera systems, the test vehicle had Super Cruise hands-free driving technology.
Super Cruise is what's known as a Level 2+ semi-autonomous driving system. It uses adaptive cruise control with stop-and-go capability, a lane-centering system, and fully autonomous steering on limited-access highways across North America. Based on GPS and navigation system data, it determines whether or not you're driving on an approved road, and will steer for you when the technology deems route, weather, and other conditions are favorable.
When Super Cruise activates, you know it, and not just because of the green indicator light on the top portion of the steering wheel rim. The car takes definitive control of acceleration, braking, and steering, and your job is to sit there and monitor the situation. If you stop paying close attention, it will issue a warning, so you can't scroll your Twitter feed while using the system.
We used Super Cruise on the busy 405 freeway through West L.A., and it worked as advertised. The system is smoother at higher speeds, though. At lower speeds, the steering makes more frequent and obvious adjustments.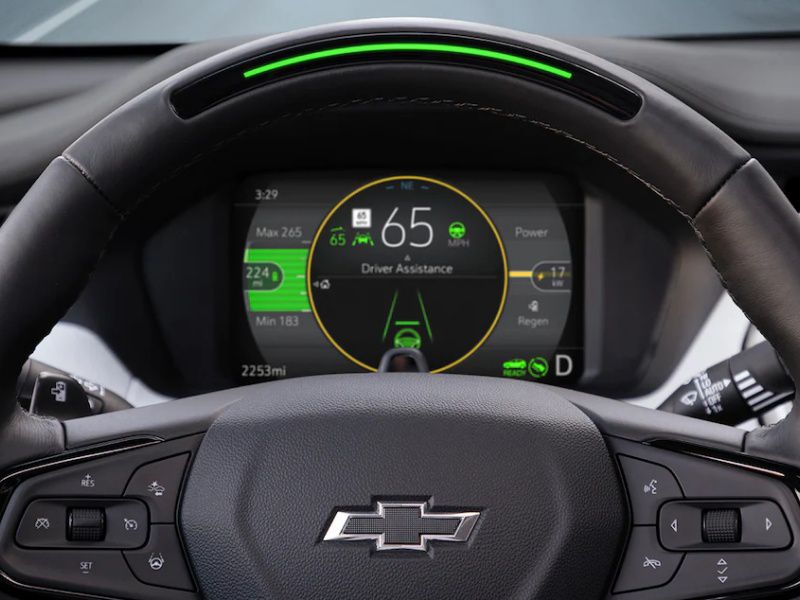 Photo by Chevrolet
Driving the 2022 Chevy Bolt EUV
The 2022 Chevrolet Bolt EUV has the same electric drive system as the Bolt EV. It includes a 150-kilowatt (kW) electric motor powering the front wheels, a 65 kilowatt-hour (kWh) lithium-ion battery pack with a liquid cooling system, paddles on the steering wheel for the Regen on Demand battery preservation system, and one-pedal driving capability. Drivers can select between Normal and Sport driving modes, too. The car's estimated range is 250 miles.
Like any electric vehicle, the Bolt EUV is quick from a stop and at lower speeds. Threading through traffic is easy in this spry little guy, and with all of its battery weight low in the chassis, it tackles corners with enthusiasm until the tires call a halt to the fun.
Chevrolet uses a strut front, torsion-beam rear suspension under the Bolt EUV. The simple rear suspension design, coupled with the car's weight, produces an occasionally unsophisticated ride quality. Steering effort is light and free of road feel, and the regenerative brakes can feel grabby in certain driving situations.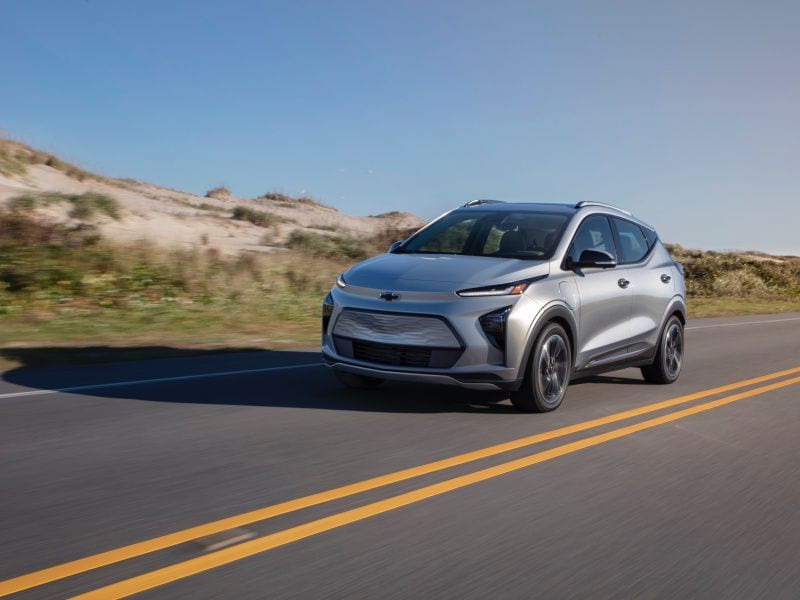 Photo by Chevrolet
2022 Chevrolet Bolt EUV Recharging Times
While driving the Bolt EUV, you can preserve battery charge in a couple of ways.
The first is by using Regen on Demand. Pull one of the steering wheel paddles toward you and hold it, and this technology adds extra friction in the drive system when you're coasting, feeding that kinetic energy to the battery to help preserve charge.
The second is the one-pedal driving system, which engages braking simply by lifting your foot off of the accelerator pedal. Practice with this technology, and you can easily drive a Bolt EUV while rarely pressing the actual brake pedal.
When the time comes to recharge the car, the standard charging cord works with a typical household-style outlet or a 7.2 kW 240-volt wall outlet like the one your clothes dryer requires. Alternately, you can use a Level 2 11 kW public charging station or a DC fast charger.
Recharging rates run the gamut from four miles per hour of charging using a standard wall outlet to 95 miles per hour of charging using a DC fast charger. Most owners will want to take Chevy up on the free 240-volt installation offer and easily charge the Bolt EUV overnight.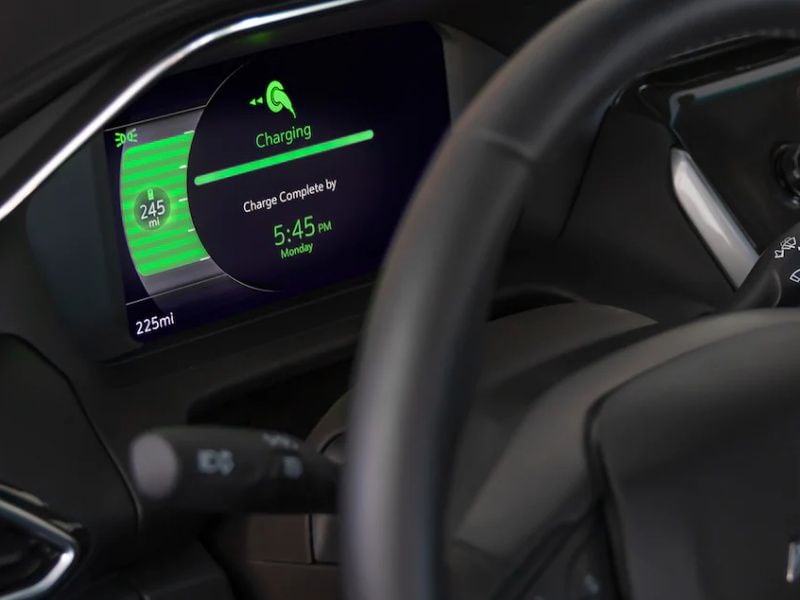 Photo by Chevrolet
Chevrolet Bolt EUV Competitors
In terms of sticker price, the 2022 Chevrolet Bolt EUV is one of the most affordable electric vehicles you can buy. But if you're eligible for the maximum federal income tax credit of $7,500 for EVs, the Chevy's value equation evaporates in comparison to alternatives, especially if you upgrade the Bolt EUV with options.
The Bolt EUV's natural competitors include the Hyundai Kona Electric and the Kia Niro EV, both of which are eligible for the maximum federal income tax credit. But when you load a Bolt EUV up with extras, the competitive landscape shifts to include the Ford Mustang Mach-E, Volkswagen ID.4, and other larger and more expensive EVs.
With other automakers entering this space in the months and years ahead, the Bolt EUV's competition is only going to grow.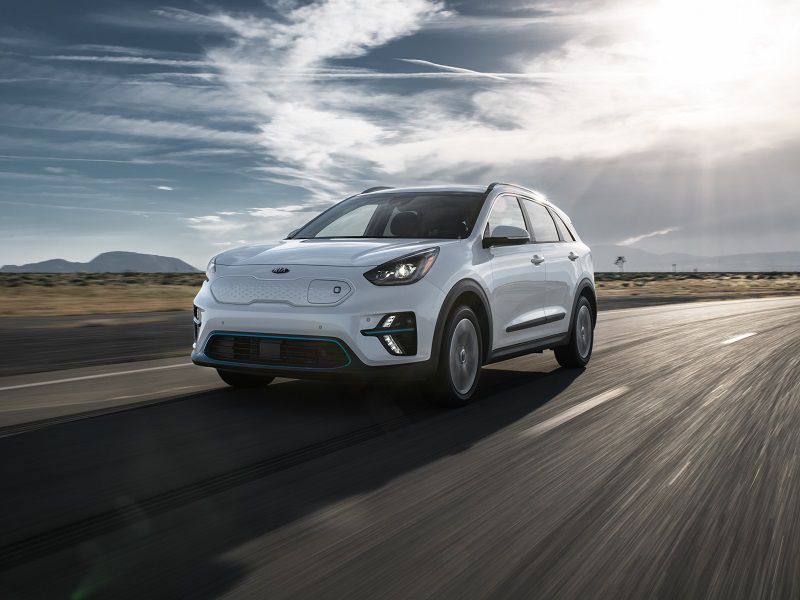 Photo by Kia
A Stepping Stone to Bigger and Better Things
General Motors has long been a pioneer in the electric vehicle space, even if it couldn't fully pivot to EV drive systems to compete with Tesla. Among its many experiments, the short-lived GM EV-1 of the late 1990s demonstrated the future potential of the technology.
During the past 10 years, Tesla has demonstrated that EVs are a viable alternative to cars, trucks, and SUVs equipped with internal combustion engines. GM is preparing to unleash several new EVs using a proprietary component set called Ultium Drive and has gone so far as to announce that all of its light-duty vehicles will be electric by 2035.
By then, we'll look back at the 2022 Chevy Bolt EV and EUV in the much the same way we reflect on the GM EV-1 today. These vehicles are the tip of an iceberg and will seem crudely antiquated within a decade. But for now, the Bolt EUV is an appealing, practical, and affordable path to EV ownership while its parent company finalizes the next generation of GM electric vehicles.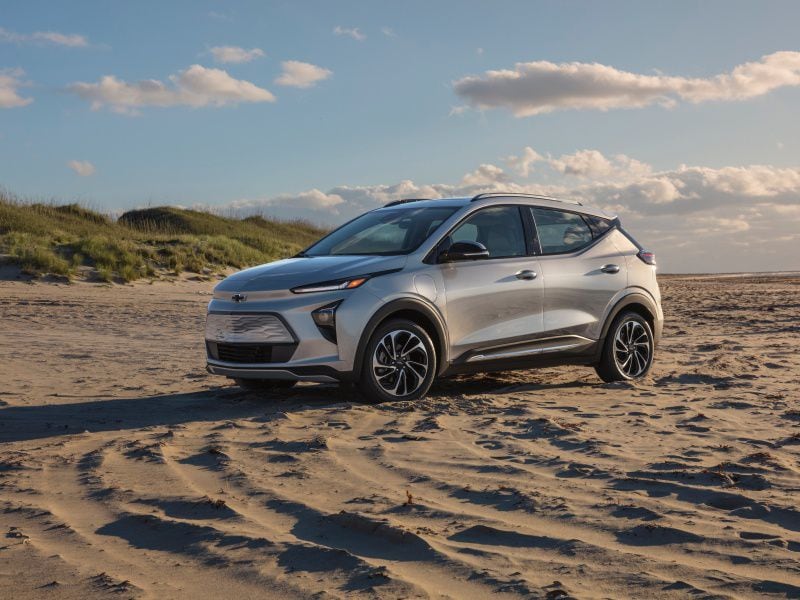 Photo by Chevrolet