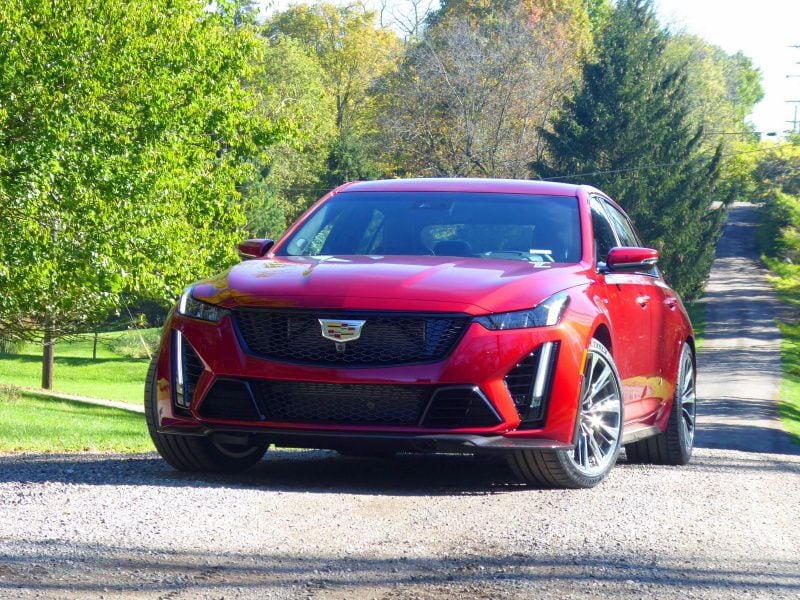 2022 Cadillac CT5-V Blackwing ・ Photo by Ron Sessions
As Cadillac prepares to segue into its electric future, the brand is offering up a final fossil-fueled fusillade in the form of the CT5-V Blackwing. The Blackwing name doesn't appear anywhere on or in the car, however. But the V sub brand does, and in the CT5-V Blackwing, it represents the successful culmination of a two-decade-long quest to produce a potent performance sedan capable of challenging — and in some cases out-running — the best performance sedans from luxury brands such as Audi, BMW, and Mercedes-Benz.
Equipped with the base manual transmission, the CT5-V Blackwing is $84,990, including the $995 destination charge. The automatic-transmission version is $88,165. There is also a gas-guzzler tax of $1,700 for the CT5-V Blackwing with the automatic gearbox or $2,100 with the manual.
Principle competitors include the Audi RS7, BMW M5 Competition, Maserati Ghibli Trofeo, and Mercedes-AMG E63 S.
Gas-Fueled Blast
Stuffed in the engine compartment of the CT5-V Blackwing is a supercharged 6.2-liter V8 with 668 horsepower at 6500 rpm and 659 lb-ft of torque at 3600. The bodacious, blown gas-fueled V8, likely Cadillac's last as the brand switches over to electric propulsion in the next few years, is hand-assembled and signed by its builder. Using its standard launch control, the 4,100-pound CT5-V Blackwing can sprint from rest to 60 mph in the mid 3-second range, accompanied by a hearty roar from the quad exhaust outlets. Terminal velocity, says Cadillac, is a cool 200 mph.
Transmission choices for this rear-wheel-drive high-performance sedan include a 10-speed automatic, and to the delight of stick-shift purists, a bolt-action 6-speed manual. The manual transmission has both an active rev-matching feature that adjusts engine speed for smooth upshifts and downshifts to the next gear and no-lift-shift programming that eliminates the need to back off the throttle when accelerating briskly through the gears.
EPA estimates with the 10-speed automatic are 13 mpg city/22 mpg highway/16 mpg combined. With the 6-speed manual gearbox, estimates drop slightly to 13 mpg city/21 mpg highway/15 mpg combined. Due to the crowded underhood space and in order to move some weight off the nose and onto the driven rear wheels, the 12-volt battery is located in the smallish 11.9 cubic-foot trunk.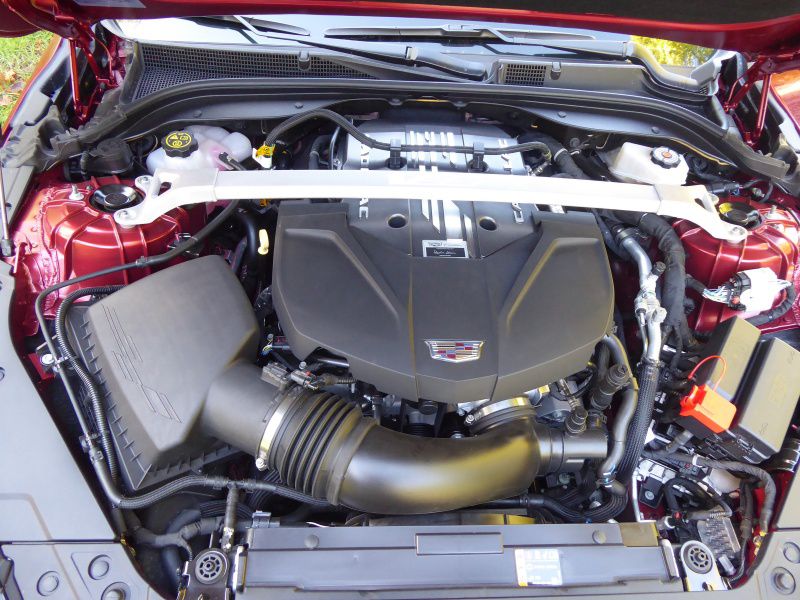 Photo by Ron Sessions
At the Helm
The CT5-V Blackwing blends luxury and ground-pounding performance. Based on the more pedestrian $36,995 4-cylinder CT5, the $84,990 668-hp V8-powered Blackwing still has some less-than-premium-looking hard plastic trim in places but finishes nicely with standard leather seat coverings, French stitching along the armrests and seats, and a liberal application of carbon-fiber trim on the dash, doors, console and steering wheel.
For the business of driving, a standard 12-inch high-definition color driver-configurable cluster includes a lap timer. Also standard is a head-up windshield display for vehicle information, entertainment, and navigation instructions. Alloy-trimmed sport pedals feature non-slip rubber contact pads. A grippy, thick-rim, leather-wrapped steering wheel with carbon-fiber trim and (on automatic-transmission models) alloy shifter paddles includes a red hash mark at the 12 o'clock position. A $1,600 option is a performance data recorder.
Luxury touches include a power tilt and telescope steering column and cruise control. However, adaptive cruise control is an extra-cost item and Cadillac's hands-free Super Cruise semi-autonomous driving system is not available.
Other standard amenities bring a console-mounted wireless phone charger, dual-zone automatic climate control, and footwell and door-sill ambient lighting.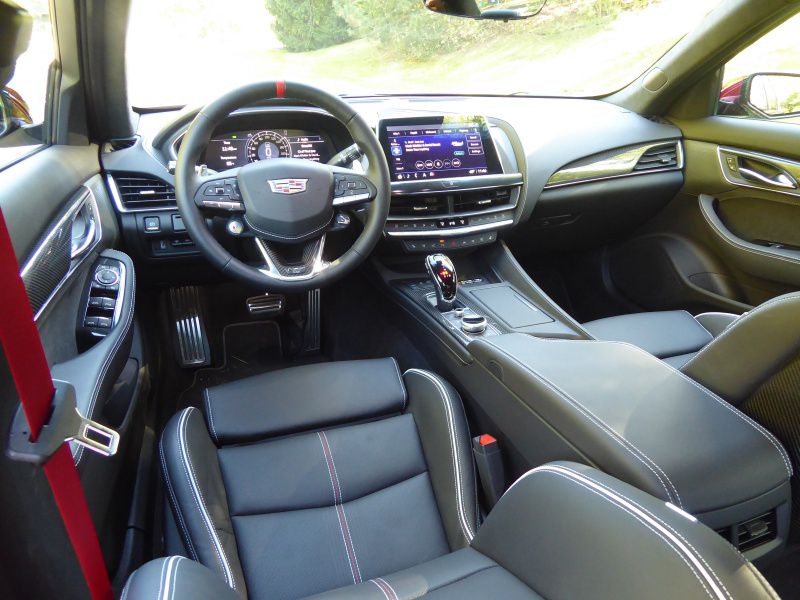 Photo by Ron Sessions
Front Row to Performance
Front and center in the CT5-V Blackwing is a great pair of leather-covered performance bucket seats that envelop the driver and front passenger in supportive comfort. The front seats feature 18-way power adjustments and programmable memory settings. These include power-adjustable lateral bolsters for the seatbacks. The lower cushions have manually extendable thigh supports as well.
A heated steering wheel and heated and ventilated front bucket seats work automatically based on ambient temperature and climate control settings. Also providing comfort for those long trips are air bladders in the front seatbacks that can provide a power-oscillating lumbar-region massage for stiff lower and middle back muscles. A $6,090 upgrade gains buttery-soft semi-aniline leather, custom quilting, and carbon-fiber seatback trim. A suede-like microfiber-wrapped steering wheel and shifter knob is a $300 option.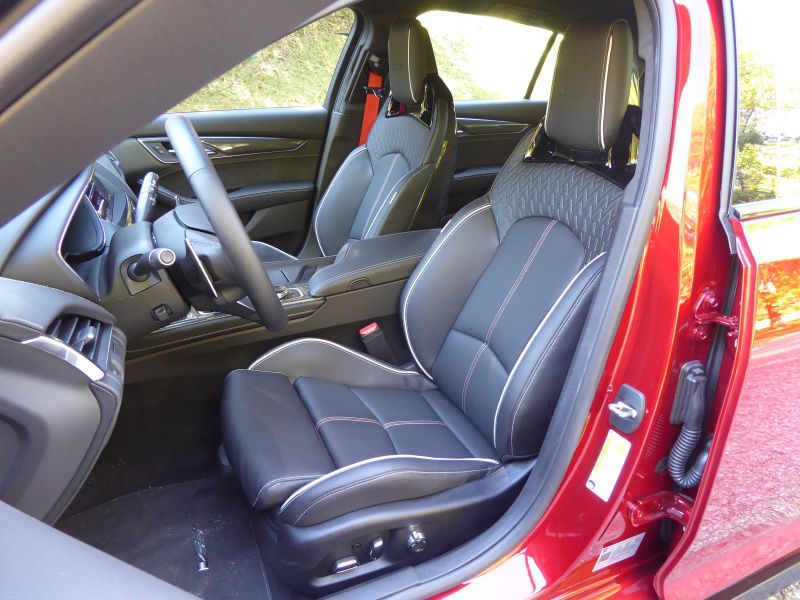 Photo by Ron Sessions
Cadillac User Experience
Perched high on the dash is a 10-inch high-definition color infotainment touchscreen with embedded navigation. It is wireless Apple CarPlay and Android Auto compatible. Unlike the balky Cadillac User Interface systems of a few years back, this one is easy to access via large touchscreen tiles, a console-mounted controller, and steering wheel buttons. There's even an analog rotary volume knob on the console as well. Natural voice recognition enables hands-free commands for destination searches, audio selections, and more. There are three USB ports with one Type A and one Type C up front and a Type C for the rear passengers.
Car enthusiasts could listen to the music of the Blackwing's supercharged V8 at length, but the Cadillac's top-rung performance sedan also comes with an awesome-sounding AKG audio system. AKG is an Austrian maker of high-quality headphones and microphones and delivered its first-ever automotive system in the 2021 Cadillac Escalade. In the new Blackwing, the AKG brings 16-speaker's worth of rich, sharp, enveloping sound. The AM/FM head unit comes with a 6-month trial of SiriusXM 360 with personalized genre-based selections. HD Radio gives static-free AM reception as well as song title and artist information. The system includes an SD card reader. The CT5-V Blackwing is Wi-Fi hotspot capable with a qualifying data plan.
Navigation prompt volume increases as the upcoming turn or instruction approaches and the turn instruction originates from the speaker on the same side the vehicle will be turning.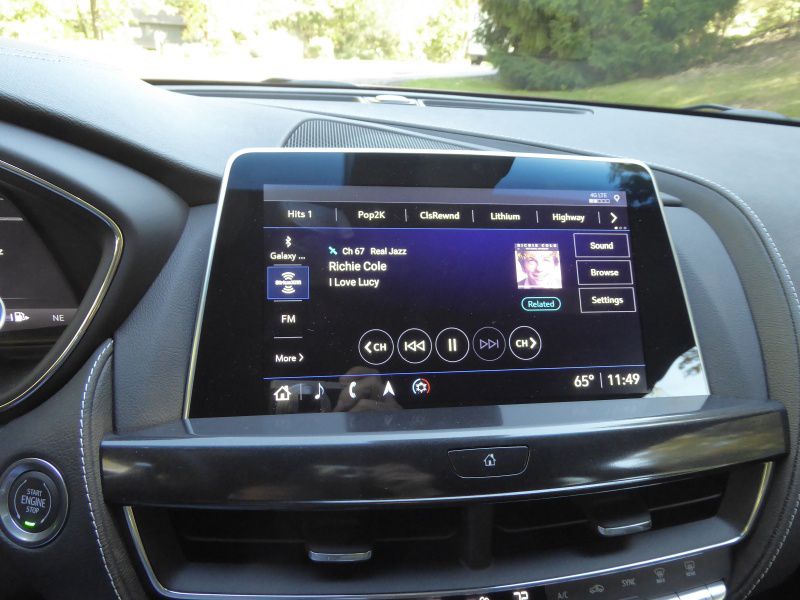 Photo by Ron Sessions
Rear Seat
The long wheelbase of the CT5 bestows rear seat passengers with generous legroom, although an underbody lateral structural member encroaching from the rear of the foot wells steals some space. Rear seat headroom is decent as well, despite the CT5's sloping fastback roofline. The rear bench has a 60/40 split-folding seatback design, allowing longer items to be carried when one or both of the seatbacks are folded down than would be otherwise possible in the compact-sedan-sized 11.9 cubic-foot trunk. The optional red seatbelts add a sporty touch.
The Blackwing is fitted with stop-flat tires, so there is no spare tire residing under the luggage compartment floor. There is, however, a tire inflator kit underfloor, as well as some extra space to store small valuables out of sight such as a camera or tablet.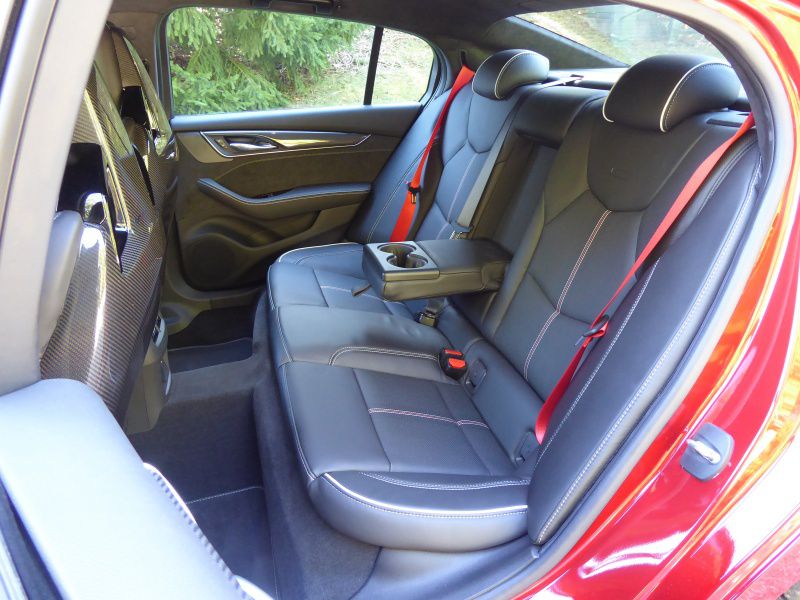 Photo by Ron Sessions
Getting a Grip
Getting the Blackwing's 668 horsepower to the ground and gripping the road surface with more than 1 g of stick falls to a set of staggered-size Michelin Pilot Sport 4S summer performance tires measuring a fat 275/35ZR19 up front and a near Corvette-sized, steam-roller-like 305/30ZR19 at the rear. Huge Brembo 15.7-inch front/14.6-inch rear drilled and ventilated carbon ceramic disc brakes with 6-piston front and 4-piston rear calipers shave substantial amounts of unsprung weight and provide an effective heat sink for extended high-speed snubs.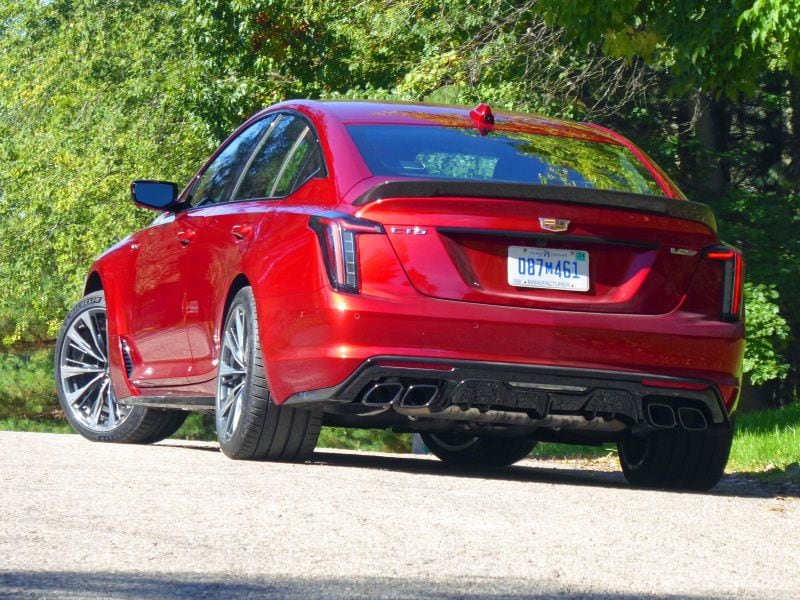 Photo by Ron Sessions
V Button
Tucked away under the dash and partially obscured by the transmission shifter, a drive mode button on the console allows the driver to select Tour, Sport, Snow/Ice, Track, My Mode, or V Mode, custom-tailoring throttle response, automatic transmission shift points, exhaust sound, steering effort, suspension damping, braking response, and traction management. A dedicated V Mode button conveniently located under the left steering-wheel spoke gives drivers quick and easy access to more-aggressive V Mode driver settings, eliminating the need to scroll through the other settings using the small console button behind the shifter.
Previously hidden a few layers down in Track Mode menus, the Blackwings's standard Performance Traction Management can now be accessed by another equally handy button under the right spoke of the steering wheel. Once selected, the track-savvy Blackwing driver can custom tailor the traction and stability control systems with Wet, Dry, Sport, Race 1, and Race 2 settings.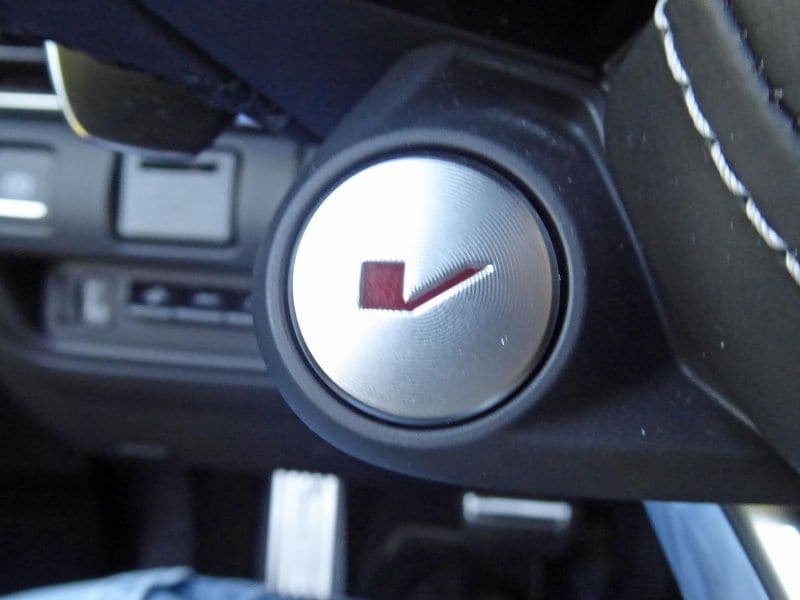 Photo by Ron Sessions
Driving Dynamics
What's amazing is how smooth the CT5-V Blackwing can be in everyday driving. Leaving the drive mode selector in Tour Mode is where you'll want to be 99 percent of the time, with a surprisingly compliant ride taking nothing away from the car's high limits and volcanic capabilities. One big enabler is the car's Magnetic Ride Control 4.0, the latest rendition of Cadillac's magnetorheological adaptive suspension damping control system that can individually adjust each shock absorber in real time for varying road surfaces and deliver pinpoint vertical body control.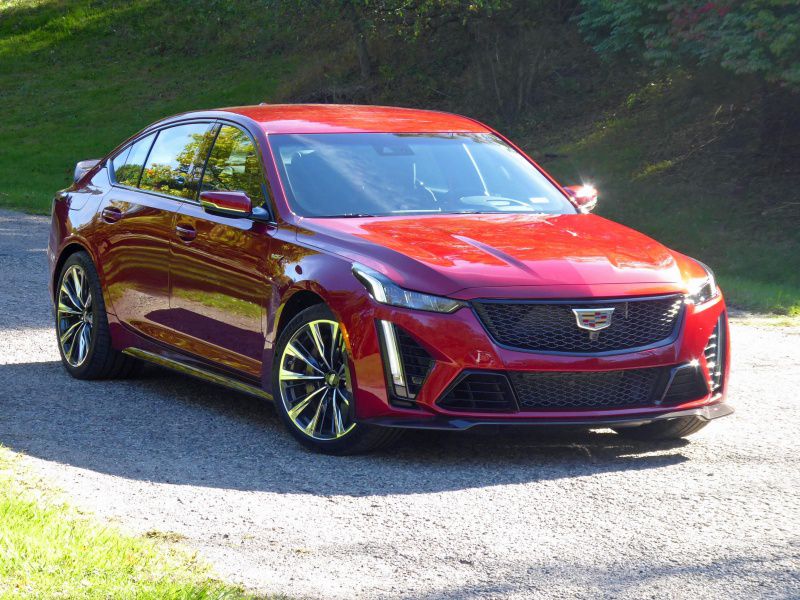 Photo by Ron Sessions
Safety and Driver-Assistive Tech
In addition to eight airbags, the 2022 CT5-V Blackwing is equipped with a fair amount of advanced collision-avoidance and driver-assistance technology. Standard equipment includes a forward collision alert system with automatic emergency braking (under 50 mph) and daytime front pedestrian detection, lane-change alert with blind-spot warning, rear cross-traffic alert, lane-change assist with lane-departure warning, Intellibeam automatic high-beam control, a following-distance indicator, a high-definition surround-vision camera with multiple selectable camera angles, and front and rear distance parking assist. Another safety feature and one unique to General Motors vehicles is a Safety Alert driver's seat which warns the driver of potential threats by vibrating the side of the bottom seat cushion the threat is originating from.
One feature missing from the standard equipment list is adaptive cruise control, something that's standard in most mainstream compact sedans. It is available on automatic-transmission models as an option, however, as part of a $900 Driver Assist package that also includes rear automatic braking, plus enhanced front automatic braking that uses a radar sensor as well as a camera to detect a potential forward collision.
The National Highway Traffic Safety Administration gives the 2022 CT5-V Blackwing sedan a full five stars for side-impact performance and rollover resistance but has not rated it overall or for frontal impacts.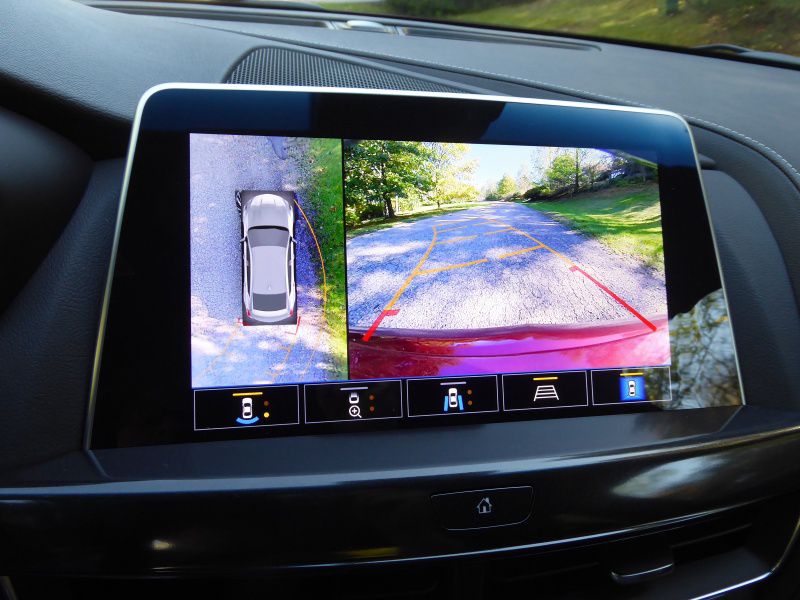 Photo by Ron Sessions
Performance Powerhouse
The 2022 Cadillac CT5-V is a formidable fusion of performance and luxury attributes and a fitting culmination to a two-decade-long quest to establish the V sub-brand as a credible challenger to blue-blood European sport sedans. It is also likely the last gasoline-powered Cadillac to wear the V badge as the brand converts to an electric future. Upcoming electric-powered Cadillacs will also likely provide invigorating acceleration, but if you are a fan of a hearty exhaust rumble replete with delicious crackles and pops, and the mechanical harmony of a manual transmission, act quickly. The CT5-V Blackwing won't be around for long.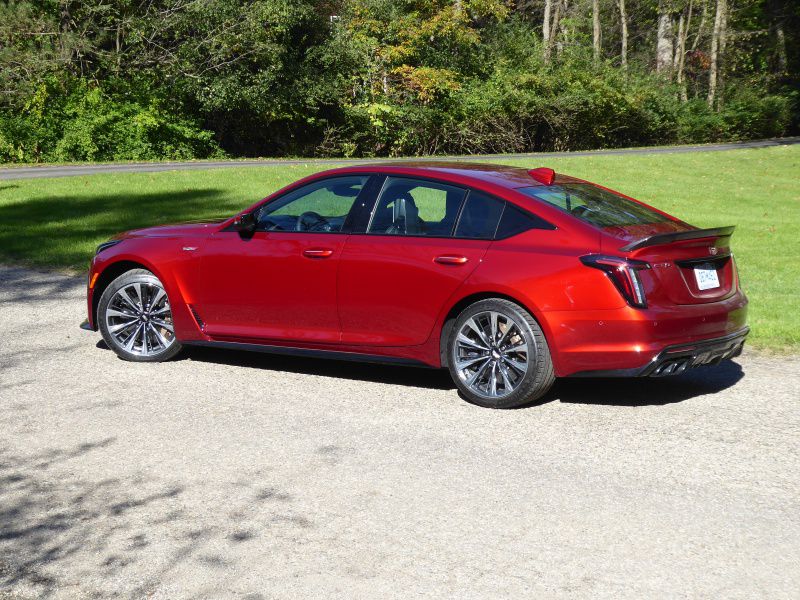 Photo by Ron Sessions