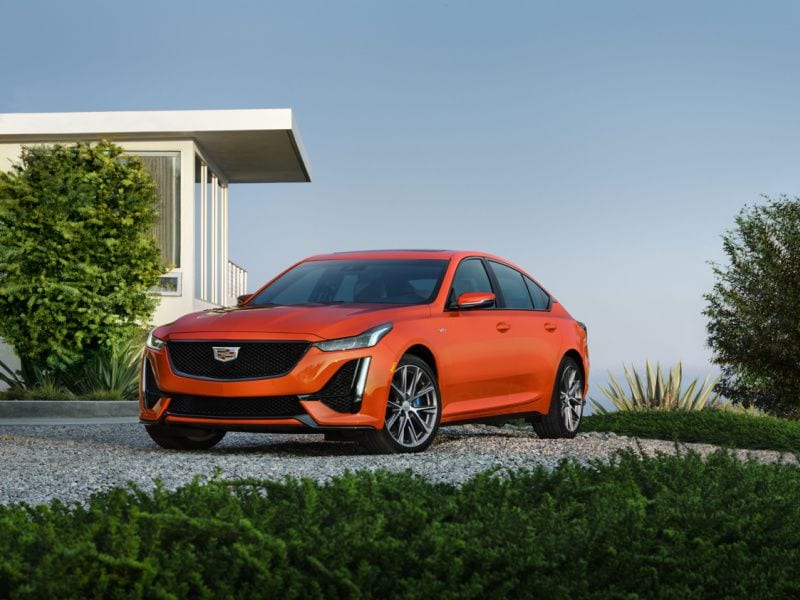 2022 Cadillac CT5-V ・ Photo by Cadillac
Sedans are a dying breed, but a dedicated group of automakers has continued innovating in the space with great effect. European premium brands, such as BMW, Mercedes-Benz, and Audi all offer ultra-powerful sports sedans with high-end engine, top-tier tech and safety, and aggressive styling. The Americans aren't quite as deep into the sedan game, but there are a few cars worth noting. The Cadillac CT5 is one, and though its default attitude is one of docile luxury, buyers can opt for more aggression, speed, power, and cost with the CT5-V Blackwing.
Even in its tamer forms, however, the CT5 offers excellent value and plenty of space for the family. Let's take a look at what makes the car tick.
Sharp, Sleek Styling
It's fair to levy some criticism against Cadillac for its styling gaffes in the early 2000s and 2010s, but there's no denying that the automaker's latest design philosophy works. The CT5 is sharp and wears its lines like a finely tailored suit. Long lines and sleek bodywork help stretch the car beyond its on-paper dimensions, and though it's not all that sporty, Cadillac did a good job of giving the car a sporty attitude. 
Top trims and the aggressive V models get even sharper bodywork and available upgrade such as painted brake calipers bolster the car's performance look.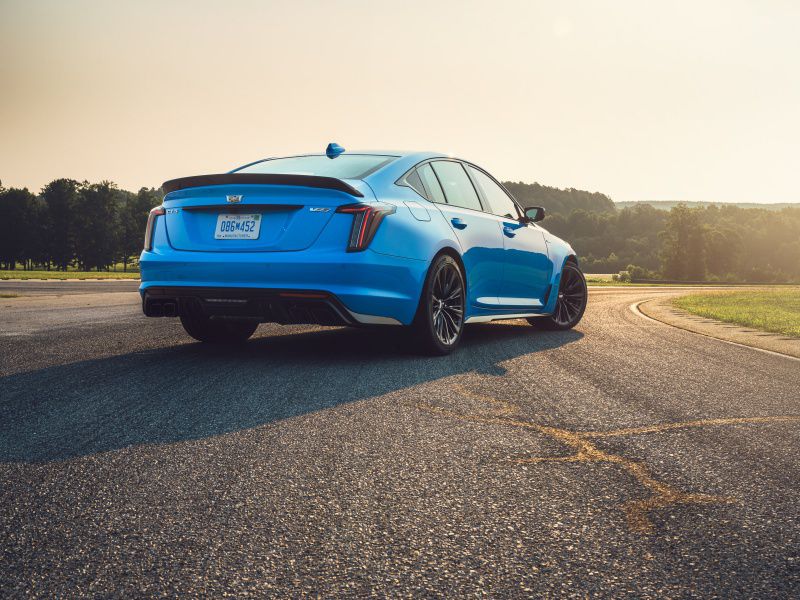 Photo by Cadillac
Intuitive Interior Layout
If you needed a refresher on the fact that Cadillac today is worlds away from the company of a couple decades ago, the CT5 should serve as a great reminder. The car's interior is clean and simple, but offers great space and comfort. A large, easy-to-see screen dominates the center stack and offers great viewing angles from both front seats. A handful of physical controls offer an intuitive way to interact with the car with some redundancy between touchscreen controls and physical buttons.
The CT5's interior vibe changes slightly, depending on the chosen color scheme. Dark upholstery gives the cabin a cockpit feel, while the tan upholstery option makes the CT5 feel like a premium cruiser. In either case, front-seat passengers get good head and legroom, while the back bench seat offers decent support for both outboard passengers.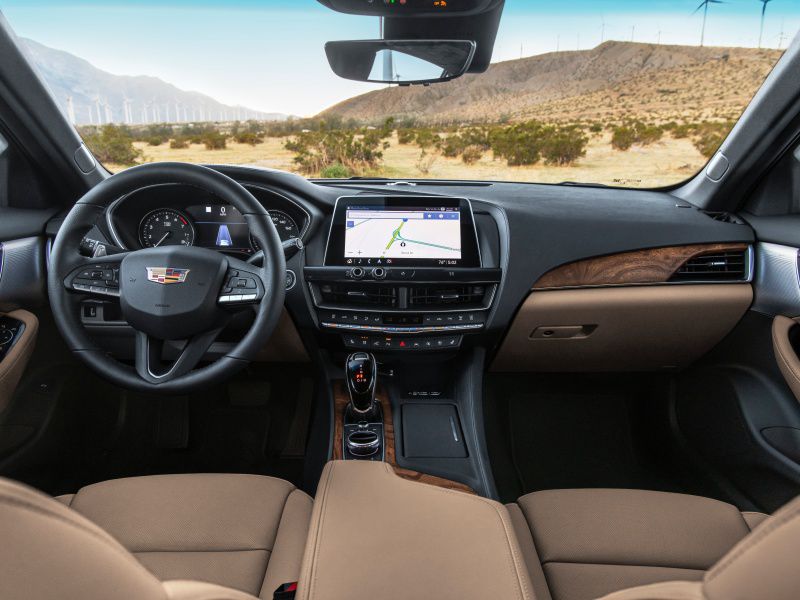 Photo by Cadillac
Strong Standard Features and Tech
The CT5 comes standard with synthetic leather upholstery, power front seat adjustments, a leather-wrapped steering wheel, dual-zone climate controls, a 10-inch touchscreen, wireless Apple CarPlay and Android Auto, HD radio, SiriusXM radio, nine speakers, and more. That's a generous list of features, which is even more impressive given the CT5's bargain pricing compared to its rivals.
Unfortunately, that price point is also a big sticking point for the CT5's interior quality. There are far too many hard plastics and cheap-feeling touchpoints for a Cadillac, regardless of price. Sure, the interior's simplicity is handsome and intuitive, but when an automaker takes that design approach, every remaining detail has to be just so.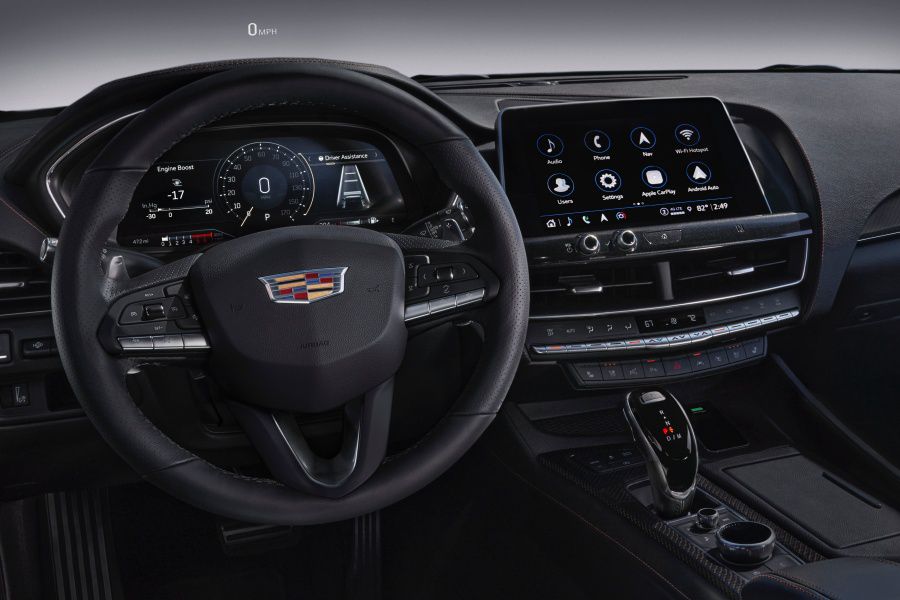 Photo by Cadillac
Strong Optional Powertrains
The CT5's base powertrain is a turbocharged 2.0-liter four-cylinder engine rated at 237 horsepower and 258 pound-feet of torque. We tested the upgraded powertrain option, which is a twin-turbocharged 3.0-liter V6 with 335 horsepower and 400 pound-feet of torque. Both engines come paired with a ten-speed automatic and rear-wheel drive, but our test car came equipped with optional all-wheel drive. The strong V6 offers solid acceleration and a muscular sound, but there's noticeable turbo lag under heavy throttle. The 10-speed automatic transmission feels smooth and well-matched to the engine, but it does stumble at times when downshifting. With the base turbo-four under the hood, the midsize CT5 feels underpowered and lacks the sharpness of its V6-powered counterpart.
The four-cylinder compensates for that lack of power with decent fuel economy, at least for cars with front-wheel drive, which are rated at 23/33/27 mpg city/highway/combined. All-wheel drive shifts those numbers to 25/22/30 mpg. The twin-turbo V6 returns 19/27/22 with all-wheel drive.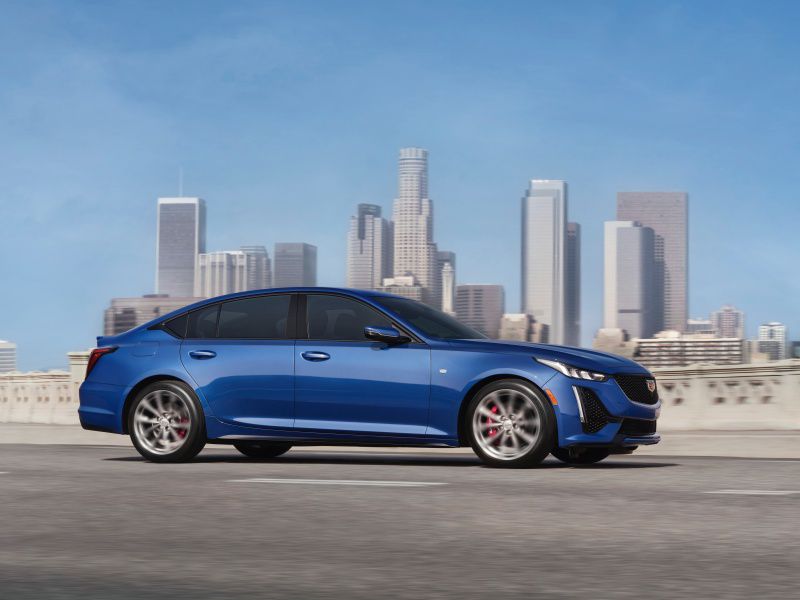 Photo by Cadillac
Insanely Powerful CT5-V and Blackwing
The CT5-V gets a twin-turbocharged 3.0-liter V6 that produces 360 horsepower and 405 pound-feet of torque. Along with more power, the not-quite-V-car gets an electronic limited-slip differential, Brembo front brakes, magnetic adaptive suspension, and a launch control system from the C8 Corvette. Acceleration is much stronger here, aided by the go-fast bits, and the car still delivers a satisfying V6 roar.
At the very tippy-top of the CT5 line, the CT5-V Blackwing takes things completely into madness. It sports a supercharged 6.2-liter V8 with a mind-blowing 668 horsepower with either a six-speed manual or a 10-speed automatic transmission. The run from 0-60 takes around 3.5 seconds and the scream of the big V8 is sure to raise more than a few goosebumps. The car is technically quicker with the automatic transmission on board, but is more engaging to drive with the six-speed manual. The car gets standard magnetorheological dampers, which adjust to changing driving styles and road conditions in the blink of an eye.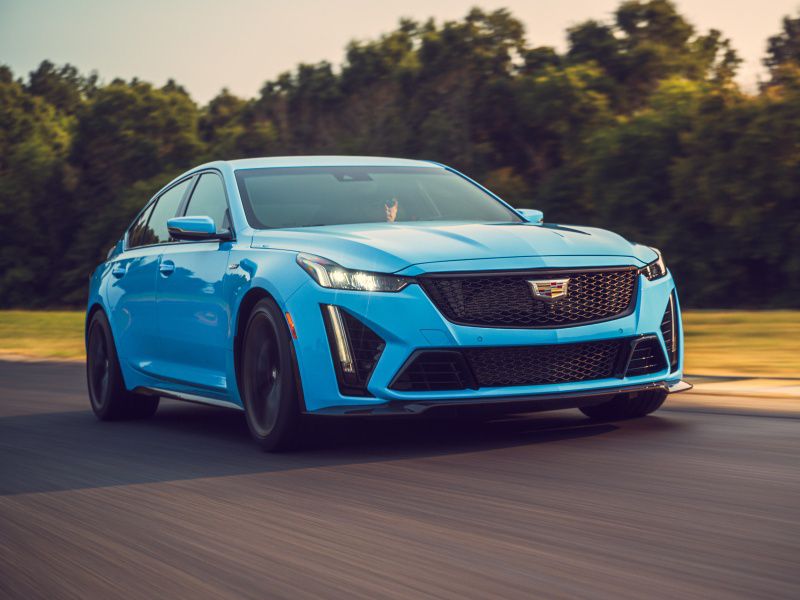 Photo by Cadillac
Comfort Oriented Ride and Handling
The CT5 may look the part of aggressive sports sedan, but in its non-V forms, the car is much more a house cat than a roaring lion when it comes to handling. Adaptive dampers allow the driver to tighten things up or dial in a degree of comfort, but even in its stiffest setting the car is not the most agile in the corners. Its size and weight contribute to this, and though Cadillac made strides improving the car's overall ride quality and comfort, the tradeoff is that it feels less controlled during aggressive driving. 
The Blackwing's dampers shift so quickly that it's impossible to tell when they're at work. Though it's the same size and shape as a normal CT5, the Blackwing's handling and dynamics are on a completely different level than those of the standard car.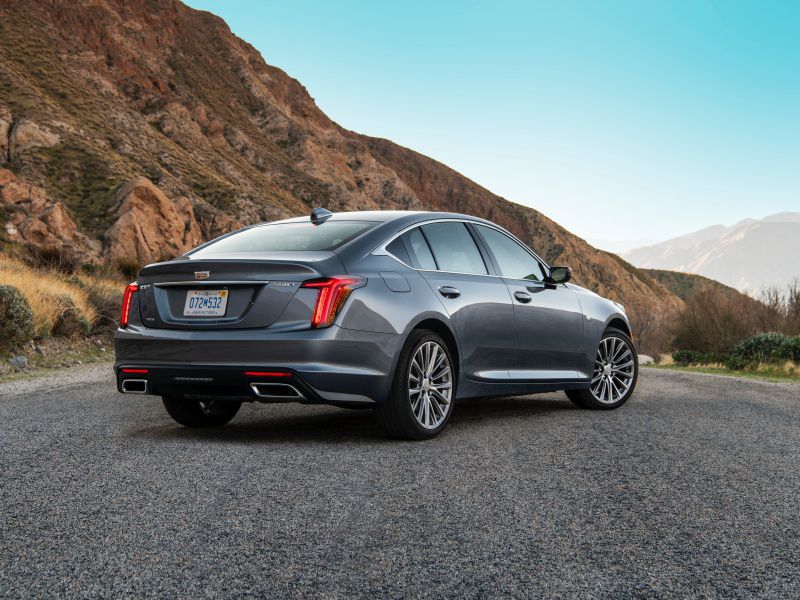 Photo by Cadillac
Value Pricing
The base CT5 Luxury starts at around $38,500. Stepping up to the Premium Luxury model brings the price to $42,990, the Sport model lands at $44,190, and the CT5-V starts at $51,290. Above and beyond all of them, the CT5-V Blackwing starts at $84,990. It is possible to drive the CT5's price tag skyward quicky with options, however. Cadillac offers a $9,400 Platinum Package, a $2,800 Diamond Sky Special Edition Package, a $2,795 Exterior Accent Package, a $2,090 Parking Package, and many, many more.
Contrast the standard car's pricing against its competitors and it becomes clear that the Cadillac is working on a different value level. The BMW 3-Series and Mercedes-Benz C-class start at over $42,000. The Audi A5 Sportback is slightly more expensive than those. The Cadillac's $38,490 starting price level sets the car with the Genesis G70 on pricing and far undercuts the Europeans.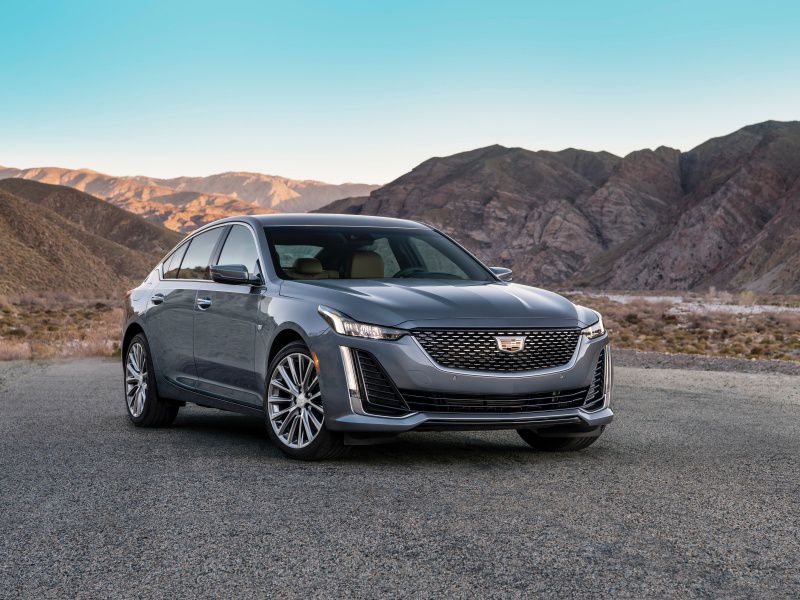 Photo by Cadillac
Strong Competition
Cadillac's position as an American premium brand means that its vehicles are judged against the best in the world. The CT5 competes in a surprisingly bloated class of cars that includes the BMW 3-Series, Mercedes-Benz C-Class, BMW 4-Series, Genesis G70, and Audi A5 Sportback. The Cadillac isn't as dynamic or engaging as many of its Euro rivals, but the car offers great value and solid comfort. 
The Cadillac wins in value and offers plenty of tech, available safety equipment, and comfort, which helps it compete against that group of heavy hitters. Stepping up to the more powerful twin-turbo V6 doesn't drive the price through the roof, and adds more than enough power and torque to get the car moving with gusto.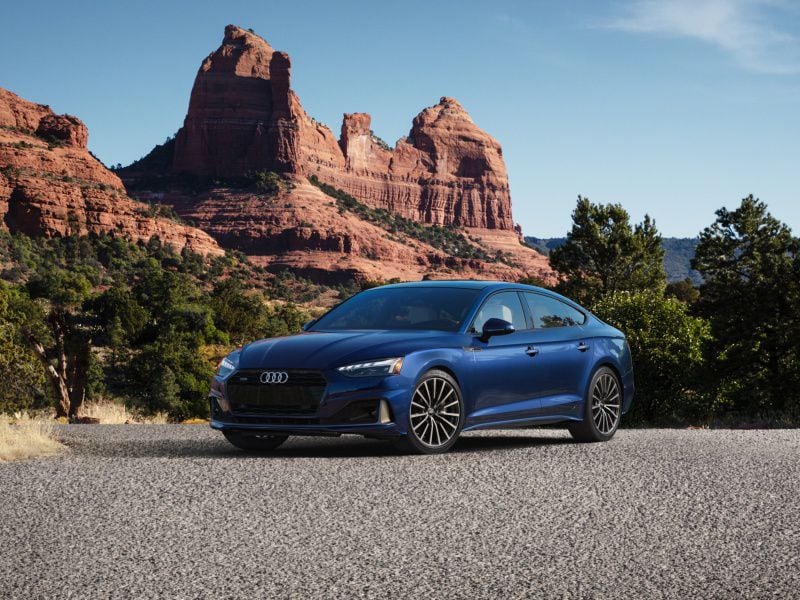 Photo by Audi
Final Thoughts
There are cars that are capable of walking the line between luxury and sportiness while maintaining enough of both characteristics to be good all-arounderes. The CT5 is not one of them, but that's not a reason to write the car off. Cadillac, whether intentionally or not, has slotted the CT5 into the luxury end of that spectrum, and as such, the car is a comfy cruiser with distinct style. Around a few complaints with interior quality and the car's driving engagement, there's absolutely nothing wrong with viewing the CT5 as an upscale mid-range sedan, which is where it (and its price tag) are most comfortable.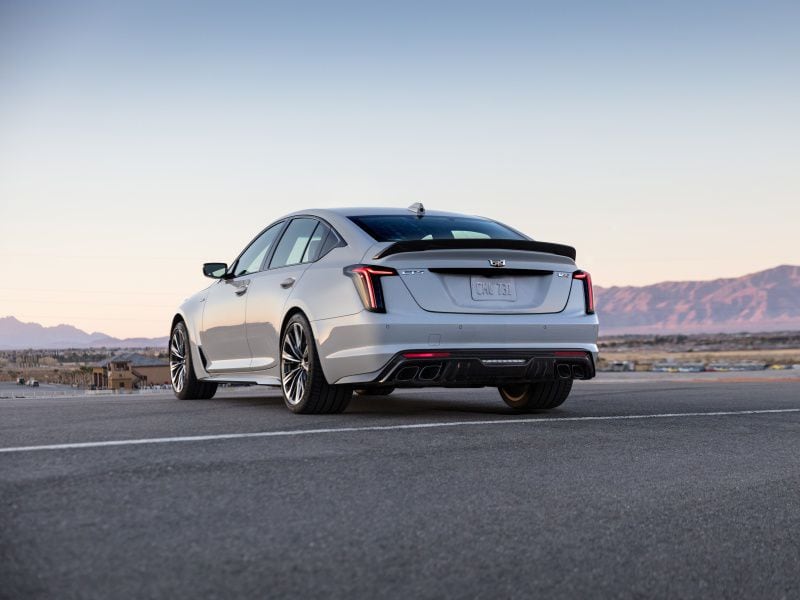 Photo by Cadillac