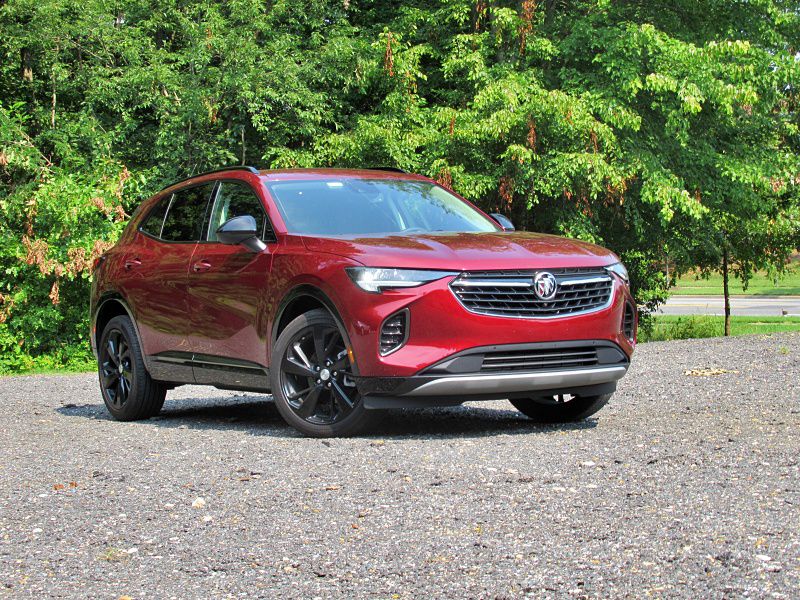 2021 Buick Envision Essence ・ Photo by Brady Holt
Compact crossover SUVs are the hottest segment in America. Folks love the way they blend comfort, functionality, ease of use, and relative value. But while many compact crossovers are increasingly fancy, they often lack the style, interior details, and powerful engines of luxury-brand models. 
Of course, a luxury SUV is expensive — even a compact one. So today, we're looking at two relatively affordable compact luxury crossovers: the 2022 Buick Envision and the 2021 Lincoln Corsair. By avoiding the big-name luxury brands like BMW, Mercedes-Benz, or Lexus, the Envision and Corsair let you get an upscale experience for well below $40,000. We tested both SUVs so we can describe their pros and cons, declare a winner in each of eight categories, and share our overall top pick between the two.
Pricing and Features
The 2021 Lincoln Corsair is priced from $36,105, which undercuts most competing compact luxury crossovers by several thousand dollars. What's more, its standard features include 10-way power-adjustable front seats with memory, leatherette upholstery, a power liftgate, and a long list of safety features. You can also get it with high-end add-ons that include the ability to use your smartphone as a key, a 14-speaker Revel stereo, and 24-way adjustable front seats. Just keep an eye on the price tag; our heavily loaded test vehicle swelled to $57,680. 
The 2022 Buick Envision is one of the few compact luxury crossovers that costs less than the Corsair: Its base price is just $31,500. And while that buys only partial leatherette, manual climate control, and a manual liftgate, they're either available as options or included on the mid-level Essence model like our test vehicle. It starts at $35,600 despite including genuine leather and a big 10.2-inch touchscreen. Our test vehicle came to $41,315 with options that include a navigation system and a sport-themed appearance package. You can't get as many features on the Buick as on the Lincoln, but the Envision tends to deliver more for the money. 
Buick Envision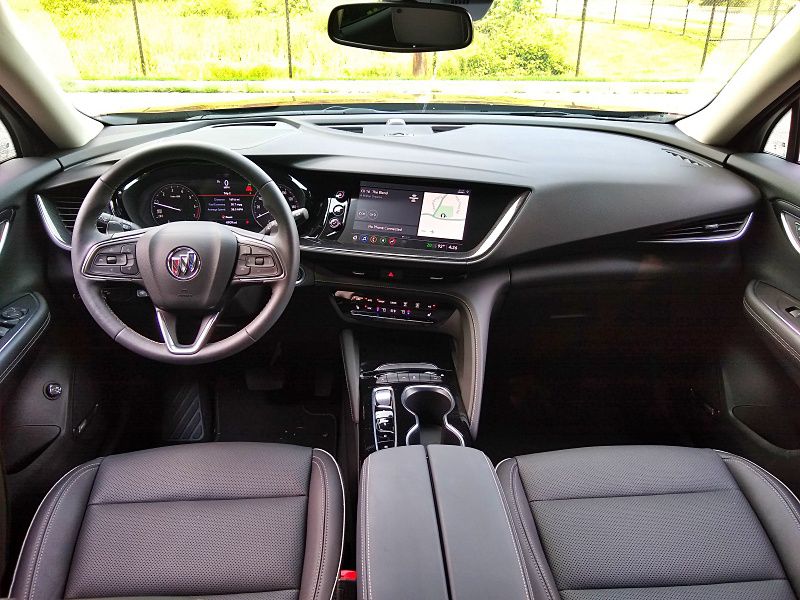 Photo by Brady Holt
Exterior Design
The Buick Envision was completely redesigned for the 2021 model year, and the latest generation abandons its predecessor's tall, narrow proportions. Thanks to real changes to the SUV's dimensions and to a more artfully sculpted body, the new Envision has a sportier design than before. The slim, horizontal headlights slide into a slimmer grille, and the front end is squared off rather than curving gently all the way from the windshield down to the bumper. 
The Lincoln Corsair, which was all-new for 2020, has a less sporty aesthetic than the Envision. It's actually wider and lower than the Buick, but it doesn't look like it. This is a gentle, genteel design overall, though its upright front end and high-mounted headlights remain quietly assertive. A gracefully tapering windowline, forward-leaning rear windshield, and blacked-out roof pillars keep the Corsair from looking boxy, and its slim taillight bar pays homage to past Lincoln designs. We'll let you choose between the sportier Buick and more elegant Lincoln. 
Tie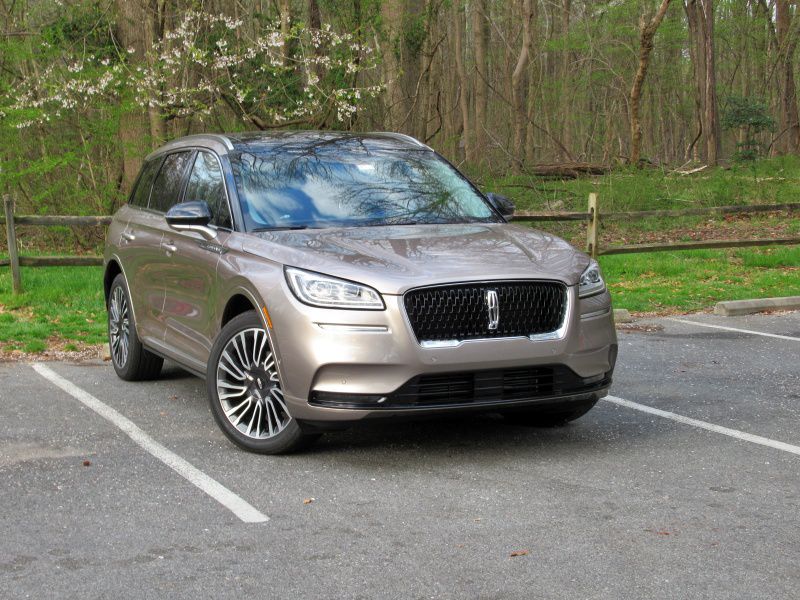 Photo by Brady Holt
Interior Design
The Corsair shares its interior design theme with other modern Lincolns. Straight lines and solid, blocky elements recall the more board-like dashboards of decades past. But it's also wholly contemporary, with an infotainment touchscreen perching near the middle of the dash, and with a well-organized panel of physical buttons below it. Most materials are luxury-grade, but we found some disappointingly basic plastics on the interior door panels. 
Still, the Corsair delivers more of a luxury experience than the Envision. The Buick's interior looks and feels fancier than most mainstream-brand crossovers — but not by as much. We were especially bothered by the cheap-feeling turn-signal stalk and sun visors, but there's plenty of low-grade plastic about. Some materials are definitely rich, but it's a mix. The design is less in-your-face-fancy than the Corsair's, which some people will actually prefer. And the 10.2-inch touchscreen, included on all but the base Envision, is bigger than the Lincoln's 8-inch unit. But overall, the Corsair looks and feels more like a luxury SUV to us. 
Lincoln Corsair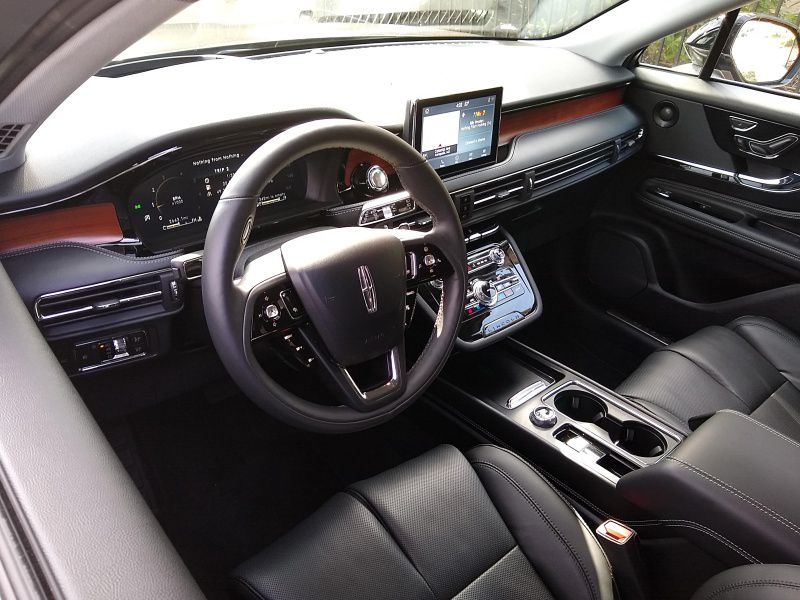 Photo by Brady Holt
Interior Comfort
Both of these small SUVs can easily fit four adults and squeeze in a fifth. And both have roomier cabins than some pricier competitors. But we're going to give the comfort edge to the Corsair. 
First of all, if you make full use of its fore-aft-adjustable rear seat, the Corsair has more rear legroom than the Envision. Secondly, while the Envision tops out at eight-way-adjustable front seats, you can option up the Corsair with 24-way "Perfect Position" seats. While these take some finagling to get quite right, you can then lock your "perfect position" into the SUV's memory setting. If you'd skip the Perfect Position option and don't need maximum rear legroom, these two SUVs are equally comfortable. And only the Buick is available with massaging front seats. Still, the Corsair's advantages impress us more. 
Lincoln Corsair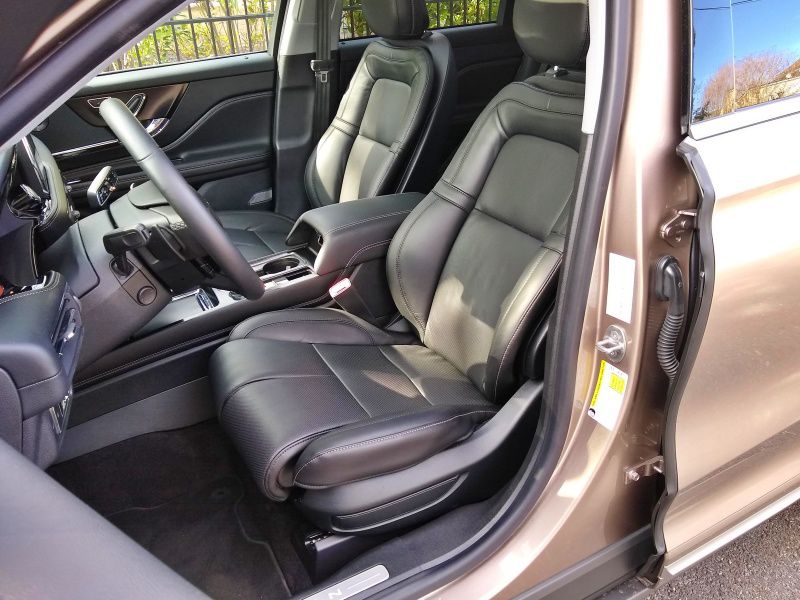 Photo by Brady Holt
Cargo and Utility
The Corsair edges out the Envision when it comes to cargo, too. The Lincoln has 27.6 cubic feet of space behind its rear seat and 57.6 cubic feet with the rear seat folded down. The Buick isn't far behind with 25.2 cubic feet behind the rear seat and 52.7 cubic feet with the rear seat folded, but its slow-moving power liftgate proved annoying. 
There's a bigger difference when it comes to towing. Every Envision comes with a 228-horsepower 2.0-liter four-cylinder engine, and it's rated to tow 1,500 pounds. The Corsair comes with a choice of engines that each have more power and a higher towing capacity. The base engine is a 250-horsepower 2.0-liter four-cylinder; an available upgrade is a 295-horsepower 2.3-liter; and a new 266-horsepower plug-in hybrid powertrain is also available. All three Corsair engines double the Envision's towing capacity at 3,000 pounds with optional factory-installed equipment (or 2,000 pounds with an aftermarket or dealer-installed hitch). 
Lincoln Corsair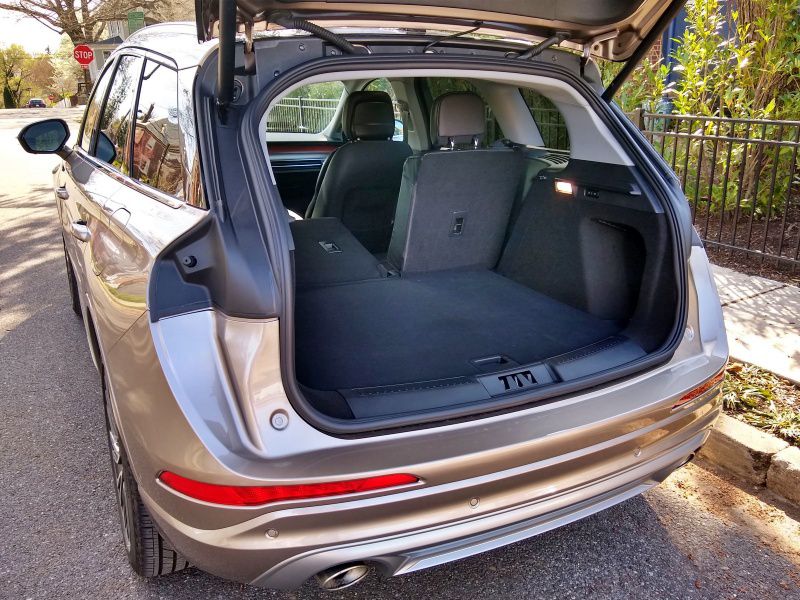 Photo by Brady Holt
Driving Impressions
Those horsepower figures gave a preview to this category. The Envision isn't a slow SUV, and it's a big improvement over the previous generation's base 197-horsepower engine, but the Corsair is significantly quicker.
The new Envision has a more tautly tuned suspension than its soft, bobbly predecessor. It's not sporty, but if you're used to something like a Toyota RAV4, you'll appreciate how the drive is more composed and quiet. We like the Corsair even more, though, since it's similarly smooth, but it also brings sharper steering responses and more power. It's not a performance machine, but it comes closer than the Buick. Whichever of these SUVs you buy, we recommend skipping the largest possible wheels; they look flashier but make the vehicles ride more stiffly. 
Lincoln Corsair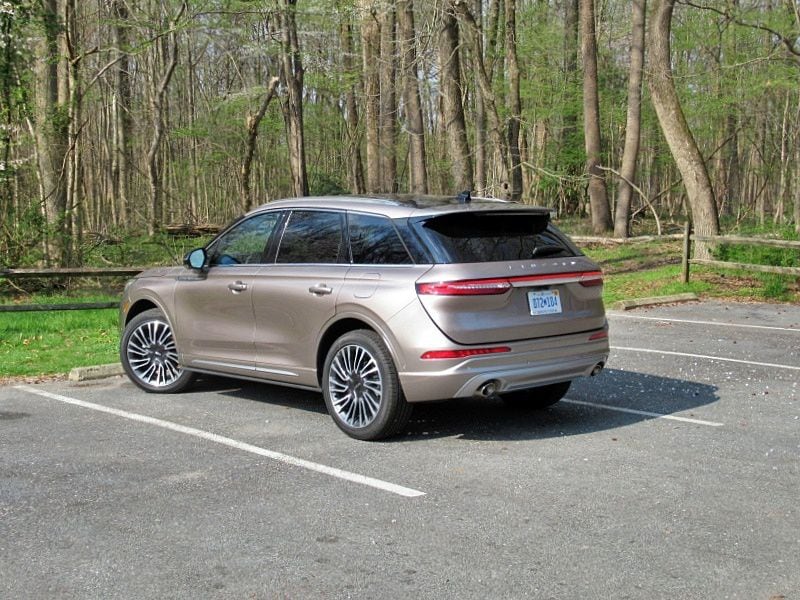 Photo by Brady Holt
Fuel Economy
The Envision's lower-power engine does have one advantage over the Corsair: gas mileage. It scores an EPA-estimated 24 mpg in the city, 31 mpg on the highway, and 26 mpg combined with front-wheel drive and 22 mpg city, 29 mpg highway, and 25 mpg combined with all-wheel drive. We averaged an excellent 29 mpg in our front-drive test vehicle. 
The base Corsair with the 2.0-liter engine and front-wheel drive gets an EPA-estimated 22 mpg in the city, 29 mpg on the highway, and 25 mpg overall. Choosing all-wheel drive or the AWD-only 2.3-liter engine cost only about 1 mpg. We averaged 25 mpg in our 2.3-liter test vehicle. The plug-in hybrid can travel an estimated 28 miles per electric charge and average 33 mpg afterward, but for the heart of the lineup, the Buick uses less gas. Both SUVs can use regular-grade gasoline. 
Buick Envision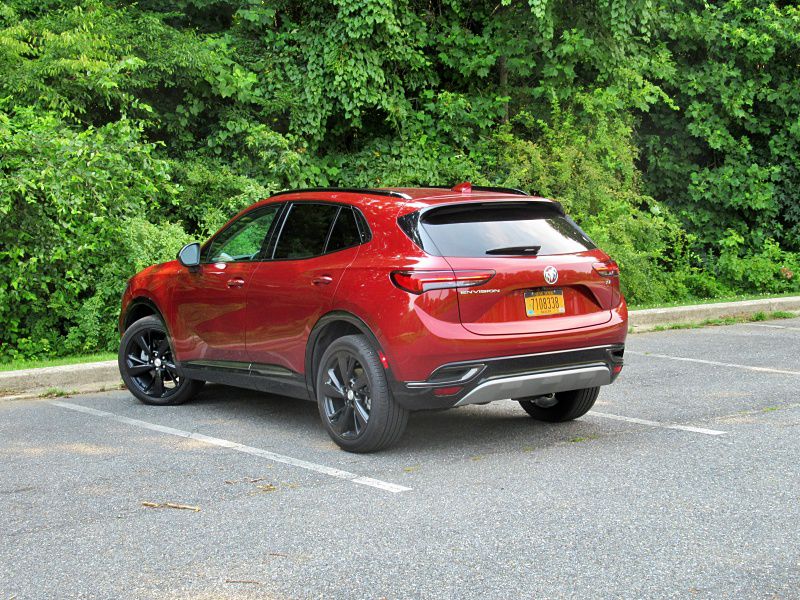 Photo by Brady Holt
Safety
Both the Corsair and the Envision are highly safe vehicles with lots of collision-avoidance technology and excellent safety ratings. Still, the Corsair does even better.
Both SUVs come standard with forward automatic emergency braking, a lane-departure warning with lane-keeping assistance, and blind-spot monitoring. And the Envision includes General Motors' exclusive Safety Alert Seat, which vibrates the driver's seat as an alternative to a chorus of warning beeps. However, only the Lincoln offers rear automatic braking or can automatically swerve to help avoid a collision. And while they both have a rear-occupant reminder, the Lincoln's is more prominent without being annoying about it. The Corsair earned a Top Safety Pick designation from the Insurance Institute for Highway Safety and earned five out of five stars in National Highway Traffic Safety Administration crash testing. The Envision matches that NHTSA score but hasn't been tested by the IIHS. 
Lincoln Corsair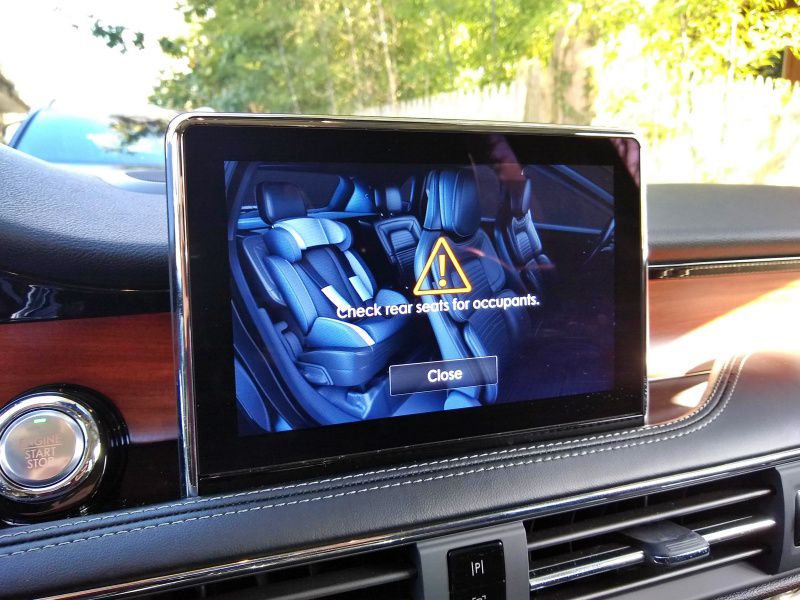 Photo by Brady Holt
Final Thoughts
Whether you're interested in speed, comfort, interior luxury, or safety, the 2021 Lincoln Corsair comes out ahead of the 2022 Buick Envision. The Corsair is genteel without being deathly dull, and it delivers the flavor of a big Lincoln without all the bulk. By contrast, the Envision is a pleasant, capable, and attractive vehicle that simply doesn't come across as particularly luxurious, fun, or overall "special" to us. 
Of course, for many buyers, that's going to be just fine. The Envision isn't priced far from well-equipped mainstream-brand crossovers, and it's certainly fancier than they are, with more upscale proportions along with more power and a more richly finished interior than most of them. It comfortably undercuts the Corsair's price, too, and it burns less gasoline. We'd definitely give the Buick a try before spending extra for the Lincoln. But when we did that test, our pick was the Corsair. 
Lincoln Corsair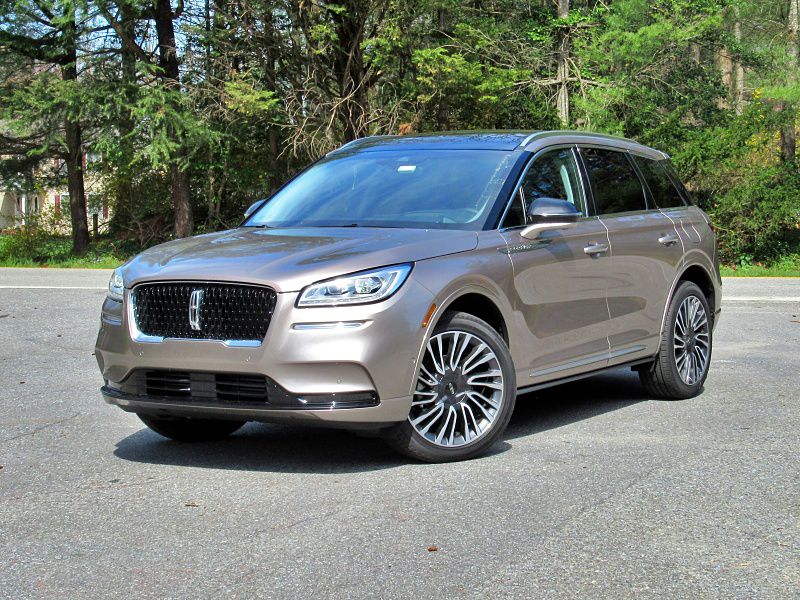 Photo by Brady Holt