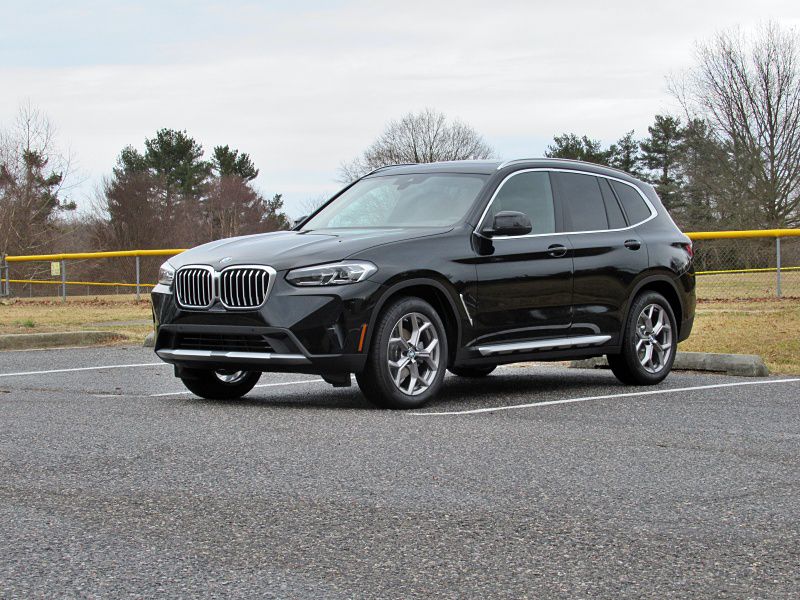 2022 BMW X3 ・ Photo by Brady Holt
BMW is a comfortably established luxury marque. It has a history of technological innovation and engineering prowess. Its vehicles typically drive with steady composure and have solidly built interiors. And a reputation for excellence means BMW gets to charge more for its cars than some of its competitors do.
That's the case in the compact luxury crossover segment, where the 2022 BMW X3 is the brand's best-seller. It costs nearly $4,000 more than the 2022 Acura RDX, and the gap widens if you consider the Acura's additional standard features. Acura is Honda's luxury division, and it doesn't command the same prestige as BMW. That means if you're not dedicated to the BMW brand, the RDX is a tempting alternative to the X3. For this review, we tested both of these small luxury SUVs to see what the BMW buys you for its extra money. Over the following pages, we'll compare them in each of eight categories, then name an overall winner. Keep reading to see which one we chose and which one sounds like the better fit for you.
Pricing and Features
The 2022 Acura RDX is priced from $39,300, which is pretty good for this segment. Even more impressive is all the standard equipment at that price, including a panoramic moonroof and heated, 12-way power-adjustable front seats. For $41,950, you get the Technology Package with genuine leather, GPS navigation, a 12-speaker ELS stereo, and a wireless smartphone charger. 
By the time you've reached the RDX Technology, you have all the main features from the base 2022 BMW X3 plus much more, and it starts at $43,700. BMW does have navigation, a 12-speaker sound system, and automatic windshield wipers as nice standard perks, but you have to pay up to get genuine leather, a moonroof, or even heated seats. Adding them to the X3 brings you to $48,295, a $6,000-plus bump from the comparable Acura. Both models charge about $2,000 extra for all-wheel drive. X3 prices can also get crazy if you choose one of its six-cylinder engines, but the RDX doesn't offer an equivalent performance model. The Acura's value win is decisive, and it comes from comparably equipped vehicles. 
Acura RDX
Photo by Brady Holt
Exterior Design
BMW is known for its sporty performance. Perhaps it's so confident in its reputation, the company didn't feel the need to advertise that with the X3's styling. It's a conservative design with rounded-off lights, simple lines, and a fairly upright profile. Available performance packages let you black out the X3's chrome accents and get bigger, sportier-looking air intakes. You can also get its X4 sibling, which trades some cargo space for a racier sloping roofline than the X3. The current X3 generation debuted in 2018, and BMW tweaked the styling this year to connect the two pieces of BMW's signature "kidney" grille, reshape the front and rear bumpers, and add flashier lighting to the taillamps. 
The RDX also got a subtle restyle this year, focusing on the front and rear bumpers and some of the wheel designs. Update or not, the RDX has looked more extroverted than the X3 since its 2019 debut. You'll see that in its big stretched-pentagon grille, curved windowline, creased bodywork, and sculpted headlights and taillights. It's nothing too out-there, especially if you're familiar with recent Acuras. But to us, it's sportier-looking than the X3. You'll choose your preferred look. 
Tie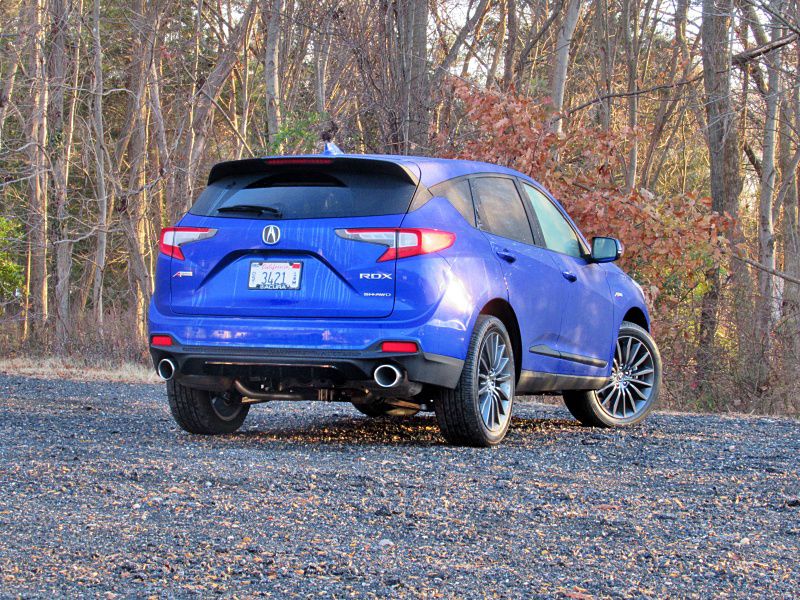 Photo by Brady Holt
Interior Design
Both the RDX and the X3 come standard with 10.2-inch infotainment screens, and both have appropriately premium interior materials. But there are otherwise some notable differences between these two luxury crossovers' dashboards. 
Like its exterior, the X3's interior displays little flash and dazzle. We liked our test vehicle's open-pore wood trim, but the dashboard otherwise takes a cleanly minimalist approach with simple shapes and lines. By contrast, Acura provides a complex design with lots of shapes and creases. It focuses around a big silver dial for the drive-mode selector and, just below it, the push-button gear selector. The differences go beyond aesthetic preferences. While the X3's infotainment system is refreshingly simple to use, the RDX's is needlessly complex. BMW lets you choose between using touchscreen controls or buttons and dials on the center console, but Acura only provides a distracting console-mounted touchpad. Also, while our two tested BMWs had room for improvement, we found them both richer-feeling than the RDX. We also liked how the X3's digital gauge cluster can include a GPS map display. The Acura's cabin is edgier, and it packs in more storage space, but the BMW is our pick overall. 
BMW X3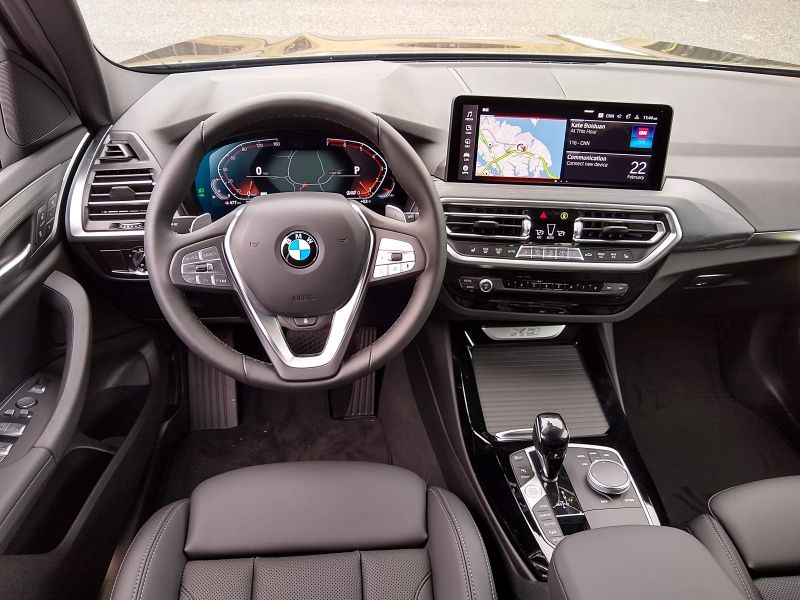 Photo by Brady Holt
Passenger Accommodations
Both the RDX and the X3 offer well-shaped seats and decently spacious cabins. We'll give the edge to the Acura for a series of minor RDX victories. 
First, Acura provides 12-way adjustability for both front seats as standard equipment and 16-way selections on upper-trim models like our A-Spec Advance test vehicle. BMW opens with 10-way adjustability. Secondly, while both SUVs can fit adults comfortably in the front and rear seats, the Acura provides a bit of extra rear legroom. Lastly, we didn't like the flimsy cupholders in the X3's fold-down center armrest. None of these factors is much reason to buy one SUV over the other, but where these differences exist, they're in the Acura's favor. They're partly offset by one BMW advantage: better visibility out of the X3's larger rear windows.  
Acura RDX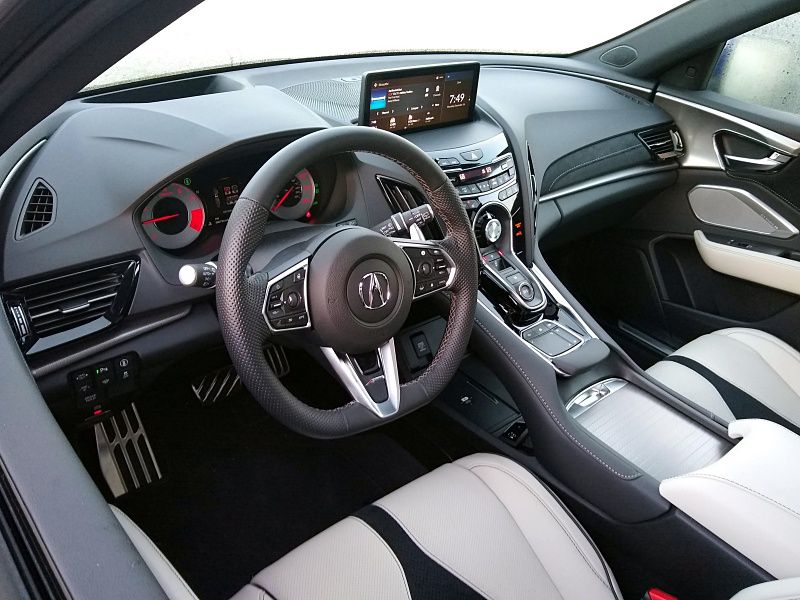 Photo by Brady Holt
Cargo and Utility
The RDX may have a bit more passenger space than the X3, but the BMW edges it out for cargo-hauling. 
The Acura has a class-competitive cargo capacity of 29.5 cubic feet behind the rear seat and 58.9 cubic feet with the rear seat folded down. But it's rated to tow a mere 1,500 pounds, unimpressive for any SUV and far behind the X3's outstanding 4,400-pound limit. Inside the cabin, the X3 has a smidge less cargo volume behind the rear seat (28.7 cubic feet) but more total space (62.7 cubic feet). Both SUVs come standard with a power liftgate, and both let you upgrade to hands-free operation. 
BMW X3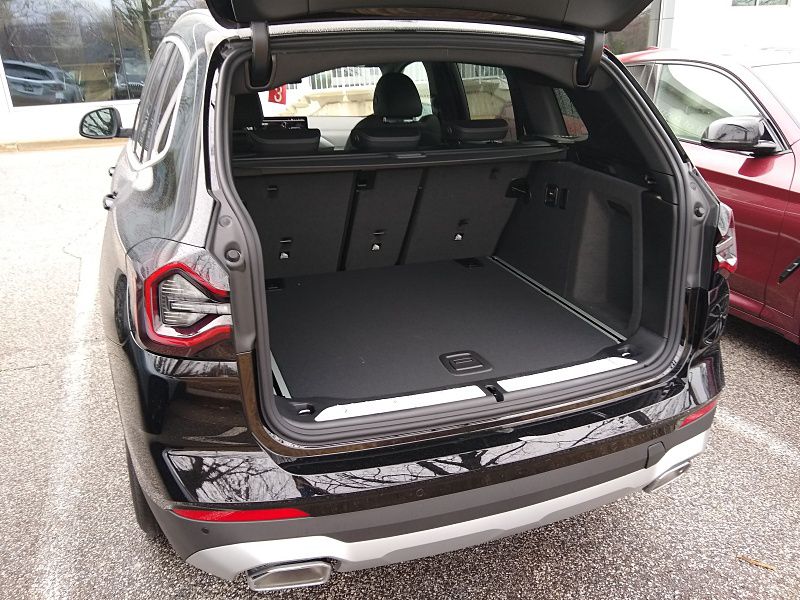 Photo by Brady Holt
Driving Impressions
With its aggressive styling and standard 272-horsepower turbocharged four-cylinder engine, the RDX sets itself up to be a performance leader. But whether you're looking for comfort or sport, we pick the X3. 
The X3 drives with unflappable composure and fluidity. Its ride is firm but comfortable, its handling is adroit, and its steering is responsive (if less precise than we'd expect from a BMW). We also loved its super-customizable driving modes. And while the Acura outguns the BMW's standard 248-hp turbo four on paper, we preferred the extra-smooth X3 30i's driving behavior. We've seen the BMW do better in instrumented testing, too. Performance-minded buyers will also love the X3 M40i, which brings a 382-horsepower six-cylinder engine; this engine delivers more thrills and an invigorating engine note, and it comes paired with a firmer suspension. Not enough? You can go all the way to the 503-hp X3 M. The RDX is nothing bad to drive, to be clear. It's comfortable, quiet, and appropriately peppy and agile for a luxury SUV. The Acura just doesn't deliver great thrills, even in the tested A Spec performance-themed model. And even if you don't need thrills, we'd still pick the extra-steady BMW. 
BMW X3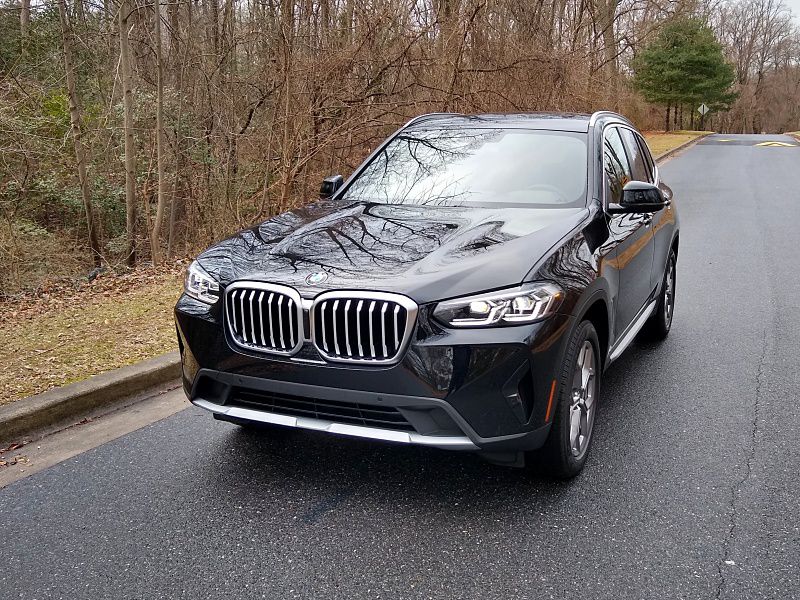 Photo by Brady Holt
Fuel Economy
Skip the 17-mpg M model and the X3 gets great gas mileage for its class. The EPA puts it at 23 mpg in the city, 29 mpg on the highway, and 25 mpg combined with rear-wheel drive and 1 mpg less with all-wheel drive. Even more impressive, the AWD-only M40i still manages 21 mpg city, 26 mpg highway, and 23 mpg combined. We didn't drive our tested X3 30i long enough to get a fair measure of its gas mileage, but we saw an incredible 27 mpg in a weeklong test of an X4 M40i (a mechanical twin to the X3 with a reshaped roofline). 
The RDX lags the X3 slightly in EPA testing. It scores 22 mpg city, 28 mpg highway, and 24 mpg combined in its most efficient form: front-wheel drive and no A-Spec package. Either choosing all-wheel drive or the A-Spec costs about 1 mpg. Our AWD A-Spec test vehicle has the lowest resulting combination: 21 mpg city, 26 mpg highway, and 23 mpg combined. We matched that 23 mpg figure in a weeklong test. While our experience lacks scientific precision, that's a stark difference from the mileage we recorded in our far more powerful BMW. 
BMW X3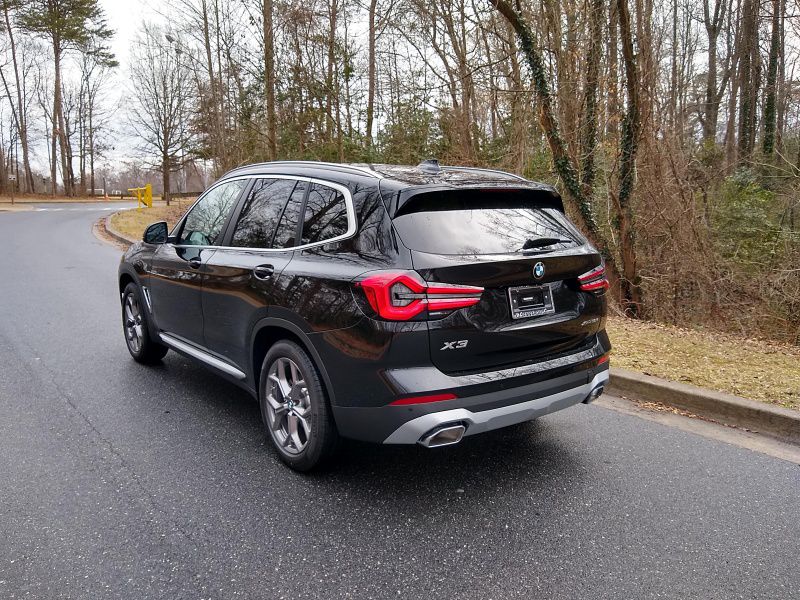 Photo by Brady Holt
Safety
The 2022 Acura RDX is one of just five small luxury SUVs to currently achieve the highest designation of Top Safety Pick+ from the Insurance Institute for Highway Safety. That's in recognition of excellent crash protection and collision-avoidance measures, like its automatic emergency braking system and its headlight illumination. The IIHS hasn't fully tested the 2022 BMW X3; it could match the Acura's performance, but that's not proven yet. 
Still, the X3 battles this category to an overall tie. The biggest factor is the National Highway Traffic Safety Administration's separate crash tests: Both SUVs score five out of five stars overall, but the Acura's frontal-impact protection rates only four stars to the BMW's five. What's more, the X3 neutralizes one of the RDX's safety strengths: an unusually comprehensive suite of advanced driver aids. Both models include the following standard equipment: automatic emergency braking with pedestrian detection, a lane-departure warning with lane-keeping assistance, blind-spot monitoring with a rear cross-traffic alert, and adaptive cruise control. If BMW can match the Acura's IIHS score, it would win this category. For now, it's a tie. 
Tie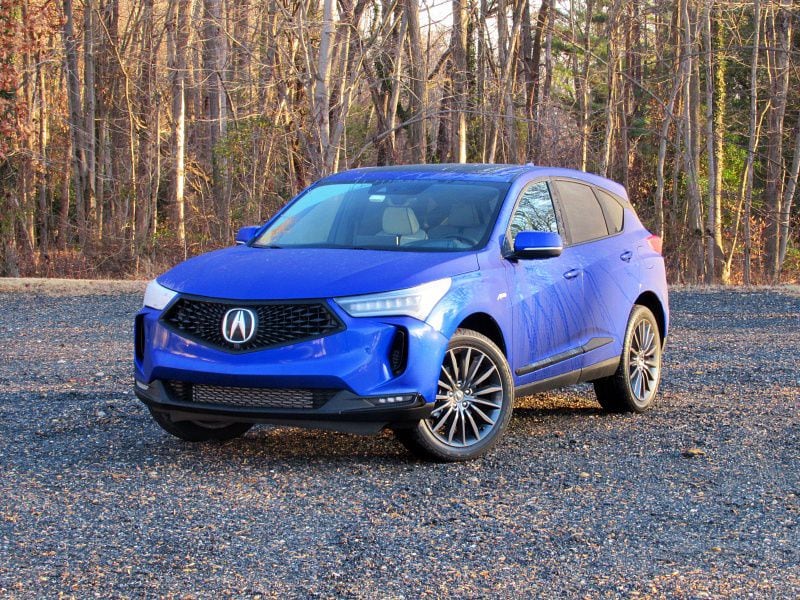 Photo by Brady Holt
Final Thoughts
Considering its relative affordability, the RDX is a solid luxury SUV. It's roomy, comfortable, and well-finished. It looks sharp, drives well, and gets good gas mileage. But we'd still pick the X3. 
The X3 gets just about everything right. Whether you're cruising down the highway, blasting down a twisty road, operating the dashboard controls, sitting in the backseat, or pulling a trailer, it handles the task with quiet aplomb. And if you want more excitement, the six-cylinder versions vary from thrilling to scary. Not everyone will pick the BMW's quiet design, and considering the RDX's thorough competence, some will find it impossible to justify the X3's price premium. But to us, the X3 costs more because it's worth more. It's the luxury SUV we'd rather have. 
BMW X3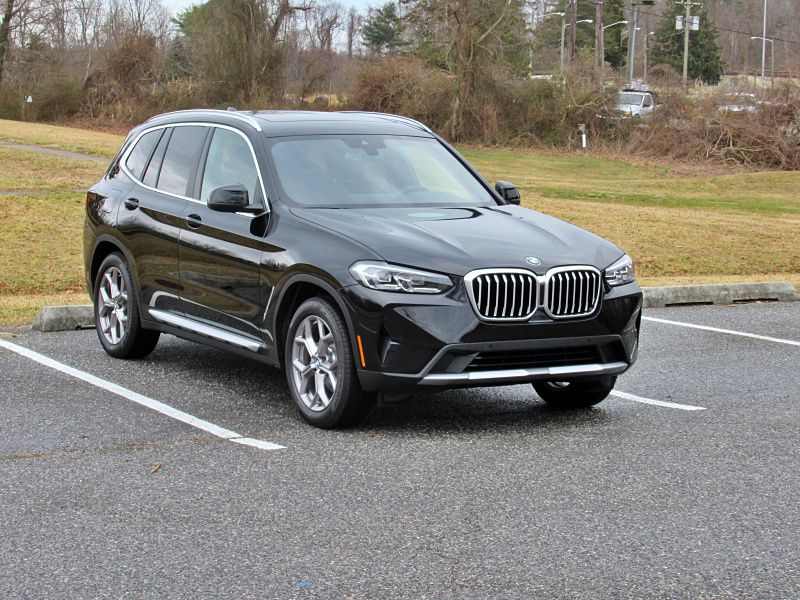 Photo by Brady Holt