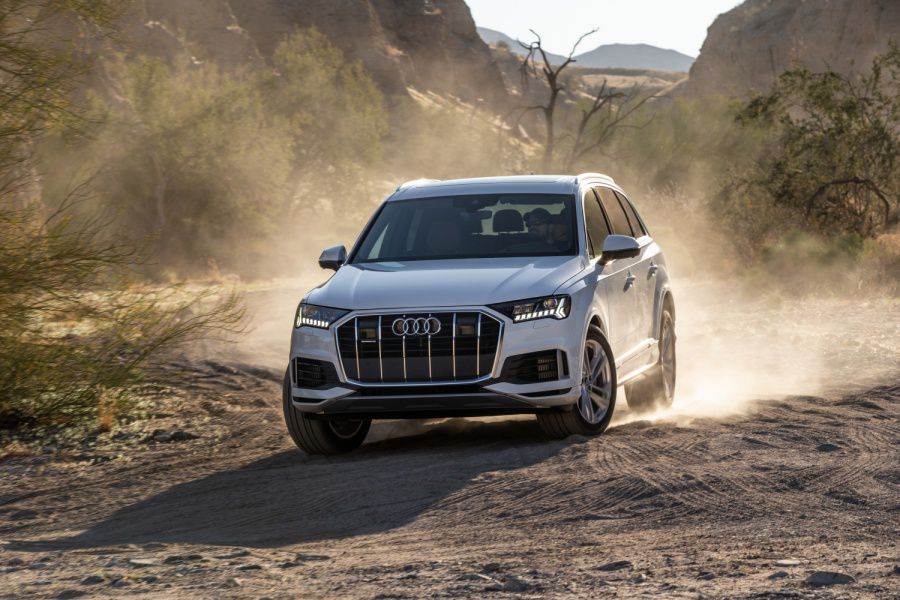 2020 Audi Q7 ・ Photo by Audi
Luxury SUVs are among the most popular vehicles on the roads today. There are so many on sale that it can be tough to pick one, let alone decide which one carries the features and performance you need. Audi and Volvo are two heavy-hitters in the segment, both offering several upscale crossovers and SUVs. The Audi Q7 and Volvo XC90 are the family haulers of the bunch, and both have plenty to get excited about.
We compare these two top luxury SUVs to help you make an informed choice. Though they compete in the same segment, Audi and Volvo take different approaches to luxury, performance, and comfort, so read on to find out all about them.
Pricing
Premium SUVs are pricey, but the Volvo undercuts Audi's Q7 by several thousand dollars. The base Volvo XC90 T5 starts at $49,000, while the base Q7 has a starting price of $54,950. The good news is that both SUVs offer quite a bit for the money.
The Audi Q7 comes standard with a 12.3-inch configurable digital gauge cluster, a dual touchscreen setup with a 10.1-inch upper display, and an 8.6-inch lower display, 10 speakers, Apple CarPlay and Android Auto, a Wi-Fi hotspot, USB inputs, navigation, SiriusXM radio, HD radio, and more.
The Volvo XC90 offers standard equipment that includes a 9-inch touchscreen, 10 speakers, wireless charging, a Wi-Fi hotspot, Bluetooth, SiriusXM radio, HD radio, navigation, and USB-C inputs.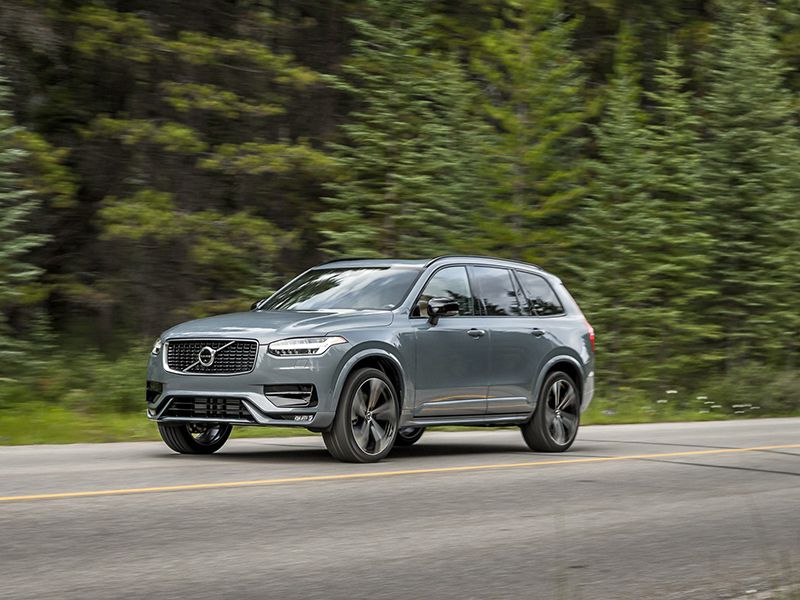 Photo by Volvo
Features
The Q7 and XC90 both leave the factory with more standard gear in 2021 than they did the year before. The 2021 Audi Q7 gets eight-way power-adjustable front seats, leather upholstery, heated front seats, a power-folding third-row bench, tri-zone automatic climate controls, a panoramic sunroof, front/rear parking sensors, lane departure warnings, blind spot monitoring, and rear cross-traffic alerts.
The XC90 comes standard with synthetic leather upholstery, power front seats, quad-zone climate controls, a panoramic sunroof, a hands-free power liftgate, front/rear parking sensors, forward collision warnings, automatic emergency braking, adaptive cruise control, blind spot monitoring, rear cross-traffic alerts, pedestrian and cyclist detection, road sign recognition, adaptive LED headlights, and a driver attention monitor.
: Volvo XC90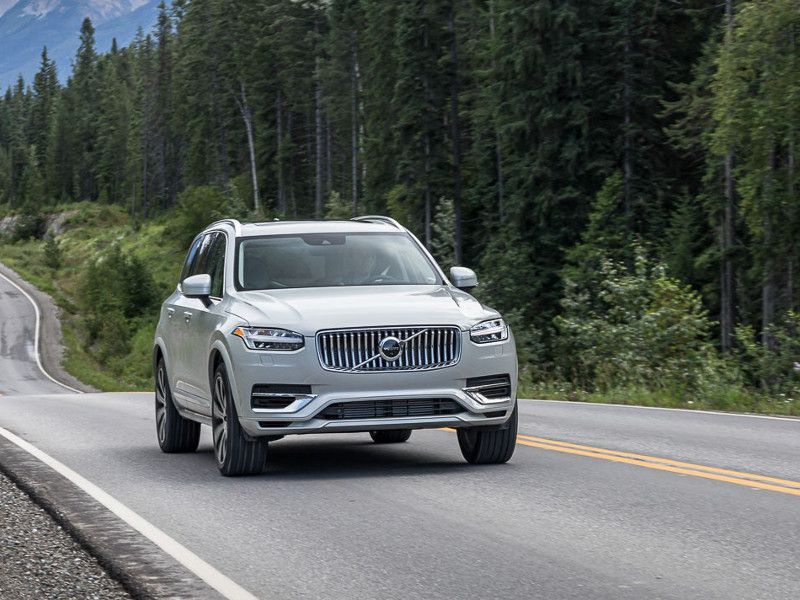 Photo by Volvo
Exterior Design
Audi has sharpened its designs in recent years, leaving behind the frumpy, rounded look from years past. For the big Q7, that means a stronger appearance with a wide stance and long lines. The 19-inch wheels fill the corners nicely, but larger wheels in higher trim levels look even better and more aggressive. Audi's signature LED lights look great up front, and the rear LED taillights work well with the vehicle's shape.
The XC90 may be one of the most attractive vehicles of any type on the road today. Its sleek shape helps minimize its size and the overall proportions are gorgeous. The concave grille gives off slight Maserati vibes, and the "Thor's Hammer" signature LED lights truly stand out. Around back, the XC90 features Volvo's trademark taillight shape and upscale silver trim on the bumper. 
: Volvo XC90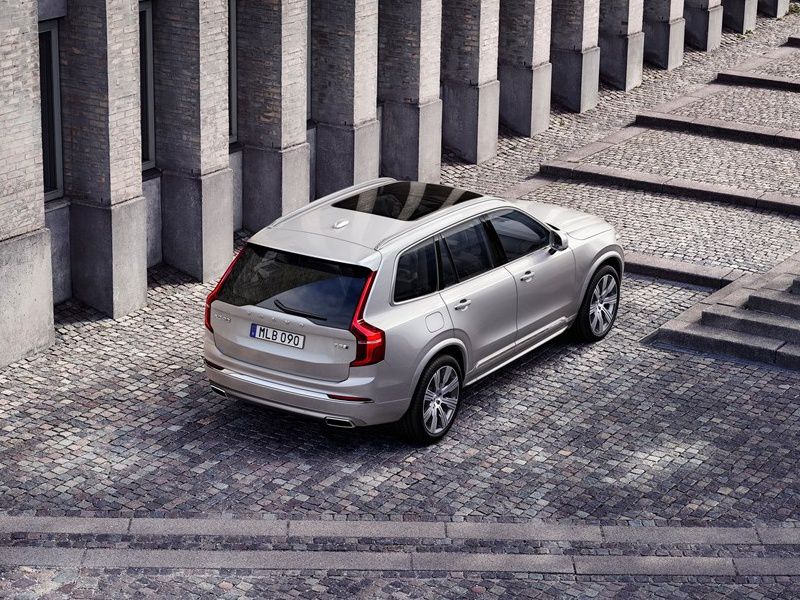 Photo by Volvo
Interior Design
Premium automakers have to walk the line between giving buyers the features they want and expect and going overboard on screens, displays, and tech. Audi, it would seem, teeters on the edge of "too much," but the brand's approach to screens and cabin layout works. Two displays, a steering wheel full of buttons, and a digital gauge cluster may feel like overkill to some, but the overall look here is clean and intuitive. True, using a touchscreen for all vehicle controls isn't necessarily the easiest way to approach things, but here it (mostly) works.
The XC90's cabin, just like its exterior, is beautiful. Even in the lowest trim level, the synthetic leather seats look amazing, and the cabin is sparsely populated but upscale. The front seats get a great view of Volvo's attention to detail, which means a neatly stitched dash, an easily readable digital gauge cluster, nice metal trim, and intuitive controls. The standard panoramic sunroof opens the cabin to great sunlight, and even darker colored interiors feel spacious and welcoming.
: Tie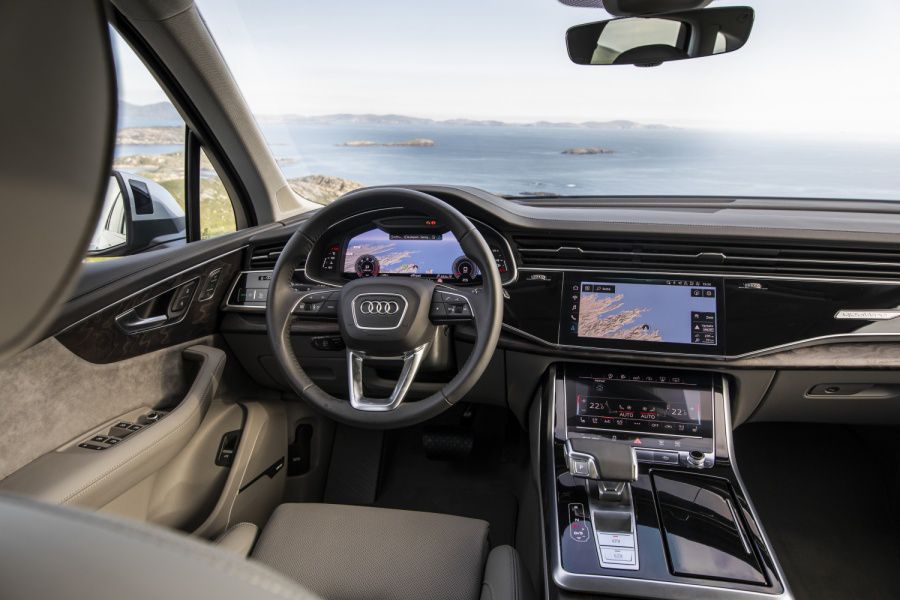 Photo by Audi
Interior Comfort
The Audi Q7 is plush and comfy for up to seven people across its three rows of seating. Standard leather seating and heated front seats make for an uptown experience, and there's plenty of room for front-seat passengers. Folks in the second row will find plenty of space, but the Q7's second-row bench is too flat and not padded well enough for longer trips. The third-row seats are manageable for adults on short trips, but kids will be much happier in the "way-back." 
The XC90's front buckets are nothing short of heavenly, and offer great support in nearly all areas. Top trim levels get heating, ventilation, and even an optional massage feature that helps pass long road trips with ease. Second-row passengers will find plenty of space and the bench seats are comfortable enough. That said, most adults should be comfier in the optional second-row bucket seats, but there are no armrests on the interior side of the seats – a big miss. Third-row passengers will find a bench that sits low to the floor with little in the way of support. Once back there, the ride is acceptable, but climbing over the seats is a real pain. 
: Tie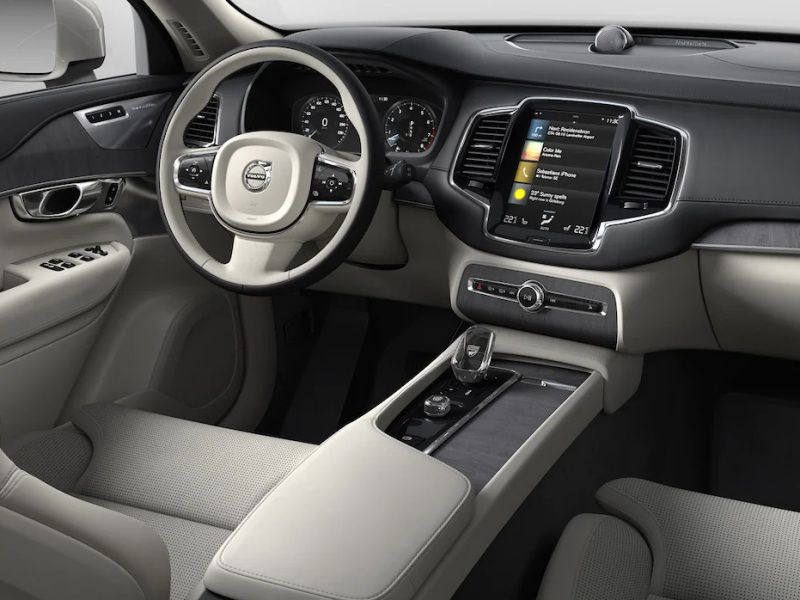 Photo by Volvo
Ride and Handling
The Audi Q7 rides and drives with surprising agility for its size. Its suspension is nicely tuned for its size and is capable of absorbing all but the worst road imperfections. Buyers wanting a cushier ride can opt for the available air suspension system. The Q7 excels on the handling side as well, holding its own when the roads get twisty. Standard all-wheel drive keeps traction in check and allows the Q7 to tackle serious winter weather with ease.
The XC90 takes a different approach to performance and prioritizes comfort over speed and agility. It's not an extremely lively SUV, but it's capable of cruising over most rough road conditions without much hassle. Models with larger wheel sizes may feel a bit choppy over broken pavement, but the ride remains composed for the most part. Body roll and movement are well controlled, but again, the XC90 is happiest leisurely putzing around town instead of trying to play the role of sports car.
: Audi Q7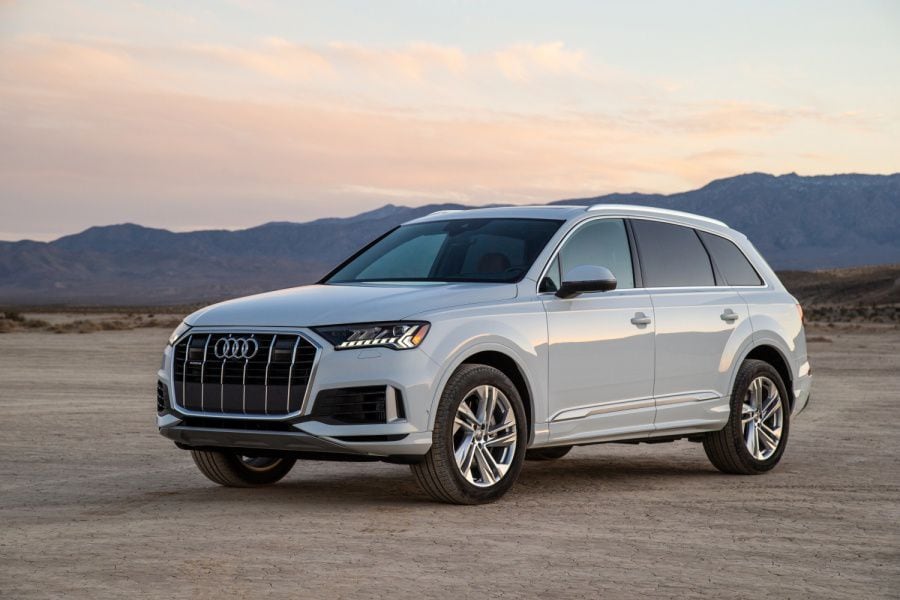 Photo by Audi
Acceleration
Nobody should be expecting to be blown away by either SUV's acceleration, but there is one model in our comparison that could raise some goosebumps. The top-level SQ7 is available with a V8 that pumps out 500 horsepower and a 0-60 time of 4.3 seconds The base Q7 can do 0-60 in around 7 seconds, and the mid-range V6 model takes around 5.7 seconds.
Of the XC90's three available powertrains, it's the hybrid T8 Recharge model that delivers the most power and quickest acceleration. The XC90 T8 can hit 60 mph from a standstill in 5.5 seconds. That's quick, but not quick enough to match or beat the Q7. With the base T5 powertrain on board, the XC90 takes almost 7 seconds to go from 0-60 mph.
: Audi Q7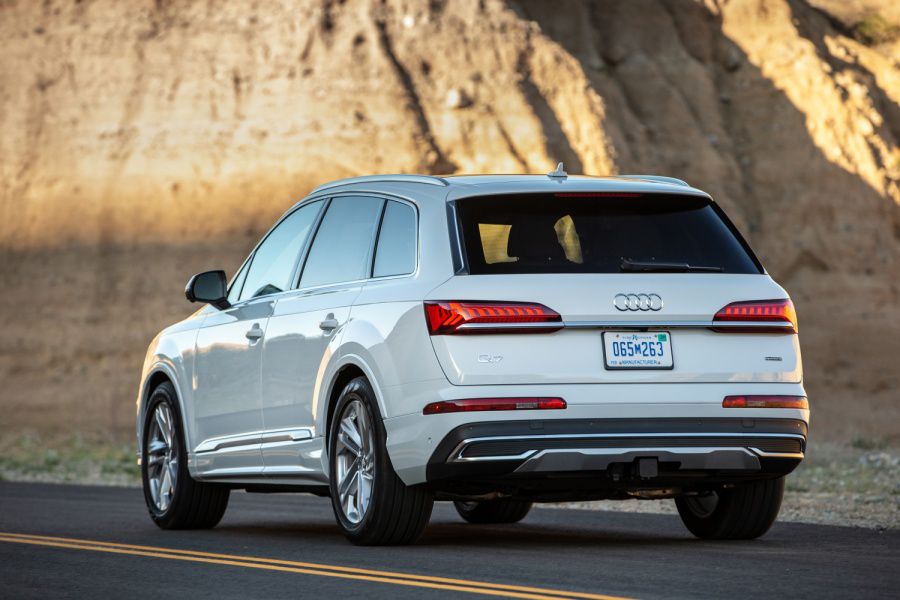 Photo by Audi
Fuel Economy
With the base turbo-four, the Q7 returns an EPA-estimated 19 mpg in the city, 23 mpg on the highway, and 21 mpg combined. The V6 engine is rated at 18 mpg in the city, 23 mpg on the highway, and 20 mpg combined. None of those numbers are noteworthy for the Q7's class.
The XC90 T5 is rated at 21 mpg city, 30 mpg highway, and 25 mpg combined with front-wheel drive and 20 mpg city, 30 mpg highway, and 25 mpg combined with AWD. The T6 returns 19 mpg in the city, 28 mpg on the highway, and 22 mpg combined. At the top end, the T8 Recharge PHEV delivers 27 mpg combined and up to 55 MPGe.
: 2021 Volvo XC90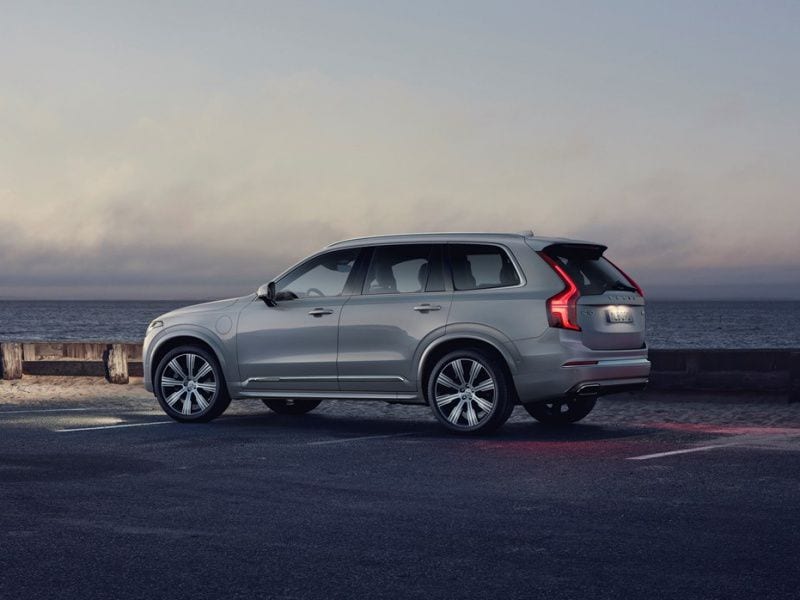 Photo by Volvo
Final Thoughts
There are more premium SUVs to choose from today than at any other point in history, so it can be tough to choose any model, let alone choose between two as good as the Q7 and XC90. There's no wrong choice between them, but drivers looking for a more athletic ride should opt for the Audi, while those looking for a more leisurely, luxurious experience should opt for the Volvo. Both SUVs offer a superb luxury experience, and both have the brand recognition that people want when spending tens of thousands on a new vehicle.
The good news is that we're talking about two solid SUVs. The bad news is that, in our comparison, the Q7 and XC90 are evenly matched, with each taking 3 categories and tying in two.
: Tie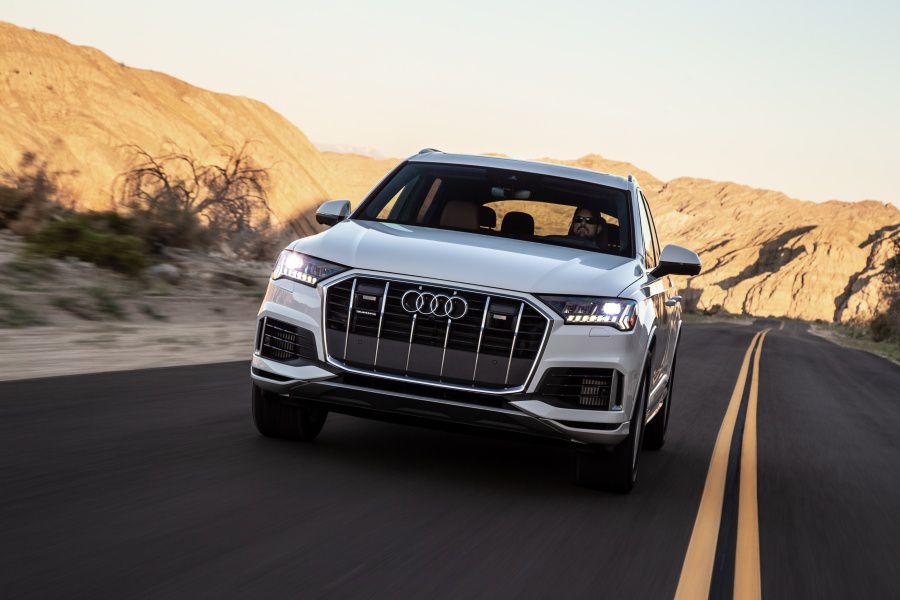 Photo by Audi