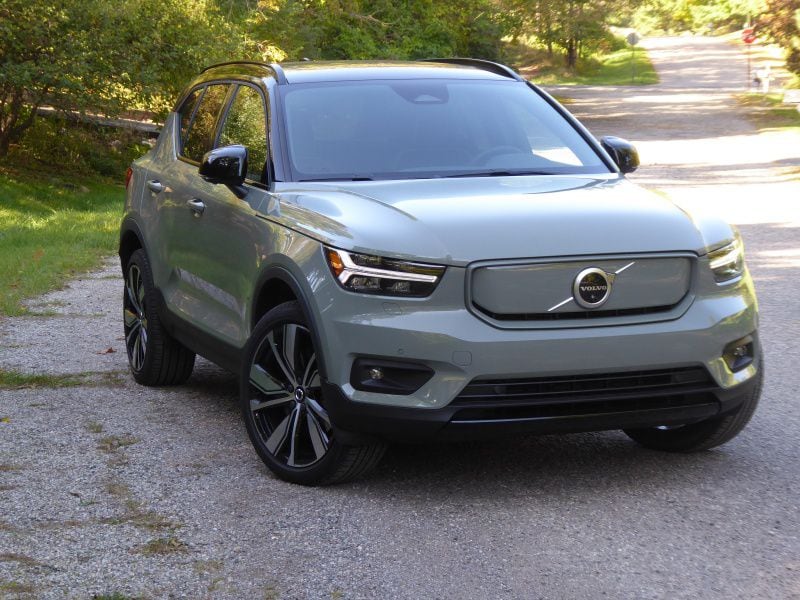 2021 Volvo XC40 Recharge ・ Photo by Ron Sessions
The Volvo brand's first all-electric vehicle is the 2021 XC40 Recharge. The XC40 Recharge joins the gasoline-powered XC40 compact crossover SUV that's been on sale for the last three years. In doing so, Volvo gets the XC40 Recharge to market more quickly and avoids the cost of developing a whole-new battery-electric platform for this vehicle. This gives Volvo a heart-of-market battery electric vehicle in the fast-growing compact crossover SUV segment at a price closer to mainstream brands and significantly below the current electric offerings from luxury brands such as Audi, Mercedes-Benz, and Jaguar. The XC40 Recharge rolls with 402 horsepower and standard all-wheel drive.
When it arrives at dealer showrooms in early 2021, the Volvo XC40 Recharge will come in one well-equipped trim level at $54,985 including the $995 destination charge. While that's a few thousand dollars dearer than Tesla's hot-selling $51,190 Model Y, it seriously undercuts the $66,995 Audi e-tron, $68,895 Mercedes-Benz EQC, and $71,000 Jaguar I-PACE. The XC40 Recharge also qualifies for a federal $7,500 tax credit (the Tesla does not), as well as buyer incentives for low- and zero-emissions vehicles in some states. That said, the XC40 Recharge is some $20,000 more expensive than the base gasoline-fueled version of the subcompact SUV.
XC40 Recharge Spotter's Guide
Although the new XC40 Recharge looks nearly identical to its gas-fired sibling, there are a few cues that help identify the electric version.
The biggest tip-offs are a closed-off grille opening up front and the lack of exhaust pipe outlets at the rear. Also, selecting any body color other than black nets the XC40 Recharge two-tone paint with a black roof and lower body accents. For emphasis, the Recharge name is sculpted in large, all-cap block letters into each of the rear roof pillars. Also, the charge port is on the driver's side rear quarter panel compared to the gas version's fuel filler door on the passenger side. Two wheel choices are available, with 19-inch alloys standard and 20-inchers an $800 option.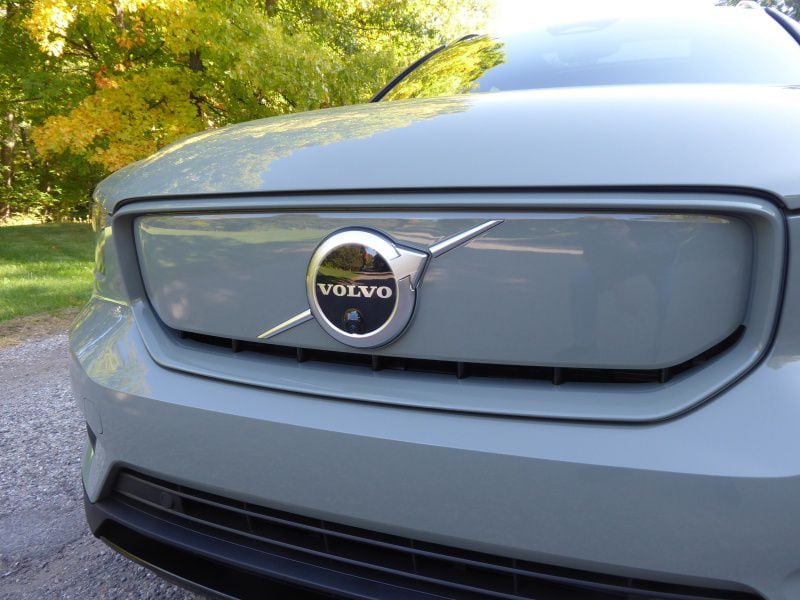 Photo by Ron Sessions
Luxurious Cabin
Unlike the Tesla Model Y's stark interior, the Recharge keeps the XC40 gas-version's well-kitted cabin. Despite the XC40's position as the smallest and least-expensive of Volvo's crossover suv lineup, the Recharge interior is constructed of good-quality materials and offers a pleasing palette of colors and finishes.
Among the standard features inside are high-quality Nappa and Nubuck buckskin-like low-gloss leather seat coverings, faux-suede door trim, power-operated heated front bucket seats, a leather-wrapped steering wheel and shifter handle, metallic trim accents for the instrument panel and doors, dual-zone automatic climate control, a 12.3-inch driver-configurable digital information display, a panoramic sunroof, and a charcoal-colored headliner. There are also four USB Type C ports for easy charging and connectivity. Options include a wireless device charger and a heated steering wheel.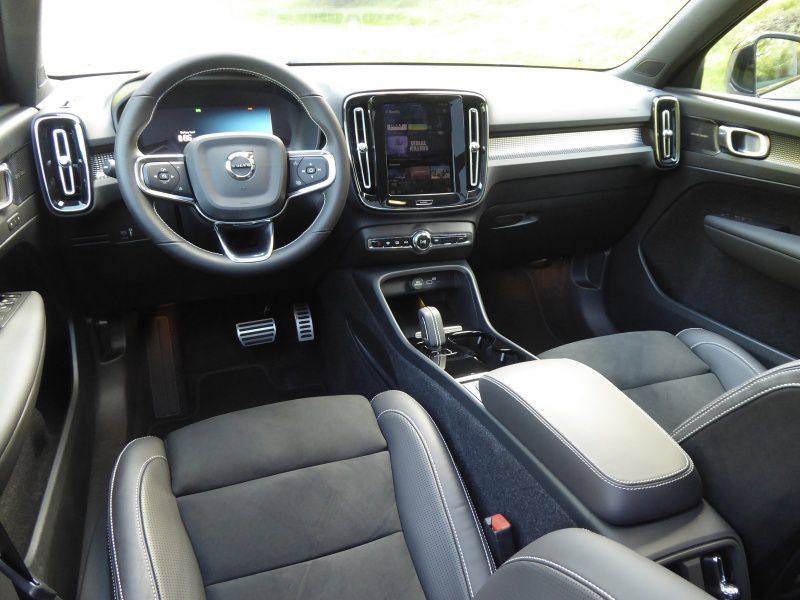 Photo by Ron Sessions
Starting Out
One of the more interesting aspects of the XC40 Recharge is the lack of a push-button start switch. The vehicle recognizes the driver based on the key fob in his or her possession. With the car unlocked, a seat sensor detects when the driver is in position behind the wheel, and when the driver selects either Drive or Reverse with the console-mounted shifter, the electric propulsion system wakes up.
As for driving range, the XC40 Recharge gets a 208-mile EPA rating from its large 75-kWh lithium-ion battery. Putting it in perspective, that's only about 59% of the driving range for the gas-powered XC40. It is, however, competitive with the range offered by luxury-brand crossover suvs such as the Audi e-tron, Mercedes-Benz EQC, and Jaguar I-PACE. Still, that is below the 316-mile rating of the extended-range Tesla Model Y. The driver display indicates the remaining range at vehicle start-up. Volvo says the XC40 Recharge can be charged up at home with a 220-volt AC charger in about eight hours or from empty to 80% in 40 minutes on the road with a 150-kW DC fast charger.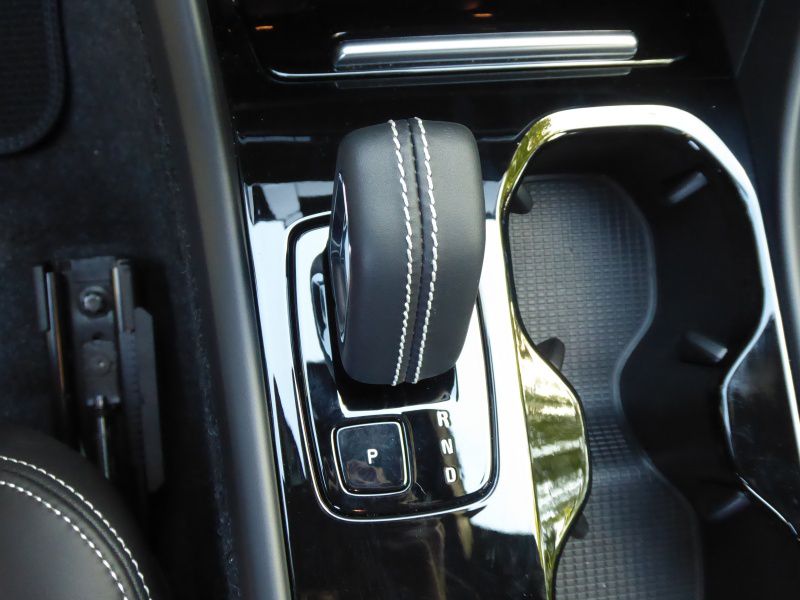 Photo by Ron Sessions
Updated Infotainment
Volvo's Sensus infotainment system is updated for 2021 with an Android operating system. While still retaining its stacked four-tile layout, Sensus now provides easy access to Google Maps (including real-time traffic information), the Google Assistant and Google Play apps on the portrait-format 9-inch touchscreen. The Google Assistant can be called upon via the steering wheel button or voice command.
The order of the four tiles can be customized for individual preferences. Volvo's added some hard shortcut buttons for such things as the parking camera, but a few more would be a welcome improvement. The system is set up with the ability to download over-the-air updates from the cloud (when parked outside) for vehicle software as well as the latest maps, entertainment system, and other apps such as Spotify. It may no longer be the largest screen in the segment, but it's still one of the easiest to use. And with the new Google Automotive integration, operating system response times to inputs are quicker than ever. Despite the move to a Google Android operating system, both Apple CarPlay and Android Auto cellphone mirroring systems are a standard feature. In addition to the standard AM/FM stereo, available is an $800 Harman Kardon premium audio system with 14 speakers and 600 watts of power.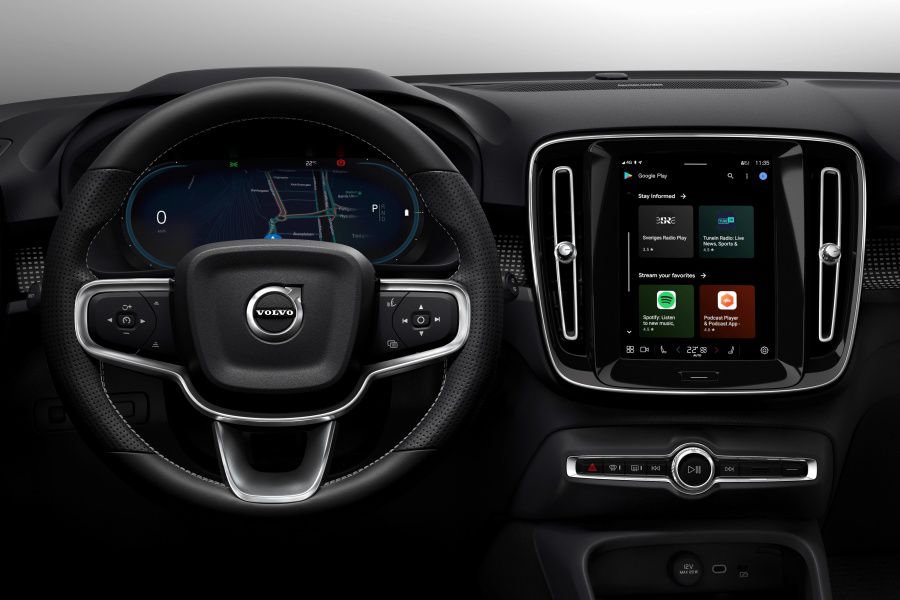 Photo by Volvo
Rear Seating and Cargo
Even with the large 75-kWh lithium-ion battery stowed under the floor, there is no loss of rear-seat room compared with the gasoline-powered XC40. Headroom and legroom are generous for the aft section of a subcompact SUV. The 60/40 split-folding rear seat can handle three adult passengers, two with the fold-down center armrest deployed. However, a protective cage around the fragile and expensive-to-replace underfloor lithium-ion battery does reduce ground clearance from just over 8 inches to a tad less than 7. An optional package adds heating elements for the outboard rear seat positions.
From a cargo-carrying perspective, the Recharge is the same roomy subcompact SUV the gas-powered XC40 is. Cargo space behind the rear seat is a midsize-sedan-like 16 cubic feet, more than ample for a run to the airport with four passengers and their overhead roll-on bags plus the odd computer case, briefcase, and purse. With the 60/40 split rear seatbacks folded down, that space balloons to nearly 47 cubic feet, good for hauling 2x4s, sports equipment, a stepladder, or a big-screen TV. A removable cargo cover keeps items out of sight. There is also more hidden storage under the cargo floor, but this is taken up partially by the rear electric motor and related system components.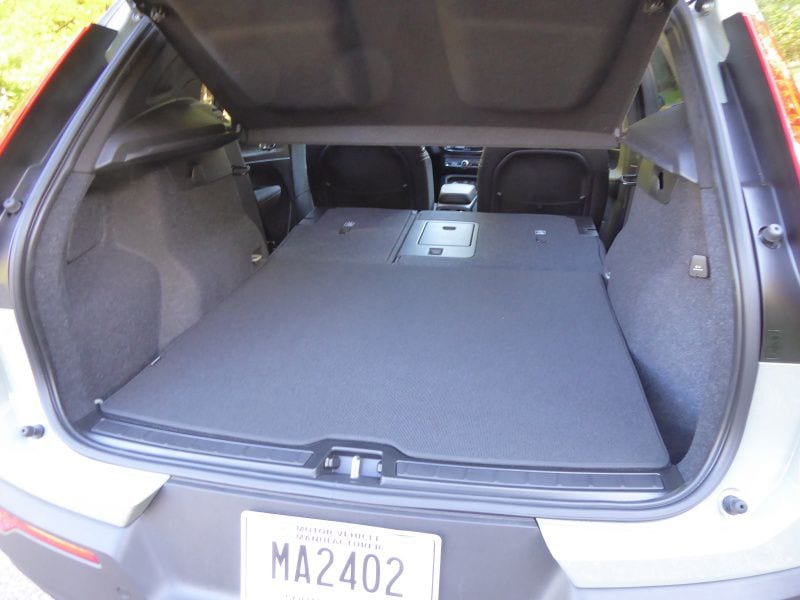 Photo by Ron Sessions
The Frunk
The frunk is simply the front trunk. With no need to package a gasoline engine under the hood, there's some space left over even after accommodating the Recharge's front electric motor and other electric propulsion system components.
The frunk is only 1 cubic foot in size, but that's more than enough to stash the XC40 Recharge's AC charging cable and controller with some room left over for a computer bag, a couple of pairs of shoes, or a purse.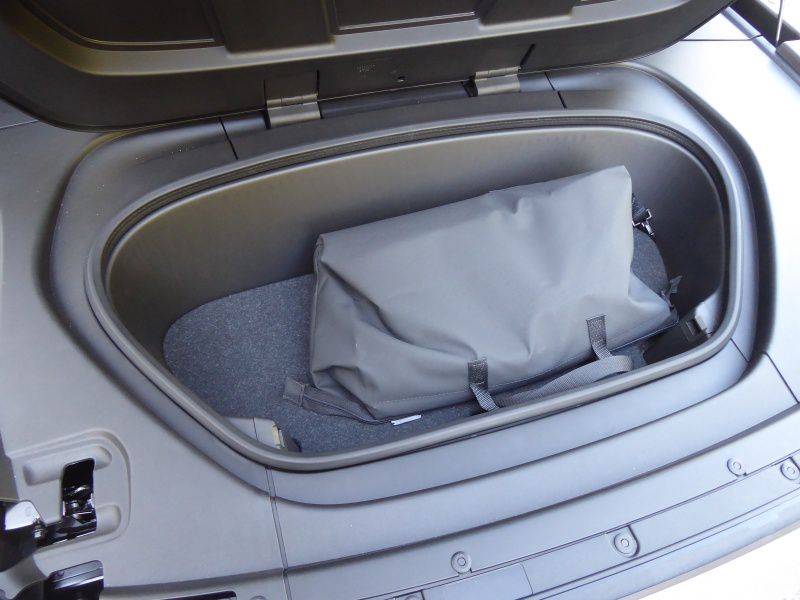 Photo by Ron Sessions
The Driving Is Electric
With 402 horsepower on tap from a pair of 201-hp electric motors and a prodigious 486 lb-ft of torque available immediately from rest, the Recharge can swoosh to 60 mph in 4.7 seconds. That's about 1.5 seconds quicker than the next most powerful XC40, the 248-hp T5 2.0-liter turbo, despite the Recharge's heavy battery pack. With standard all-wheel drive and the SUV's weight more evenly distributed over the front and rear wheels, the Recharge puts the power down seamlessly. Wheelspin, at least on dry pavement, isn't an issue.
In normal driving, the smooth and silent electric drive-off feel is calming. And when called upon, the ability to merge into fast-moving freeway traffic or overtake a slower-moving car on a two-lane road builds confidence. There are two driving modes. One Pedal increases regenerative braking that charges the battery when the driver backs off the accelerator and allows reduced brake pedal use in slower, stop-and-go driving. Normal offers a more traditional driving feel using both pedals and does a good job of blending the regenerative and hydraulic brakes. With the Recharge's conventional shocks, ride quality is surprisingly taut but not jarring with good body control. Steering, while precise, has light effort but could use more feel. The heavy battery carried low in the chassis lowers the center of gravity and aids stability.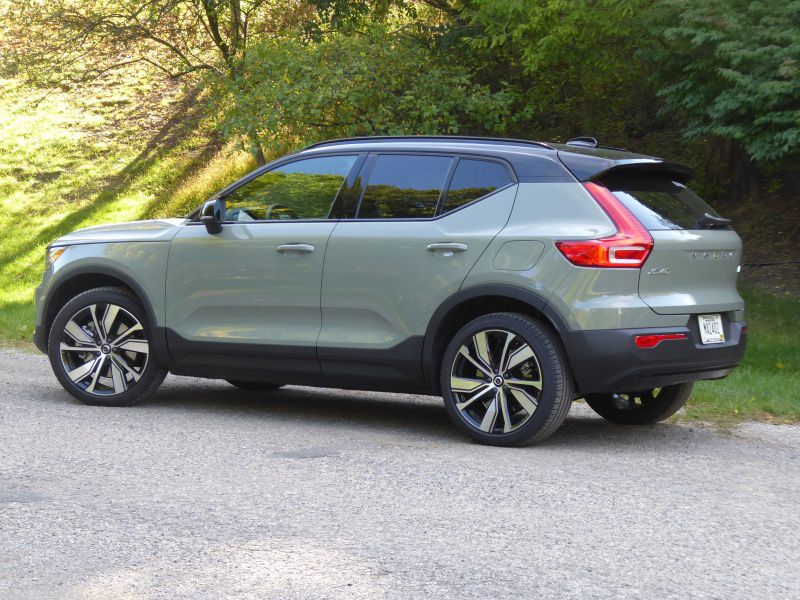 Photo by Ron Sessions
Safety Is a Given
The 2021 XC40 Recharge continues Volvo's safety focus with a full suite of standard safety and driver-assistive systems, some of which are extra-cost among competitors. Volvo even redesigned its front-grille "ironmark" badge to artfully incorporate the radar sensor for the SUV's standard adaptive cruise control system.
Other standard XC40 Recharge safety and driver-assistive tech includes automatic emergency braking with cyclist and pedestrian detection, a lane-departure warning, lane-keeping assist, blind-spot monitoring with steering assist, a rear cross-traffic alert with automatic braking, run-off road protection, a backup camera, and active bending LED headlamps that swivel with the steering wheel. A $1,300 Advanced package adds such things as a hands-on semi-autonomous Pilot Assist to the standard adaptive cruise control system with steering assist and a backup camera with a 360-degree overhead view. Neither the National Highway Traffic Safety Administration nor the Insurance Institute for Highway Safety has published crash-test results for the electric XC40 Recharge SUV. However, the gas version of the XC40 netted an IIHS 2020 Top Safety Pick rating and a top five-star overall NHTSA score.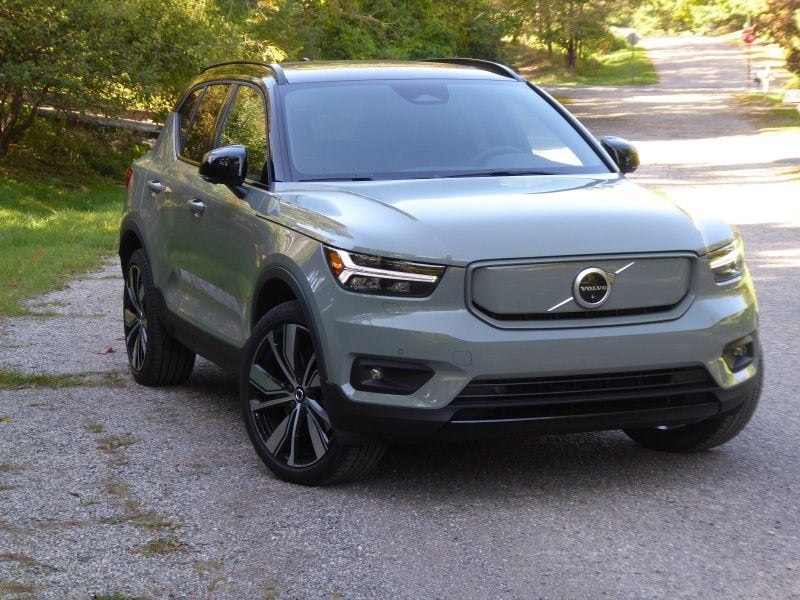 Photo by Ron Sessions
Zero Tailpipe Emissions
Aside from the obvious appeal of spectacular acceleration, the other major benefit the electric XC40 Recharge offers over its less-expensive gas-powered showroom mates is that it has zero tailpipe emissions. With climate change a major concern among a growing segment of the Earth's population, Volvo is looking to lead the charge to electrification with plans to switch as much as half of its global production to electric vehicles in five short years. The all-electric XC40 Recharge is the first of those products to hit U.S. showrooms.
Is a 208-mile battery range enough to cure consumers of range anxiety? The average household drives less than 50 miles per day, so no problem there with a 220-volt AC home charger and easy overnight charging in the comfort and safety of one's garage. The key to greater acceptance of electric cars has been long-distance travel, something rival Tesla tackled head-on with its extensive, proprietary network of Supercharger stations across the U.S. Until recently, availability of DC fast chargers outside major metropolitan areas has been spotty, but the numbers are improving. Volvo now has a relationship with ChargePoint, which as of September of this year claims 114,000 charging station hookups nationally. Now if only you could get a really good mocha latte at those roadside DC fast-charging stations while waiting the 40 minutes or so to top off the big battery.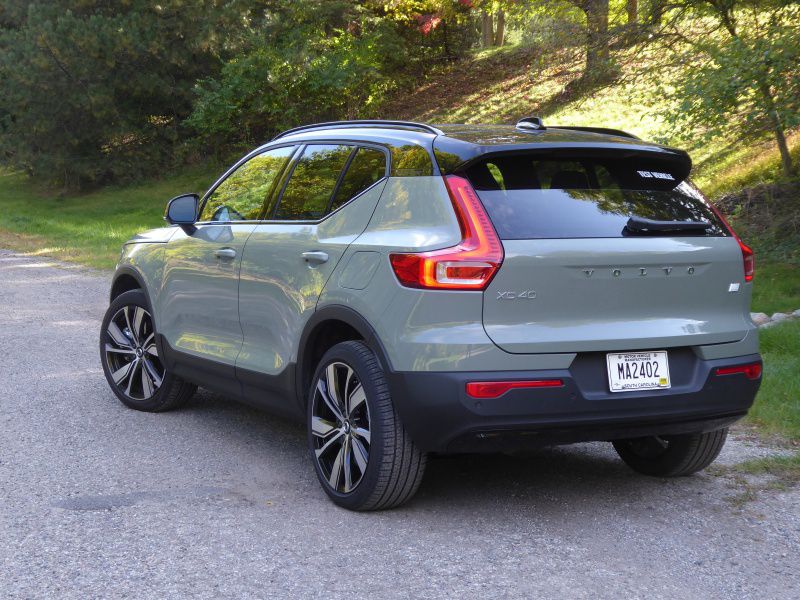 Photo by Ron Sessions