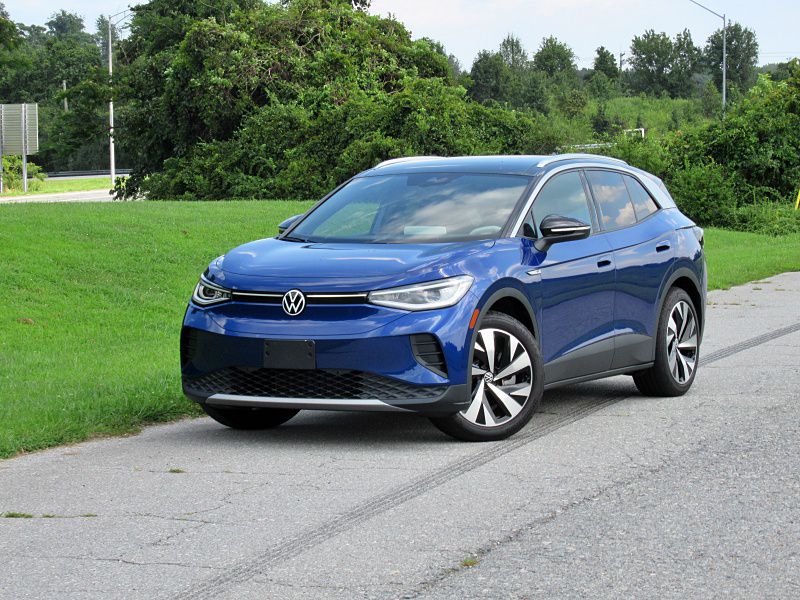 2021 Volkswagen ID.4 ・ Photo by Brady Holt
Tesla makes the most popular electric cars in the world. Folks love their long ranges, class-leading efficiency, lively performance, unmistakable looks, high-tech interiors, and slick driver-assistance systems. There are quibbles, sure, but there's one main reason to consider another electric vehicle: price. 
Take the Tesla Model Y compact crossover. While prices vary wildly as Tesla raises and lowers them, or adds and removes different variants, the Model Y currently starts at $53,990 as we write. Especially if you consider that Teslas qualify for fewer tax incentives than most electric vehicles, you can pay tens of thousands of dollars less for some other brands' EVs. For today's article, we're looking at the all-new 2021 Volkswagen ID.4 — a compact all-electric crossover that's priced from $39,995 before a $7,500 federal tax credit. We tested both the ID.4 and the Model Y so we could evaluate the VW as a wallet-friendly alternative to the Tesla. We'll name a winner in eight categories, then share our top pick overall.
Range
One of the top metrics among electric cars is their ranges — how far they can travel per electric charge. The ID.4 goes a long way from the first electric VW: the 2015 e-Golf, which needed to be plugged back in after merely 83 miles. The ID.4 manages an EPA-estimated 250 miles in its current rear-wheel-drive configuration and 240 to 249 miles (depending on trim level) on the all-wheel-drive version that's coming this fall. Volkswagen also provides three years of unlimited charging on the Electrify America network of public car chargers. 
The Standard Range rear-wheel-drive Model Y — which costs as little as $39,990 when it's sporadically available for purchase — travels an EPA-estimated 244 miles per charge. But most buyers choose the Long Range AWD, and it lives up to that name with an estimated 326 miles of range. There's also a Performance model with 303 miles of range. Model Y owners have to pay to use Tesla's network of proprietary Supercharger stations, but they're widely available and work seamlessly. The Model Y is more efficient, too, with the equivalent of 111 to 129 mpg rather than the VW's 97 to 99.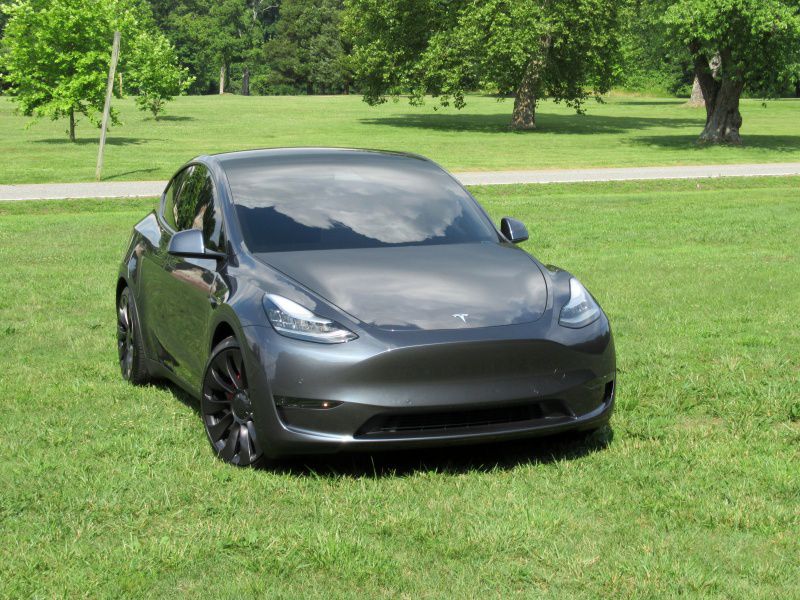 Photo by Brady Holt
Exterior Design
The Model Y is a taller take on the Model 3 sedan: a sleek transportation pod. There's no hint of a grille on the flat front end, which might look odd to some tastes. And it doesn't have the glitz of a typical $50,000-plus luxury suv. Still, it's instantly recognizable as a Tesla, and the cleanly styled body is timelessly modern. 
The ID.4 is less obviously an electric car, but that's largely because Tesla's particular style is better known. VW also pares down the details for a sleek look, and the ID.4 is rounded off like an electronic device rather than aggressively styled like a typical SUV. And Volkswagen dresses up the exterior with front and rear lightbars. The biggest difference is that the ID.4's roof is flat, while the Model Y's rises up over the rear seats before tapering down again toward the taillights. In another difference, the ID.4 is slightly smaller than the Model Y in most dimensions, but to us the difference looks even greater — and the VW looks low despite being taller than the Tesla. We won't name an aesthetic winner between these two electric crossovers. 
Tie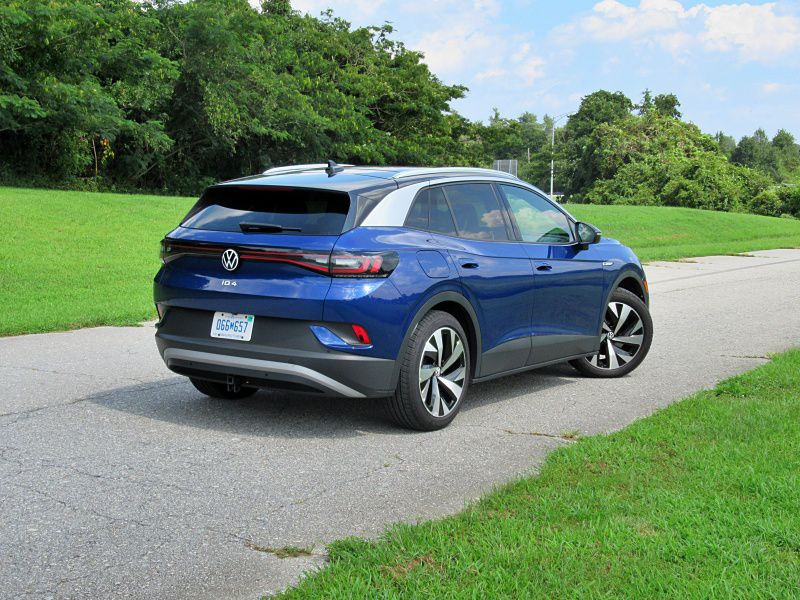 Photo by Brady Holt
Interior Design
The Model Y's interior is a minimalist's dream. The dashboard is empty, save for a strip of wood or leather trim, the steering wheel, and a massive 15-inch touchscreen. Even the climate control system's vents are hidden, and there are no physical controls for the infotainment system except two buttons on the steering wheel. Everything else goes through the touchscreen. The touchscreen is beautiful and intuitive for what it is, though tapping at a screen does take your eyes off the road. 
The ID.4 is also tech-focused, with a digital gauge cluster and a still-big touchscreen (10 inches on the base model, 12 inches on our test vehicle). Still, it looks more like a normal car inside than a vision of the future. That could have been an advantage for some buyers — but Volkswagen squandered the opportunity. Touch-sensitive buttons fill the cabin, requiring careful and often repeated taps on hard-to-spot surfaces, for everything from audio volume to climate temperature to rolling down the rear windows. You get the worst of both worlds: lousy ergonomics yet comparatively ordinary styling. Only the VW provides Android Auto and Apple CarPlay smartphone integration, but Tesla wins overall.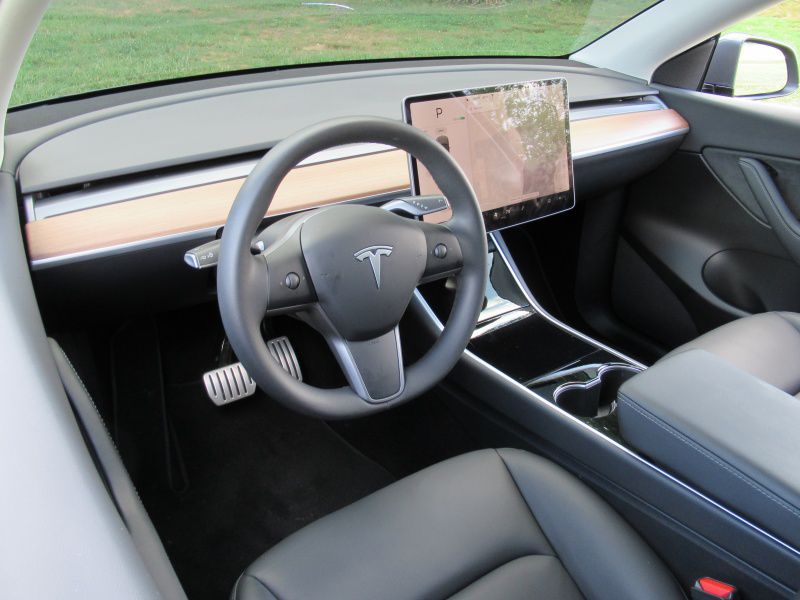 Photo by Brady Holt
Interior Space and Comfort
The Model Y is nearly 7 inches longer and 3 inches wider than the ID.4, and the result is a roomier interior for both passengers and cargo. The Model Y is even available with a tiny third-row seat, though our test vehicle was a five-seater. The ID.4 is slightly taller, but we had the impression (perhaps psychological) of sitting higher in the Tesla. 
Tesla doesn't quote the Model Y's cargo capacity behind the rear seat, but the vehicle's total capacity reaches 68 cubic feet with the rear seat folded down. That's slightly more than the ID.4's 64 cubic feet, which is lower than most compact crossovers. The Tesla also has significantly more floor space; it primarily gives up room for tall items due to its sloping roofline. The Model Y also adds a small front trunk ("frunk"), while the ID.4 has powertrain equipment under the hood. Our ID.4 test vehicle has a handy adjustable-height cargo floor, but it's missing from the base model.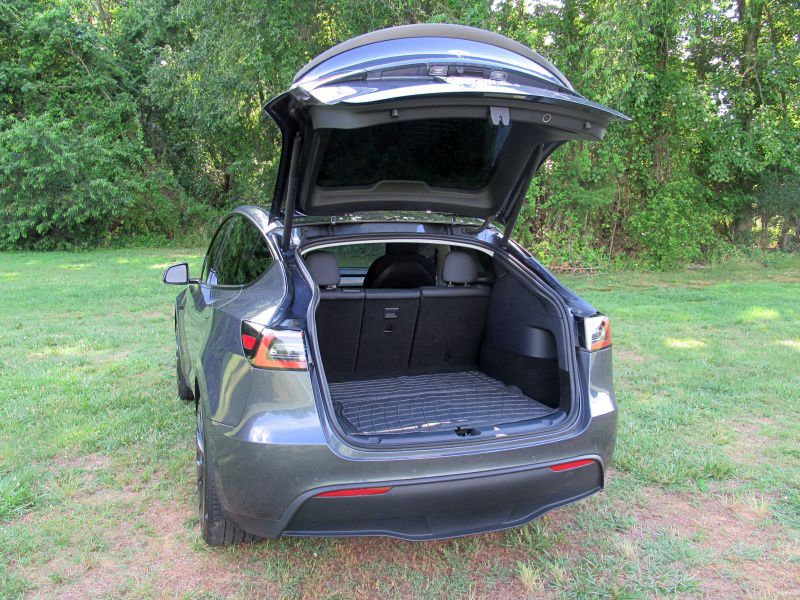 Photo by Brady Holt
Driving Experience
The ID.4 is a pleasant-driving compact crossover. It feels like driving a good sedan rather than a tall SUV — solid, substantial, decently agile, and quiet. Like other electric cars, it accelerates smoothly and nearly silently; you never hear an engine roaring even if you floor the go pedal. 
Still, the Model Y is our pick. It transcends the ID.4's pleasant-runabout status to become a zesty performance machine. Every Model Y is quicker than many sports cars, hitting 60 mph in 5.3 seconds for the Standard Range, 4.8 seconds for the Long Range, and a literally breathtaking 3.5 seconds on the top Performance model. The rear-drive ID.4 needs about 7.5 seconds; that's still quick for a compact crossover, especially since you don't hear an engine thrashing and wailing, but this VW isn't an electric car that's built to thrill. The upcoming AWD model cuts the 0-60 time to 5.7 seconds, but that still trails the Tesla. The Model Y is also more agile than the ID.4, and while it rides more stiffly, the ID.4 isn't cushy either. The ID.4's main advantage is a super-tight 33.5-foot turning radius.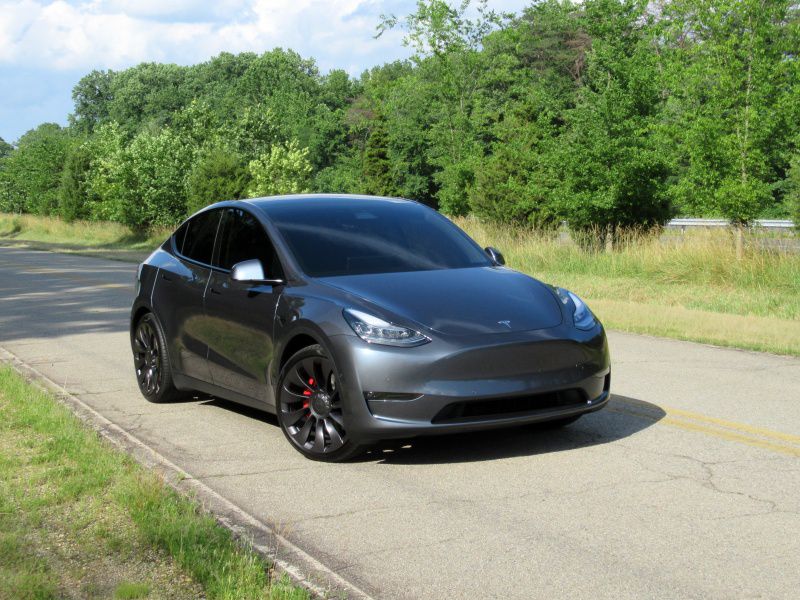 Photo by Brady Holt
Driver Aids
Tesla is famous for its semi-autonomous driving systems, known as Autopilot and Full Self Driving. Despite the names, they're similar technologies to what you'll find in the ID.4 and most other modern cars: adaptive cruise control, lane-keeping assistance, and automatic emergency braking. 
Some drivers infamously misuse these technologies in Teslas in particular — lulled by the systems' smooth operations and the promise of autonomous driving that their names imply. Drivers must remain in control of the vehicles even as they perform some maneuvers by themselves; the car can still crash if you're not paying attention. Still, when used properly as a driver's aid, Autopilot is a helpful assistant. It works more smoothly than the VW's systems, creating a more natural autonomous feel. And its fancy display renders what the sensors are seeing; even when other cars' sensors can do the same, no one else puts this much effort into showing it off.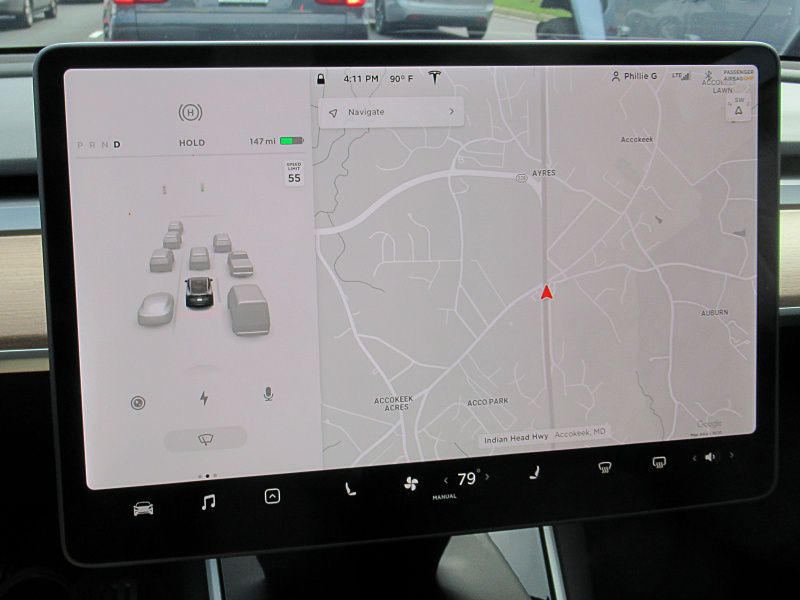 Photo by Brady Holt
Safety
The ID.4 hasn't yet been crash-tested or evaluated for its collision-avoidance technologies. The Model Y earned a top five-star crash-test rating from the National Highway Traffic Safety Administration, while the mechanically related Tesla Model 3 sedan also earned the highest designation of Top Safety Pick+ from the Insurance Institute for Highway Safety. 
There is some room for VW to win this category in the future. While the Tesla Model 3's automatic emergency braking system proved effective in IIHS testing at avoiding vehicles, it demonstrating middling performance at stopping in time to avoid a pedestrian. Many vehicles have done better, and we'd expect similar results in the Model Y. Still, the IIHS hasn't tested the ID.4 yet, and other Volkswagen models have only matched this performance. So for now, the Tesla's more proven safety record gives it the win.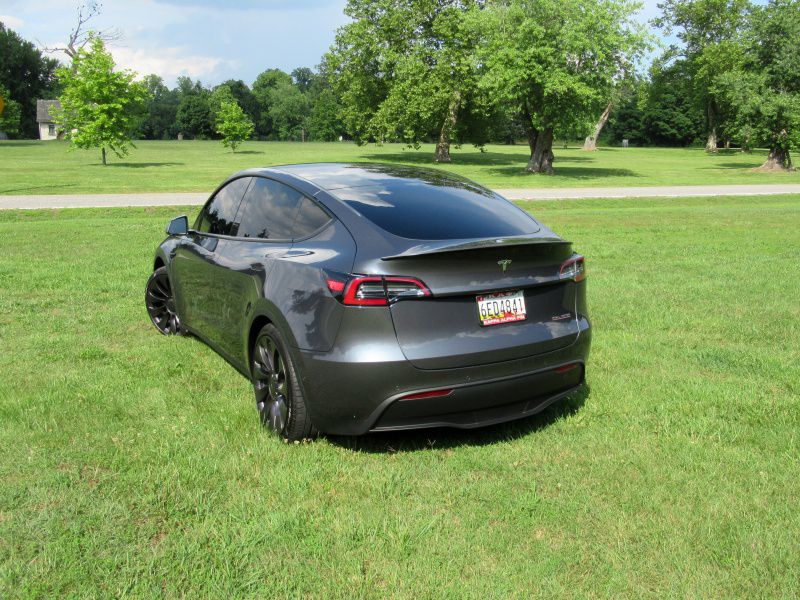 Photo by Brady Holt
Pricing and Features
The Volkswagen ID.4 starts at $39,995 for its base model, called the Pro. It's well-equipped for a compact crossover, if not lavishly so; its features include automatic climate control, the 10-inch infotainment screen, a navigation system, heated front seats, a heated steering wheel, and all of the car's available safety features. The AWD Pro will cost $43,675. The Pro S model ($44,495 with RWD and $48,175 with AWD) adds the 12-inch screen, leatherette upholstery, power-adjustable front seats, a power liftgate, and a panoramic sunroof. 
Depending on when you read this, you may be able to special-order a base Tesla Model Y Standard Range for $39,900. That's more money than the base ID.4 if you count the VW's $7,500 federal tax credit. (Teslas no longer qualify for the incentive because the company has already sold so many EVs.) What's more, as we write, the cheapest Model Y is the $53,990 Long Range AWD model. It's equipped comparably to the ID.4 Pro S — a $5,815 difference even before you factor in the tax credit. And VW lets you save even more by skipping some features. 
Volkswagen ID.4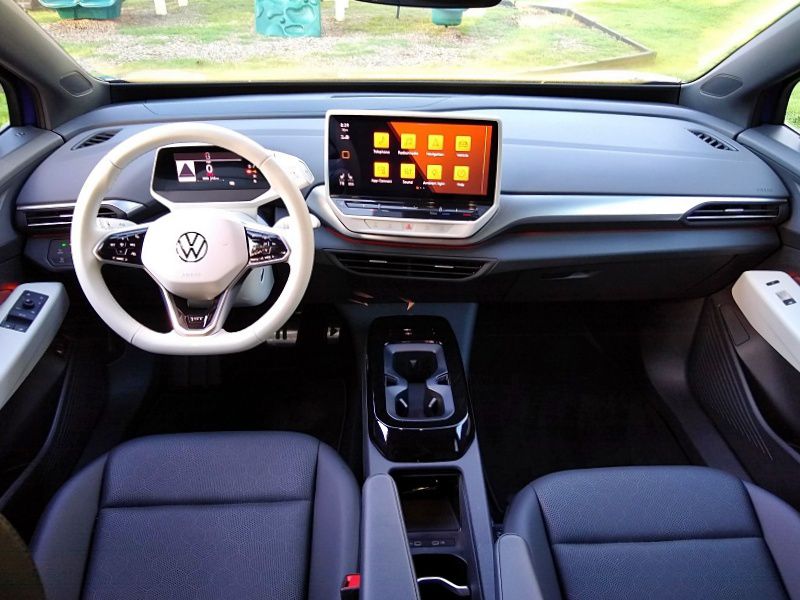 Photo by Brady Holt
Final Thoughts
Given their price disparity, it wouldn't be reasonable to expect the Volkswagen ID.4 to match the Tesla Model Y. But while some luxury cars charge a big price premium just for style and image, Tesla goes much farther: Your extra cash buys a vastly superior driving experience, outstanding technology, a proprietary charging network, a roomier interior, and a more "special" feel overall. Volkswagen further left itself behind with its inexcusably poor controls, which were a constant source of frustration during our week with the vehicle. 
Otherwise, the ID.4 is a solid EV for someone who wants a decently roomy way to go gas-free. It's smooth, quiet, maneuverable, and not incredibly expensive once you factor in tax credits. If you're looking for usable range and a decent amount of space, you'll find them here. It just has less of the "wow" factor that attracts many people to electric vehicles — or, for that matter, as much of the interior space and user-friendliness that attracts folks to gas-only compact crossovers. The Model Y isn't flawless, and it certainly isn't cheap, but it's the EV crossover that's far more desirable. 
Tesla Model Y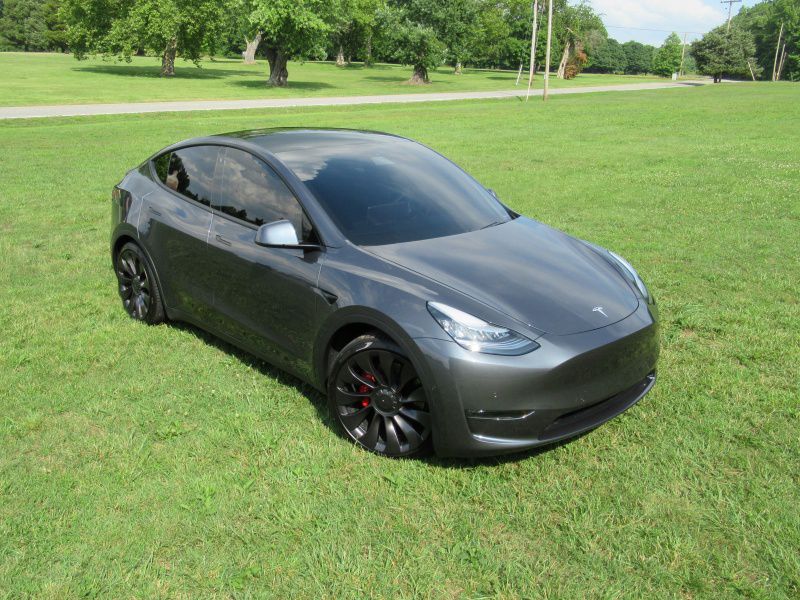 Photo by Brady Holt