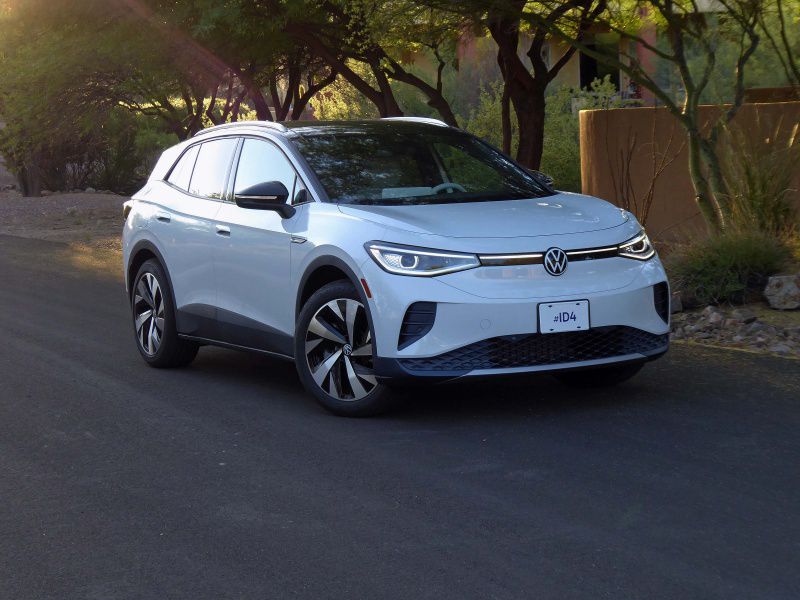 2021 Volkswagen ID.4 ・ Photo by Ron Sessions
Volkswagen's first-ever dedicated battery-electric SUV has landed, taking its place alongside the gas-powered 7-seat Atlas, 5-seat Atlas Cross Sport, recently refreshed compact Tiguan, and soon-to-arrive subcompact Taos in the brand's sport-utility lineup.
The all-new Volkswagen ID.4 will initially be available with rear-wheel drive and a single rear-mounted electric motor rated at 201 horsepower and 229 lb-ft of torque. Later in the year, a dual-motor all-wheel-drive version will debut with 302 horsepower. The EPA-estimated driving range for a rear-drive version is 250 miles on a fully charged battery.
A short run of 1st Edition rear-drive models with 20-inch wheels and other minor trim upgrades is sold out. For the remainder of the 2021 model year, Volkswagen will offer the 2021 ID.4 in Pro and Pro S trims. Including the $1,195 destination charge, the rear-drive Pro starts at $41,990, the rear-drive Pro S starts at $45,690, the AWD Pro starts at $44,870, and the AWD Pro S starts at $49,370. The Volkswagen ID.4 also qualifies for the $7,500 federal income tax credit, representing a significant potential savings for eligible buyers.
Other compact SUV competitors to the 2021 Volkswagen ID.4 include the Toyota RAV4, Honda CR-V, and Subaru Forester.
For buyers only considering electric SUVs, rivals include the Chevrolet Bolt EUV, Hyundai Kona Electric, Kia Niro EV, and Ford Mustang Mach-E, plus the soon-to debut Hyundai Ioniq 5, Nissan Arriya, and Toyota BZ4X. Many more are on the way.
Volkswagen's First Dedicated Electric SUV
The Volkswagen ID.4's standard 11kW dual-level charging cord allows for convenient Level 1 (120-volt AC) and Level 2 (240-volt AC) at-home charging. Topping off the battery with 120-volt house current can take several days; however, the process shrinks to about 7.5 hours to 8 hours using a 240-volt AC outlet. When you're on the road, recharging the ID.4's 82-kWh lithium-ion battery at places like EV-Go or Electrify America, which are equipped with 125 kW DC fast chargers, takes less than 40 minutes. That's about the same amount of time it takes to wolf down a burger and fries or a large cappuccino.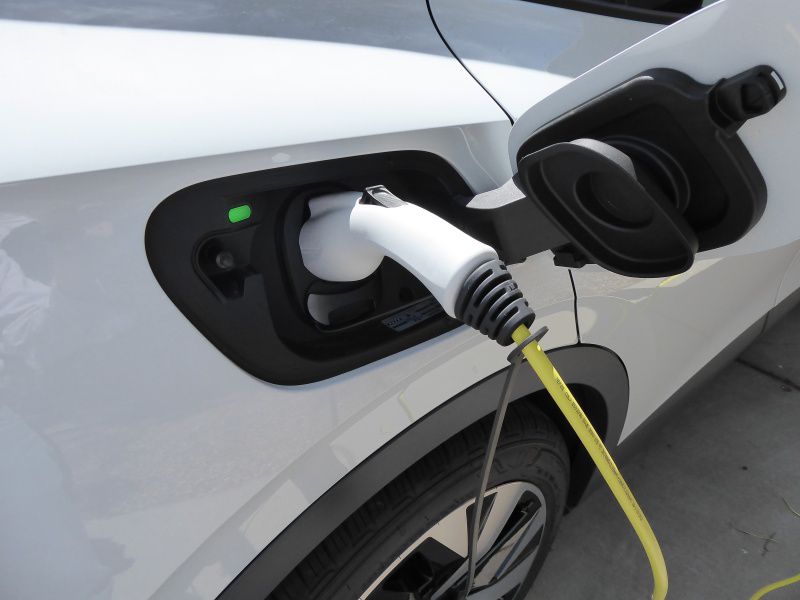 Photo by Ron Sessions
Control Center
Mirroring the ID.4's clean and modern-looking exterior is its bright and roomy cabin. The generously proportioned front seats are comfortable and welcoming with standard heating and individual fold-down center armrests for the driver and front passenger. Pro S models include 12-way power front seats with position memory, adjustable lumbar, and massage functions. The seats are cloth-covered in the base Pro trim and wrapped in perforated, V-Tex faux leather in the Pro S.
Outward visibility to the front and sides is good, thanks to a low-mounted instrument panel, thin windshield pillars, free-standing side mirrors and added front quarter windows.
Storage is generous as well with a roomy glovebox and door pockets supplemented by a large center console featuring dual cup holders, a wireless charger, and a long tambour –door covered compartment with configurable dividers.
Marching in tune with the ID.4's brave, new digital future is a control strategy that does away with many physical buttons, replacing them with voice and touchscreen controls. The ID.4's center touchscreen is now much more than a nexus of infotainment activity, its functions now including climate control, seat heating, cooling, and massage, drive mode selection, charging protocols, and much more.
There is no system start/stop switch. Instead, the ID.4's system wakes up when you sit in the driver's seat and turns off when you get out.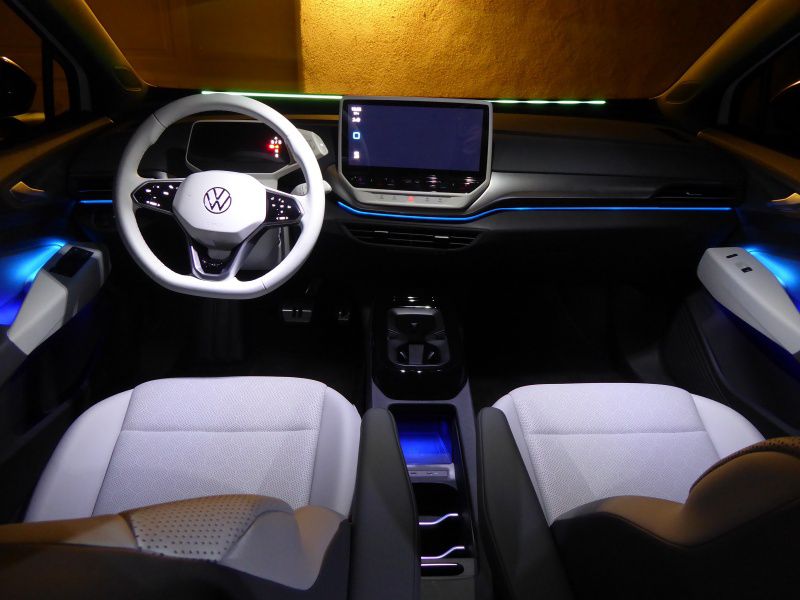 Photo by Ron Sessions
Shifter
Partially obscured by the ID.4's thick leather-wrapped steering-wheel rim and to the right of the driver information display is the twist switch for making automatic transmission selections. You twist it clockwise for Drive and counterclockwise for Reverse. Pushing a button on the outer edge of the switch puts the ID.4 in Park.
Next to the Drive setting is the Brake or "B" setting, which greatly increases battery regenerative braking when lifting off the accelerator pedal. The ID.4 won't come to a complete stop in this mode, but using it reduces wear and tear on the hydraulic wheel brakes and significantly extends battery range. You can engage this setting by twisting the switch twice in the clockwise direction.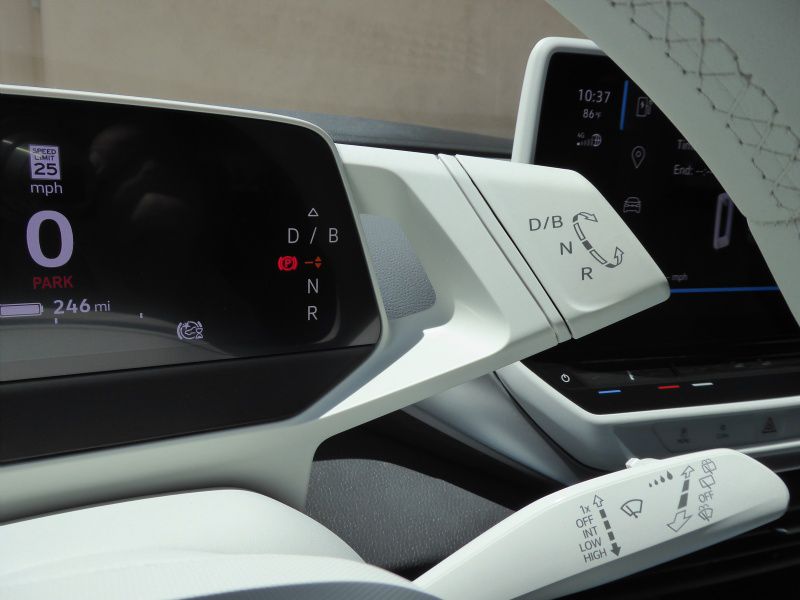 Photo by Ron Sessions
Driver Display
Smack dab in front of the driver is the ID.Cockpit configurable driver display. Not unlike the small driver-information screen in the Ford Mustang Mach-E, the ID.4's is smaller than the center infotainment screen. It focuses on information of immediate interest to the driver, such as road speed, posted speed limit, gear selected, and remaining battery range. It also reduces the need to steal eyes-of-the-road glances at the center infotainment screen.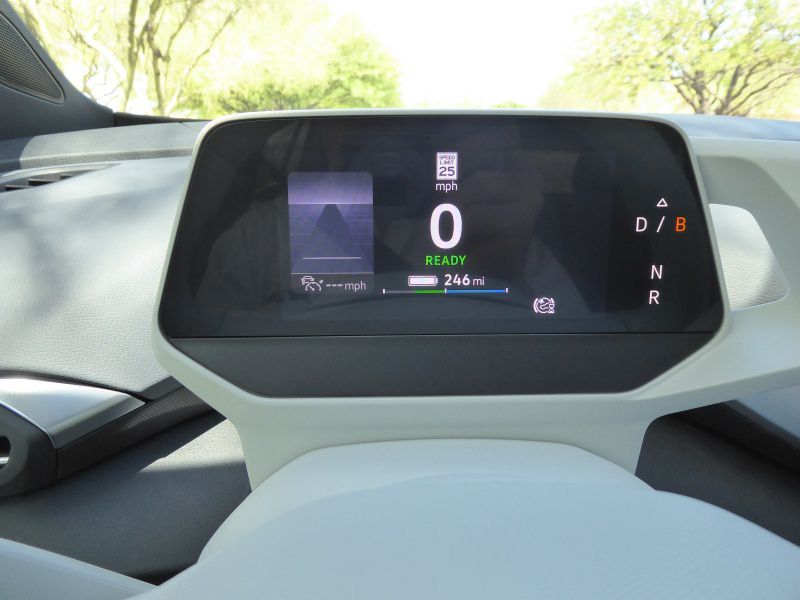 Photo by Ron Sessions
Infotainment Display
The ID.4 comes standard with Volkswagen's Discover Pro infotainment system. Pro models have a 10-inch infotainment screen, with a larger 12-inch unit in Pro S models. The screen is angled slightly toward the driver.
Aside from screen size, both systems have the same features, which include Volkswagen's App-Connect with access to wireless Apple CarPlay, Android Auto, and MirrorLink, embedded navigation, natural voice recognition, a 7-speaker AM/FM/HD Radio, a 3-month trial of SiriusXM satellite radio, Bluetooth for hands-free phone and audio streaming, and available Verizon Wi-Fi for up to four devices.
There are two USB ports up front (one power/data and one power only). Standard with all trims is a wireless charging pad in the console for Qi compatible phones.
More than just an infotainment portal, the center screen is a hub for access to the ID.4's four selectable driving modes (Eco, Comfort, Sport, and Custom), climate control and seat-heating settings, multi-color interior ambient lighting selections (with enticing names like Infinity, Eternity, Desire, Euphoria, and Vitality), vehicle settings, parking assistance, vehicle charging protocols, and more.
Aside from steering wheel controls and sliders under the screen, system access is through voice commands and the touchscreen itself. Moving between screen displays means navigating through a lot of on-screen menus and submenus, with frequent use of the squarish, blue tile at the left side of the screen that functions as a home or back key.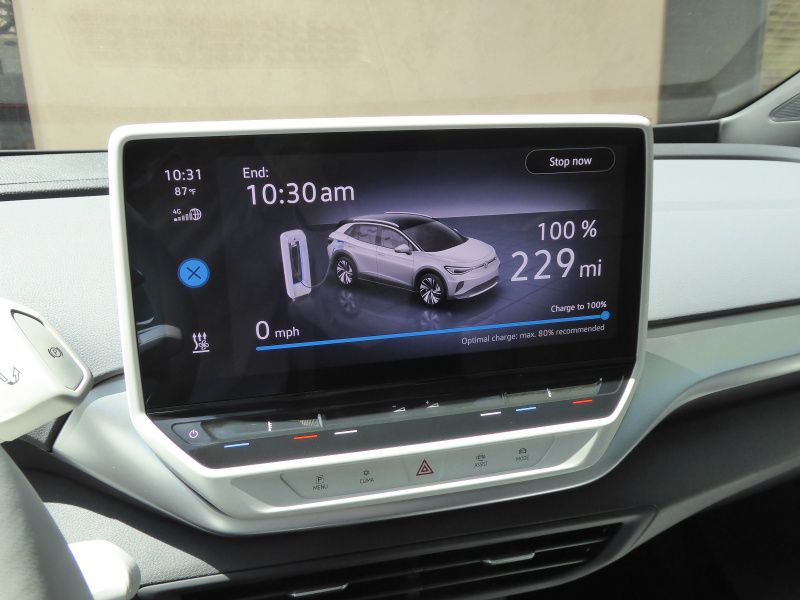 Photo by Ron Sessions
Reasonably Comfortable Rear Seats
The ID.4 offers rear seat room comparable to that in the Toyota RAV4 hybrid, with easy ingress and egress and reasonable comfort for three adults. The rear seat is split 60/40. Pro S models include a fold-down center armrest with cup holders and a center pass-through for skis and other long objects. Rear passengers get a pair of USB ports as well. Pro S models add a standard panoramic sunroof that brightens the cabin even more, but in the hot summer desert sun, lets in more heat as well.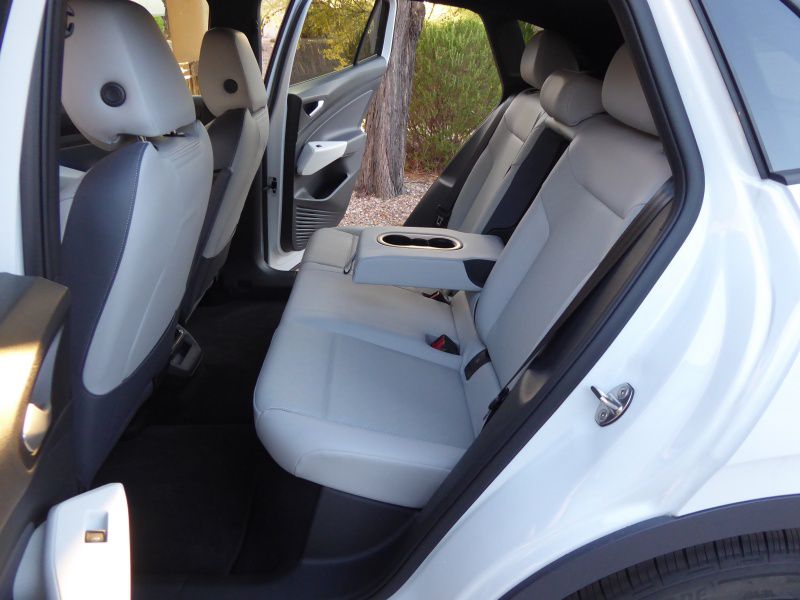 Photo by Ron Sessions
Cargo Space on Par With Competitors
Despite the large underfloor electric battery that powers the ID.4, Volkswagen's first dedicated electric vehicle offers cargo space on par with other compact SUVs such as the Honda CR-V hybrid and Toyota RAV4 hybrid. With the rear seat up, there's 37.6 cubic feet of cargo space, enough for five or more airport roller bags. Flip the rear seat down and 64.2 cu. ft opens up, room for a mountain bike and more.
On Pro S models, the cargo floor can be lowered to accommodate bulky items. On all models, there's also a generously sized compartment under the cargo floor to store the charging cord and provide hidden storage for valuables such as a tablet, purse or camera. Pro S models replace the manually operated liftgate with a hands-free, power-operated one that opens by waving a foot under the rear bumper.
Despite the large front hood, the ID.4 doesn't have a front storage compartment or frunk as in some other electric SUVs such as the Volvo XC40 Recharge and Mustang Mach E.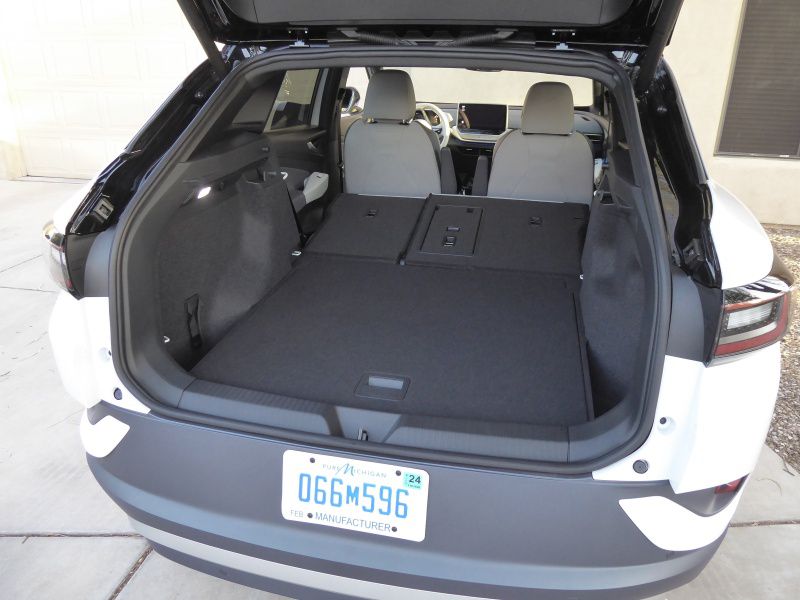 Photo by Ron Sessions
Safety and Driver-Assistive Tech
Unlike many products from other German brands that often charge extra for advanced safety and driver-assistive features, the Volkswagen ID.4 includes them as standard equipment on all trims. Dubbed IQ.Drive, these include forward-collision warning with auto emergency braking and pedestrian detection, lane-departure warning, a lane-keeping system, adaptive cruise control with stop and go, and active blind-spot and rear cross-traffic monitoring systems that can intervene if the driver doesn't to avoid an unsafe lane change or back-up collision.
Standard Travel Assist combines lane-centering and adaptive cruise control for reduced driver stress on well-marked highways. Also standard is Emergency Assist which, in the event a driver is incapacitated, can safely bring the ID.4 to a stop.
Other standard ID.4 driver-assistive systems include a 360-degree overhead backup camera, automatic high-beam control, a dynamic road-sign display, and front and rear park distance warning.
The blind-spot system in the ID.4 is one of the best in the industry. Instead of the small, fingernail-size warning lamp in the side mirrors as in most other carmaker's systems, the ID.4's warning lamp is a much-larger, USB-stick-size bright orange warning lamp on the inboard side of the side mirror housings that really gets one's attention in a hurry.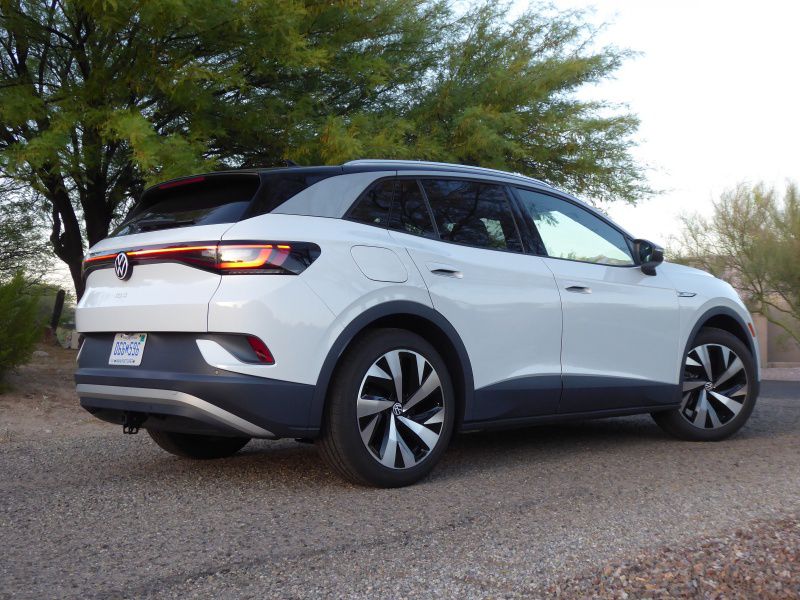 Photo by Ron Sessions
Driving Dynamics
As with all electric vehicles, the absence of an internal combustion engine brings serene quiet in the cabin as well as a turbine-smooth drivetrain feel. The ID.4 can accelerate from rest to 60 mph in about 7.5 seconds. That's far from the quickest EV in the business. But what the Volkswagen's new EV offers is all of its 229 pound-feet of torque at any time for quick dashes through gaps in the traffic flow. There's no waiting for an engine to rev higher or a turbocharger to spool up for a spike in boost. The instant response to the driver's right foot is one of the major reasons the new electric ID.4 is so pleasant to drive.
The ID.4's regenerative braking system helps recharge the battery during coasting or braking. Placing the dash-mounted transmission controls in the "B" or Brake setting increases regenerative braking noticeably, extends battery range, and delivers up to 0.13g of retardation in the process. That's not enough to stop the ID.4, but will slow it to a near crawl whereupon the driver can apply the hydraulic footbrake.
The ID.4 drives smaller and nimbler than many other compact SUVs. Credit goes to the rear-mounted motor which imparts the ID.4 with a more neutral front/rear weight balance and the big underfloor battery which helps deliver a stabilizing dynamic.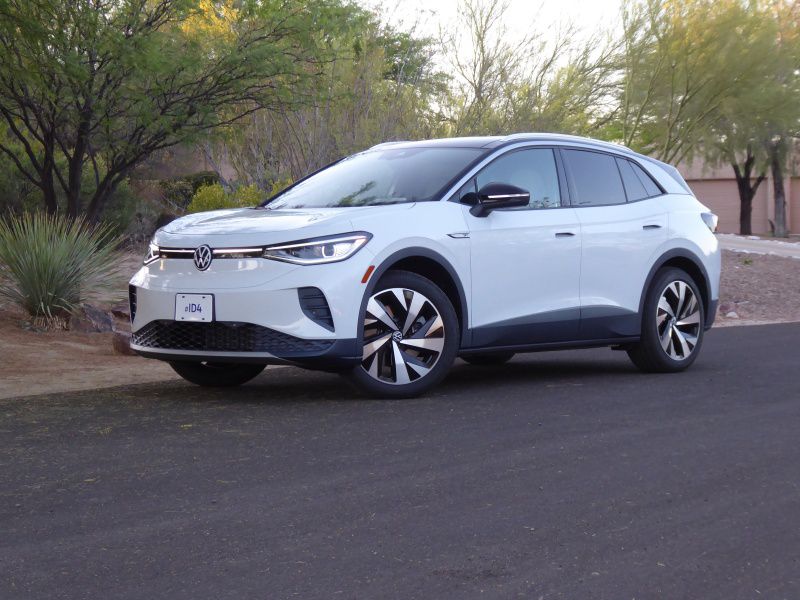 Photo by Ron Sessions
New Electric Age
While its staid and sober exterior won't wow many buyers at first glance, a deeper dive into the all-new electric ID.4 will reveal a fun-to-drive compact SUV offering a unique and modern control layout, advanced multimedia, and a comprehensive roster of advanced safety and driver-assistive technology. Volkswagen's first dedicated battery-electric SUV may not have the quickest 0-60 mph acceleration or the longest driving range but it does represent a good value.
Keep in mind that the ID.4 is still eligible for the $7,500 federal tax credit, which means that buyers who qualify can get nearly a 20% discount on a $40,000 vehicle. Volkswagen also sweetens the offer with three years of free, fast charging on the Electrify American network for ID.4 buyers.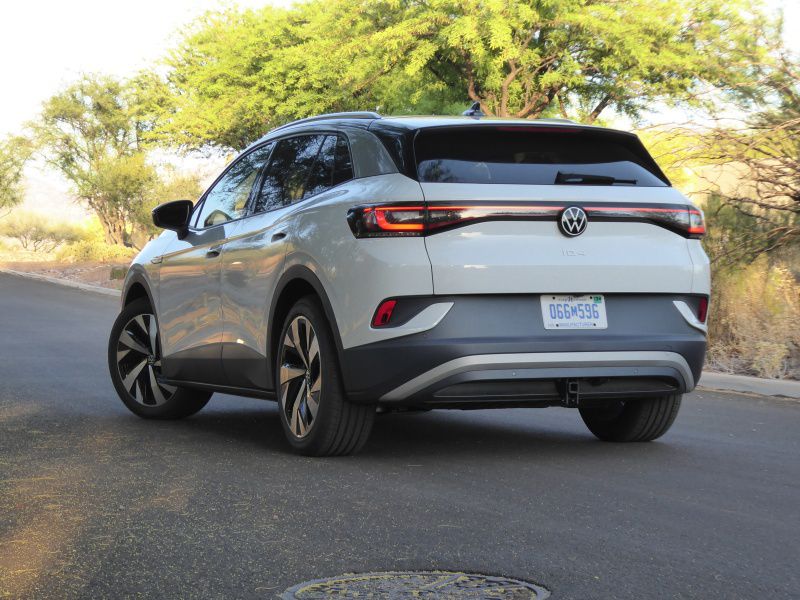 Photo by Ron Sessions