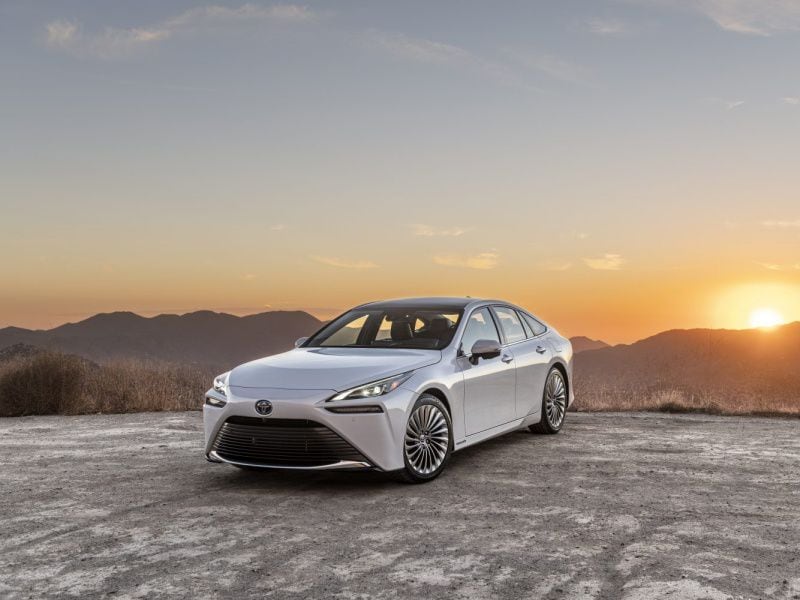 2021 Toyota Mirai Limited ・ Photo by Toyota
You're looking at the car of the future. The redesigned 2021 Toyota Mirai is a fuel cell electric vehicle (FCEV) that converts hydrogen into electricity using an onboard fuel cell stack. A chemical reaction creates an electrical current, flowing through a circuit to a battery, which powers the Mirai's electric drive motor. This process generates no emissions other than water vapor. The car actually cleans the air as you drive it.
This new 2021 Mirai is the second generation of Toyota's ground-breaking FCEV masterpiece. The base price is more than $9,000 less than before. Every Mirai also includes free maintenance for three years or 35,000 miles, free roadside assistance for three years without any mileage restrictions, and a debit card good for $15,000 in free hydrogen fuel during the first six years of ownership. And don't forget the Mirai is eligible for carpool-lane access. If you think this sounds fantastic, you're not alone. I'm smitten, too. But in the U.S. market, Toyota sells the Mirai only in California and Hawaii due to hydrogen refueling infrastructure limitations.
How much does the Toyota Mirai cost?
Toyota sells the 2021 Mirai in XLE and Limited trim levels. The base price is $49,500 for the Mirai XLE, while the Mirai Limited costs $66,000. If you apply the full $7,500 federal income tax credit and a $1,500 California state rebate, you can bring the Mirai XLE's base price down to $40,500.
Highlights of the XLE's standard equipment list include 19-inch aluminum wheels, SofTex simulated leather upholstery, an eight-way power-adjustable driver's seat, heated front seats, and dual-zone automatic climate control. A 12.3-inch touchscreen infotainment system includes Apple CarPlay, Android Auto, Amazon Alexa, and several connected services packages including a Wi-Fi hotspot. Wireless smartphone charging and a 14-speaker JBL premium sound system are also standard. The Limited adds different wheels, a panoramic sunroof, triple-zone climate control, an eight-way power-adjustable passenger's seat, ventilated front seats, and rear window shades. Technology upgrades include a head-up display, a digital rearview mirror, a surround-view camera, and front and rear sensors and automatic braking. Both cars include Toyota Safety Sense 2.5+ safety technology. Finned-design 20-inch aluminum wheels with a Super Chrome finish are available only for the Limited.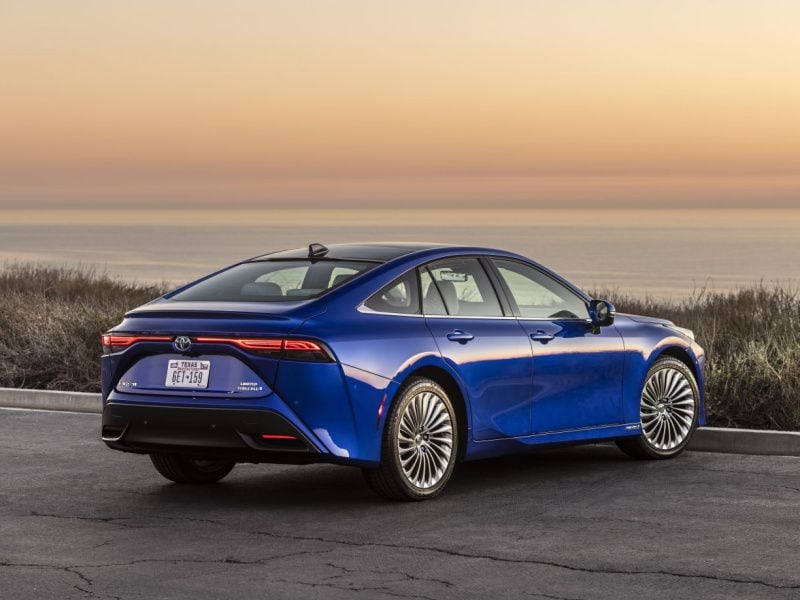 Photo by Toyota
Why isn't the Mirai a Lexus?
Thanks to its new styling, high-quality interior, a Limited trim level priced higher than $65,000, and the same rear-wheel-drive platform as the flagship Lexus LS, you might wonder why the Mirai isn't a Lexus.
The answer is simple. Toyota believes in fuel cell technology, is committed to improving it, and wants to ensure it is as accessible as possible. Restricting fuel cells to its luxury brand, the automaker says, would achieve the opposite effect. In any case, the new Mirai is far more appealing than the old one. The awkward proportions and details are gone, replaced with a sleek and sophisticated design that looks decidedly upscale. Moreover, the Mirai looks like a typical car and doesn't draw undue attention to itself. Depending on your reasons for buying one, this is a good thing or a bad thing. Inside, Lexus levels of quality pair with a tech-heavy, futuristic design and available high-contrast color schemes. The Mirai might wear a Toyota badge, but it brings the bling.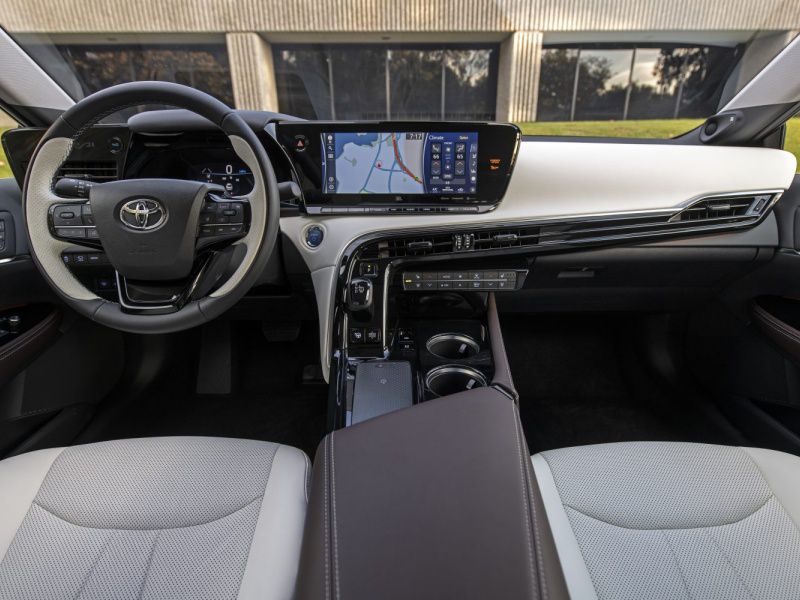 Photo by Toyota
Hydrogen Tanks Rob Interior Space
Previously, the Mirai came with seating for four people. The redesign adds a fifth seating location, but the car is still best used as a four-passenger sedan. Up front, the eight-way power-adjustable driver's seat is quite comfortable, and the SofTex synthetic leather feels like the real thing. But for maximum comfort, you'll want the Mirai Limited, which adds perforated SofTex, an eight-way power-adjustable front passenger's seat, and heated and ventilated front and rear seats.
Rear seating is cramped, which is understandable when you consider the packaging requirements of the hydrogen tanks. But the seat itself is appropriately supportive, and on the Limited, folding down the center section of the armrest down reveals controls for the stereo and climate systems and the power rear window shade. This design makes the Mirai a proper executive transport when the front passenger's seat is powered forward to make extra room. The fuel tanks also restrict trunk space, though. It measures just 9.6 cubic feet, but Toyota says the Mirai holds three sets of golf clubs.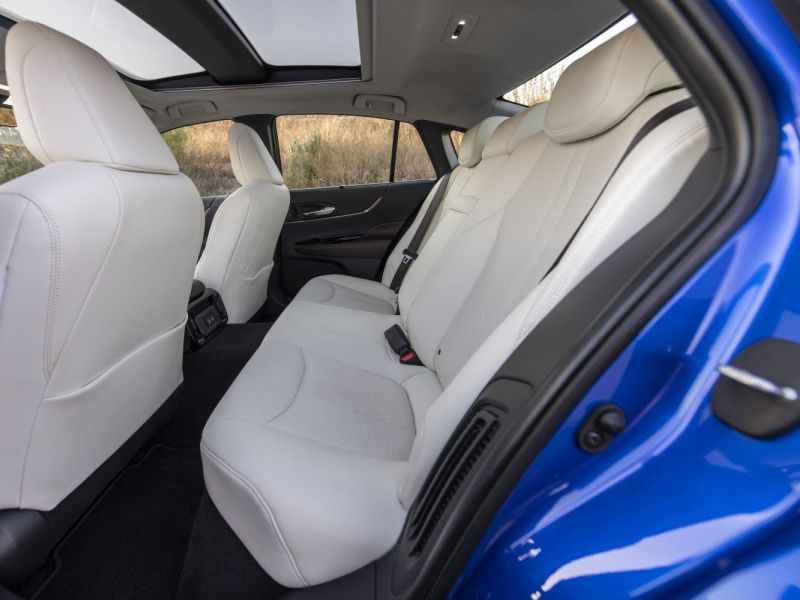 Photo by Toyota
High-Tech But Uncomplicated
As you'd expect of a futuristic car like the Mirai, it has standard digital instrumentation and a large 12.3-inch touchscreen infotainment system. Additionally, the Mirai Limited includes triple-zone climate control, a terrific head-up display, and a digital rearview mirror.
What's remarkable is how accessible the technology is. It's almost as though Toyota decided that a fuel cell stack and how it works would be so mind-bending for customers, it needed to make the infotainment system as intuitive as possible to make up for it. The Mirai uses the same infotainment platform as other Toyota models. Apple CarPlay, Android Auto, Amazon Alexa, and SiriusXM satellite radio are standard. The Mirai also includes a three-year subscription to connected navigation and dynamic voice recognition. Every Mirai has a 14-speaker JBL premium sound system. Additionally, all of Toyota's connected services plans are standard. Service Connect is free for 10 years. Safety Connect and Remote Connect include a no-cost one-year trial period, and Destination Assist concierge services are also complimentary for a year. The Wi-Fi Connect allows 2 GB of data use during the first three months of ownership, and then you'll need to pay extra.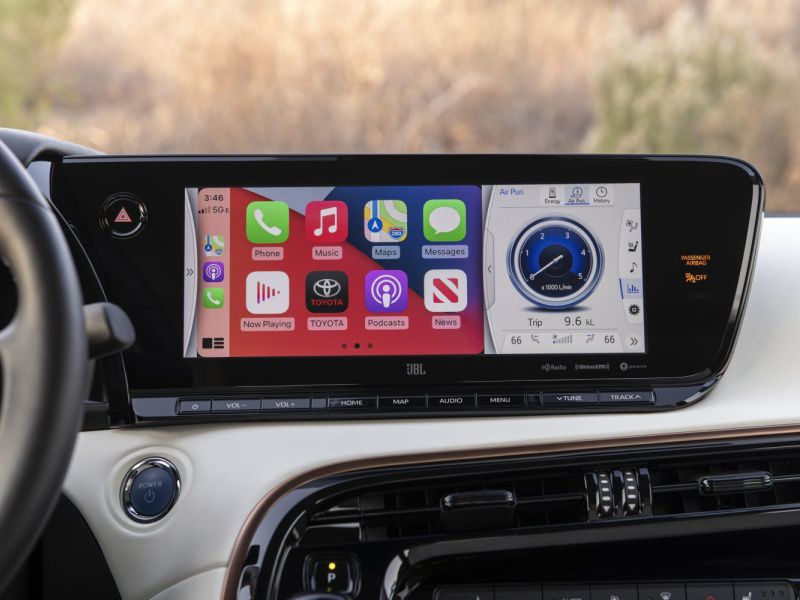 Photo by Toyota
Effective Driving-Assistance Systems
Toyota Safety Sense 2.5+ (TSS 2.5+) is the latest and greatest collection of the automaker's advanced driving-assistance systems. It includes the now-expected features and functions, and every Mirai also comes with blind-spot monitoring and a rear cross-traffic warning.
The enhancements include improved pedestrian detection in low-light conditions, new cyclist detection, and emergency steering assistance when the driver attempts to avoid an obstacle. Additionally, new intersection support can detect pedestrians and oncoming traffic when making a left turn and automatically brake if necessary. In use, TSS 2.5+ is accurate, refined, and trustworthy. I drove the new Mirai only for a few hours on Southern California streets, freeways, and canyon roads, but it worked as I expected.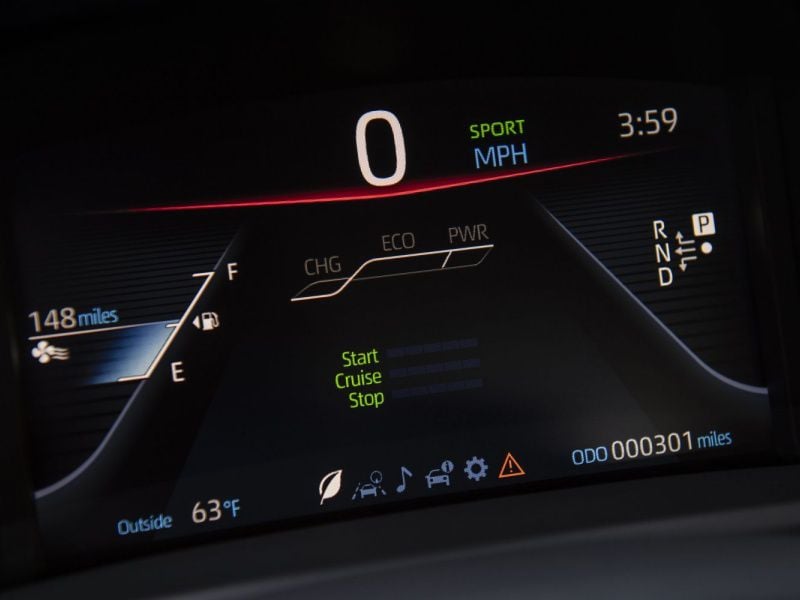 Photo by Toyota
How a Fuel Cell Electric Vehicle Works
At a high level, the new Mirai's smaller and lighter 650-volt fuel cell stack converts compressed hydrogen fuel into electricity, which is used to power the car's rear-mounted electric motor and rear wheels. As part of this process, a chemical reaction creates heat and water vapor, which the Mirai emits from its exhaust outlet.
The electricity flows through an air-cooled lithium-ion battery to an electric motor generating 182 horsepower and 221 pound-feet of torque. These figures represent an increase of 31 hp and a decrease of 26 lb-ft compared with the outgoing Mirai. Drivers choose among Eco, Normal, and Sport driving modes, and the car accelerates to 60 mph in a claimed 9 seconds. The driving range with XLE trim is 402 miles, while the Mirai Limited can travel 357 miles between fill-ups. The refueling process is similar to a traditional car. You pull into the hydrogen refueling station, swipe your free-fuel debit card (or credit card), and use a special pump that you must lock onto the vehicle. Three 10,000 psi, carbon-fiber-reinforced tanks store the hydrogen fuel. If all of the stars align, you can refuel the car in about five minutes.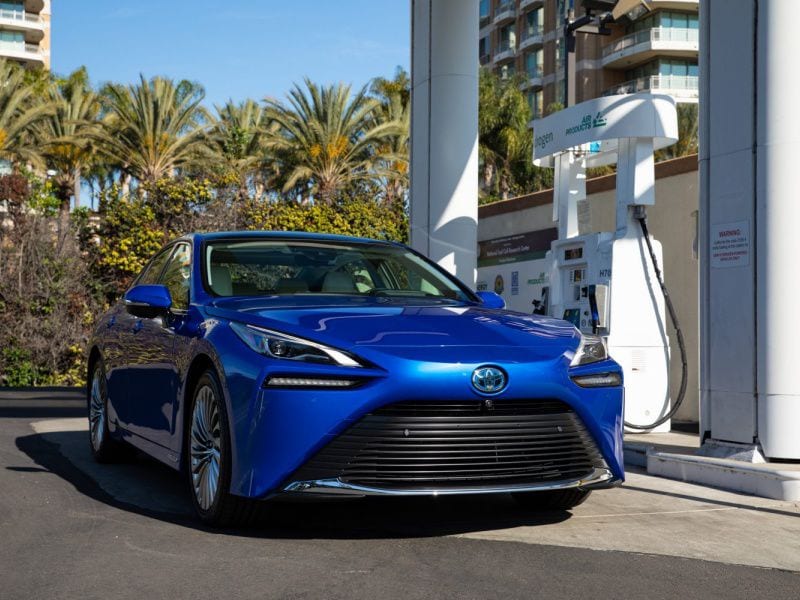 Photo by Toyota
Driving the 2021 Toyota Mirai
As you might expect from an electric vehicle, the Mirai supplies plenty of low-end thrust that is useful in daily driving. As vehicle speeds build, the power tapers off, but the Mirai has no trouble cruising on the freeway at 80 mph. Higher-speed passing maneuvers will, however, require some planning. The Mirai emits a pleasant, futuristic whine as you drive, reminding you that you're piloting something special. The car's cabin is hushed at highway speeds, and the Limited includes Active Sound Control to enhance the drive further.
Due to the weight of the battery, electric motor, and hydrogen tanks all mounted low in the chassis, the Mirai boasts a low center of gravity and a slot-car sensation when you're running it around corners and through curves. The front and rear multi-link suspension designs admirably manage the 4,255 curb weight but cannot entirely mask this FCEV's sensation of heft and occasionally choppy ride. Light-effort steering supplies consistent and predictable response, if not much in the way of road feel. Sport mode adds a firmer effort level, but the wheel remains relatively lifeless in the driver's hands. Also, the regenerative brakes can be difficult to modulate at times. Nevertheless, I loved driving this special car. It is the future, available today, and is one of my all-time favorites.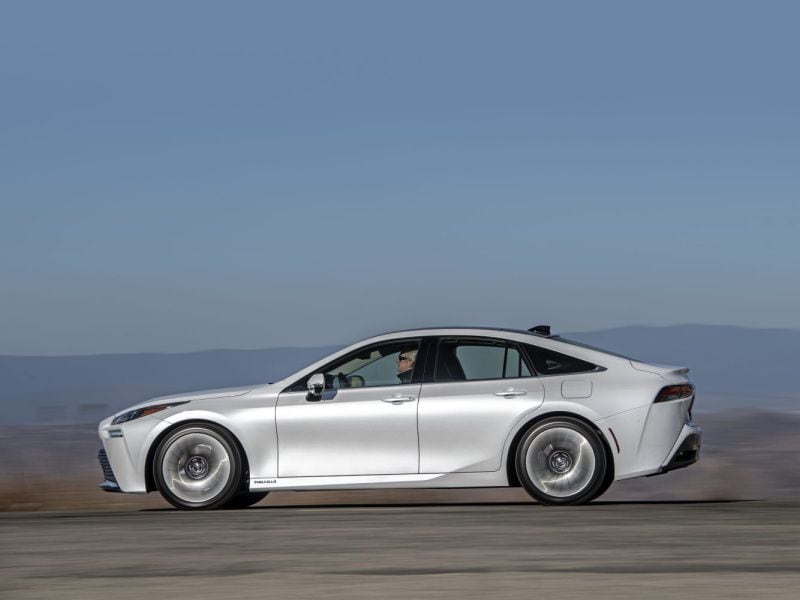 Photo by Toyota
Is hydrogen the future?
The 2021 Toyota Mirai has just two competitors. The first is the Honda Clarity Fuel Cell, an odd-looking but remarkably satisfying automobile. The second is the Hyundai NEXO, which boasts attractive styling and the utility of a crossover suv. You might rightly ask whether any of these vehicles have a chance at success. Hydrogen fuel is nothing new. What's missing is the widespread use of sustainable methods to produce it and the infrastructure to support it.
Because the global trucking industry is adopting fuel cells for the future, this will likely change. Hydrogen is also gaining steam with consumers in Asia. And automakers like Honda, Hyundai, and Toyota are committed to its use in light-duty vehicles such as the Clarity, Nexo, and Mirai. The U.S. infrastructure to support hydrogen is growing, too, if at a snail's pace. California is making significant investments to add new hydrogen refueling stations, and the New England region is creating infrastructure corridors to make FCEV ownership viable.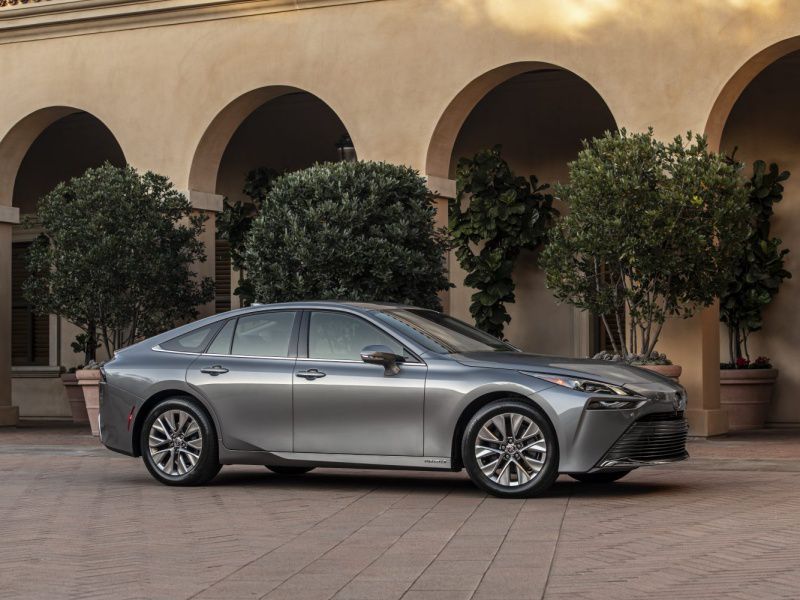 Photo by Toyota
2021 Toyota Mirai Pros, Cons, and Recommendations
With its futuristic look, sound, powertrain technology, and driving dynamics, the 2021 Toyota Mirai is appealing. This is especially true if you prefer to drive something few other people do. At the same time, the Mirai has a cramped rear seat and trunk, is available only in California and Hawaii, and requires a relatively scarce fuel.
Toyota does its best to make the Mirai widely appealing. It's a Lexus in all but name. It comes with free fuel and maintenance. And Toyota is offering attractive lease deals, cash rebates, and low-rate financing for the car, in addition to the federal income tax credit and California state rebate. If you're a Californian or Hawaiian into new technology, and you love to own the latest and greatest gadgets, the redesigned 2021 Toyota Mirai is for you. But it's also for anyone who lives or works within proximity of a hydrogen refueling station and is willing to try something completely different yet comfortably familiar.
Photo by Toyota